If you love budget friendly decor, this is your project. Learn how to make this unique yarn wall hanging with a stick and some cute colors of yarn.
Skills Required: None. Even if you've never crafted before, you can make this wall hanging. You'll be tying yarn and spray painting, and all that's required is patience.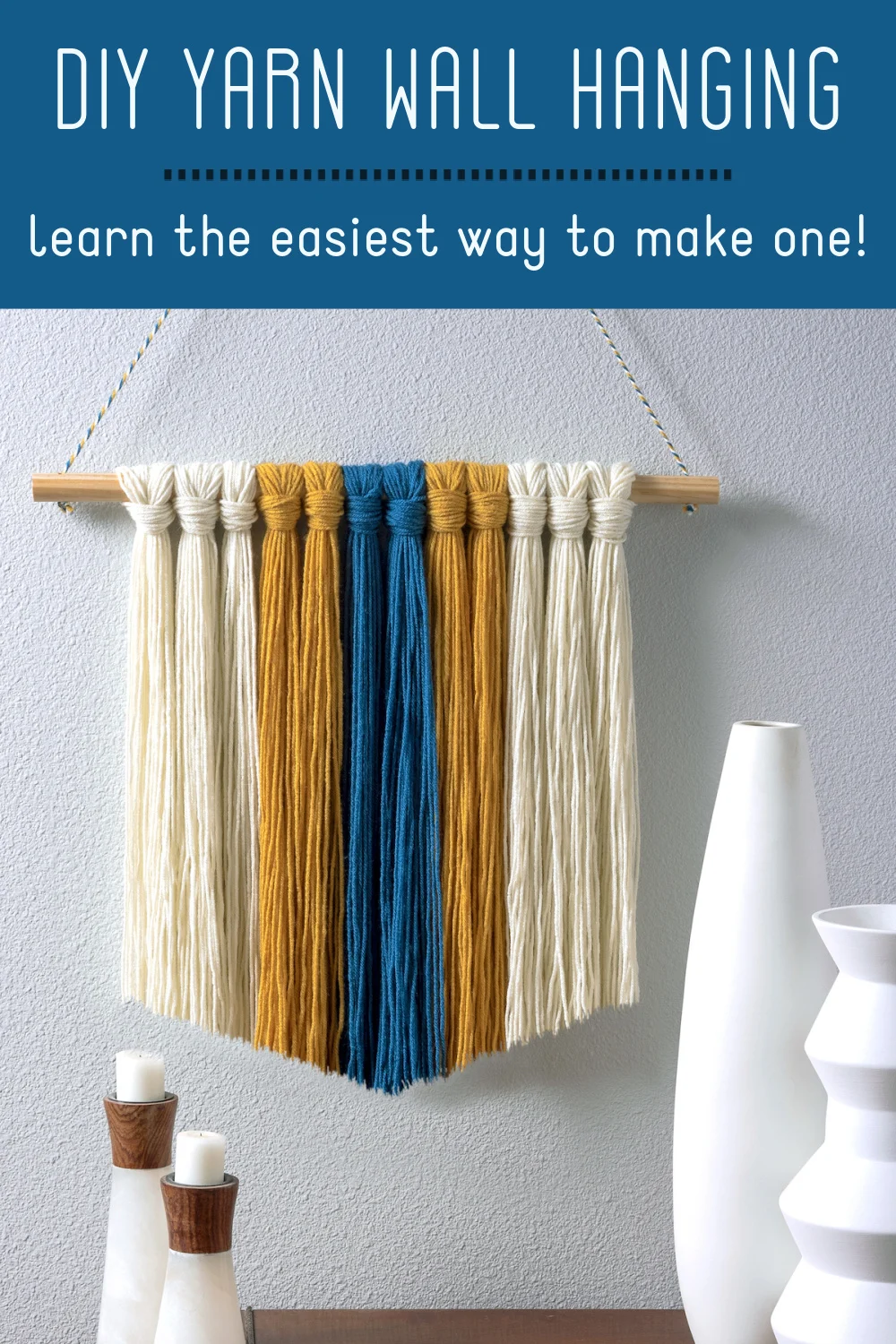 Our new place has a lot of bare walls begging for some attention. I like to mix things up and avoid putting something framed on each and every wall, so I came up with this DIY wall hanging idea for a change of pace.
I'm excited to share this yarn wall hanging with you because it's SO easy. You'll only need to cut a dowel rod down to size, cut yarn, and then drill holes in the ends to attach your hanger. Although I have an option for that if you don't have a drill!
I love that this wall hanging goes with a variety of styles including boho, farmhouse, modern . . . it's really about the choice of colors and how you put them together. You can use items already in your home to help you pick yarn colors, but I also love using Design Seeds for color palettes.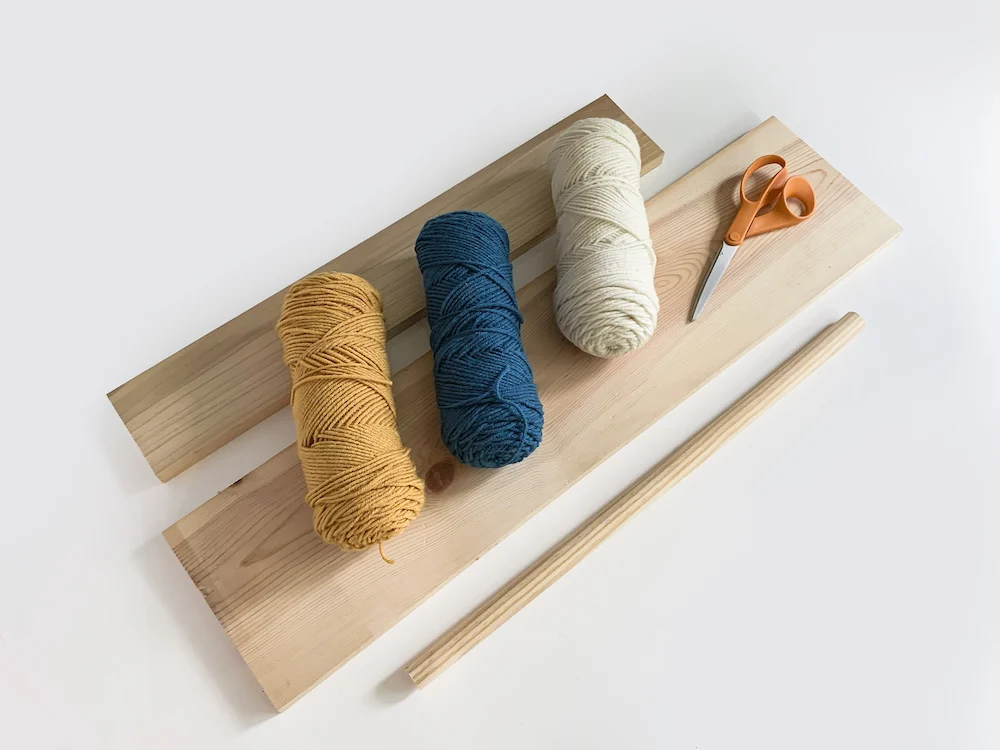 DIY Yarn Wall Hanging
Once you pick your colors, the rest of this wall hanging is simple. Ready to get started on this yarn craft? Here's how it's done.
Gather These Supplies
Dowel rod – 1 inch in diameter, cut down to 21″
Piece of wood or cardboard for wrapping yarn – mine was about 21″
Skeins of yarn – 3 in complementary colors
Scissors
Drill (optional)
Saw – to cut down your dowel rod
Choose the Size
The first thing you'll need to do is select a dowel rod. I made 12 rows of yarn and my dowel rod is 21″ across, leaving room on either side. The size of the rod can be whatever you like. Maybe you want to make a huge statement pieces, or maybe you need something a little smaller to fill a particular spot on your wall.
I also have another fun tip for you. If you have any branches available to use, that's a great way to turn this into wall art with a more natural feel. The project works exactly the same but looks a little different on the wall. You could use beachy colors and a piece of driftwood, for example. I love the possibilities!

Wrap the Yarn
Once your dowel rod is ready, you'll start making your yarn strands starting with the center color. I used a board that was about 21″ inches in length that I had leftover from another project for wrapping.
There are a lot of possibilities for wrapping surfaces, and I encourage you to look around your home for something that is the right length depending on the length of the wall hanging you desire. Your arm makes a great "wrapper" too.
Tip: keep in mind that you're going to secure the yarn around the dowel, which will take a few inches off the finished length. My board was 21″ long, and the finished yarn wall hanging is about 19″ long at its longest point. So keep that in mind.
Wrap the yarn about 15 – 16 times around the board (or other surface), then trim the end.

Once you are done wrapping and have trimmed the end from the skein, cut across the yarn. You'll basically have 15 – 16 pieces of yarn together that will be tied to your dowel.
Hang the Yarn
The next part of the wall hanging is the meat of the project, and it's SO easy.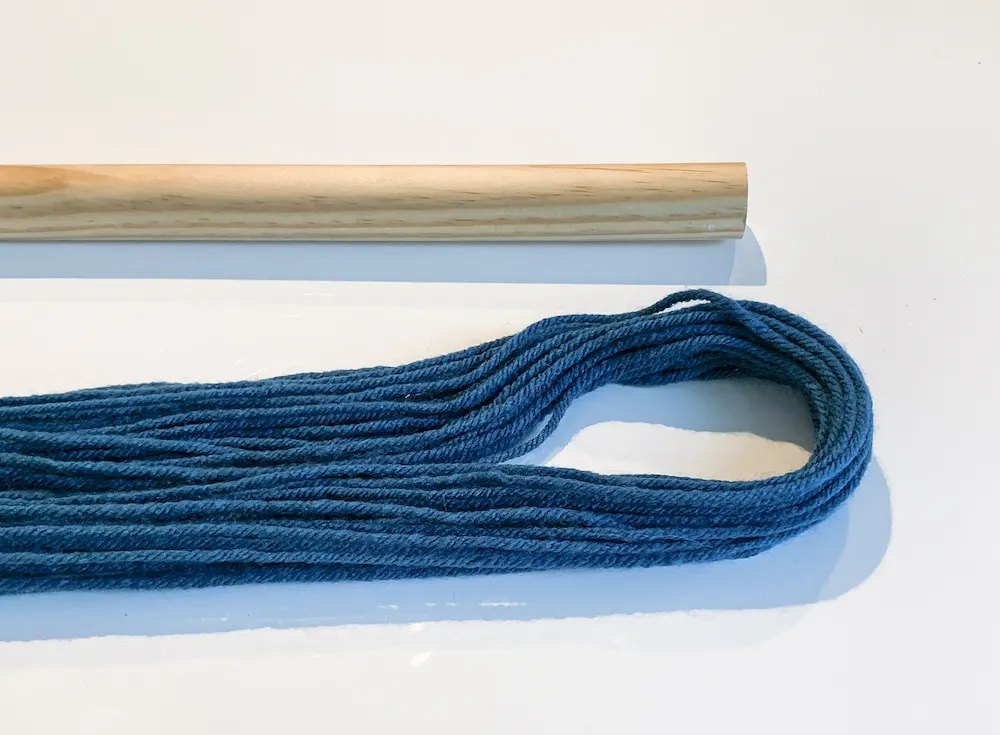 Double the yarn so that there is a loop at the top and the ends are all at the same length.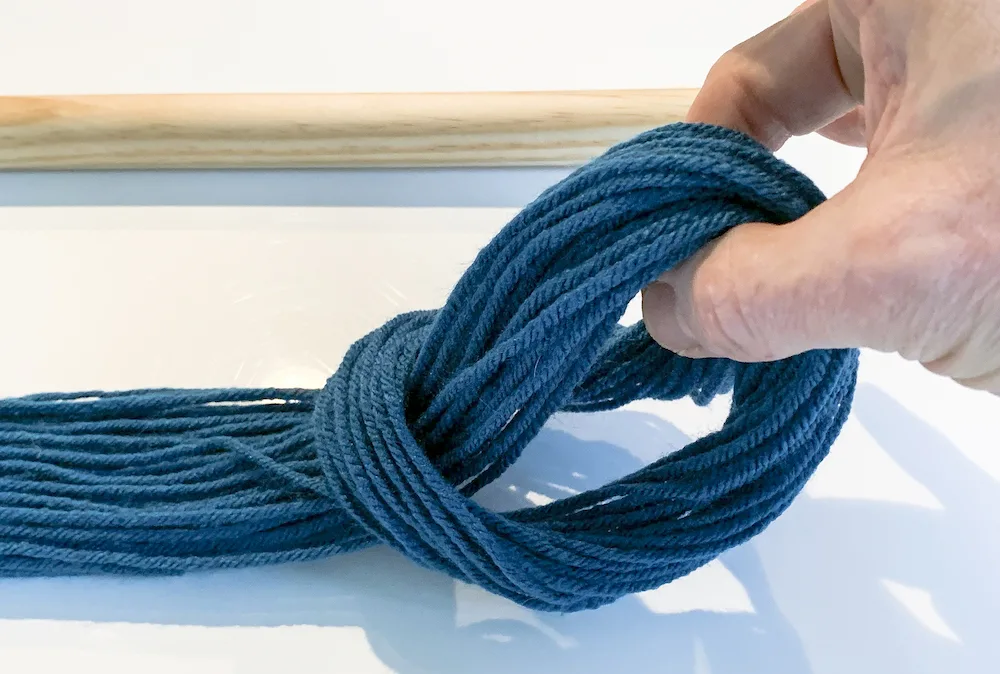 Take the top of the yarn stands and flip it over as shown in the picture above, creating a loop with the yarn.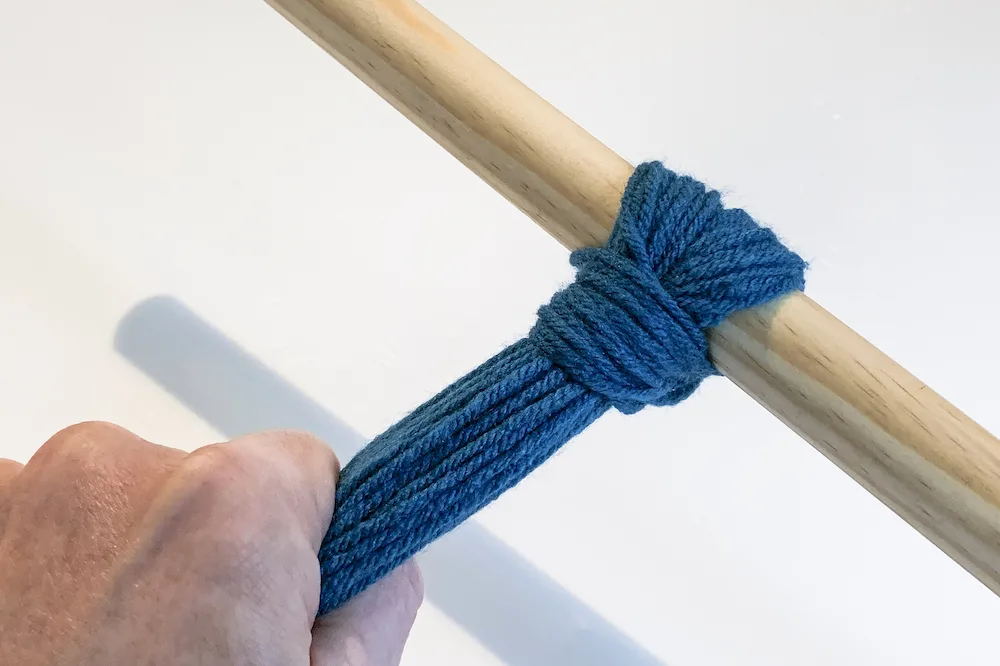 Tighten the loop around the dowel rod toward the center. You can adjust later, and don't worry about the yarn being completely even at the bottom at this moment.
Repeat, so that you have two strands of color A in the middle of your rod.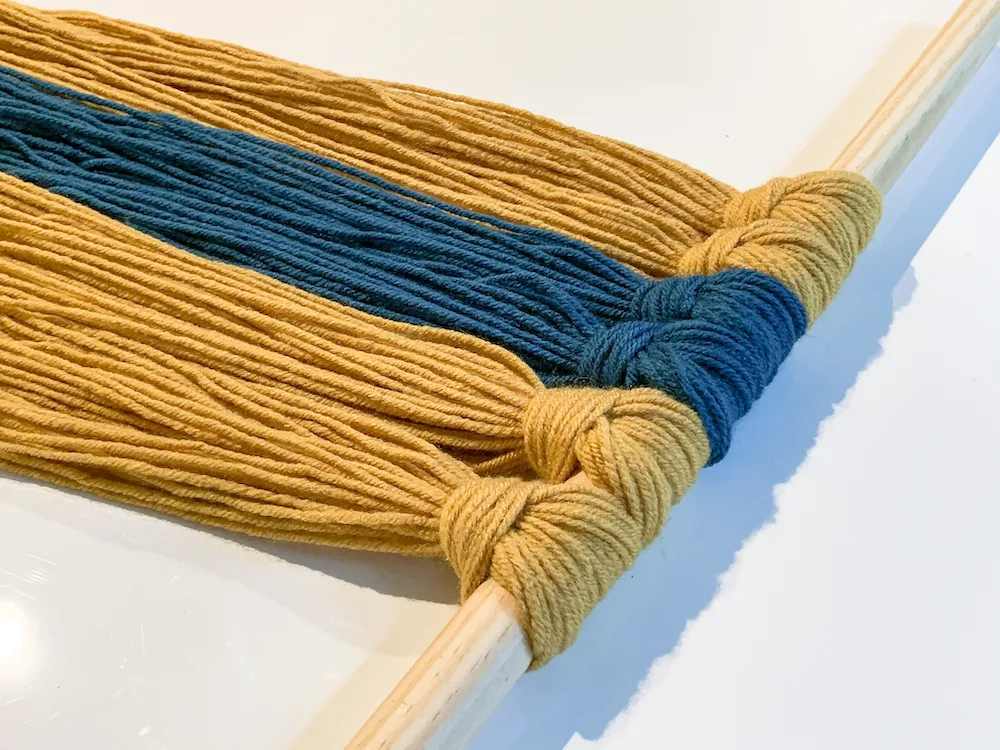 Select color B, and then make four yarn strands to put on your dowel rod, two on either side of color A.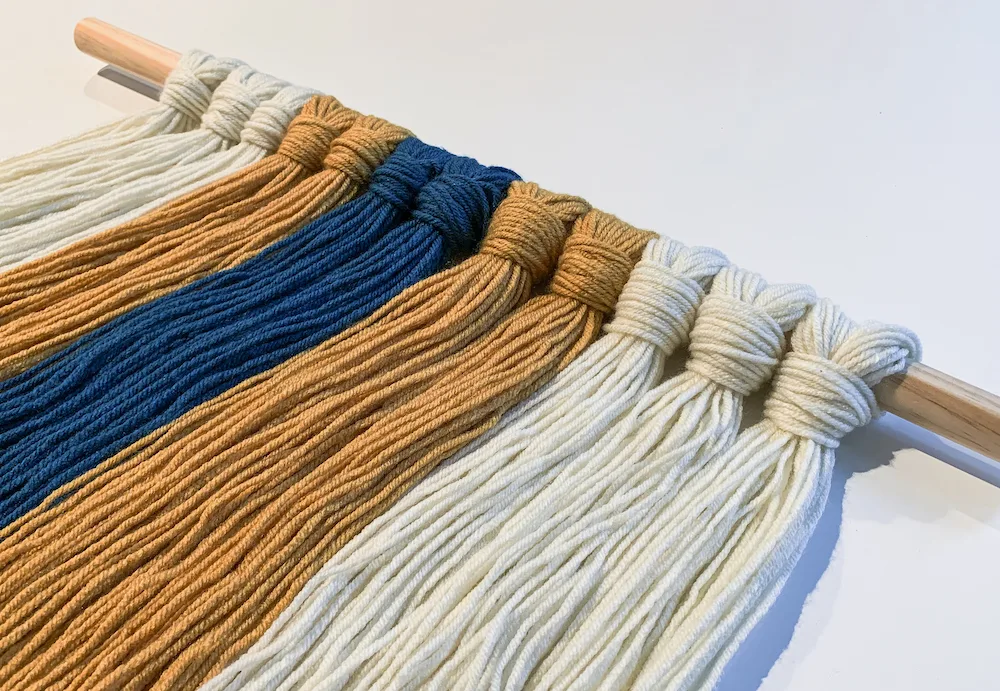 Finish your yarn wall decor with color C – using three strands each on either side of color B. You will end up with 12 total lengths of yarn.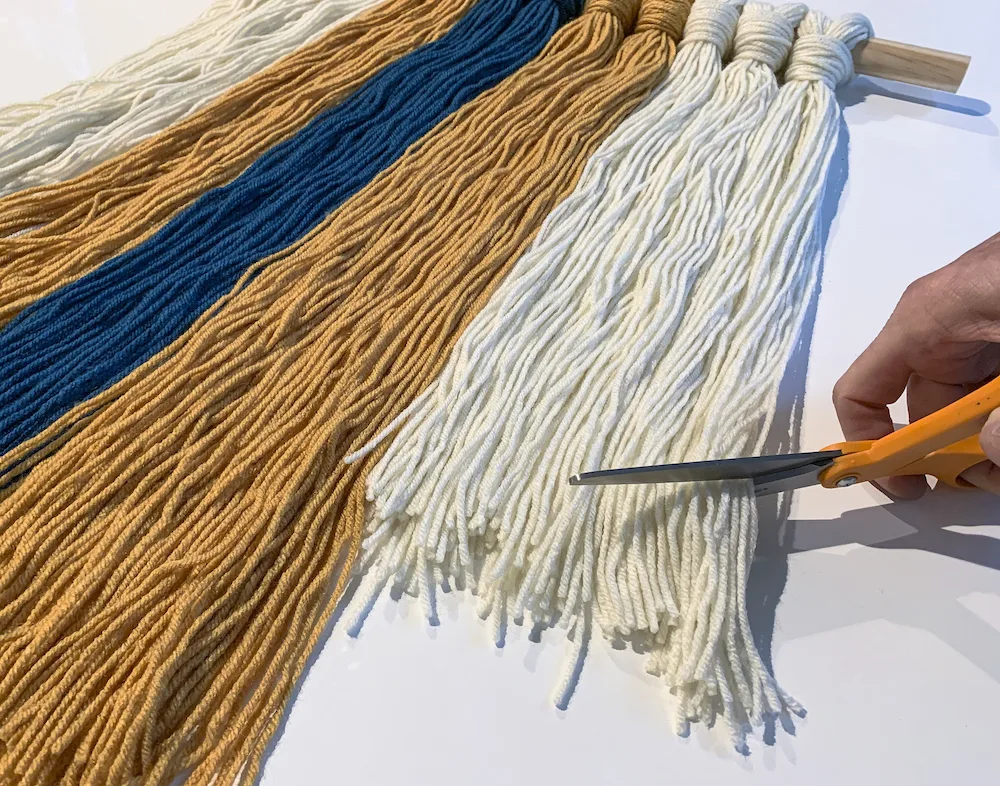 Cut the Shape
It's time to clean up the yarn by simply trimming the ends. You could cut straight across, create a "v" shape; whatever you like. I chose to create a v-shape.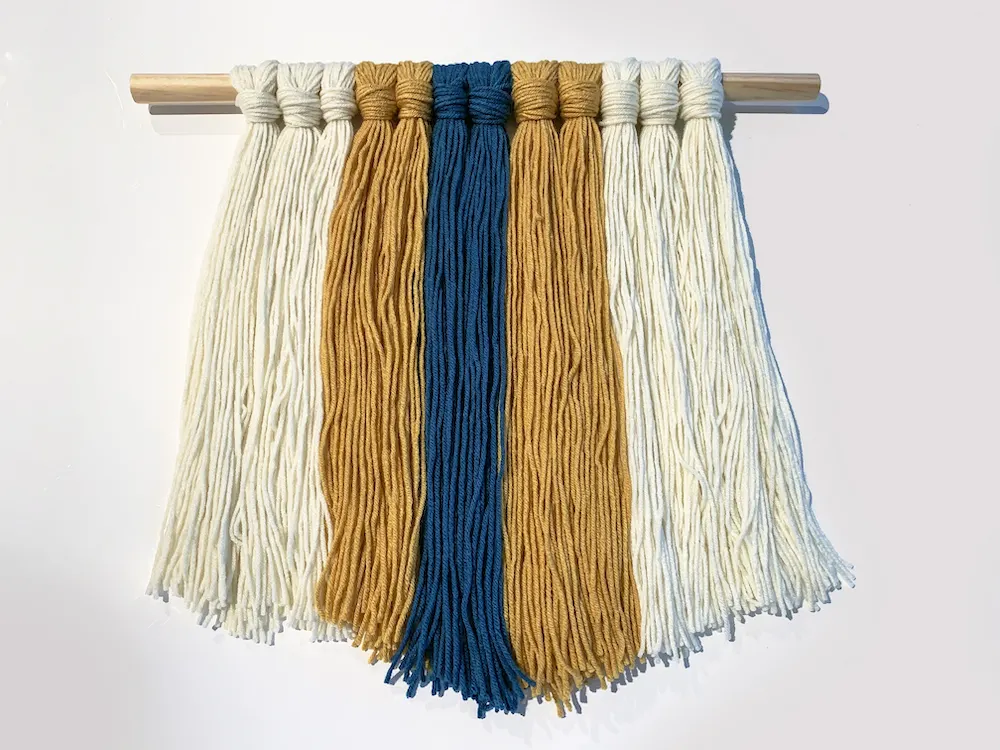 The easiest way to do this is to lay the wall decor on a surface and make the cuts with scissors. You can use a tape measure to help you if you need, or even draw a template on a piece of paper. Run your fingers through the yarn to make sure you don't miss any pieces that got caught.
I promise when you hang this bad boy up, you won't notice if it's not "exact." Cut carefully but don't fret.
Attach the Hanger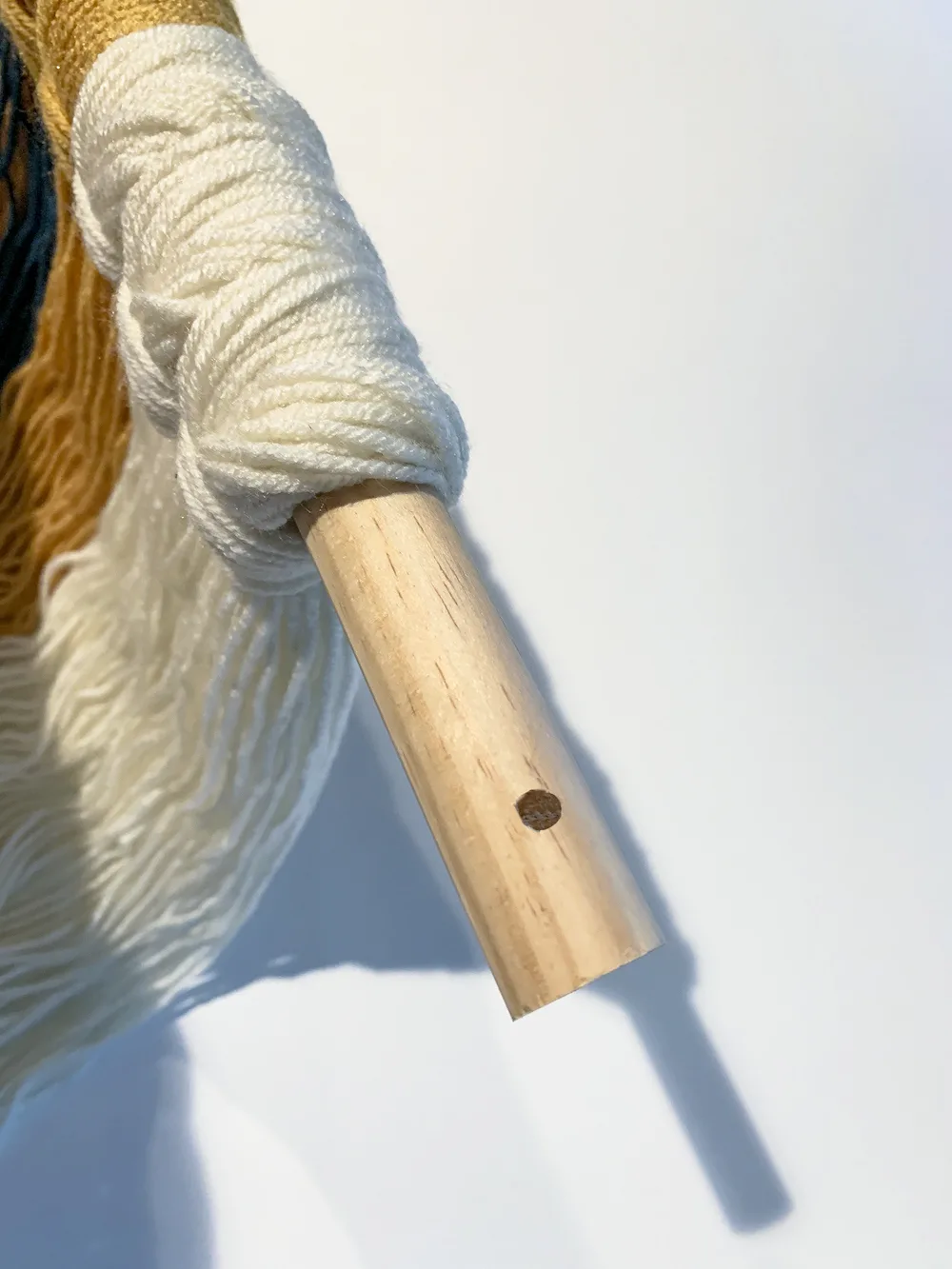 Drill into the ends of each dowel rod. Create a braid of the three colors of yarn about 24″ long, then feed through the holes and knot for hanging.
Alternatively, you can make a longer braid of yarn (go for like 34″) and simply tie around each end of the dowel rod to secure.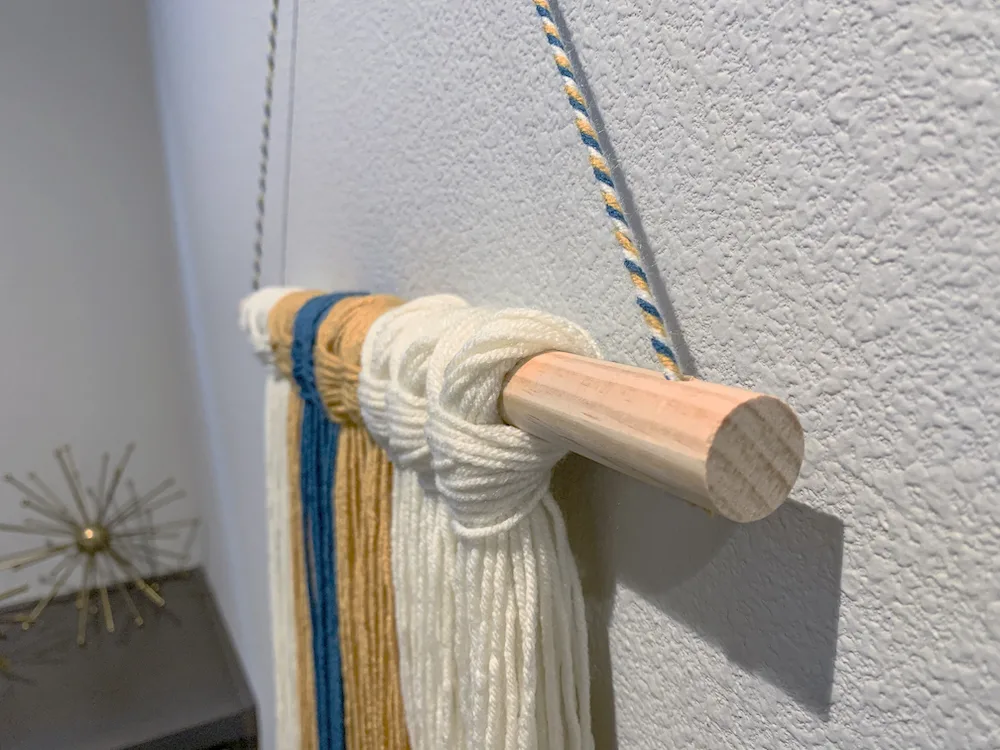 This is how the yarn wall hanging looks from the side. You can hang with a thumbtack, push pin, or even a Command Hook.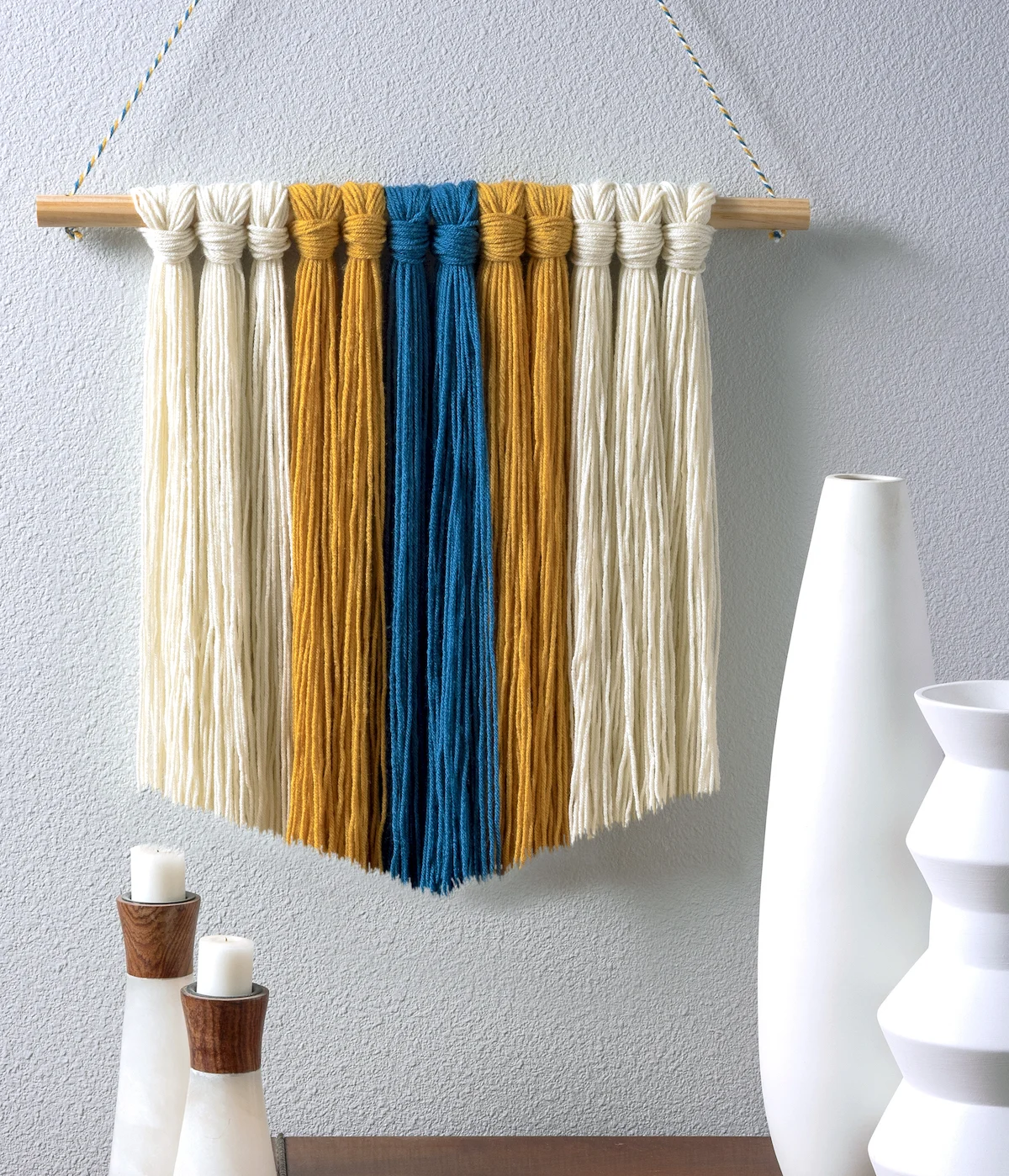 The finished hanging really looks awesome on the wall. I can't believe this didn't take that long to make, and how good it looks! It would be fun to experiment with different colors and styles of yarn.
Yield: 1 wall hanging
Yarn Wall Hanging
Learn how to make a simple yarn wall hanging on a budget! This is easy even for a beginning maker and works with a variety of decor.
Total Time
2 hours
10 minutes
Materials
Dowel rod or stick
Piece of wood or cardboard
Yarn skeins - 3 in complementary colors
Sandpaper
Tools
Scissors
Drill (optional)
Saw
Instructions
Select a dowel rod and cut down to size using a saw. Sand the ends to clean up.
Grab a board, piece of cardboard, or your arm and start wrapping the yarn around it - about 15 - 16 times. Trim the end.
Cut across the yarn to make one long piece with 15 - 16 strands. Fold in half.
Double the yarn so that there is a loop at the top and the ends are all at the same length.
Tighten the loop around the dowel rod toward the center. Repeat.
Do the same thing with the second and third colors of yarn until you have 12 lengths total.
If desired, trim the ends of the yarn. You can cut straight across or in a "V" shape.
Drill into the ends of each dowel rod. Create a braid of the three colors of yarn about 24" long, then feed through the holes and knot for hanging.
Hang by cutting a length of yarn and tying loops around the wood at each end, or drilling and knotting.
Display on a thumb tack or nail.
Notes
This project was free as I had all the items on hand, however, you obviously might need to purchase supplies - but I advocate for using what you have.
---
Are you ready to try a yarn wall hanging DIY? I'd love to know how this home decor project works out for you in the comments!
If you like this simple decorating idea, I'd love for you to check out these other easy craft ideas and helpful posts: