Wondering what yarn to use for what project – and what needles to use? This is your complete guide to yarn weights for beginners.
Let's talk about yarn weights! It doesn't matter if you're just getting started with crochet and knitting or you've been doing it for years – everyone needs to understand the difference in weight structures of the different yarns available on the market.
It can be confusing! I've been knitting since I was 15 years old . . . that would be about 29 years as of this writing. My mother taught me how to cast on, and how to knit, and I taught myself the rest. And the rest is history! Even with my extensive experience, I still have a hard time remembering which yarn is which. I always have to refer to a chart.
If you're just getting started in this wonderful world of yarn loving creators, then you're going to want to use this as a reference guide to help you with your purchases of various types of yarns for your different projects.
During your needlecrafting journey you're going to learn two golden rules:
Tension of stitches is very important, especially when following a pattern
Not all yarns are created equal and you need the right one for the job at hand. For example, you can't substitute a light weight yarn with a bulky weight yarn
Many companies make life easy for yarn lovers. Their labels feature charts listing the weight of the yarn, the size needles (knit or crochet) needed for a project, and the amount of stitches there should be on a practice swatch.

Guide to Yarn Weights
Once you get a better understanding of yarn weights, you'll easily be able to swap out different types of yarns within a weight. For example, worsted weight yarn can be substituted out for cotton or linen. Here's an example key (shown below) to help you out.
Yarn Weight Chart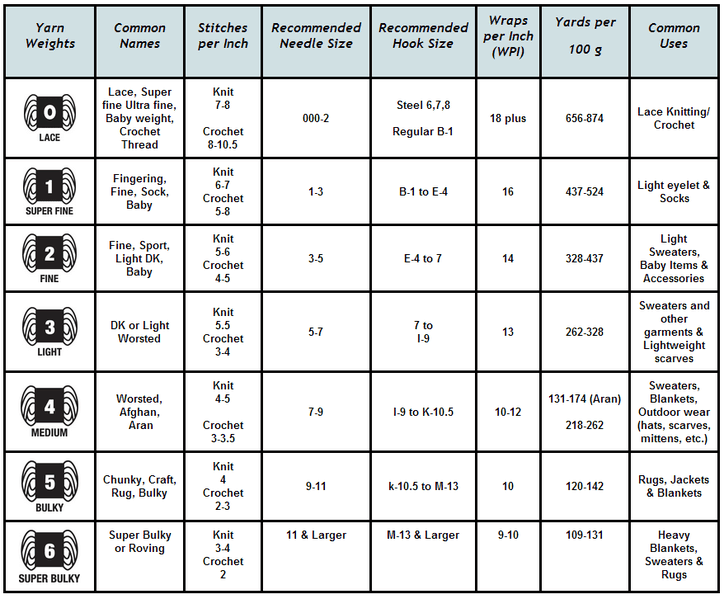 The chart is your shortcut. The stitches per inch is your gauge, and is (generally speaking) where you want to be to make sure that your garment is neither too small nor too large.
You'll also want to pay attention to needle and/or hook size, as this is just suggested and gauge is more important. If you have to size up or down with your needles or hooks, that's fine.
Now, here's a detailed description of each type of yarn and the weight:
Lace
Lace is a super fine, extra light weight yarn, and is primarily used in creating knitted lace patterns on shawls, and can also be used for socks.
Super Fine/Sock
Super fine yarn is primarily used for baby clothes, socks, shawls, and super awesome Fair Isle work. It's also known as "baby" and "fingering" yarn because of how light weight and soft it is.
Fine/Sport
Fine yarn is also known as baby weight yarn. This yarn is primarily used for baby items, socks, hats, mittens, and colorful Fair Isle work. It's very closely related to super fine, but usually used with a slightly bigger needle.
Light/DK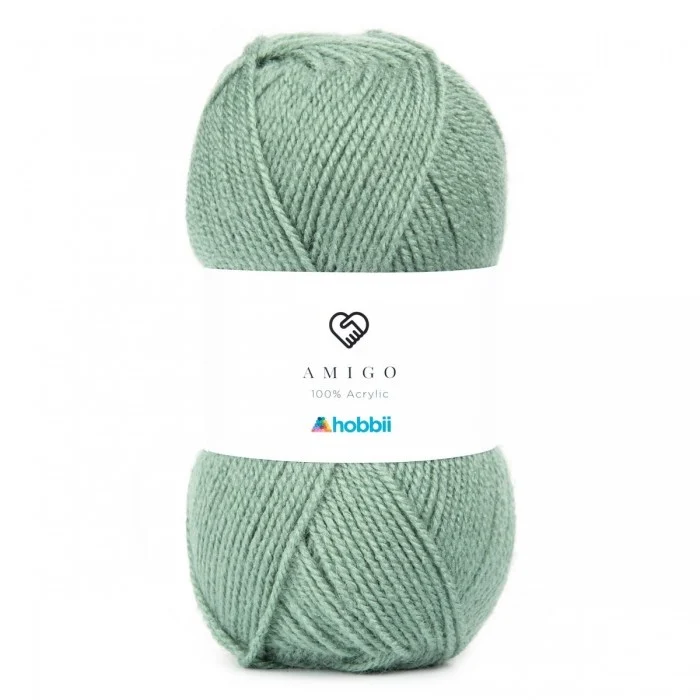 Light/DK yarn is a classic weight yarn that is primarily used for children's knit clothing. The light gauge is a perfect scale for creating projects oriented for children's designs, plus Fair Isle, double knitting, and intarsia work. It's amazing for crocheting because the project doesn't become too bulky.
Medium/Worsted Weight
Medium yarn is mostly known as worsted weight yarn. It's the #1 type of yarn that people create yarn projects with via knitting and crocheting. This is great for artistically created blankets, scarves, hats, gloves, sweaters, Christmas stockings, and so much more!
Bulky
Bulky yarn runs about twice as thick as worsted weight yarn. The most amazing part about working with bulky weight yarn is that it can be worked up quickly on large needles. For those who want instant knitting gratification, this is yarn for you!
Super Bulky
If you want to make a fun, fast, and chunky blanket or are trying to add some artistic flair to a simple sweater, then super bulky is your yarn! The gauging is 2 knit stiches in an inch!
Jumbo
Jumbo yarn is slightly thicker than the super bulky, and is another great and fun yarn to knit with to create projects fast. Especially if you want a lap blanket or a fun blanket for any time of the year! Also great for making pillow covers and anything else your imagination will unleash.
---
Ready to try some projects with yarn? Now that you're an expert in yarn weights, you'll be able to pick your favorites to try these: