Use a toilet paper roll and some crepe paper to make the cutest Halloween kids craft ever: DIY mini piñatas. You'll love finding out what's inside this toilet paper roll mummy!
Skills Required: None. This kids piñata project is so easy, anyone can do it! Once you make one, you'll be surrounded by mini piñatas – so save your toilet paper rolls.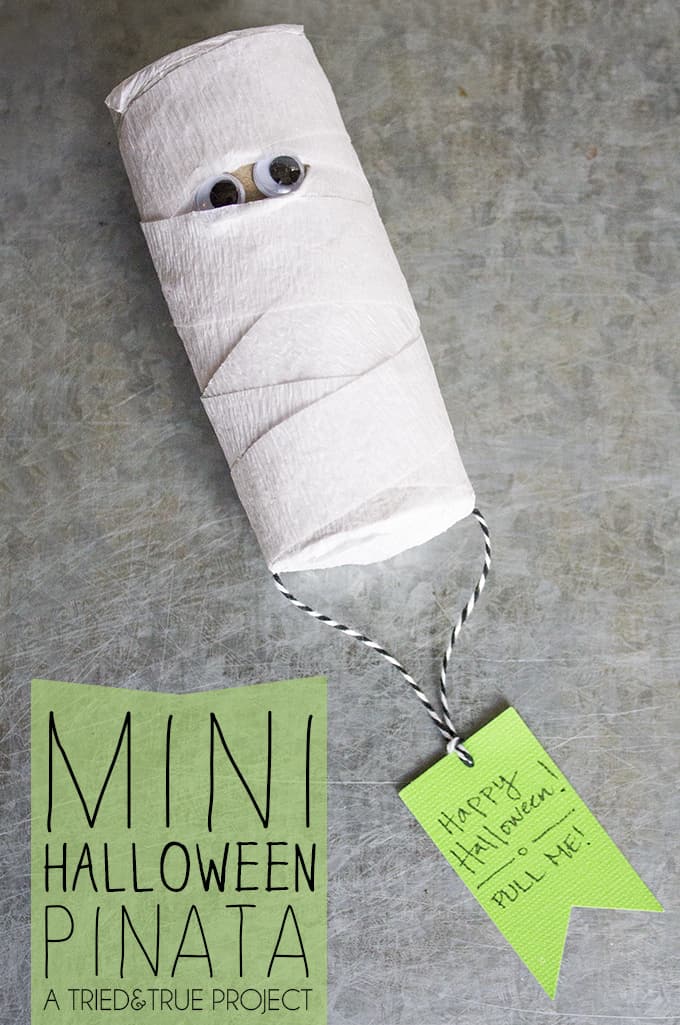 One of my favorite things about Halloween is using recycled materials for decorations and holiday decor. I really also love Halloween kids crafts, so I decided it was time to bring the two together and do something cool.
I'm Vanessa Brady from Tried & True and I'm here to show you how to take something you throw away almost every day and turn it into a super fun DIY Halloween piñata!
How to Make Mini Piñatas
If you had asked me how to make a DIY piñata a few weeks ago, I would've explained that you need to use plaster of paris and newspaper along with a wire form – or something along those lines.
But why make it complicated? The truth is, you can make Halloween piñatas using a very simple material you already have in your house (I hope): toilet paper rolls.
The structure of the TP roll is perfectly rigid for holding small candies and toys. The only thing you're going to need to do is button up the ends, making it so that at least one end can be easily broken to reveal the treasures inside.
To do that, all you're going to need in addition to the toilet paper roll is crepe paper, plus a few additional (basic) supplies. I picture these for party favors, kids' classrooms, or just for handing out on Halloween day. They are super quick to make.
This is such a fun Halloween kids craft idea. Let's get started!
DIY Piñata for Halloween
What you will need:
toilet paper tube
googly eyes
white crepe paper streamer
double-sided tape
scrapbook paper
baker's twine
small toys and candy
Step 1. Apply a strip of double-sided tape to the edge of tube and use to secure a piece of the streamer in place.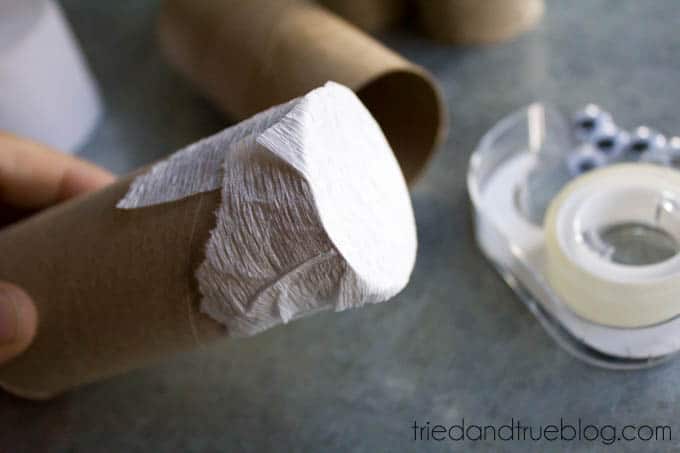 Step 2. Gather a few small toys and candy pieces to fit in the mini pinata. Don't pack it too tightly or the prizes won't fall out easily when the string is pulled.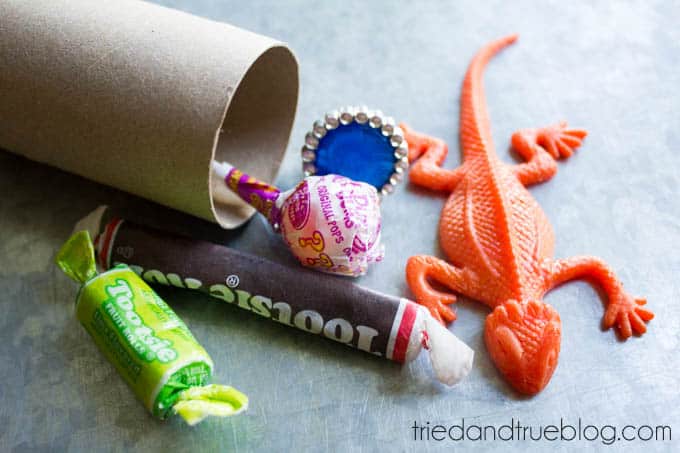 Step 3. Cover the other end of the tube just like you did before except include a small tag before securing in place. This is what the kids will pull to release their prizes.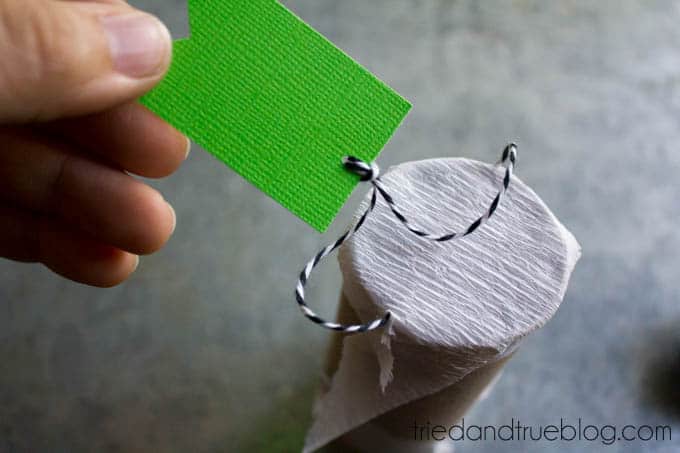 Step 4. Wrap the crepe paper around the tube until completely covered, securing with double-sided tape. Push a section at the top of the tube apart to create some space for the googly eyes. And that's it!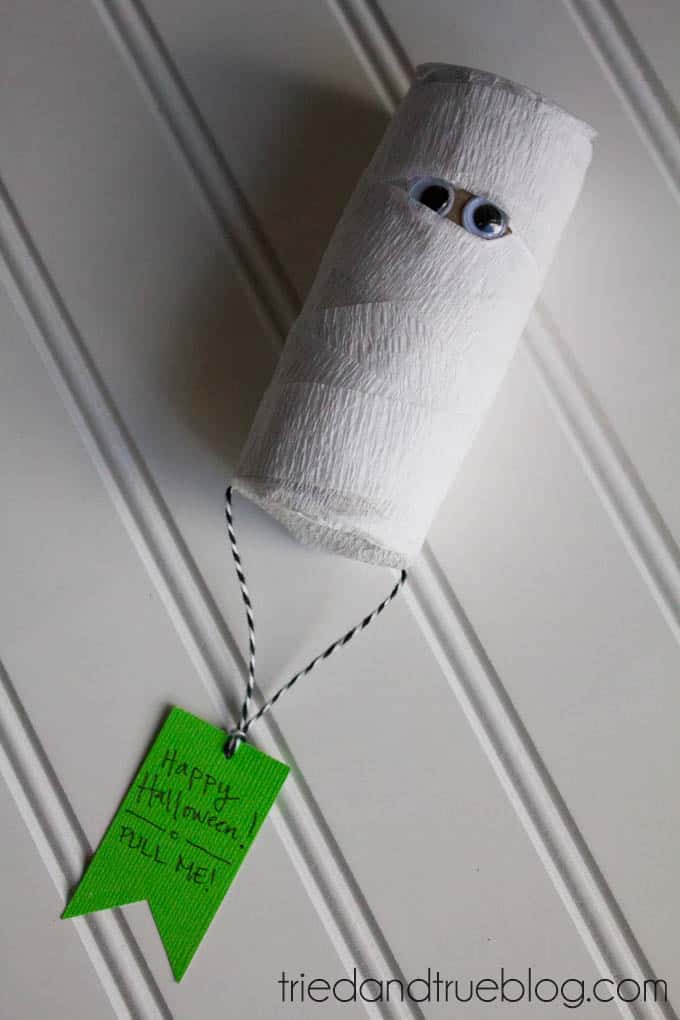 These Mini Halloween Piñatas are a breeze to make and you can feel good knowing that you're reusing something that you would have just thrown away!
And since they're so small, the size naturally safe-guards the kids from getting too many sweets or junky toys. Plus, what kid wouldn't love to pull on their own personal miniature mummy piñata?!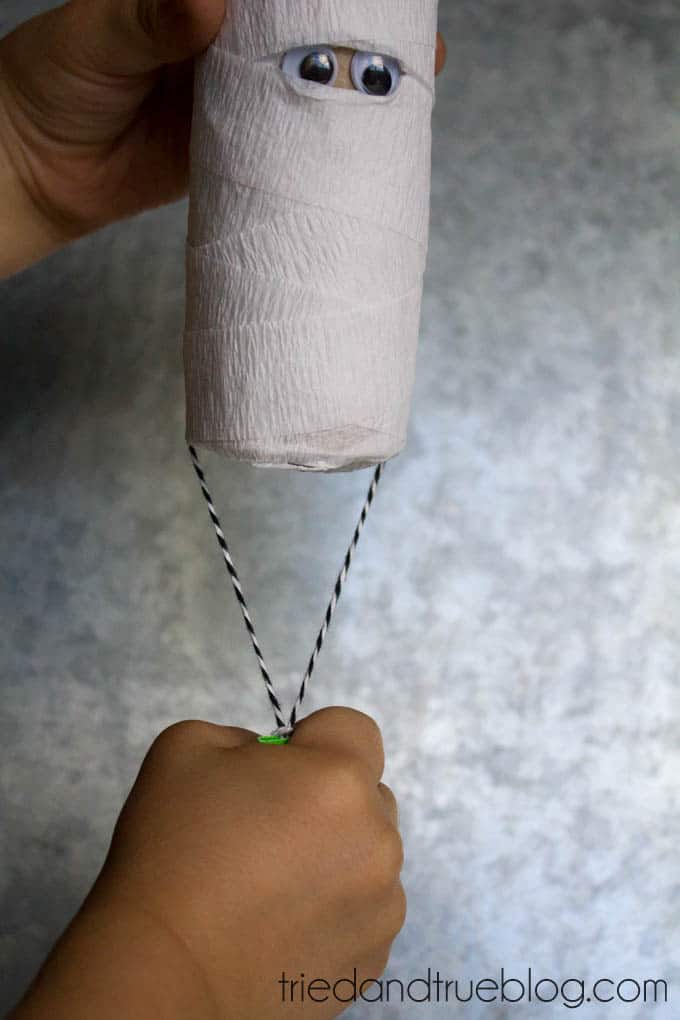 Hope you and your family have a wonderful Halloween full of laughter and memories to last a lifetime!
If you liked this Halloween kids craft tutorial, you're definitely going to love all the other Halloween projects you can do with your littles. Check out some of my favorites here: