Cascarones are an Easter tradition of confetti-filled fun – adapt them to any holiday you like with this tutorial. Kids will love these confetti eggs!
Skills Required: None. Even if you've never crafted before, these are pretty simple to make. You'll be hollowing out egg shells and dyeing them. Patience will be your best friend for these, but even kids can help make them!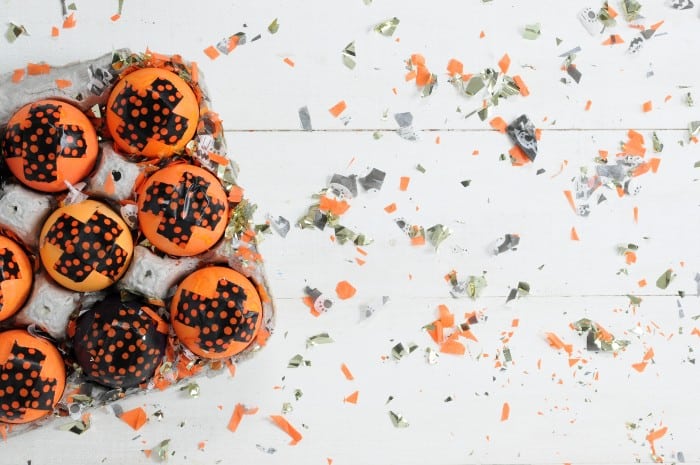 Have you ever heard of cascarones? I hadn't until just recently! Apparently these confetti-filled eggshells originated in China many years ago. Marco Polo brought them to Italy, then to Spain, and they made their way to Mexico and North America from there.
Confetti Eggs
It seems kind of funny to stuff painted eggshells with confetti, but it's actually a very cool tradition! Cascarones gained popularity in Mexico in the 1860s, and now they are commonly used during Carnival (also known as Carnaval, celebrated in late February/early March).
Carnival is the final time to celebrate before Catholics fast for 40 days before Lent. These confetti eggs aren't a religious symbol though . . . they can be used by anyone, anywhere, for any celebration!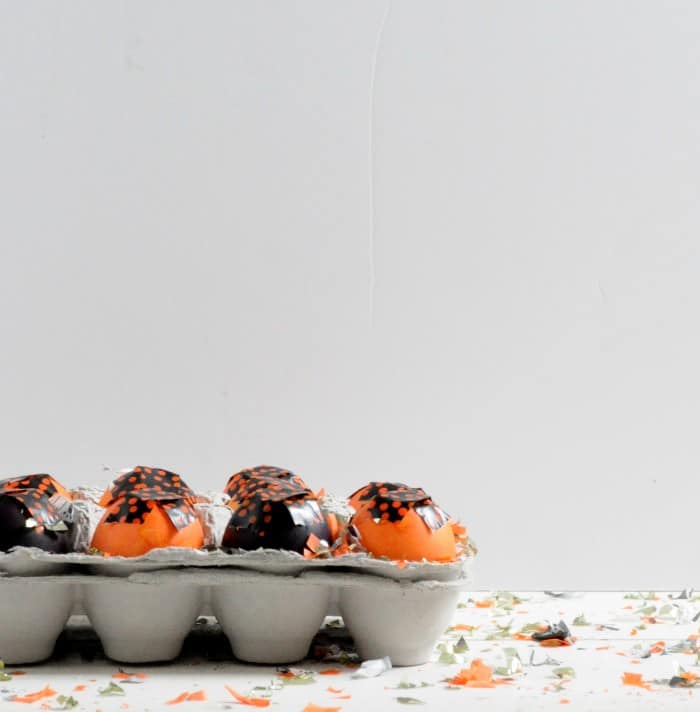 Here in the states, you might see cascarones around Easter. Kids love to crack these confetti-filled eggshells over each others' heads. My brothers and I never had this tradition when we were younger, but I wish we would've known about them. They're a blast!
Even though we are many months away from Easter, my littles get such a kick out of the fun and colorful mess that I thought why not make a Halloween version to enjoy on our way out to trick or treat?!
This is a simple project, however you'll need to give yourself some time to empty out the eggshells and wait for them to dry. I'm going to explain that process below. Are you ready to make some confetti eggs? Let's dive in!
How to Make Cascarones
To make confetti eggs, you'll need:
Empty eggshells (how-to below)
Food color, water, and vinegar (or egg dye tablets)
Paper confetti, glitter, birdseed, or other fillers
Patterned tape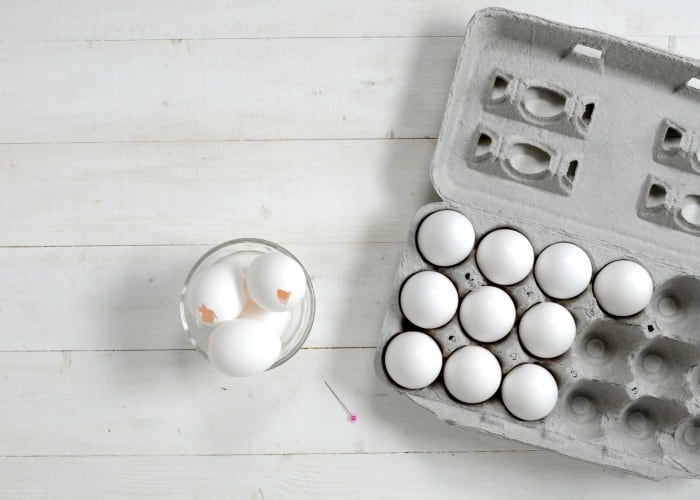 How to Hollow Eggs
Start by hollowing out your eggs. Wash and dry your eggs first if needed. This will be much harder to do once the eggs are hollow, so if you got them from your own yard, now is the time.
Use a pin to poke a hole in both the top and bottom of the egg. Make sure to work slowly, pushing through and making sure to get all the way to the yolk. You want to break the yolk so that it will be sure to come out.
I've found this is easiest by poking a hole in the top with a small pin. Polk the small pin in the bottom as well, but then either use the same pin or a larger needle to make the hole a little larger.
Wiggle it around to create a larger hole for the whites and yolk to drip from. If you're placing confetti into the eggs, make the hole at the bottom as large as you need to get the items into the egg. Blow into the top hole to help force the insides out, if necessary.
Catch the contents of the eggs in a bowl. Rinse the empty shells and reserve the insides for omelets or french toast! You can keep them in the fridge and they'll stay fresh for 2 – 4 days. Now that they eggshells are empty, let them dry completely so you can turn them into cascarones!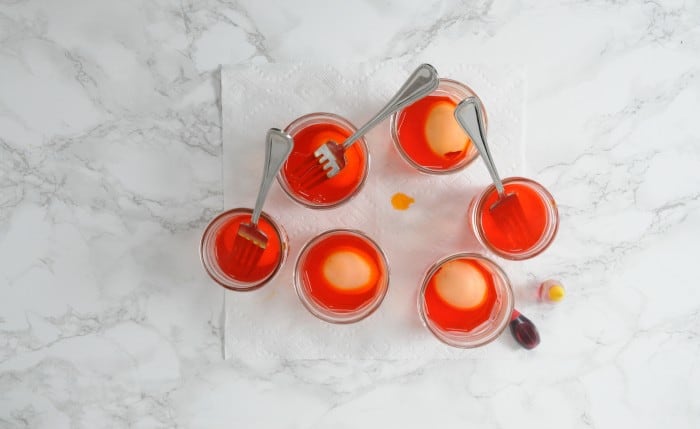 After the shells are clean, dye them as you would hard boiled Easter eggs. If you're using egg dye tablets, follow the package instructions.
I used a combination of 1/2 cup boiling water, 1 tsp vinegar, and 17 drops yellow food color + 3 drops red food color for the orange eggs. For the black eggs, I just gave each glass a generous squeeze of black food coloring.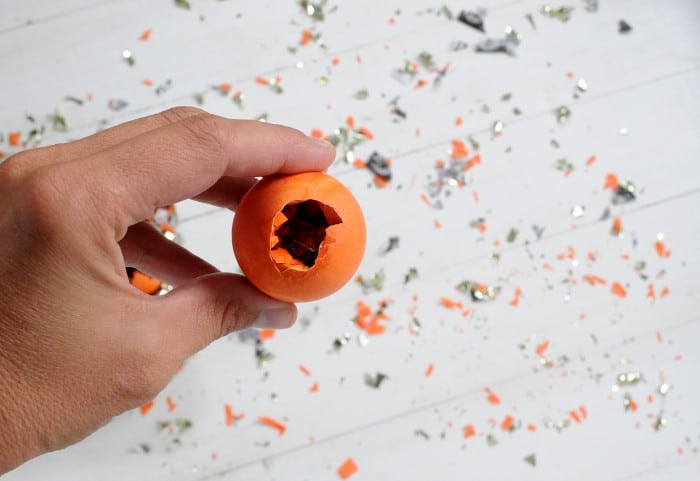 Whichever method you choose, just be sure to submerge the entire shell by letting the dye/water mixture fill the shells. Unlike standard issue Easter eggs, the shells are hollow. This means they will float, so you may need to hold the shells down to keep them covered in dye. I used a fork rested atop the shells when necessary.
If you don't have dye on hand, you can always paint the eggshells with acrylic paint. They're fragile so just be careful. Let the shells dry completely. I usually leave them overnight.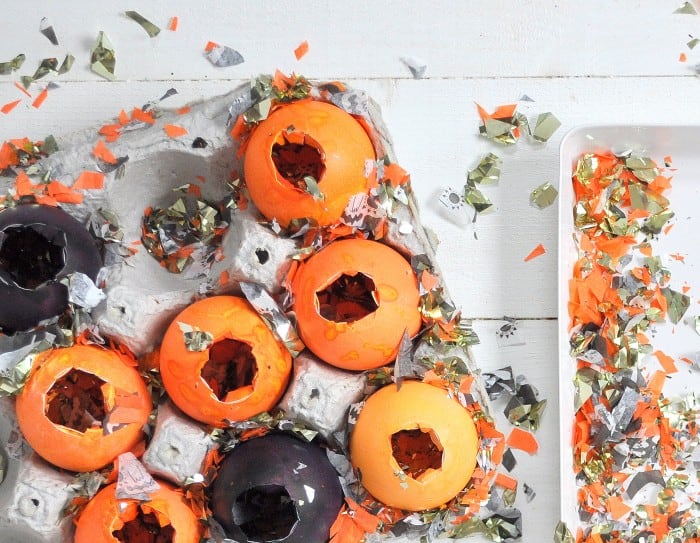 This is the fun part – you get to fill your cascarones. Fill each empty egg with confetti, glitter, birdseed, or shredded paper to about 3/4 full. A funnel or scrap of paper rolled into a cone makes this much easier!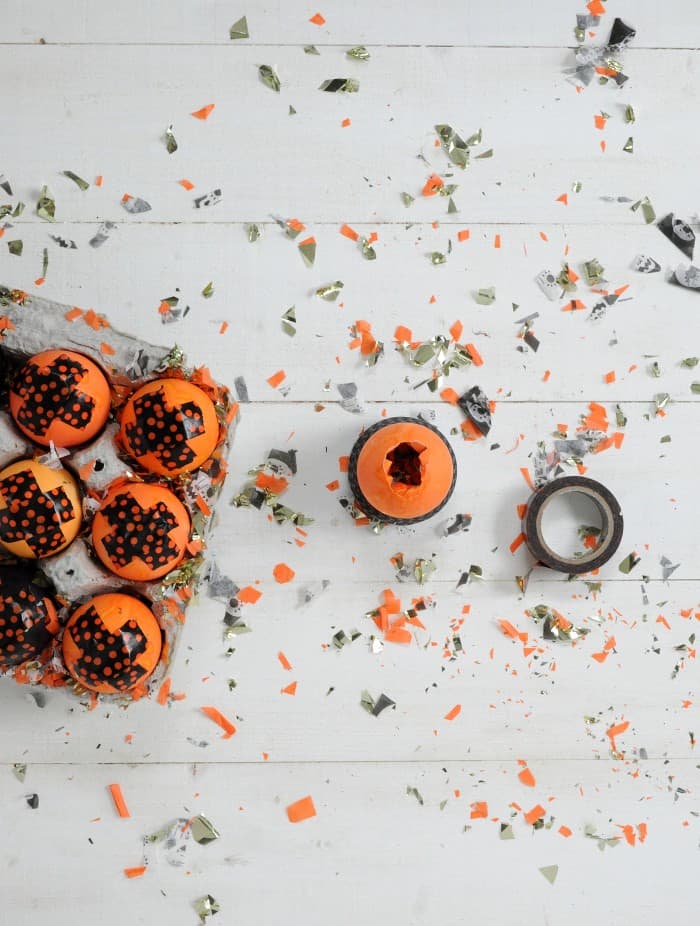 After the shells are filled, cover the hole with a small strip of washi or patterned tape. Another option is to apply glue (like Mod Podge) around the outside of the hole and cover with tissue paper.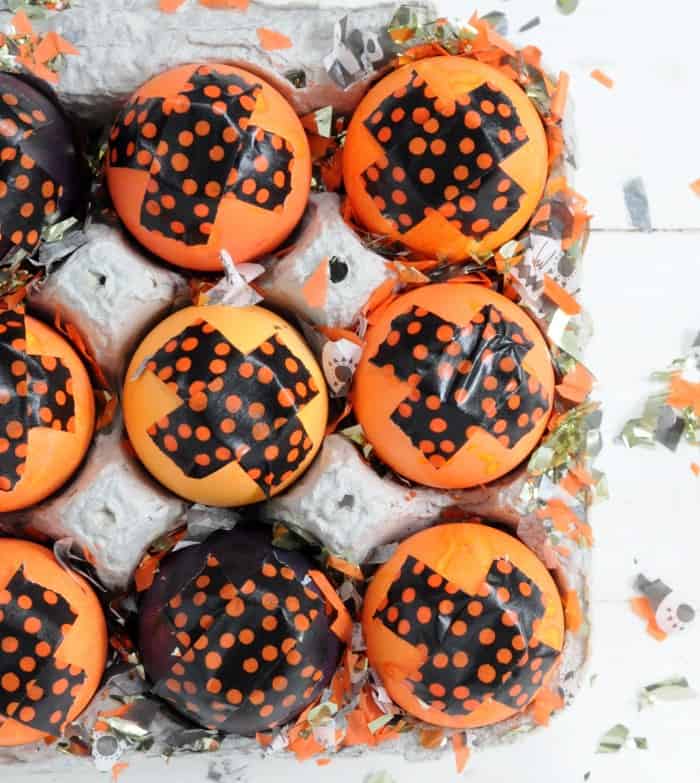 Then have fun cracking the eggs and showering each other in confetti!
Yield: 1 dozen eggs
Cascarones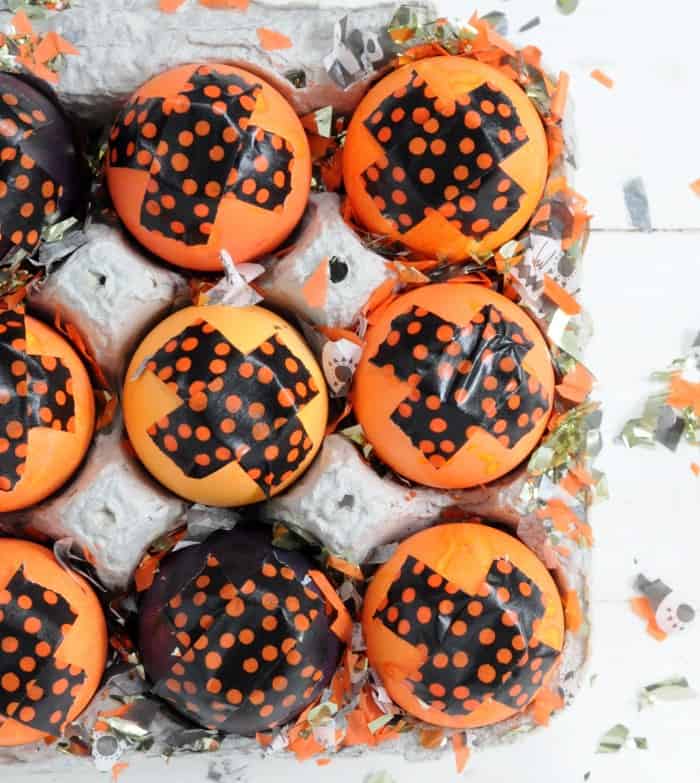 Learn how to make cascarones with this tutorial. These confetti eggs are perfect for birthday, graduation, wedding, or any other party or holiday.
Materials
Eggs - 1 dozen
Egg dye tablets
Confetti, glitter, birdseed or other fillers
Patterned tape
Tools
Scissors (optional)
Pin
Bowl
Instructions
Wash and dry eggs if needed to remove any dirt (if you got them from your yard).
Use a pin to poke a hole in both the top and bottom of the egg. Work slowly, pushing through to break the yolk so it will drain. Make the hole slightly larger at the bottom.
Continue wiggling the pin and making the hole larger until it's big enough to insert small items like confetti into it. Pour the contents of the egg into the bowl and repeat.
Let the shells dry and then dye them with the egg tablets. You can also use food coloring and vinegar.
Fill the eggshells with confetti, glitter, or whatever you desire. A piece of paper rolled into a cone makes this easier.
After the shells are filled, cover the hole with a small strip of washi or patterned tape.
To use, simply break the eggs in your hand or over someone's head (gently!).
Notes
If you don't have egg dye tablets, use 1/2 cup boiling water, 1 tsp vinegar, and 20 drops of food coloring for your dye. You can also paint the eggs for another alternative.
If you liked these confetti eggs, I'd love to know in the comments! For more DIY projects, crafts, and recipes, visit my blog, a pretty cool life.
---
If you're interested in some other projects I've done that can be customized for the season, check out these two:
DIY Spin Art with a Salad Spinner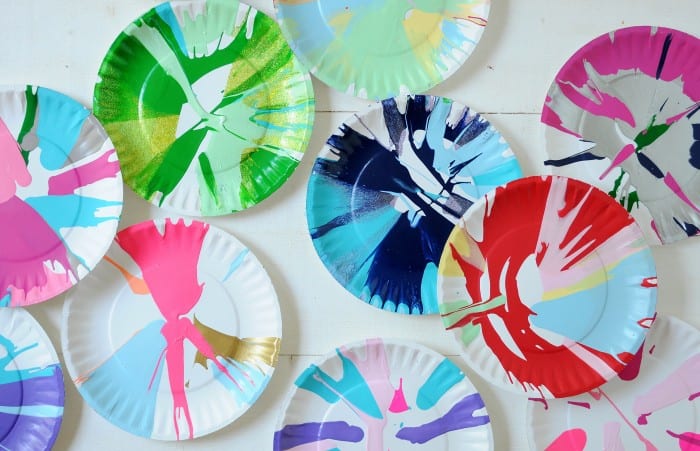 DIY Bookmarks for Kids with Colorful Confetti