If you've wanted custom canvas art to match your decor, try this craft idea. Learn how to Mod Podge a canvas with any design – and it's easy!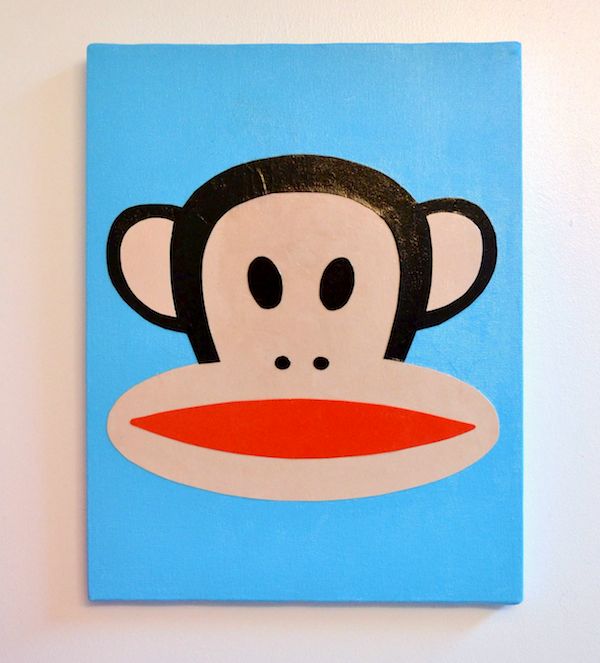 I love Paul Frank. If you've never heard of him, he's an artist and fashion designer that started making products in the mid-90s in California.
His designs definitely have a modern feel, but they're still fun, which is what appeals to me. At one point I only bought his stuff in skateboard shops, and now it's in Target – I love it!
My entire bathroom is Paul Frank themed – I have a shower curtain, rug and hook. I decided I need a Julius canvas as well (one of Paul Frank's main "characters"). I decided that, to coordinate with my bathroom, I would make it myself. With Mod Podge!
Then I realized that this is a great tutorial to show you how to Mod Podge a canvas with any design. Often times decoupage involves taking a design and adding it to wood or canvas . . . but in this project, you'll make the design yourself out of scrapbook paper!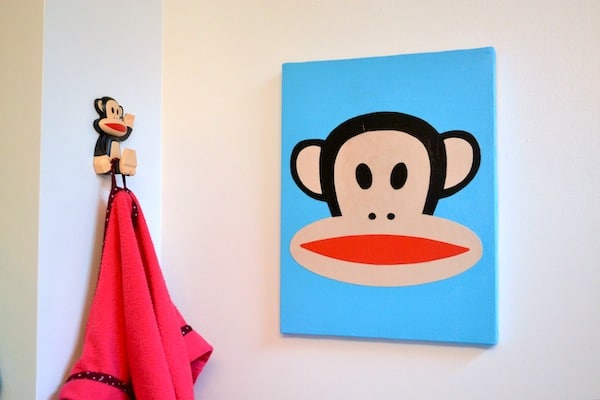 Now, how detailed the designs get that you Mod Podge really depends on your cutting skills. If you have small scissors, you can probably get pretty intricate with your designs. It's really up to you.
But this technique works with so many designs that I had to share. So grab your decoupage medium and let's go!
How to Mod Podge a Canvas
Gather These Supplies
Canvas of any size – I used 16″ x 20″
Acrylic paint
Scrapbook paper in the colors of your choice – I used black, red and a flesh color
Clip art – I chose Paul Frank's Julius character
Computer and printer
Stencil tape
Scissors
Paintbrush
Start by painting your canvas whatever color you like – give it several coats and let it dry.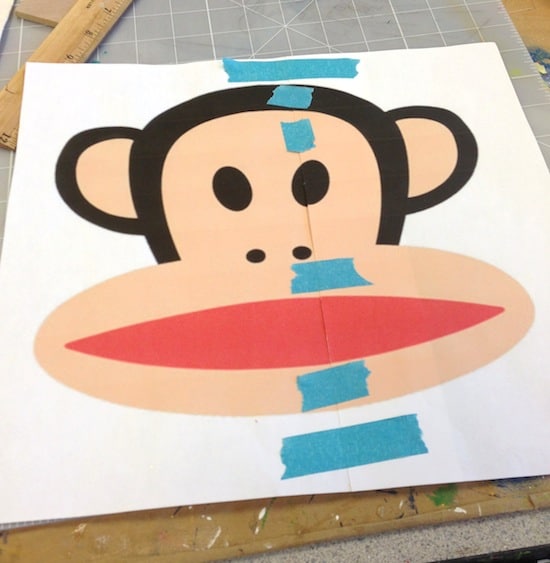 Print your design out on printer paper. If it is a large design, print it on a few pages and then tape it together. I always tape together on the front and back.
If you want an even larger design or don't want to futz with taping things together, you can always go to a FedEx/Kinko's or other printer and have them print it out for you.
Now, you may be wondering why not just decoupage the printed design to canvas? Well, you could do that. But there are some other reasons not to: 1) I like the layered look of scrapbook paper; 2) there are no seams in my project and 3) I might want the design in another color/material.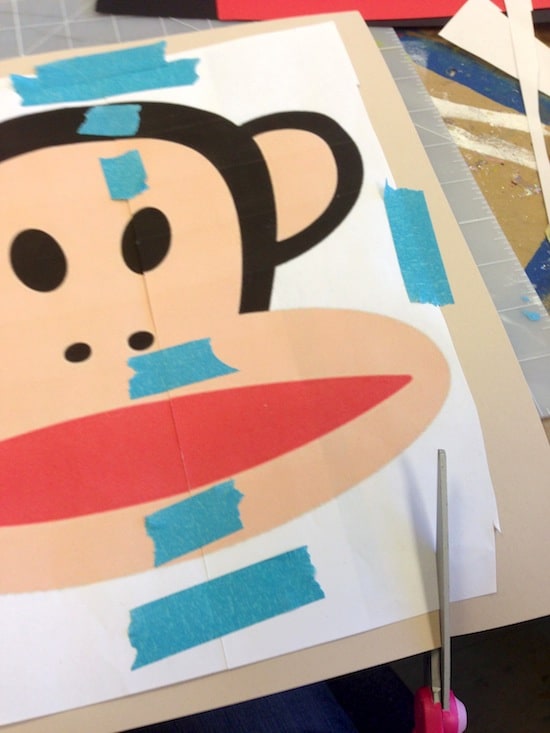 Tape the design to your scrapbook paper and start cutting. Here's a few tips for this stage. Start with the largest portion of the design to be the first that you cut. Then you can cut inward. Depending on your design, you might need a few print outs to cut multiple portions.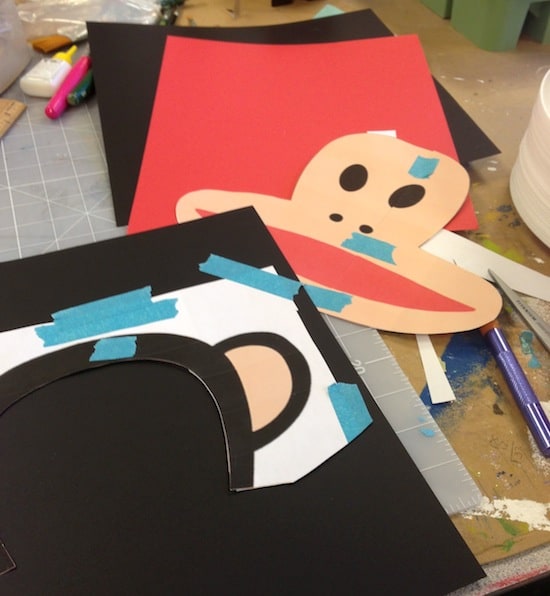 You can see that after I cut the main portion of the head, I had the black part to cut – that was next.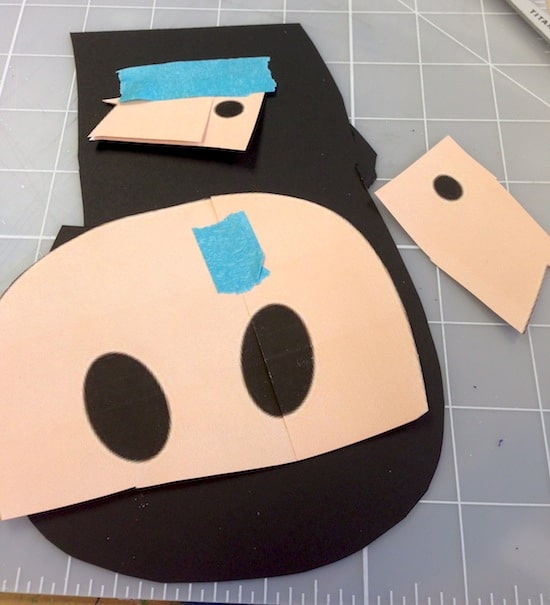 Keep working inward – cut the mouth, eyes, nose and ears. Use the stencil tape as you need it.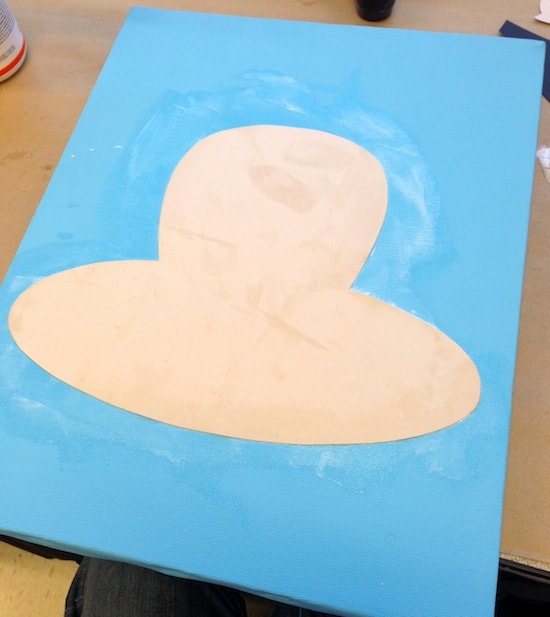 Now before you start decoupaging pieces down, give some thought to it. What piece should you start with, and what is the process that you use for layering? You want to make sure you account for all of the layers as you go.
Start with the base piece and Mod Podge it to the canvas. Put a medium layer of Mod Podge on the canvas, smooth your shape down and then let it dry for 15 – 20 minutes.
What can help you smooth? A brayer, and also turning the canvas over and smoothing from the inside down on a non-stick surface like a silicone mat.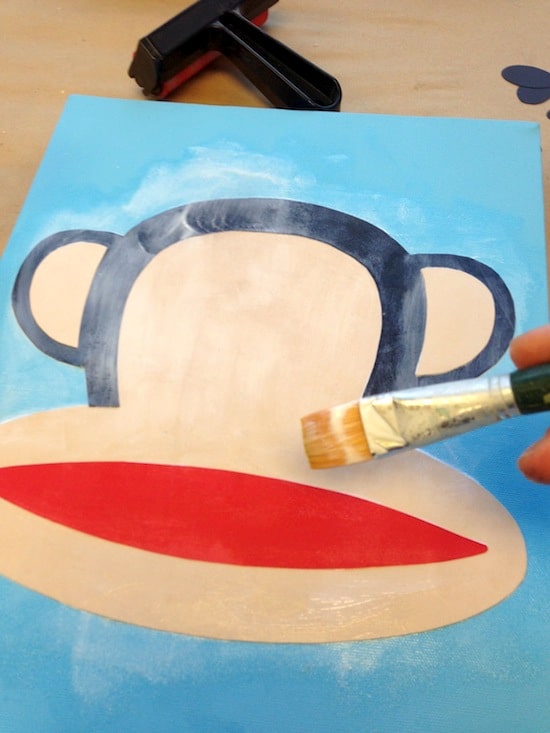 After my base face part dried, I put a coat of Mod Podge over the top. Then I put the mouth and ears down, and let those dry. Repeat with the insides of the ears, yes and nose. Pretty soon it all comes together!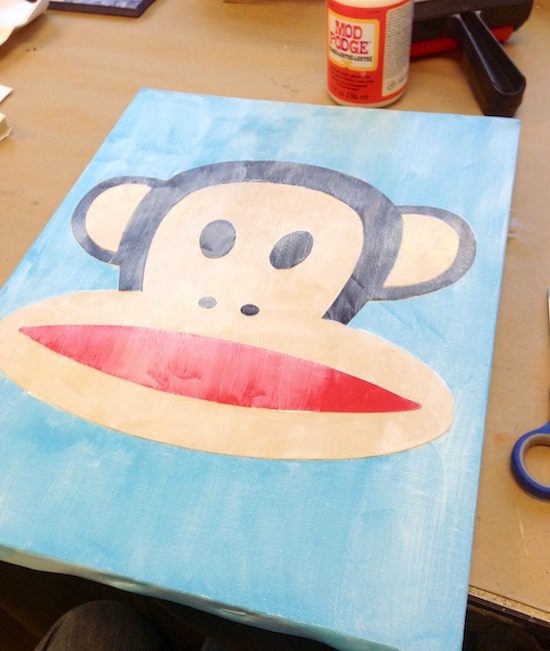 Once your canvas has dried, you need to put a few coats of Mod Podge over the entire thing, letting it dry between layers. The Mod Podge will dry clear.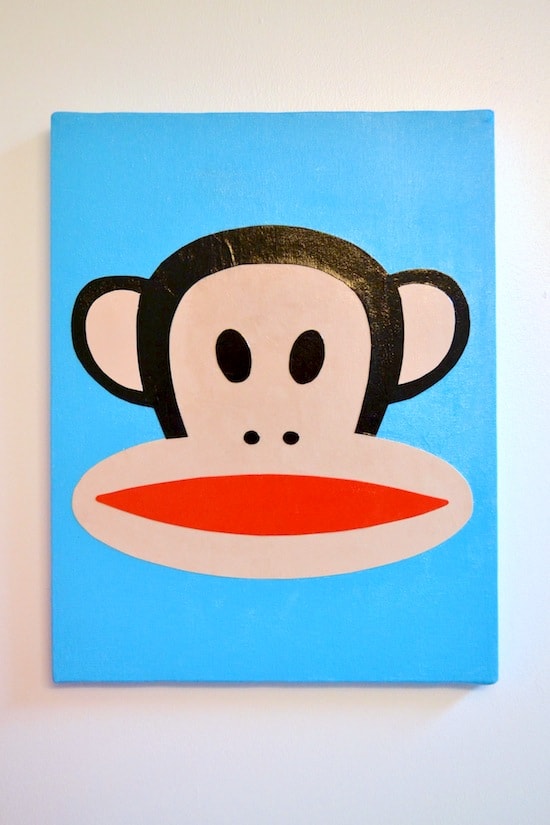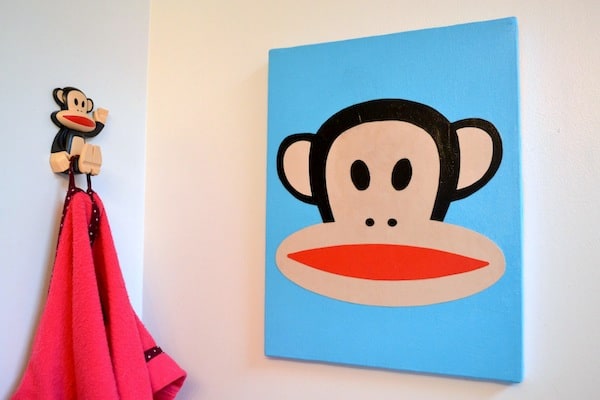 Now you know how to Mod Podge a canvas with the design of your choice. Amazing, no? Easy and budget friendly – my kind of project! Do you love this Mod Podge canvas?