This is the easiest glue art project you'll ever make – all you need is a canvas and your favorite paint color. Customize this glue on canvas art with any saying you like!
Skills Required: None. Even if you've never crafted before, you'll be able to make this canvas. You'll just be drawing with glue and painting. Great for older kids and teenagers too.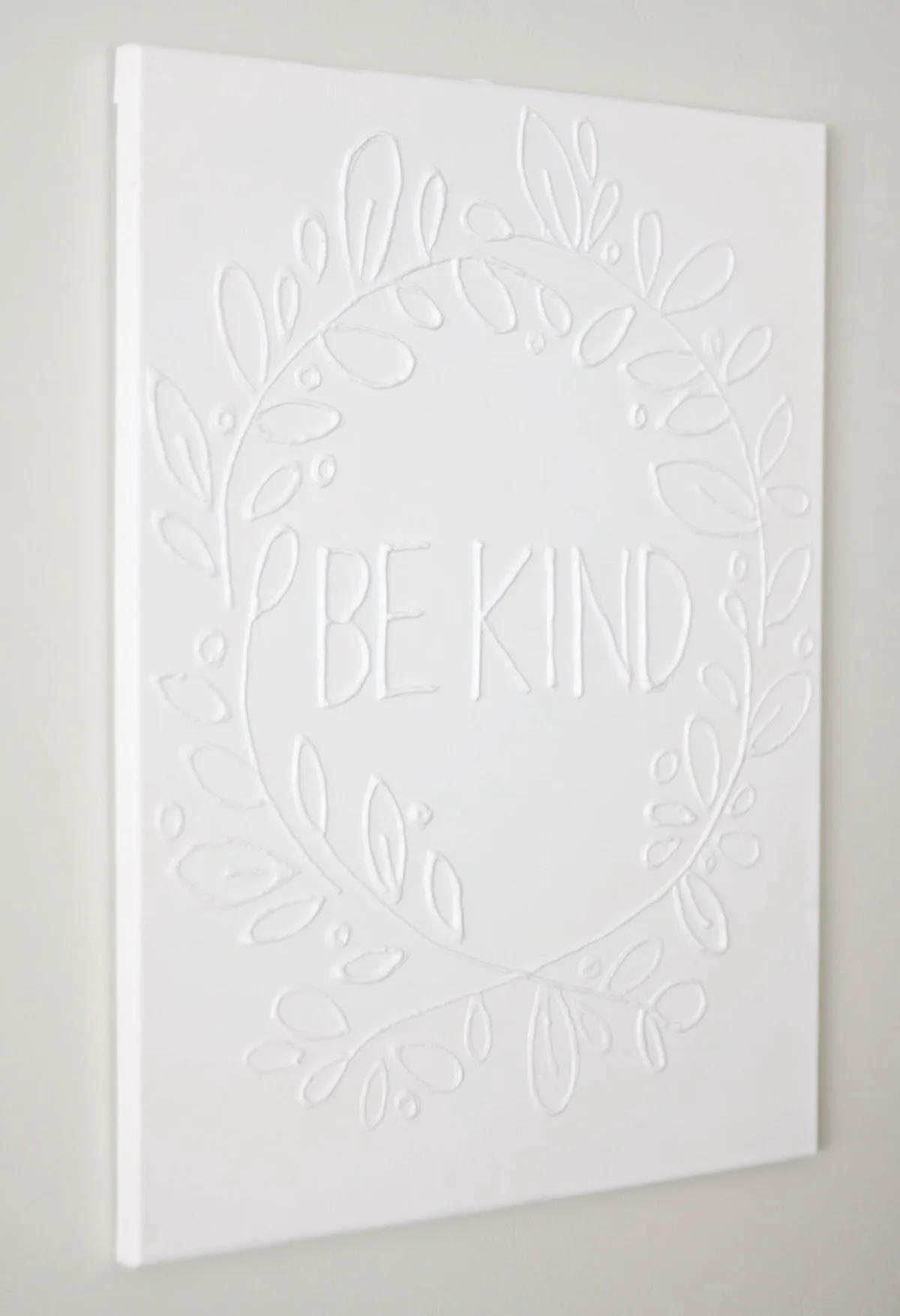 I am sure a lot of you have probably seen this glue craft all over Pinterest. I saw it, was intrigued, and decided to give it a try. And now I am sharing it with you because I LOVED IT.
It was really fun to make, totally customizable, and really pretty in the end! Next time you need to add some decor to your home, make this DIY canvas wall art! Read how I did it below . . .
Note: I used washable glue for this home decor, but you can do the exact same thing with a hot glue gun and glue sticks. Or a thicker craft glue. You basically need a medium that is going to dry or cool with a raised texture.
(get all of our wall art projects here!)
Glue on Canvas
Gather These Supplies
Canvas
Craft glue (with a tip) OR a hot glue gun and glue sticks
Spray paint or craft paint in the color of your choice
Pencil
Saying – you'll either hand draw or print
Transfer paper (optional)
Paintbrush (optional)
Choose a Design
Thoughts About This Project
If you aren't feeling very creative or you want to make a specific design on your canvas, you don't necessarily have to draw it. You can print something from the internet and place the paper down on the canvas with a piece of carbon transfer paper in between. Trace with your pencil and the design will end up on the canvas!
Glue from a bottle with a writer tip was used for this project, but you can also use hot glue or dimensional fabric paint. The hot glue is great except for the stringing. If you use hot glue, blast the canvas with a hair dryer after you're done to melt all the stringies.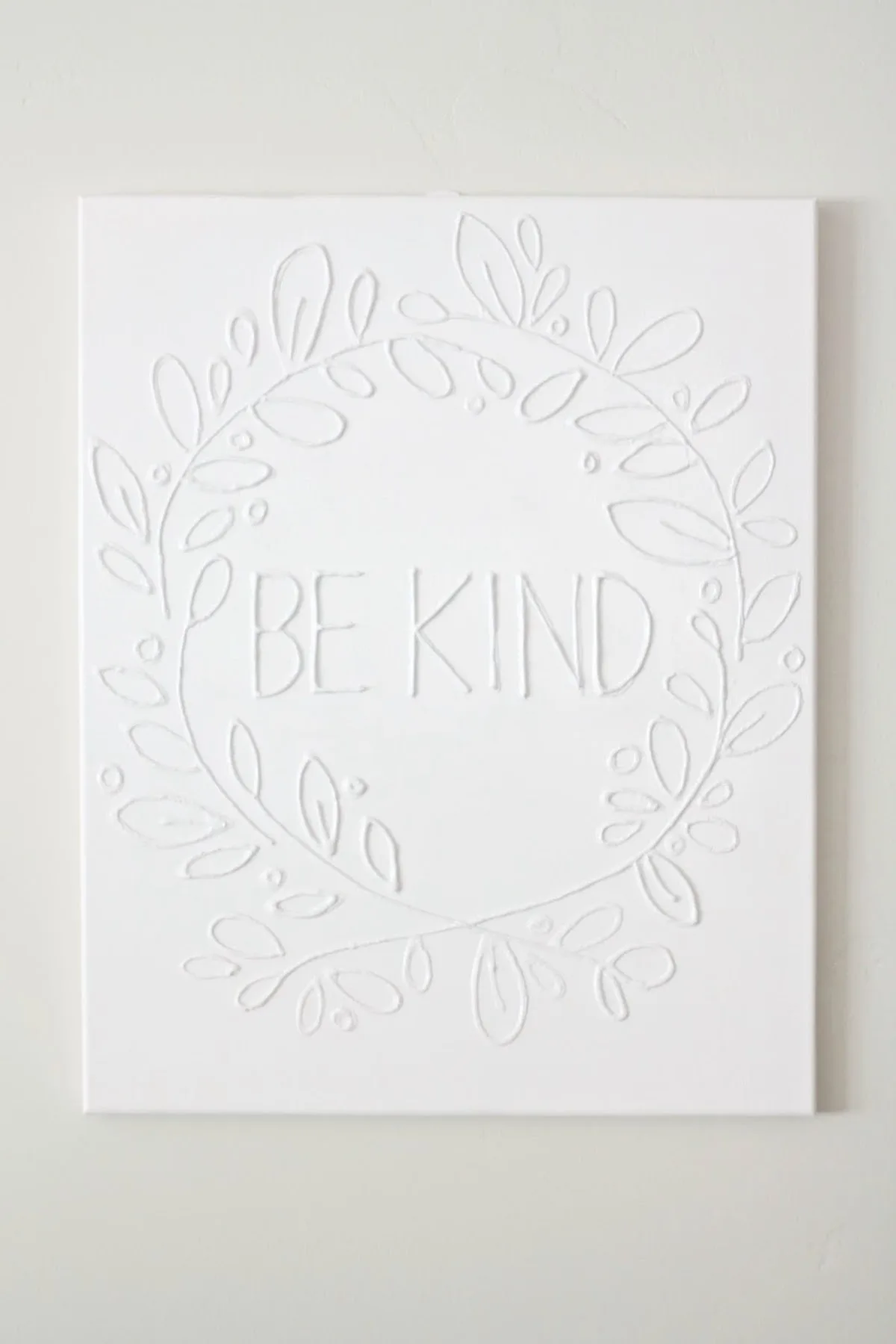 This art is subtle but keep in mind – you can use any colors of spray paint you like! You can combine colors if you like as well.
Hang up your glue on canvas art and admire your work! Get the printable how to card for this project below.
This glue on canvas art is going to be the most unique - and easiest - wall art you'll ever make! Grab the supplies and you'll be done in minutes.
Materials
Canvas
Craft glue with a nozzle tip
Spray paint or craft paint - the color of your choice
Saying – either hand drawn or printed
Transfer paper (optional)
Instructions
You will need a canvas in the size of your choice plus glue with a tip that you can write with (or a hot glue gun).
Decide on a pattern that you would like to use for your project, and draw/trace it on the canvas with pencil.
Go over the design with glue. Make sure to avoid pressing down the bottle during application.
Let the glue dry overnight. If the glue settles flat, go over the design one more time directly on top of the dried glue. Let dry again.
Spray paint or paint the canvas any color. Use the paintbrush with acrylic paint, give several coats.
Let dry completely and hang.
Notes
The only thing I had to purchase for this project was a canvas - I had the glue and paint on hand.
You could also use dimensional fabric paint for this project as opposed to glue, if you want to ensure good dimension. It all depends on if you have glue on hand and want to spend more money.
---
What design and/or phrase would you put on your canvas? We love to hear your thoughts! And be sure to visit us as we blog about style, food, and the things we love over at the Pretty Life Girls. I'd also love for you to check out these other ideas: