Learn how to make the cutest coffee filter snowflakes for Christmas and winter! These are so easy, budget friendly, and FUN to make for kids of all ages.
Skills Required: None. Even if your children have never crafted before (or you haven't), you'll be able to do this craft. You'll be bleeding markers (easy), folding, and cutting.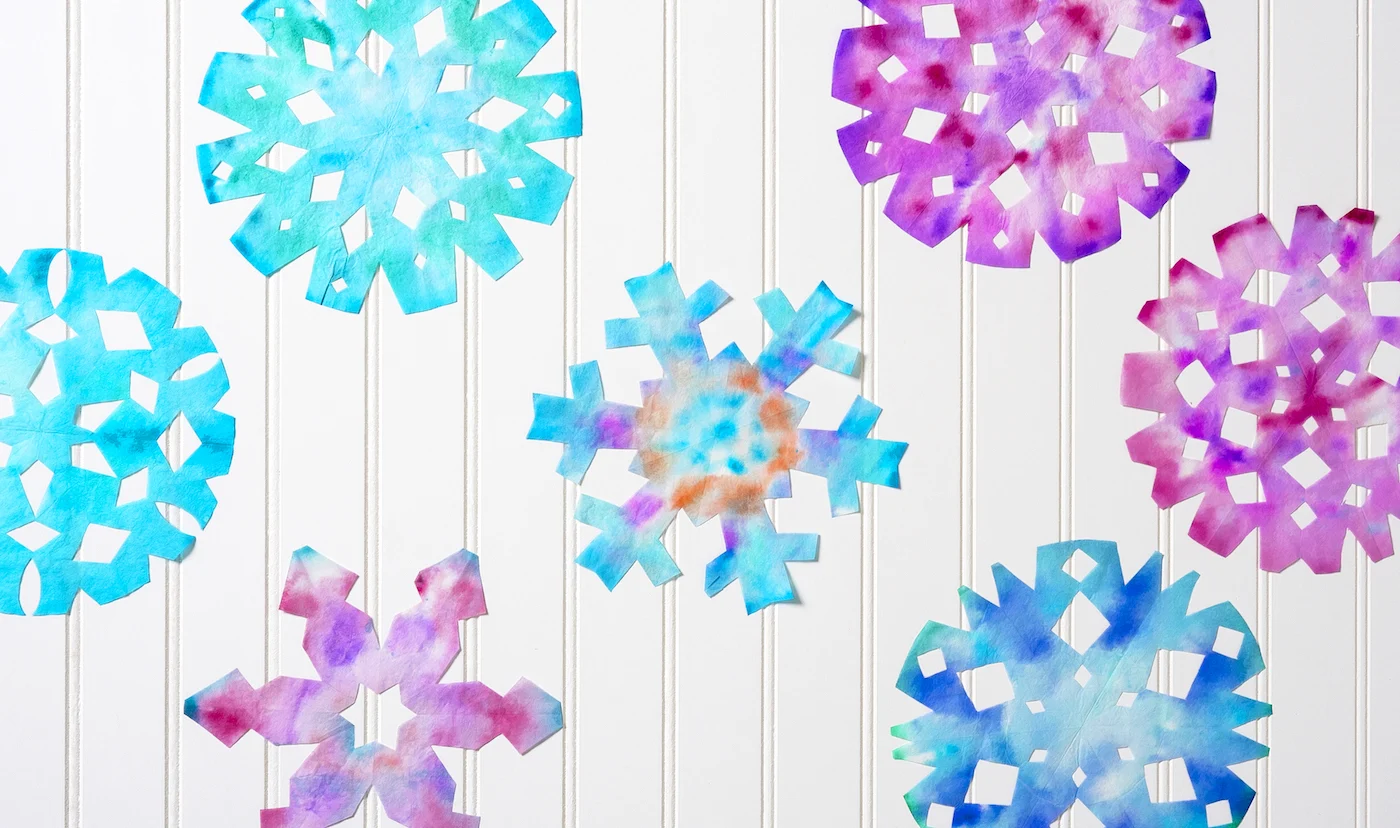 I think it's probably somewhere around first grade when kids are taught that snowflakes aren't just small lumps of snow flitting through the sky down to the ground.
It was about the age of seven or so, and in class I was shown the images you always see of snowflakes "under a microscope." They quickly go from lumps of snow to amazing crystal structures. Consider my tiny little mind blown.
I also remember making snowflakes in class during that lesson, by folding up paper and then cutting little notches and curves with mini scissors. Unfold it and WOAH! Mind blown for the second time.
I always liked a good science lesson that had a craft to go with it.
If you do too, I'm excited to share these coffee filter snowflakes with you! They're a fun craft to do with preschoolers together – and elementary age children can play along too.
You're not going to believe how easy they are to make, and you only need a few simple supplies. Before we dive in, let me answer a few questions about this project!
What kind of projects can be made with the snowflakes?
There are a wide variety of things you can do with the finished flakes. Here are just a few ideas:
How do you stiffen coffee filter snowflakes?
These are meant to be delicate, but you can do a few things. You can spray them with hairspray, or fabric stiffener. You can also brush them with a little bit of liquid starch. It will make them just a little bit stiffer though. You can't expect them to be hard given how thin the filters are.
---
Are you ready to try this winter activity? Learn how to make snowflakes out of coffee filters below!
Gather These Supplies
Tips and Thoughts for This Project: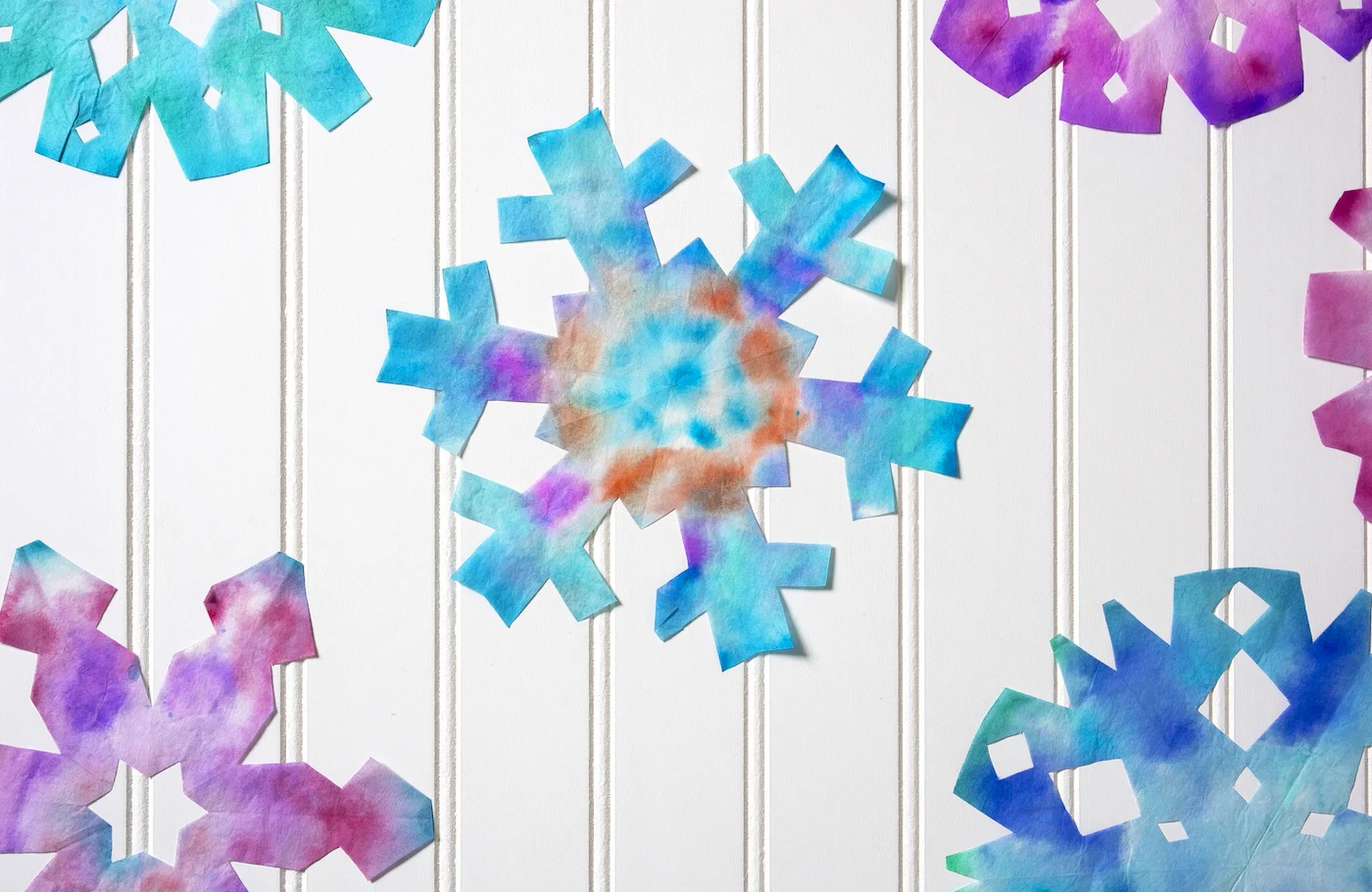 I'm really pleased with how colorful they turned out! It's raining coffee filters around here!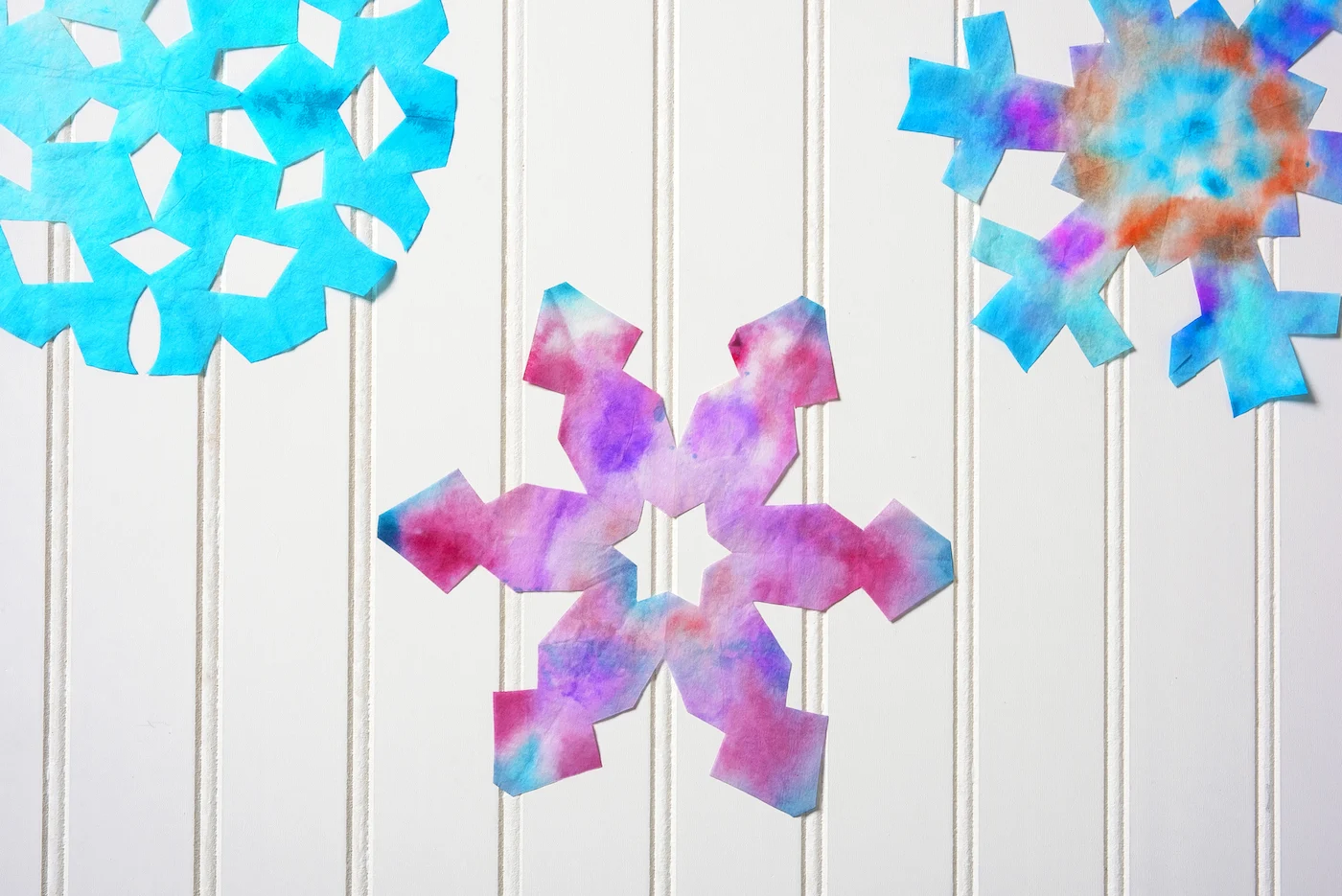 Get the printable coffee filter snowflake craft how-to card below.
Yield: 5 snowflakes
Coffee Filter Snowflakes
You'll love learning how to make this cute coffee filter snowflake craft, perfect for kids this Christmas or winter! Adults love these too.
Materials
Coffee filters – 1 per snowflake
Washable markers – colors of your choice (pinks, blues, purples, and maybe a dark green or orange for fun)
Tools
Scissors
Small spray bottle of water
Hair dryer (optional)
Instructions
Choose four colors that you would like to use for your snowflake. Picking a variety of colors that are different shades (light and dark) makes for the best results.
Start with a green or similar dark shade of marker. Draw a circle around the edge of the coffee filter and then draw some circles and blue lines in an "X" across the middle.
Take a contrasting color marker and draw some dots and lines within each quadrant on the coffee filter.
With the remaining marker(s), add additional lines, squares, and squiggles on the coffee filter. No need to add too many lines or shapes. They will bleed into each other.
Place the coffee filter down on a washable work surface. You can use a craft mat, silicone mat, or wax paper. Mist the paper with 4 – 5 sprays of water and you will start to see the markers bleed. This is what you want.
If the markers didn't bleed enough, add additional sprays of water. Don't add too much water. You want to just saturate the filter, otherwise all the water will drip off the filter and take the color with it.
Leave the coffee filter on your work surface to dry. Additionally, you can take a hairdryer and dry the filter, or place in the oven for a few minutes at the lowest heat (watching the entire time).
To turn the filter into a snowflake, you'll cut it for folding. Fold in half, and then into thirds. Then fold in half once again.
On the folded filter, you're going to cut notches out on both sides and then the top. Make small cuts, both triangular and round. The more detailed the cuts, the more detailed the results.
Completely unfold the filter to reveal your finished snowflake.
---
If you enjoyed this cute snowflake craft idea, I'd love for you to check out these other ideas as well!