Learn how to make a valentine pom pom garland with hearts to decorate your holiday home! This is SO easy to make, even for beginning crafters. The heart pom poms are very simple.
Skills Required: None. Even if you've never crafted before, you can do this project. You'll be wrapping yarn on a plastic tool and then trimming. I'll show you how to make the hearts using a template, and then you'll be stringing the poms onto yarn to hang.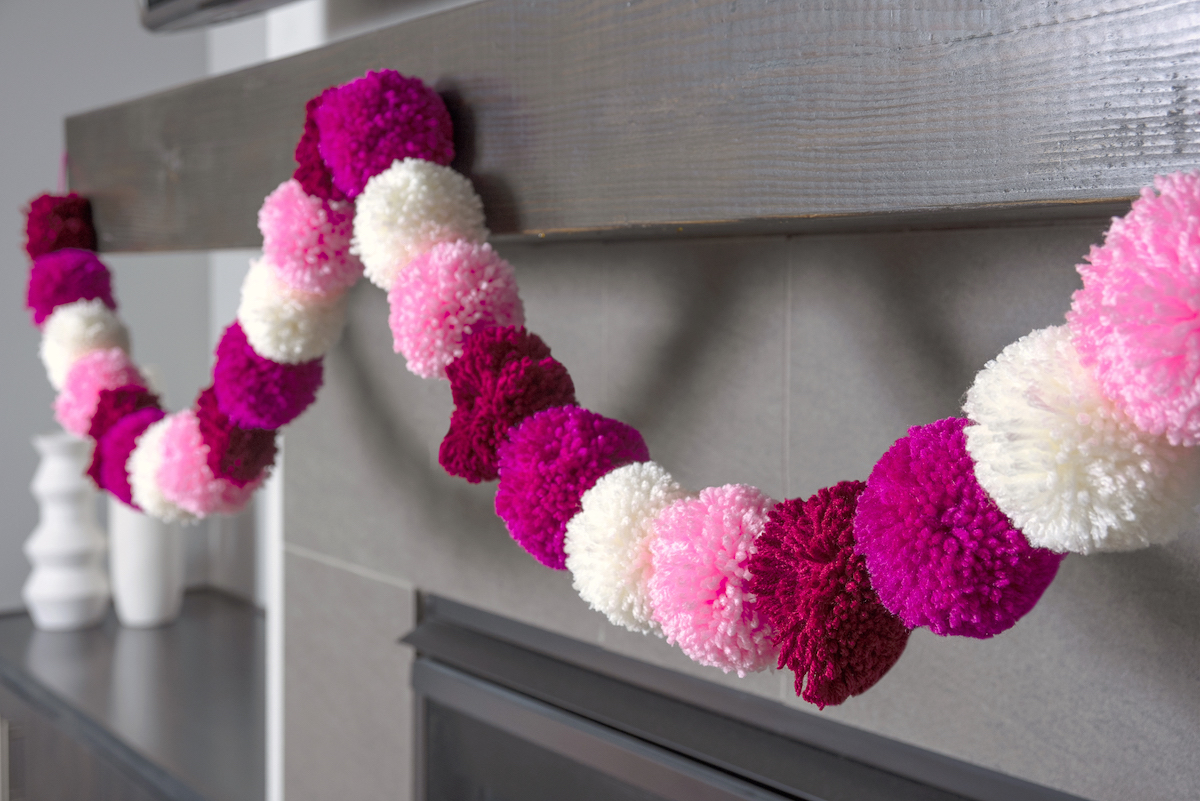 It was JUST last year that I learned to make a pom pom garland. How did it all go down? Well, not long before the garland, I used a pom pom maker to create a wreath with some leftover yarn.
I found it SO easy to make pom poms that I got hooked.
I learned quickly that I can cuddle up on the couch with a Lifetime movie or my favorite reality show and just bang out yarn pom poms, one after the other.
And once I realized THAT, I got cranking. The first garland looked great and added some much needed color to my mantel (which honestly is pretty neutral and boring).
I decided that a Christmas pom pom garland was in order after that. I was really happy with how that one turned out. So happy in fact that I knew there was another garland challenge ahead of me. Valentine's Day.
That's how this valentine pom pom garland was born!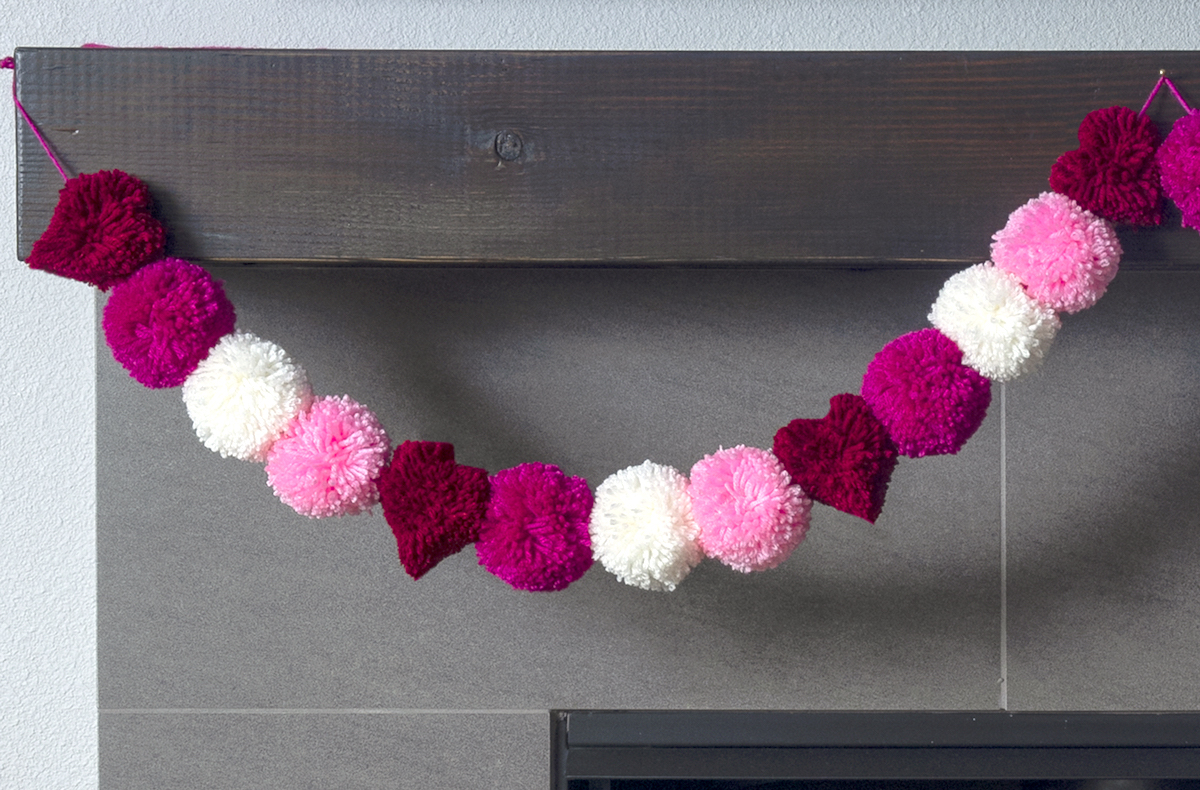 Valentine's Day Pom Pom Garland
Now, I use the word "challenge" loosely. The challenge ahead of me was how to make heart pom poms, which I quickly figured out. Turns out it's a pretty simple process.
The rest of the garland is the same as the others made of yarn. It's a lot of wrapping and a lot of fun!
I also just found out that pom pom makers are recommended for ages 5 and up. SO technically it's a great Valentine's Day craft for kids. If your littles like that sort of thing. Learn how to make it below.
Gather These Supplies
Yarn – about 4 – 5 skeins (I used four different colors including red, pink, magenta, and white)
Pom pom makers – 2 1/2″ or 3 3/8″
Scissors
Cardboard (from a cereal box or similar)
Pencil
Needle (that fits the yarn, tapestry weight is recommended)
Make the Pom Poms
I'm going to show you how to make a pom pom using a tool – this is the medium size (2 1/2″) pom pom maker.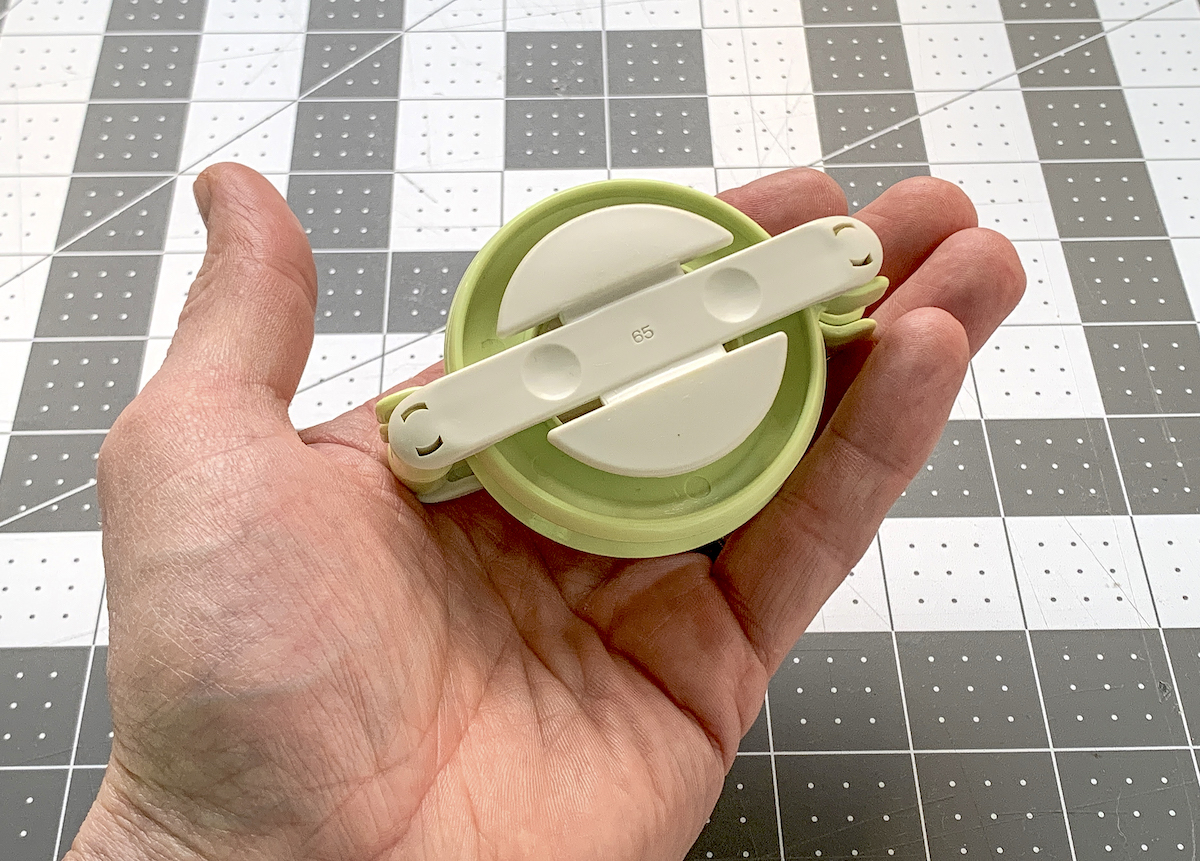 You're going to open one side of the pom pom maker only and begin wrapping the yarn around the two sticks. The yarn ends up being in the U shape. Wrap firmly but not too tight. You don't want to pull on the yarn.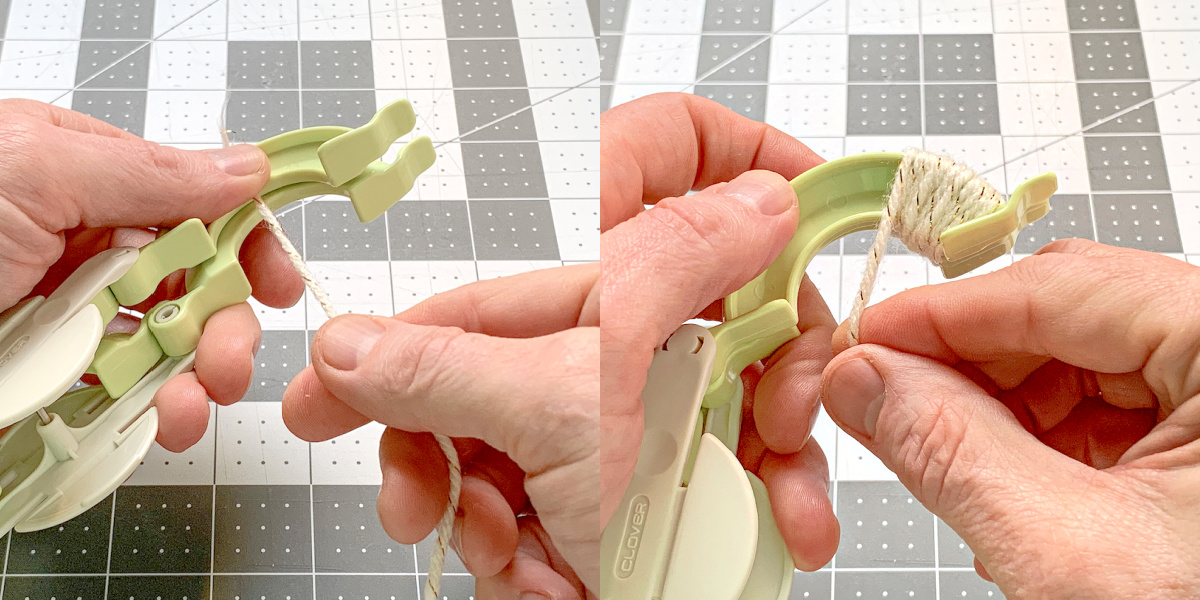 Continue wrapping until you have filled that U shape with yarn. You've made half a pom pom! Well, kind of.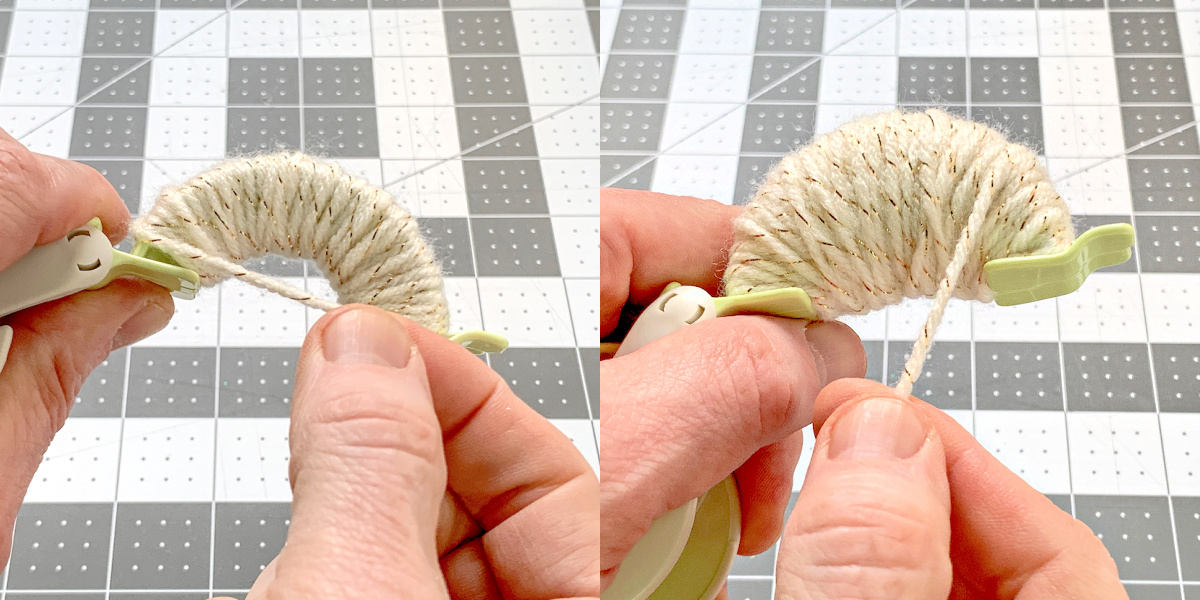 Now you need to pass the yarn over to the other side of the tool. Bring it through the feet, then close that side and bring the yarn over to the other side for some additional wrapping.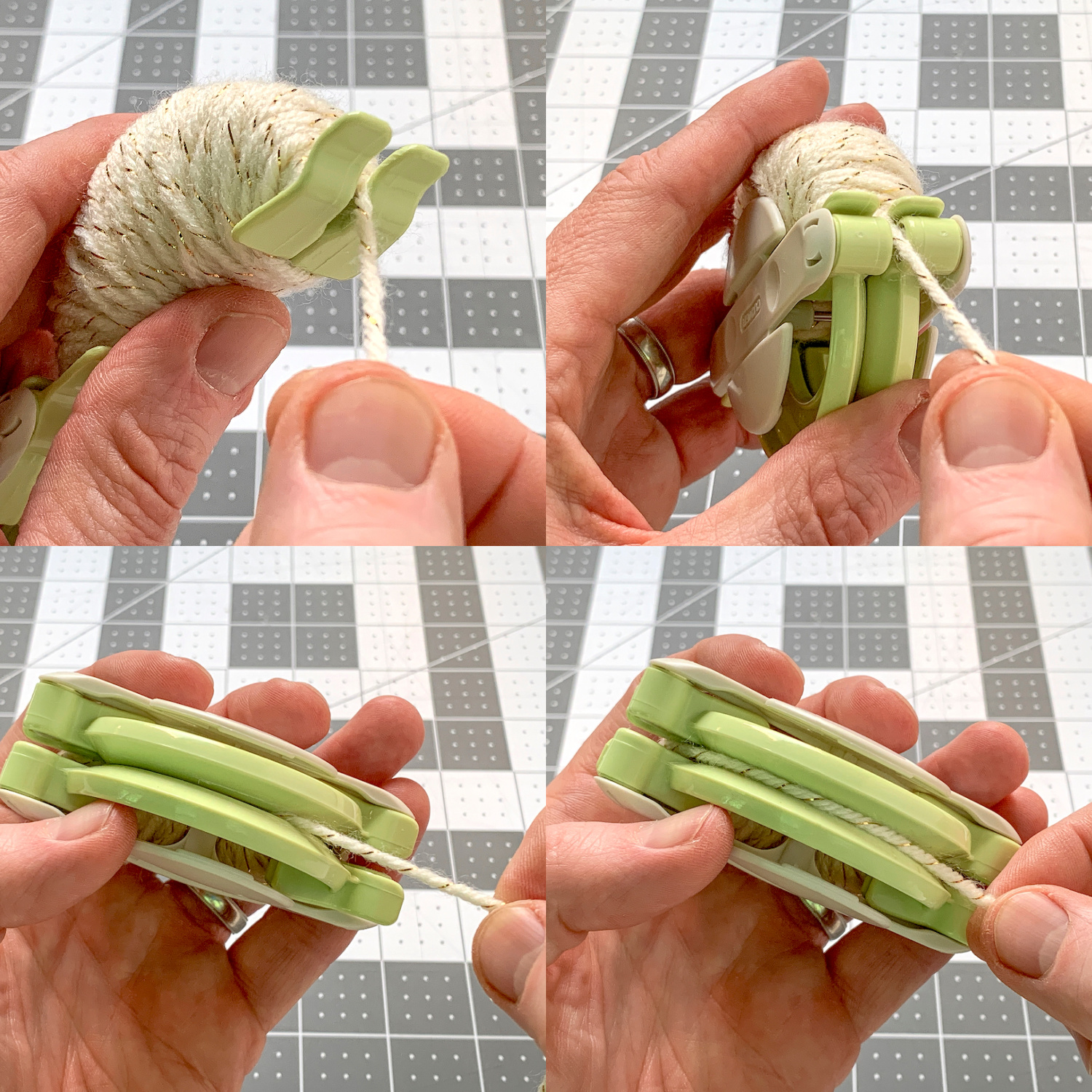 Now pull out the other two sticks and do the same on the other side of the tool. Wrap the yarn again and again until the U is filled. When you're done wrapping, cut the yarn.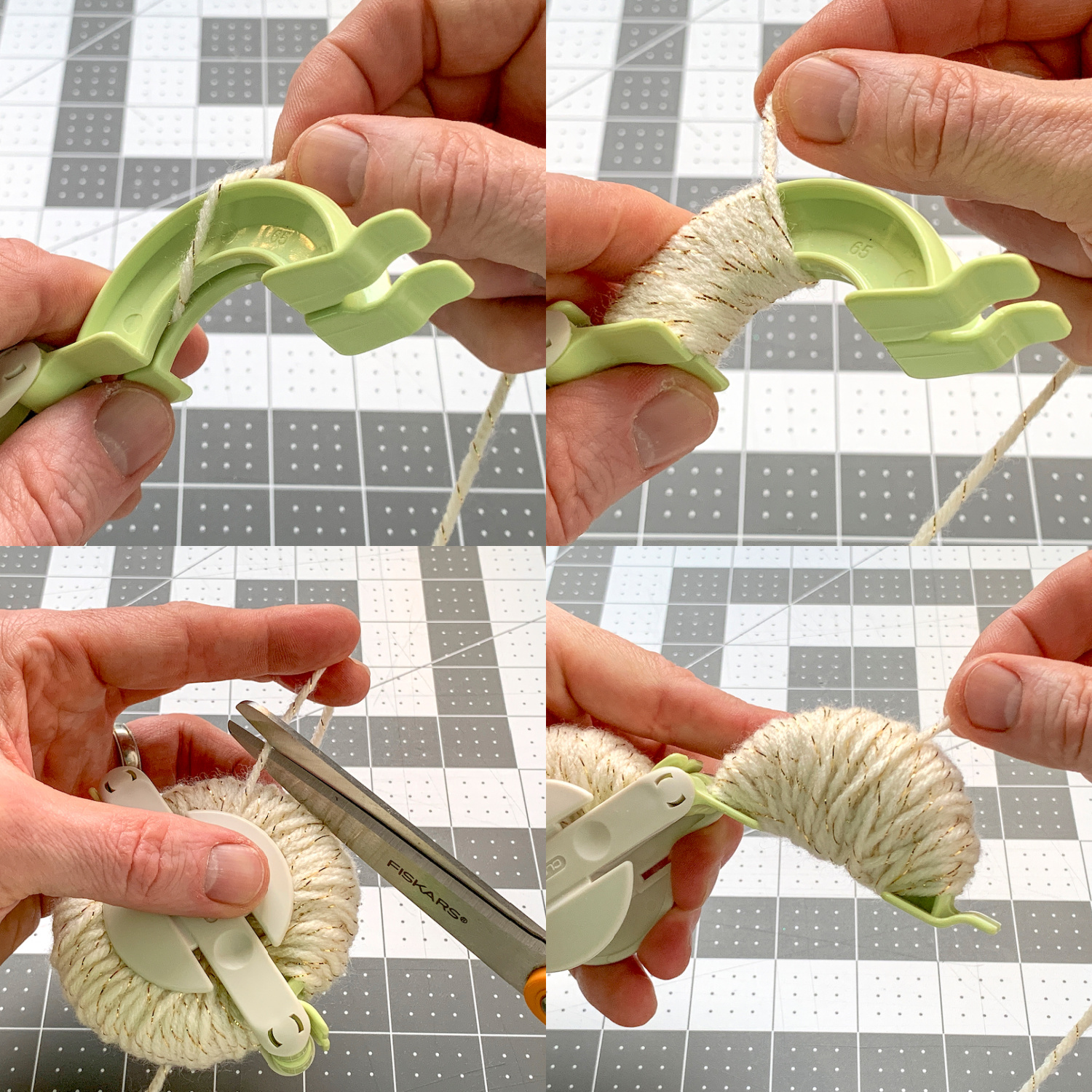 This is what a completed pom pom looks like inside the pom pom maker. But we're about to set this bad boy free!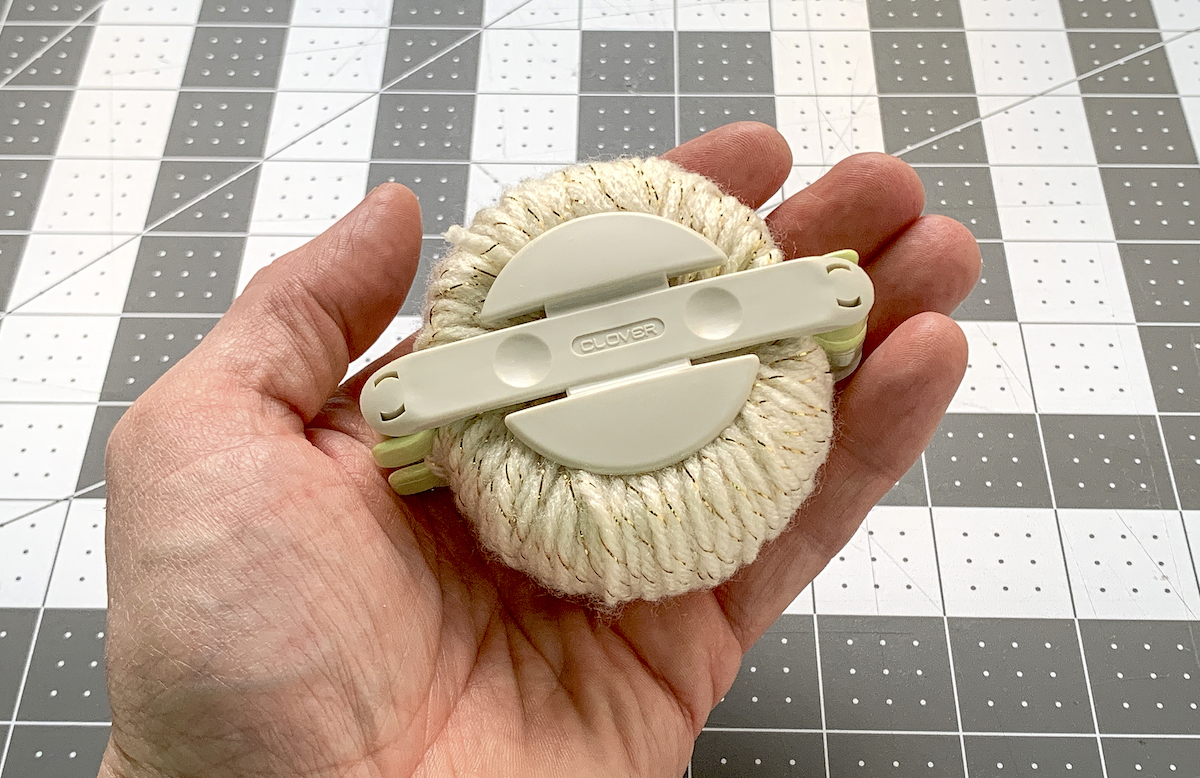 Use the scissors to cut both sides of the yarn. It's really easy because the tool has an indentation when closed that fits the scissors.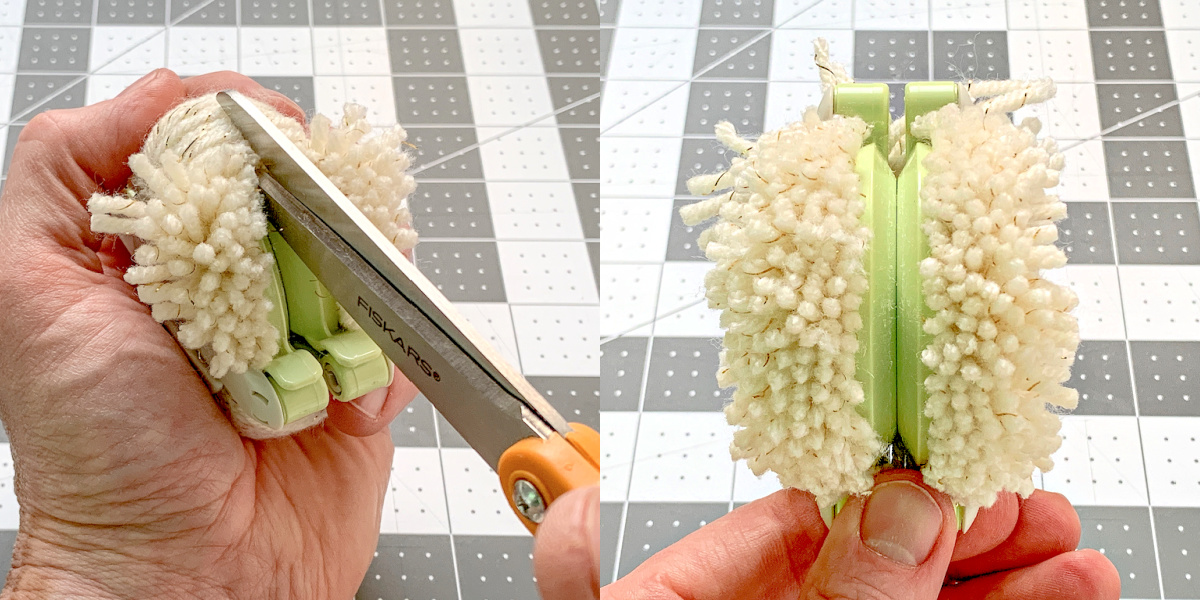 Now you'll tie it all together. Cut a length of yarn, about 12″ or so.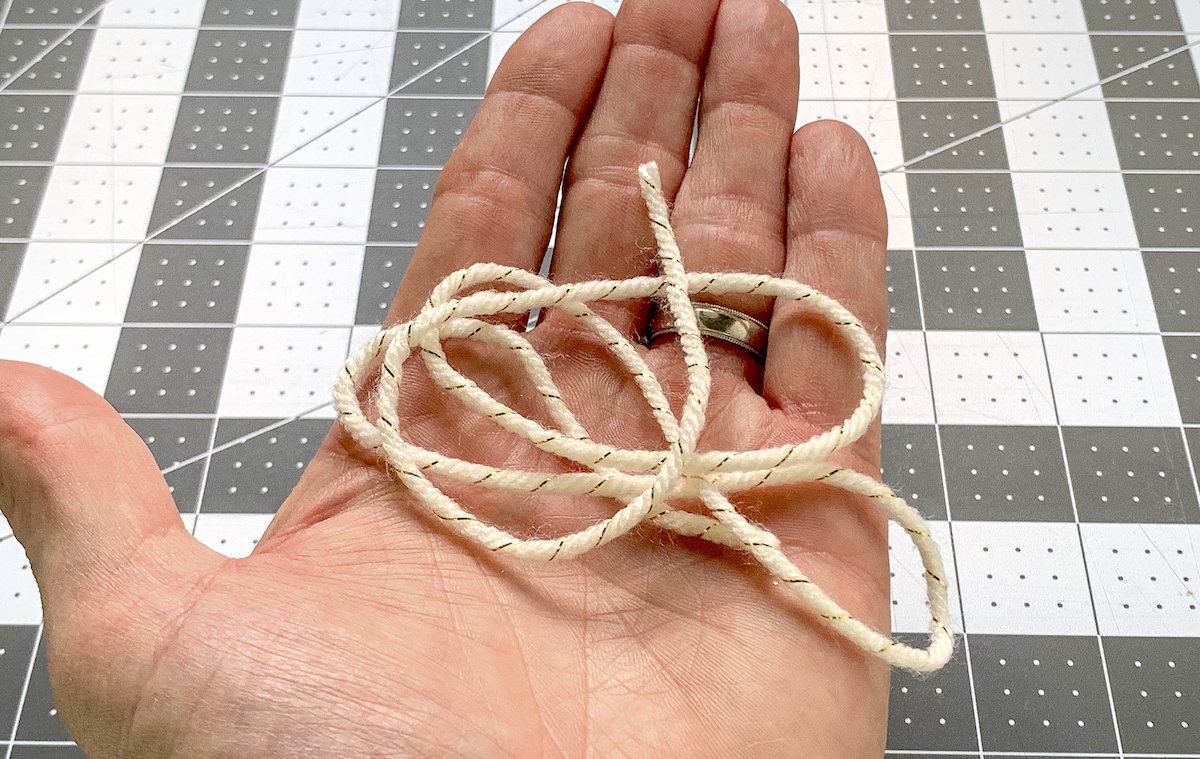 Tie the yarn around the center of the pom pom maker. You're going to tie it twice to make a knot. Tie firmly and tightly but not so tight you break the yarn.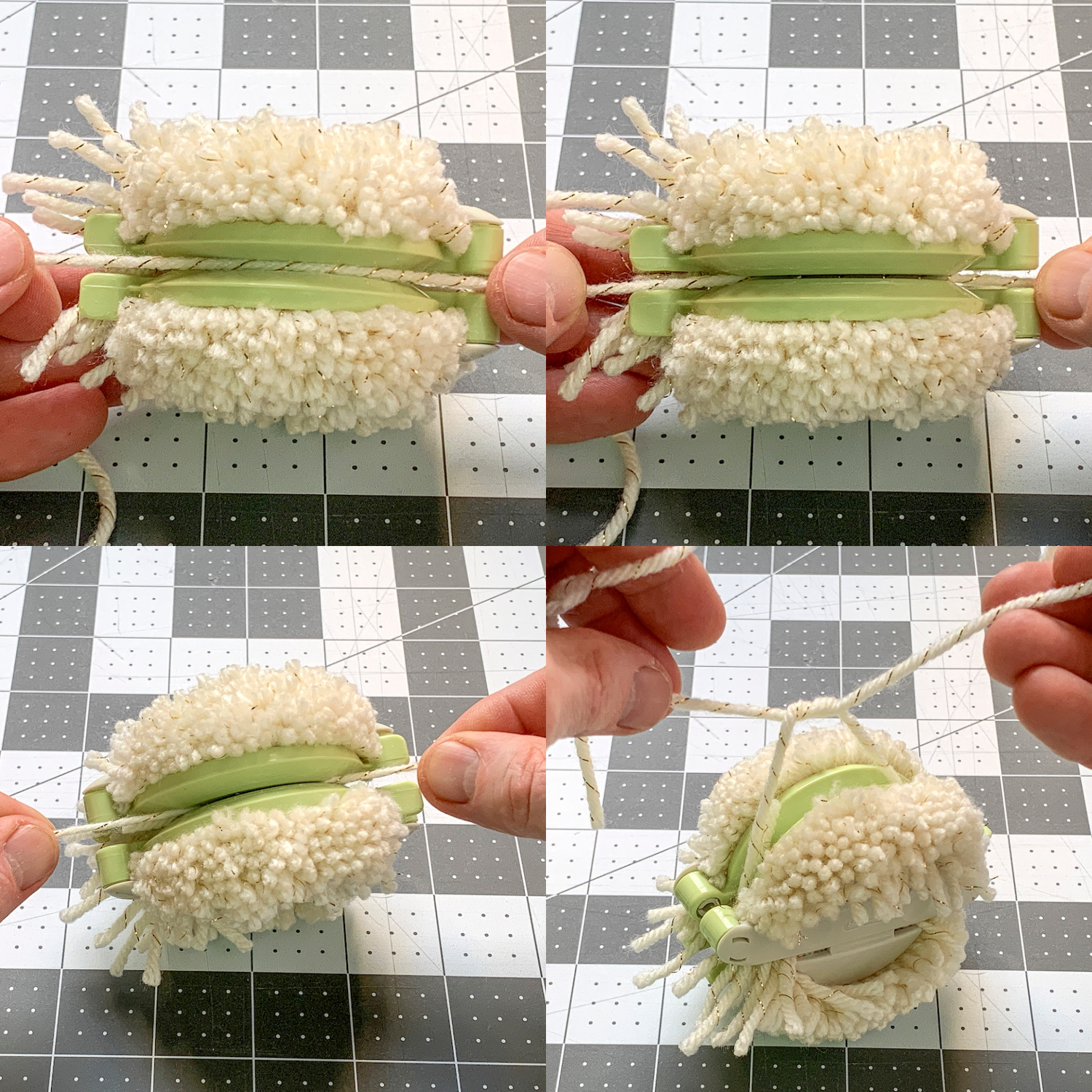 Pat yourself on the back and give me a "hallelujah" and a "yeehaw!" You made a pom pom of your very own. Open the tool and remove the pom. It's going to look a little scraggly.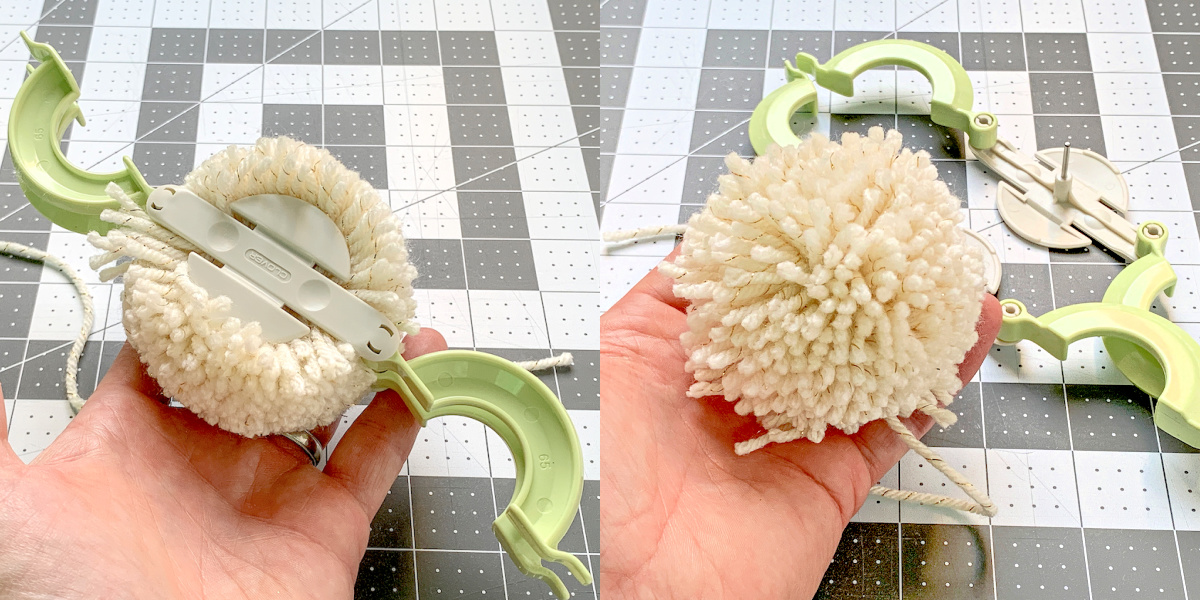 Trim the excess yarn with scissors to make it even.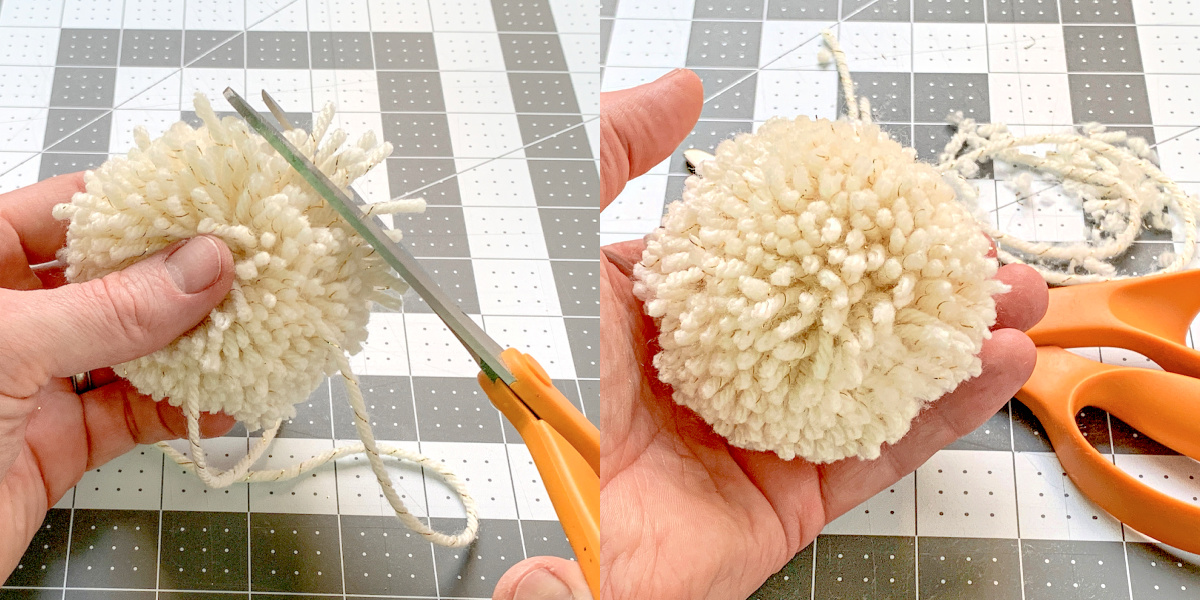 There is your finished pom pom! Keep going and making more and more poms until you have the desired number.
I made six of each color EXCEPT for the red yarn. I made seven of those. And decided that those would be my heart pom poms! You're going to make them just as you did the other poms, to start.
Make Heart Pom Poms
The heart shape is created AFTER the pom pom is made! What you'll do is use a piece of thinner cardboard (like a cereal box) to create a heart template.
Take the red pom pom in your hand and smooth the yarn out, holding the template on top with your thumb.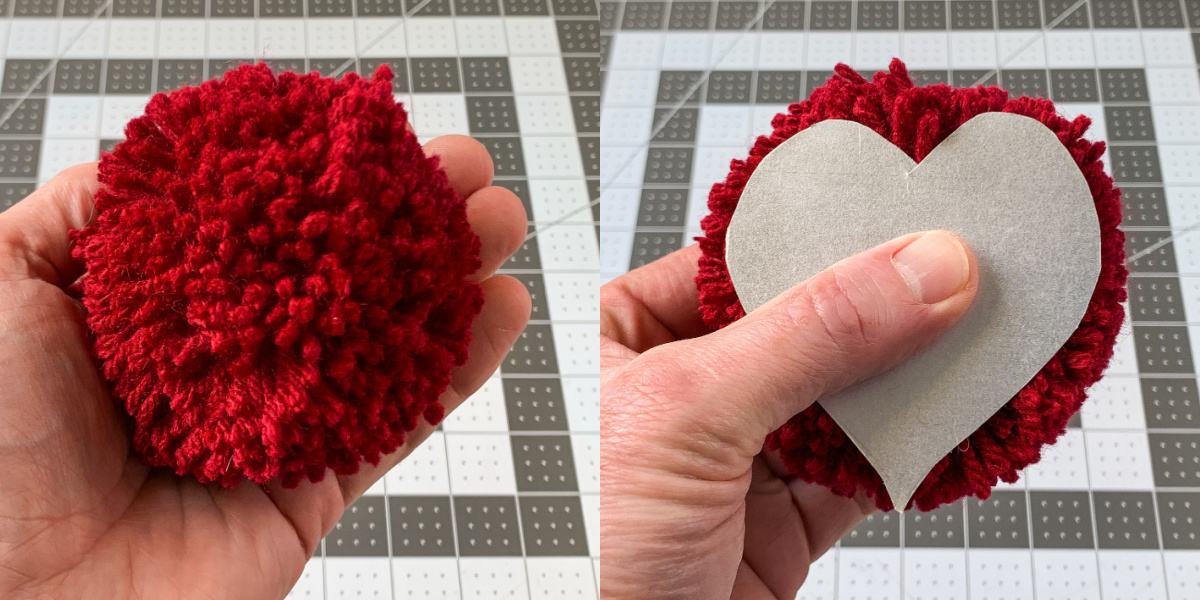 Begin trimming around the template with the scissors. Make sure that your "pom holding hand" is steady so that you can cut around easily.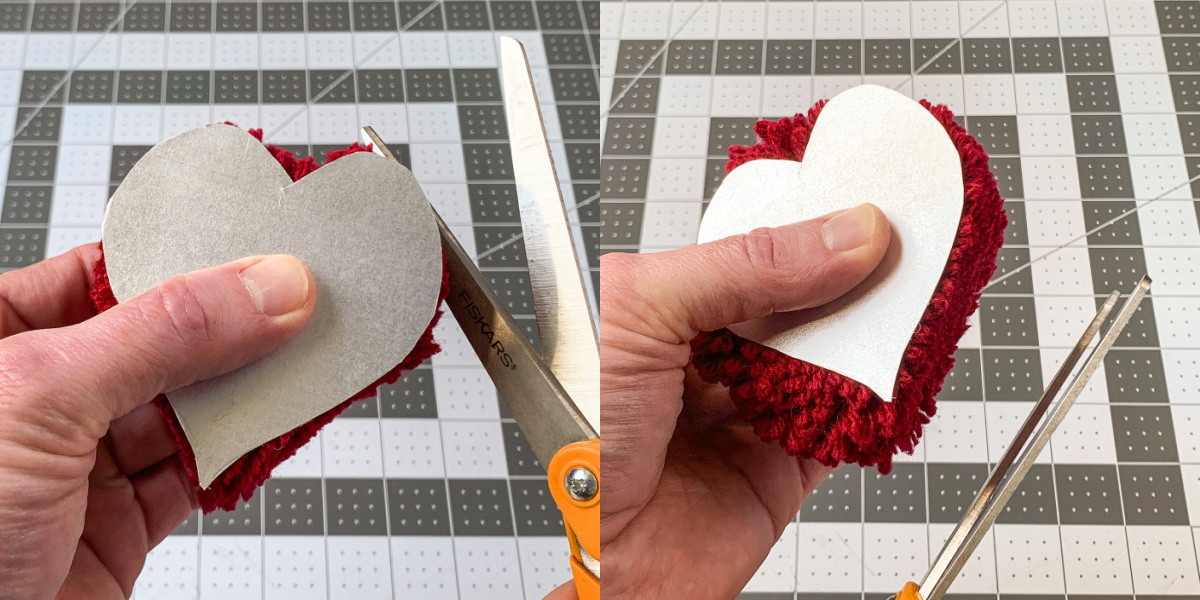 Continue cutting all the way around. You'll be left with a heart shaped pom pom made from yarn! Now, you can make adjustments as needed with the scissors to get more of a definitive heart shape if you so choose.
Note: I found the heart shapes looked best with either the 2″ or 3″ poms. Any larger or smaller and it was harder to see the shape on the garland.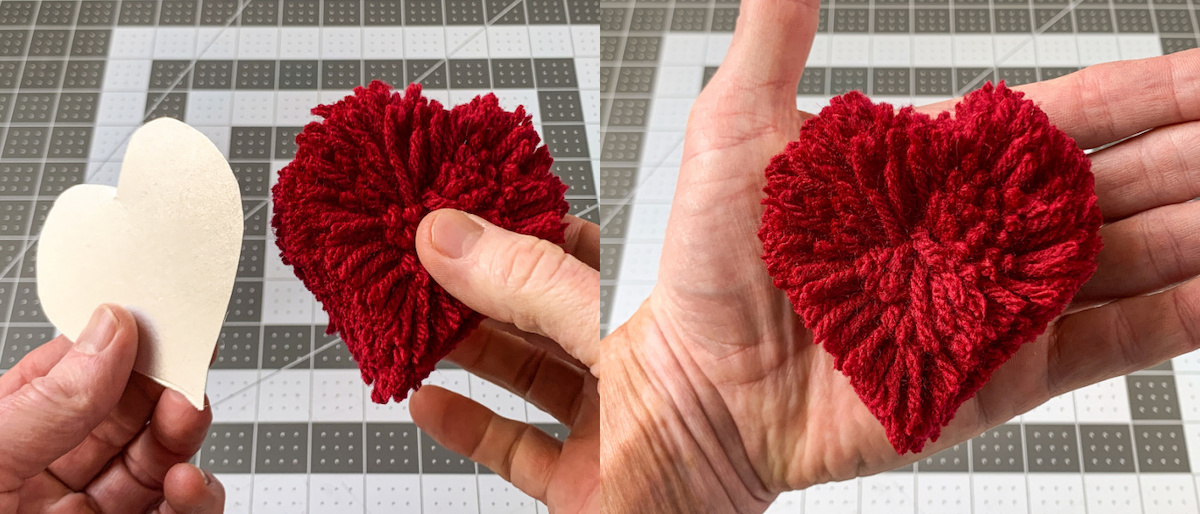 Repeat with each red pom pom until you have all the hearts you want.
String the Poms
Ready to finish your Valentine's Day pom pom garland? Thread some yarn on the large needle and string it through the poms.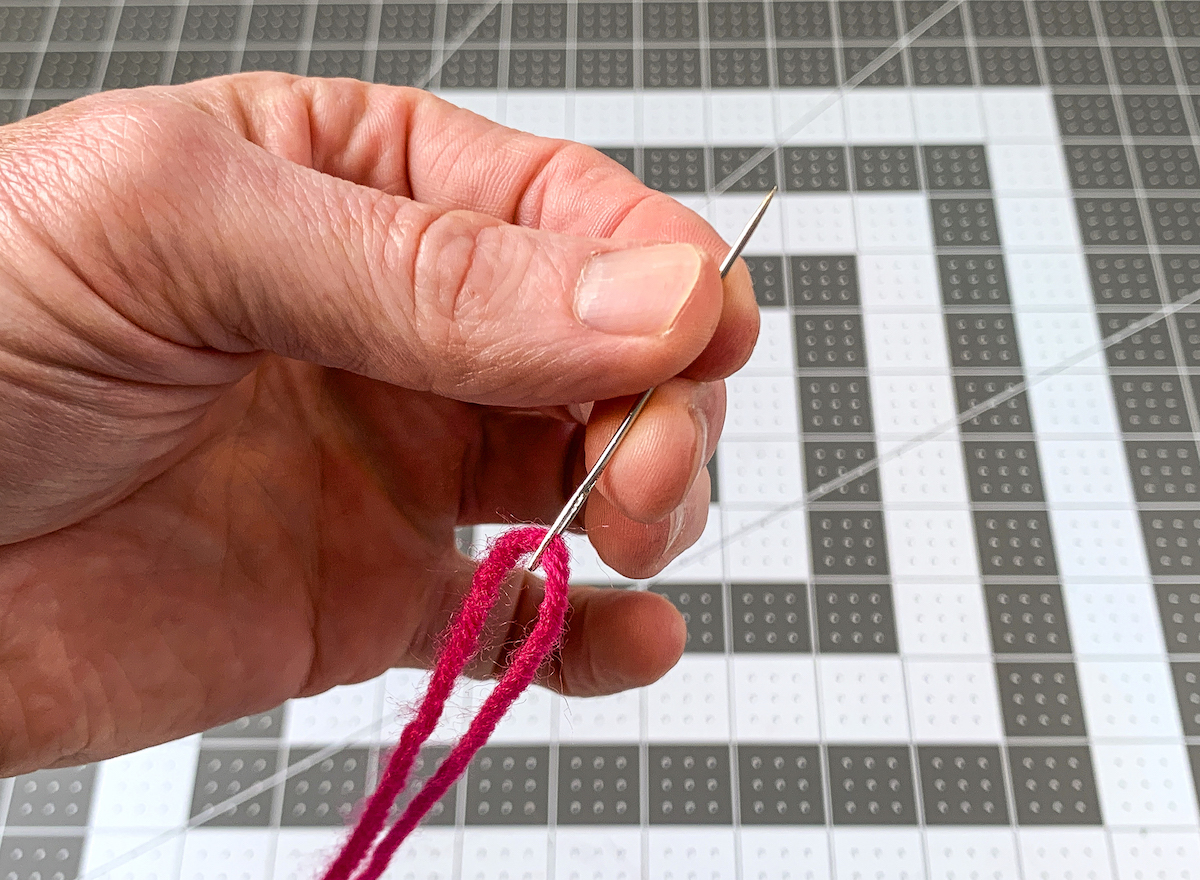 Start with a heart, then rotate through the colors. You can use a single or double strand of yarn. I like to use a double strand just because you'd be surprised at how heavy the poms get.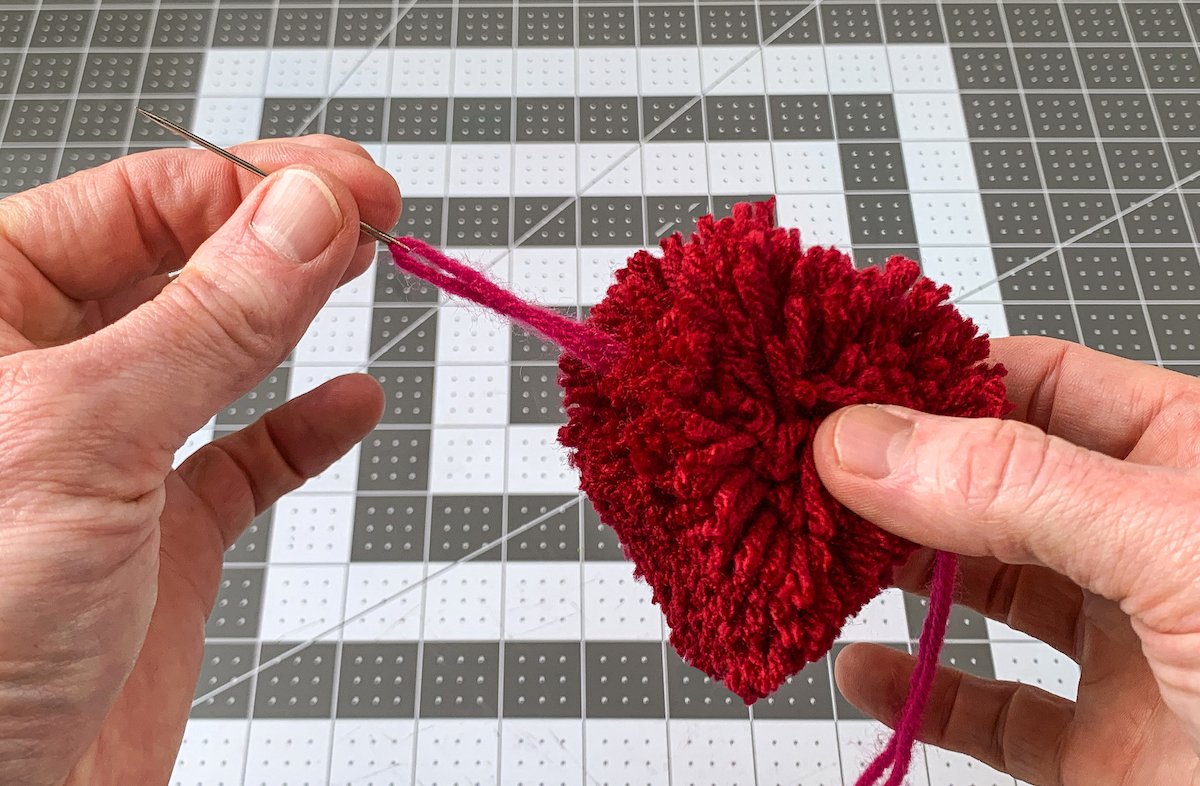 You're also going to finish the garland with a heart!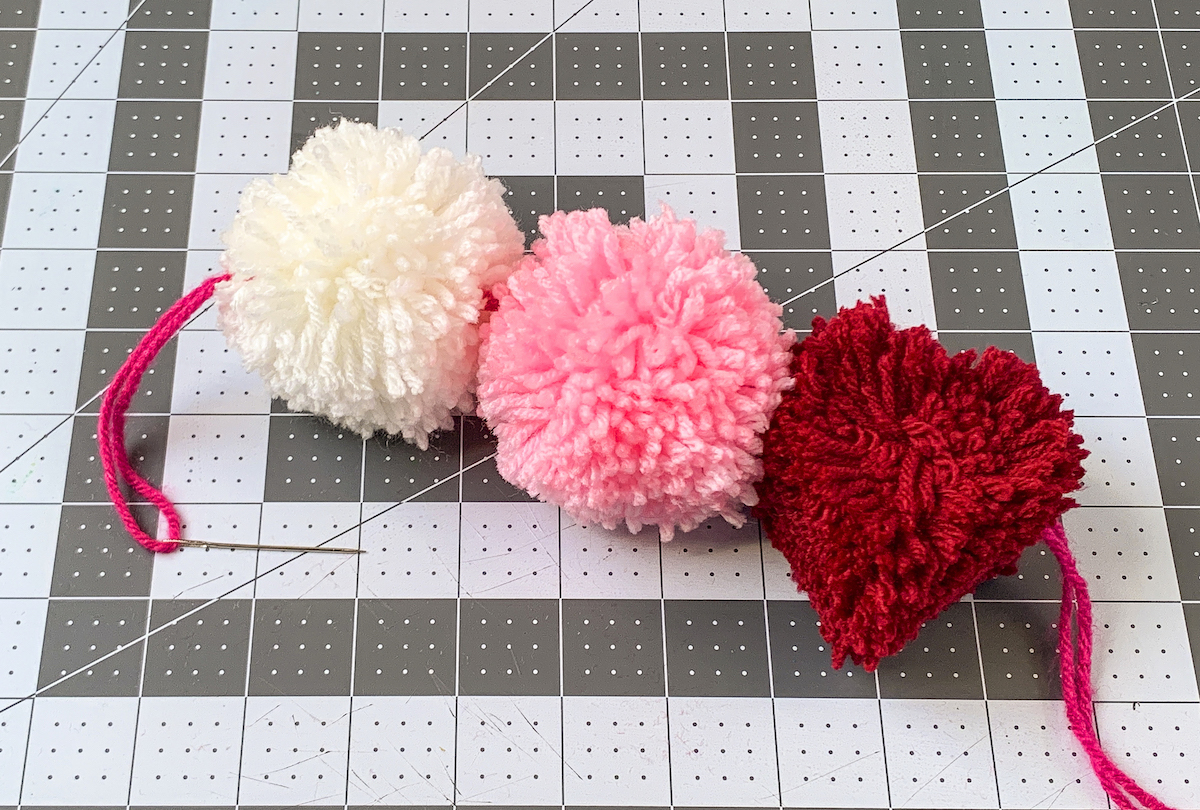 Hang the Garland
Once all the poms are strung on the yarn, you'll hang the Valentine's Day garland. Get it hanging in the right spot before you worry about spreading them out.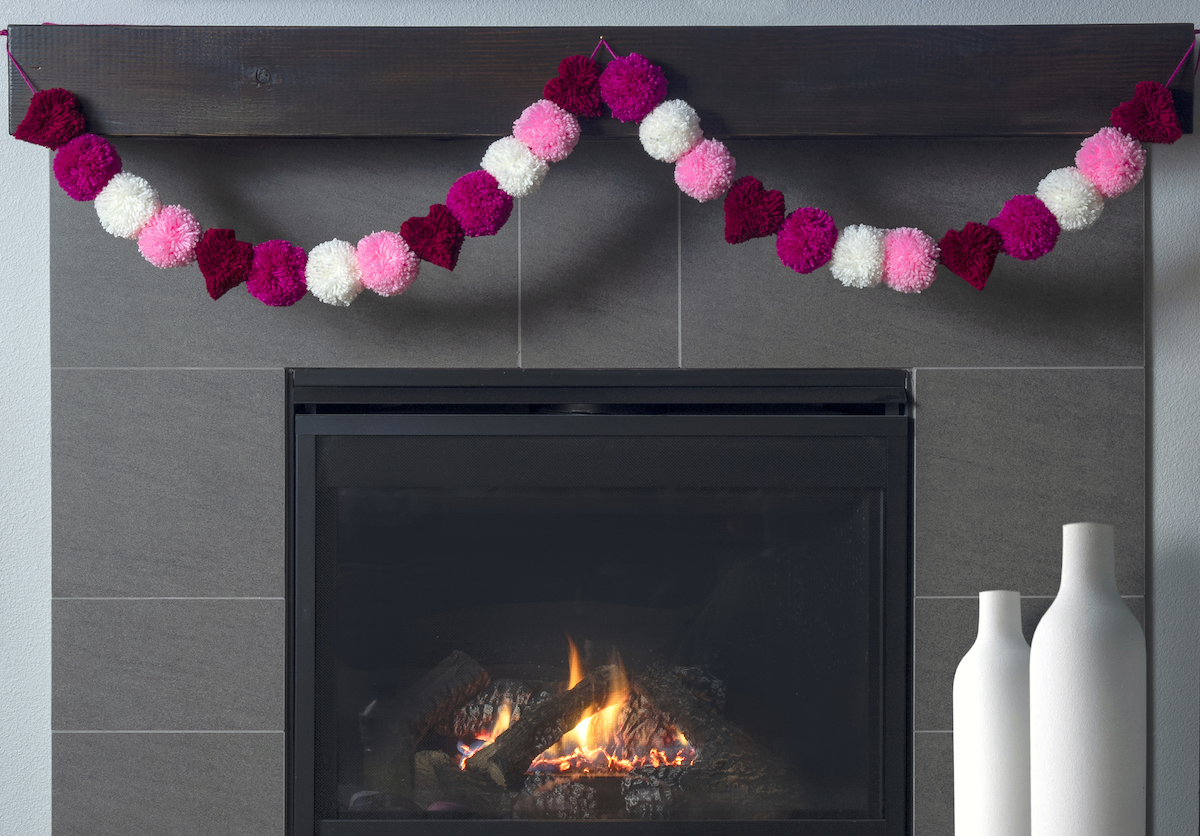 You can easily slide the poms along the yarn to get them where you want them, so your decor is hanging just perfectly.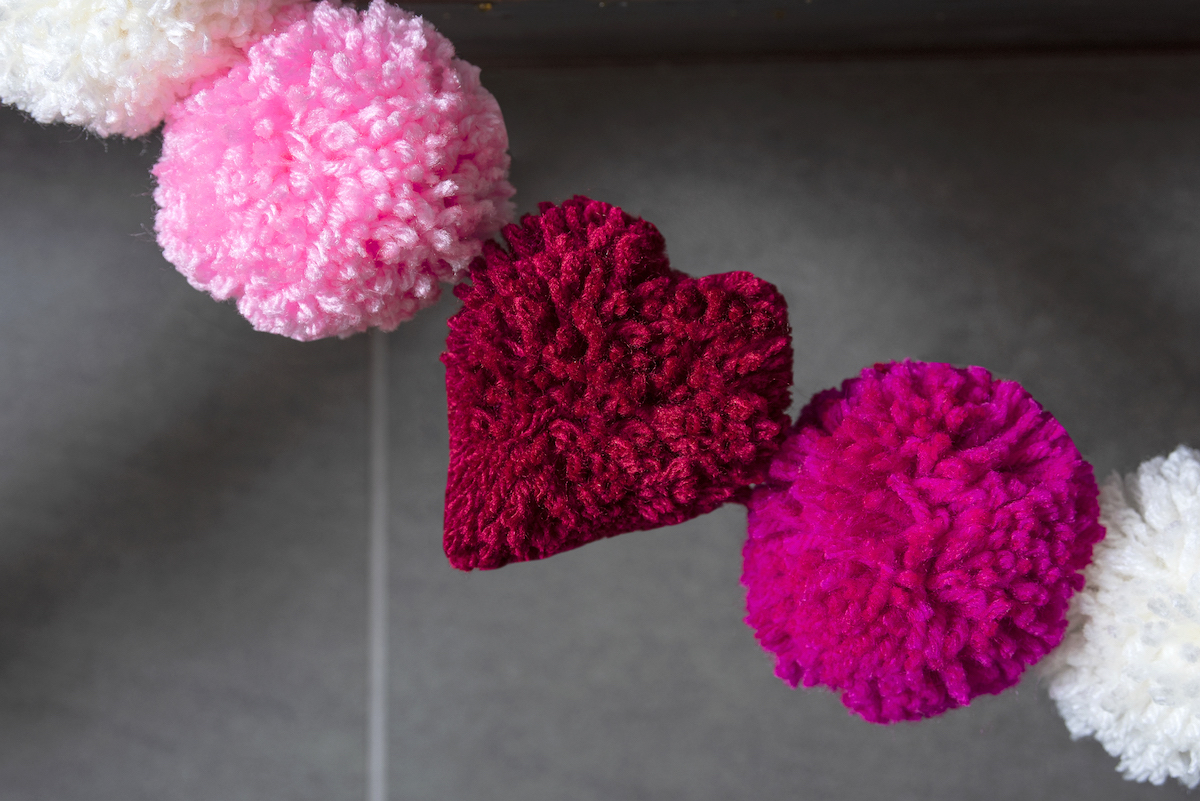 I absolutely LOVE my bright and cheery holiday garland! Get the printable how to card for this craft below.
Yield: 1 garland
Valentine Pom Pom Garland
Make a Valentine's Day pom pom garland for your holiday decor. The heart poms are easy to create.
Active Time
3 hours
30 minutes
Total Time
3 hours
45 minutes
Materials
Skeins of yarn
Thin cardboard
Tools
Pom pom maker(s)
Scissors
Pencil
Tapestry needle
Instructions
Create pom poms using the instructions on your pom pom maker and the yarn. I made 25 pom poms, including seven red.
Make a heart template that fits your red pom poms. Draw the template on the thin cardboard and cut out with scissors.
Hold the heart template on a red pom pom. Trim out the heart shape with scissors. Repeat with the remaining red pom poms.
Thread the yarn onto the tapestry needle, then thread the pom poms onto the garland through the centers. Start and end with a red heart.
Hang the garland. Space the pom poms out to desired length apart.
Notes
Time varies significantly for this project depending on how quickly you wrap the yarn. I suggest settle down with a few movies.
Recommended Products
As an Amazon Associate and member of other affiliate programs, I earn from qualifying purchases.
---
Did you enjoy making this Valentine's Day pom pom garland? If so, I'd love for you to check out these other ideas: