Learn how to make DIY pillows and add a pretty touch to your decor! These homemade pillows are easy and inexpensive to make. Get 50 ideas!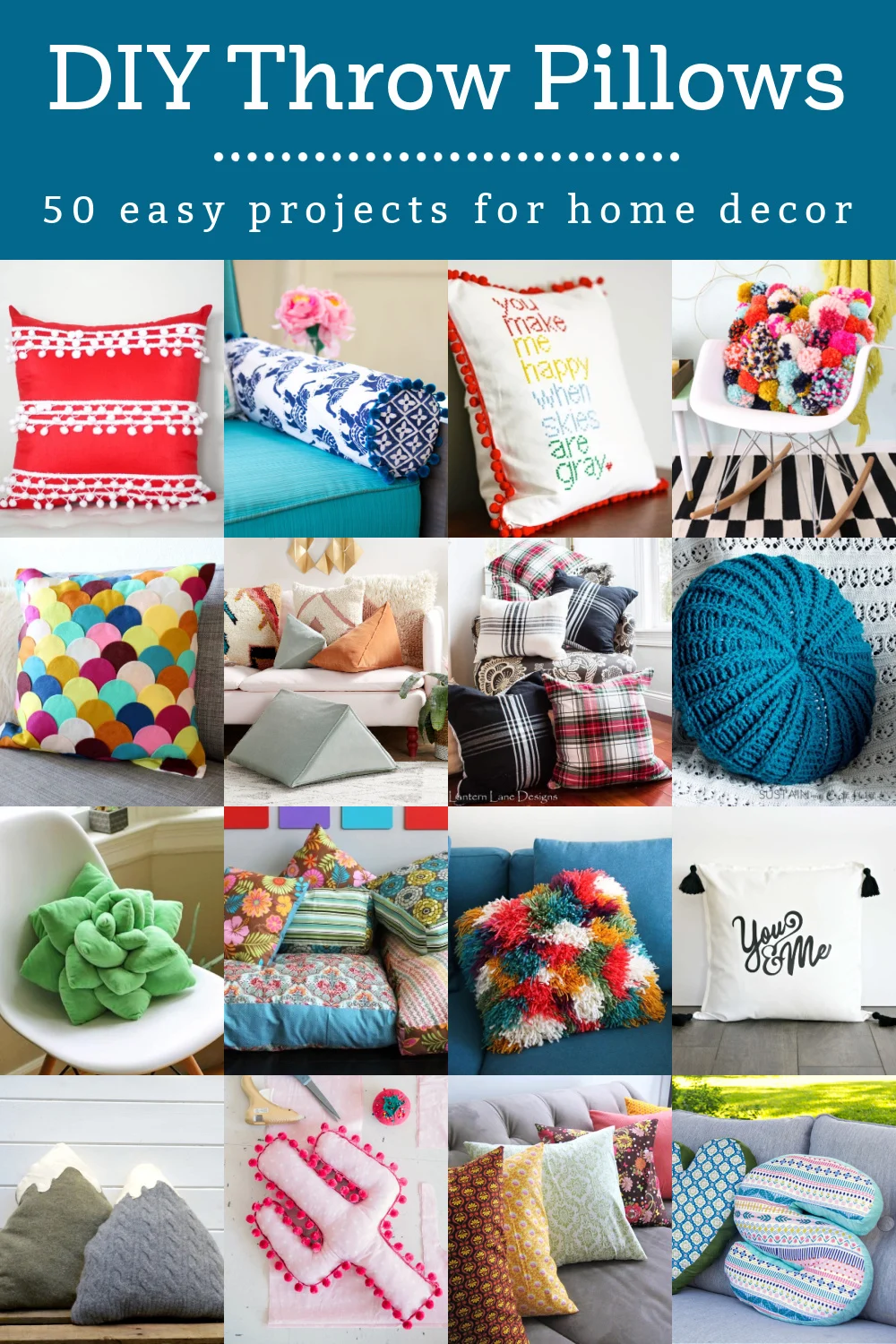 I'll never forget the first pillow I ever made. It was completely happenstance and random that I ended up making a pillow, because that's not what I was looking to do and I wasn't even in the correct retail store for it when I made the decision.
What happened? I went to Urban Outfitters and saw the coolest polka dotted skirt on the clearance rack for $3. I completely understood why no one had bought it. It was made out of what amounted to home decor weight velvet fabric, and there was no way it was going to look good on anyone. Hence the price tag.
After quickly realizing that the skirt had kind of a lot of fabric given the size and flair, I knew that I could use it to make something. And what popped into my head? A DIY pillow. I bought it, took it home straightaway, and sewed it right up.
The funny thing is that I'm not even sure if I still have the pillow (it could be in storage), but I definitely have a picture of it from 22 years ago in my old Seattle apartment. You can see its brown velvet with polka dots to the right behind my friend Gemma in the pic below:
I was so proud of that handmade pillow, even though I didn't stuff it enough. When I filled the pillow, just grabbed some polyfill and shoved it in. I had zero clue what I was doing!
Fast forward to current day, and DIY pillows are a regular thing around here. I can't tell you how many pillows I've made over the years! And I never get tired of it.
Pillows are one of those sewing projects that are really satisfying to me because they're 1) pretty easy and 2) pretty quick. Plus there are no limitations. I usually go for a neutral sofa and let my pillows do the talking, so to speak. I like that I can design a pillow to be anything I want – any shape, any colors, any size.
If you're in the mood for an easy home decorating project that also makes a great gift (hello housewarming), try a handmade cushion. In fact, I've put together a great collection of DIY pillows together below. You can give your home decor a total makeover in minutes!
Some of them are creations of my own here on the blog, while others are from blogging friends. Some are no sew as well! There's a little something for everyone on this list, and you'll find a lot of options perfect
Take a peek at the ideas below and let me know what you think in the comments. Have you ever made a pillow? I'd love to know!
DIY Pillows
Learn how to make a pillow for your home decor! You'll make homemade throw cushions in an afternoon, in a variety of styles.
---
Did you enjoy these DIY pillows? Take a peek at these other posts I also think you'll enjoy: