Do you love using Sharpies for crafting? Get over 20 ideas in this ultimate guide to Sharpie crafts – tons of unique inspiration!
I did my first official "Sharpie craft" about five years ago. It was a necklace with Shrinky Dinks, and it was such a blast that I was hooked on Sharpie crafts for good. In fact, right after that craft I bought a collection of Sharpies in every color!
I realized the other day, as I was cleaning out my craft supplies, that I haven't touched the Sharpies in awhile. And I think it's time.
To help me, and those of you who are also interested in trying crafts with this magic marker, I've put together a collection of over 20 Sharpie crafts.
Sharpie Crafts
This is the ultimate guide to Sharpie awesomeness! If you want to be inspired, just scroll down. Have fun!
PS – if you like this post, check out our Sharpie Dot Flower Pot Craft!
Floral Lamp Base
Sharpie makes oil based markers, and they are perfect for doodling on lamp bases (for staying power!).
Get the instructions at Better Homes & Gardens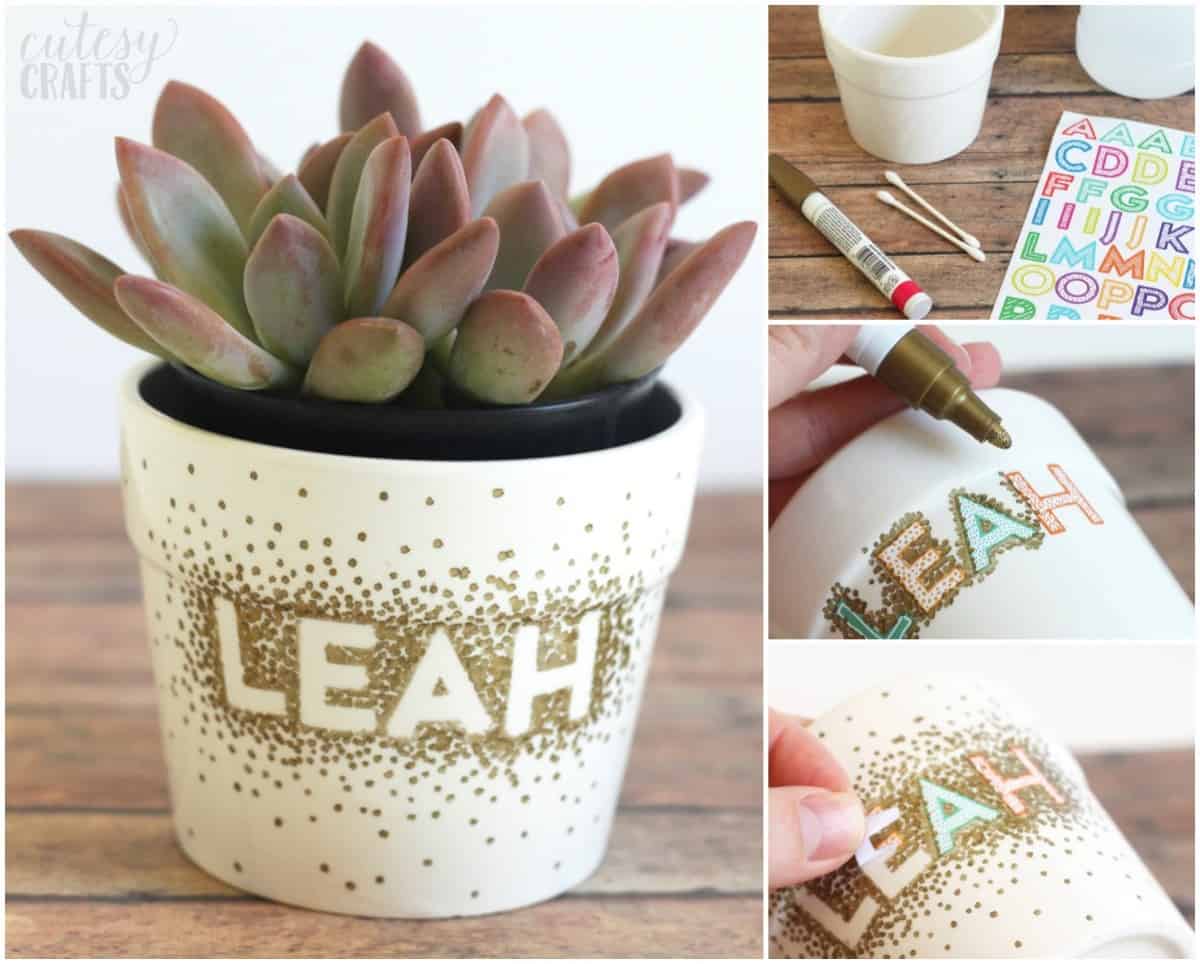 Confetti Flower Pot
This Sharpie flower pot is so easy, even a kid could do it. Seriously, this is a no fail project!
Sharpie Dot Flower Pot Craft here at DIY Candy
Leopard Obsession
Take an old, yucky tote and add a funky pattern with Sharpies and isopropyl alcohol.
Learn how to do it at Studs and Buttonholes
Floral Tees
Rubbing alcohol bleeds Sharpie in some fun ways – you can add to a t-shirt, and then draw details over the top.
Learn more at Second Chances by Susan
Pendant Necklace
To make this cute necklace, I drew on Shrinky Dinks with markers and a stencil – then I shrank and added a chain.
Learn how to do it at Mod Podge Rocks
Infinity Umbrella
This project is perfect for either a white or clear umbrella – and would make a great gift.
Get more info on the project at Ice Pandora
Faux Malachite
These amazing knobs look like real stone – but they were simply colored with Sharpie!
Find the step-by-step at Teal & Lime
Stenciled Pillow
If you don't have the geometric pattern you want – buy simple white fabric and just draw it on!
Get the how-to at Live Love DIY
Embellished Dishes
Serve goodies to your guests in style – add metallic accents to all of your dishes.
Find the instructions at By Stephanie Lynn
Wooden Hangers
You can get a cheap pack of hangers at IKEA – then you just dress them up with a gold Sharpie.
Get the step-by-step at Little Yellow Couch
Sharpie Bag
This bag is great inspiration for doing your own doodles on fabric – or you can get the printables and iron them on to make a Sharpie holder.
Find the step-by-step at 645 Workshop
Phone Case
If you like the tribal look with your Sharpie crafts, get it on your phone case using a variety of Sharpie colors.
Note: the original tutorial is no longer available – but you're simply drawing on the back of the phone case with Sharpies in any colors you like!
Coffee Mug
Doodling on a mug only takes a few minutes – then bake it to make the design stick.
(This tutorial is no longer available but get the ultimate guide to Sharpie mugs here).
Arrow Shoes
Use a ton of colors to draw your favorite patterns on a pair of white shoes – I love these arrows!
Learn more about the project at I Am Jess W
Painted Labels
Use a Sharpie paint pen to draw any font on glass – just tape to the inside and draw!
Anthro Knock Off
Recreate a $7,500 piece of wall art using plates from the dollar store with Sharpies – this is brilliant!
Get the instructions at While They Snooze
Nail Art
Paint white or light colored polish on your nails – then add little birds with a Sharpie. Let dry and paint a clear coat on top to seal.
Photo credit from Pshiiit
Simple Keychains
Draw whatever you like on wood discs from the craft store – then add a keychain hardware to finish. This is one of those Sharpie crafts that makes a great gift!
Learn more about the project at How About Orange
Light It Up
This silhouette look is easy to get on a lampshade with a Sharpie – just use your favorite color.
Find the how-to at the Sharpie blog
Doodle Light Bulbs
Don't throw away those old light bulbs – draw on them with Sharpies to make home decor. This is one of the most unique Sharpie crafts I've ever seen.
Find the instructions at Eclectically Vintage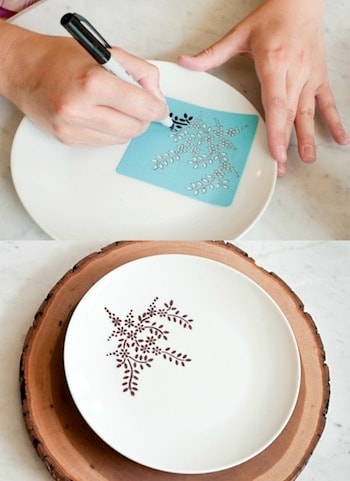 Sharpie Dinnerware
Use Sharpies on all of your dishware! Just don't let the Sharpie-d part come in contact with food – but they are great for decorative purposes.
See how it was done at The Sweetest Occasion
Desk/Bar Makeover
Julia re-did her bar and desk by adding a unique "wallpaper" pattern with gold Sharpie.
See how she did it at Cuckoo 4 Design
---
If you love crafts with Sharpies – let us know your favorites in the comments! I'd also love for you to visit these other popular projects on the blog I think you'd enjoy:
---