Do you love using Sharpies for crafting? Get 25 ideas in this ultimate guide to Sharpie crafts – tons of unique inspiration!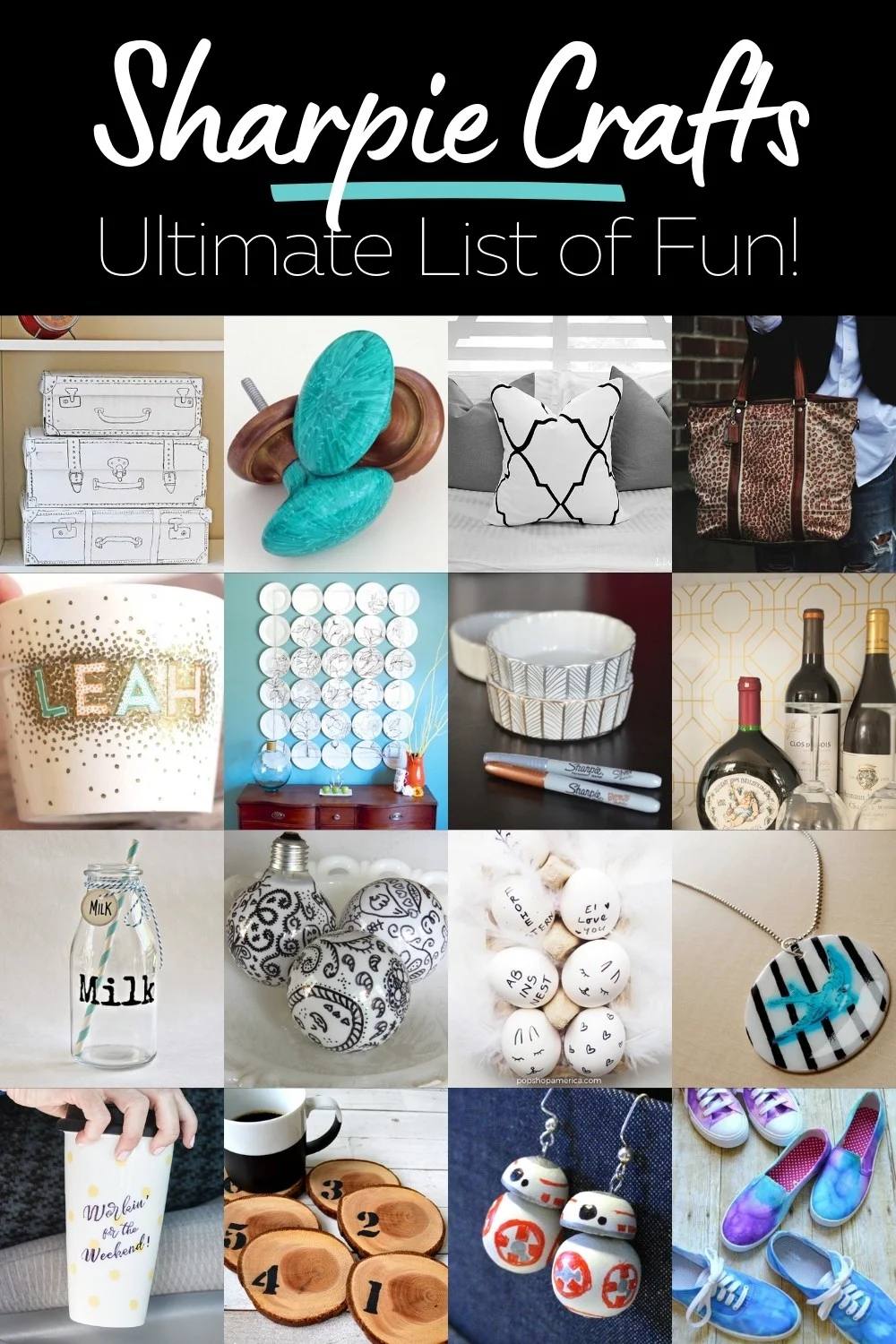 I did my first official "Sharpie craft" about ten years ago. It was a necklace with Shrinky Dinks, and it was such a blast that I was hooked on Sharpie crafts for good. In fact, right after that craft I bought a collection of Sharpies in every color!
I realized the other day, as I was cleaning out my craft supplies, that I haven't touched the Sharpies in awhile. And I think it's time to start up again! Sharpie crafts are fun and typically pretty easy for beginning crafters.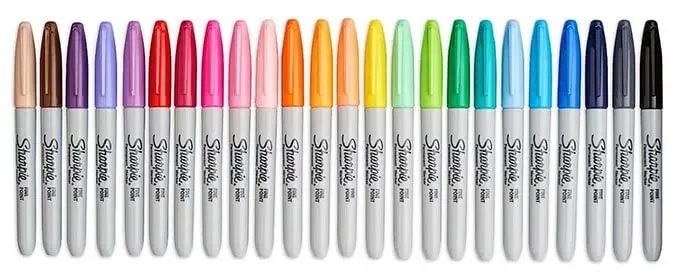 Sealing Sharpie on Surfaces
Before we dive into the craft ideas, there's one important thing you need to know about Sharpie crafts: how to seal the Sharpie on the surface. When I discuss how to make sure Sharpie doesn't bleed on the surfaces below, I'm referring to the regular Sharpie markers. I'm not referring the specialty fabric or oil-based types with their own finishing instructions.
Fabric
You have a few options, but these are the ones that I use. Either place the item in the dryer for 15 – 20 minutes on high heat, or use an iron. The iron should be on the highest setting; iron for five minutes on both sides.
Note: if you wash a shirt with Sharpie, it will fade regardless – but you can help a lot by washing in cold water and hang drying the item. Sharpie does make fade resistant fabric markers if you want to give those a go.
Ceramic
Ideally you would use the oil-based Sharpies here. However, if you use regular Sharpies, you can still seal the mug. The best mugs to use are the cheaper kind (like dollar store) because they usually have a thinner coating. You're going to bake the mugs at 350 degrees for 30 minutes. Even then, I'd still hand wash a Sharpie ceramic mug.
Metal
Let the Sharpie dry completely, then use a can of clear acrylic sealer and spray over the top of your Sharpie craft.
Plastic
Ideally you use an oil-based Sharpie here, but you can use regular as well. Before you begin the project, make sure you clean the surface thoroughly with mild soap and water. Sand with 120-grit sandpaper in the area you would like to write. Write on the surface, let dry overnight. You can spray seal for extra protection.
Glass
Stick with oil-based Sharpies for any Sharpie crafts using glass. My research says it's just not long lasting with regular markers on this surface.
---
Are you ready for some projects?? To help myself and those of you who are also interested in trying crafts with this magic marker, I've put together a collection of 25 Sharpie crafts. I'd love for you to check out the list below, then tell me which are your favorite in the comments!
Sharpie Crafts
You won't believe what you can create with a Sharpie marker. Here are 25 amazing Sharpie crafts you will want to make now!
---
If you love crafts with Sharpies – let us know your favorites in the comments! I'd also love for you to visit these other popular projects on the blog I think you'd enjoy: