This Kilim-Inspired painted basket tutorial is an easy way to try out a fun new color palette quickly and inexpensively. It's so simple to make!
Skills Required: None. Even if you've never crafted before, you can accomplish this project. Getting a corded basket will help you keep your painting strokes even and in the right place, so I recommend finding one of those.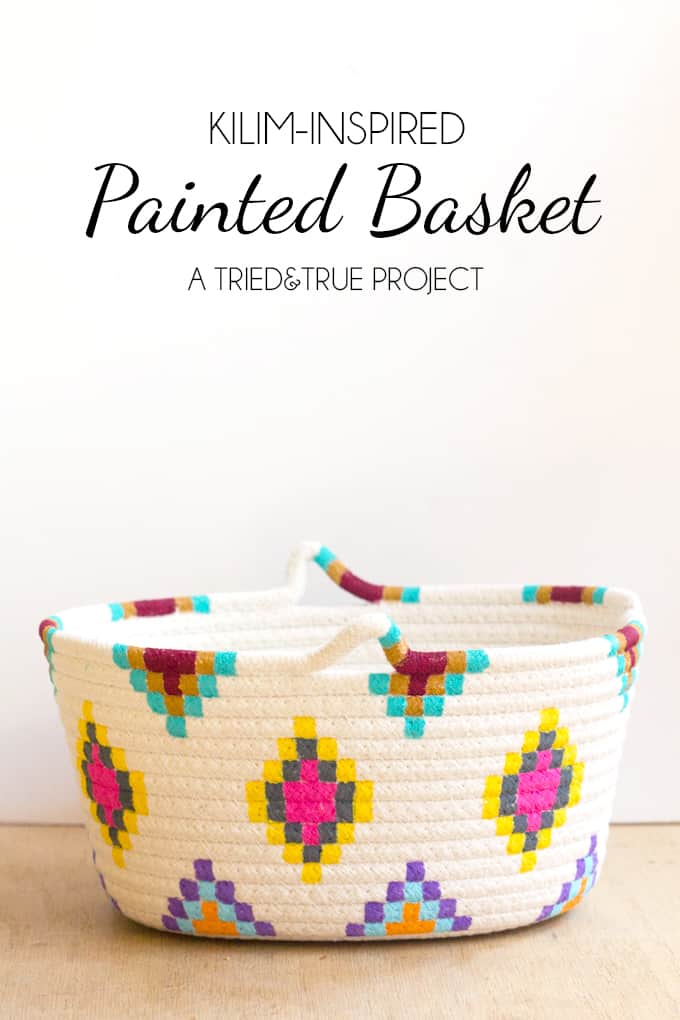 I'm a huge fan of all the gorgeous Turkish Kilim tapestries that are showing up everywhere lately. I love the wide variety of colors that are used in an unpredictable pattern.
So unlike the monochromatic style I usually stick with! This Kilim-Inspired painted basket tutorial is an easy way to try out a fun new color palette quickly and inexpensively.
I love the idea of giving this for a gift filled with goodies to a neighbor for a housewarming or for a Mother's Day gift loaded with stuff for pampering.
Painted Basket
Materials:
Woven basket
Acrylic paint
Paintbrush
Tape measure
Pencil
Step One. Gather your supplies. I found this small woven basket in the dollar section of Target and selected these colors after looking through a ton of Kilim tapestries on a Google search. I would never have thought to pair these colors together but love how they look!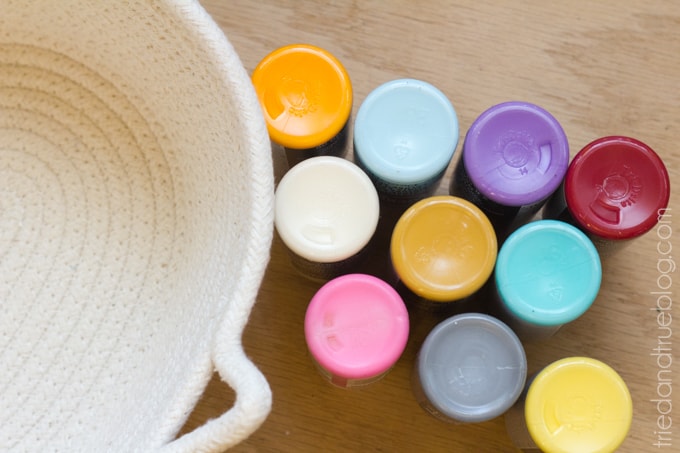 Step Two. Begin painting your pattern. I used my paintbrush and the basket weaving as makeshift rulers. It's ok if the design isn't absolutely perfect. We're going for a handmade look here!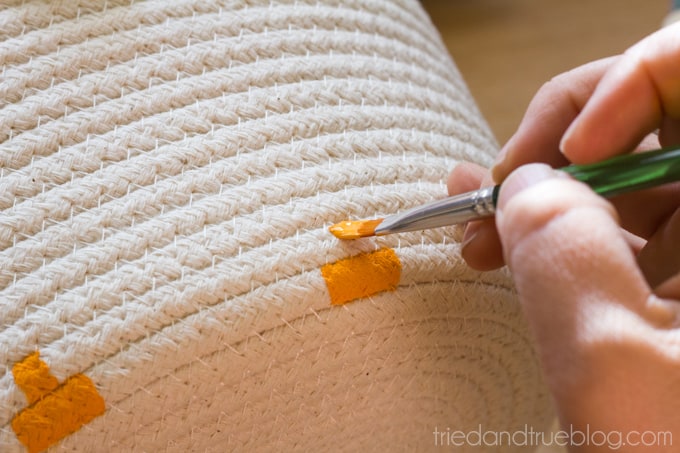 Step Three. Continue painting the design until you're happy with the layout. I painted just a few diamond shapes around the entire perimeter of the basket and left a good amount of white space but feel free to do something more intricate and complex!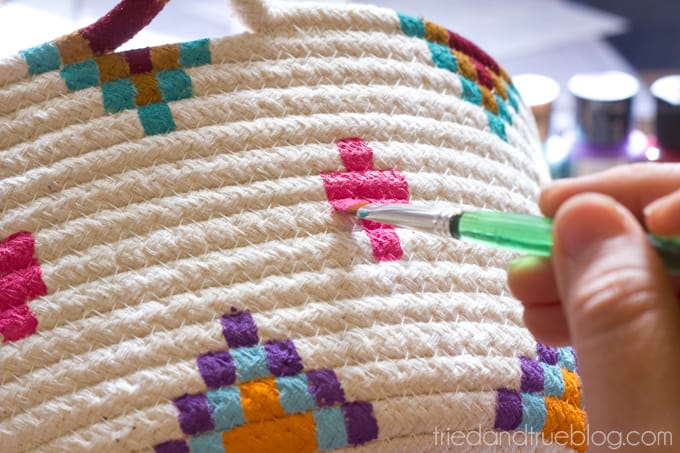 Here is the finish look of the painted basket! I love how all the different shades of colors look together. The possibilities for customizing this basket to match your home decor or preferences is endless!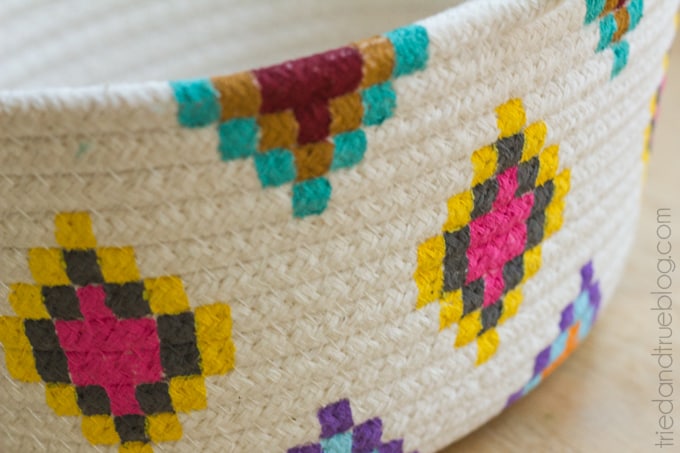 I'd love to see this done with a larger basket or maybe a few small ones grouped together as a collection. Enjoy!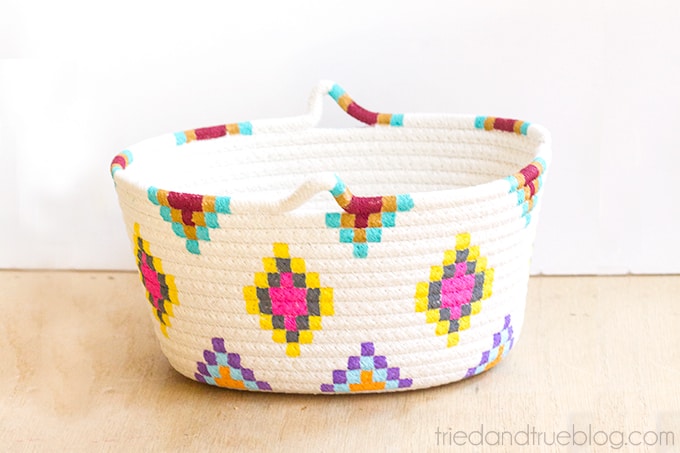 Hope you found this Kilim-Inspired Painted Basket useful! For another craft idea that's just as simple, learn how to make canvas wall art with glue.
Yield: 1 basket
Painted Basket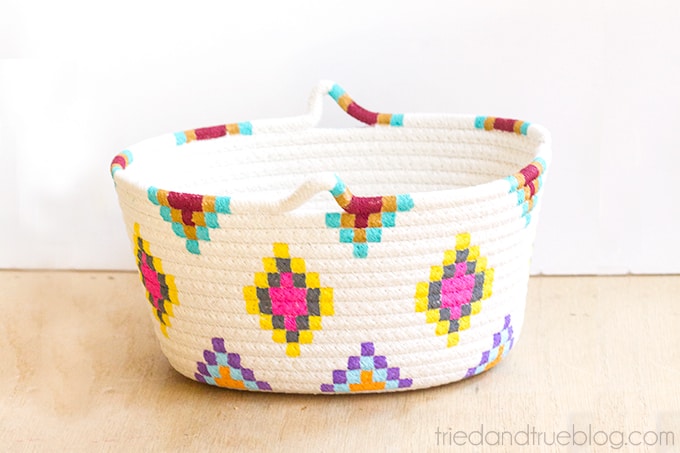 Learn how to paint a basket using acrylic craft paint! This is an easy project for beginners.
Active Time
1 hour
15 minutes
Total Time
1 hour
30 minutes
Materials
Woven basket
Acrylic paint
Tools
Paintbrushes
Pencil (optional)
Ruler (optional)
Instructions
Gather your supplies, including about 8 - 10 colors of acrylic craft paint.
Begin painting the diamond pattern. You can use the paintbrush and the weave of the basket as a ruler, or you can use a real ruler and pencil to mark off the center of your design.
Finish painting the pattern using the various colors and the photo as inspiration. Allow to dry 24 hours before using.
Notes
I already had the paints on hand so those are not included in the project cost.
---
Stop by Tried & True to check out some of my other DIY projects, including Chalkboard Spring Planters, Peep Spring Wreath, and my personal favorite, the World Map Wall Panels!