Learn how to make a DIY wood bead garland on a budget. This beaded garland with jute tassels is the perfect DIY for farmhouse decor (or shabby chic, rustic, French country)!
This garland will bring the perfect touch to complete your vignette, mantel, or centerpiece. And it was made for less than $5.
Skills Required: None. Even if you've never crafted before, you can make this project. All you'll need to do is string beads, and I'll answer your pressing questions and show you how to make the tassels to complete it.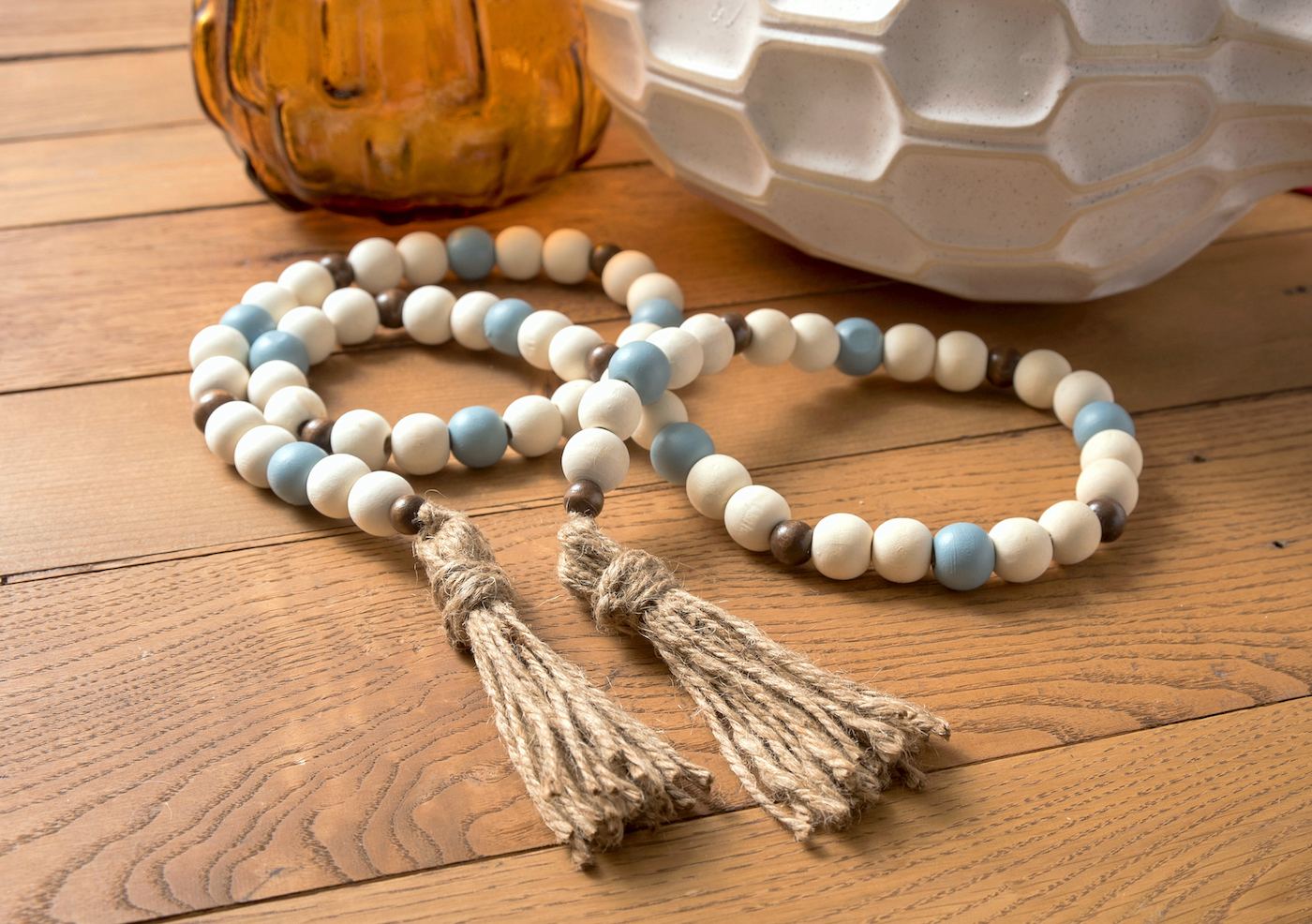 If you're reading this post, you know exactly what a wood bead garland is – I'm sure you've seen them everywhere! And I'll be honest, I love them too. There's something so beautiful about their simplicity, and there are so many ways to style them (which we'll discuss).
The great thing about this project is that it is made for less than $5.
Yep, I'm going to show you not only how to make this DIY garland, but how to find it on the cheap. You can buy wood garlands pre-made pretty cheaply online, but mine costs even less. Plus you can personalize yours when you make it yourself with exactly the size beads you like, AND combine them any way you like. I love the options for customization.
Making a Beaded Garland
I'm happy to share that a DIY wood bead garland can be made in three simple steps! You're going to prepare the beads (painting them if you need), string the beads, and make the tassels.
Before we jump into the tutorial, I've got some frequently asked questions for you. If you're not interested, simply scroll down to the how-to!
What are wood bead garlands for?
People love these garlands to use as home decor or to add a splash of color or interest to an otherwise boring space. They're definitely an accessory, perfect for a side table, display, or mantel. They also look quite charming on a Christmas tree during the holidays.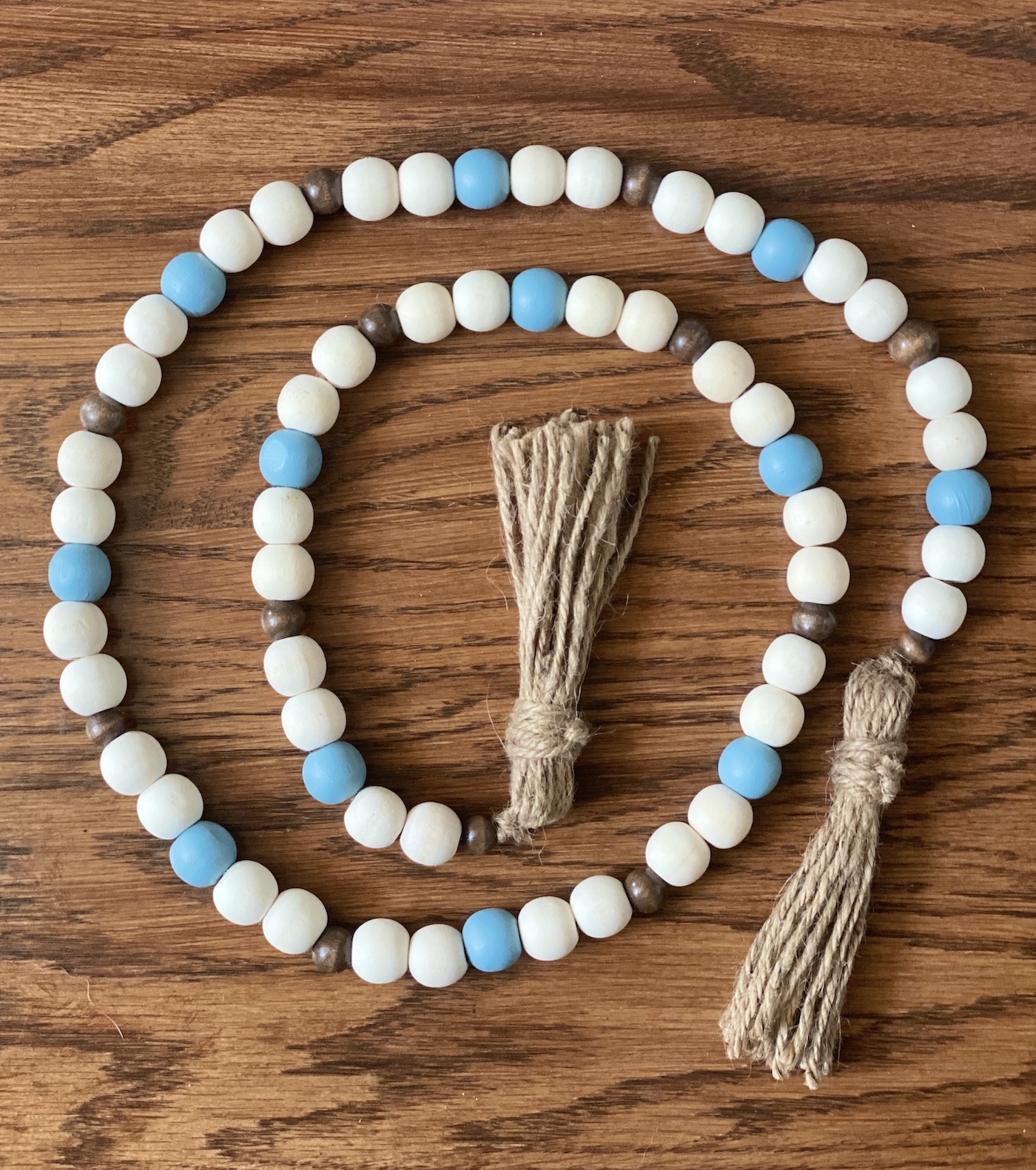 How do I know how long to make my garland?
What I would do is cut a piece of yarn or string and do a mock up in the place that you intend to put it. A piece of yarn is easy to style and restyle until you get a good estimate of the length you'll need.
Once you've got the right length of yarn, measure it with a tape measure. Factor in 4″ per tassel if you plan to use them.
How many wood beads do you need for a garland?
For my project, I used 60 unfinished wood beads (some of which I painted blue) as well as 13 smaller (already stained) beads I had left over from another project. That brings me to a total of 73 beads. My larger beads were slightly over 1/2″, making the entire garland 47″ including a 4″ tassel on either end.
Where can I get beads for my garland?
I highly recommend checking Dollar Tree or Amazon for your supplies. I got my twine at Dollar Tree, and sometimes they have wood beads. Amazon has packs of 500 wood beads with twine at the time of this writing for under $10.
That means you could make approximately 5 – 6 wood bead garlands for about $2 a piece. That's much cheaper than buying them!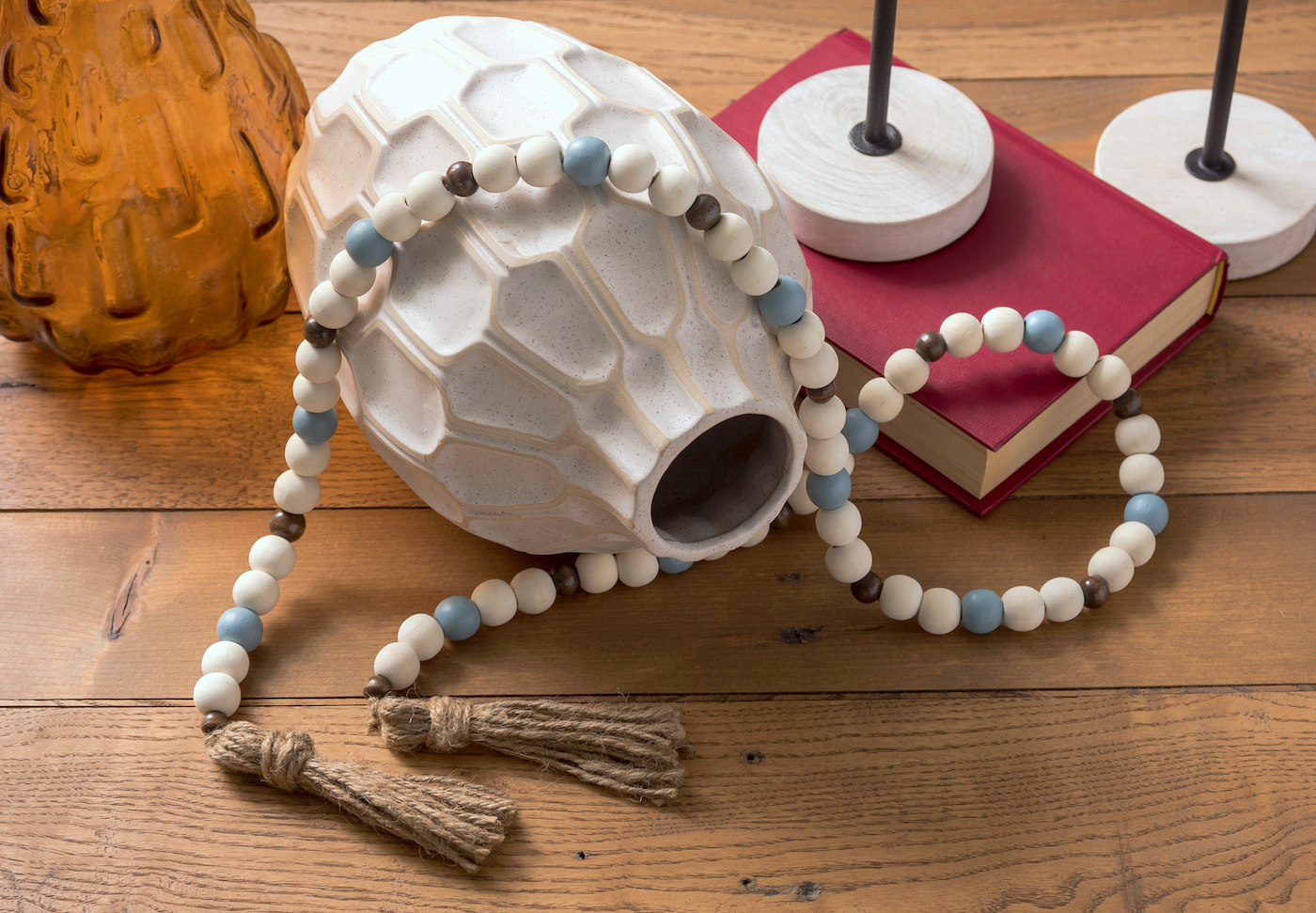 How do you style a DIY bead garland?
There are so many options for styling your garland. The more neutral you make it (ie., leaving it unfinished), the more it goes with. I love them draped around the necks of vases, laid on a pile of books, piled in a tray, hanging from a mantel, on a Christmas tree, or wrapped on a candleholder or plant pot.
My tip is just experiment to find the way that works for you and compliments your decor. The great thing about this project is that you can also move it around depending on how you're feeling. You could restyle it a different way every single day!
How do you attach a wooden bead garland to a Christmas tree?
If you have an artificial tree you can bend the smaller ends around portions of the garland to hold them. You can also use Christmas tree hooks to attach them in areas.
For a real tree, I'd use floral wire with wire cutters or Christmas tree hooks. You can drape the garland over some of the branches and then attach it to others. You don't need to use wire at every contact point, just every so often so it doesn't slip off the tree.
---
Are you ready for the tutorial! Let's dive in! As I said before, there are three steps: gathering beads (and painting if desired), stringing, and making tassels.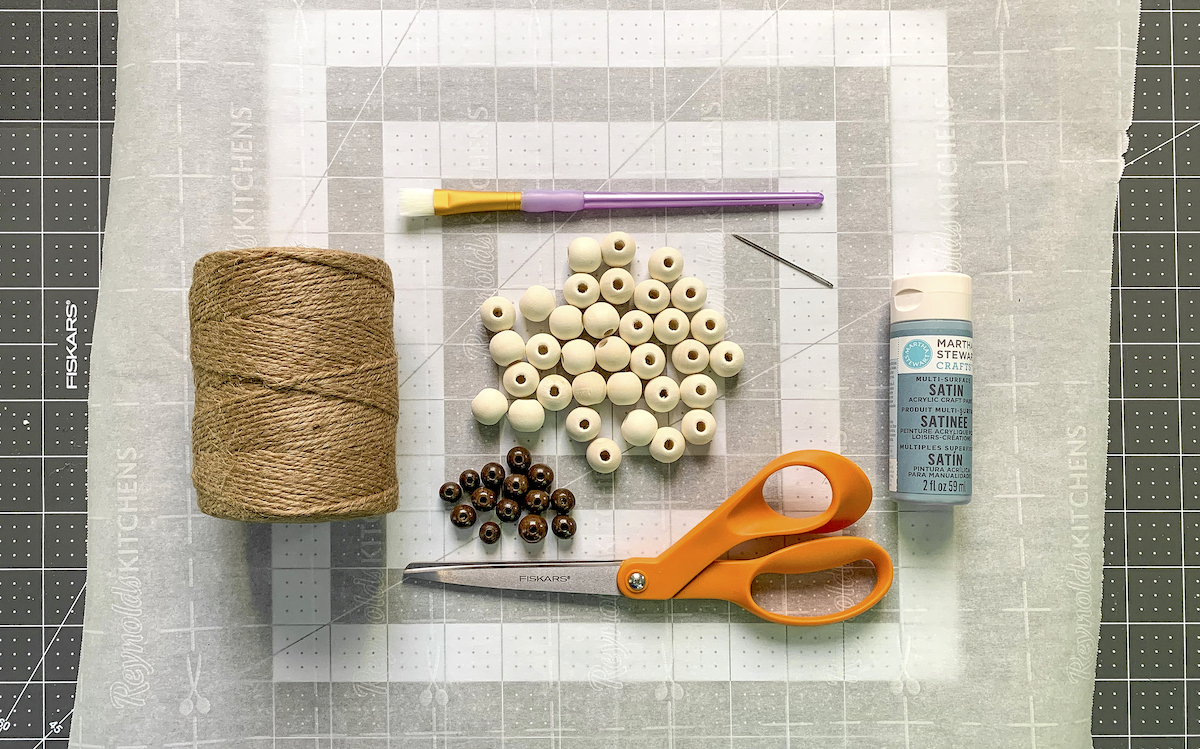 DIY Bead Garland
Gather These Supplies
Acrylic paint (optional)
Jute twine
Pen or pencil
Scissors
Paintbrush (optional)
Needle
Gather The Beads (and Paint)
The first step to a successful DIY wood bead garland is gathering the beads you like. There are a variety of ways to go with this – you can use unfinished beads of all the same size or varying sizes and shapes. You can paint or stain some of the beads.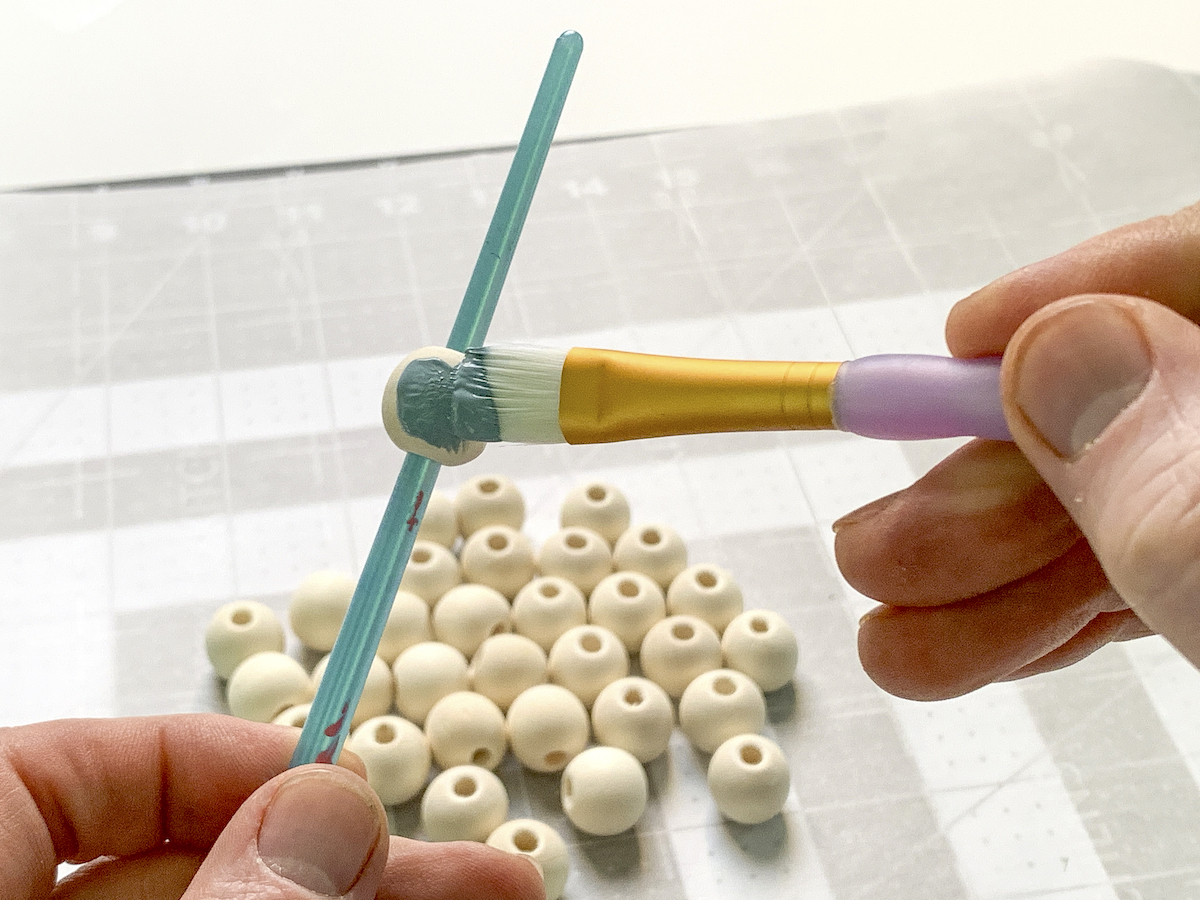 I decided to do a garland that incorporated some smaller, stained beads I had from a different project along with the larger, unfinished beads. I also wanted to paint one of the beads in the middle of the pattern with blue pattern I also had on hand.
To paint a wood bead, use a paintbrush to hold it – then paint it with a different brush. Repeat and then let all the beads dry.
String the Beads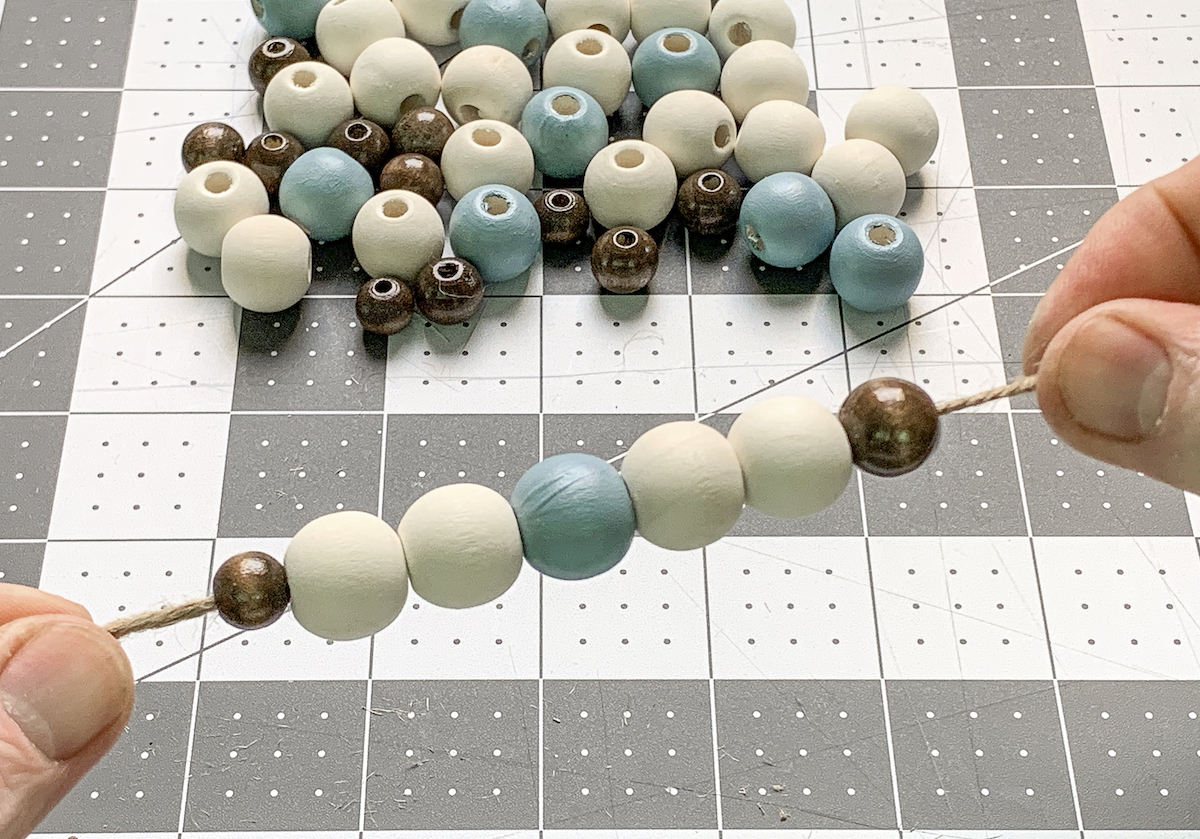 This is the easiest part of the entire project. Cut the twine to be the length you like, leaving several inches at either end for attaching tassels. Knot at one end (again, leaving length for tying) and start stringing beads in your preferred pattern.
Continue until the wood bead garland is at the desired length. Then tie a knot at the other end.
Make the Tassels
There are several steps to making the tassels, but it's really, really easy!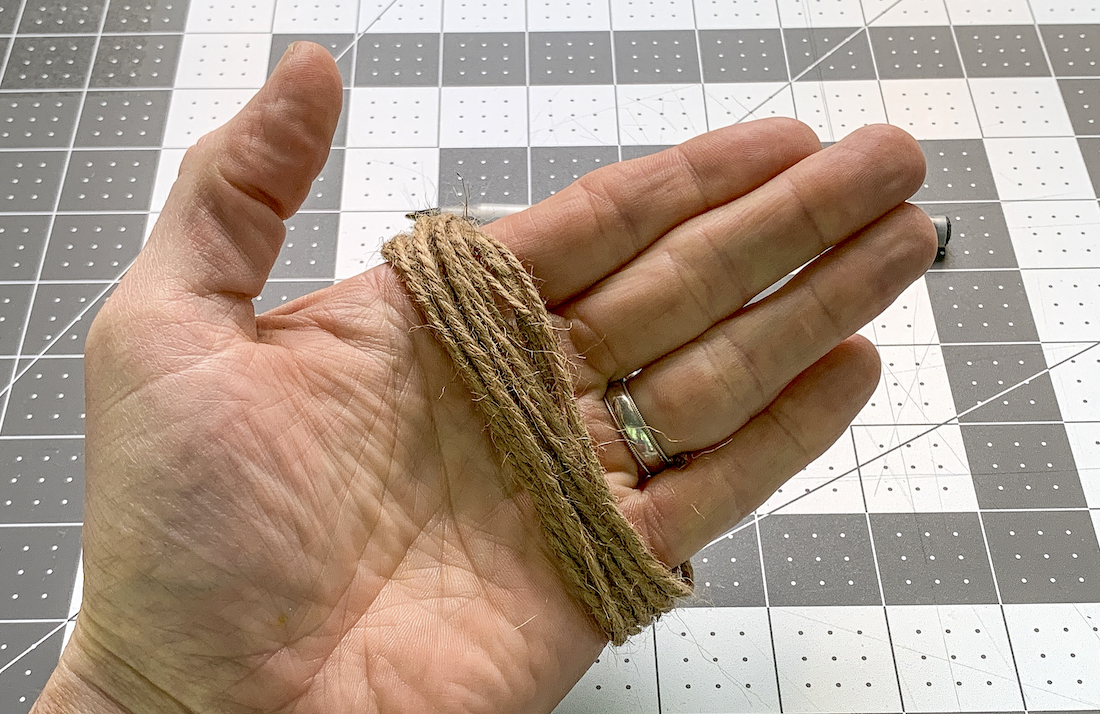 Begin by wrapping the twine around your hand several times – about 10 to 12. You can also use a piece of cardboard.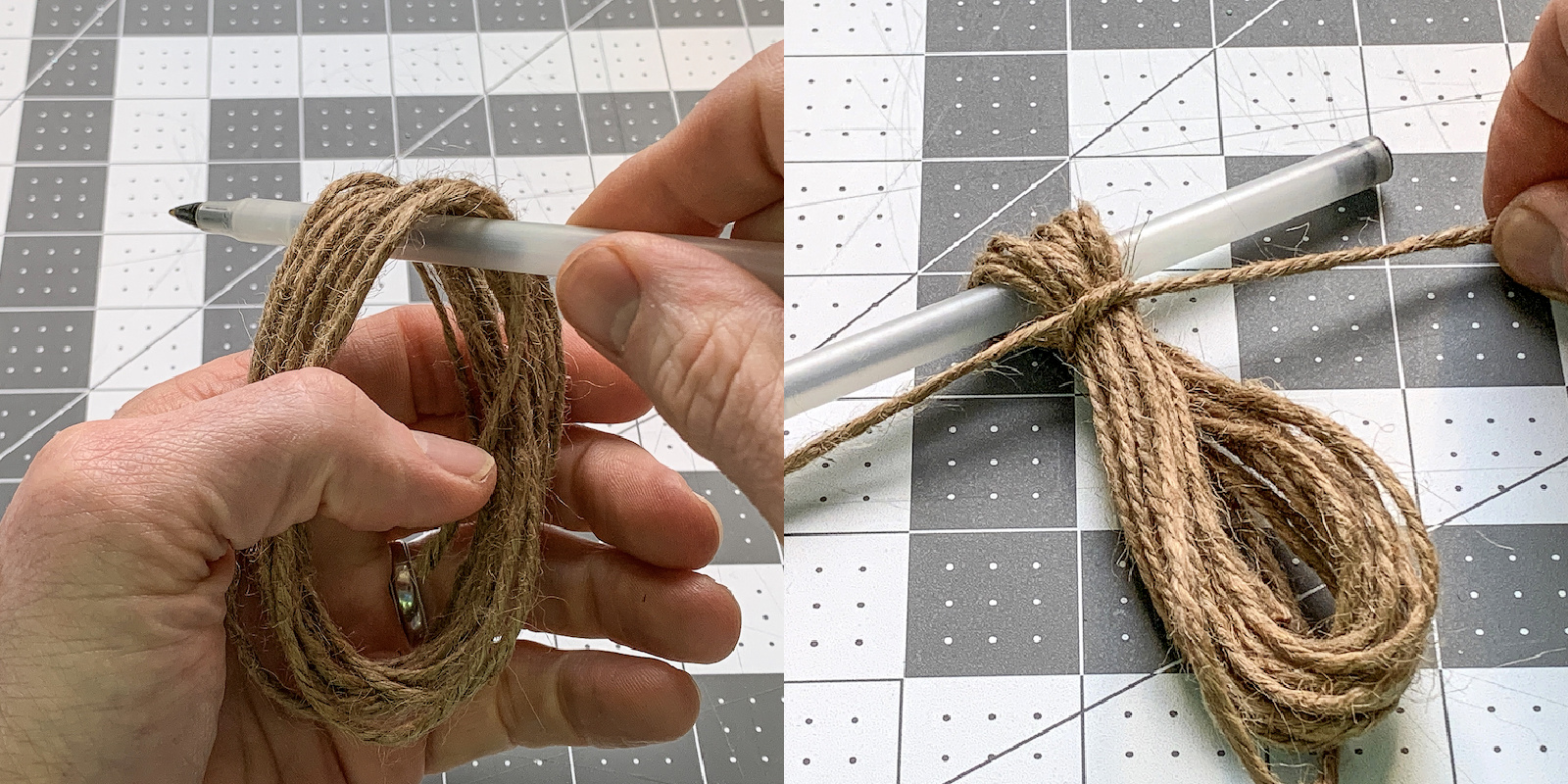 Place the twine around a pen or pencil as shown, then tie a knot around the twine using a separate (about 18″) length up near the pen.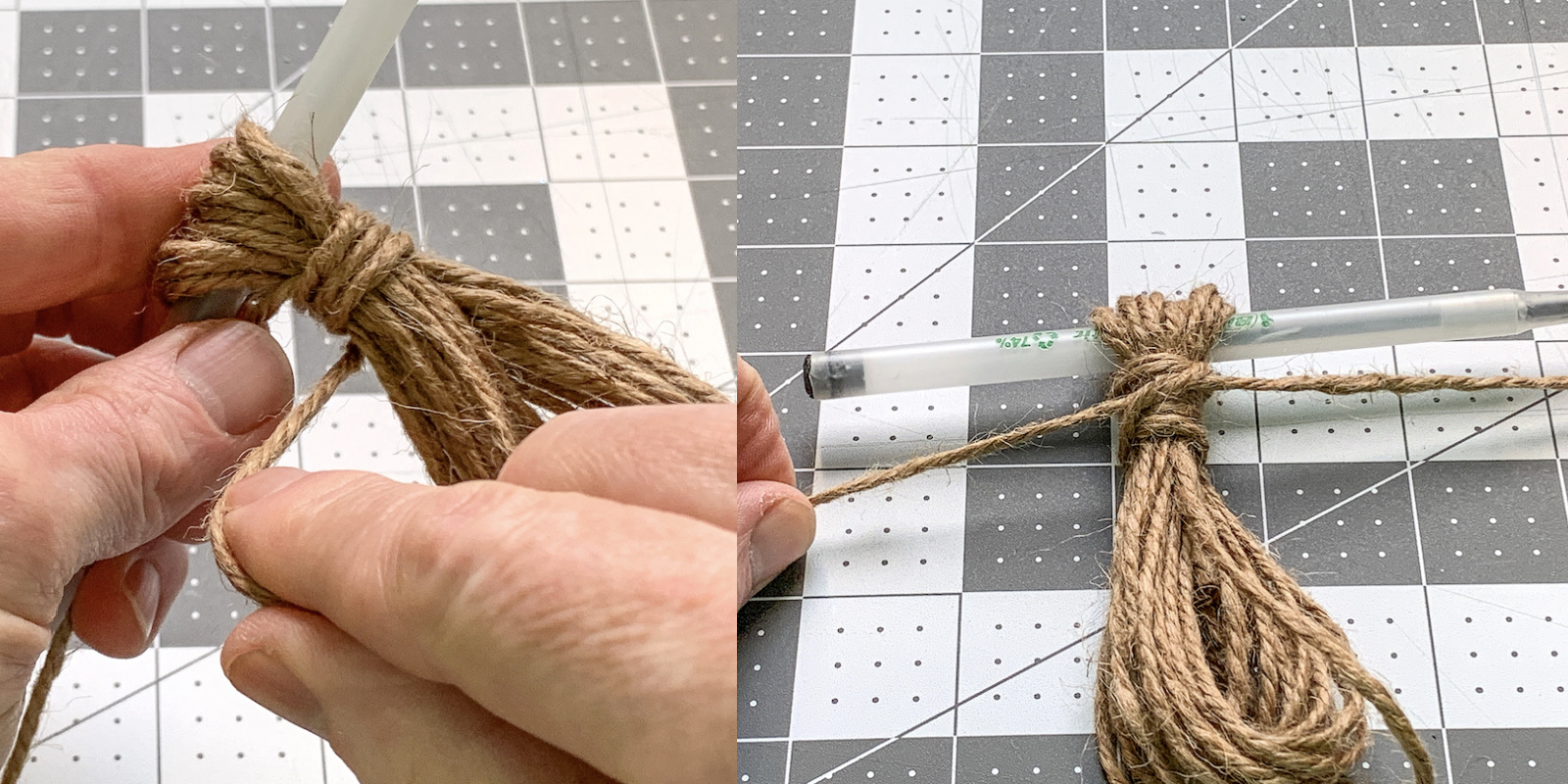 Wrap the twine around the loop several times and then tie a knot to secure.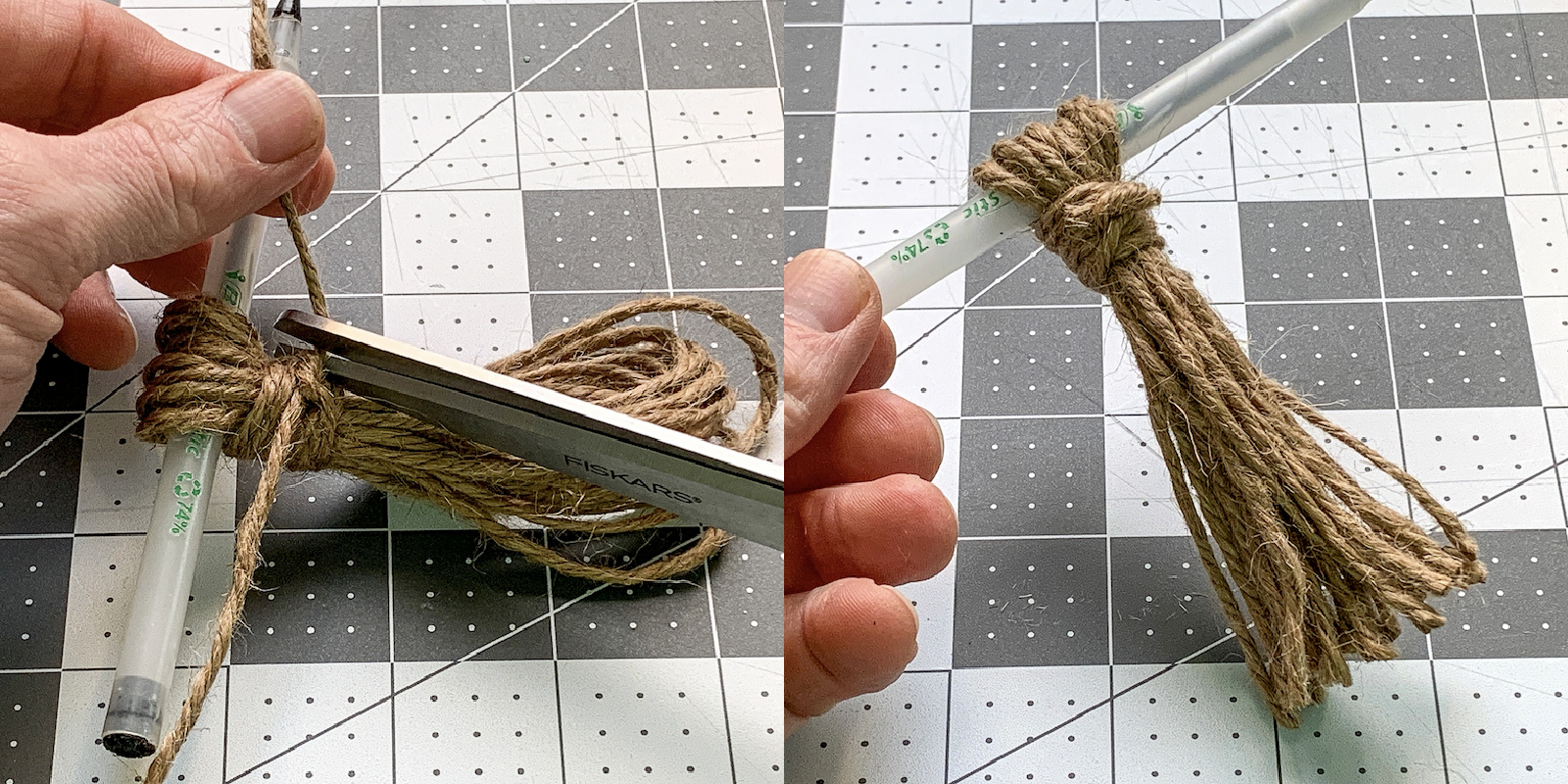 Trim off the ends of the knot/twine with the scissors.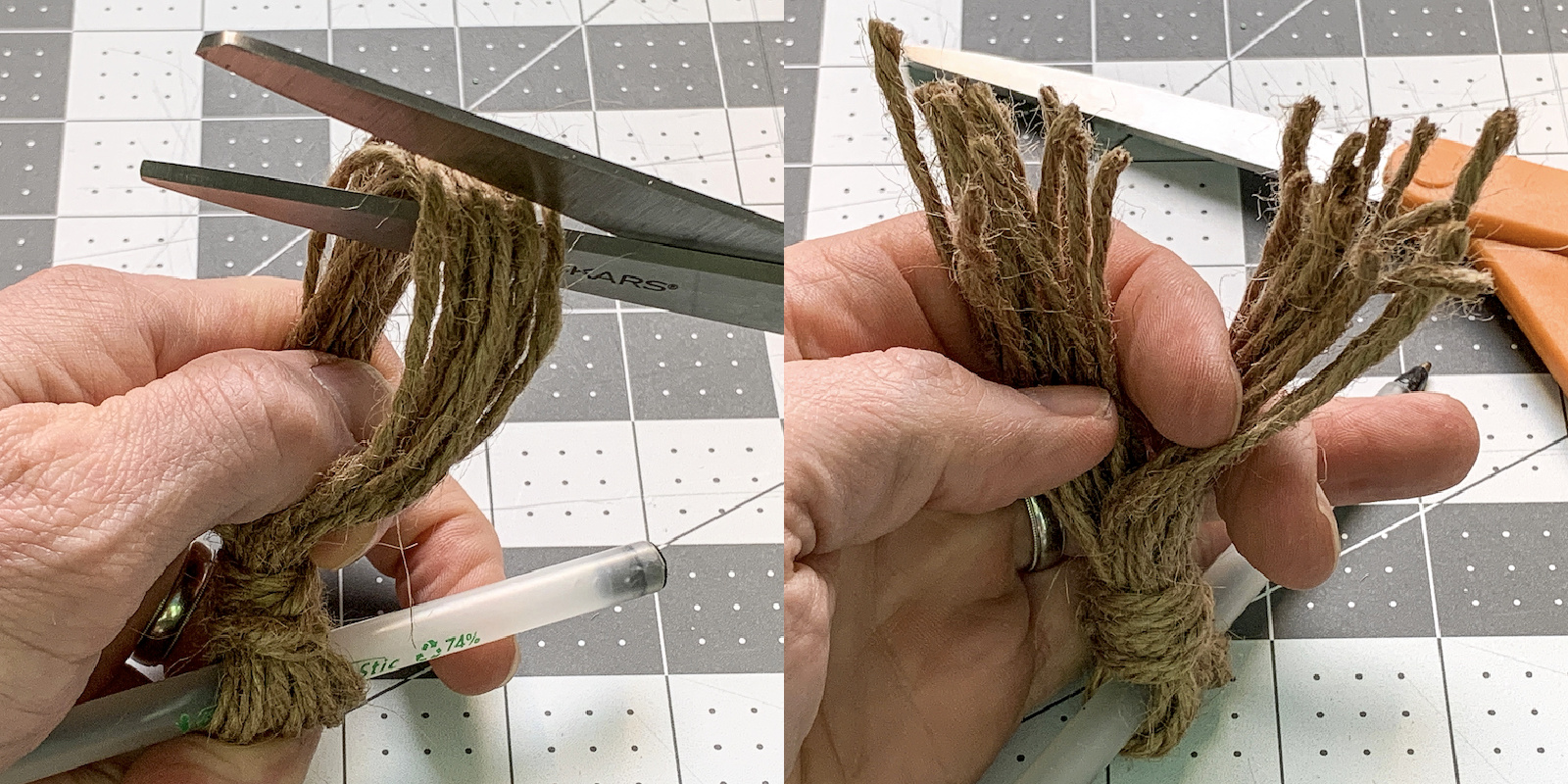 Using the scissors, cut the loop to create a tassel.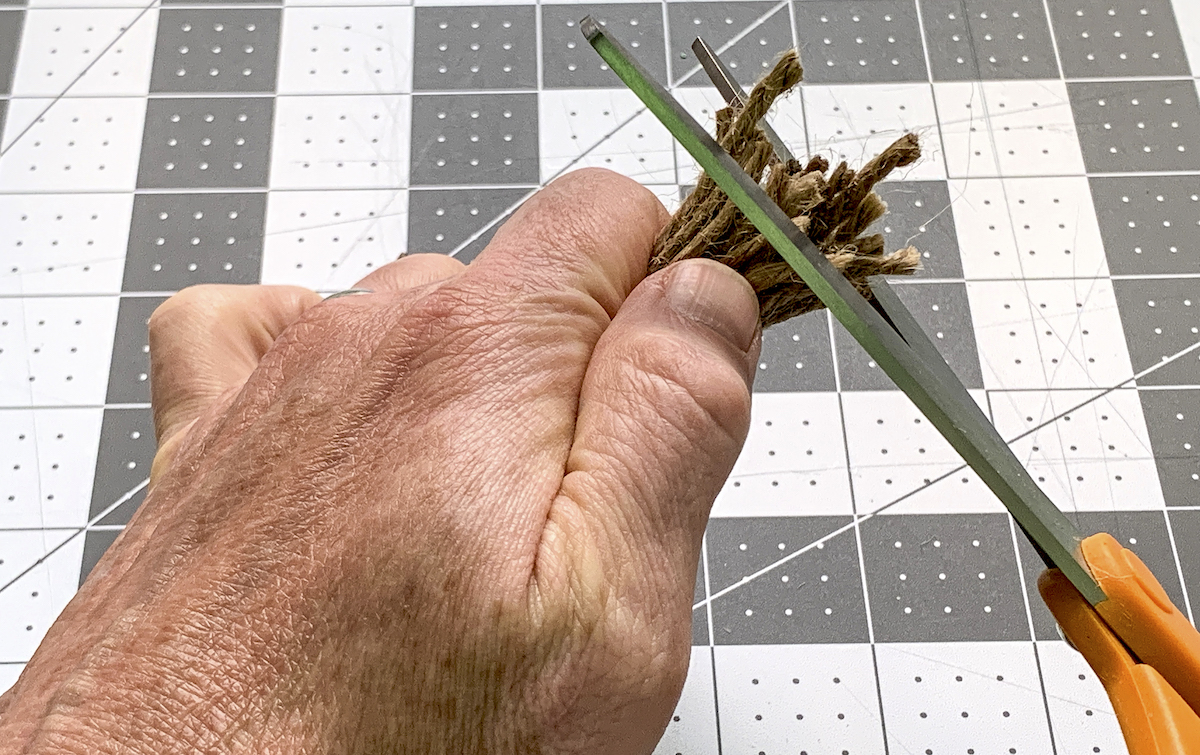 Trim the end of the tassel to make the strands even.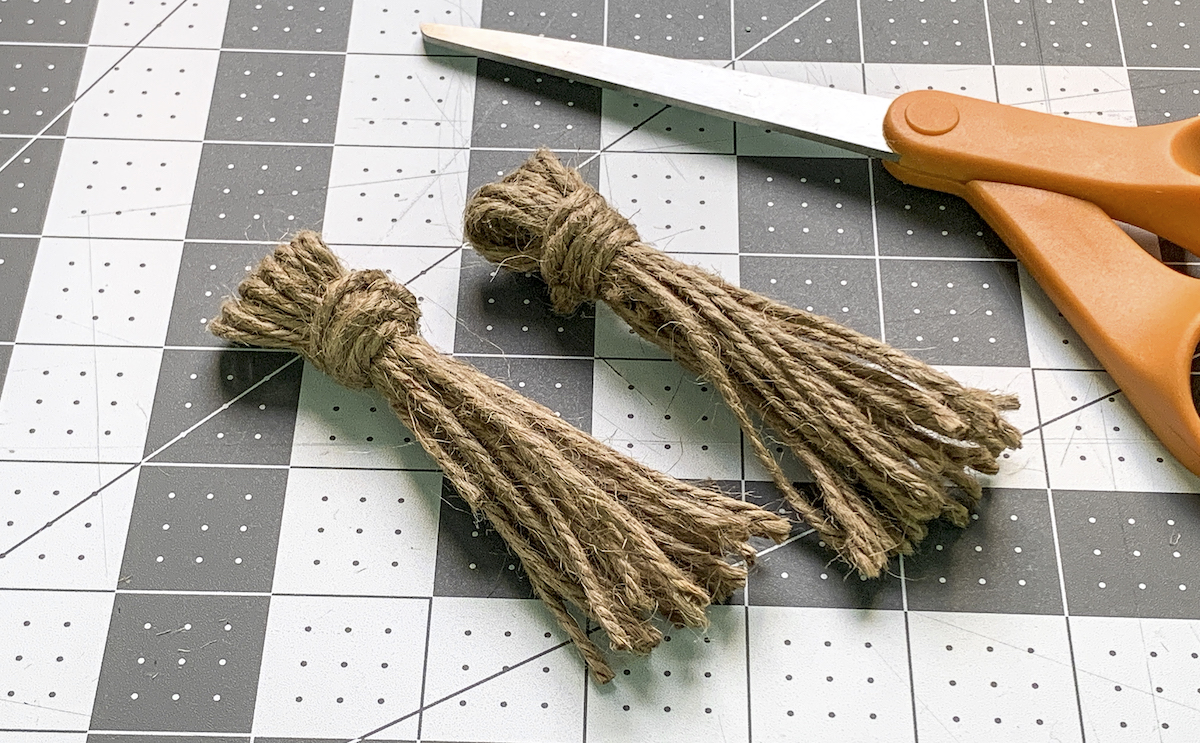 Repeat so that you have two tassels.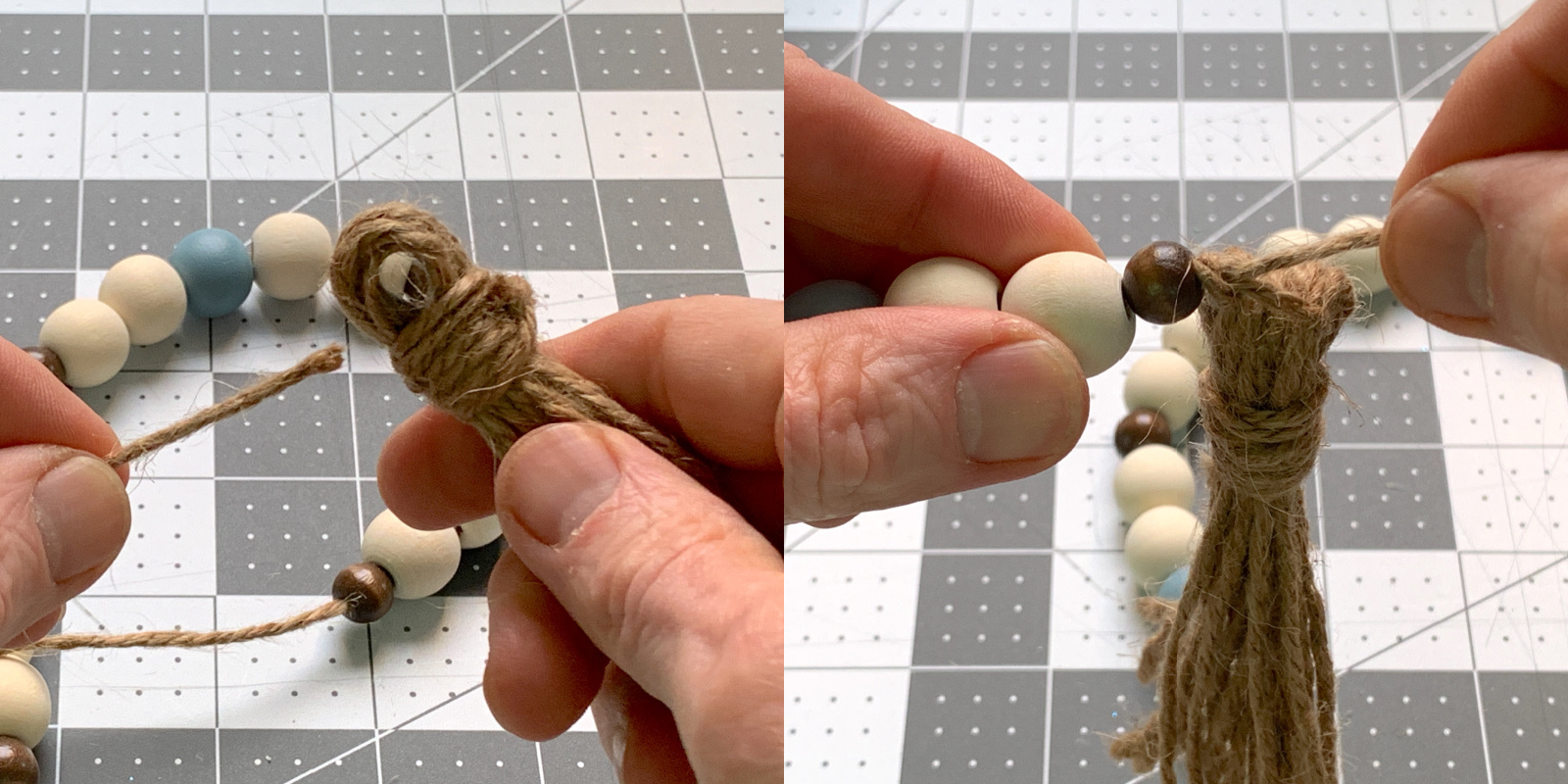 Attach the tassel to your wooden bead garland using the twine at the end of each. Place the twine through the tassel hole, then tie a knot to secure. Your garland is finito!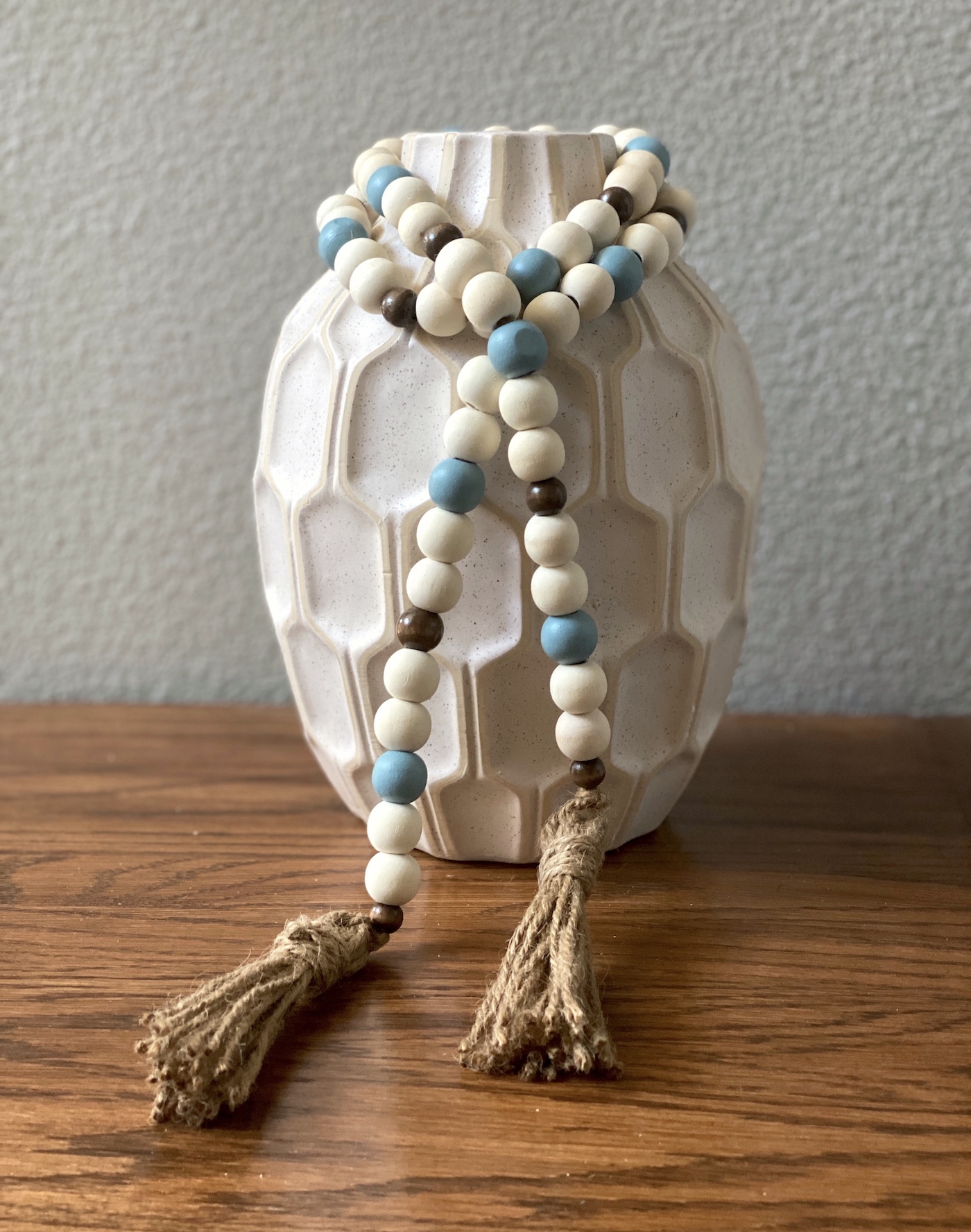 Time to display your garland! Now wasn't that easy? It's probably one of the easiest home decorating projects I've ever done in my life!
---
Yield: 1 garland
Wood Bead Garland
Learn how to make a wood beaded garland on a budget! This is a perfect home decor craft idea for beginners. You'll complete this project in three simple steps.
Active Time
1 hour
15 minutes
Materials
Wood beads
Acrylic paint (optional)
Jute twine
Tools
Pen or pencil
Scissors
Paintbrush (optional)
Needle
Instructions
Gather the correct number and type of beads you would like to use in your project, including the twine.
At this time, paint or stain any beads using a paintbrush. Let dry.
Cut the jute twine the desired length for the garland and knot on one end, leaving a few inches excess on both ends.
Begin stringing the wood beads in the desired pattern. When all the beads are on the garland, tie a knot to secure.
Begin to create the tassel by wrapping around your hand about X times.
Remove the loop from your hand, place on the pen, and cut an additional length of twine. Tie around the loop tightly right underneath the pen.
Wrap the twine around multiple times and then tie a knot. Cut the excess.
Cut the end of the loop at the other end of the pen to create a tassel. Trim with scissors.
Tie the tassels into each end of the bead garland, knotting to secure. Cut excess twine with the scissors.
Recommended Products
As an Amazon Associate and member of other affiliate programs, I earn from qualifying purchases.
---
Did you enjoy making this garland? I'd love for you to check out these other home decorating ideas: