Learn to decorate mugs! These DIY mugs are perfect gifts for any time of year. Here are 10 fantastic ideas with tips on how to make them fabulous.
Any other coffee drinkers out there? Basically, if you don't know what to get me for a gift, a mug is the perfect thing. And even better if it's handmade. But mugs aren't just a great gift for me – they are a great gift for a lot of occasions: hostess gifts, Father's Day . . . any holiday, really.
Not to mention it's relatively cheap to decorate them and can be done quickly. So if all of these things sound good to you, check out these 10 ways to decorate mugs. Are there some DIY mugs in your future? There certainly are in mine!
DIY Mugs
Before we get into the project ideas, I want to give you some tips for personalized mugs. It's not hard to do, but you'll want the design you make to last, so there are several considerations!
Types of Mugs
If you are going to try a DIY mug, there are typically two surfaces you'll want to consider: glass or ceramic. Both are relatively easy to work with. Glass tends to look great with glitter and etching medium while ceramic is perfect for decorating with paint. In either case you are going to want to prepare the mug as instructed below.
Preparing Your DIY Mug
If you're going to decorate a mug, you'll need to prepare it to receive the medium of your choice. That means washing with a mild soap and water to remove oils from fingers/dirt. Let the mug dry completely before decorating.
Ways to Decorate Mugs
Some of the most popular supplies used for decorating mugs are:
Acrylic paint – if you use a paint make sure that it is suitable for glass and/or ceramic. This would be something with multisurface, porcelain, or enamel on the label.
Etching medium – you'll need a special medium for this process. You'll also want to wear gloves as the product is an acid. It's a very unique look and I love the results.
Mod Podge – they offer a Dishwasher Safe formula that is perfect for top rack washing. This formula of Mod Podge is frequently combined with glitter to decorate mugs.
Nail Polish – marbling with nail polish is very popular. Visit our DIY marbled mugs tutorial!
Sharpies – you'll want the oil based paint pens. The regular Sharpies don't provide consistency in terms of a permanent design.
Note: the "official" recommendation on most products is to start your design at least 1/4″ down from the lip of the mug so that your lips are never touching the product. While many craft supplies are non-toxic, and you should be fine if your lips do come in contact, it's just something to keep in mind.
Will They Be Dishwasher Safe?
It really depends on the mug that you choose. Glass mugs don't seem to have as many problems as ceramic. Without question, my research has revealed that when it comes to ceramic, cheaper mugs are better.
Many many people have noted that dollar store mugs/mugs purchased from overseas are best because they have a thinner coating. This allows the mug to take the medium better.
You'll always want to follow the instructions on the product bottle, but one thing to note is that DIY mugs often need to be baked, especially when using Sharpies. The recommendation is to bake a mug at 250º for 2 hours to make them dishwasher safe. This temperature and time also prevents the colors from being altered too much.
Tip: Do NOT use a spray sealer on your mug. Running a spray sealer coated mug through the dishwasher inevitably results in clumping of the sealer or fogging of the design in certain areas.
Now that are you are ready to decorate, here are ten DIY mugs to try!
DIY Chalkboard Mug
Use porcelain chalkboard paint to create a mug that you can write messages directly on.
Get the how-to at Wit and Whistle
Dishwasher Safe Glitter Mug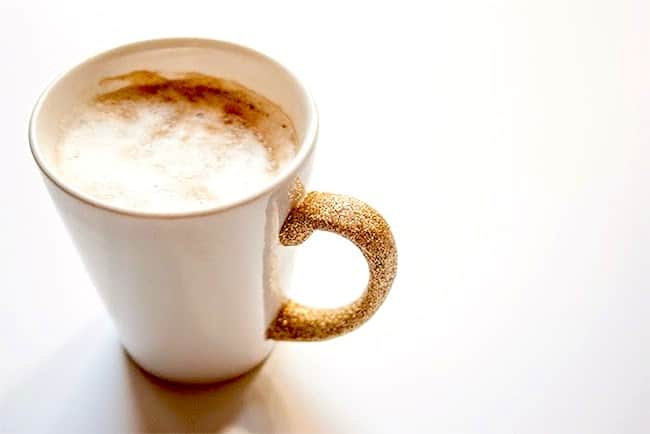 You don't need to have a lot of crafting skills to add a festive touch to this DIY coffee mug. It uses the Mod Podge Dishwasher Safe formula.
Find out how to do it at Mod Podge Rocks
Emoticon DIY Mugs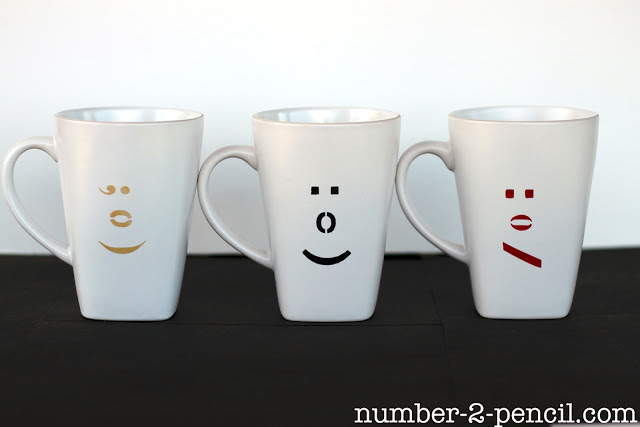 For your text loving friends, these emoticon mugs are easily created with stencils and paint.
Find the tutorial at No. 2 Pencil
Gold Triangle Sharpie Mug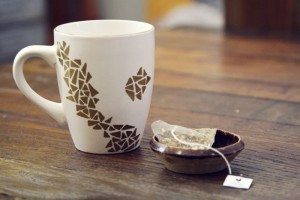 Revamp a 99 cent store mug with the Sharpie design of your choice – this triangle pattern is fantastic.
Get the how-to at Oh, Hello Friend
Hand Painted Mugs
For a fun, hand painted look, apply porcelain paints to a mug straight out of the bottle.
Learn how to make it at Wit and Whistle
Mustaches Painted on Mugs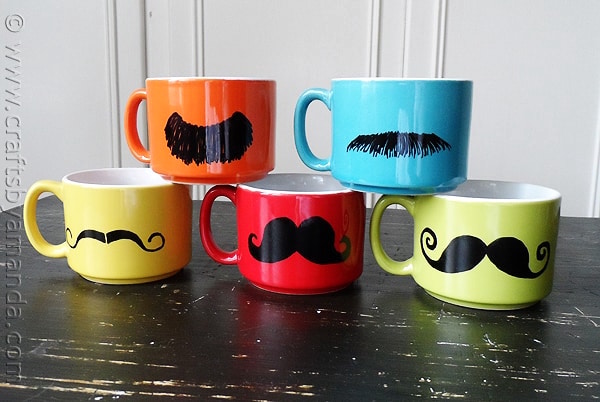 Add mustaches with paint pens – then enjoy when someone takes a drink. Wouldn't these be fun for Father's Day?
Visit the step-by-step at Crafts By Amanda
Etched Mason Jar Mugs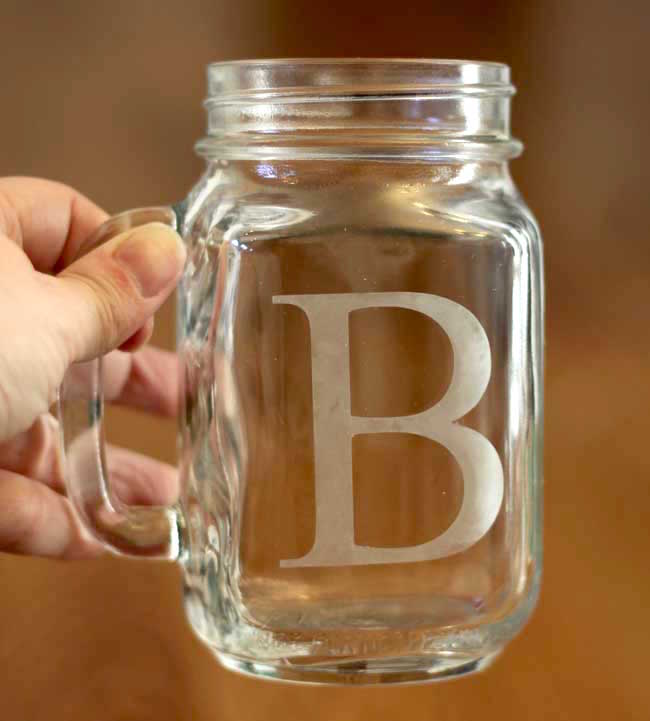 I've tried glass etching before and it's REALLY easy to do. This mason jar mug was decorated by Erin and makes a perfect gift for Mother's Day or Father's Day!
Get the instructions at Sometimes Homemade
Cute Messages on Mugs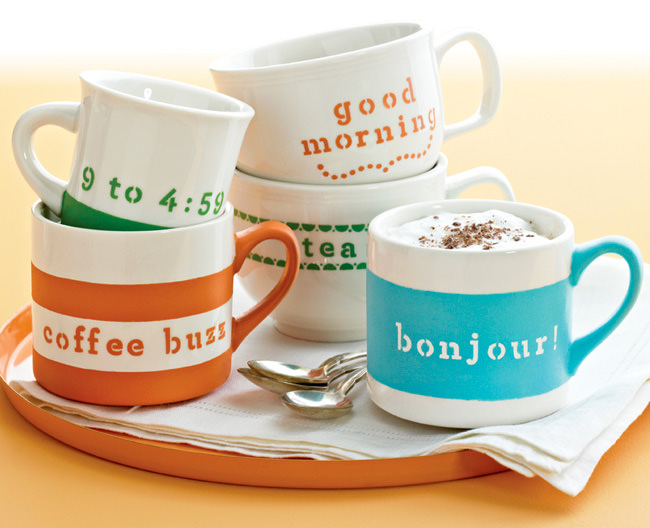 Use adhesive alphabet stencils and bright colors of paint to add cute messages to mugs. The coffee theme of these DIY mugs is really cute!
Favorite Quotes on Mugs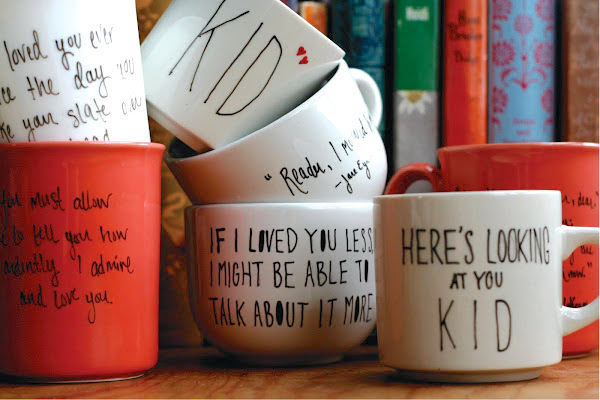 Use porcelain friendly pens to decorate mugs with your favorite quotes – try both printing and cursive!
While the original tutorial is no longer available, all you need to do is write on mugs using these Pebeo markers. Then cure according to package instructions.
Colorblock Dipped DIY Mugs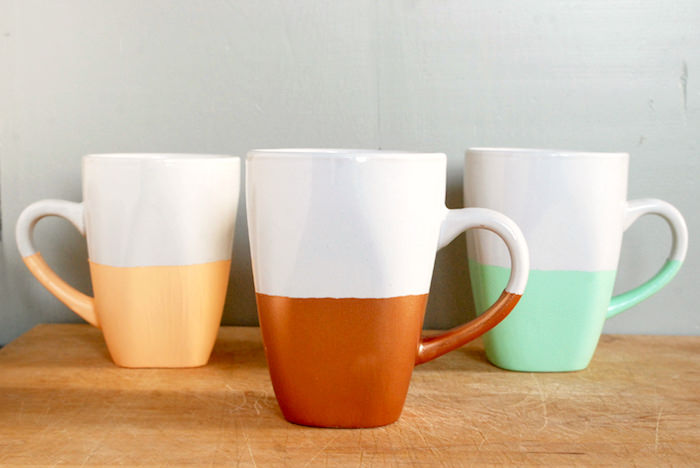 This idea doesn't get much simpler – dip your mugs in your favorite colors of paint.
See how they were made at Merry Thought
---
Ready to try some DIY coffee mugs? You should jump in – but first you need to check out my top tips. I put them in the video below:
Have you ever made any DIY mugs? I'd love to know what you used and how you did it. Just tell me in the comments!