Celebrate Christmas and beyond with these 300+ FREE printable Christmas tags! So many unique designs – there's a little something for everyone.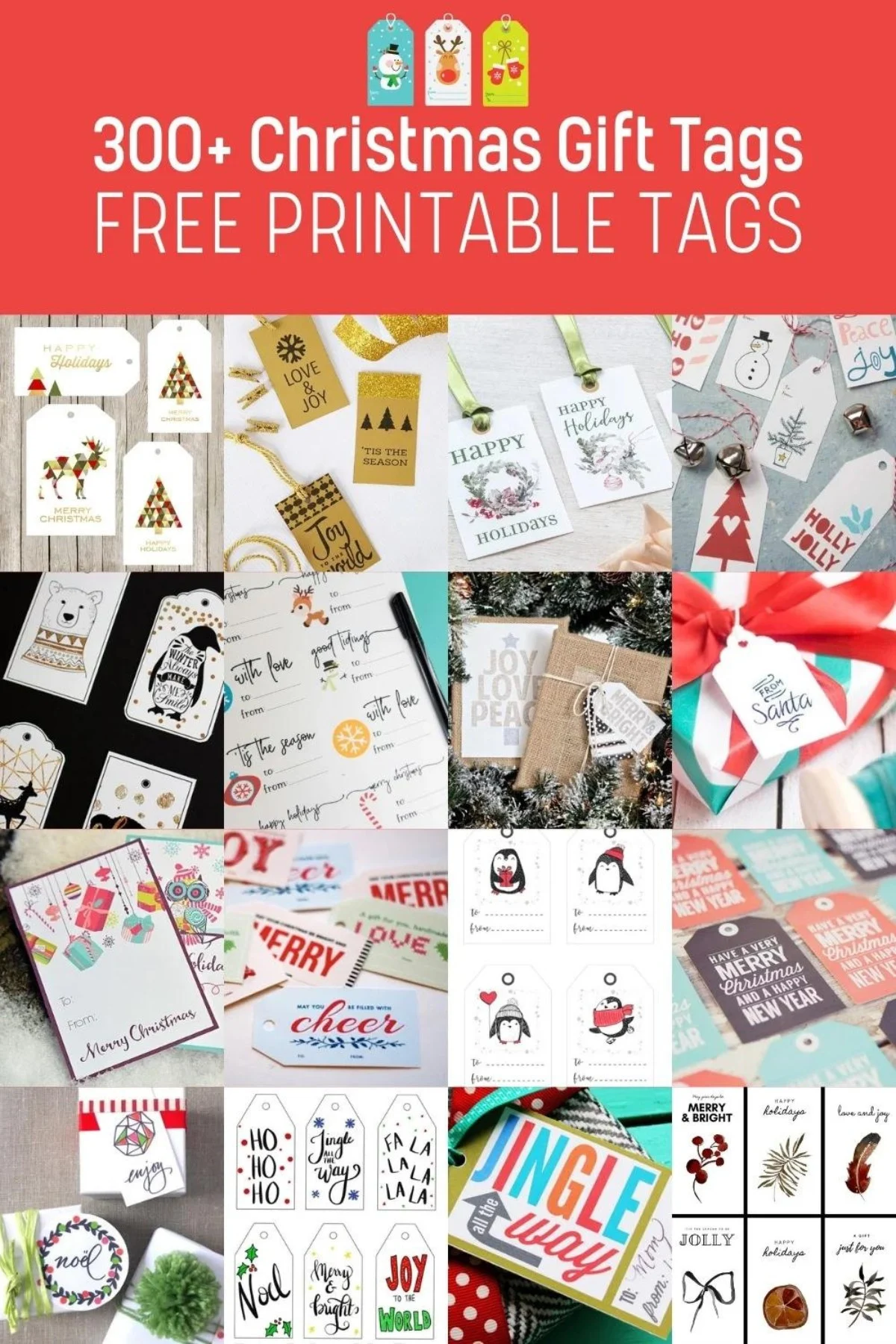 The holiday season is a time of twinkling lights, warm cocoa, and the ever-growing pile of gifts that await the final touch of festive wrapping.
But wait, what's missing? That's right – gift tags!
Like many of you, I've found myself staring at a stack of beautifully wrapped presents, realizing I'm fresh out of labels. And honestly, braving the holiday crowds to buy some? No, thank you.
But don't fret, because the magic of the internet has us covered with a sleigh-load of printable Christmas tags.
We're talking about tags that aren't just functional; they're little pieces of art that add that extra sparkle to your gifts.
I've scoured the digital world and handpicked some of my favorite designs to share with you – consider it my holiday gift to fellow procrastinators and creative enthusiasts!
Before we dive into the wonderland of printable tags, let's talk paper – because the right canvas can turn a simple tag into a keepsake.
For these Christmas wonders, I recommend going for cardstock sheets, sometimes known as brochure paper.
Imagine the satisfying feeling of a smooth, white, thick piece of paper, about 65 – 80 lb, in your hands. It turns a simple printable into something that feels more substantial, more luxurious.
And for those of you who love the ease of stickers, I have a pro tip: print on these Avery Full Sheet labels.
They're perfect for creating custom stickers that can easily be peeled and stuck onto your presents. Plus, you'll have plenty of sheets left to unleash your creativity on all kinds of stickers!
Now, are you ready to dive into the enchanting world of printable Christmas tags? I promise this list has something for everyone – from traditional to trendy, minimalistic to merry.
Scroll down and be prepared to find the perfect tags to crown your gifts this holiday season. There's a style for every gift and personality, ensuring that your presents stand out under the Christmas tree.
Oh – I recommend having a sharp pair of scissors and/or a paper cutter on hand.
These printables are about to turn your gift-giving game up a notch, adding a personal and crafty touch to each present.
Happy Holidays and happy crafting – let's make those gifts not just special, but spectacularly tagged!
Free Printable Christmas Tags
Celebrate Christmas and beyond with over 300 FREE printable holiday tags! With so many unique designs, there is a little something for everyone. These will look so cute on your Christmas gifts!
---
If you enjoyed these gift tags for Christmas, let me know in the comments! I'd also love for you to check out these other posts: