Use this cute free printable You Color My World valentines card to give out in the classroom with a few crayons! Perfect non candy valentine idea!
I love Valentine's Day! It's a day to give out cute little gifts and show everyone just how much you love them. So, don't mind me if I pull out a little cheese and share this cute non-candy free printable valentines card I made up.
My girls really love coloring (as do I), so I figured a little gift of crayons and colored pencils would be the perfect thing for them to pass out to their friends. And, since I only tape a few crayons onto each card, it's quite cheap too.
You Color My World Valentine
All you need to do is download and print out the "You Color My World" printable card.
Please note they are for personal use only – but other than that, print away and have fun! *Click the link, then click the Download box at the top right to download. Give it a minute to process and open. You do not need to sign up for an account.
You'll want to print the you color my world valentines onto a thicker paper like cardstock – otherwise it won't be sturdy when you tape anything to it.
You can get white cardstock from the scrapbook section of the craft store that will go through your printer. You can also buy brochure paper from the office store. You want a matte and not a gloss.
Print these valentines out at high quality. The actual ink area isn't large, so you won't use a ton of ink for these.
After you print, it's easiest to use a paper cutter or a craft knife and ruler to cut the page into four parts. Yes, each print out will make four valentines! You'll cut at the 5.5″ mark on the long side and the 4.25″ mark on the short side.
Once they're cut, tape some mini colored pencils, pens, or crayons onto the front with some colorful washi tape.
The Dollar Tree has a craft section with crayons and other colorful writing utensils. I highly recommend checking there to keep your Valentine's inexpensive. They also have cardstock and washi tape so this could be a one-stop shop!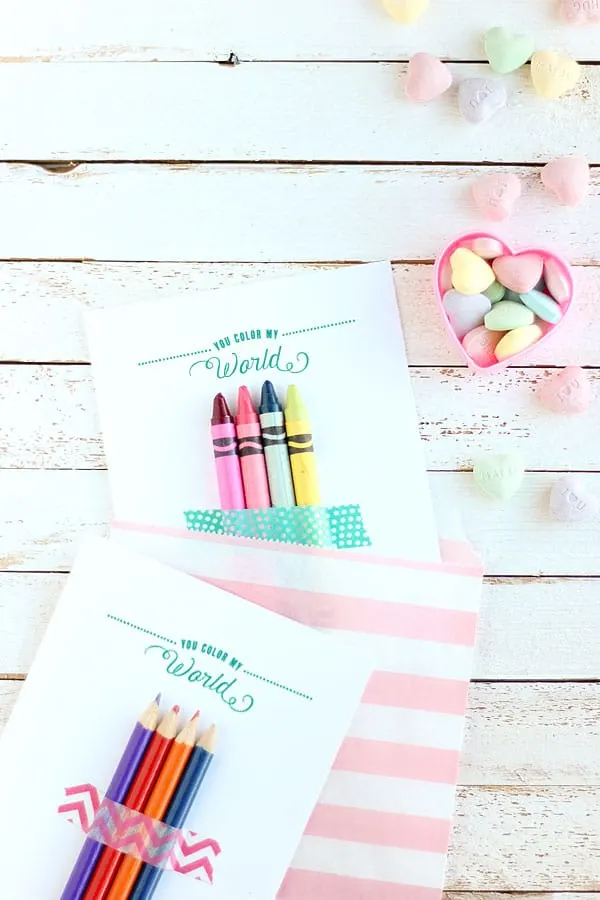 Slip the cards into a colorful gift bag to finish. You'll be looking for "small flat paper treat bags" to slip them into. It's a nice touch and makes for a very colorful Valentine's Day!
---
I'd love to know what you think of this free printable in the comments.
Want some more Valentines ideas? Be sure to check out our collection here! I've also got some other posts you'll want to see: