Show the teacher in your life a little love with this collection of over 20 teacher appreciation printables! Just add a ribbon and gift and you're done.
Teacher appreciation is very special to me! Why? My mom is a teacher! She has her master's degree in learning and behavioral disorders, which was a big help given that my youngest brother had some issues.
My mom managed to work and raise a family, which is what a lot of teachers are doing these days. And that's no easy task! I can't imagine teaching 25 littles during the day and then coming home to your family . . . that requires a lot of energy!
Teacher Appreciation Printables
Show some love for your children's teachers with these cute teacher appreciation printables. They make it easy for you. Just throw in a gift, a little ribbon, and you are good to go. I have a great collection of printables below that you'll love – just scroll down and grab your favorites!
You can get chinese takeout boxes from any craft store or Target – just add fortune cookies.
So fortunate to have you at eighteen25
What a fancy (and cute) way to wrap up a Kit Kat bar! This would be great for anyone who needs a break, not just a teacher.
You deserve a break at eighteen25
Everyone loves cookies! Make your teacher's favorite and add this cute label.
A smart cookie at Skip to My Lou
For the teacher who doesn't want sweet treats or gift cards, this beautiful bouquet is perfect.
Teacher appreciation blooms at Skip to My Lou
Add these pretty tags to handmade decorated pencils with washi tape and cupcake wrappers!
Printable tags for teacher appreciation gifts at Lia Griffith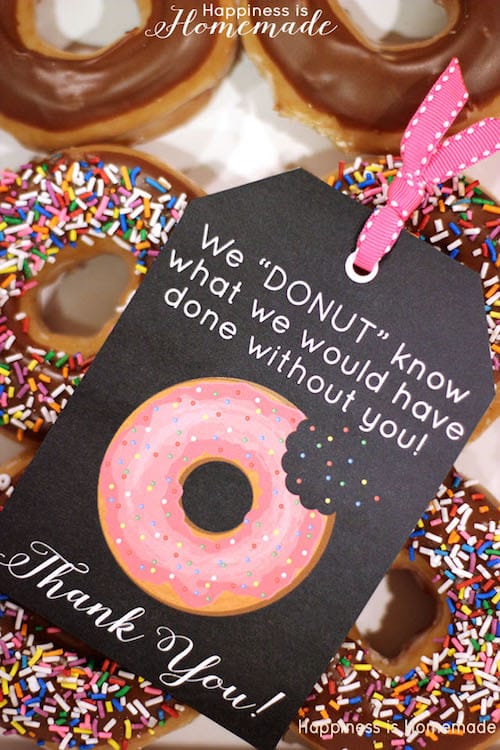 Who doesn't love donuts? I'm happy to do just about anything to earn one, and teachers definitely deserve them!
Donut thank you at Happiness is Homemade
Are these not the cutest little paper berries ever? Cindy teaches you how to make them (they are mini boxes!).
For a berry special teacher at Skip to My Lou
You can add any sorts of goodies or gift cards you like to this printable box.
Teacher appreciation printable box at Make Bake Celebrate
This holder is just right for any gift card or even a sweet note.
You are the apple of our eye at Kiki & Company
Does your teacher love mocha-latte-chinos? Give them a gift card to buy one!
Thanks a latte at eighteen25
If you already have the gift but just need some fun wrap, this printable is perfect.
Teacher appreciation printable gift wrap and mini thank you card at Uncommon Designs
Make a fun pencil or pen bouquet for the teacher who loves supplies.
DIY pencil flower bouquet at Whipperberry
Is your teacher extra special? Give her (or him) this cute printable with a pack of gum!
Extra special teacher gift idea at The Crafting Chicks
This printable goes perfectly with a box of Junior Mints (such a tasty treat)!
Mint to be at The Celebration Shoppe
This printable is perfect for all sorts of sweet baked goods – and these honey bun mini loaves look delish!
It's been a sweet year at Skip to My Lou
Is your teacher the best . . . bar none? Add this printable to the candy bar of your choice.
Free printable candy bar wrappers at Skip to My Lou
I'm always looking for an excuse to give someone a mason jar – so this is a great idea!
Be a smart cookie at Club Chica Circle
This quote is such a special sentiment for how teachers feel about their job.
Teacher appreciation printable at Five Heart Home
Add a cute little printable to a delicious caramel apple (and I have to agree, A is for awesome!)
Caramel apple teacher appreciation printable` at Skip to My Lou
A Target gift card is just about my favorite thing in the world. This is a perfect holder for one!
Printable Target gift card holder at Landee See Landee Do
Teachers need to keep hydrated too! This gift is for a tea-riffic teacher.
Simple and affordable iced tea cup at Everyday Savvy
---
Which of these teacher appreciation printables are you going to try? Let me know in the comments!