These thumbprint cookies are a classic recipe you'll love. Perfectly buttery and filled with your choice of jam – and great for any occasion including Christmas!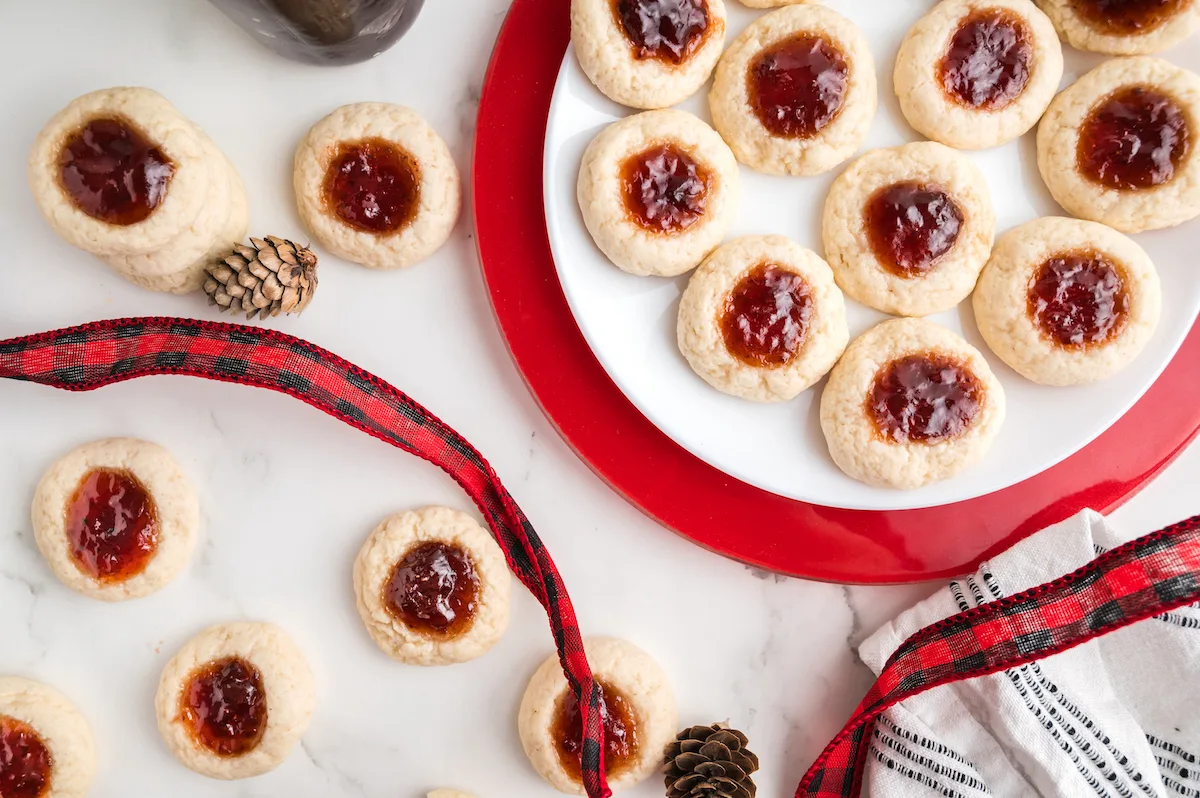 I'll never forget the first time I tried a thumbprint cookie. Okay maybe it wasn't the first ever, but it's the first time I remember.
I'm originally from Seattle and when I was young, we used to visit Pike Place Market every weekend for two things (minimum).
One was the German butcher where my dad would get landjäger and delicious meats . . . and the other was the Three Sisters Bakery, where we would get desserts.
Everyone had their favorites at the bakery, ranging from turnovers to dessert bars to muffins to brownies. Mine? The thumbprint cookies.
A recent visit back to Seattle reminded me about the good ol' days, as I walked through the market and thought about those cookies (I didn't get one because the line was too long – sad face).
I decided it was time to make a classic jam thumbprint cookie recipe that I would love – and that you would too!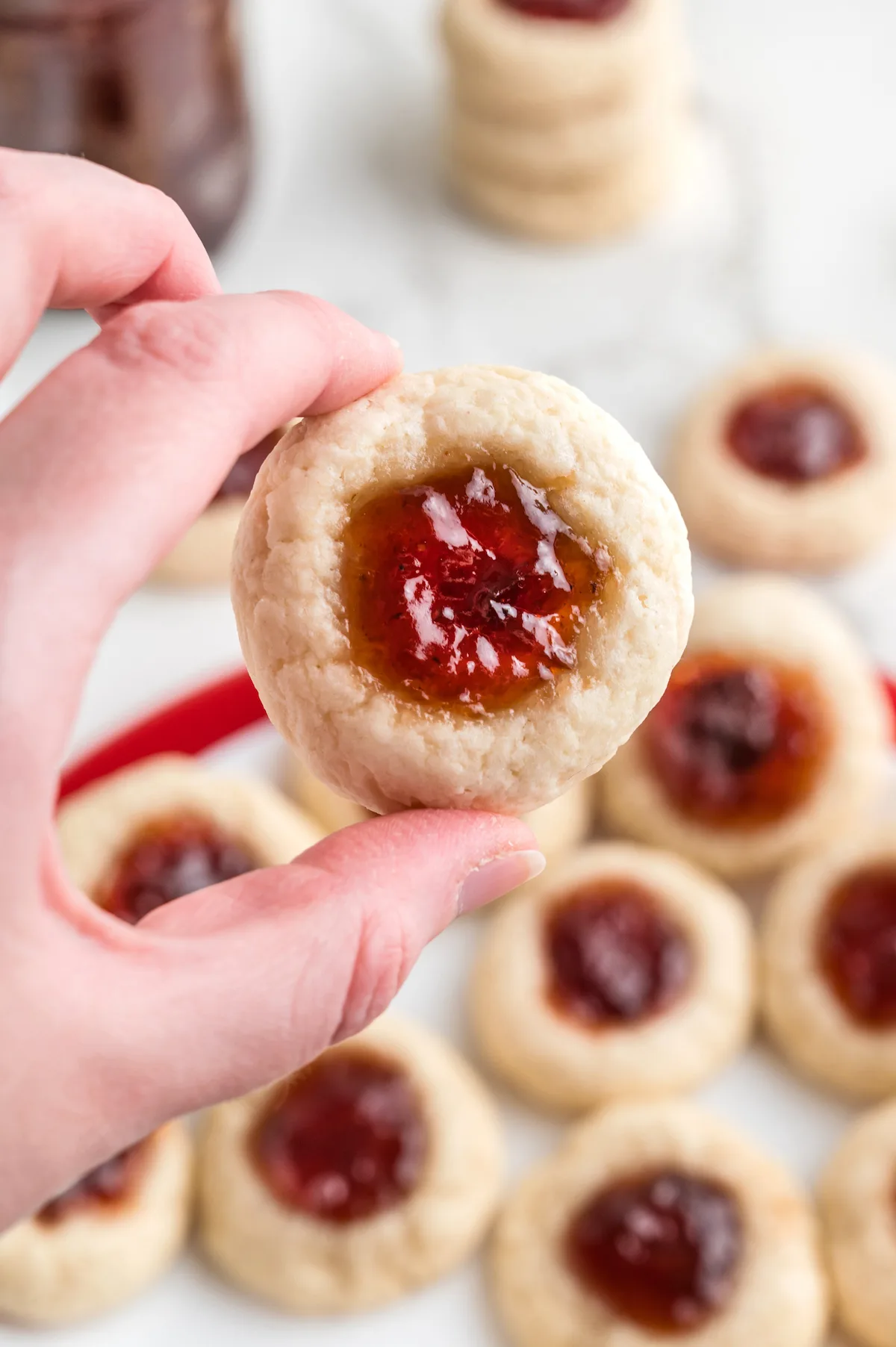 We've tried recipes like chocolate thumbprints, red velvet, lemon blueberry . . . but never classic jam. And there's no time like the present, right?
These cookies have a delightfully crumbly, buttery base that practically melts in your mouth.
The center of the cookie holds a dollop of jam that is just the right amount of sweet—enough to complement the buttery flavor without overpowering it.
The contrast between the tender cookie and the slightly sticky filling is pure joy. These are absolutely perfect for Christmas cookie exchanges. Or just eating while watching a Lifetime holiday movie.
Before you dive into these cookies, I've got some tips for you on making the best (and tastiest) thumbprints. If you're interested, check them out. Otherwise scroll to the bottom for the recipe.
Tips for Making Delicious Cookies
Are you looking to make the tastiest cookies ever? I've got some tips for you. Here's what I always make sure to pay attention to.
Use Quality Ingredients
Use high-quality, fresh ingredients for the best cookie flavor and texture. You'll for sure want to get fresh eggs, good quality butter, and pure vanilla extract (instead of imitation).
Measure Precisely
Flour is often the main dry ingredient in these cookies. Measure using the scoop-and-level method, as adding too much flour can result in dry baked goods.
Bring Cold Ingredients to Room Temp
Bring ingredients like butter, eggs, and milk to room temperature before mixing. They will incorporate better, resulting in smoother batter and soft cookies. They don't need to be warm; slightly cool to room temp is fine.
Avoid Overmixing
Mix the batter just until ingredients are combined, or the dry disappears into the wet. Overmixing can result in tough cookies.
Chill the Dough
Chilling the cookie dough in the fridge for the specified time (or even overnight) before baking allows the flavors to meld and the fats to solidify. This results in cookies with better flavor and texture. It also prevents them from spreading too much during baking.
Look for Golden Edges
Unless the recipe says otherwise, the edges of the cookies should turn a golden brown while the center remains slightly soft. This balance ensures a chewy texture without overbaking.
Cool Before Transferring
Allow the cookies to cool on the baking sheet for a few minutes before transferring them to a wire rack to cool completely. This helps them set and avoids them becoming too fragile and crumbling apart.
Remember, practicing and experimenting will help you perfect your cookie baking skills over time. Have fun and enjoy the process of creating delicious baked goods! Here's what you're going to need for these thumbprint cookies.
Ingredients
1/2 cup butter, room temperature
3/4 cup granulated sugar
2 tablespoons milk
1/2 teaspoon vanilla
1 3/4 cup all purpose flour
1 teaspoon cornstarch
2/3 cup jam
Tools
Bowl
Spoon
Baking sheet
Parchment paper
Small spoon
These cookies last well for up to one week in an airtight container at room temperature. So you can make them up to one week ahead of time.
You can also freeze this thumbprint cookie recipe. Just make sure they are completely cooled and the jam has set. Add them to a freezer safe bag or container and freeze them for up to one month.
Get the printable recipe for these cookies below:
Yield: 32 cookies
Thumbprint Cookies
Get ready to fall in love with these easy, delicious thumbprints! These cookies are buttery and filled with your choice of jam - they're the ultimate treat for any occasion.
Total Time
1 hour
29 minutes
Ingredients
1/2 cup butter
3/4 cup granulated sugar
2 Tablespoons milk
1/2 teaspoon vanilla
1 3/4 cup all purpose flour
1 teaspoon cornstarch
2/3 cup jam
Instructions
In a large bowl, add in the butter and granulated sugar. Beat at medium-high until everything is combined and mixture turns creamy.
Mix in the milk and vanilla. Beat until combined.
Slowly stir in the flour and cornstarch until just combined and a dough is formed. It's okay if there are a few spots of dry ingredients.
Scoop the cookie dough into 1 Tablespoon-sized balls. Roll until the dough is completely round with no cracks.
Place the rolled dough on a cookie sheet at least 2 inches apart. Press your thumb, or the back of a measuring spoon, into the center of each cookie.
Transfer the cookie dough to the fridge and chill for one hour.
Preheat the oven to 350℉ and line your baking sheet with parchment paper.
Add about 1/2 - 1 teaspoon of jam to the well in each cookie. Fill to the brim but don't let the jam overflow too much.
Bake for 12-14 minutes. Remove from the oven and allow to sit for a few minutes, then transfer to a wire rack to cool completely.
Nutrition Information:
Yield:
32
Serving Size:
1 cookie
Amount Per Serving:
Calories:

88
Total Fat:

3g
Saturated Fat:

2g
Trans Fat:

0g
Unsaturated Fat:

1g
Cholesterol:

8mg
Sodium:

26mg
Carbohydrates:

15g
Fiber:

0g
Sugar:

8g
Protein:

1g
---
If you enjoyed this recipe, let me know in the comments! I'd also love for you to check out these other unique cookie recipes:
Almond Flour Shortbread • Apple Pie • Apricot Dark Chocolate • Bacon Chocolate Chip • Brownie Chocolate Chip • Buckeye • Butterscotch Chocolate Chip • Butterscotch Popcorn • Caramel Apple • Chocolate Chip (Air Fryer) • Chocolate Chip Pudding • Chocolate Chip Sandwich • Chocolate Marshmallow • Chocolate Mint Sandwich • Christmas Linzer • Circus Animal • Cotton Candy • Easter M&M • Funfetti • Ginger Molasses • Grinch • Halloween M&M • Heath Bar • Lemon Cream Cheese • Lemon Shortbread • Nutella Stuffed • Oatmeal Chocolate Chip • Paleo Shortbread • Peppermint Frosted • Peppermint Pudding • Pumpkin Chocolate Chip • Pumpkin Linzer • Pumpkin Sugar • Reese's Pieces • Ritz S'mores • Rolo • Santa Cookies • Shortbread Tea • Snickers • Vanilla • White Chocolate Cranberry • White Chocolate Snickerdoodles