These air fryer chocolate chip cookies are soft and chewy on the inside with a crisp edge and puddles of rich chocolate. The best part about these cookies? They're a quick dessert, ready in less than 15 minutes!
When my mom first started raving about her air fryer, I was like – um, yeah, okay. Is this just a way for people to feel good about bad stuff they want to eat?
Then secretly I also hoped that the air fryer would do the same for me. Can I put fries in it and all of the sudden they will be healthy? What about chicken nuggets?
The truth is, the point of an air fryer isn't to reduce calories of your dish, although it's a nice side effect. Because the air fryer uses convection heat to cook foods . . . crispy on the outside but moist (tender) on the inside.
So "frying" with no (additional) oil. I get it now.
Now that I'm all pro-air fryer, I've made quite a few things. Some of them include chicken wings and pop tarts! Once you get hooked . . . you're going to love making everything in your countertop "robot."
My Vortex looks like an all-black countertop R2 unit and I love it. So very Star Wars.
Anyhoo, the latest recipe I tried? Air fryer chocolate chip cookies! And you know what? They are absolutely delicious.
Crispy on the outside, and moist and soft on the inside. Just the way a cookie recipe should be! In my humble opinion, anyway.
I'm going to show you how to make a small batch of chocolate chip cookies in the air fryer, and you'll be done in minutes.
And that's really the reason to use an air fryer for cookies is when you want to do just a few. Maybe you don't want to fire up the oven for a little snack and that is totally understandable. These are done in 15 minutes!
Now, here's what you'll need to gather to make your own. This recipe makes six cookies.
Ingredients
4 tablespoons (½ stick) salted butter, melted and cooled slightly
⅓ cup light brown sugar, lightly packed
1 large egg yolk
1 teaspoon pure vanilla extract
¾ cup all purpose flour
½ teaspoon baking soda
½ cup chocolate chunks or roughly chopped chocolate
Sea salt (optional)
Tools
I have a Vortex Air Fryer; I highly recommend this brand from personal experience.
Recipe Notes
You can use dark chocolate chips, chocolate chunks, or any other form of chocolate that you like.
I'm using dark chocolate chunks but feel free to use any add-in you like!
Don't be afraid to add nuts. Pecans or walnuts work well in these.
If you have some sea salt, sprinkle it on top to bring out additional flavor from the chocolate.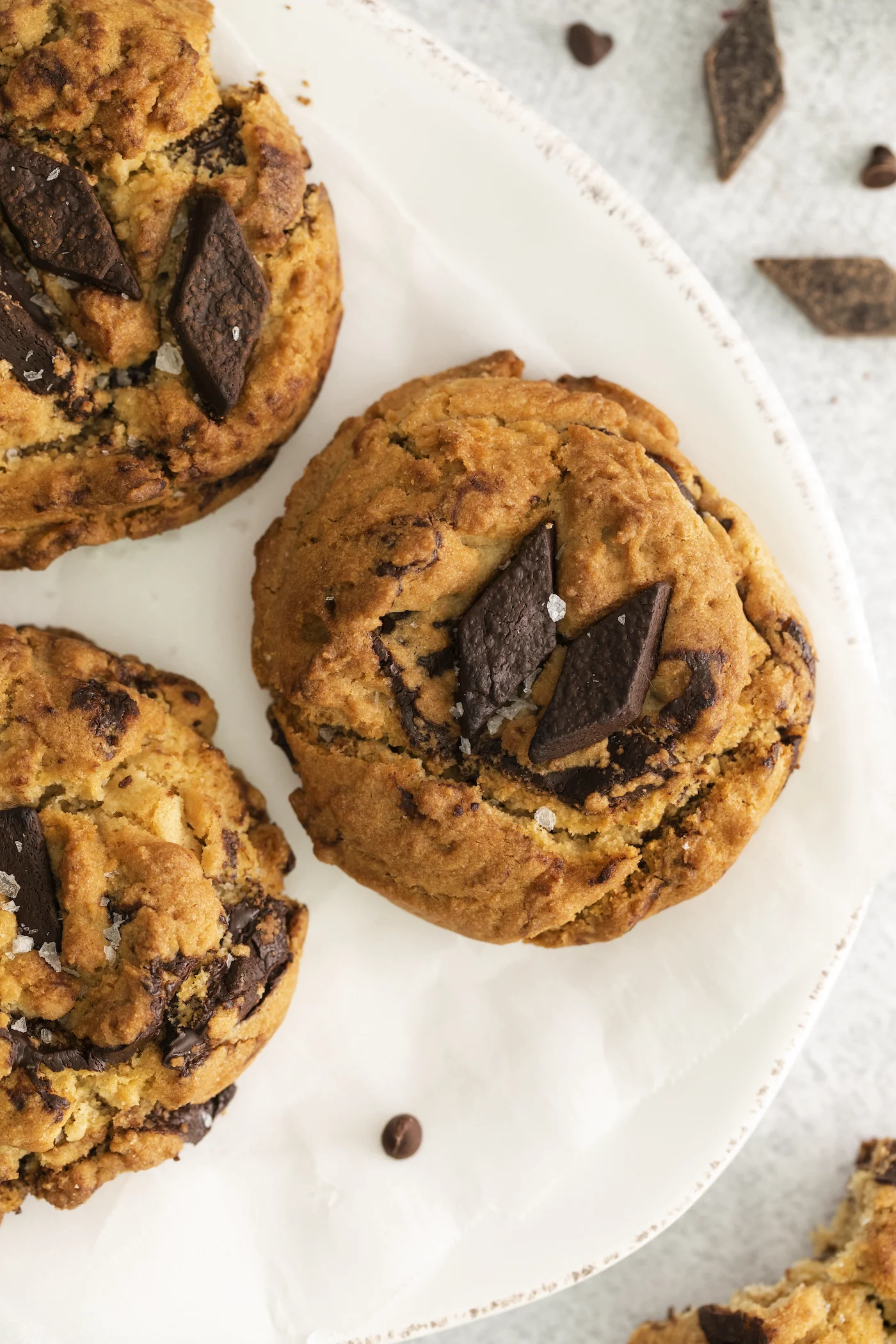 If you try these cookies I'd love for you to let me know in the comments!
Get the printable how to card below.
Yield: 6 cookies
Air Fryer Chocolate Chip Cookies
Make these air fryer cookies with chocolate chips using this simple recipe! Perfect for small batch baking.
Ingredients
4 tablespoons (½ stick) salted butter, melted and cooled slightly
1/2 cup light brown sugar, lightly packed
1 large egg yolk
1 teaspoon pure vanilla extract
3/4 cup all purpose flour
1/2 teaspoon baking soda
1/2 cup chocolate chunks or roughly chopped chocolate
Instructions
Preheat the air fryer to 375F for 5 minutes while you prepare the cookie dough.
In a medium bowl, whisk together the butter and brown sugar until well combined.
Next add the egg yolk and vanilla. Whisk to combine.
Add the flour and baking soda. Mix just until no large lumps of flour remain.
Finally, add the chocolate chunks and stir until they are fully incorporated.
Line the air fryer basket with parchment paper and use a 1.5 tablespoon scoop to portion out 6 cookie dough balls. Place them at least 2" apart in the air fryer basket– don't overcrowd the air fryer basket.
Cook for 6-8 minutes, or until the cookies are golden brown and crisp.
Remove the cookies to a wire rack to cool and repeat steps 6-7 with any remaining cookie dough.
Notes
Enjoy these cookies warm or at room temperature. Store any remaining cookies in an airtight container at room temperature for up to three days.
Nutrition Information:
Yield:
6
Serving Size:
1 cookie
Amount Per Serving:
Calories:

287
Total Fat:

14g
Saturated Fat:

8g
Trans Fat:

0g
Unsaturated Fat:

5g
Cholesterol:

86mg
Sodium:

196mg
Carbohydrates:

36g
Fiber:

1g
Sugar:

23g
Protein:

4g
---
If you enjoyed these chocolate chip cookies in the air fryer, take a peek at these other recipes: