These pots de creme are rich and chocolate-y with a smooth and creamy texture. Top it off with a bit of fresh whipped cream and berries or almonds for the perfect dessert.
Chocolate lovers, rejoice! If you're looking for a decadent and indulgent dessert that will satisfy your sweet tooth, then look no further than chocolate pots de creme.
These rich and creamy little pots of heaven are the perfect treat for any occasion, whether it's a romantic dinner for two or a dinner party with friends. They're an awesome Valentine's Day treat.
Pots de creme, which means "pots of cream" in French, are a classic dessert that have been enjoyed for years. If you've never had them before, they are essentially a type of custard that is cooked in individual ramekins and chilled until set.
The result is a velvety-smooth dessert that is rich and decadent, yet surprisingly light.
While there are many different flavors of pots de creme, chocolate is definitely the most popular. And it's not hard to understand why. They're the perfect combination of sweet and bitter, with a deep, rich chocolate flavor that is simply irresistible.
Dessert recipes like this often seem complicated to me, but the truth is, this only has six ingredients (well, and one optional one). The six ingredients are things you've worked with before for sure, and are likely in your cabinet right now!
The secret to perfect pots de creme is in the cooking. You want to make sure that the custard is cooked slowly to ensure that it sets properly and doesn't curdle. Make sure to check out my tips so they turn out just right.
Whether you're a seasoned dessert maker or just looking for a new recipe to try, I think you're going to like this. And I think you're going to be successful. They're easy to make, yet impressive enough to serve at even the most elegant dinner party.
Pots de Creme Tips
So that you're successful with this recipe, I'm going to share my tips below. They are crucial to your dessert being the right consistency. If you are a beginner, please be sure to read this part.
Slowly Pour the Cream Into the Eggs
If you pour the scalded cream into the eggs too fast? You're going to make scrambled eggs. So what you'll do is take a small ladle or spoon and add the cream very slowly with one hand with whipping with the other. Once you do that a few times, you can drizzle directly from the saucepan.
Use Ramekins
You can use almost any kind of ramekin to make creme brulee, but I've found that ramekins shorter than 1.5" cook more evenly.
This dessert can be made up to 48 hours in advance. Just keep the ramekins covered in the fridge and then continue with the final step when you're ready to serve.
Use a Water Bath
When you bake the ramekins, you'll put them in a water bath. This provides insulation from direct heat, which can crack the ramekins, and keeps the baking more even.
---
Ready to get started? First, you're going to gather your supplies and ingredients.
Ingredients
1 ½ cups heavy whipping cream
½ cup whole milk
4 ounces good-quality bittersweet chocolate, finely chopped
4 large egg yolks
¼ cup granulated sugar
1 teaspoon pure vanilla extract
¼ teaspoon instant espresso powder, optional
Tools
Other Notes and Thoughts on This Recipe:
I'm using Ghirardelli 60% Bittersweet chocolate in this recipe, but any good quality chocolate will work!
Instant espresso powder adds just a hint of bitter coffee flavor that enhances the sweetness of the chocolate. If you don't have any on hand, feel free to leave it out.
I enjoy these pots alone, but there are all sorts of things you can sprinkle on top! I've tried whipped cream, fruit, almonds, and sea salt. All are delicious. I've heard olive oil is good too. I haven't tried it yet but I will next time 😮
You can store any leftover pots covered in plastic wrap in the refrigerator for up to three days.
Enjoy the chocolate euphoria that washes over you when you take a bite!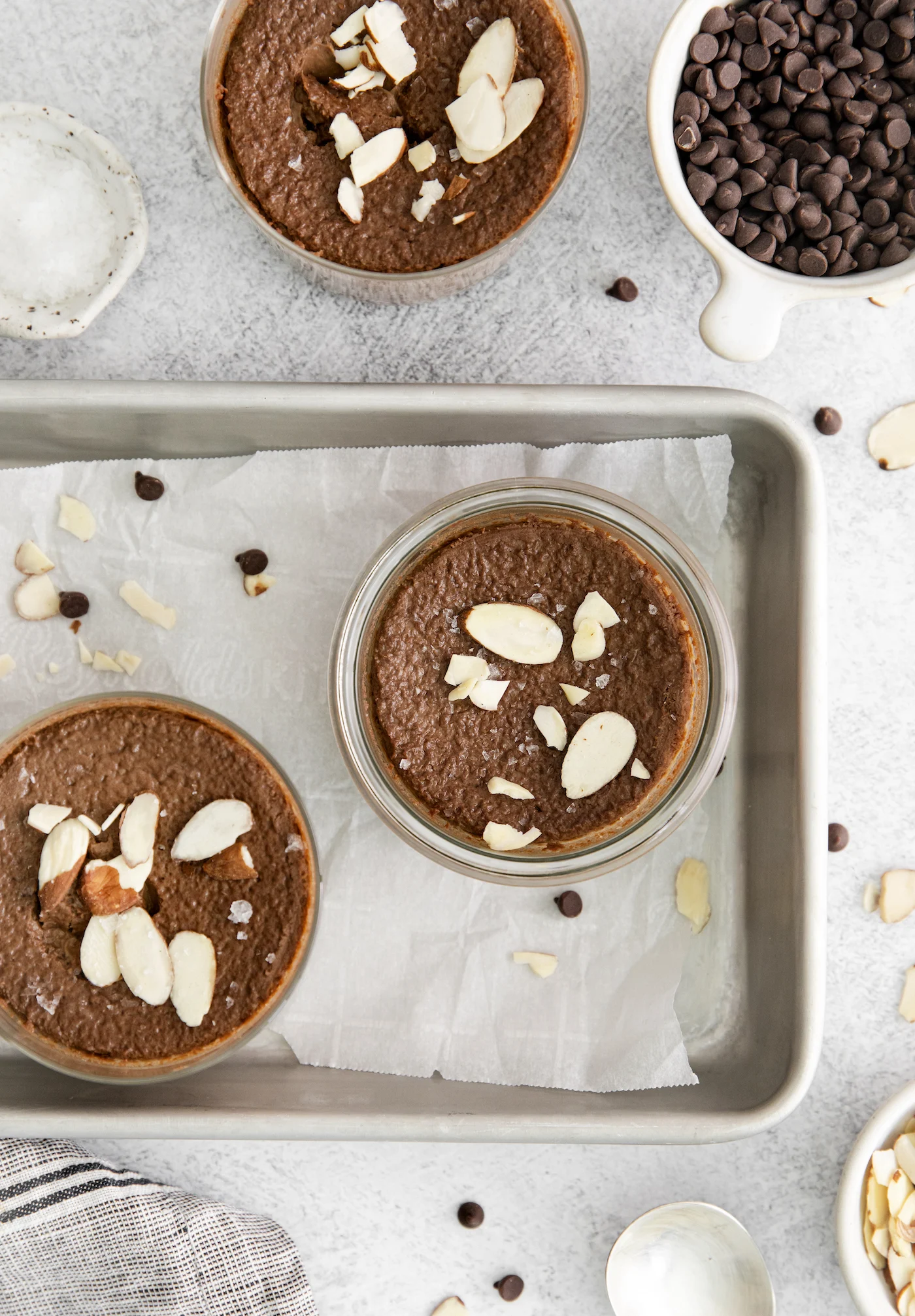 Get the printable recipe card for this dessert below.
Yield: 4 servings
Chocolate Pots de Creme
Learn how to make chocolate pots de creme, a loose French dessert custard. This recipe is rich and delicious!
Total Time
2 hours
55 minutes
Ingredients
1 ½ cups heavy whipping cream
½ cup whole milk
4 ounces good-quality bittersweet chocolate, finely chopped
4 large egg yolks
¼ cup granulated sugar
1 teaspoon pure vanilla extract
¼ teaspoon instant espresso powder (optional)
Instructions
Preheat the oven to 325F..
Add the heavy cream and milk to a medium sized saucepan set over medium heat. When the milk begins to steam and small bubbles form around the edge of the pan, remove it from the heat.
Add the chopped chocolate to the cream and whisk until the chocolate is fully melted.
Add the egg yolks, sugar, vanilla, and instant espresso powder (if using) to a large heatproof bowl. Whisk until the egg yolks and sugar are well combined.
Slowly pour the chocolate-cream mixture into the egg yolks, whisking constantly. If you add all of the hot cream at once, the egg yolks will scramble so make sure to add slowly.
Use a ladle to pour the mixture into four ramekins. Place in a 9 x 13 cake pan and fill halfway with hot water. Cover the pan with foil.
Bake for 30-45 minutes (baking time will also depend on the size of ramekin). Bake until the centers are set but still slightly jiggly.
Remove from the oven and allow the pots to cool to room temperature. Then, transfer them to the fridge to chill for at least two hours.
Notes
I don't own a bowl with a pour spout but I feel like it would be really useful in this recipe.
Nutrition Information:
Yield:
4
Serving Size:
1 pot de creme
Amount Per Serving:
Calories:

641
Total Fat:

54g
Saturated Fat:

32g
Trans Fat:

1g
Unsaturated Fat:

18g
Cholesterol:

337mg
Sodium:

117mg
Carbohydrates:

25g
Fiber:

5g
Sugar:

17g
Protein:

15g
---
If you like this dessert recipe, you'll love these other options: