Make delicious Heath Bar cookies loaded with toffee bits! Everyone will love this soft and chewy cookie recipe, perfect for holiday baking and beyond.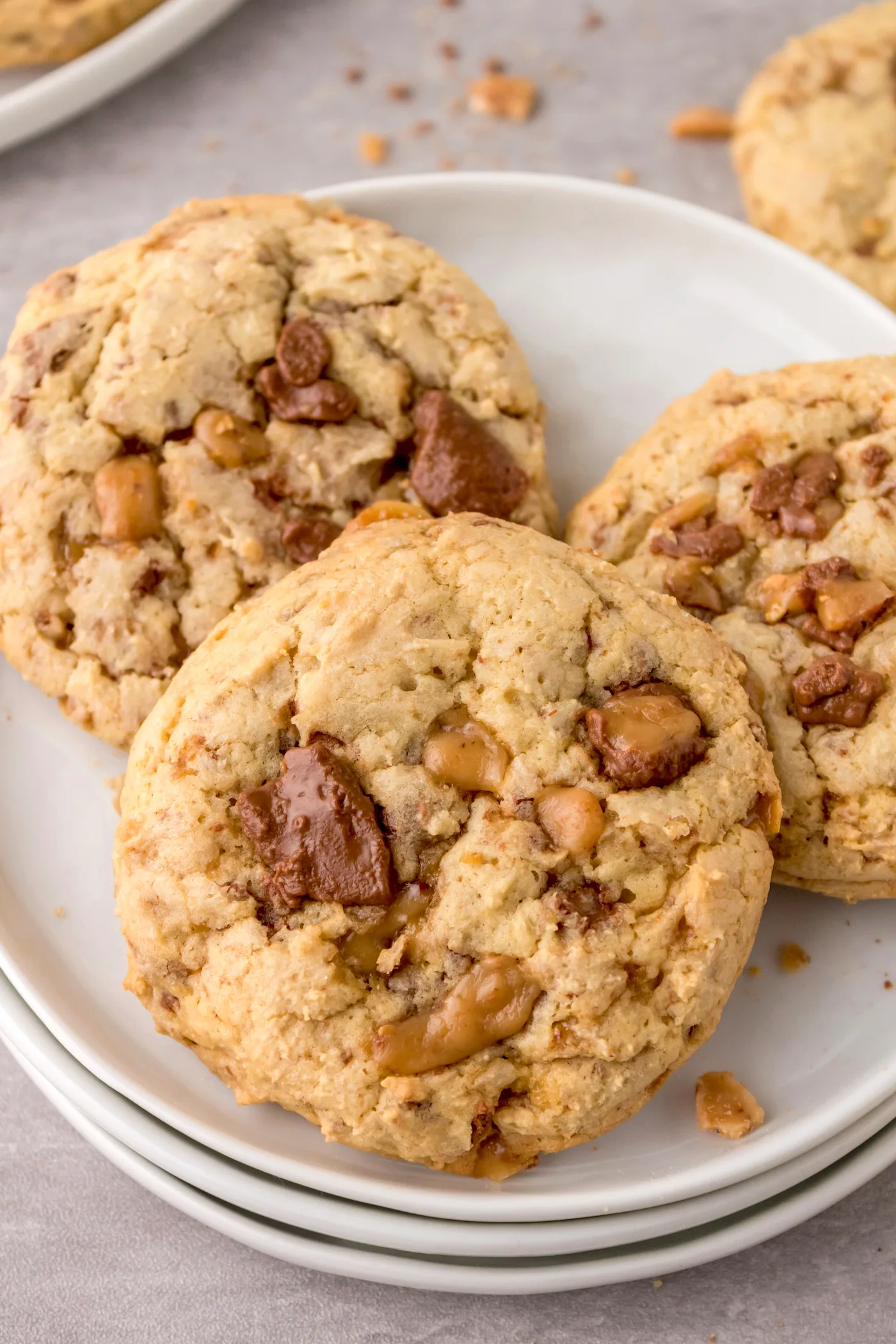 I'll be honest, Heath Bar has never been my favorite candy. It hasn't been my least favorite (I'm looking at you, Good & Plenty), but it's not been at the top of my list.
And maybe I never gave it a fair shake? I mean the combination of toffee and chocolate is pretty tasty. And it's only gotten tastier as I've gotten older. Yes, my tastes have changed slightly and continue to change as I get older.
I decided that this year it was time to give the Heath Bar the credit it deserves, through a tasty recipe you've maybe not tried before: Heath Bar cookies!
For me? I like these cookies more than the candy bar alone. They have a slightly crisp outer shell with an inner core that's soft and chewy.
They're perfect for Christmas cookie exchanges, just like our Nutella cookies and Rolo cookies. They're easy to make and a "fan favorite."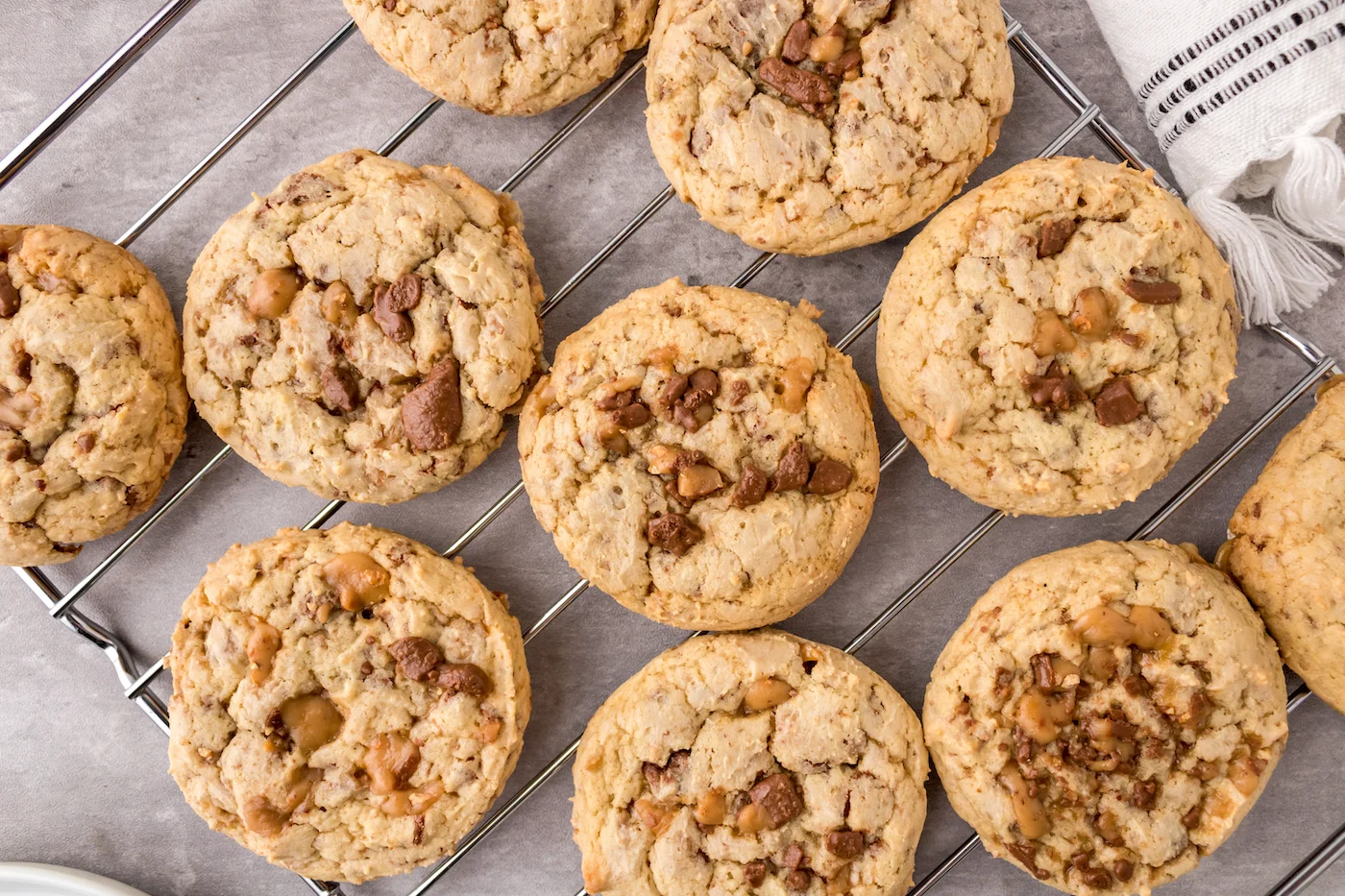 Before you dive into this recipe, I've got some tips for you on making the best (and tastiest) cookies. If you're interested, check them out. Otherwise scroll to the bottom for the recipe.
Tips for Making Delicious Cookies
Are you looking to make the tastiest cookies ever? I've got some tips for you. Here's what I always make sure to pay attention to.
Use Quality Ingredients
Use high-quality, fresh ingredients for the best cookie flavor and texture. You'll for sure want to get fresh eggs, good quality butter, and pure vanilla extract (instead of imitation).
Measure Precisely
Flour is often the main dry ingredient in these cookies. Measure using the scoop-and-level method, as adding too much flour can result in dry baked goods.
Bring Cold Ingredients to Room Temp
Bring ingredients like butter, eggs, and milk to room temperature before mixing. They will incorporate better, resulting in smoother batter and soft cookies. They don't need to be warm; slightly cool to room temp is fine.
Avoid Overmixing
Mix the batter just until ingredients are combined, or the dry disappears into the wet. Overmixing can result in tough cookies.
Chill the Dough
Chilling the cookie dough in the fridge for the specified time (or even overnight) before baking allows the flavors to meld and the fats to solidify. This results in cookies with better flavor and texture. It also prevents them from spreading too much during baking.
Look for Golden Edges
Unless the recipe says otherwise, the edges of the cookies should turn a golden brown while the center remains slightly soft. This balance ensures a chewy texture without overbaking.
Cool Before Transferring
Allow the cookies to cool on the baking sheet for a few minutes before transferring them to a wire rack to cool completely. This helps them set and avoids them becoming too fragile and crumbling apart.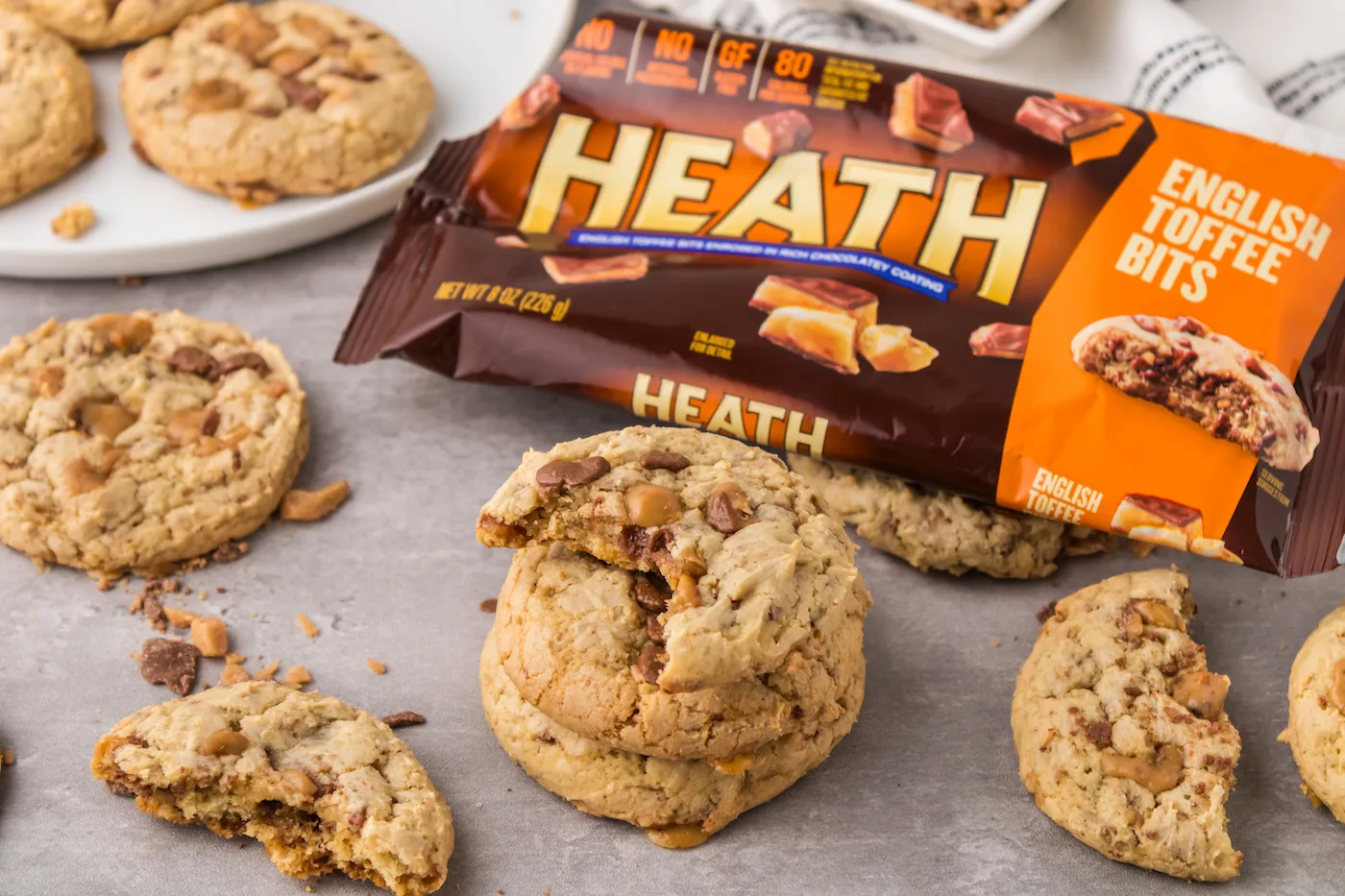 Remember, practicing and experimenting will help you perfect your cookie baking skills over time. Have fun and enjoy the process of creating delicious baked goods! Here's what you're going to need for these Heath Bar cookies.
Ingredients
1/2 cup Butter
3/4 cup Granulated Sugar
1/4 cup Brown Sugar
1 Egg
1 teaspoon Vanilla
2 cups All Purpose Flour
1 teaspoon Baking Powder
1/2 teaspoons Baking Soda
1 cup Heath Bits (or you can break up Heath Bars into pieces)
Equipment Needed
Bowl & spoon
Cookie sheet
Parchment paper
If you would like there to be obvious Heath Bar bits on the top of the cookie, press a few extra down on the top before baking.
Keep these cookies in an airtight container at room temperature for up to a week. They'll last a few weeks in the refrigerator.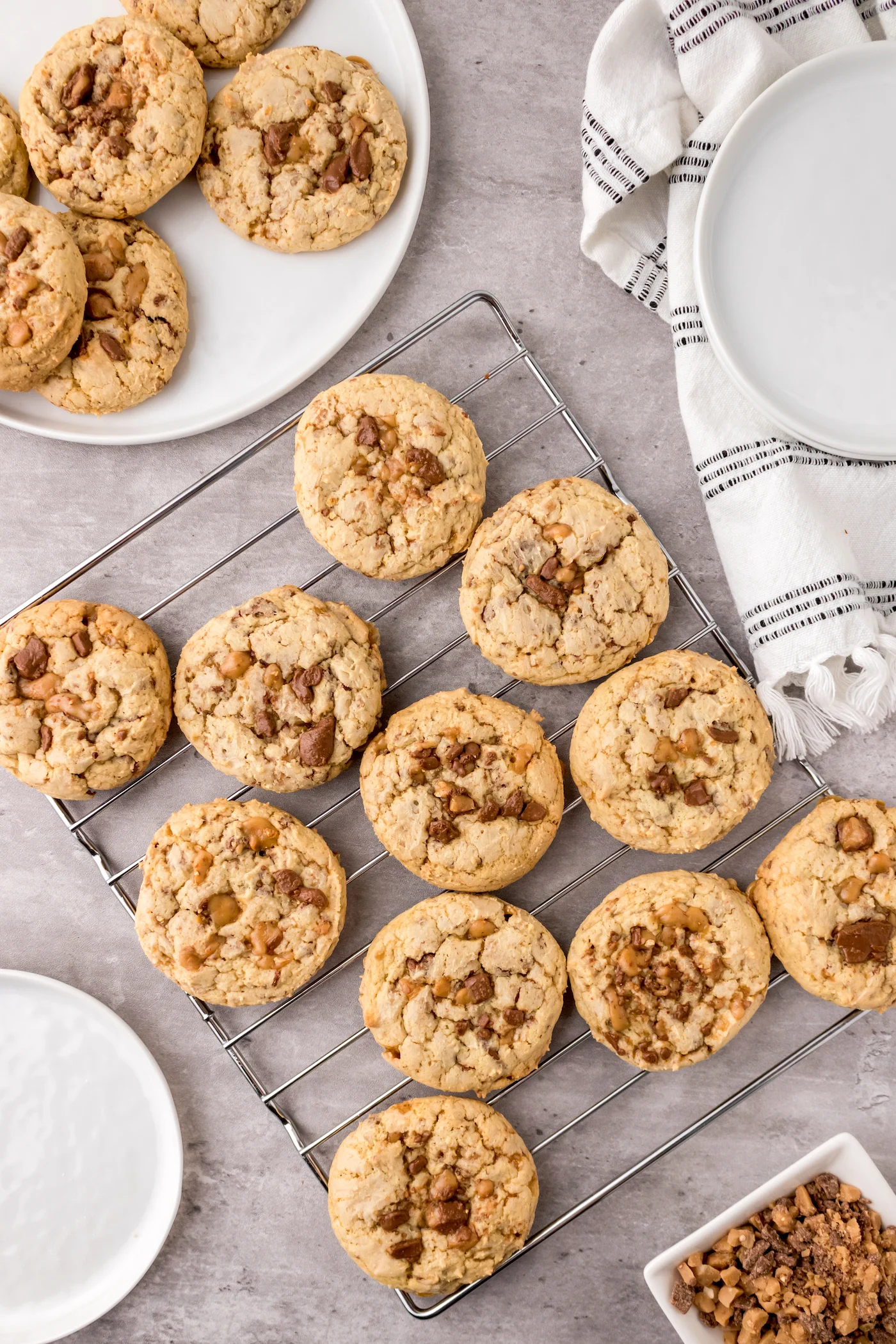 You can also freeze them in an airtight container for up to six months. When you bring them out of the freezer, let them rise to room temperature naturally as opposed to microwaving.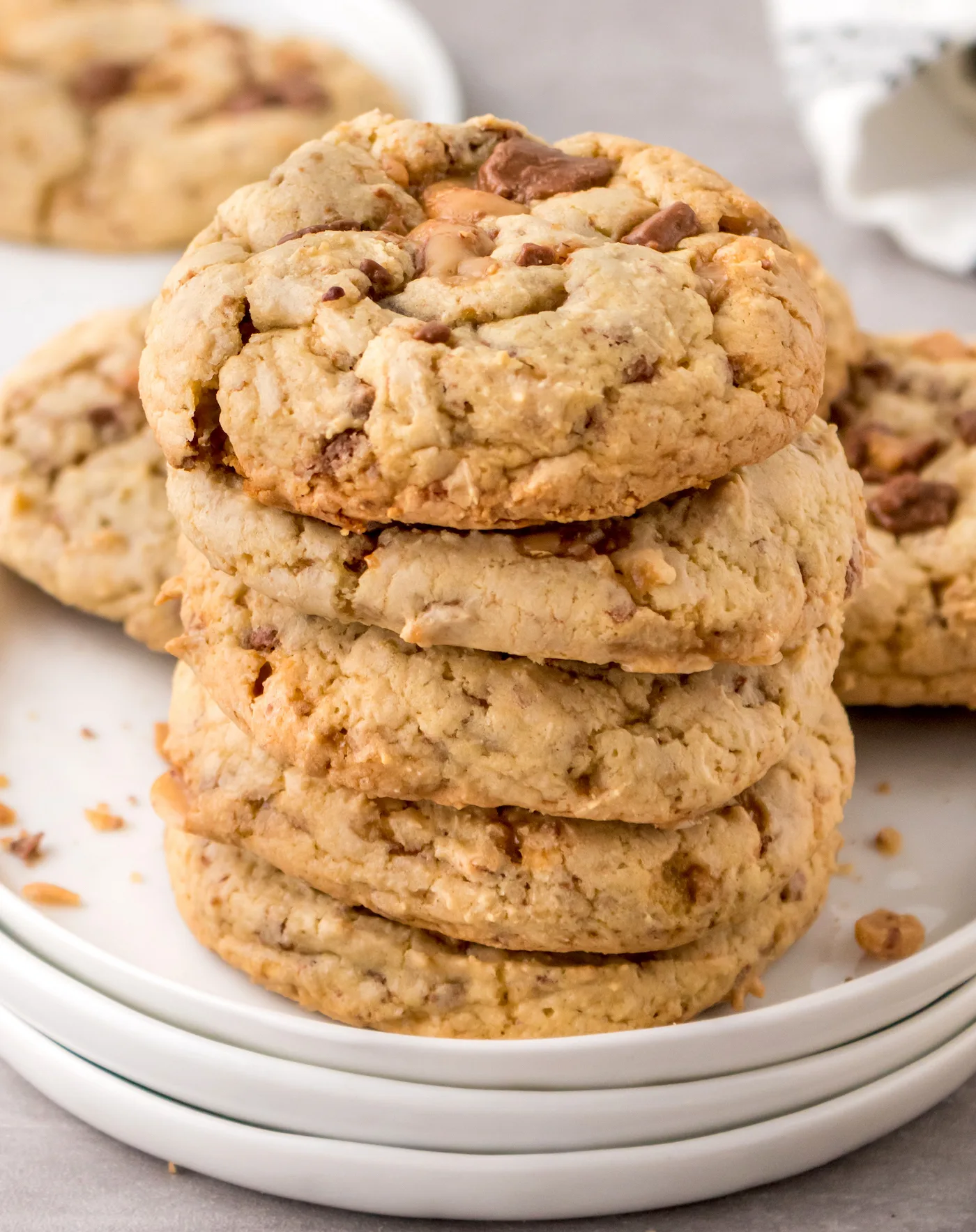 Get the printable recipe for these tasty cookies below:
Yield: 24 cookies
Heath Bar Cookies
If you love chocolate and toffee then you'll love this Heath Bar cookie recipe. They're sweet, soft, and you can't just eat one.
Total Time
1 hour
25 minutes
Ingredients
1/2 cup butter, softened to room temperature
3/4 cup granulated sugar
1/4 cup brown sugar
1 egg, at room temperature
1 teaspoon vanilla
2 cups all purpose flour
1 teaspoon baking powder
1/2 teaspoons baking soda
1 cup Heath English Toffee Bits
Instructions
Preheat your oven to 350℉ and line a cookie sheet with parchment paper.
Mix together the butter, brown sugar, and granulated sugar in a mixing bowl until combined and creamy.
Mix in the egg and vanilla til well mixed.
Whisk the flour, baking powder, and baking soda together in a bowl. Add to the wet mixture and stir until just combined.
Fold in the Heath Bar bits with a spatula until just combined.
Once the bits are combined, chill the dough for about an hour.
Scoop about 2 tablespoons of the dough onto your parchment lined cookie sheet. Add more scoops on the sheet about 2-3 inches apart.
Bake for 10-12 minutes and allow to cool slightly on the cookie sheet before moving to a cooling rack or enjoying!
Notes
A small cookie sheet should hold 6 cookies and a large one should hold about 12.
Nutrition Information:
Yield:
24
Serving Size:
1 cookie
Amount Per Serving:
Calories:

163
Total Fat:

7g
Saturated Fat:

5g
Trans Fat:

0g
Unsaturated Fat:

2g
Cholesterol:

28mg
Sodium:

94mg
Carbohydrates:

23g
Fiber:

0g
Sugar:

14g
Protein:

1g
---
If you enjoyed this Heath Bar cookie recipe, I'd love for you to check out these other posts: