Make EASY, soft lemon cream cheese cookies the easy way! These cookies with frosting are a delicious spring or summer treat.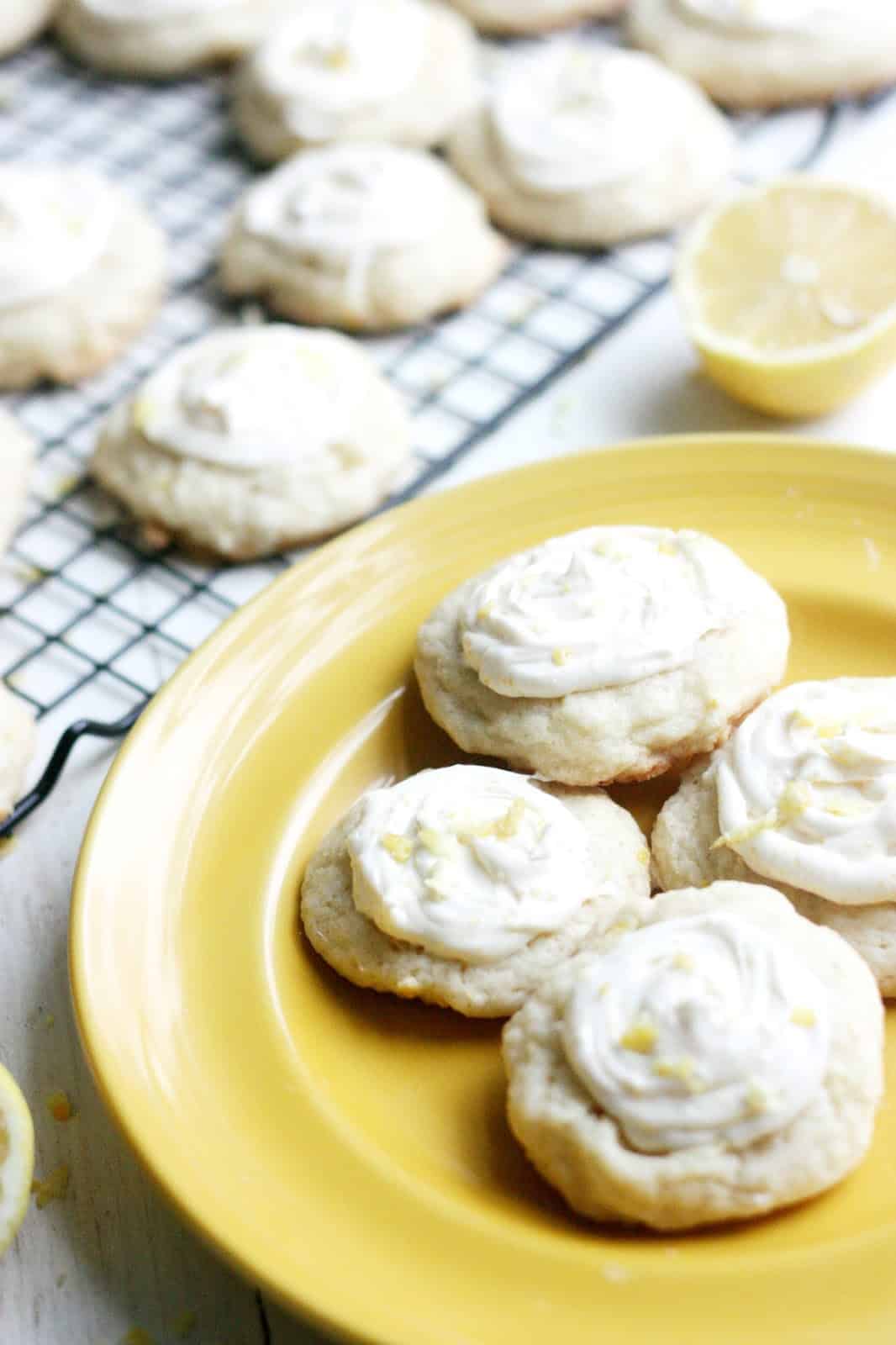 The first little shoots of tulips and crocus are making their way up in my yard so I am in complete spring mode. Easter is right around the corner – with its candy and pastel colors.
This springtime itch has me painting my nails the brightest pink, shedding my bulky winter sweaters, and bringing the flavors of warmer months into my kitchen.
This joy over spring's appearance (finally!) has also had me craving some lemon cookies, and I had to share them with you. This recipe is going to carry you into summer, I promise.
This lemon cookie recipe is moist, chewy and creamy, with the perfect tart flavor, making your insides feel as springy as the tulips popping up outside.
You are going to LOVE this recipe. It is a springtime staple in our house and I know you're gonna eat it up (Literally + figuratively.) YUM.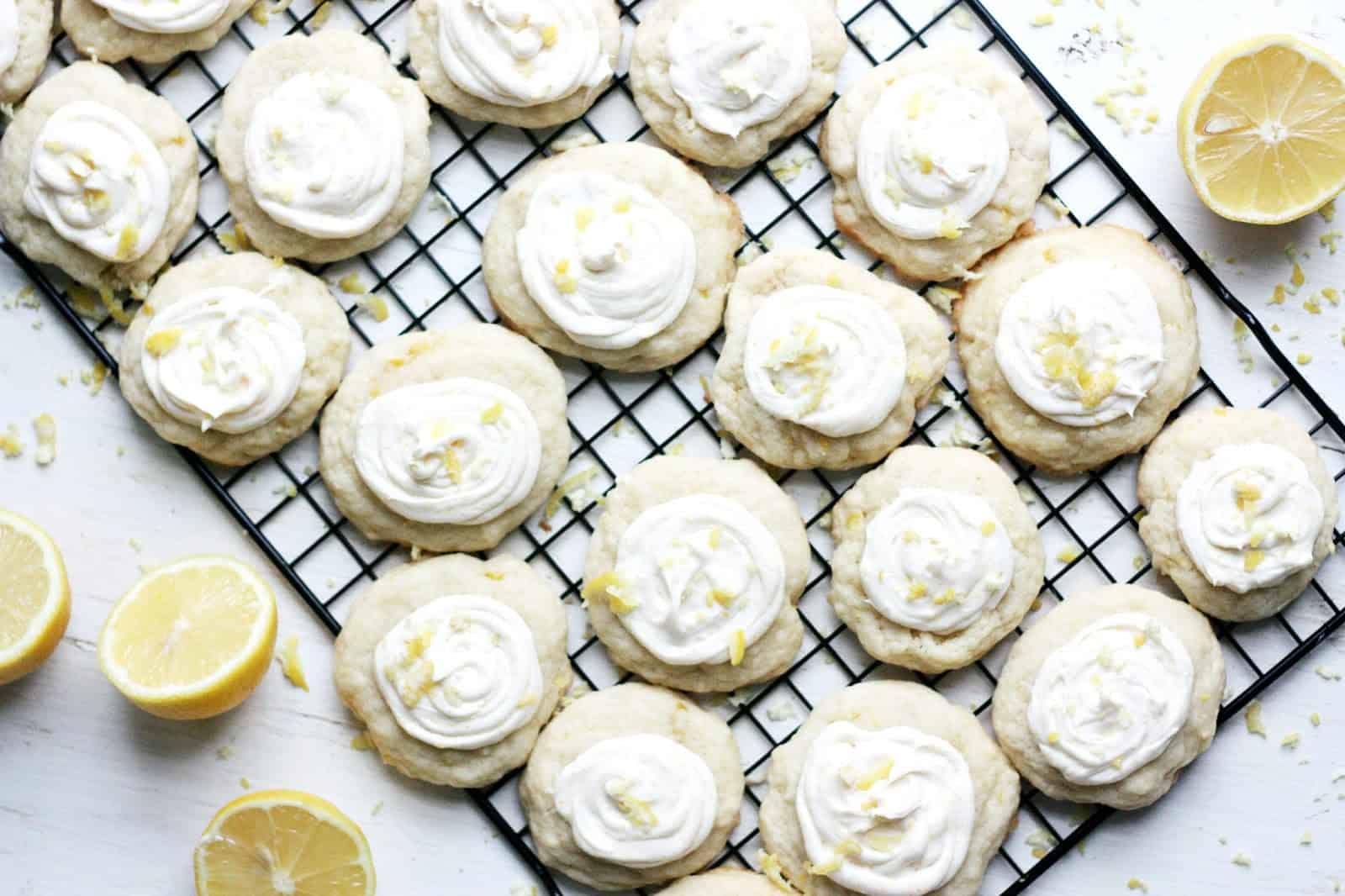 Baking Tips for the Best Cookies Ever
If you want the perfect cookies, you'll need to make sure your baking is on point. Here are a few good tips.
Since this lemon cookie recipe uses a dough that is lighter in color, you're going to look for golden edges to make sure that they are done. You want to make sure they are a light brown or dark gold – but not too dark!
You can even slide a spatula underneath one cookie to see what the bottoms look like. You obviously want to avoid burning or cookie bottoms that are too crisp.
The second indicator that you need to remove these cookies from the oven is a slightly puffy center.
The centers will look a little soft, but will continue cooking on the sheet or rack when you remove them from the oven. This is the same whether you use a cookie mix or cake mix.
---
Are you ready for the best lemon cookie recipe ever? Keep reading!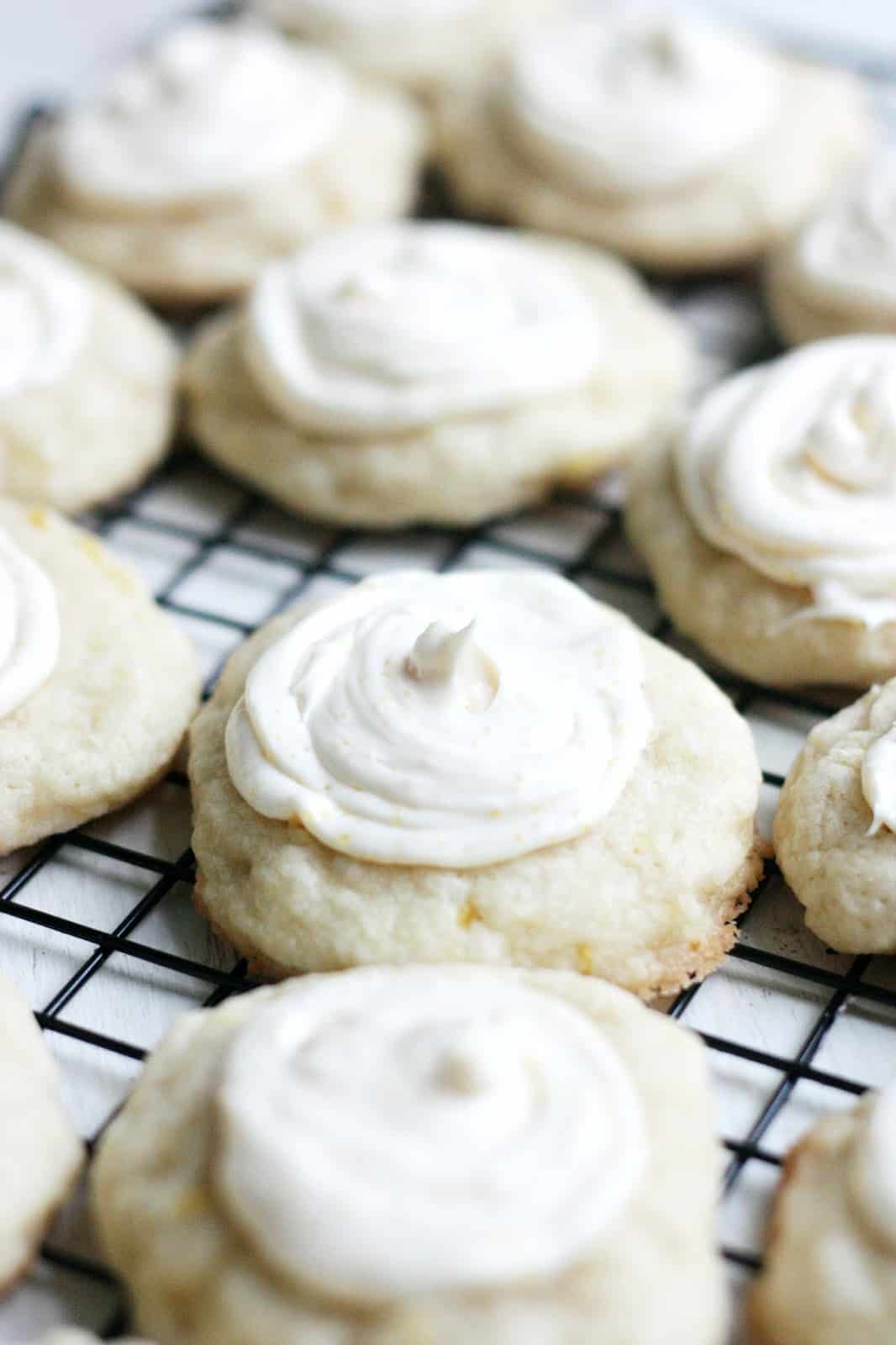 Cream Cheese Lemon Cookies
Ingredients
For the cookies:
1 Meyer Lemon Cookie Mix (I used Krusteaz)
1 egg (room temperature)
1/2 cup butter (room temperature)
1 teaspoon lemon extract from
1 1/2 teaspoons vanilla extract
1/4 cup fresh lemon zest + 2 tbs for topping
(Note: you can also use one box of cake mix, in which case you'll use 2 eggs, 1/3 cup oil, and no butter.)
For the frosting:
8 oz. cream cheese (room temperature)
1 1/2-2 c. powdered sugar
1/2 tsp. vanilla extract
1 tsp. lemon extract
1/4 cup yellow sugar sprinkles or lemon sugar
Take a peek at the recipe at the bottom of this post! Or you can check out these pictures of the cream cheese frosting. It's amazing and feel free to use the recipe on just about any cookie.
By the way – just a little tip – I don't use a knife to spread the frosting. I cut the corner of a plastic bag and use that kind of like a pastry spreader. It's much easier than wiping a knife or spatula on my cookies (plus easy cleanup!).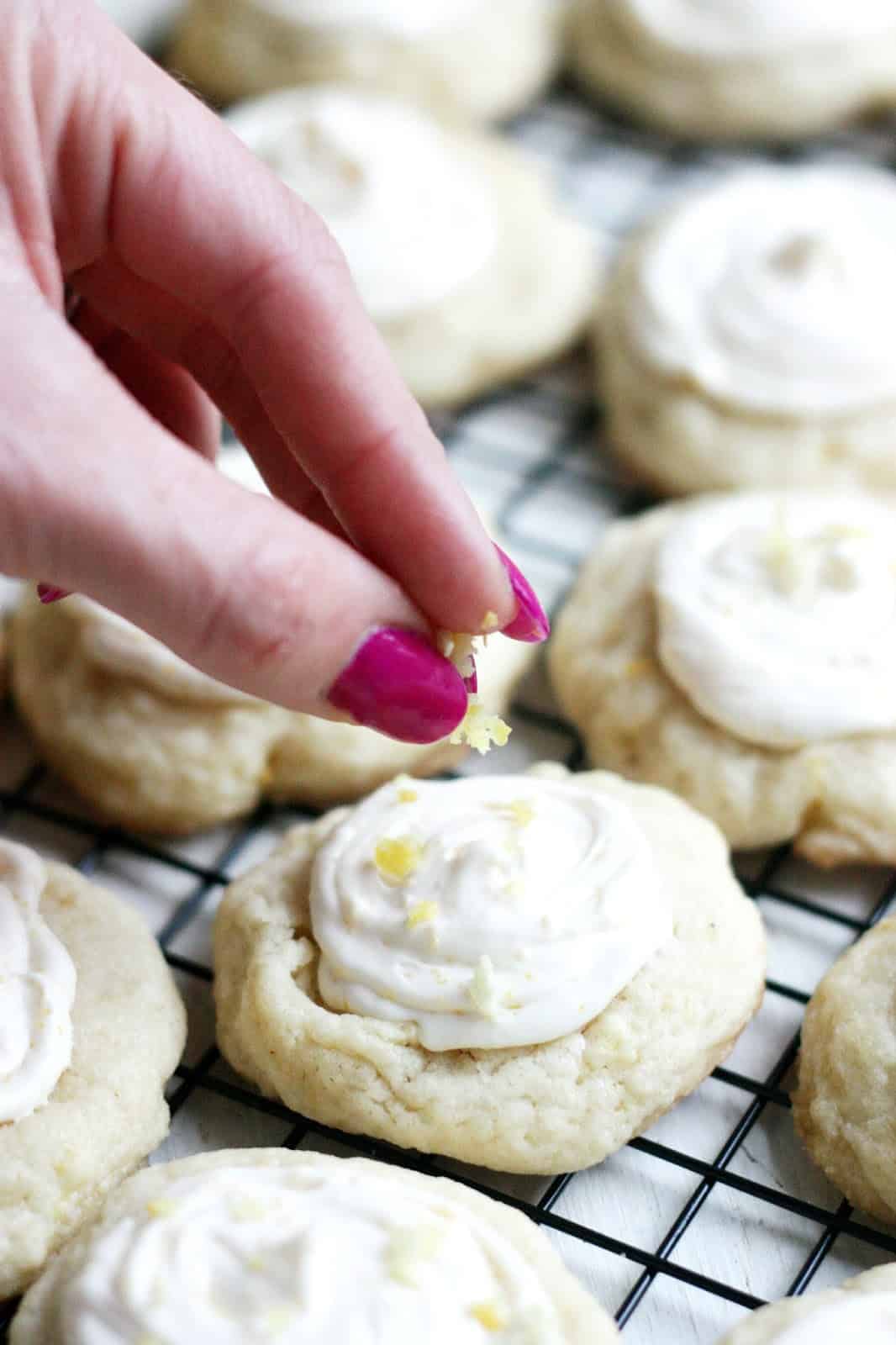 These cookies will store in an airtight container on the counter for up to a week. You can keep them for several weeks in the refrigerator, and a few months in the freezer.
You've got to try these lemon cookies with frosting. Trust me on this! And don't forget to sprinkle the lemon zest on top! It's an important part of the presentation.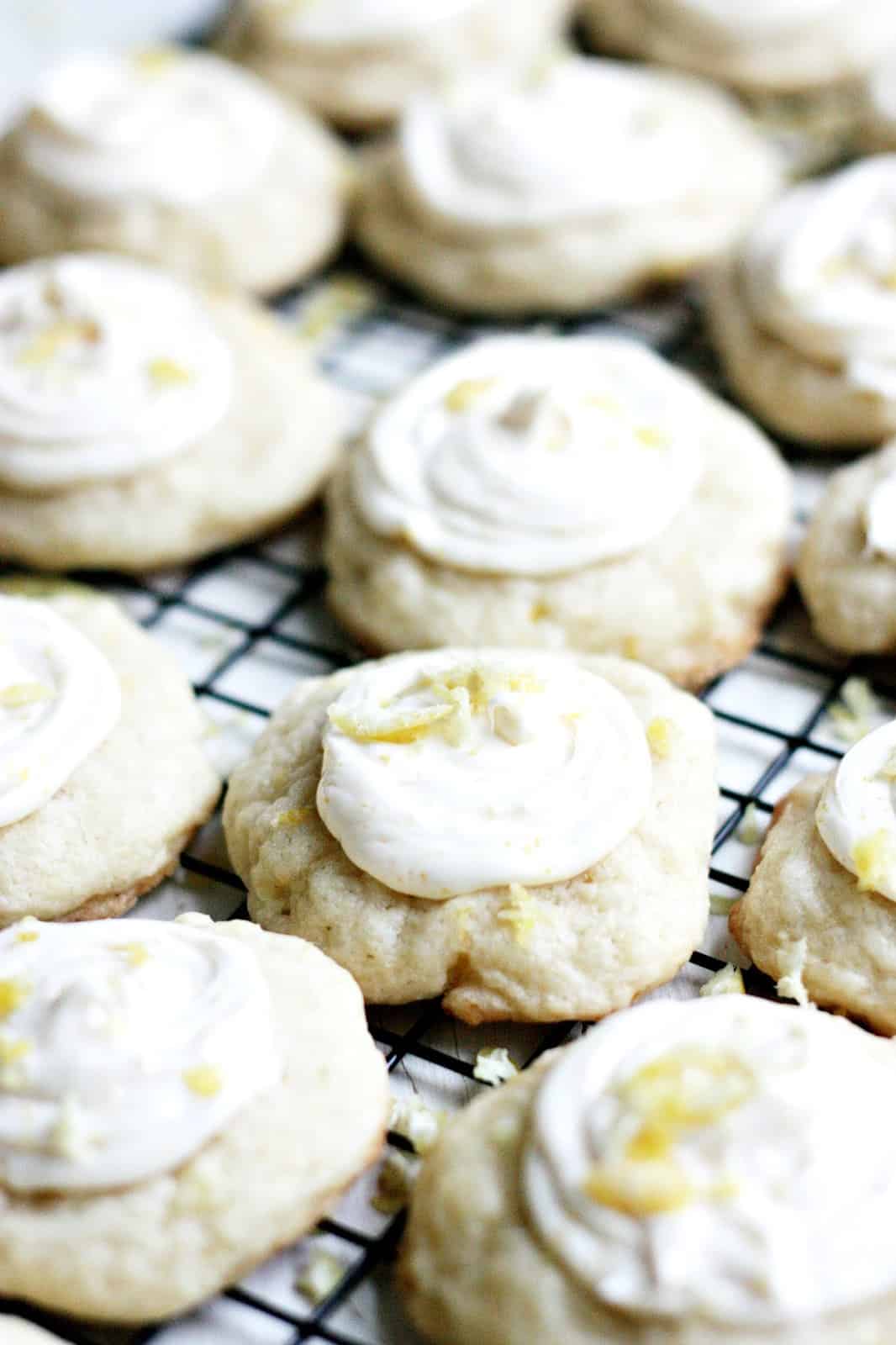 Aren't they glorious? The lemon flavor is the perfect amount tartness and the frosting is so creamy I want to bathe in it. Or just eat a bunch of it with a spoon. Either one.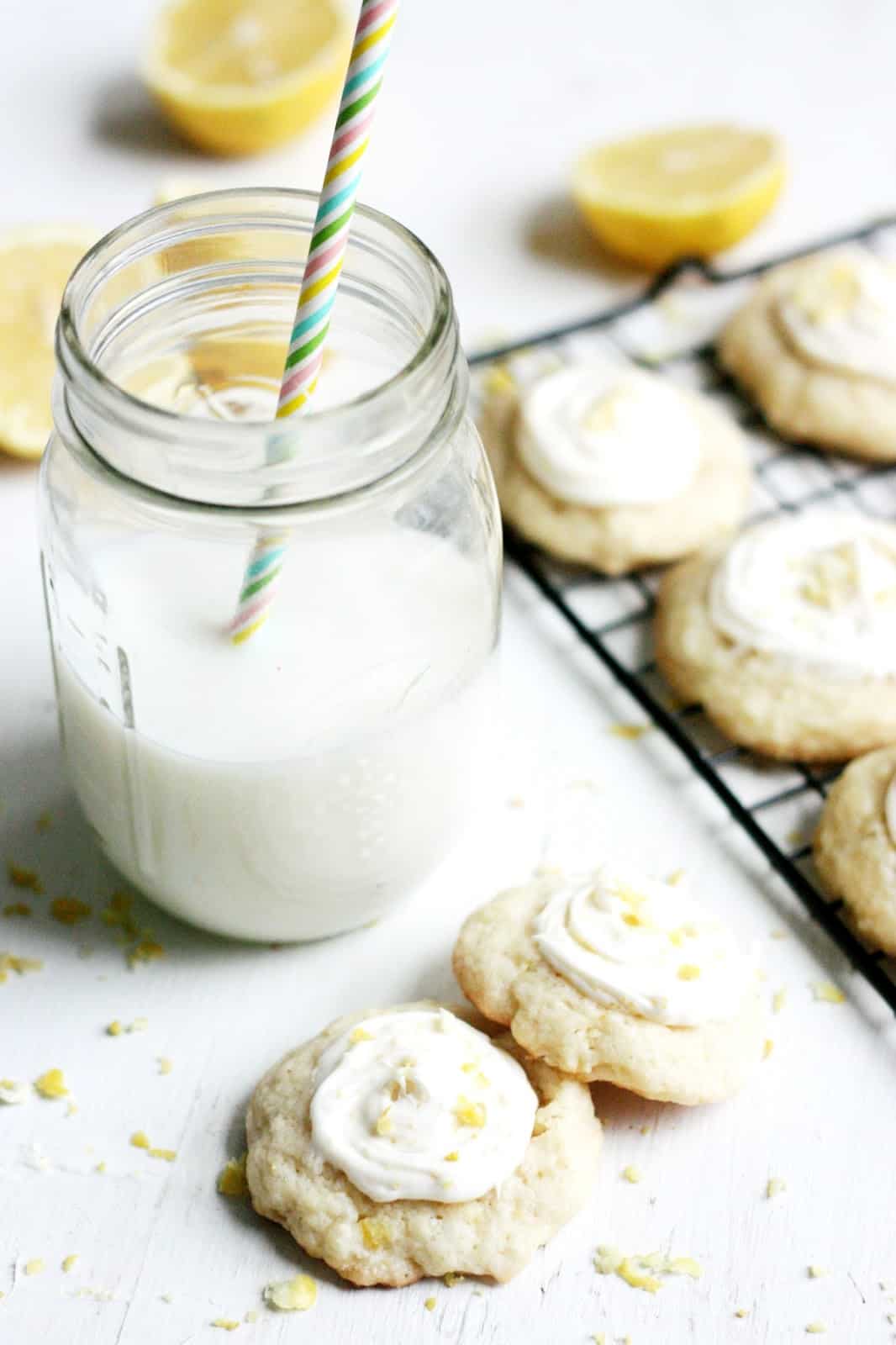 Get the printable recipe below!
Yield: 24 cookies
Lemon Cookies with Cream Cheese
Make EASY, soft lemon cookies with the most delicious cream cheese frosting you've ever had! Shortcut with a cake mix or cookie mix. SO good!
Ingredients
Cookies
1 box lemon cookie mix
1 medium egg(s)
1/2 cup butter (softened)
1 teaspoon lemon extract
1 1/2 teaspoons vanilla extract
1/4 cup lemon zest
Cream Cheese Frosting
8 oz cream cheese (softened)
1 3/4 cup confectioners sugar
1 teaspoon lemon extract
1/2 teaspoon vanilla extract
1/4 cup sugar sprinkles (yellow)
Instructions
Preheat oven to 350 degrees. Place cookie mix, butter, egg, vanilla, and lemon extract in a medium bowl. Stir until dough forms.
Roll into balls and place on greased cookie sheet. Bake for 8 - 9 minutes. Remove from oven and let cool completely.
While cookies are cooling, whip the cream cheese until smooth. Add powdered sugar, and combine with mixer or spatula.
Add vanilla, lemon extract, any extra powdered sugar to taste, and sugar sprinkles.
Fill ziploc or pastry bag with icing and pipe on cookies. Top with remaining lemon zest.
Nutrition Information:
Yield:
24
Serving Size:
1 cookie
Amount Per Serving:
Calories:

121
Total Fat:

8g
Saturated Fat:

4g
Trans Fat:

0g
Unsaturated Fat:

2g
Cholesterol:

28mg
Sodium:

75mg
Carbohydrates:

12g
Fiber:

0g
Sugar:

11g
Protein:

1g
---
What are the recipes you love making when spring finally comes around? Share away! And be sure to visit us as we blog about style, food, and the things we love over at the Pretty Life Girls.
For more lemon-y, dessert-y goodness, check out these ideas: