Do you want to incorporate a photo booth in an upcoming wedding or party? These colorful DIY photo booth props are easy to decorate!
Skills Required: None. Even if you've never crafted before, you can make these props. You'll be painting and gluing. It's easy; just requires some patience.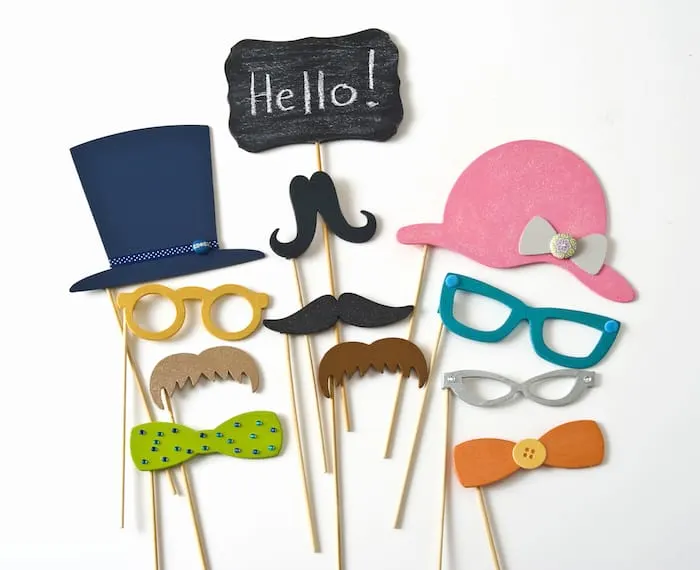 I was at Michaels not so very long ago and walked by the wood section . . . and something caught my eye. Wood – blank wood – photo booth props! I was so excited.
Photo Booth Props
Blank surfaces ready for me to decorate – the perfect way for me to use up the supplies I already have. It was as if these props were begging for some paint and glitter, so that's what I decided to give them!
I wanted to share with you how I decorated these DIY photo props. This isn't so much a tutorial as it is just a post to inspire you and share the fun. So here's what I did.
DIY Photo Props
Gather These Supplies
Wood photo booth props (you can create your own with wood shapes and dowel rods)
Acrylic paint in your favorite colors
Ribbons, brads, and other embellishments
Craft glue
Paint brushes
Hot glue gun (optional)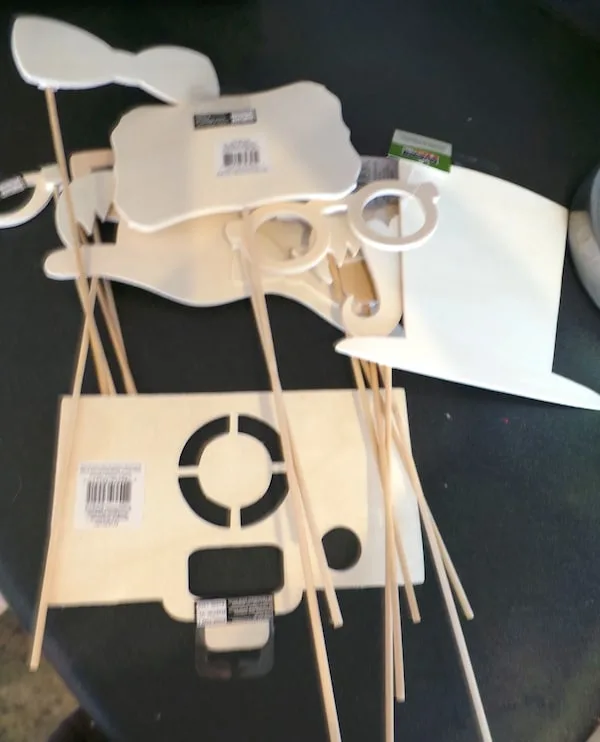 I loaded up on a bunch of the photo booth props, and they weren't expensive. Love these wood surfaces!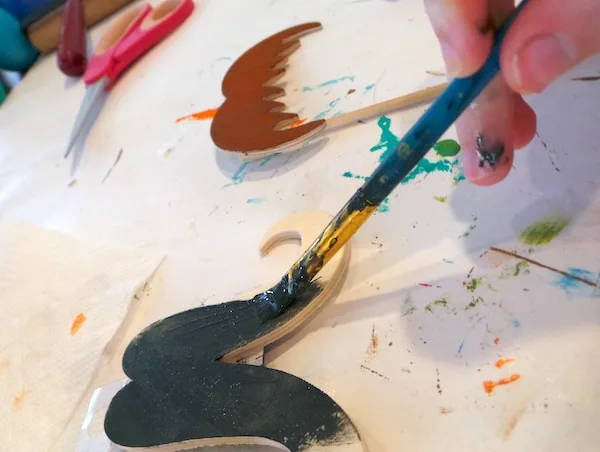 Then I got started painting. Sometimes I think the easiest thing to do is start with what you know to get the creative juices flowing. Meaning, it's easy to paint a mustache black because a lot of mustaches are black . . . so that's what I did!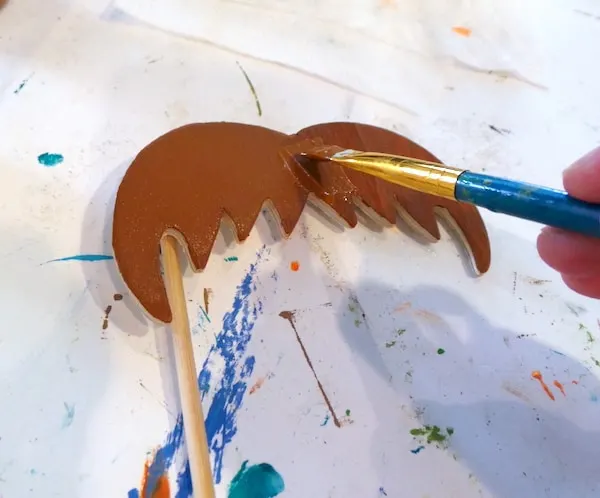 Then I got a bit more creative and decided to branch out and pick some more fun colors. So I did another mustache, but in a bright brown. I gave all of my props a few coats of paint.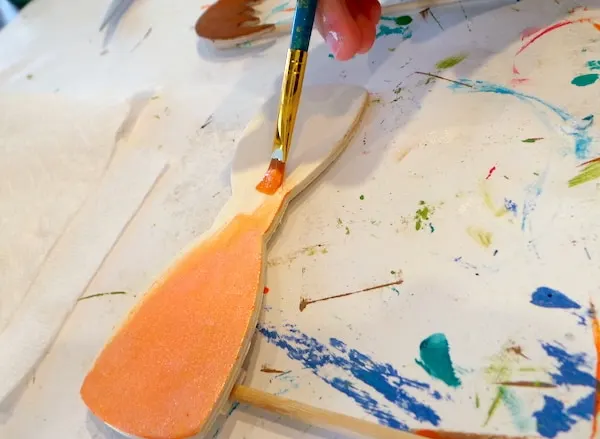 That's when I started to get even more creative – and pulled out the fun colors. Like my metallic orange pearl paint! I also realized something . . . if you don't like what color you are using, simply let it dry and then sand it off. If it's a dark color, paint white over the top after sanding.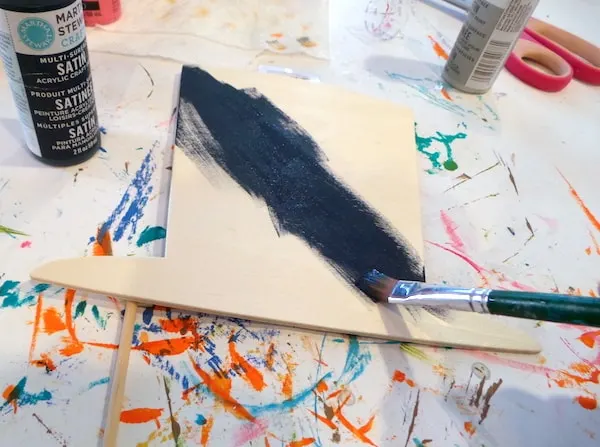 I think the hats were the most fun . . . and I really liked picking fun colors for these. I find painting to be pretty therapeutic.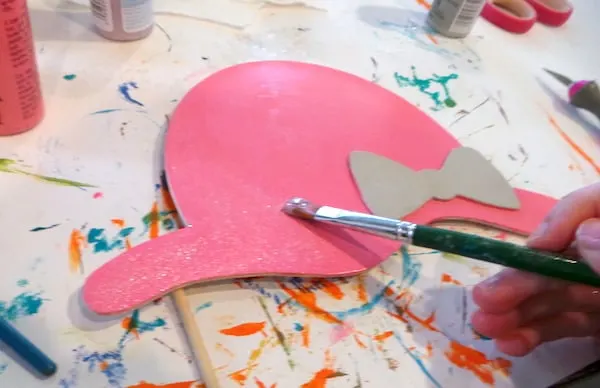 Once you are done painting everything, it's time to bring in the glitter. A lot of photo props don't have glitter, but I decided FolkArt Extreme Glitter was a necessity.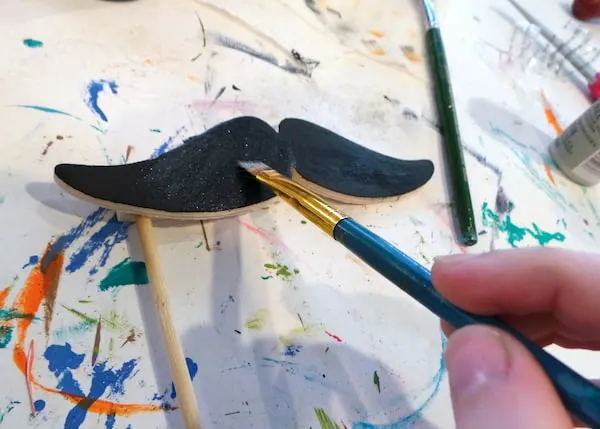 It even comes in black so you can go back and decorate the 'stache, too!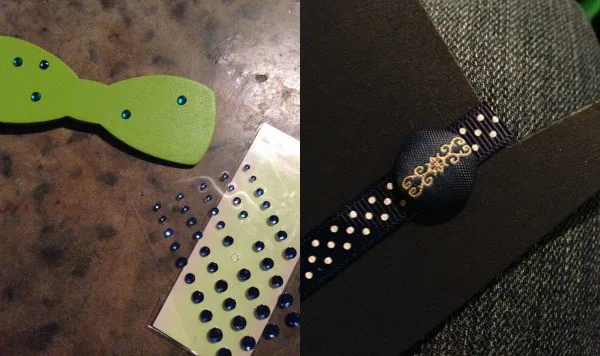 Then when the time comes and it's all dry, grab some embellishments you haven't used in awhile (ribbon, brads, rhinestones, etc) and use them! Glue them to the fronts of your photo booth props and you'll see what a difference they can make.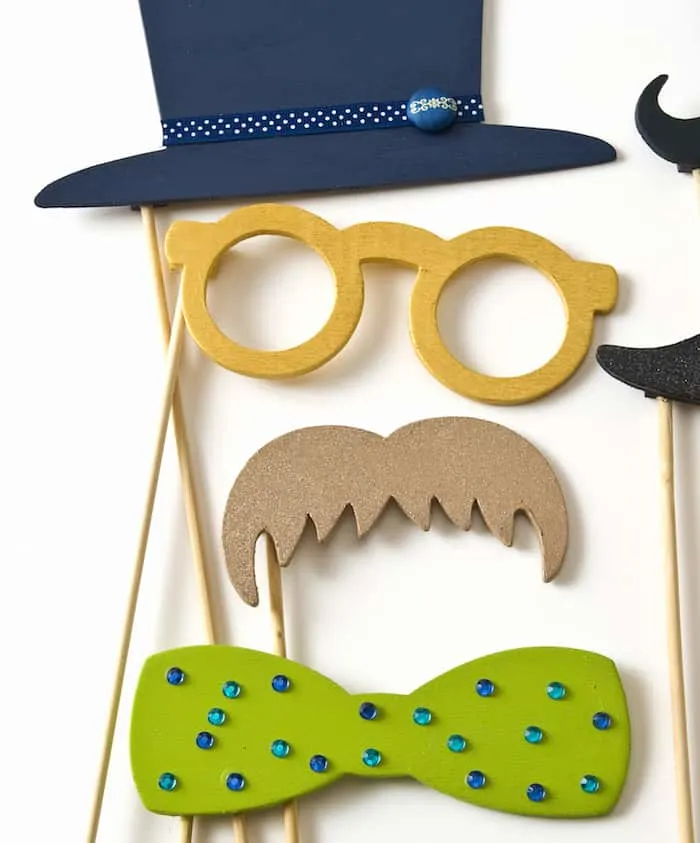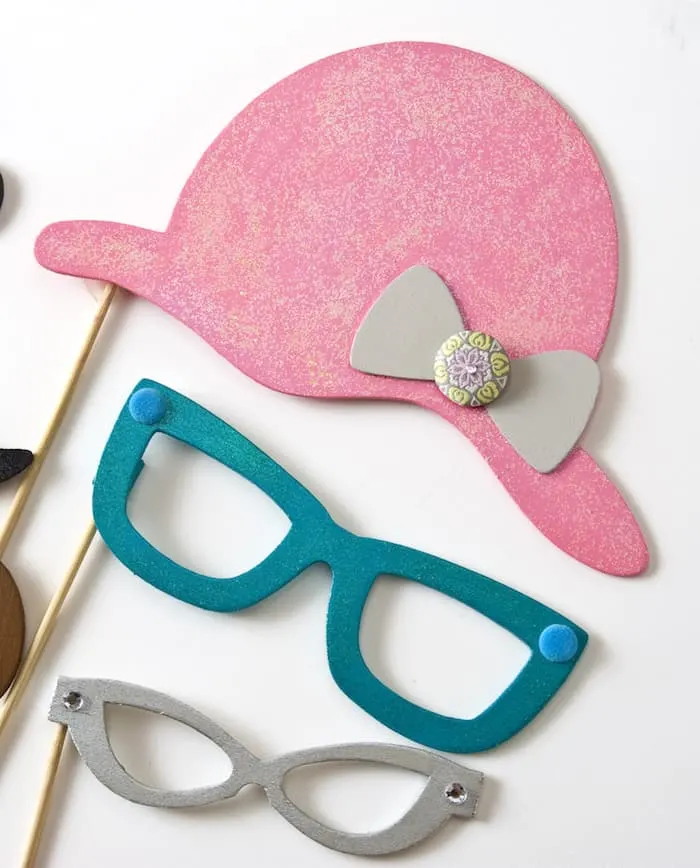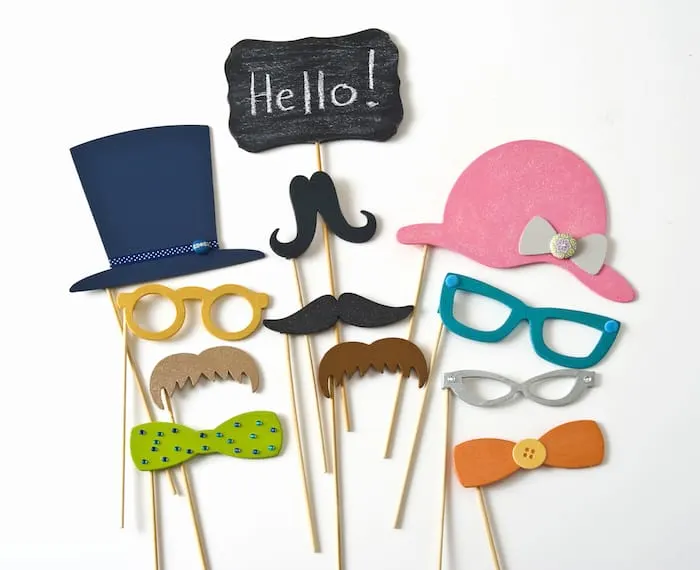 This was such a fun exercise – and let me suggest to you that if you need a creative jump start or outlet, grab some wood pieces from the craft store and just let your mind go wild!
How would you decorate your photo props?
Yield: 10 props
Photo Booth Props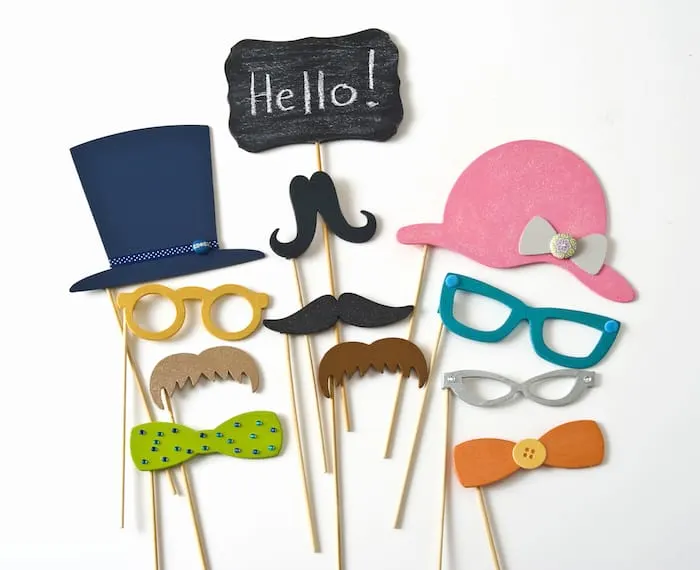 Learn how to make unique photo booth props using wood pieces and craft paint! Perfect for wedding, birthday, graduation, and more.
Total Time
2 hours
30 minutes
Materials
Wood photo booth props
Acrylic paint in your favorite colors
FolkArt Extreme Glitter
FolkArt Chalkboard Paint
Ribbons, brads, and other embellishments
Craft glue
Tools
Scissors
Paint brushes
Hot glue gun (optional)
Instructions
To make your props, hot glue the dowel rods to your wood pieces. Let cool.
Using your acrylic paint, add a basecoat the the wood pieces and let dry. Do this with acrylic paint or chalkboard paint if desired.
Once dry, add a top coat of either the same color paint or a metallic paint if desired. Let dry.
On some of the wood pieces, paint with Extreme glitter or Sparkle Mod Podge. Let dry.
Add embellishments like brads, adhesive gems, and ribbon with craft glue. Let dry.
If you painted any chalkboard pieces, condition them with chalk according to the instructions on the chalkboard paint package. Let dry before using.
---
If you like these DIY photo booth props, I think you might like these other ideas as well: