Build a farmhouse style DIY coffee table with storage underneath! This wood coffee table is gorgeous. It's so sturdy and works perfectly with rustic or industrial decor. This post completely guides you through the process. Paint or stain it in any colors you like.
Skills Required: Advanced Beginner to Intermediate. You'll need to be able to use a miter saw, table saw, Kreg Jig, and drill with various bits. You'll be doing some gluing and screwing and lots of measuring. The nice thing about this DIY coffee table is that it has a rustic/farmhouse feel, so it can look a little rough and that adds to the character!
When your neighbors ask you for a rustic coffee table, and you have the tools, and you're a DIY blogger – you answer the call. You want to know the funny thing about this wood coffee table? The crates were purchased first and then the table was built around them. If you need a coffee table with storage, that's the way I recommend doing it.
Our neighbors didn't really have a specific measurement or area they needed to fill for this project, which made it a little bit easier. The only consideration we had to take into account for this build was the crates.
Wood Crates for Storage
The wood crates for this farmhouse coffee table were purchased from IKEA for $9.99 a piece. They are the Knagglig box, made of pine, 18″ x 12 1/4″ x 9 3/4″. If you don't live near an IKEA, never fear! You can get your wood crates from Crates and Pallet. They sell in a lot of stores nationwide and online, so click around on their site to find the crates you like and the locations that they are sold in.
Farmhouse Style DIY Coffee Table Supply List
Tools and Hardware
Ryobi Router with bits (optional, see Step 15)
Ryobi Drill with bits, also a 3/4″ countersink bit
Planer (optional, see Step 14)
Wood – as specified on cut list below
Wood corbels – 4 (optional, see Step 12)
Wood glue – we recommend Titebond III
Wood screws – 1 1/2″ – 2″ length (about 80; 8 additional screws if you are using corbels)
Clamps
Measuring tape
Pencil
Cut List*
1 – 4″ x 4″ x 8′ board cut into four (4) pieces 16 1/2″ long (legs)
1 – 2″ x 4″ x 8′ board cut into four (4) pieces 18″ long (short side support pieces)
2 – 2″ x 4″ x 8′ boards cut into four (4) pieces 39″ long (long side support pieces)
1 – 2″ x 4″ x 8′ board cut into four (4) pieces 18″ long (cross support pieces for top and lower shelf)
1 – 1″ x 4″ x 8′ board cut into two (2) pieces 39″ long (bottom shelf side pieces)
2 – 3/4″ x 12″ x 8′ boards cut into two (2) pieces 3/4″ x 9″ x 46″ (bottom shelf center pieces)
6 – 2″ x 6″ x 6′ boards cut into six (6) 2″ x 4 3/4″ x 50″ length pieces (top of table)
*if you are a newbie woodworker, remember that wood sizes are given as the cut from a log. For example, a 2″ x 4″ is cut that size from a rough log, but then it dries smaller (around 1.5″ x 3.5″). So your EXACT measurements may vary, though they will be close. It's your job to trim them down tot he sizes we specified.
Wood and Where to Purchase
We purchased Douglas Fir for our DIY coffee table from Home Depot, which is also where we got our Ryobi Tools. We wanted a wood that was relatively inexpensive and would look naturally distressed. AND we gave ourselves a challenge of using construction grade wood and seeing how nice we could make it look.
Our cost for this farmhouse coffee table using Douglas Fir was around $70 (not including the crates or corbels), but you could reduce the cost by using a less expensive wood (like pine).
Wood Corbels
The corbels were purchased from Amazon.com (see them here). The brand, Ekena Millwork, has several sizes and finishes. We used four (4) of the 1 3/4″W x 6 1/2″D x 9″H small Thornton Wood Bracket in Alder, for a total cost of $14 x 4 = $56. We wanted to use them to add that special decorative touch to this farmhouse coffee table.
The corbels keep the crates from sliding out the sides too. Of course you don't need to use them, but I think you'll agree they look pretty awesome. So I'll leave that up to you.
Are you ready to learn how to build this project? Check out your rustic coffee table instructions below.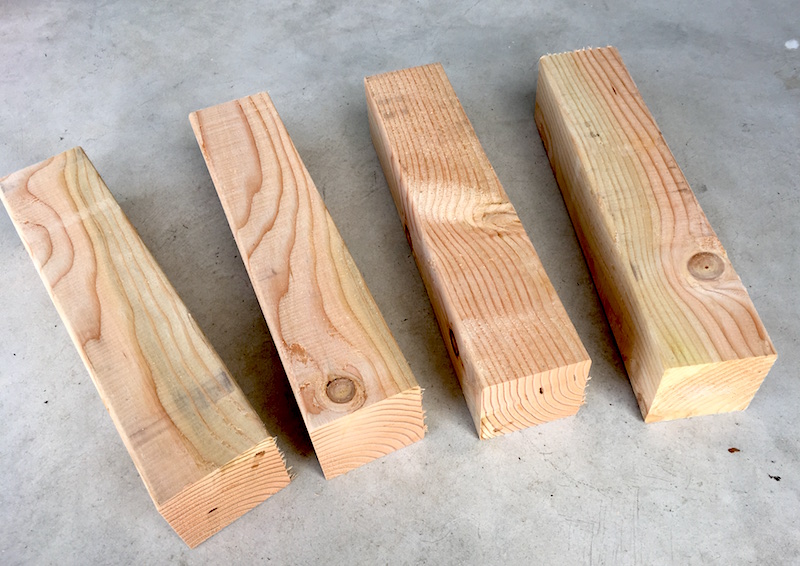 Step 1: Take a 4" x 4" x 8′ piece of wood and, using a miter saw, cut it into four (4) pieces 16 ½" long. These will be your legs.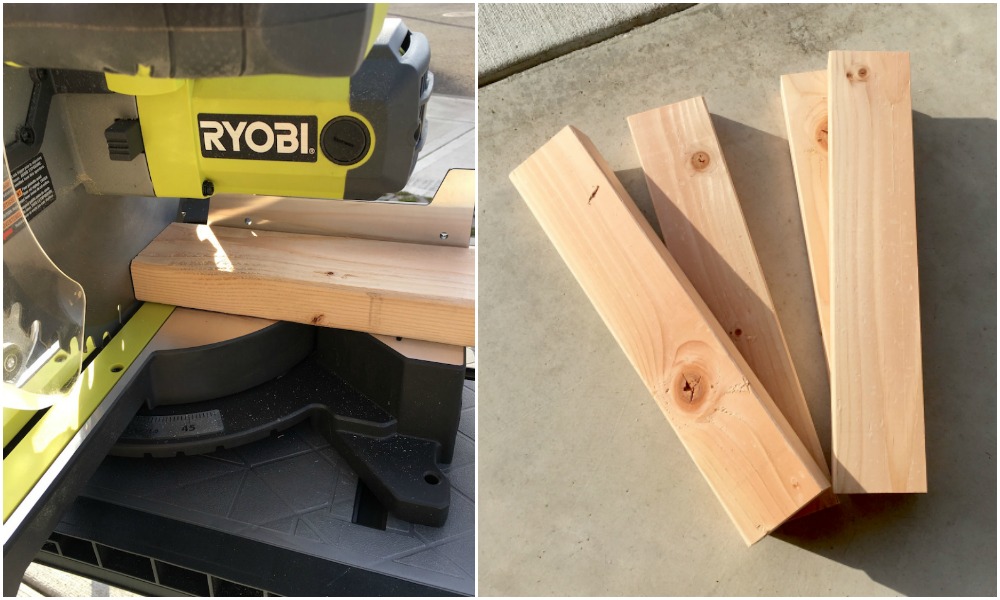 Step 2: Take a 2" x 4" x 8′ piece of wood and, using a miter saw, cut it into four (4) pieces 18" long. These will be your short side support pieces.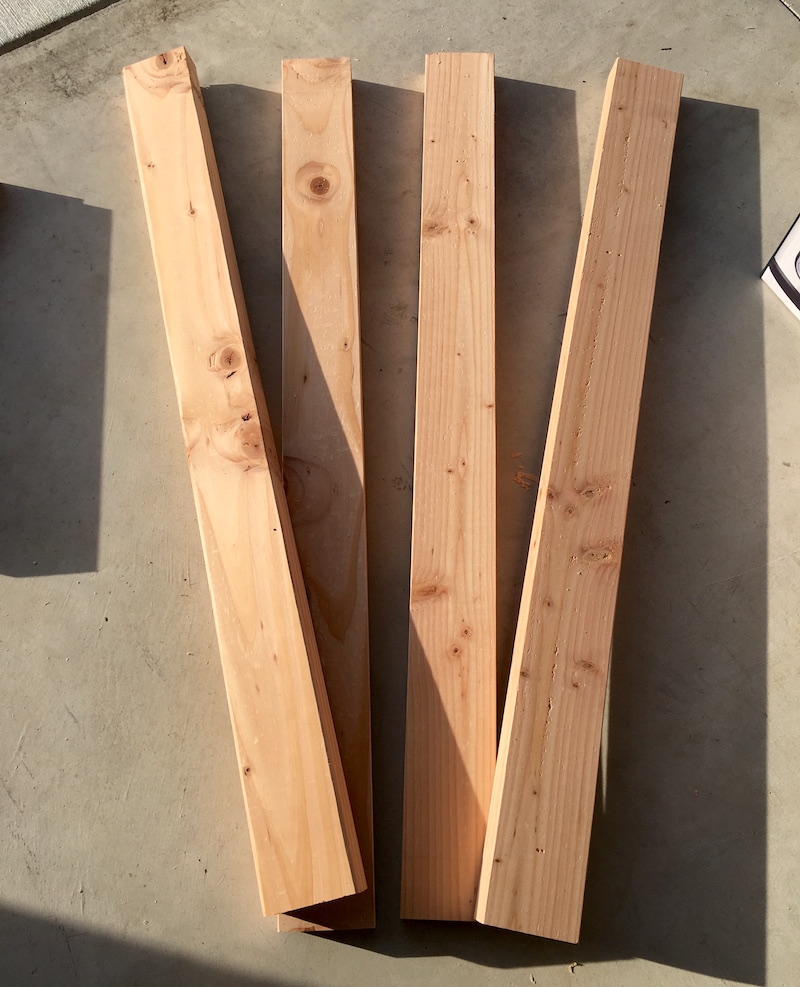 Step 3: Take two (2) 2" x 4" x 8′ pieces of wood and, using a miter saw, cut them into four (4) pieces 39" long. These will be your long side support pieces.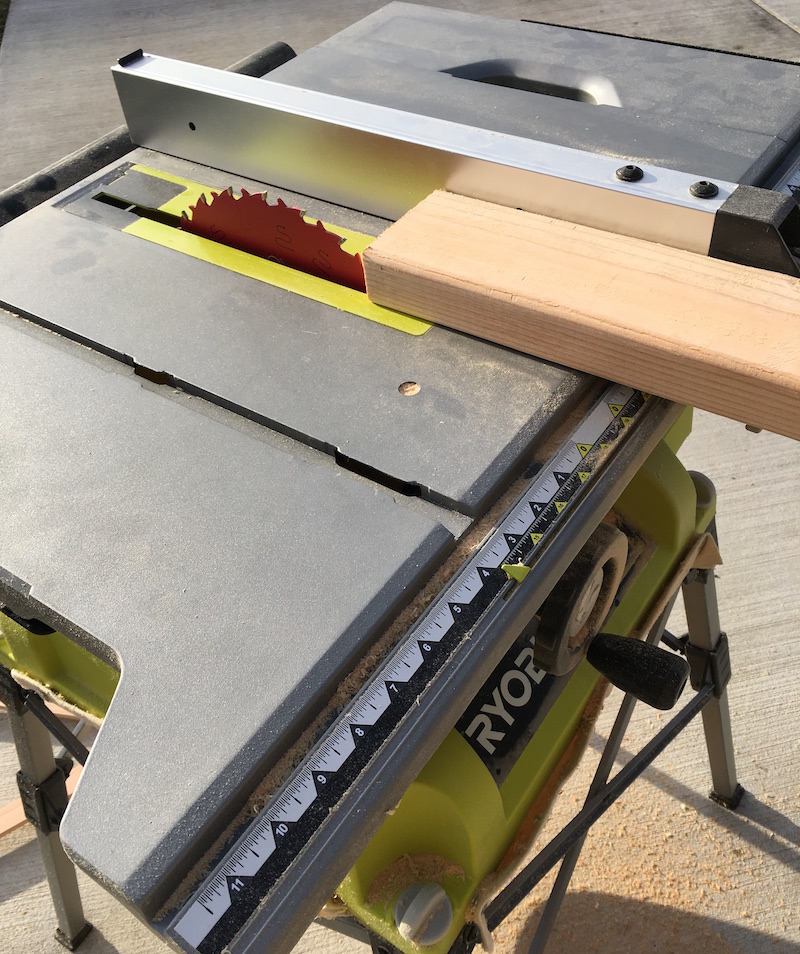 Step 4: For this step, you're going to keep the pieces the same length and rip some width off using a table saw. You're going to use the table saw to cut all eight pieces from steps 2 and 3 to a 2″ x 2 3/4″ width (maintaining the length). You'll end up with:
Four pieces – 2″ x 2 3/4″ x 18″
Four pieces – 2″ x 2 3/4″ x 39″
Now you are going to attach your upper support pieces to the leg pieces using your Kreg Jig.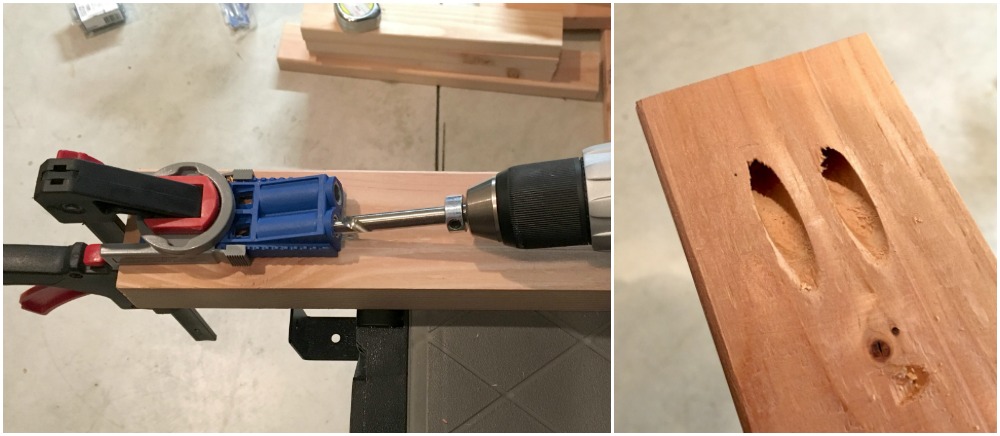 Step 5: Using a Kreg Jig and a drill, create the holes so that you can attach your side and end support pieces to the legs. The Kreg Jig holes are going to go at the end of each of the pieces you cut in steps 2 and 3. Use your Kreg Jig manual to determine where the holes go – the instruction manual tells you exactly where to put the jig given the thickness of your material.
Step 6: Start with two long and two short support pieces. You are going to assemble the table frame upside down for ease. Screw and glue attach your upper side and end support pieces to the legs. Line up the inside of your support pieces flush with the inside of the table legs as shown in the photos below.
Use your screws, Kreg Jig driving bit (it comes in the kit), and a drill to attach the upper support pieces to the legs (use wood glue to make the connection more structurally strong).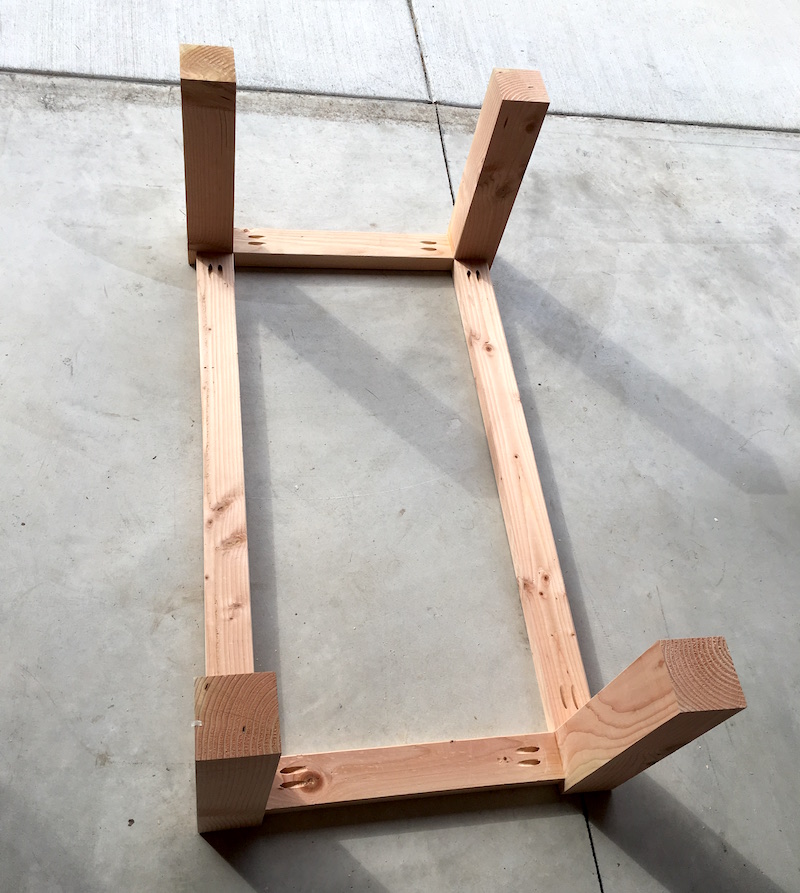 This is what your farmhouse coffee table will look like with the upper short and long end pieces attached.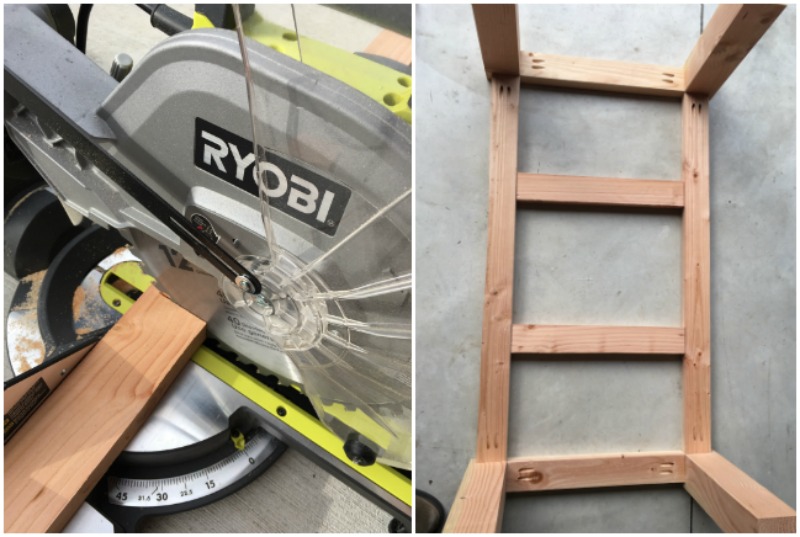 Step 7: Use a miter saw to cut the wood that will act as cross/support pieces for your table top and then for your lower shelf. Cut a 2″ x 4″ x 8′ board down to four (4) pieces that are 2″ x 4″ x 18″ long each.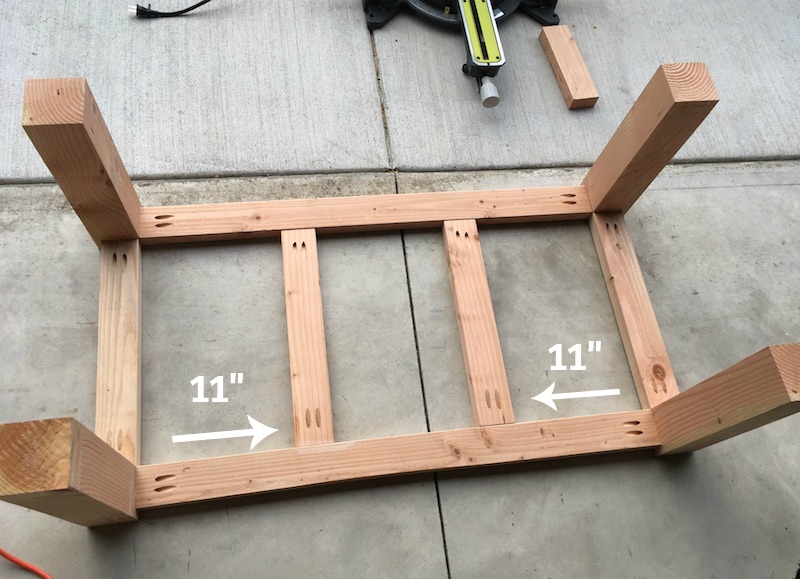 Step 8: Use your Kreg Jig to make the holes, then use screws, glue, and drill to attach these pieces 11" in from each end.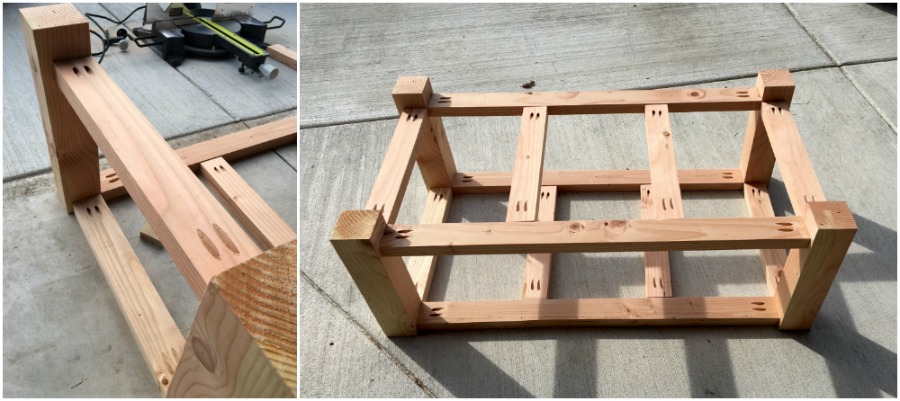 Step 9: With the table frame still upside down, start attaching the lower support pieces. Put them in place the same way you placed the upper support pieces, but 2" from the bottom of the legs.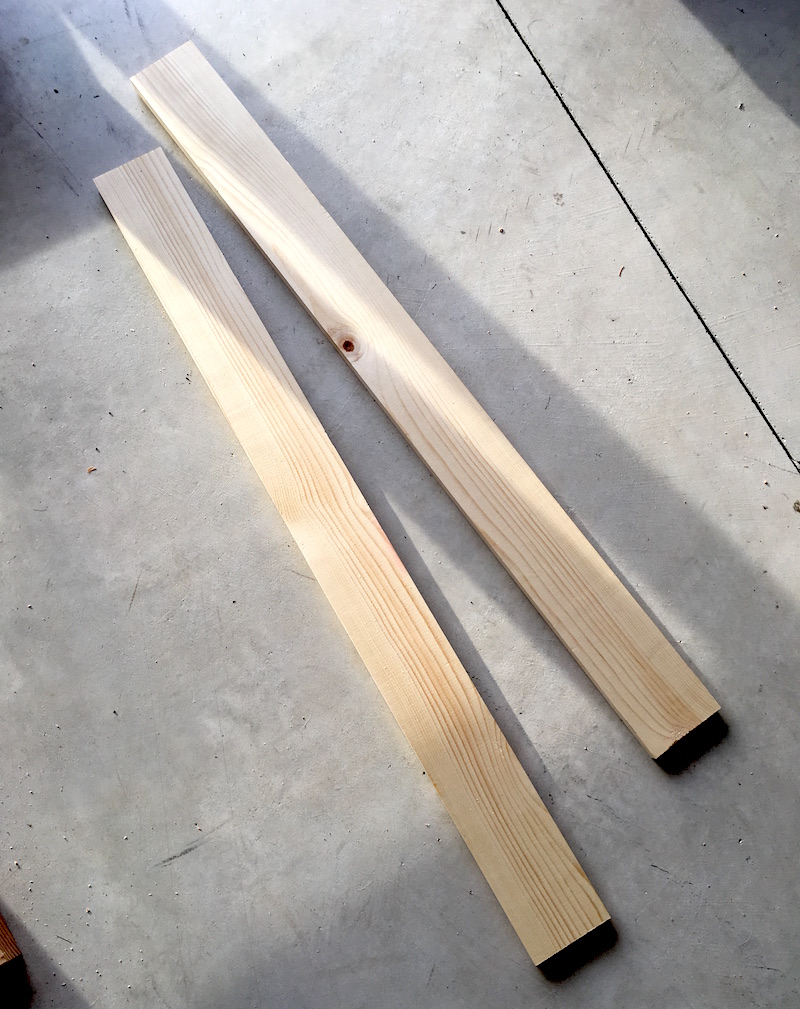 Step 10: Take a 1" x 4" x 8' piece of wood and, using a miter saw, cut two (2) 1" x 4" x 39" pieces. The actual size for these pieces will end up being around ¾"x 3 ½"x 39".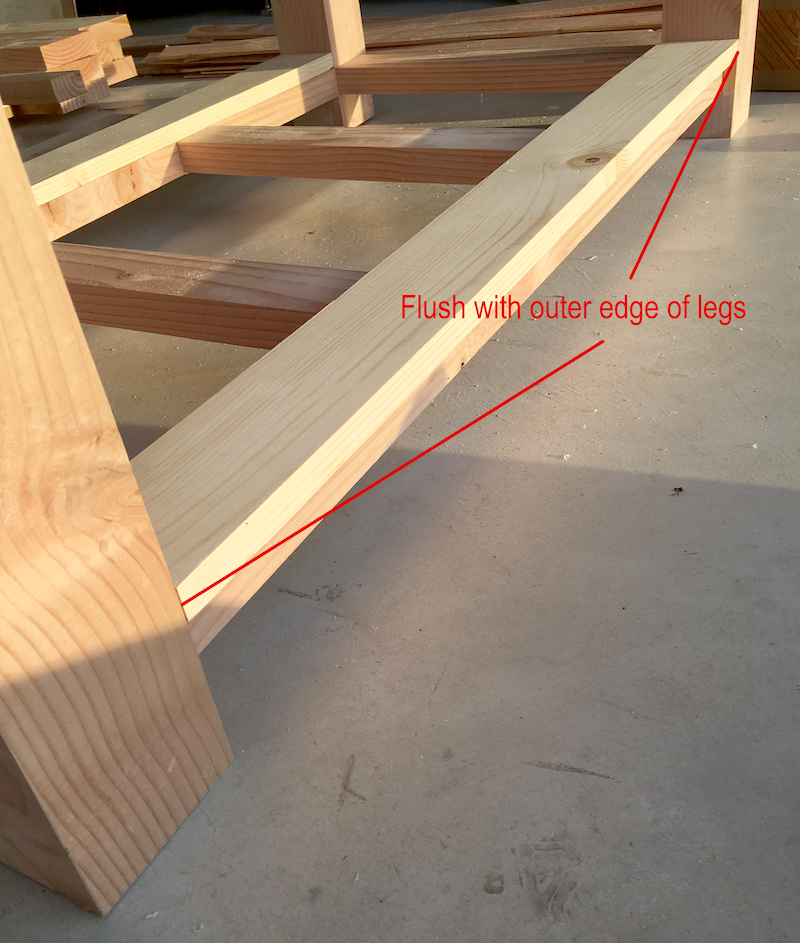 These two pieces will be the outside pieces of the lower shelf of your wood coffee table. These will be attached flush with the outside of the table legs – so place them to make sure they fit, and do any adjusting as necessary. You will not attach these until Step 17.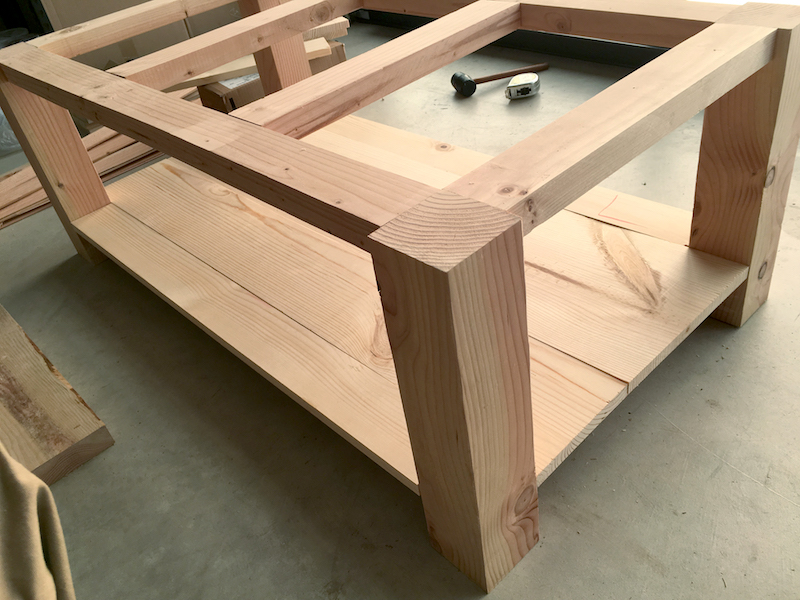 Step 11: To finish the lower shelf, use a miter saw to cut a 3/4″ x 12″ x 8′ piece of wood down to two (2) pieces, 3/4″ x 9″ x 46″ each. These two pieces will cover the gap. You won't mount them until Step 17.
We actually used two pieces of left over pine from another project that were a different width and just trimmed them down. Basically it doesn't matter what width the boards are, as long as they are 3/4″ thick and you cut them in such a way as to cover the 18″ x 46″ area.

Step 12: Time to add the corbels if you are going to do so! Clamp the corbels in place (flush with the upper/outer edge of the upper end support pieces). Drill pilot holes at the attachment points on the corbels (this could vary depending on the corbels you select) – for us these were at each end of the corbel.
Next use a countersink drill bit on each of the pilot holes. Unclamp the corbel, and put wood glue on each of the contact points; clamp again. Screw into place using two screws per corbel.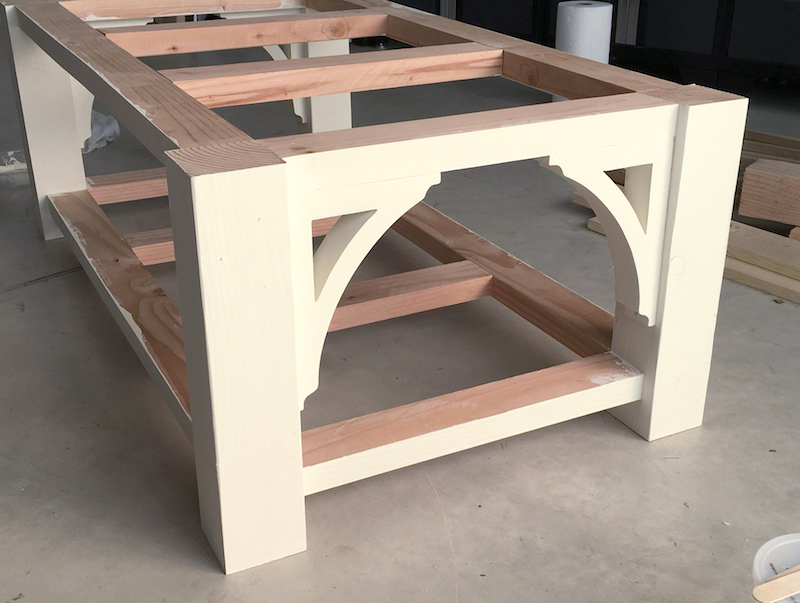 Step 13: Paint the wood coffee table frame as well as the lower shelf pieces from Step 10 (figure out which parts of the frame are going to show and only paint those surfaces. This will save time and paint).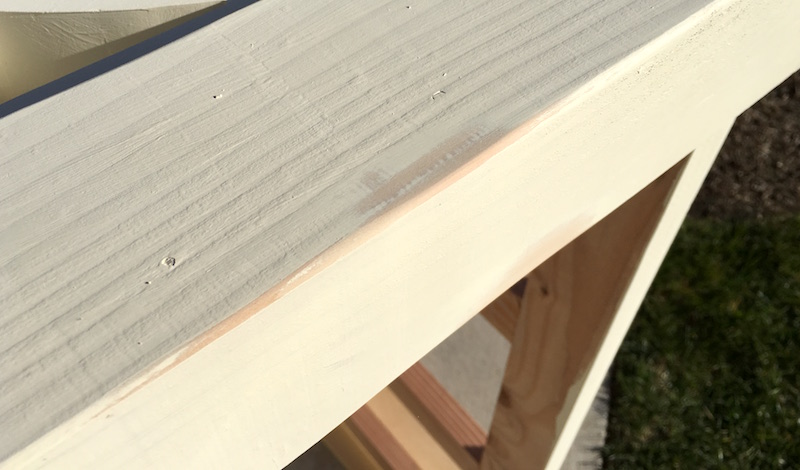 Using 120-grit sandpaper, distress the table frame and lower shelf boards, making your wood coffee table look worn in various areas. You can see what I'm talking about above.
Note: it was at this same time that we painted the crates. Everything was painted using FolkArt Home Decor Chalk. It's a really awesome paint that goes on so smoothly . . . and coverage is perfect (plus the colors!!). It's our favorite furniture paint by far.
Your DIY coffee table is starting to come together!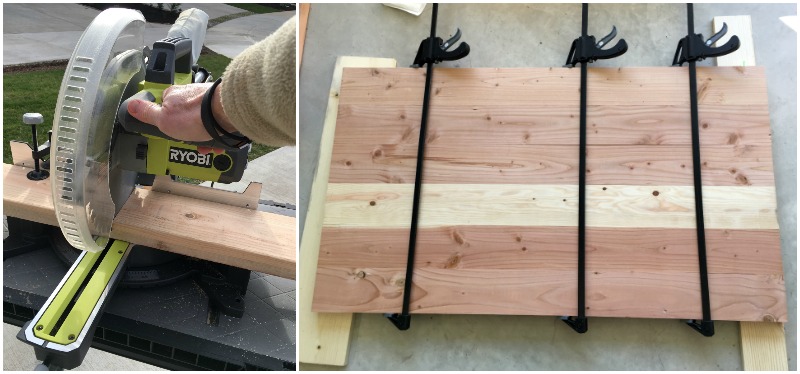 Step 14: To make the top of your farmhouse coffee table, use a miter saw to cut six (6) 2" x 6" x 6′ boards to 50" lengths each. Use a table saw to rip the six (6) 2" x 6" pieces to a 4 ¾" width, removing width from both edges of each board so you get a nice straight edge on both sides of each board.
Note: If you have a planer, you can plane each board to assure a uniform, level thickness. You can use a sander as well. Of course if you like your wood coffee table surface rough, just leave it! Use wood glue and bar clamps to glue the boards together as shown in the upper right hand photo. Let dry overnight.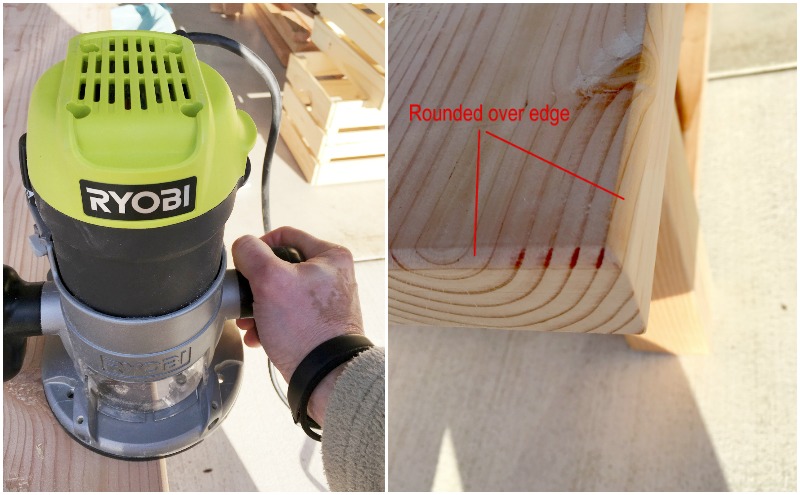 Step 15: This step is also optional. You can use a router and round over bit to round the top of the outside edge of your table top. This just makes it a bit more finished and the edge isn't as sharp for children. Another option (alternative to a router) is to use sandpaper, though it takes a bit of arm muscle.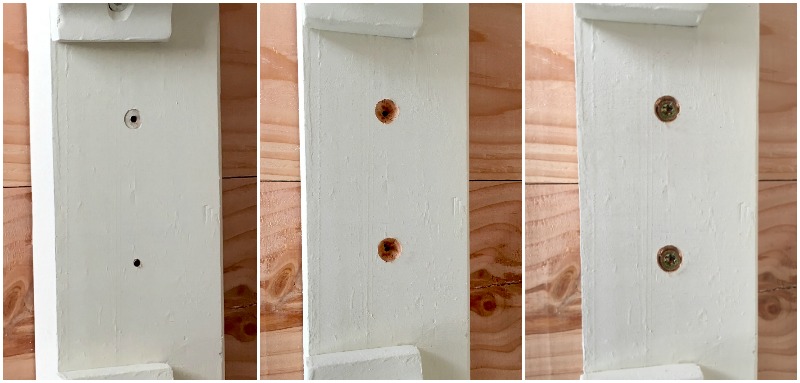 Step 16: To attach the the tabletop to your wood coffee table frame, place the tabletop face down on a soft surface (ie., a moving blanket). Center the table frame upside down on the tabletop, and drill pilot holes into the underside of the table frame. Set your drill bit depth so that it goes almost completely through the the frame, falling ⅛" short of the edge. For example, if the frame is 1" thick, drill your pilot hole ⅞" deep.
Drill out each hole with a countersink bit. We used 2" wood screws to attach the tabletop. We attached the tabletop to both end rails in several places, both cross support rails, and both side rails. We used five to six screws in each support rail to firmly secure the top to the frame.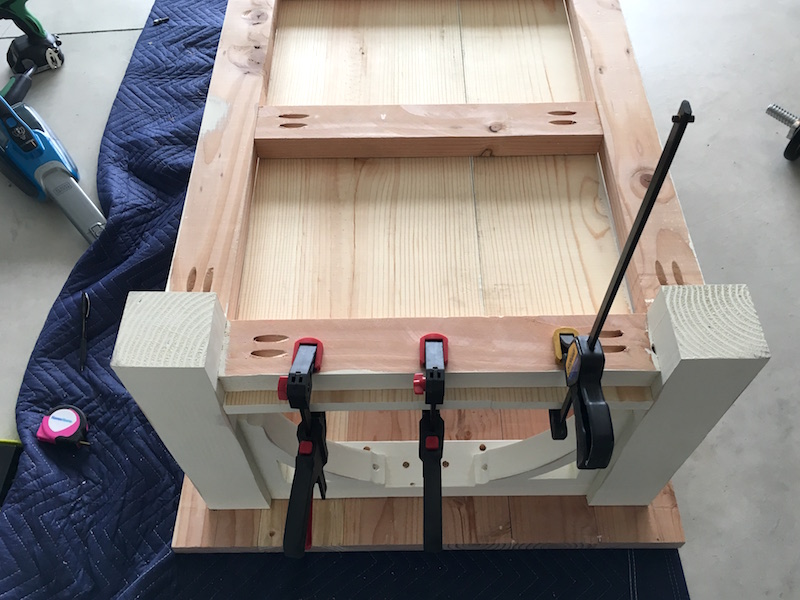 Step 17: Leaving your DIY coffee table upside down, you are going to attach the lower shelf. Clamp the lower shelf into place. Use 1 3/4″ wood screws to attach the lower shelf just like the tabletop, making sure to use enough screws to secure it.
It is much easier to attach the tabletop first before attaching the lower shelf!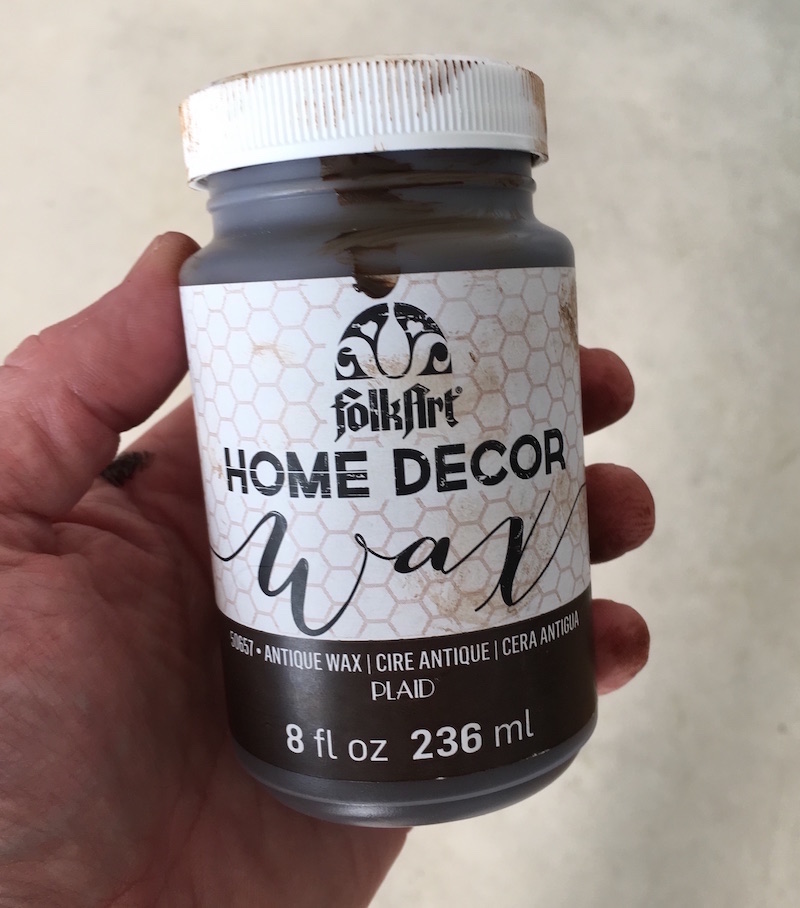 Step 18: Stain or paint the top of your DIY coffee table. I used FolkArt Home Decor Wax. Then I used a Water Based Satin Polyurethane to seal the tabletop.
Your farmhouse coffee table with storage is complete! We're pretty happy with the results and our neighbors are too.
If you enjoyed this DIY coffee table tutorial, check out our other table tutorials below: