Learn how to build a wooden step stool that turns into a chair if you flip it over. You'll love the modern look – paint it any colors you like.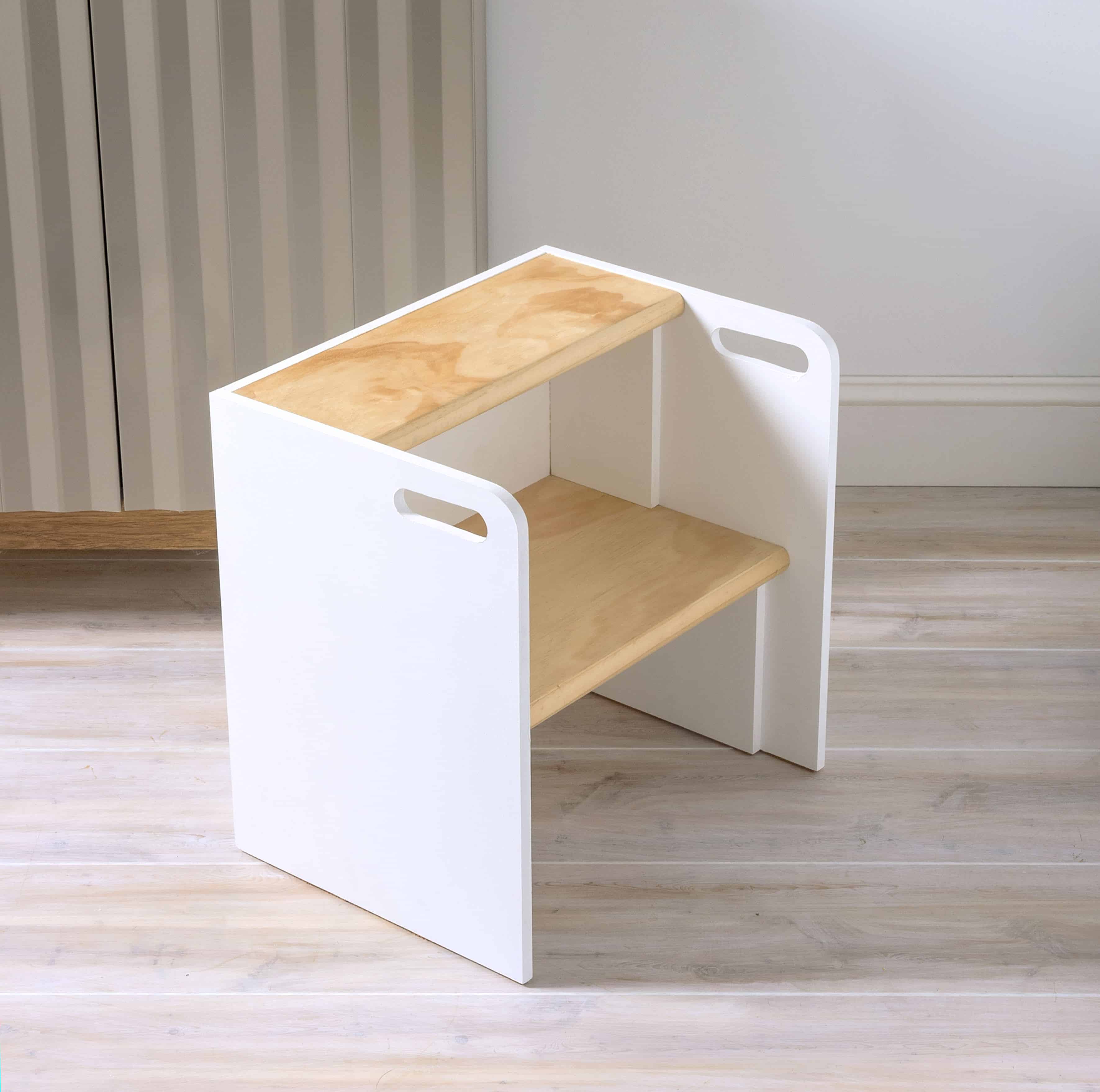 Have you ever thought about building a wooden step stool yourself? Perhaps you've pictured a basic two pieces of wood with a platform across it . . . but let me "kick that up a notch" for you.
I'm going to encourage you to go outside the box a bit and build a modern wooden step stool that also doubles as a chair for a little one.
This DIY step stool is perfect if you have tall cabinets like we do in the kitchen, or if you want something fun for your children's room that they can use to reach books and sit in.
What I love about this step stool is that it looks good for adult purposes, and then works in a nursery as well.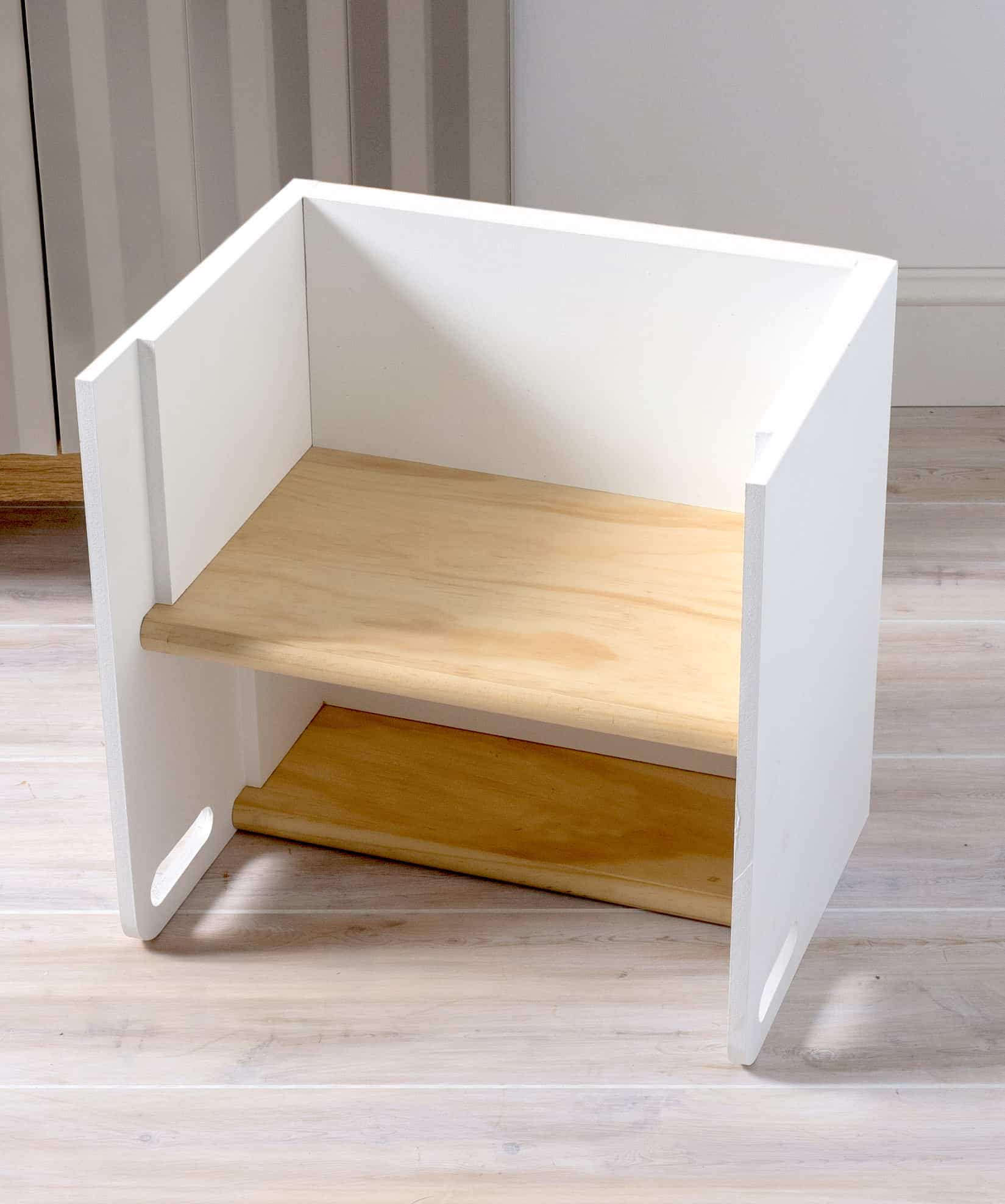 DIY Step Stool Chair
Gather These Supplies
(2) pieces of ½" thick 24" x 48" MDF (you really only need 1 1/2 pieces, see cut diagrams, but we got two pieces because they were sold that way and in case of mistakes)
(1) piece of 1" thick interior stair tread
Wood glue – we used Titebond III
Paint and primer in one (we used white)
Paint roller
Mineral oil with wax in it
120-grit sanding block and sandpaper
Round lid (like a spray paint can lid)
Pencil
Ruler
Tools
Table saw
Drill
1" wood boring drill bit
Jig saw
Wood clamps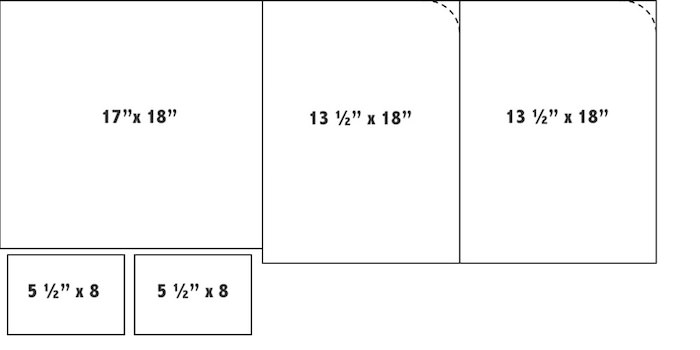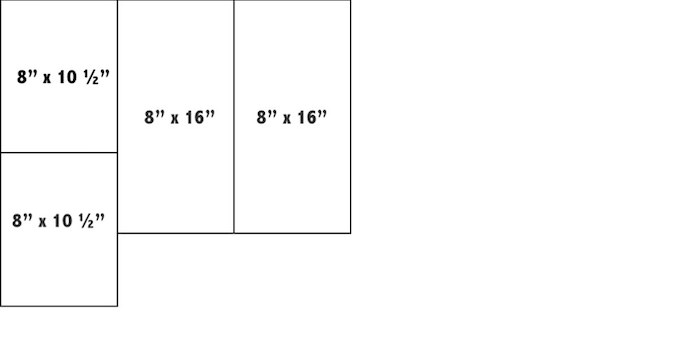 CUT LIST
Out of your 1/2″ thick MDF (you can organize the cuts as shown above on the two pieces):

Three (3) pieces – (1) 17"x 18" and (2) 13 ½" x 18"
Six (6) pieces – (2) 5 ½" x 8", (2) 8" x 10 ½", and (2) 8" x 16"

Interior stair tread, cut two pieces: one (1) 11 ½" x 17" and one (1) 6 ½" x 17"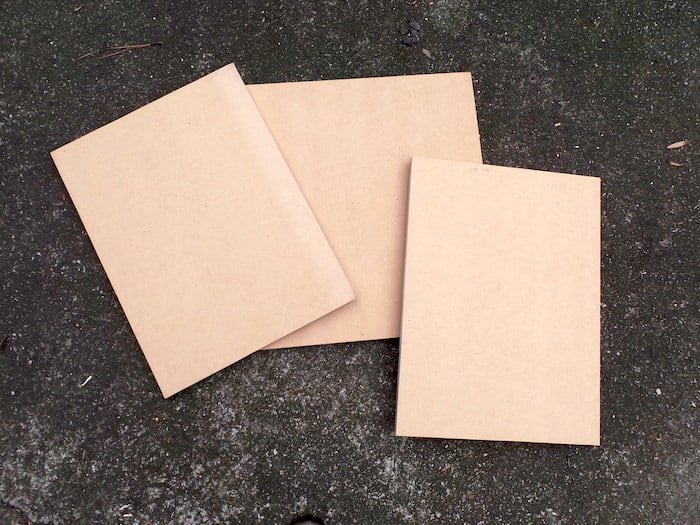 Using a table saw, cut three (3) pieces of ½" thick MDF – one (1) 17"x 18" and two (2) 13 ½" x 18".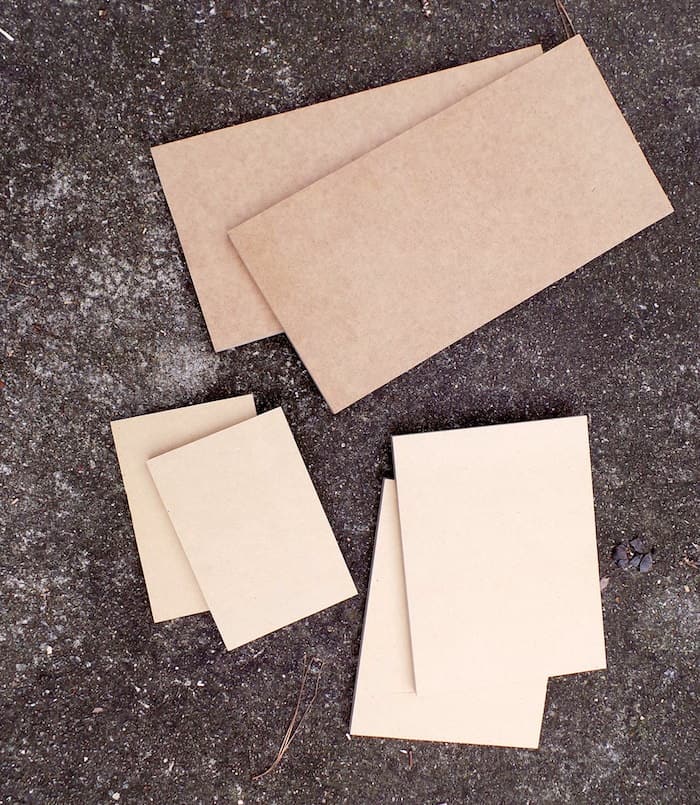 Using a table saw, cut six (6) pieces of ½" thick MDF – two (2) 5 ½" x 8", two (2) 8" x 10 ½", and two (2) 8" x 16".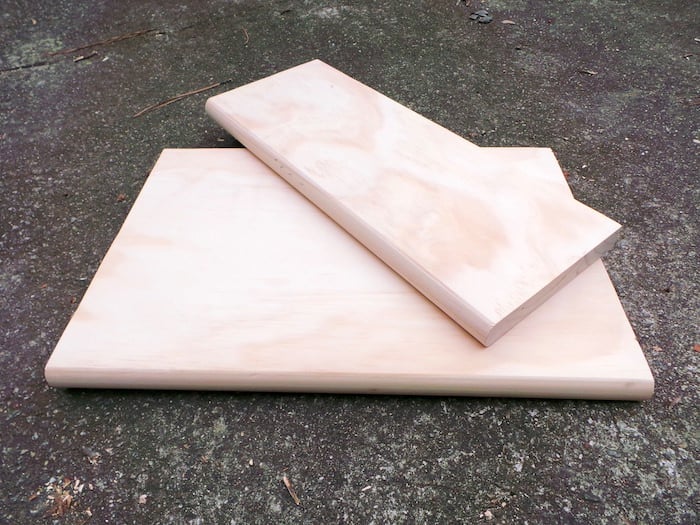 Using a table saw, cut two (2) pieces from your interior stair tread. Cut one (1) piece 11 ½" x 17" and one (1) 6 ½" x 17".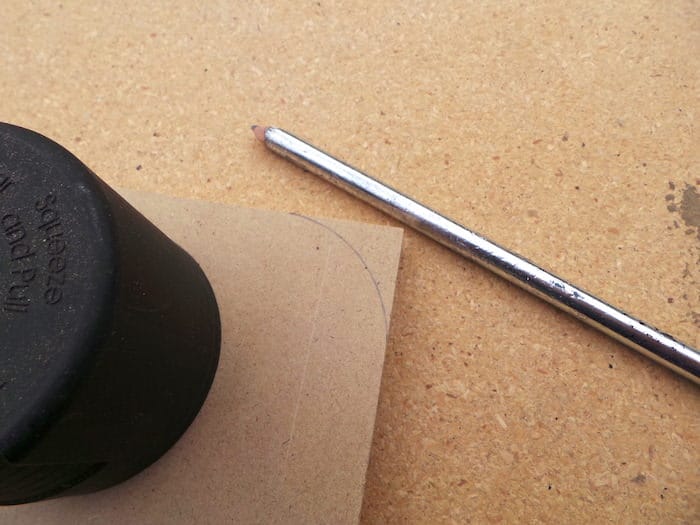 Using a round object (I used a spray paint lid), draw a guide to round the top front corners of your (2) 13 ½" x 18" MDF pieces. These will be the side pieces of your stool.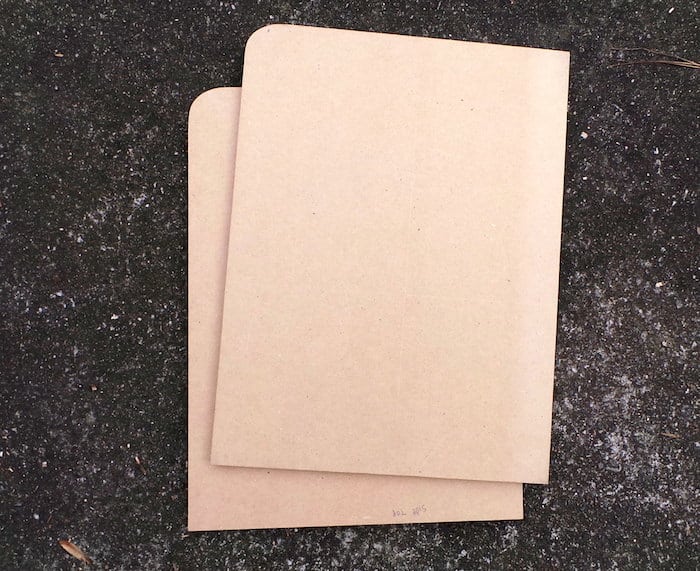 Use a jig saw to round off the corners. Then use a 120-grit sanding block to smooth the edges after cutting.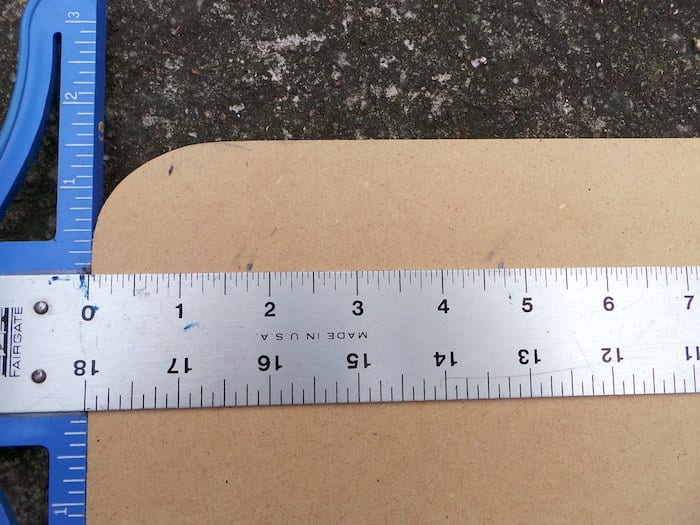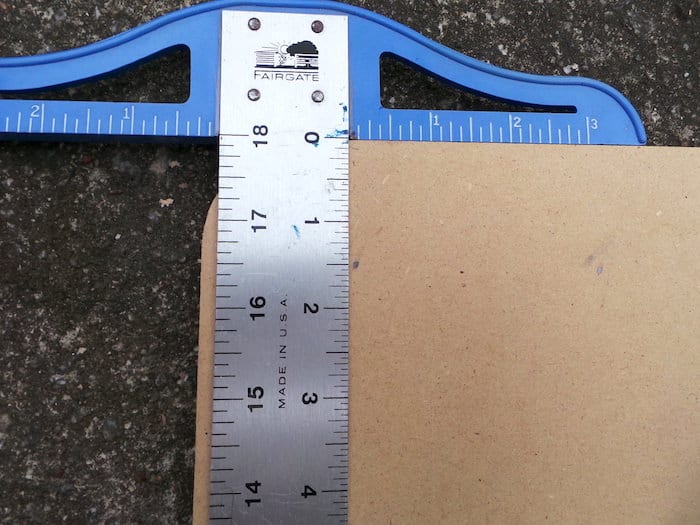 At the rounded corners, use a pencil to put two dots 1 ½" from the top edge. One is at 1 ¾" from the front edge and the second is 4 ¾" in from the front edge.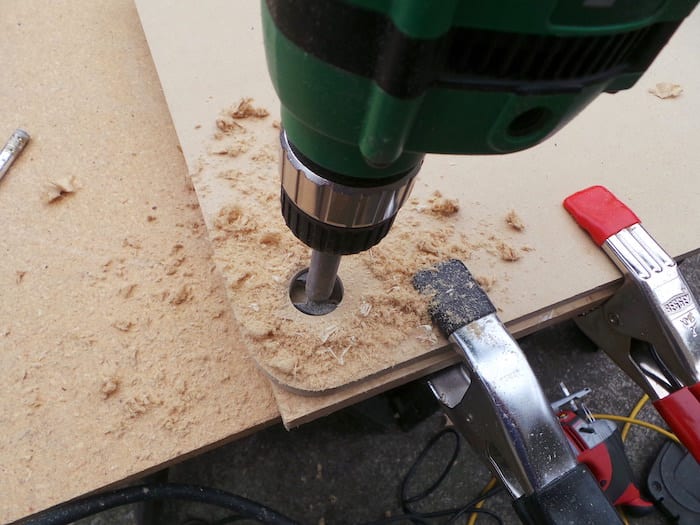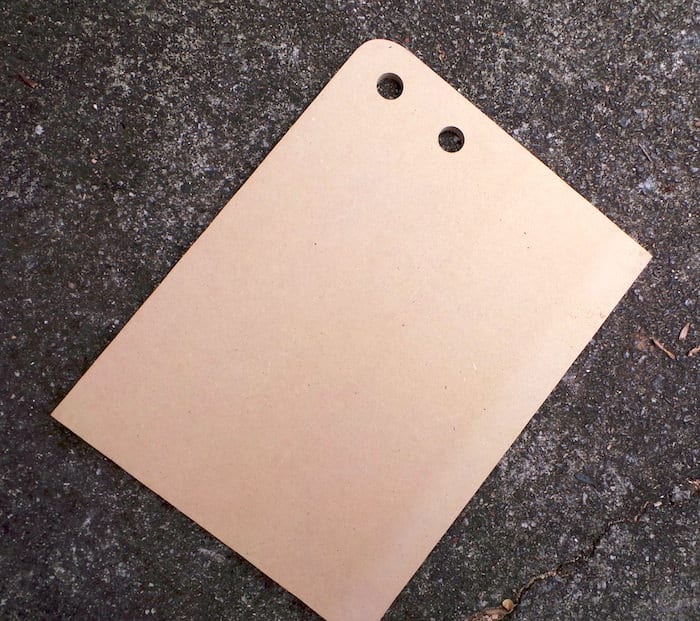 Using a 1" drill bit (and using the dot as guides), drill two holes. Repeat with the other piece of the same size.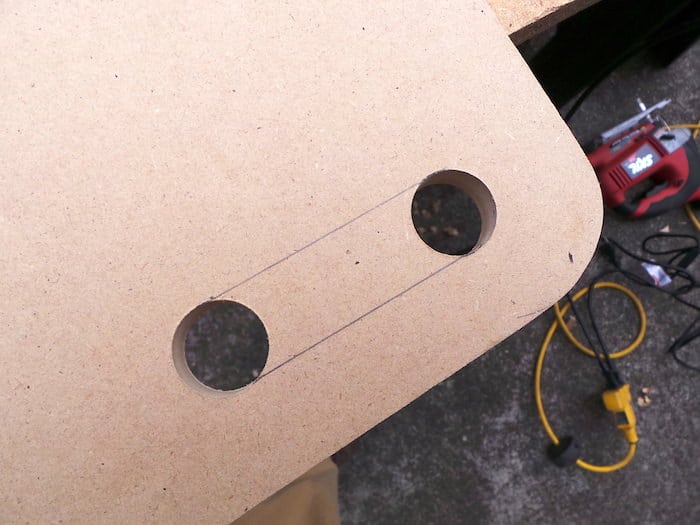 Draw straight lines connecting the two round holes using your pencil and ruler.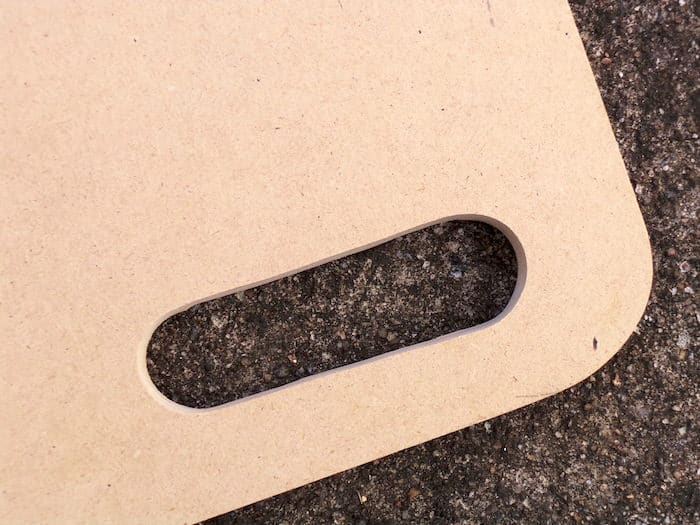 Use a jig saw to cut on those lines and form a handle (sand with 120-grit sandpaper if needed).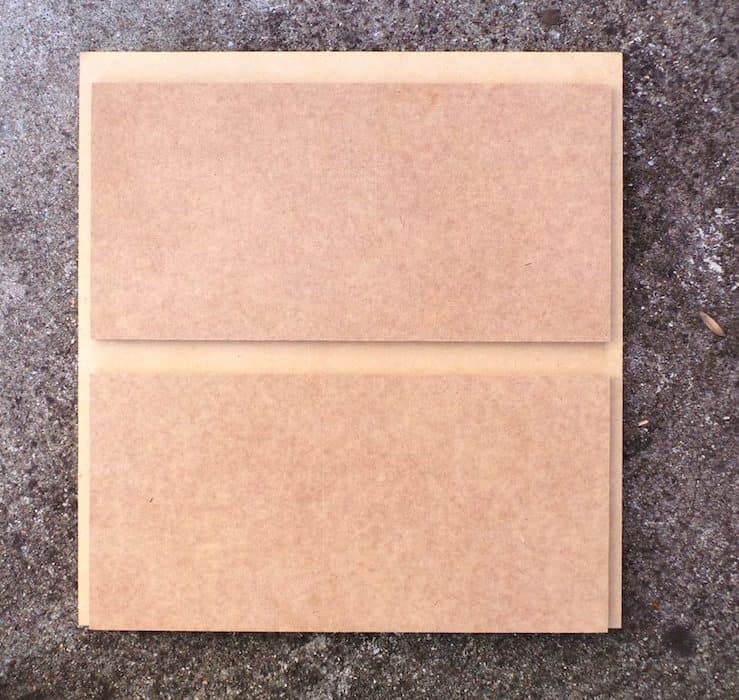 Take the 17"x 18" piece of MDF and glue the two pieces of 8"x 16" MDF to it. Glue one of the pieces flush with a 17″ side, leaving a ½" gap on both sides.
Than leave a 1" gap above that and glue the next board, leaving a ½" gap on each side and a 1" gap at the top.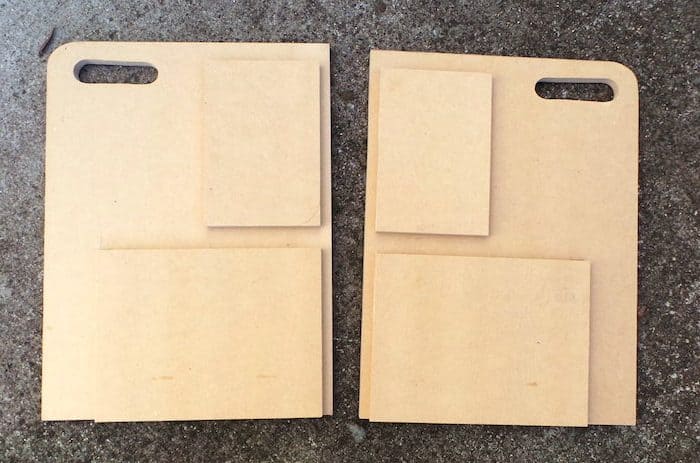 Take your two side pieces of MDF with the handles and place down as shown. On one side piece:
Glue one piece of the 8″ x 10 1/2″ MDF flush with the bottom and 1/2″ from the non-handle side (the back of the stool)
Glue one piece of the 5 1/2″ x 8″ MDF 1 inch above the bottom piece you just glued down . . . leaving 1/2″ gap from the non-handle side (the back of the stool)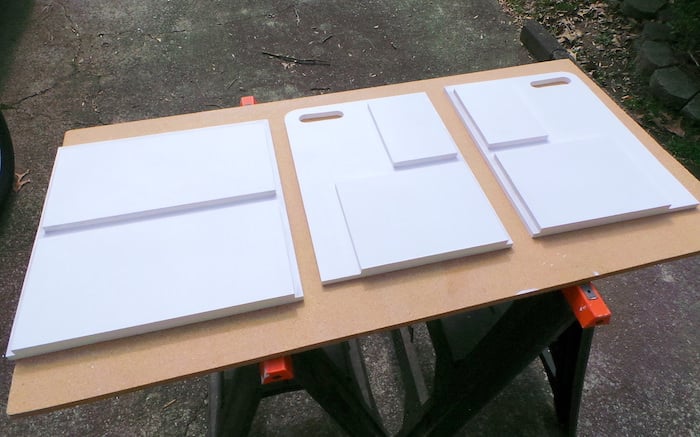 Prime and paint both side pieces as well as the back piece. We used a paint and primer in one along with a roller!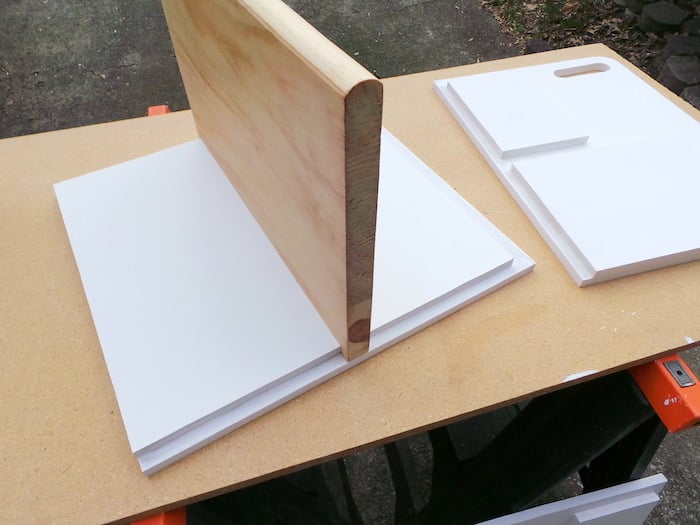 Glue the larger stair tread into the bottom 1" gap on your back piece. The stair tread should go edge to edge on the back piece.
Tip: before gluing the stair treads in place we used a mineral oil with wax formula to protect the steps on the stool.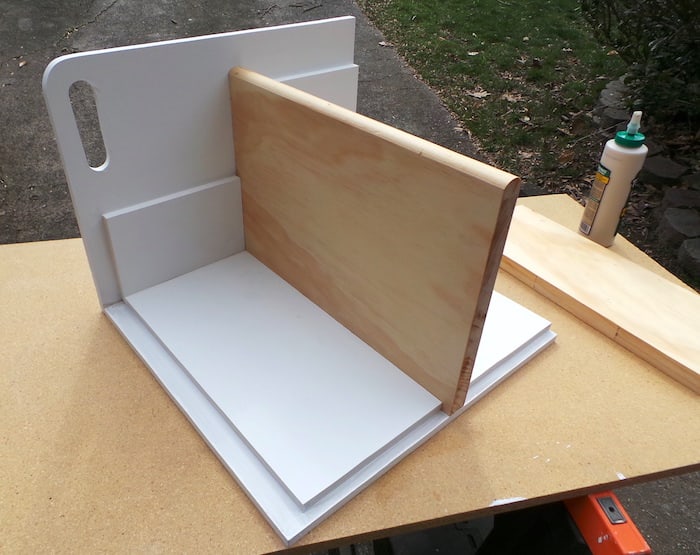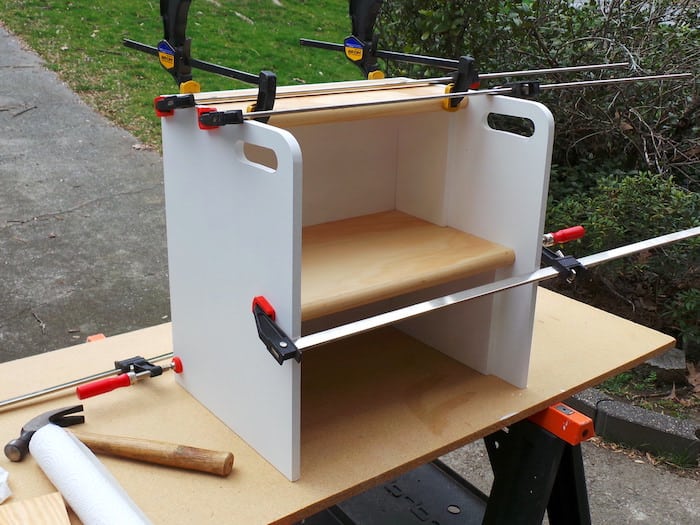 Then glue your sides on and glue the top stair tread in place and clamp, letting the glue set and dry for at least 24 hours.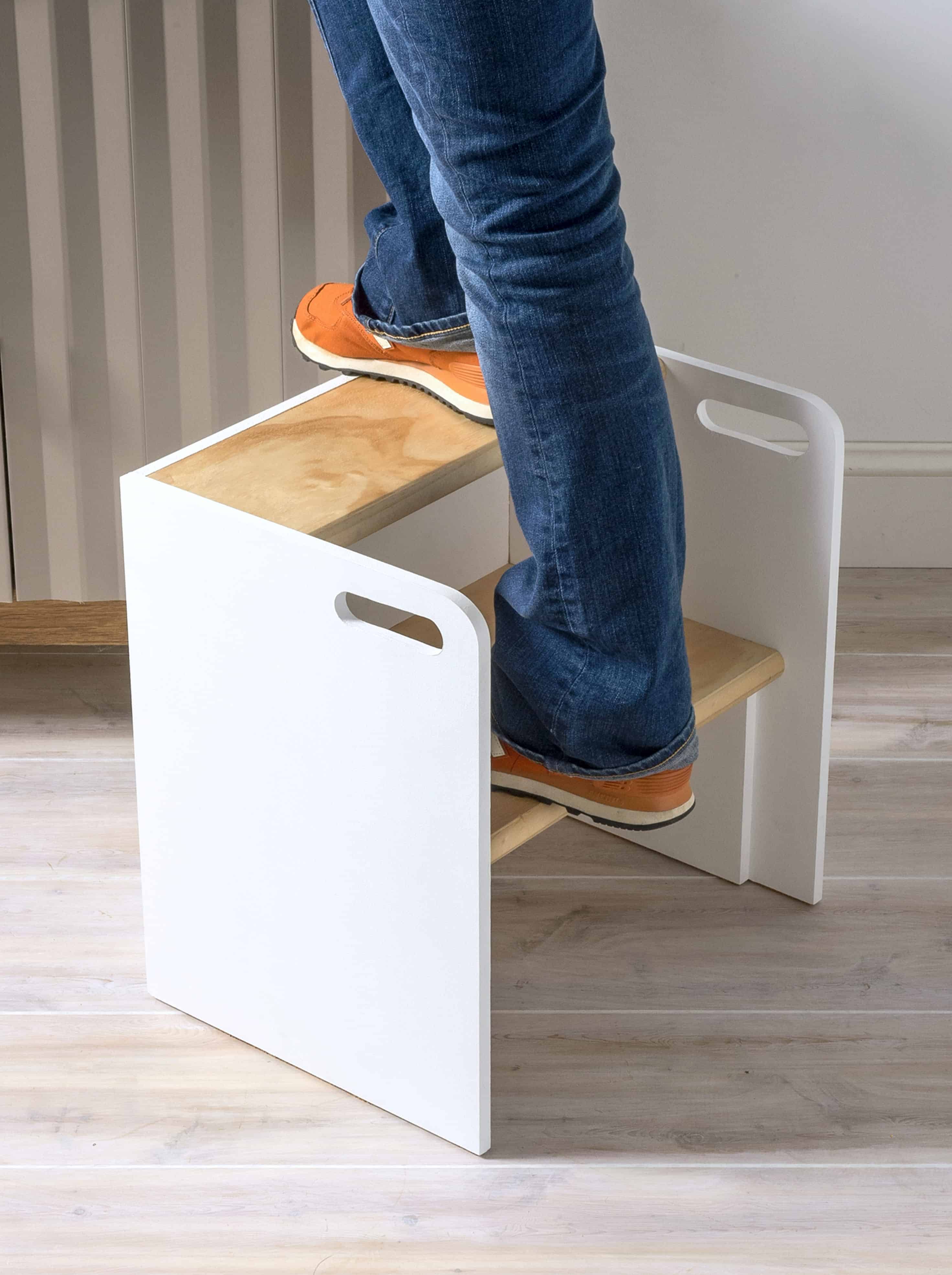 Your wooden step stool is ready to roll! As you can see, it's a stool . . . . but then you flip it over . . .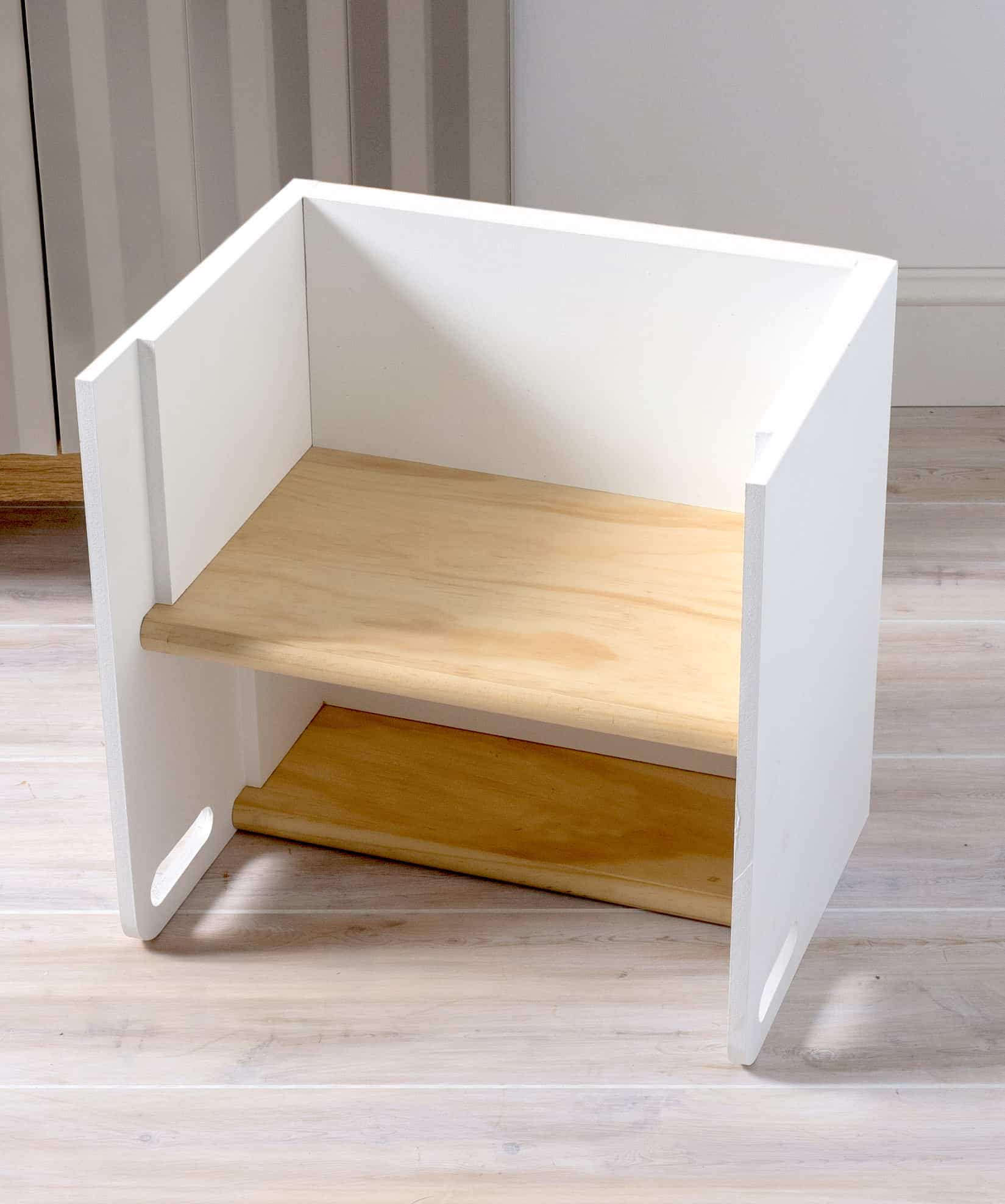 And it's a step stool chair. For a small bum (not mine). If you have felt you can place it on the top and bottom to protect your wood floors – we'll leave that up to you. If you make this DIY stool let us know in the comments!
For more DIY furniture projects, click here.