Use a gorgeous driftwood piece to create a unique jewelry hanger. It looks great on the wall whether you have jewelry on it or not, and it's easy to make!
Skills Required: Beginner. You'll need to know how to use a drill and screw things into wood, as well as hang something on the wall. Besides that it's a relatively simple project.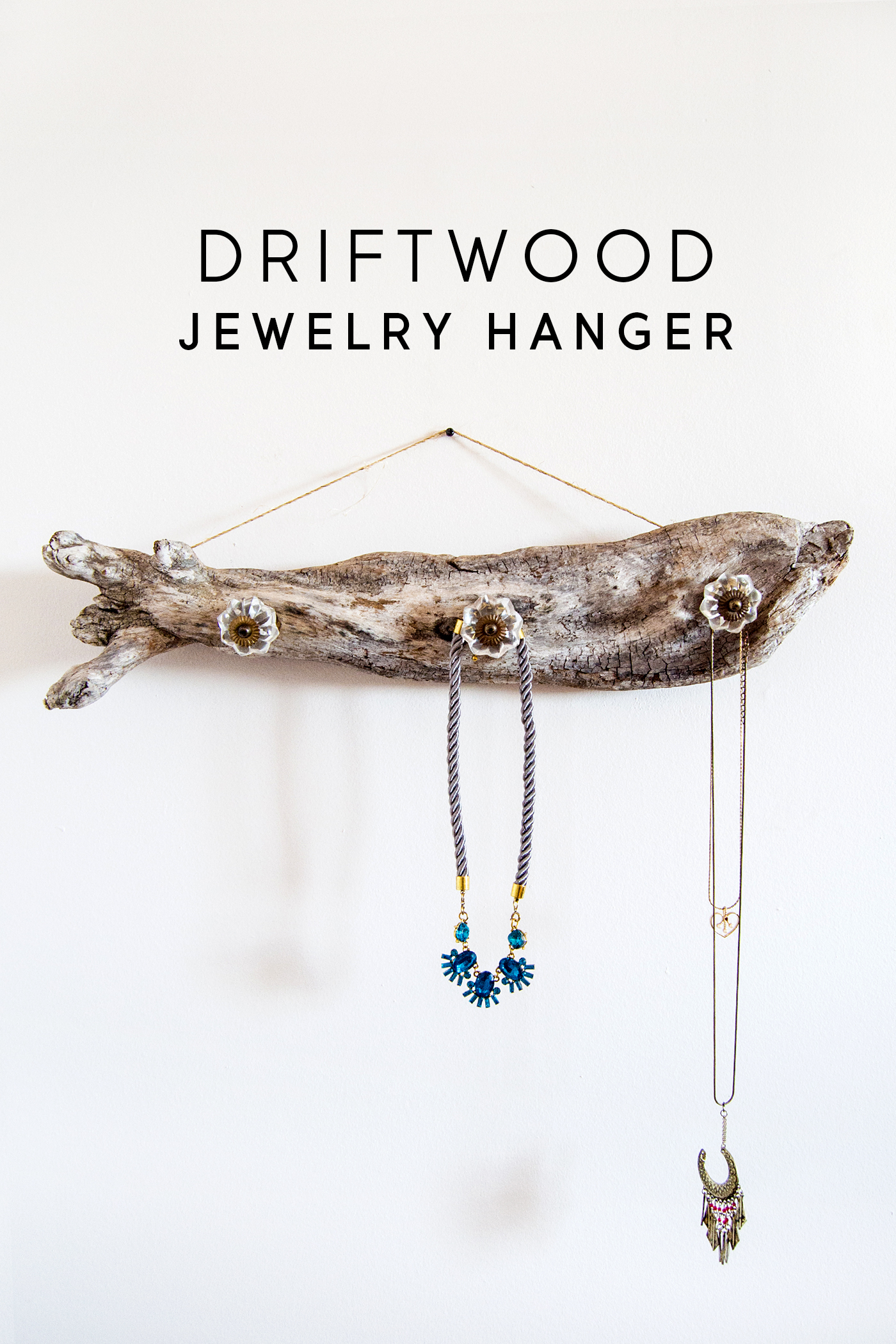 Hey guys – It's Aki again from Minted Strawberry. It's already spring – and with it comes organizing and purging! I've been looking for an effective way to display the necklaces I wear the most so they don't tangle with each other, and I've concluded that I needed a jewelry hanger.
My mother-in-law brought me this gorgeous driftwood piece that's been sitting in the storage for months, so I thought that would be the perfect base for my jewelry hanger.
I believe around this time of year is the perfect time to acquire driftwood pieces! There would be lots strewn about on the beach and it won't be picked over by people yet.
Once you grab a piece of wood off of the beach, you'll be ready to make your own jewelry holder. Here's how it's done.
Tip: if you don't have an ocean nearby, grab driftwood from Etsy.
DIY Jewelry Hanger
Supplies
Driftwood piece or wood base
Drill, 3/16″ bit
Dremel Rotary Tool (optional)
Picture hanger
Screws or eye hooks – 2
Jute string
Sharpie
Tape measure
Wood glue (optional)
Step 1. First off, you want to pick out your driftwood base. Clean it up with a slightly damp cloth and let it dry. I really like the character of this driftwood piece that my mother-in-law gave me.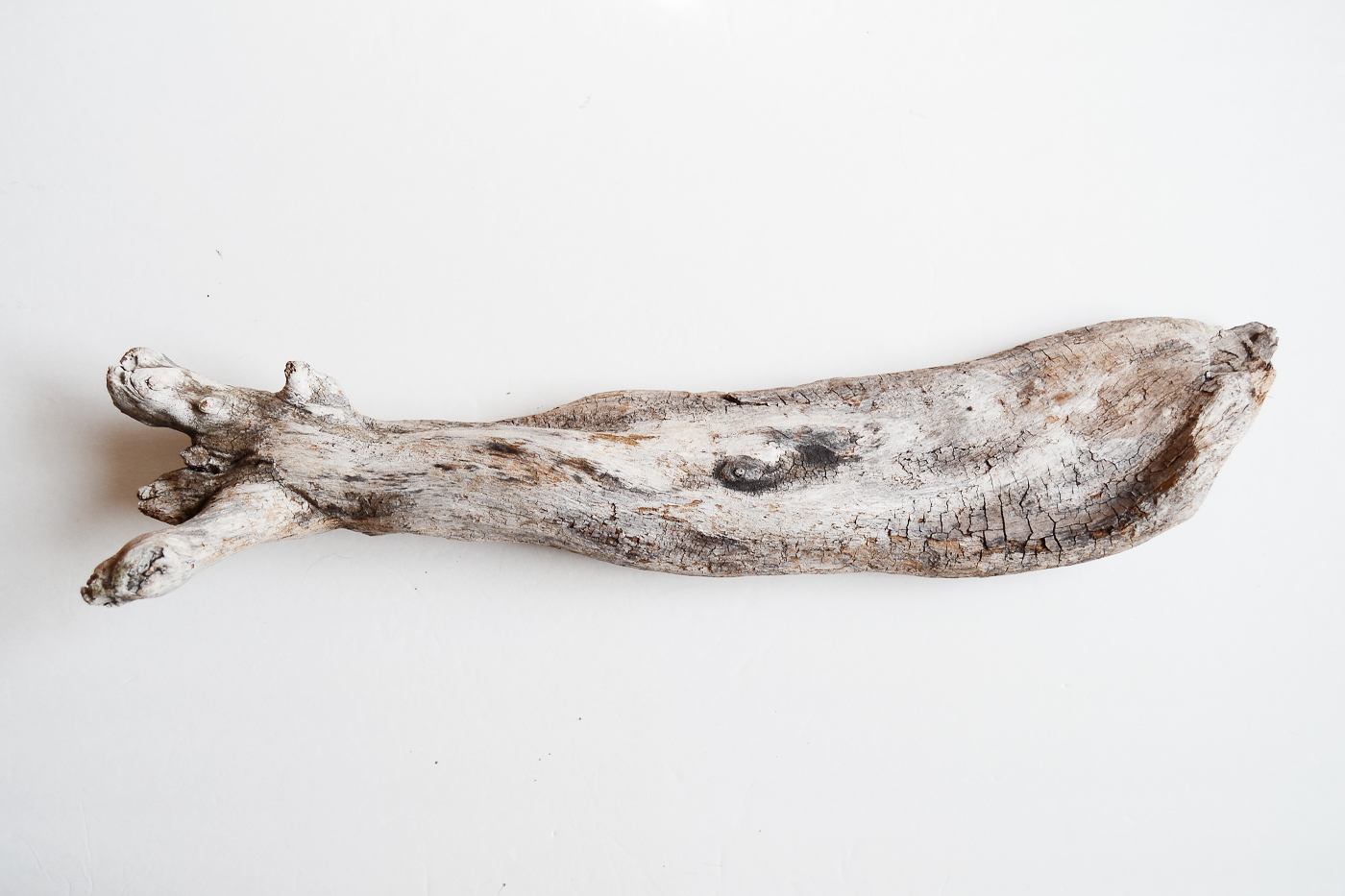 Step 2. You're going to add marks to the driftwood where you would like to attach knobs. You can use a tape measure to space them evenly, or place them based on the curvature of the wood.
I determined I needed about 3 knobs on my hanger, so I eyeballed mine. They ended up roughly spaced at 6 1/2″ apart. Mark with a Sharpie.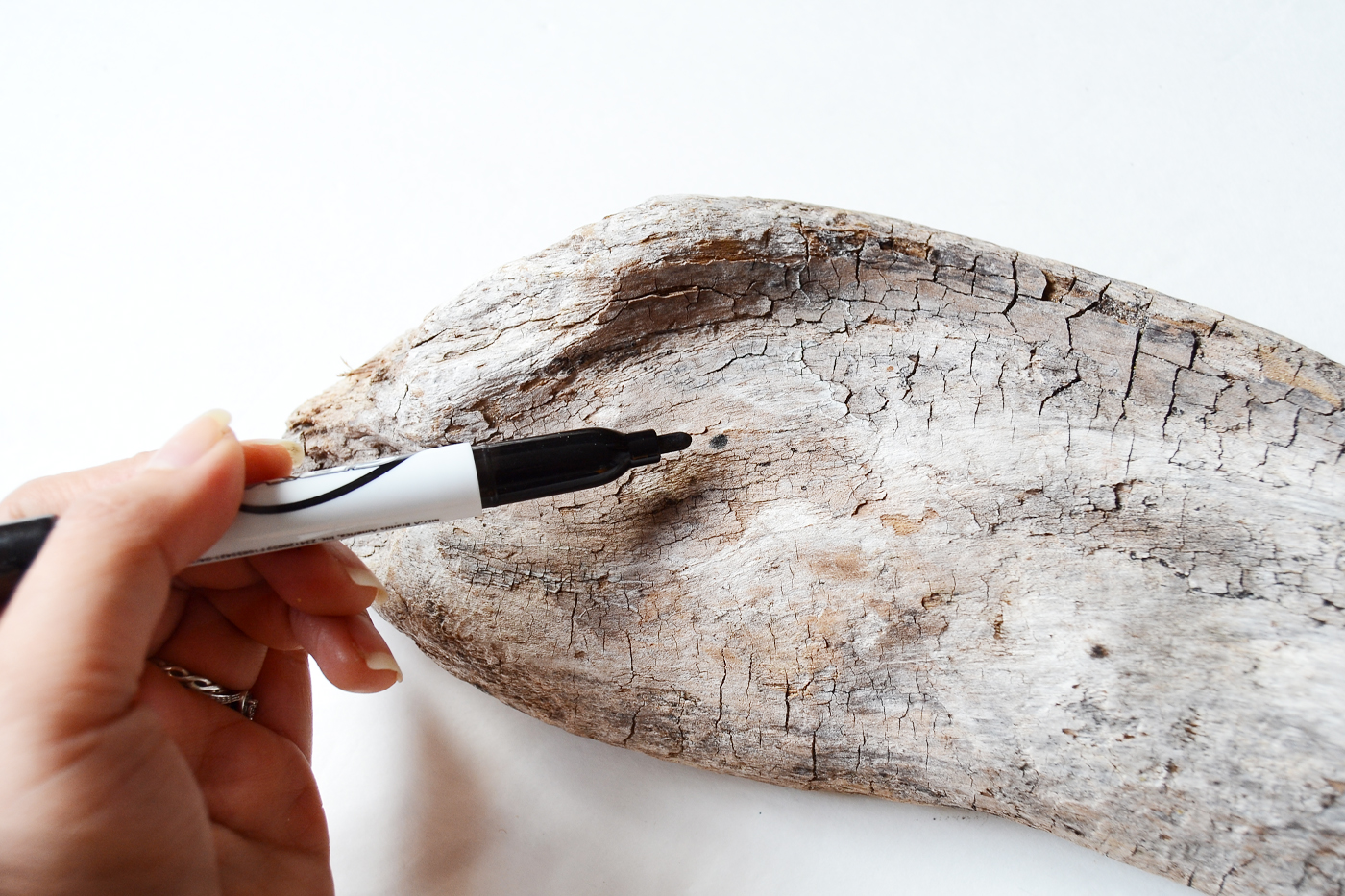 Step 3. Pick out your knobs or hangers – you can use hooks, normal knobs or even antique looking ones. I wanted to create something unique so I decided to use crystal knobs on mine.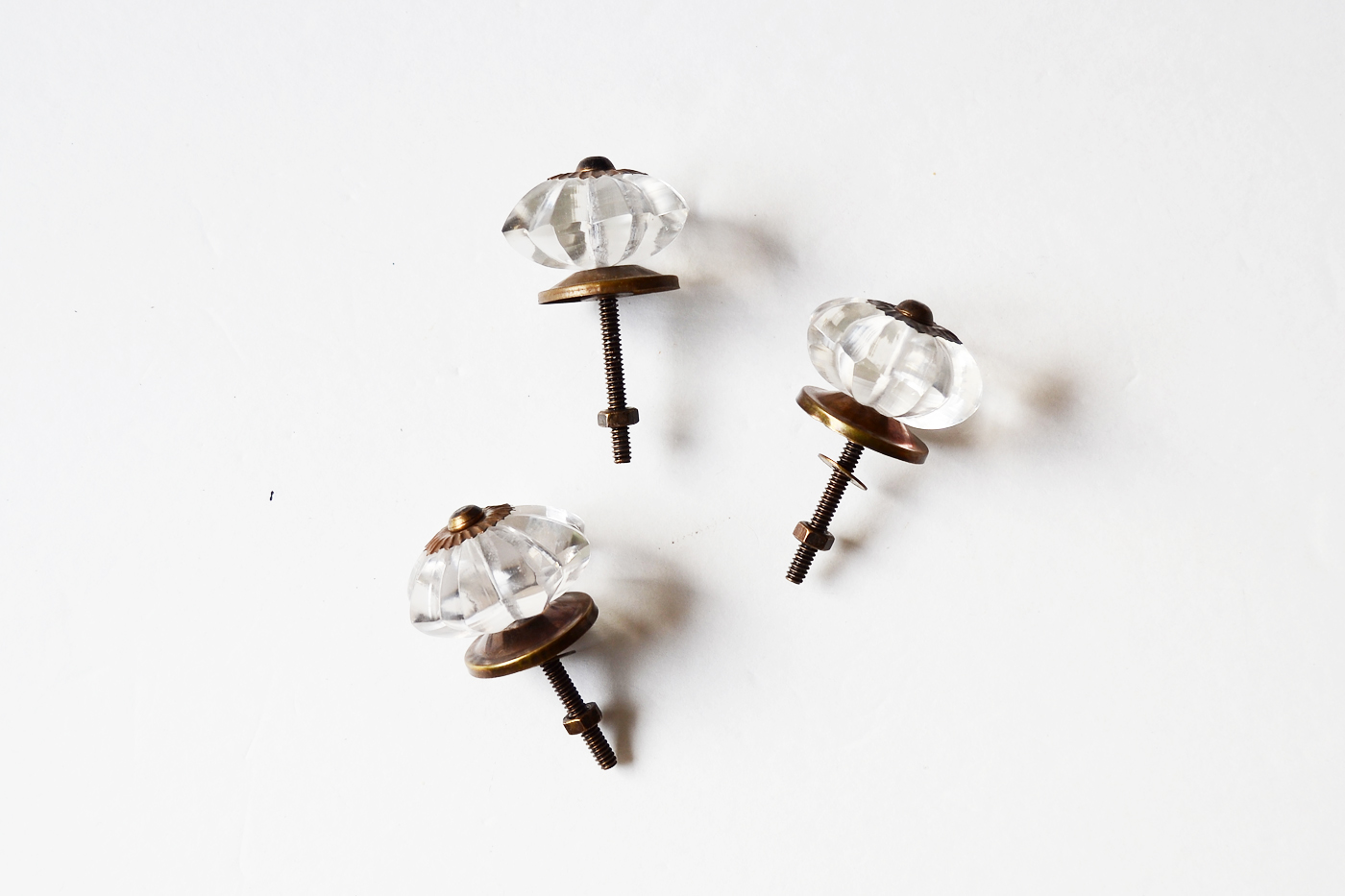 Step 4. Slowly drill a pilot on hole on the marked holes. You want to do this step so that you don't crack your driftwood piece as it is somewhat fragile.
Once all your pilot holes are drilled, change the drill bit to a size that would accommodate the screw from your knob and drill to widen the holes.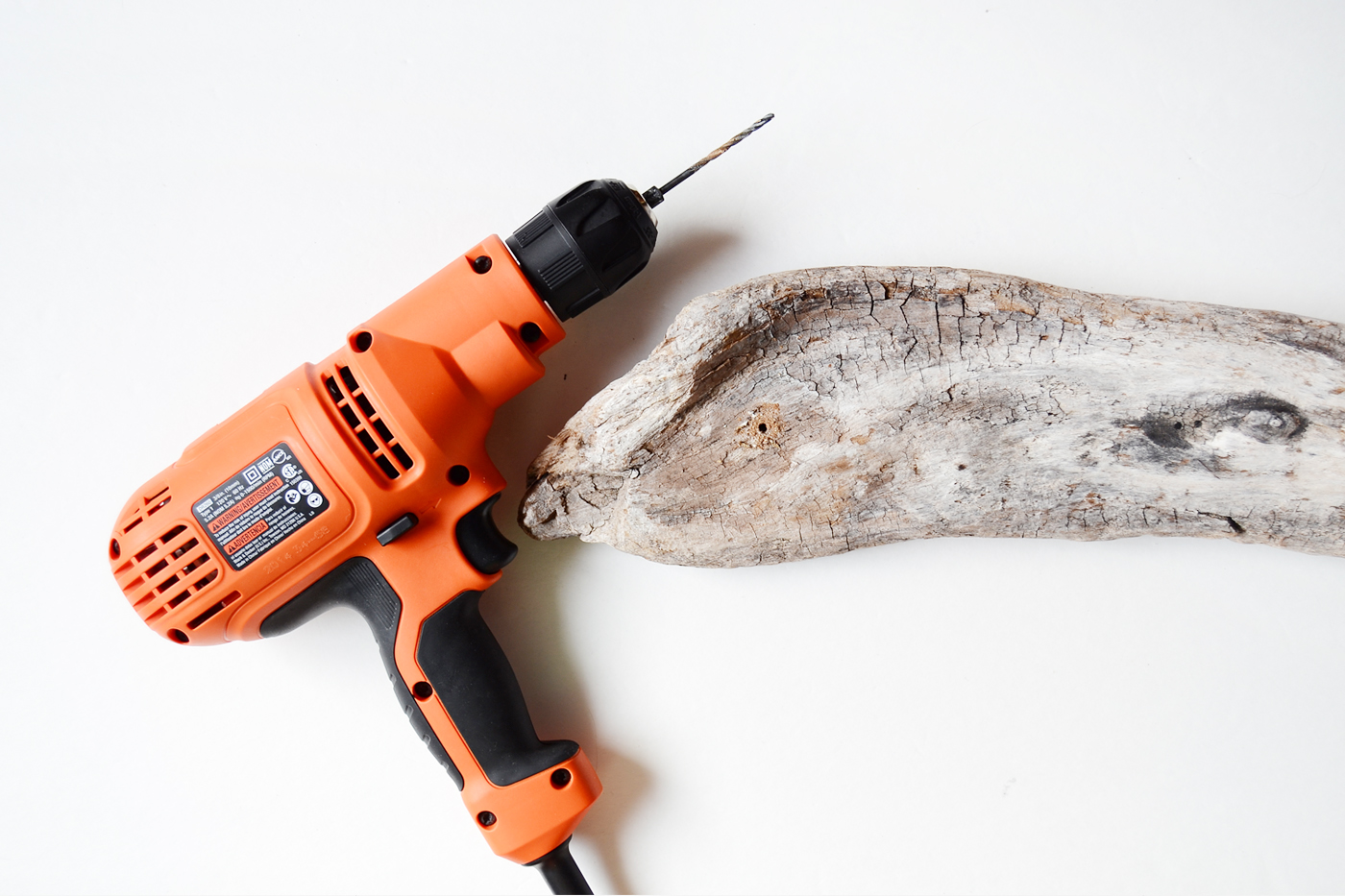 Step 5. If you find that your driftwood piece is somewhat on the thick side, you will want to shave some off of the back or do something to make the screw of the knob stick out on the other side.
You can do this a number of ways. You can change the screw if the knob – if it can be changed – to a longer or shorter screw. You can also shave it off with a jig saw or a rotary tool.
You can also skip all these and just opt to secure the knobs by gluing them in.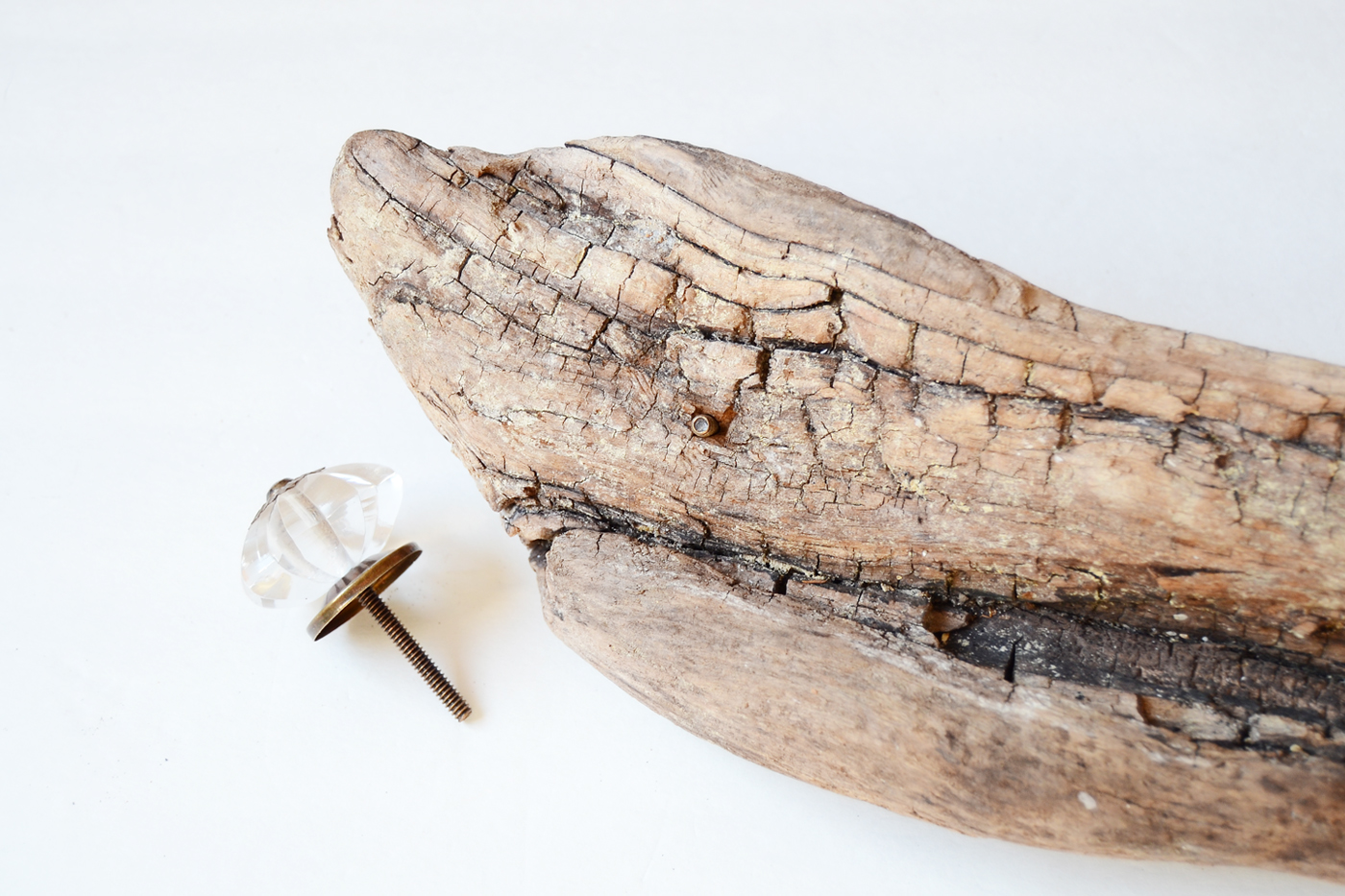 Step 6. I went and shaved mine with my Dremel rotary tool and several rough-grit sandpapers. If you don't have one yet – I suggest you get one. It's one of those tools that is very versatile for crafting and some house repairs!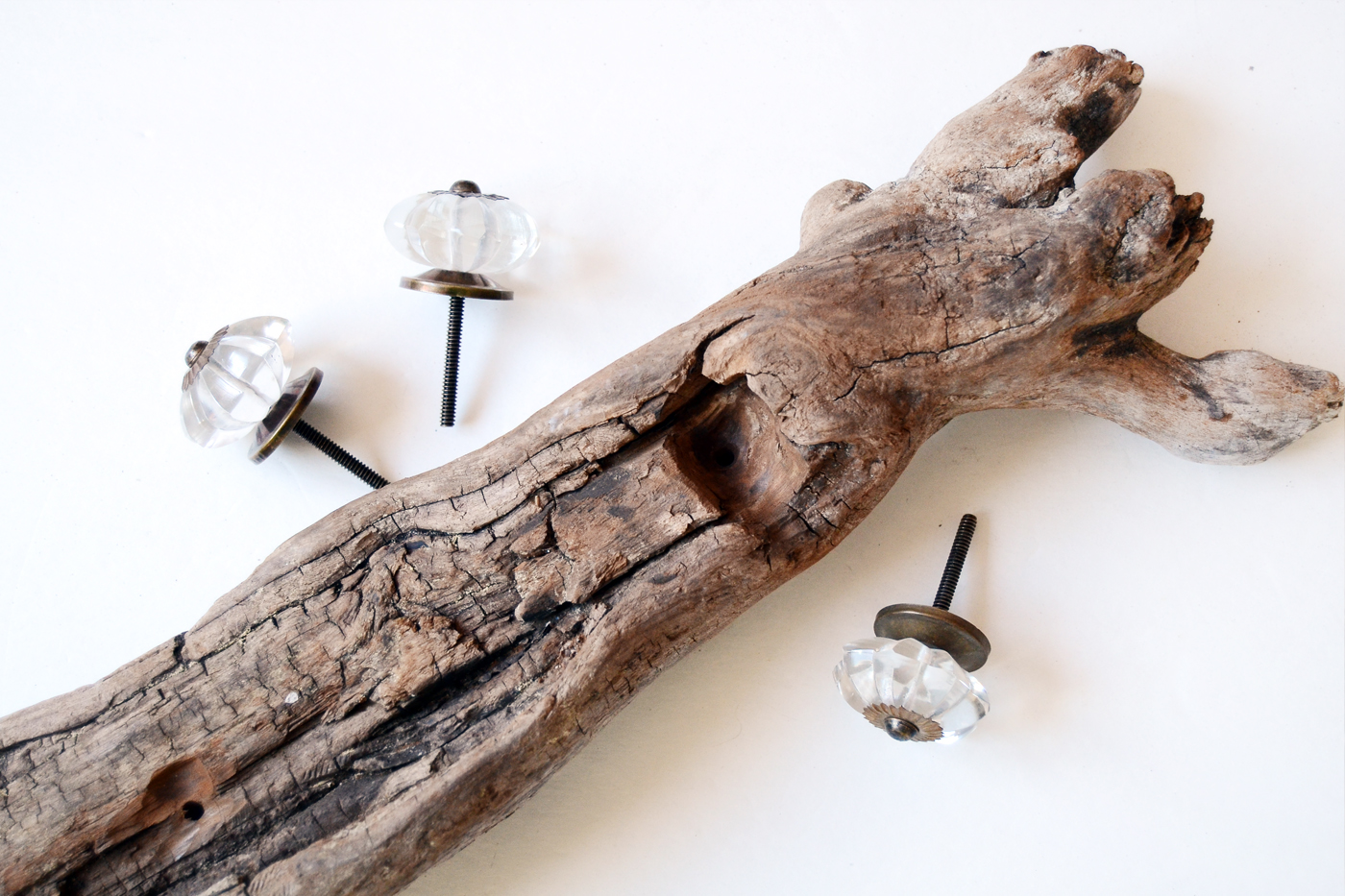 Step 7. To secure the knobs, use hex screws to tighten them to place.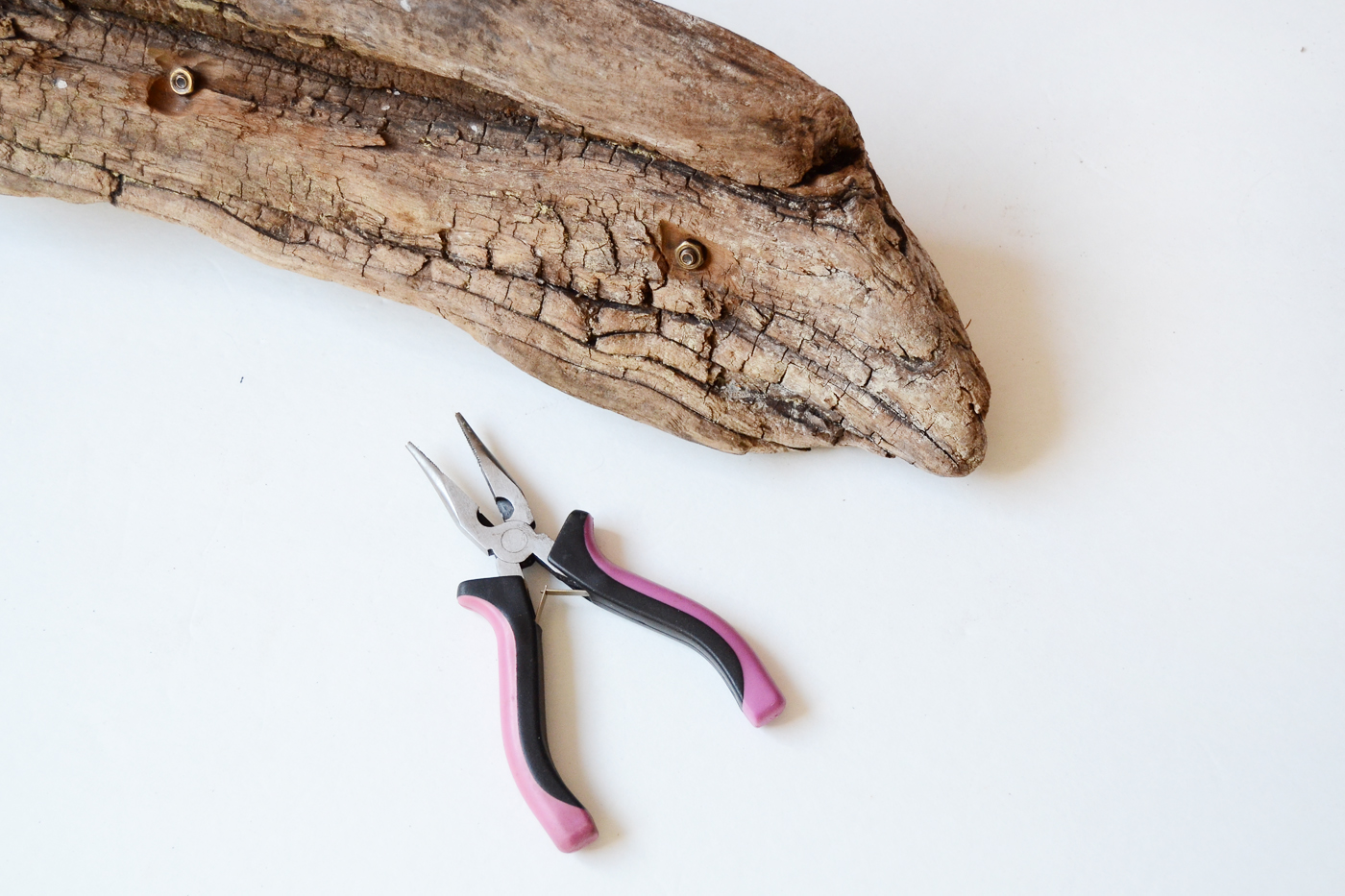 Step 8. To hang, I used two screws and drilled it to the top-most stable surface of the driftwood piece. I used 3/4″ screws to give it a good hold. If it allows, you can use 1 or 1 1 /2″ screws for it to be more stable.
Again, drill slowly to reduce causing cracks in the wood. Cut up a section of jute string and tie an end to one screw and do the same for the other. Your jewelry hanger is done!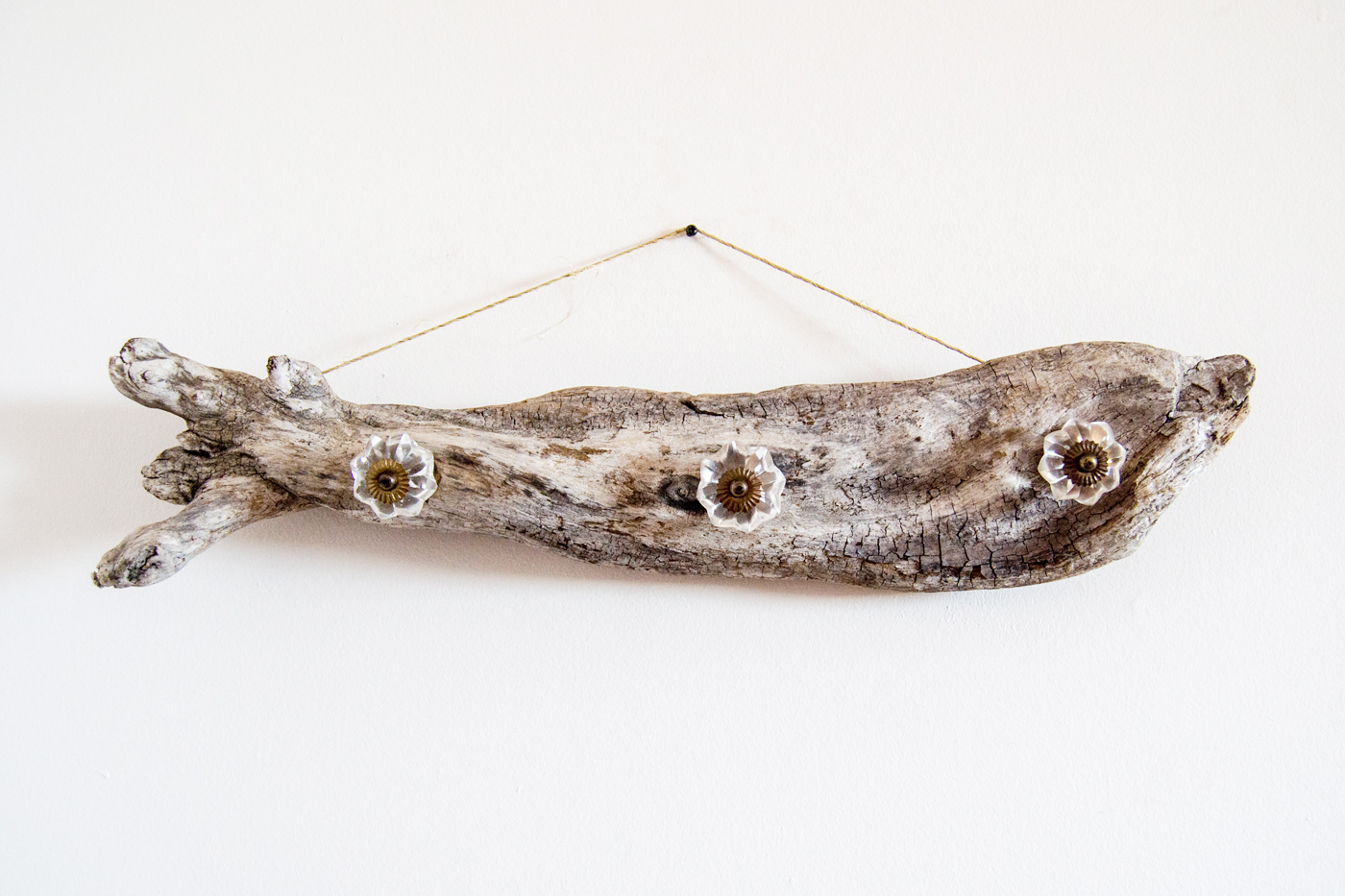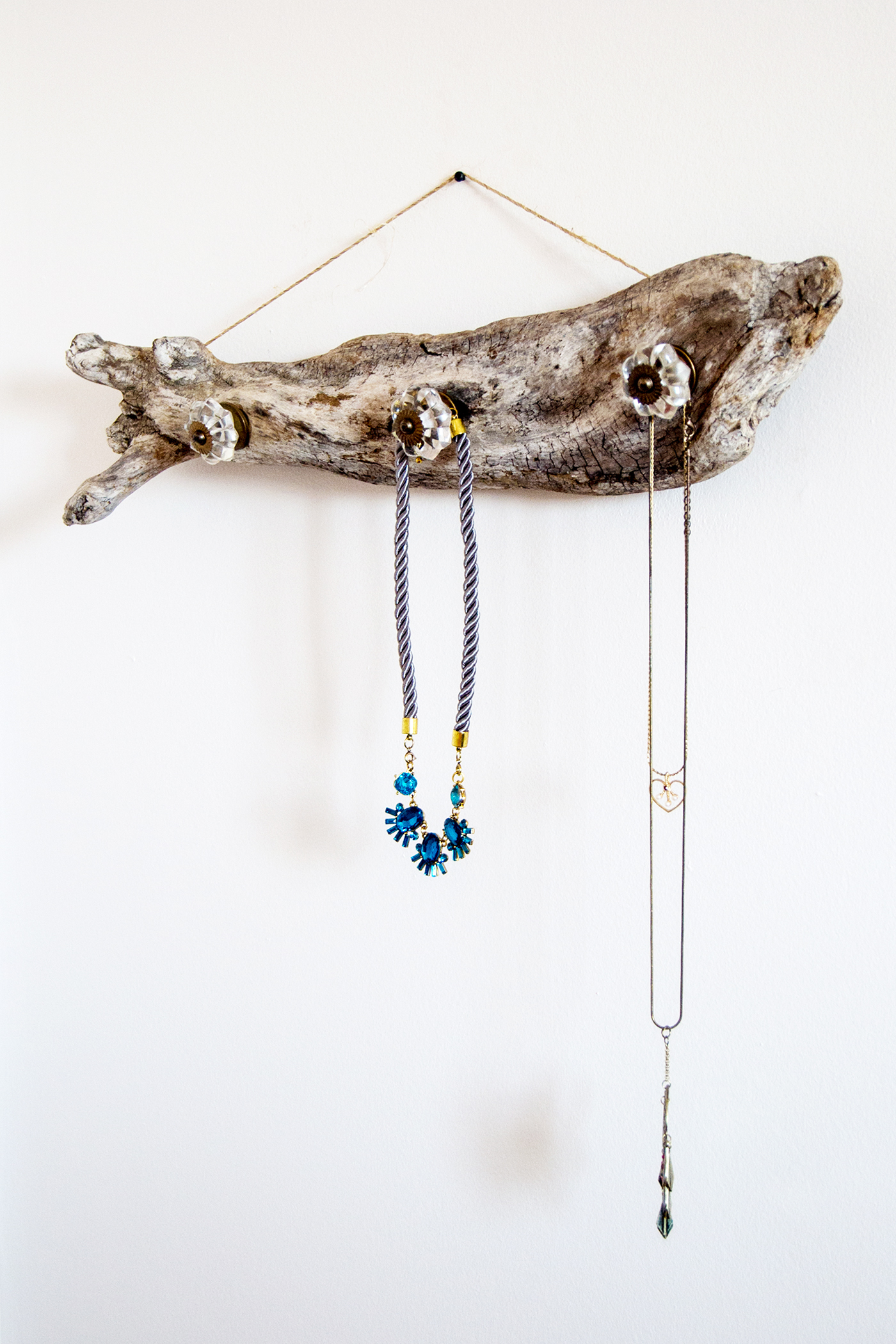 I love this DIY jewelry hanger! It's a one-of-a-kind piece that gives off a beachy, relaxed vibe. It's really perfect for the Spring/Summer months.
I think it's also a really great piece to give away to someone whose style is minimalist, boho chic or even someone who loves the beach!
Yield: 1 hanger
DIY Jewelry Hanger
Learn how to make a jewelry hanger out of a piece of driftwood. It's a unique display and looks great on the wall.
Materials
Driftwood piece
Crystal knobs
Screws or eye hooks – 2
Jute string
Sharpie
Wood glue (optional)
Tools
Drill, 3/16″ bit
Flat nose pliers
Dremel Rotary Tool (optional)
Picture hanger
Hammer
Scissors
Tape measure
Instructions
Clean your driftwood with a slightly damp cloth (if necessary) and let dry.
Use a tape measure to decide the location of the knobs. Mark with a Sharpie.
Choose the knobs for your project. Drill pilot holes slowly with the drill.
Change to a larger drill bit that matches your knob screw size and drill the pilot holes again to widen.
Drill through the back of the driftwood and attach the knob. Alternatively, you can glue the knobs in if your wood is too thick.
Shave off any excess wood on the of your jewelry holder with the rotary tool. This is optional to make the knobs go all the way through and to have the organizer sit flush against the wall.
To hang, drill into both ends of the driftwood. Start with pilot holes and then drill larger holes to accommodate the screws or eye hooks.
Add the screws or eye hooks and tie the jute string to the hooks. Hang from a picture hanger to display.
Notes
My piece of driftwood was free - cost varies depending on the price of knobs and if you purchase the wood.
---
If you enjoyed this hanging jewelry organizer, you're going to like these other posts too: