Learn how to make a wood bead snowman ornament for your Christmas tree using simple craft supplies! Easy for both adults and kids.
Skills Required: Beginner. You'll be painting small beads with acrylic paint, sanding, using a drill, and threading everything on baker's twine. If you've crafted before this will be no problem.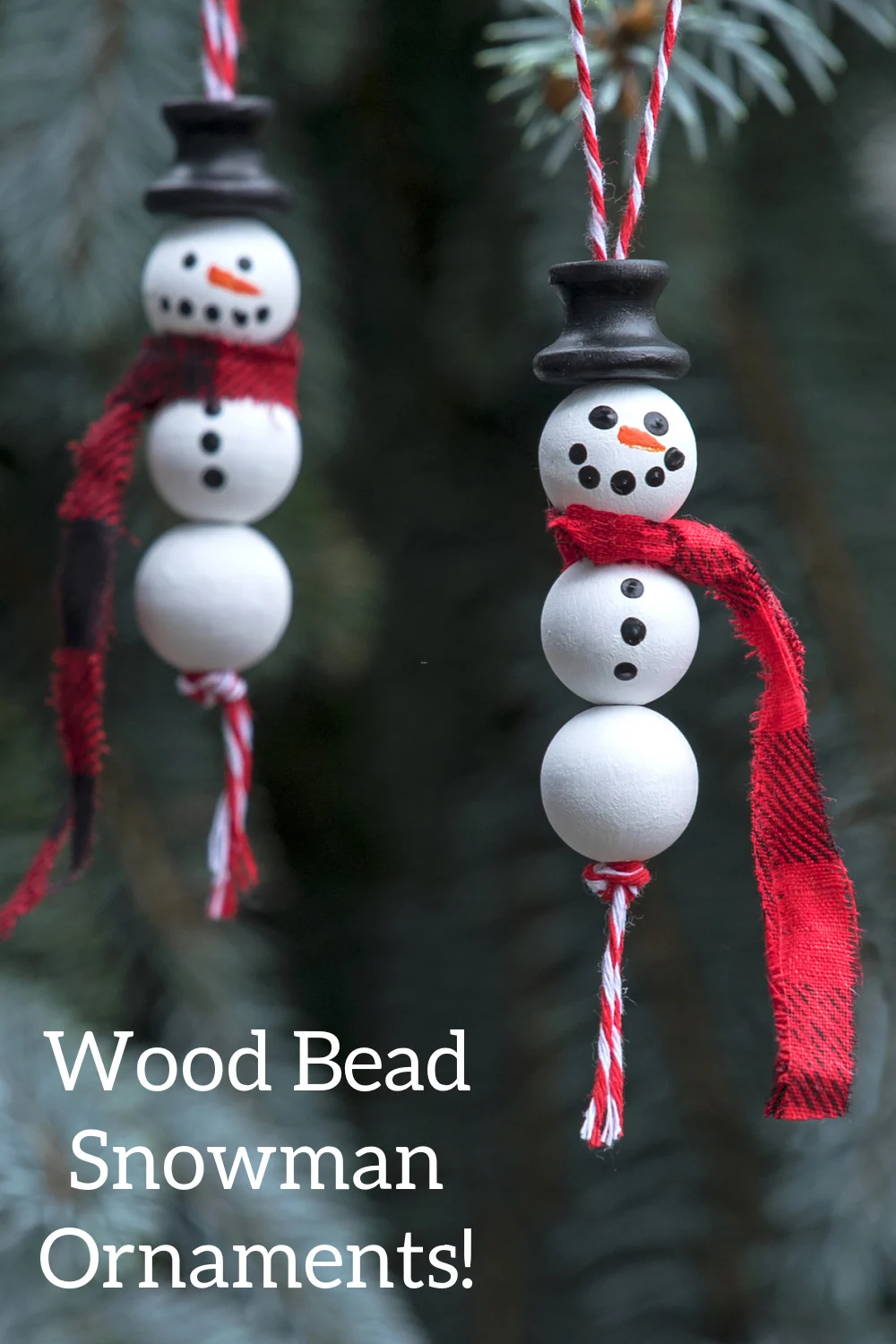 I absolutely love snowmen! If I had to pick my two favorite "characters" or symbols of the Christmas or winter season, it would be snowmen and gingerbread men. They always make me happy!
Happiness. And we all need a little bit of that during the holidays, right? I think so.
If you know me in real life, you know I love making Christmas ornaments. There's an immediate satisfaction because, typically, the work surface is small. It never takes long and you've got a project completed.
I love it! So not only does it put a smile on my face to make a snowman ornament . . . it makes me feel good about completed something. So many good vibes.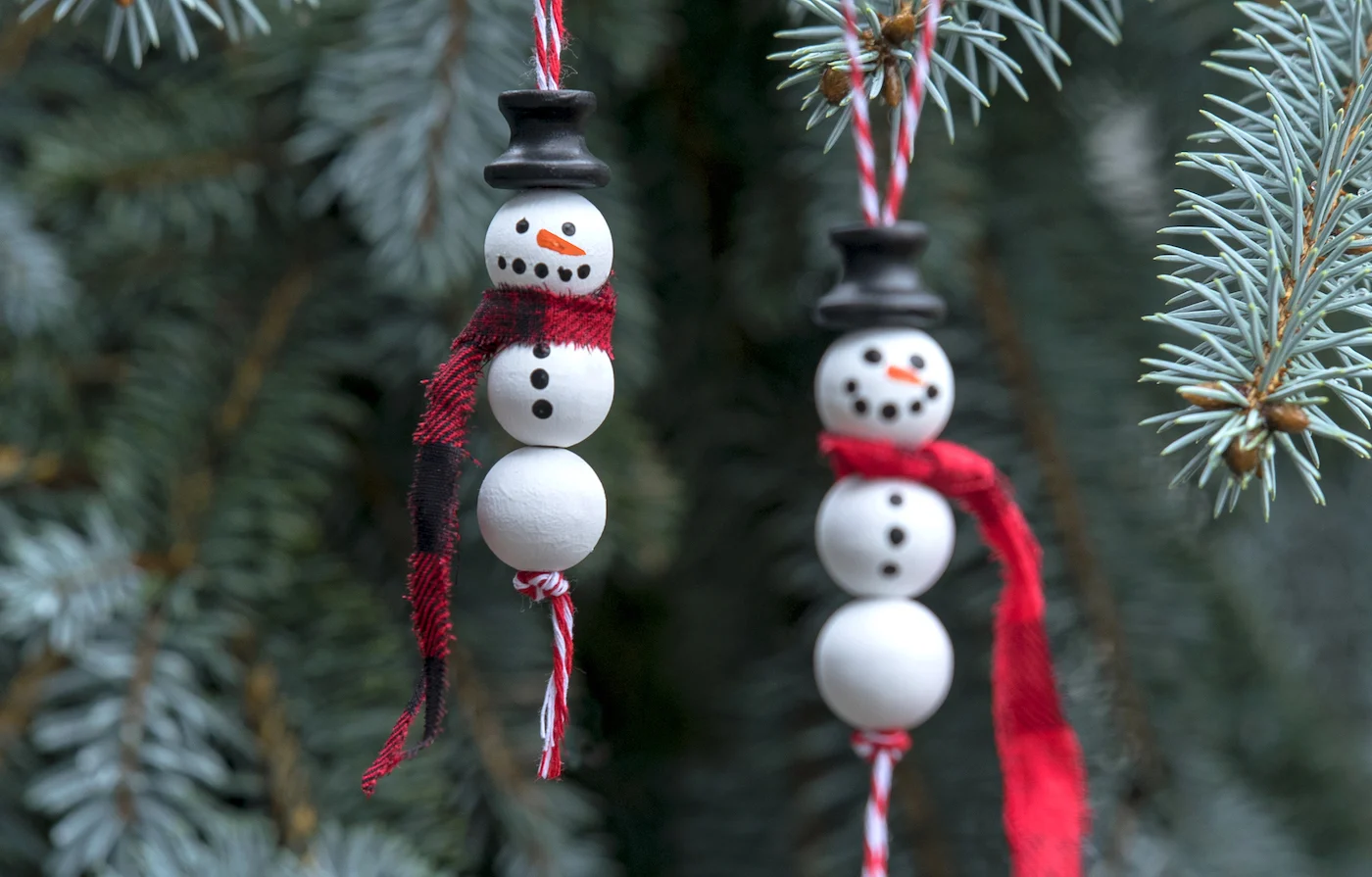 DIY Snowman Ornament
So what did I do this year? I made a wood bead snowman ornament! Actually more than one of them. And I can't wait to show you how I did it. I promise these ornies are quite easy.
You'll make these ornaments in four easy steps. You're going to paint the snowman body, then drill and paint the hat. Then you're going to string it together. And finally, you'll add the scarf to finish.
I think these ornaments would be great for a farmhouse or a rustic look. But honestly, they're just cute! They could even be a fun kids' craft (adults will need to drill the hat). It's a very versatile Christmas craft.
Learn how to make these cuties below!
Gather These Supplies
Wood beads (5/8″) – 3 per ornament
Wood pull (3/4″) – 1 for the hat
Acrylic paint – white, black, orange
Baker's twine – 14 – 15″
Bandana or fabric scrap
Scissors
Paintbrushes
Sandpaper
Drill with 1/8″ bit
If you can believe it, some beads don't have holes. Make sure your round ones do. You'll start with three per snowman ornament (and one pull for the hat).
Paint the Snowman Body
Begin by painting the snowman's body beads with white. You can put the bead on the end of a paintbrush to paint – you can also paint half, let dry, and then paint the other half.

Once the beads are dry, use the end of a paintbrush to dot a face on one of the beads. Then on another bead, put three black dots on it for buttons (bottom to top). Let dry.

After you're done painting the eyes and buttons, you'll want to add an orange nose with a small paintbrush and orange craft paint.
Drill and Paint the Hat
I was lucky enough to find the cutest little knob to act as a snowman's hat! To start, sandpaper the round end down as flat as possible. It will look more hat-like.

This is the part where you're going to use a drill, but it's only for a moment. Choose a 1/8″ – 1/4″ bit – you just need the hole large enough for the thread hanger to go through.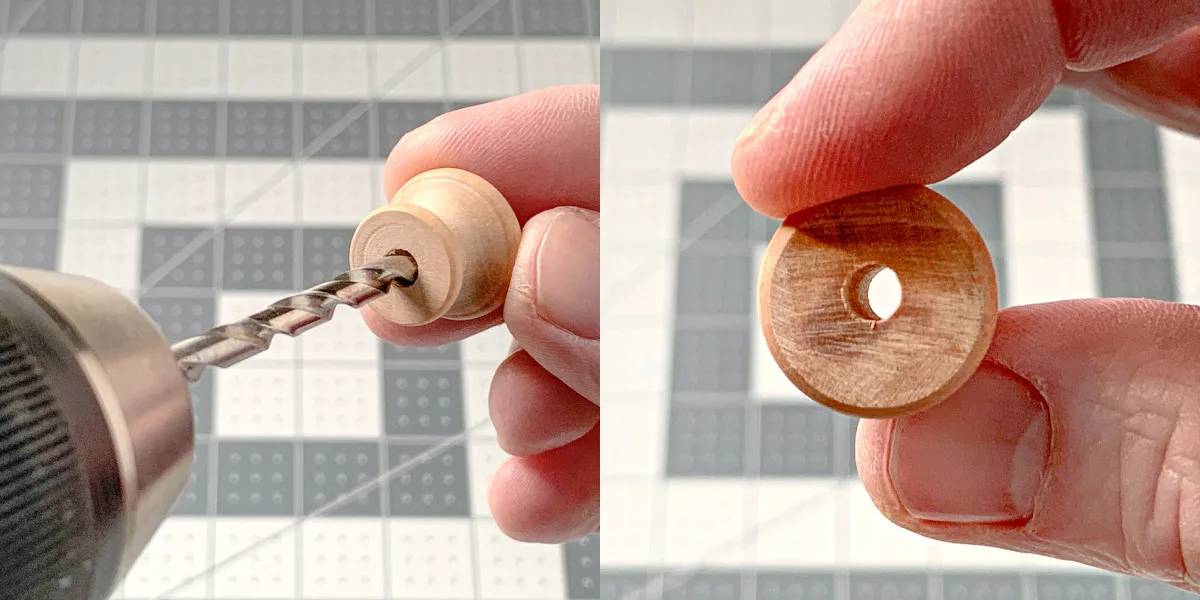 Drill all the way through to create your hole. Then paint the hat black with acrylic paint.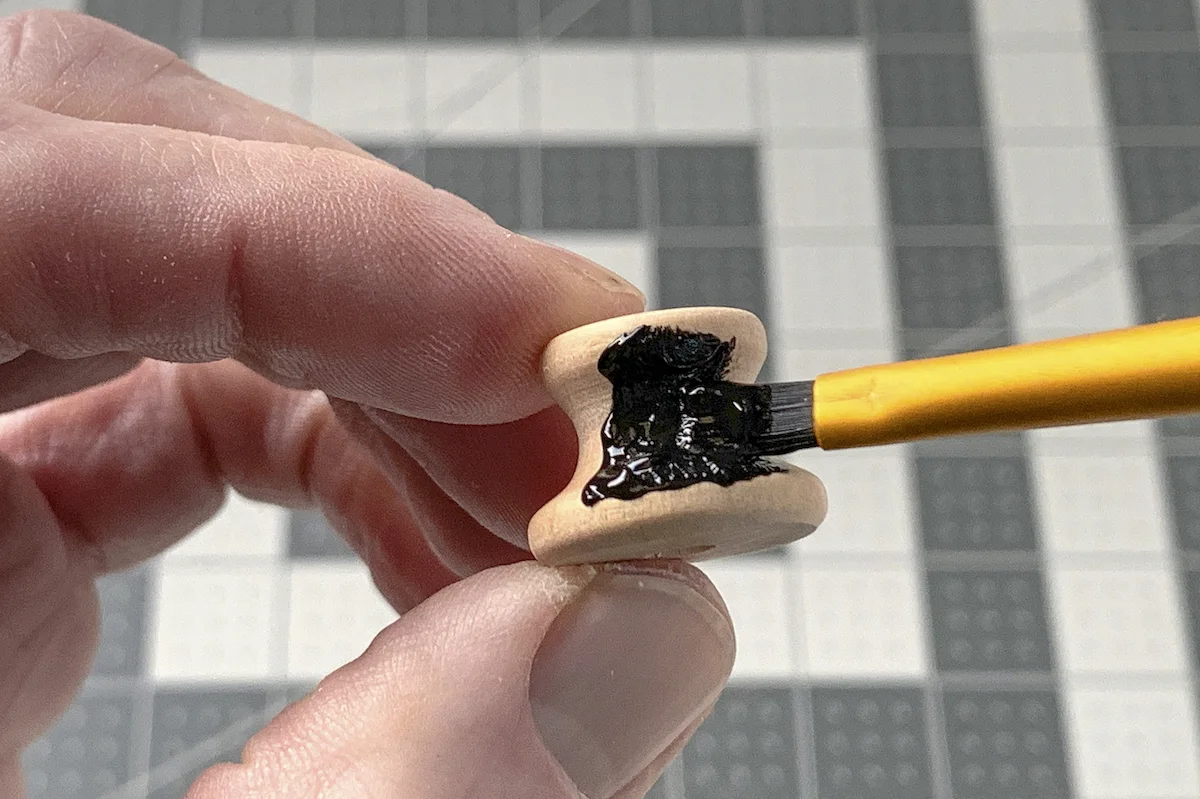 Let dry.
Make the Scarf and Hanger
For your snowman ornament scarf, you're going to want to grab a scrap piece of fabric. I had an extra piece of bandana from another project.
I cut a small slit in one end, and then tore a piece of the bandana to act as a small scarf.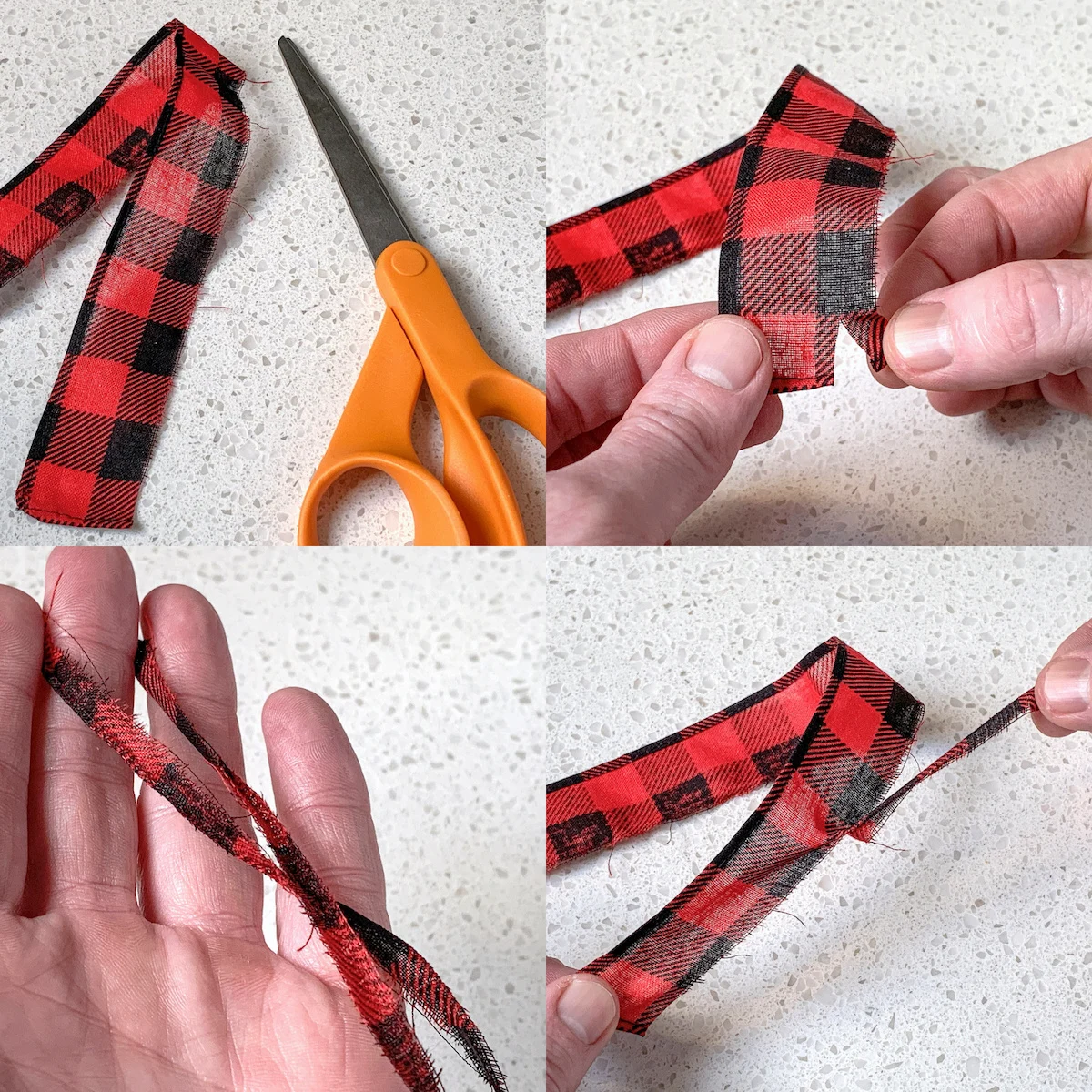 Cut the length of baker's twine and you have everything you need to finish your ornament!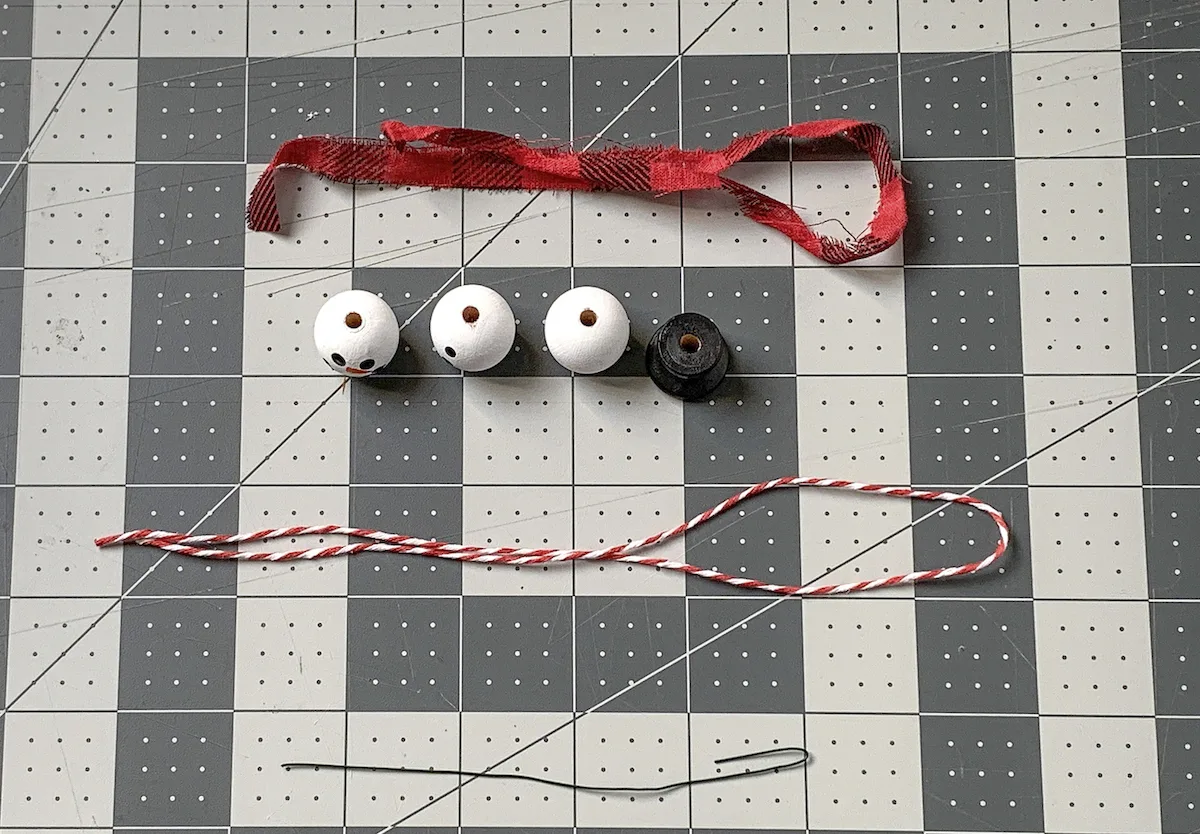 Note: to string the snowman ornament, it helps to have a piece of wire. Or a paperclip or something like that. If you don't, you can still string it of course . . . it's just not as easy.
String the Ornament and Finish
Loop the baker's twine and create a knot at the bottom.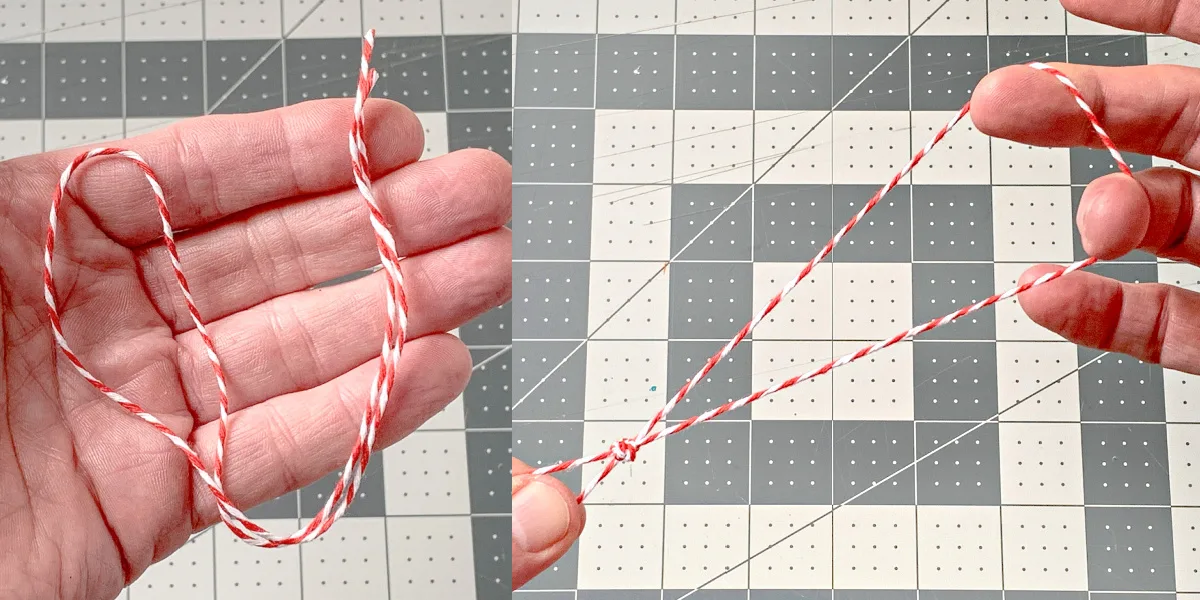 String the beads onto the twine, and make sure they are in the right order. White bead, button bead, face bead, and then the hat.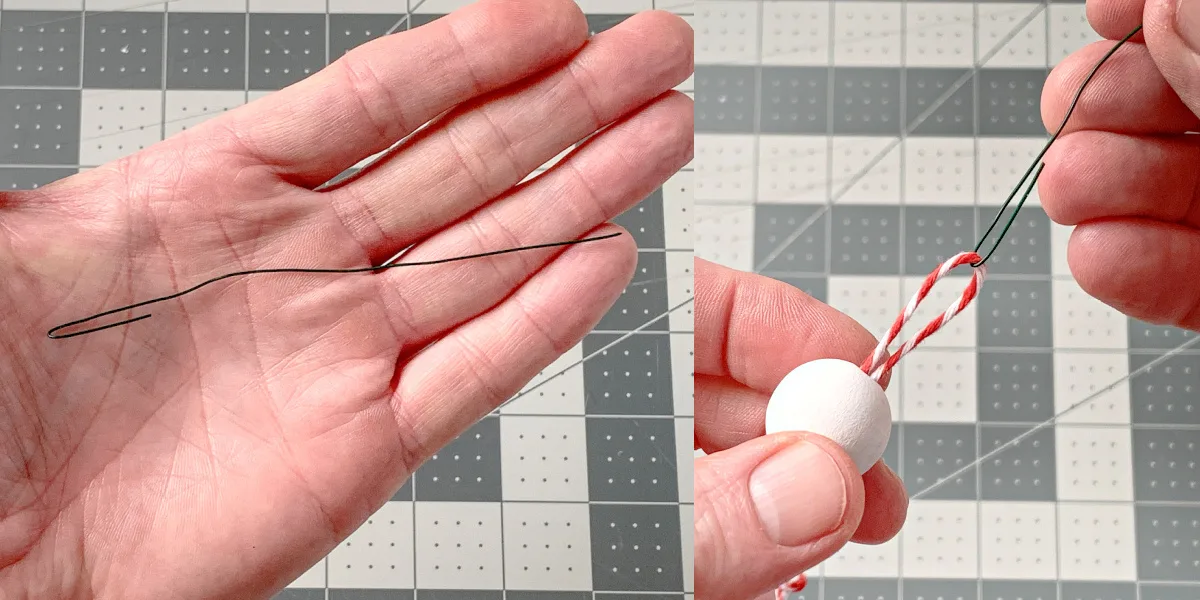 This is how the ornament will look at this point.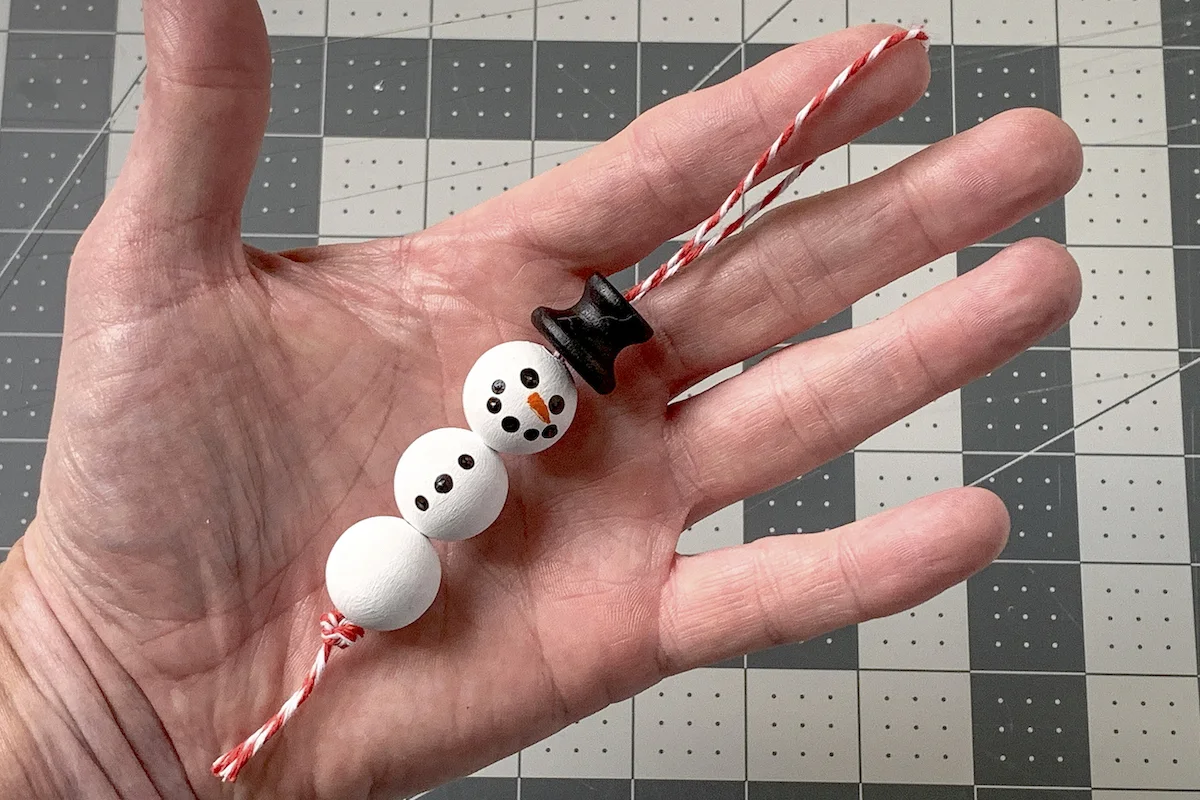 You're going to create a loop for the scarf around the neck of the snowman as shown below.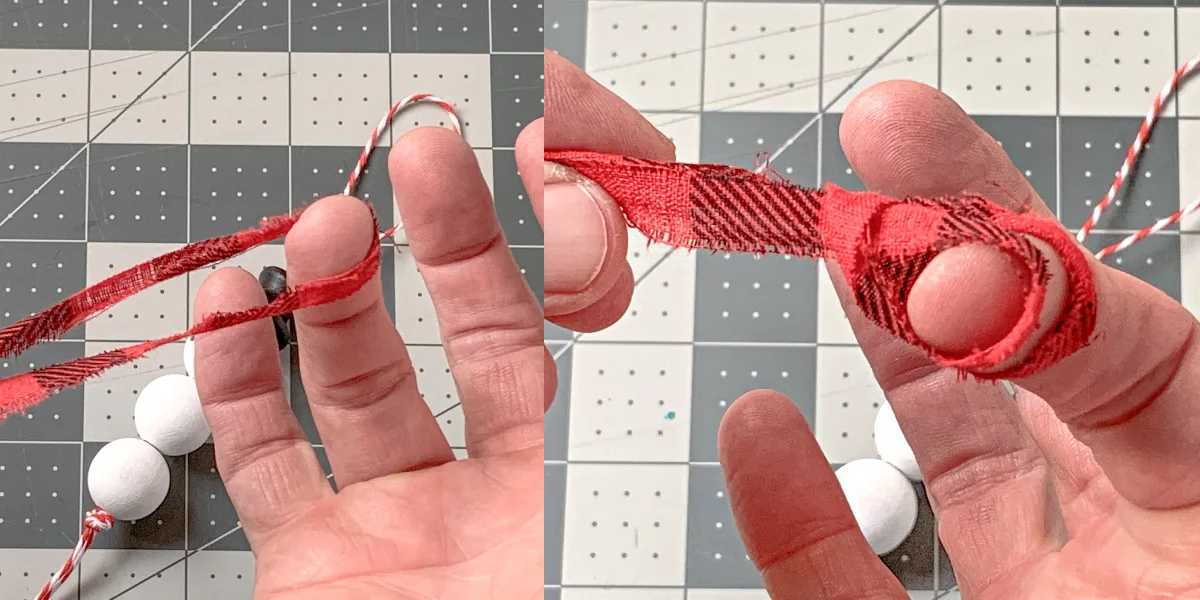 Add the scarf loosely around what would be the neck to finish your snowman ornament!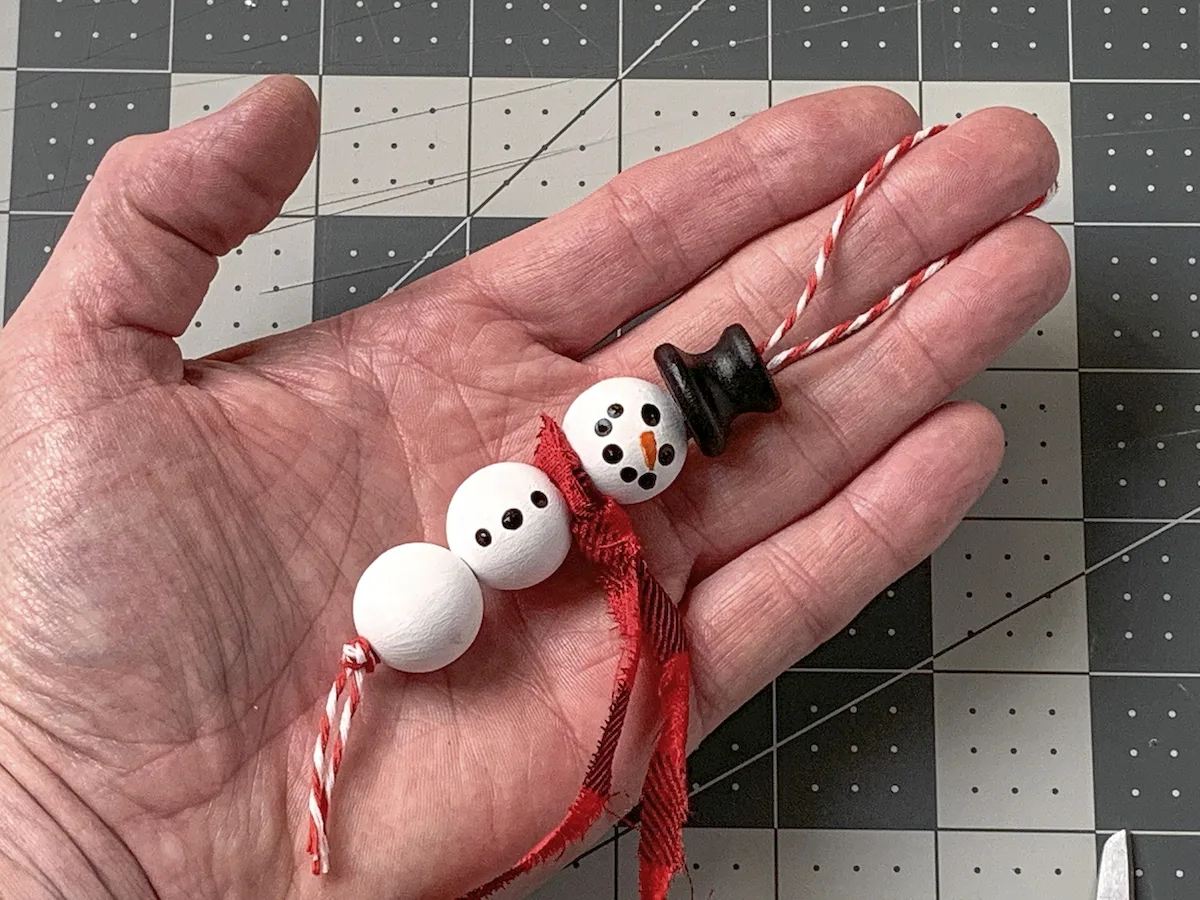 I just love the finished look. And the little hats tickle me. Wondering if I should've added glitter to the hat or maybe even a red band? Hmmm.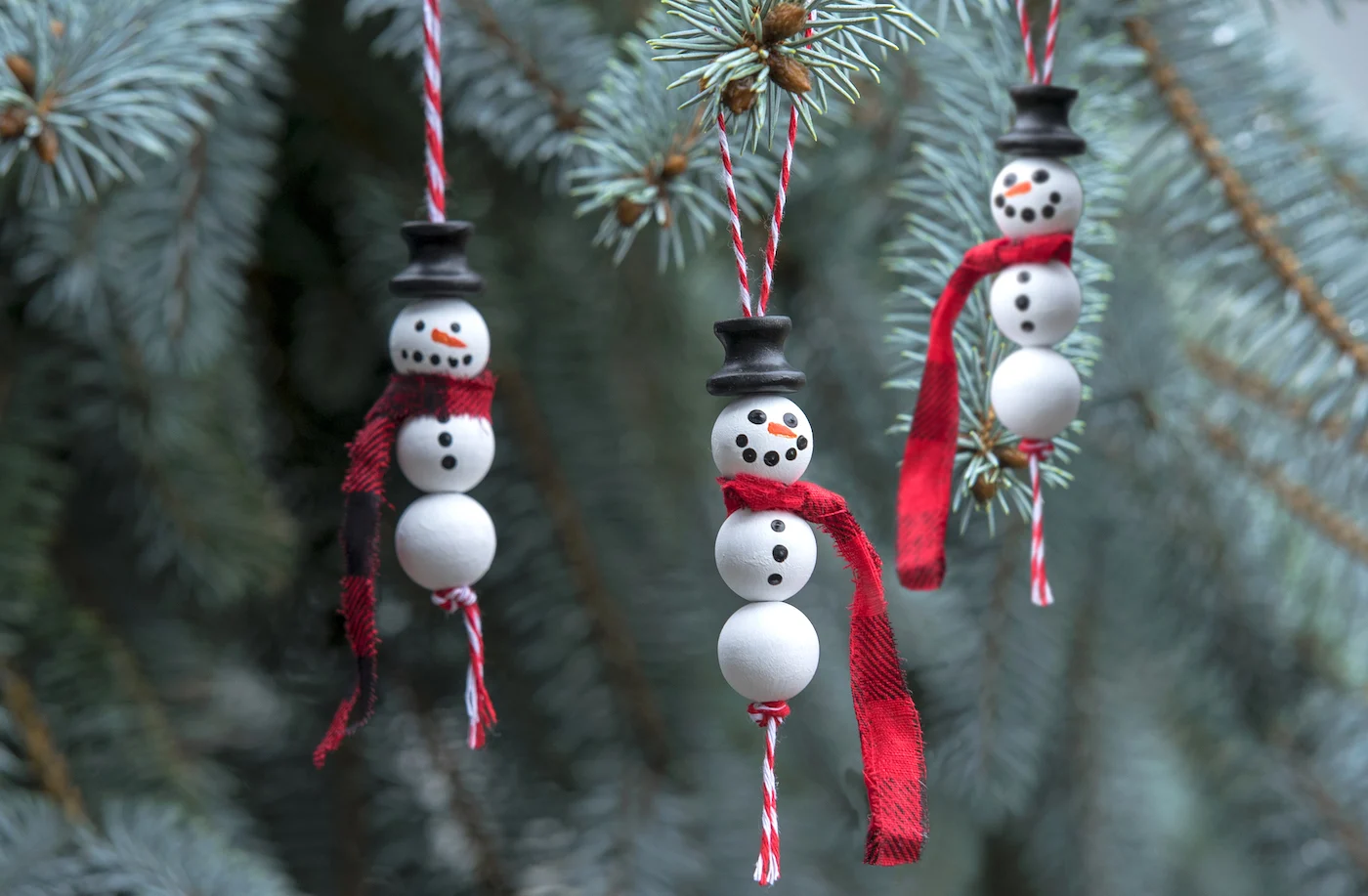 Now that I've made one snowman? I'll be honest, I want to make a bunch more. Aren't they cute?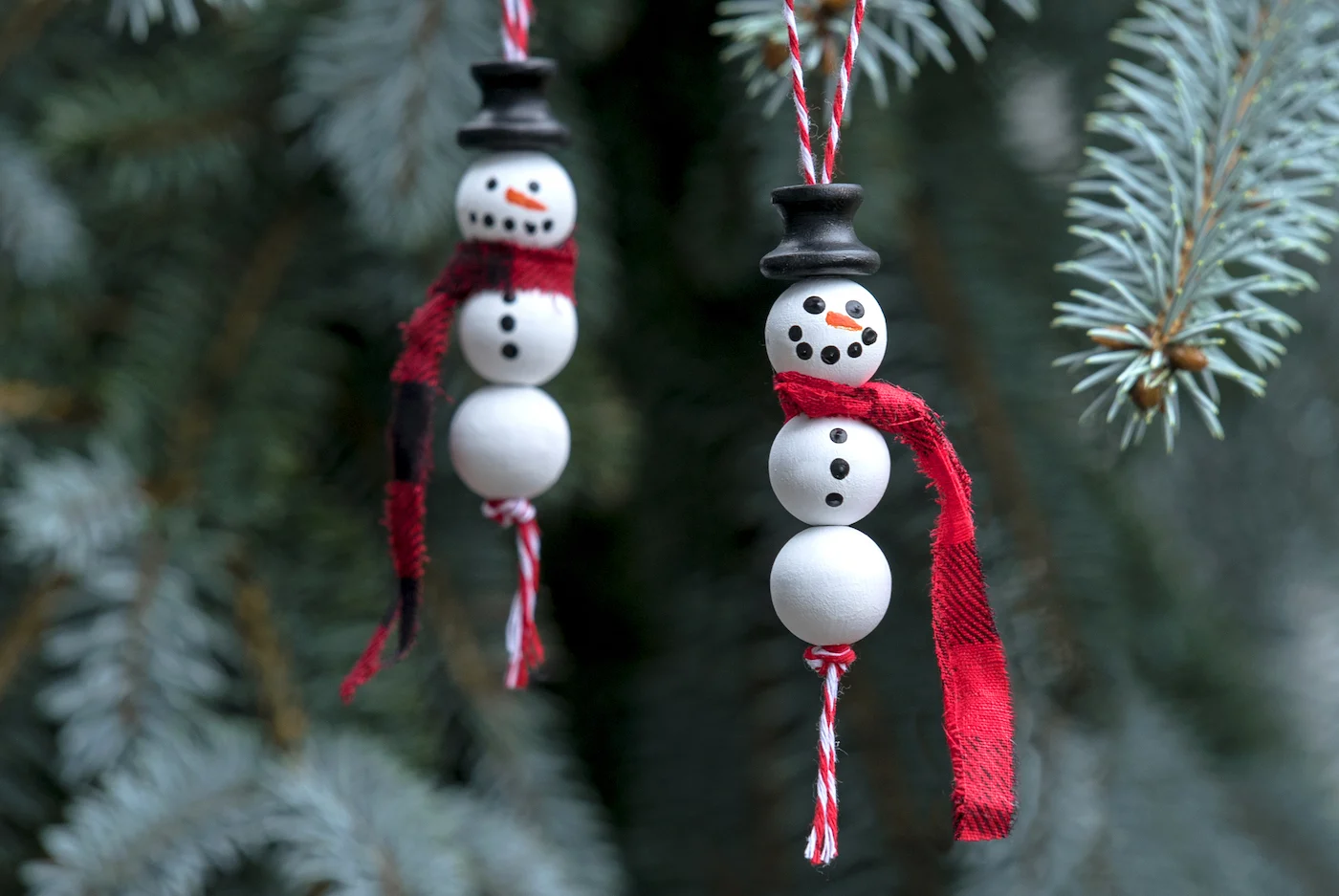 ---
If you enjoyed making these wood bead snowman ornaments, I'd love for you to check out these other projects: