Learn how to decorate wood snowman candlesticks that are perfect for winter! Use paint and craft supplies to make this simple project.
Skills Required: Beginner. You're going to be painting, sanding, and adding some embellishments to your candlestick. It's pretty easy, even if you've never crafted before.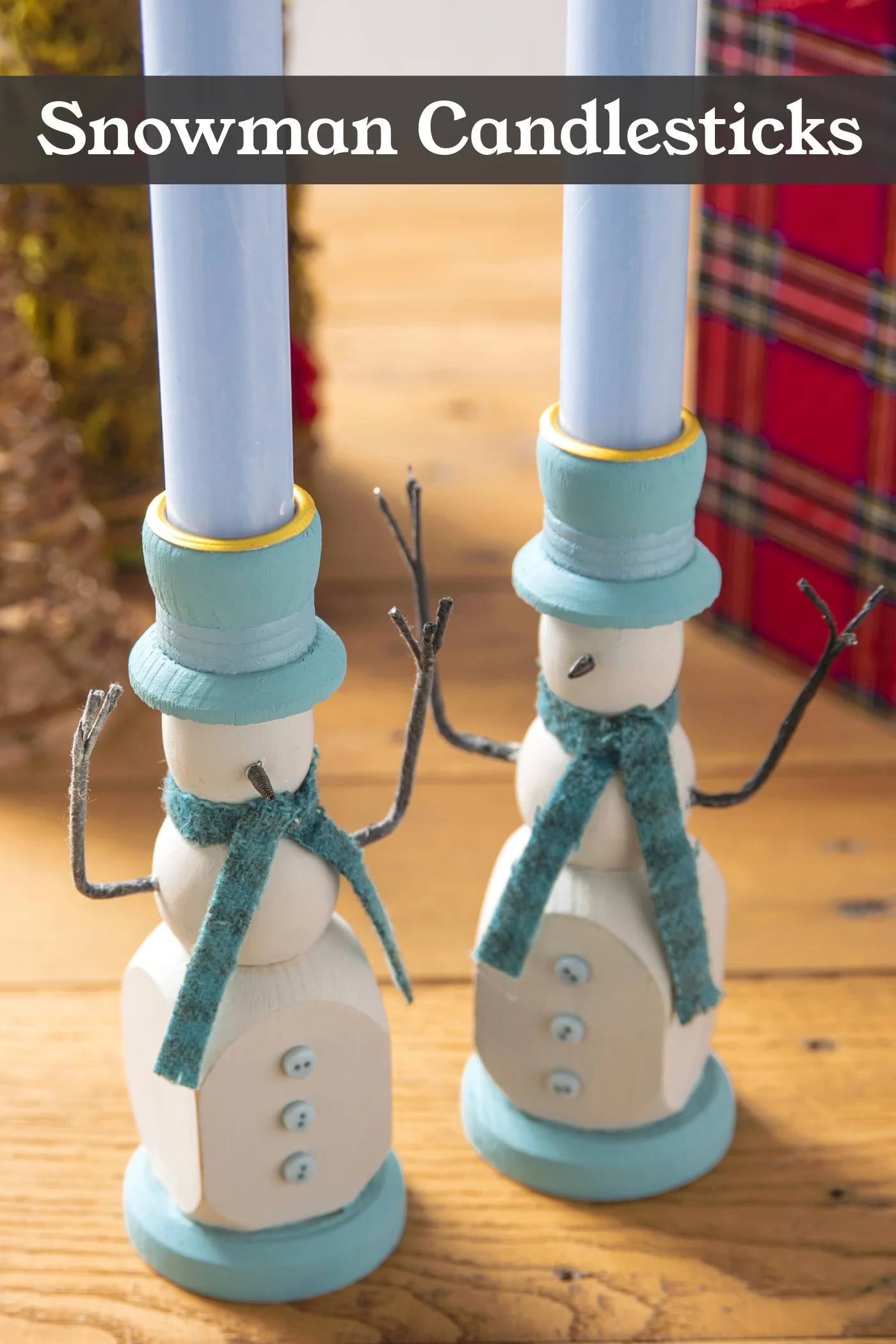 I was shopping for wood surfaces recently, which I do on occasion to see what's out there that's new. Sometimes I get inspired by colors or an idea . . . but I also get inspired by surfaces too.
I might find a wood box in a unique shape, or a frame style I've never seen, or a candlestick shaped like a snowman.
And whatever the surface is, I have to have it. And decorate it.
Which is exactly what happened with these snowman candlesticks! I found them, needed them immediately for my winter decor, and new exactly what I was going to do with them.
One thing I really love about winter crafts is the ability to use various shades of blue. Blue is one of my favorite colors (along with orange), and I love it all the from aqua green to navy. I love any chance to use my blue paints!
I want to show you how I decorated these guys so you can use the same idea on your own candlesticks. Or any snowman themed surface you like! You can also get the exact same ones I used in the supply list below.
Learn how to paint and decorate these candlesticks with simple craft supplies. Here's how they were made.
Wooden Snowman Candlesticks
Gather These Supplies
Unfinished wood snowman candlesticks – they also have ornaments!
Chalk paint or acrylic paint – medium gray, light gray, blue, and light blue
Felt – color of your choice
Buttons – small, 3 per snowman
Paintbrush
Scissors
Sandpaper
Craft glue
Hot glue gun and glue sticks
Sand and Basecoat
I bought two candlesticks because everything is better in twos! To begin, you'll sand away any rough spots on the wood and remove sanding dust.
Start by basecoating the candlesticks in medium gray. Just paint the body of the candlesticks, not the hat or base.
Paint one medium layer, let dry, and then paint another layer. Let dry completely.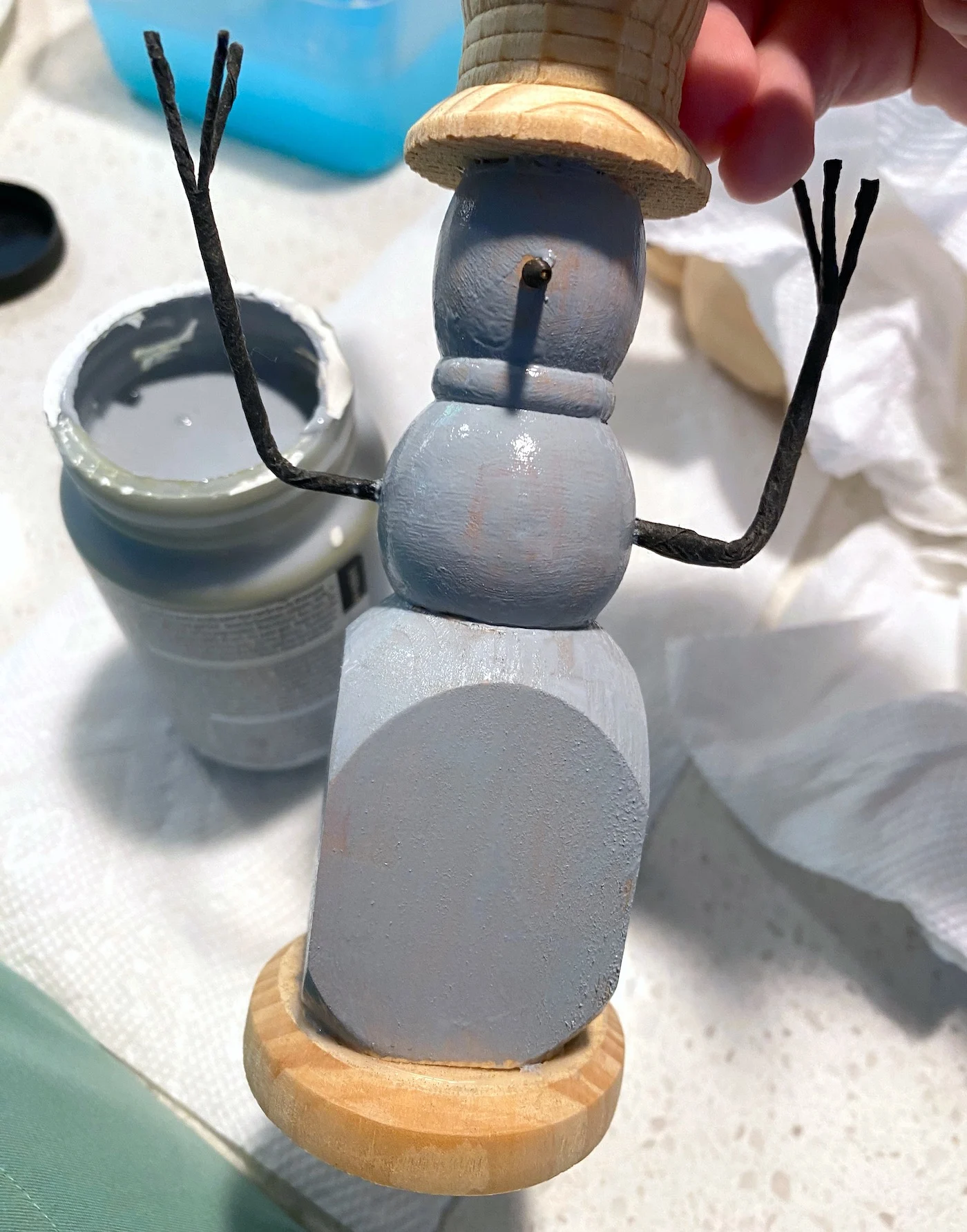 Paint and Distress
Chalk paint is really easy to distress! To do it, paint a layer of lighter gray over the top of the medium gray.
Paint a coat and let dry completely. Depending on how well it goes on, you might need a second coat. Let dry.
After the second layer of paint was dry, I painted the hat and base with a steel blue. LOVE how the colors come together!
Once dry, I sanded the edges and midsection of my snowman to distress. You can see the medium gray peeking through the light.
To finish off the hat, I painted the hat band with a lighter blue. Yasssss.
You'll see in the image above, my snowman candlestick has a scarf. This was something fun I decided to add and it was really easy.
Add the Scarf and Buttons
I decided my dudes would need scarves, so I searched through my felt collection and found some awesome scraps! This felt is wool felt, not poly (like you get from the kids' section of the craft store). It's also printed. You can usually get similar on Etsy (I got mine from a craft fair).
Cut a thin strip – 1/4″ or so – and tie around your snowman's neck.
Trim off to the final length.
You'll need to use the hot glue gun (or good craft glue) to make the top of the scarf stick down so that it looks like it's tied. Glue down and let set.
At the last minute I decided to glue some buttons on the front of each candlestick – three small ones to be exact – to finish my guys off. Didn't they turn out cute?
Did you love this winter craft idea? Let me know in the comments! I also hope you'll check out these other projects: