Get matching family Christmas pajamas for a unique and fun holiday! These jammies are perfect for holiday cards and family photos. 15 different styles!
Yesterday I shared my favorite matching family pajamas, and those were for "all-occasion." Today I'm sharing my favorite family Christmas pajamas with you, and I have to admit, the Christmas pjs are pretty fun.
Maybe the most fun thing in the world! If you are looking for the best family holiday pajamas for Christmas photos or just for fun, I've found them for you.
Before I go into my favorites, eBay and Amazon have great deals on matching family Christmas pajamas that are constantly changing. So look at my options below but also check out what they have to offer! Now check out my other favorites below.
Best Family Christmas Pajamas
These awesome family holiday pajamas feature Elf on the Shelf! I love the red and white candy cane stripes. These are perfect for Christmas family photos . . . especially when you throw a few stuffed elves in for good measure.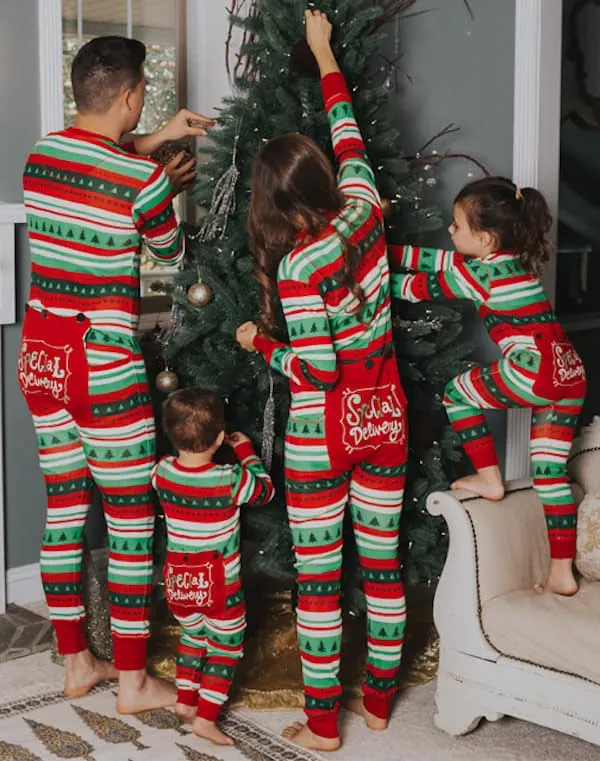 I think anything with a butt flap is hilarious. Maybe it's just my immature sense of humor? I love the colorful, fun stripes of these Special Delivery Flapjacks. These would make for a hilarious family photo!
I feel that these Star Wars pajamas are the greatest in the history of the world! You've got Yoda, Darth Vader, and R2-D2 all making an appearance on this fabric. These matching family Christmas pajamas are perfect for geek families like mine. You can see their current offerings and other character collections here.
If you want some family Christmas pajamas that are still fun but not necessarily the traditional red and green, these peace on earth fair isle pajamas are pretty cool. Mom and dad get pretty cool shirts – plus you'll all be sporting polar bears and penguins and is there anything better than that?
These elf matching Christmas pjs are fun for the whole family – even the dog. If you decide to go for this look you HAVE to get the matching slippers. You can even get plus size for women and big and tall for men! Love that this set comes in so many sizes.
What first drove me to these merry mix Christmas pajamas was the knee patches. I'll pretty much buy anything with knee or elbow patches, especially when they are stripes involved and even more so when the item is colorful.
So what I'm saying is these are a done deal for me. There are other options for colorful kids outfits in the collection too.
These candy cane striped Christmas pajamas are a little more formal without being completely stodgy. The green piping adds a little bit of fun! The featherweight fleece means I would wear these babies all winter.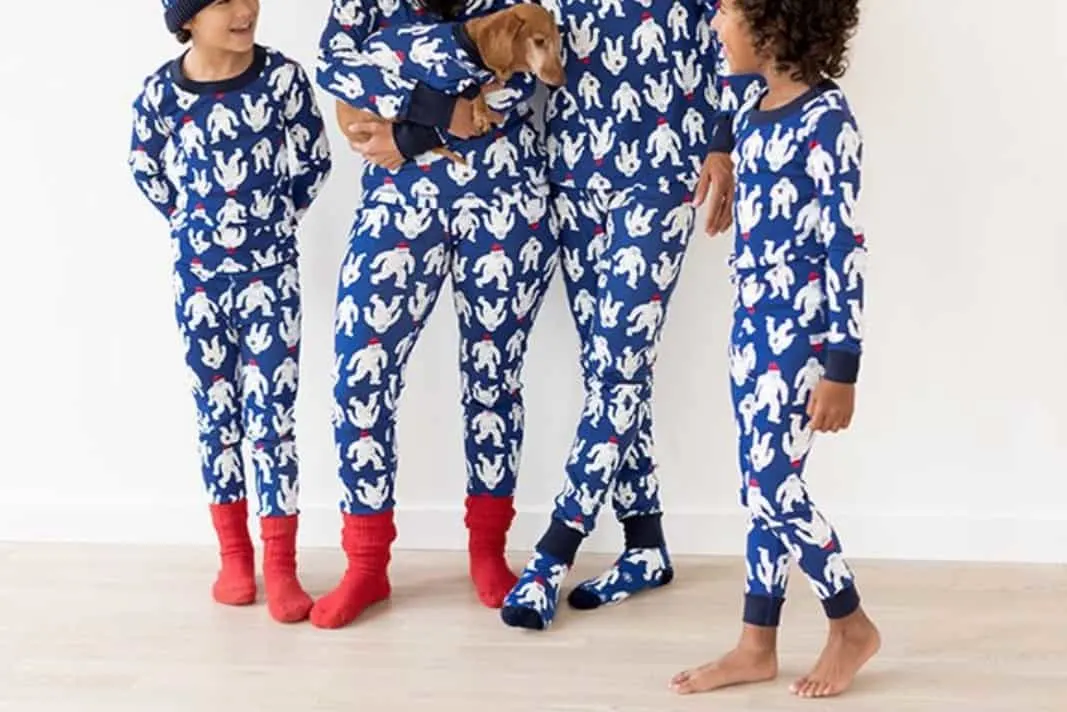 I'm pretty crazy about these yeti family pajamas – mostly because they are blue but also because the yeti is wearing a little Santa hat across some of the pattern. I live in Bigfoot country, so I think I need a pair. I also need the matching socks and hat that go with the jammies because hello?
I'll be honest, I always loved the way that Snoopy decorated his dog house with Christmas lights! These Peanuts matching Christmas pajamas are absolutely fabulous – and will look so colorful and fun in your holiday photo.
If you are looking for family holiday pajamas on a budget, you're going to love these Bear Family Pajamas! You can get the Papa Bear, Mama Bear, and Baby Bear all with the same softball style shirts and plaid pants. Did I mention I love plaid this season?
Dr. Seuss will always play a special part at Christmastime with "the Grinch!" I think it is – at least, it will always mean the holidays to me. That's why I'm kind of obsessed with these Grinch family pjs. They just scream "Christmastime is here!" There's another version of just pants here.
I'm hooked on gnomes, which is why these gnome sweet gnome pajamas need to get into my shopping basket! There are hats, pants, shirts, and gowns for everyone – also slippers and socks – I want it all.
The red car/truck with a Christmas tree on top is such a popular theme this year, and you have the opportunity to add it to your family Christmas photo with these cool red car Christmas pajamas. The fleece pants have a very stretchy waistband (mucho importante for all those holiday treats).
Santa Claus has come to town – and he brought candy canes! These Santa Claus matching pajamas have a gnome-like quality, and because of that, I love them.
This is one of those sets that truly provides Christmas pajamas for the whole family. In the Santa Family pajamas collection you get to choose between a variety of tops and pants (I'm loving the Hugh Hefner type robe for all sizes and especially dad). There's also a nightgown too. It's a pretty cute set!
---
Now that I've shared my favorites, let me know your favorite matching Christmas pjs in the comments!
Disclosure: this post may contain affiliate links. I may receive a small commission for any purchase made through my links at no additional cost to you.