Learn how to have a Star Wars birthday party without blowing your kid's college fund! Here are my favorite tips and ideas including an R2-D2 DIY cup.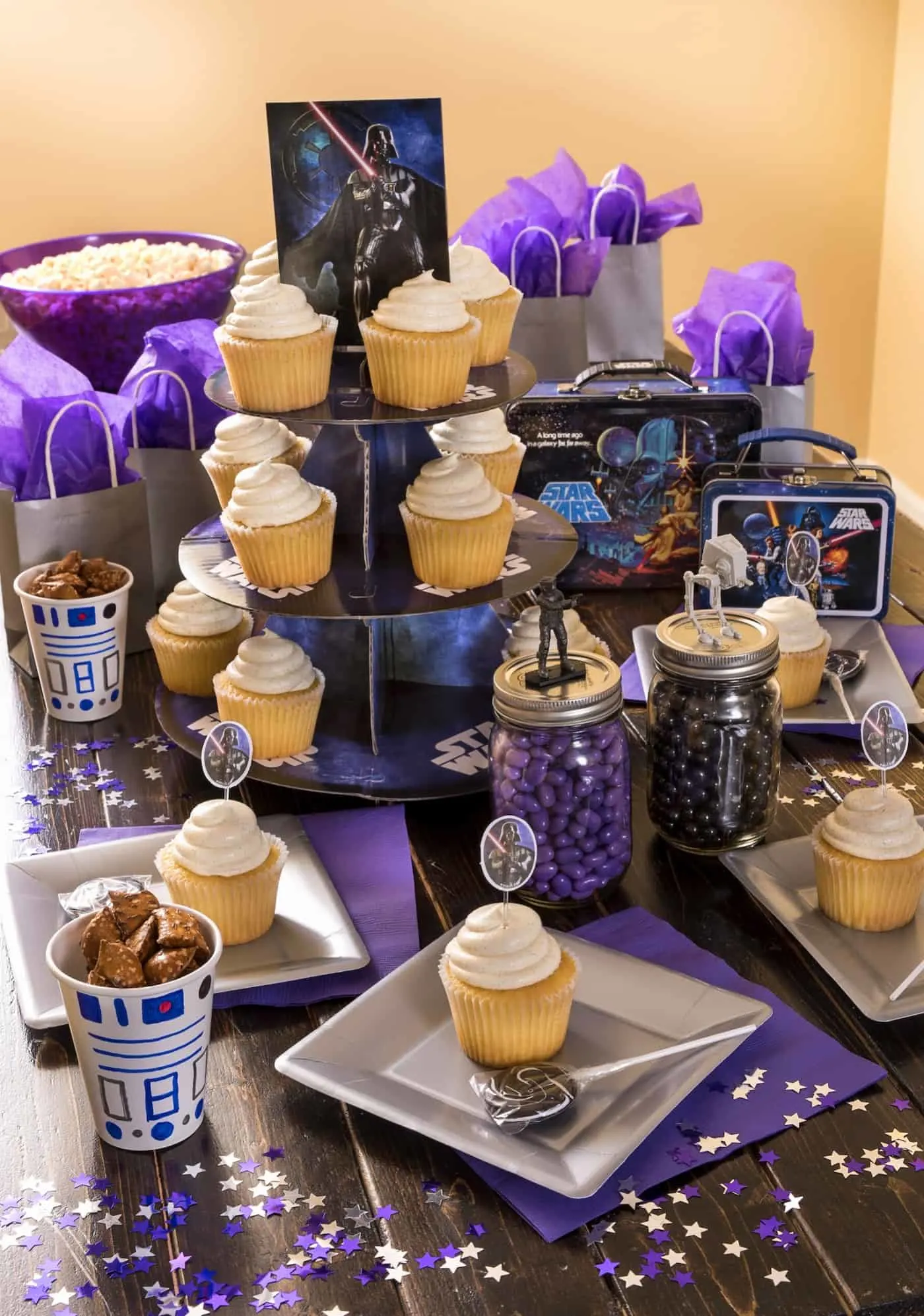 Are you trying to figure out how to have a Star Wars birthday party for your child and not spend their college fund to do it? I have some ideas for you!
Awhile ago I was charged with putting together a Star Wars birthday party on a budget, which I wholeheartedly jumped into. Because everyone that knows me knows I love Star Wars. A lot!
While I didn't have an "exact" budget for my party, my goal was to keep it as inexpensive as possible – but still look good. This just includes the decor and not the food . . . that varies so much, though I will include tips on food.
Of course these prices may be different for you based on what you have, or what coupons or sales are available at the time of purchase. This just gives you an idea of the possibilities, and could work for any type of party you want to have: Disney Princesses, Paw Patrol, etc. Let's start with cost!
Star Wars Birthday Party
Here's what I used or bought for my Star Wars birthday party:
Star Wars Cupcake Stand, Party City – $7.99 (and it's cheaper on Amazon!)
Star Wars Cupcake Toppers, Party City – $2.49
Star Wars lunchbox, on hand
Star Wars small plastic figures, Target, $4.99
Purple popcorn bowl, Party City, $2.99
Mason jars, Michaels, $1.99 each
Silver favor bags, Michaels, $5.99 for 13 bags
Purple tissue paper, Dollar Tree, $1
Silver plates, Dollar Tree, $1
Purple napkins, Dollar Tree, $1
White cups, Dollar Tree, $1
Star confetti, Amazon, $2
Sharpies, on hand
That's a total of $34.43 WITHOUT including coupons! With food, you can easily keep your party under $100. Now for my tips!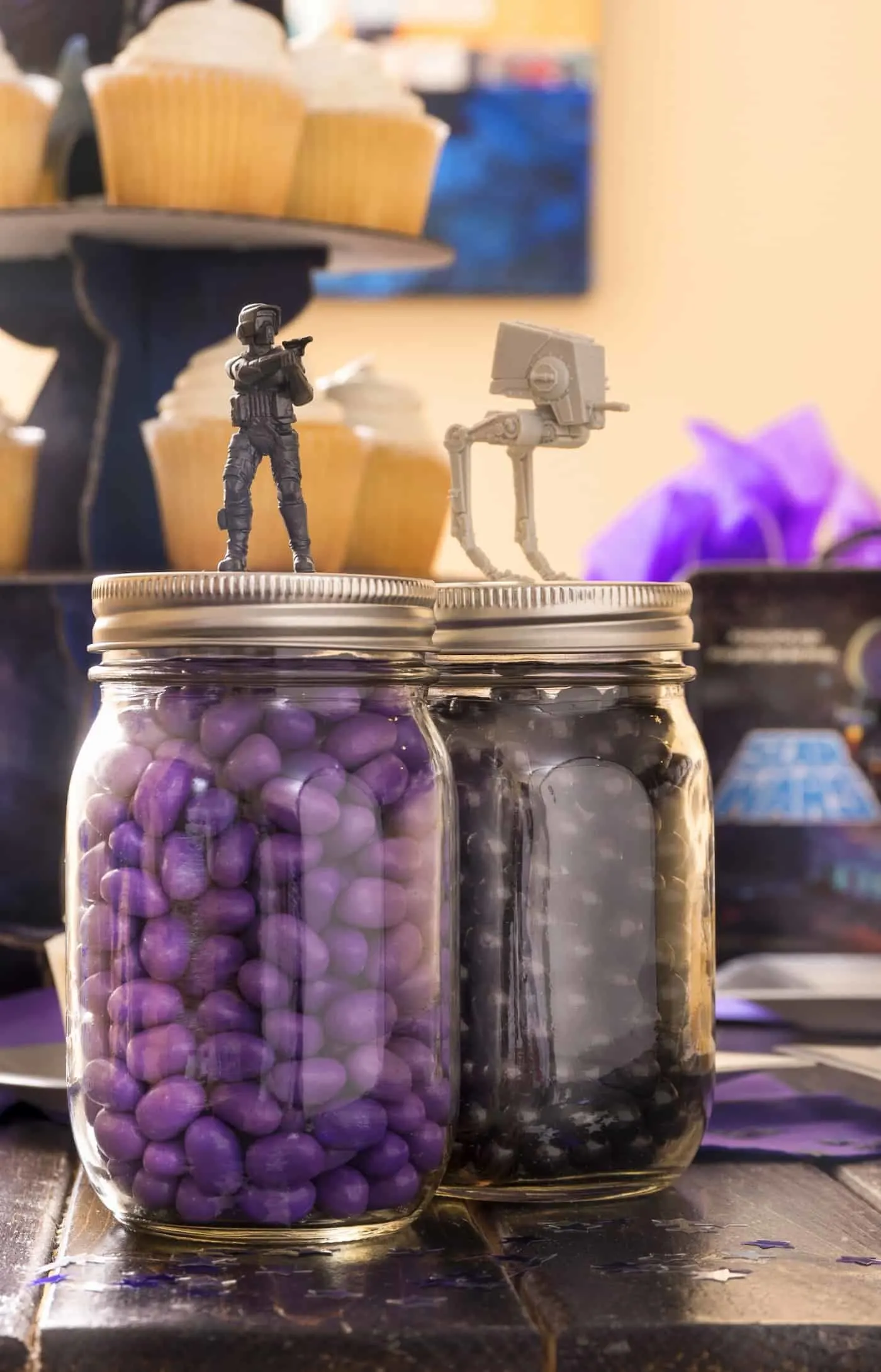 1. Focus on a few key "themed" pieces. I think some are under the misconception that you have to buy the Star Wars (or whatever theme) plates, banners, balloons, etc. Don't do that.
There's no reason to! I mean, if you want to spend a lot of money you can do that – but I opt to get a few things that actually include the theme (like my cupcake stand and cupcake toppers) and then coordinate the rest with the proper color palette. The themed pieces is where I splurge.
2. Use stuff you already have. This is a continuation of #1. If your child wants a Star Wars themed birthday party, chances are they already own some Star Wars items.
For example: my lunchboxes (which aren't the only Star Wars goodies I own). Grab the items, wash them so they're clean for the table, and use them in your party decorating. Why not?
3. Plan ahead. The way to save money on any party is to plan ahead. You have to give yourself some time to find the deals online, grab a sale, download an app with coupons, etc.
If you go the night before and buy all of your supplies, you're probably going to run into some roadblocks and end up spending more. I didn't make any special trips to buy my supplies.
I went to the stores I needed to go to while I was running errands and doing other things (ie., the Dollar Tree is right next to my grocery). You might not be able to avoid special trips, but it's definitely something to consider.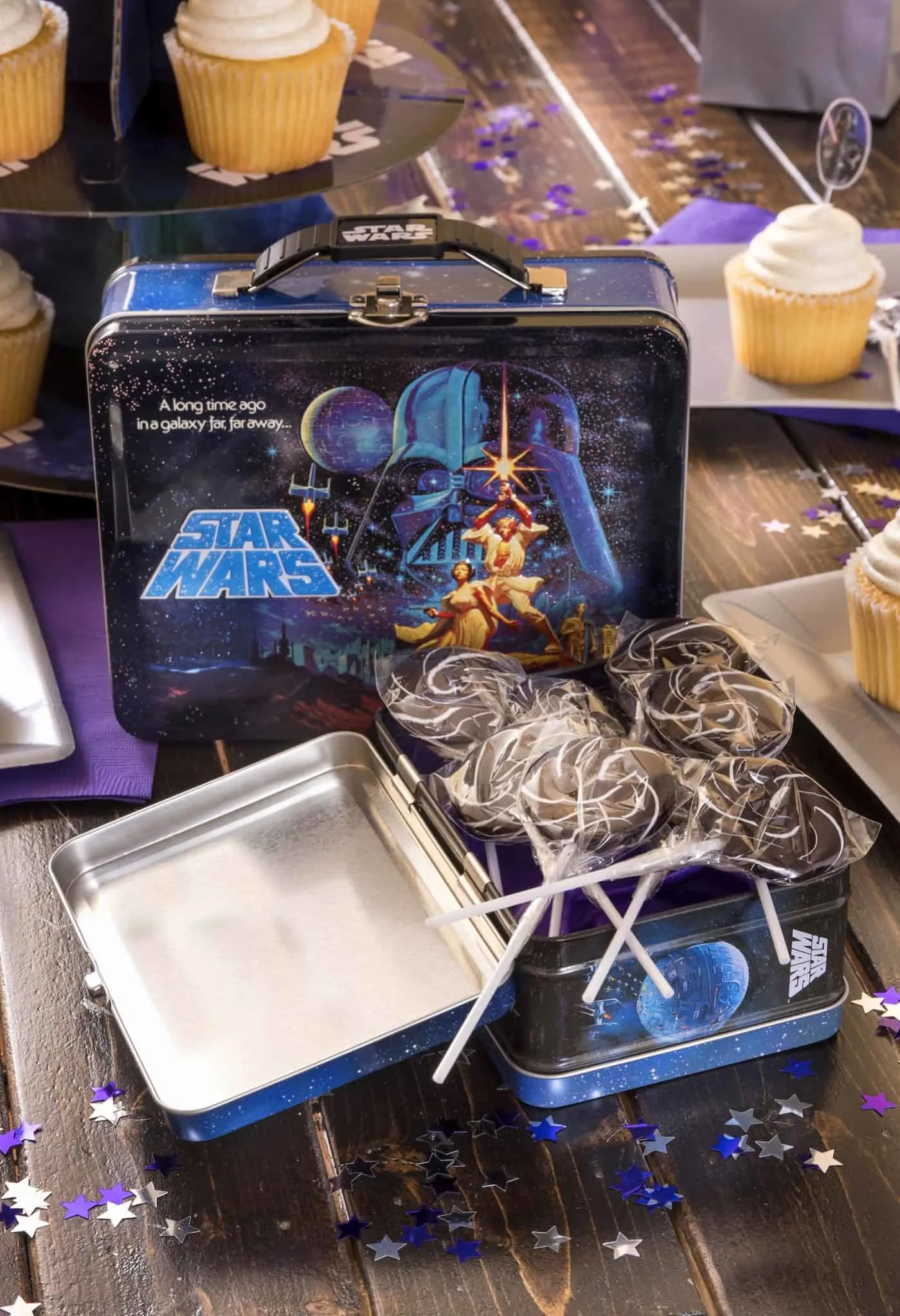 4. Hit the dollar store. The Dollar Tree was my best friend for this party because I was able to buy the coordinating supplies I needed in their fantastic party section!
Keep in mind – a lot of the dollar stores have limited patterns – in fact, my Dollar Tree pretty much just has your standard colors of party items including white, black, and silver. But hey . . . that's okay!
I just wanted purple and silver stuff, and that's exactly what I was able to buy. Oh, and my white cups. If you have simple requirements, you'll find what you need at the dollar store for cheap.
5. DIY some stuff. This is a DIY blog, so of course I'm going to suggest that you should make some items. I did two fun and simple DIYs for this party.
I glued Star Wars figurines to the top of mason jars (and you can bet I'm going to use those again for something else!). Then I made my own R2-D2 cups, which I'm going to share with you at the end of this post.
Another idea I had for DIY? Grab some of your children's toys and take pictures of them on a plain background. Blow up the images and hang them or create a banner. Wouldn't that be fun?
6. Keep the food simple. I just bought coordinating cupcakes for my shindig and some popcorn to show you a sample, but honestly I'd do basics from Costco were I to buy more.
I'd buy food with white frosting and either leave it or use Color Mist to create the look I want. Bake your own cake OR if you don't feel comfortable with that, buy a sheet cake in white and use the Color Mists and stick some (washed) figurines in it. No reason to buy "themed" food or a decorative cake unless you want to splurge!
7. Send digital invitations. No reason to even purchase them, and you're reading the blog of someone who likes old school invitations. Having said that, if you are trying to keep costs down, this is the place to do it. I have free Star Wars invitations here.
Those are all of my tips! Now are you ready for a fun DIY I did for my Star Wars birthday party? Check out my R2-D2 custom cups. I just grabbed some Sharpies from my collection and white cups.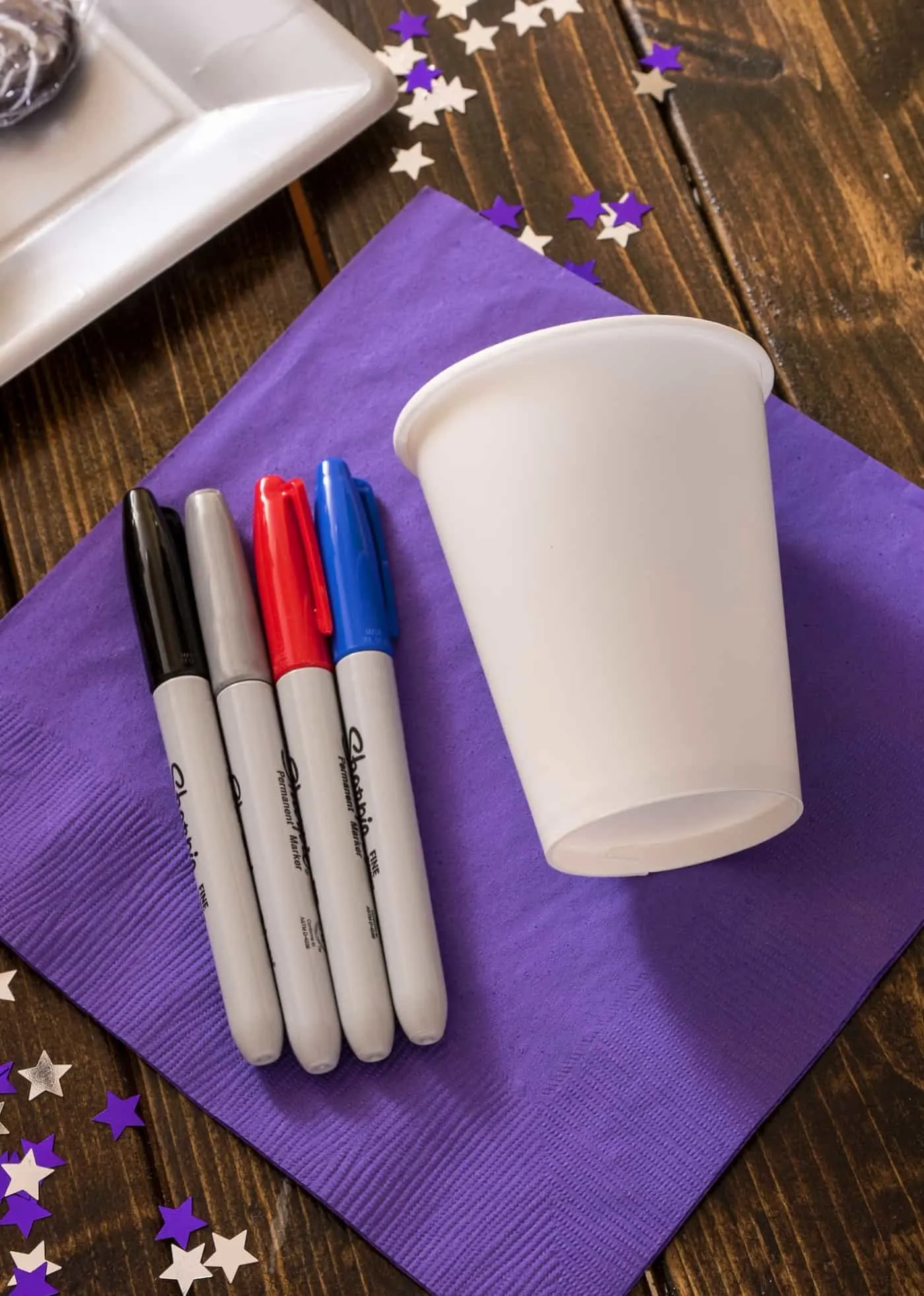 If you don't have the right colored Sharpies for R2-D2 . . . draw another character! I just thought R2 would be easy since it's a lot of straight lines and boxes.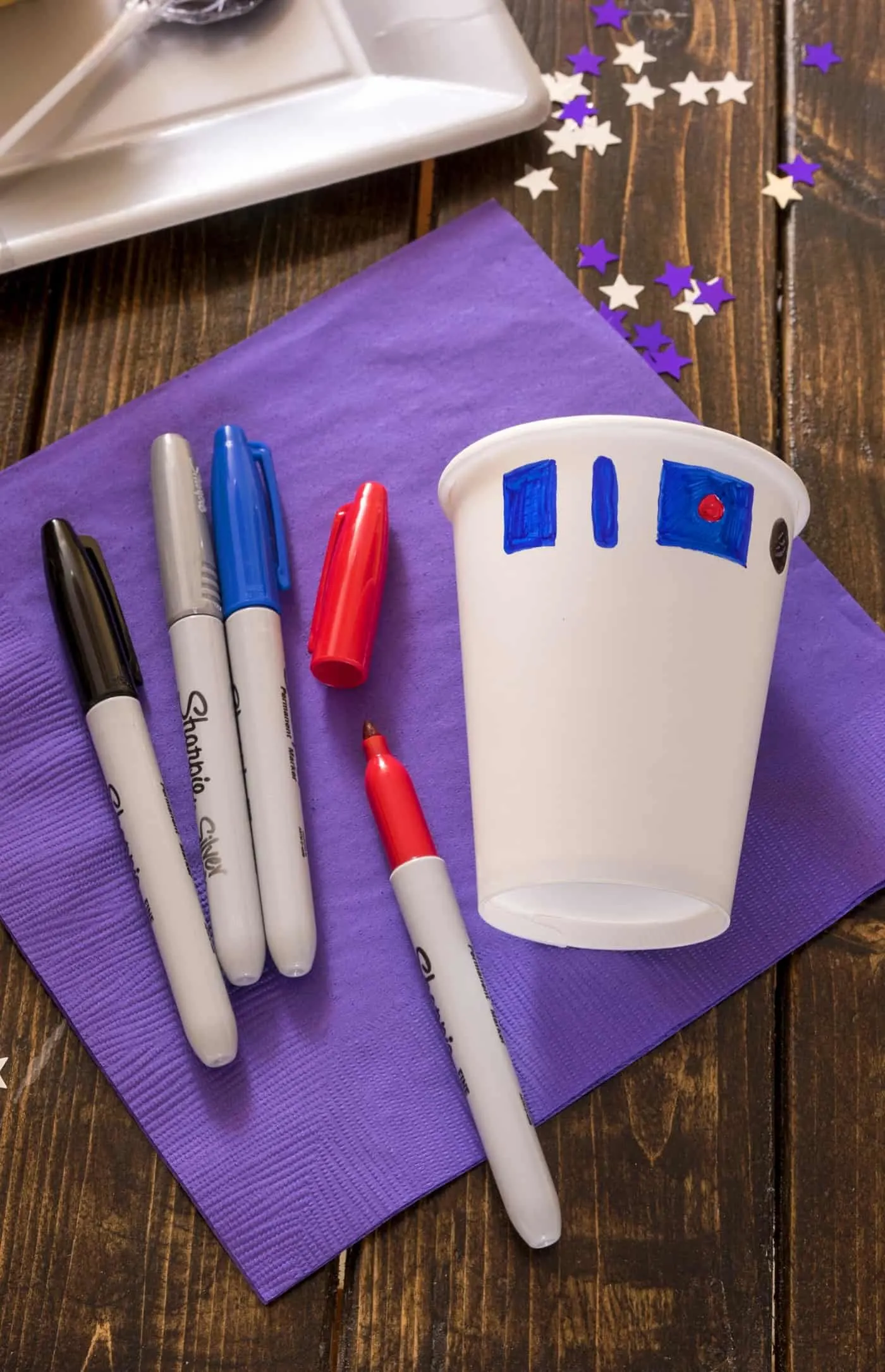 All I did was look up R2-D2 online and draw some of his basic details – I'm no artist, and my hand isn't that steady. It's okay. This is a kid's birthday party, not a test for art school.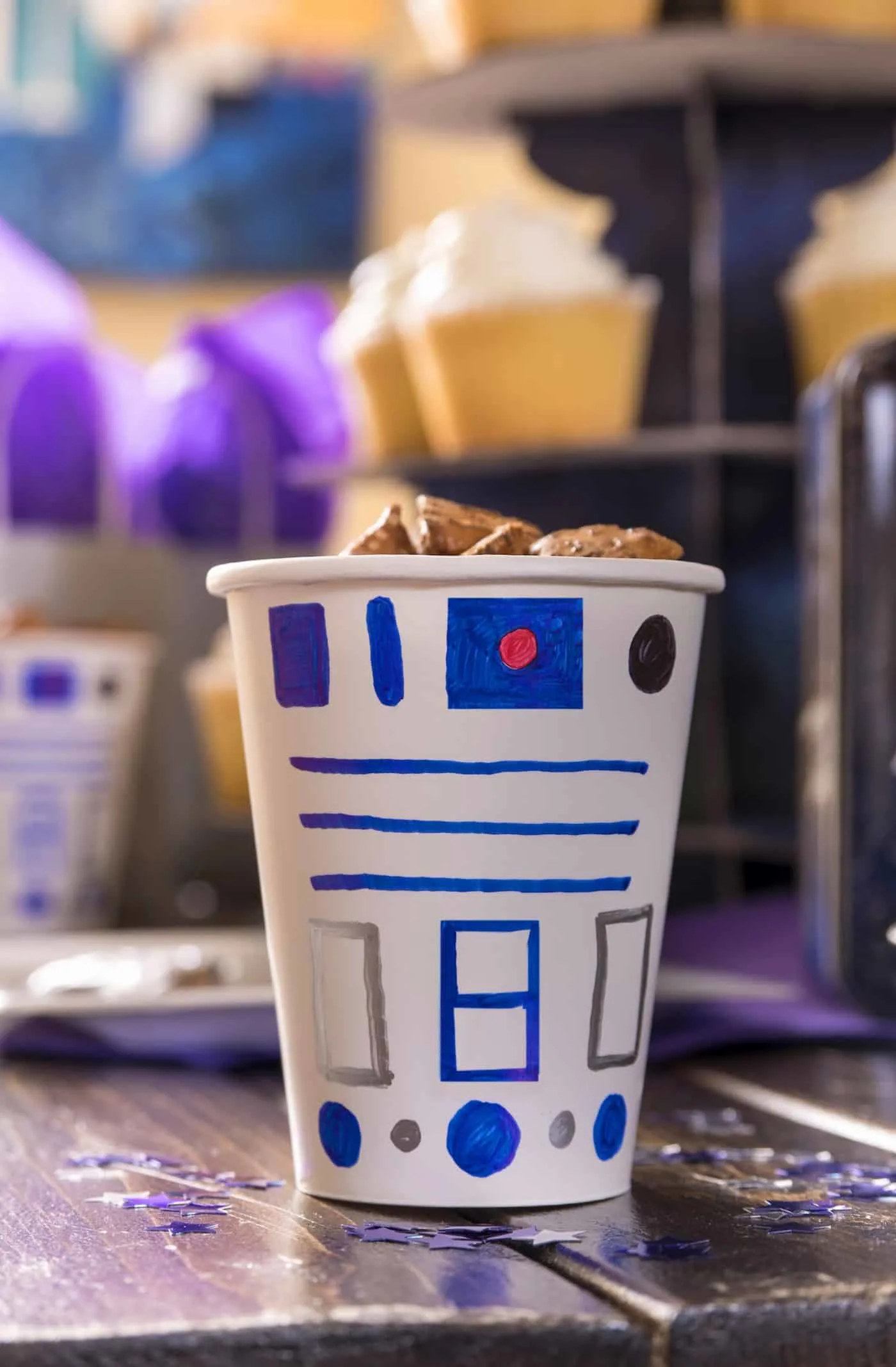 And done! It took me just a few minutes per cup. Sit in front of the television and draw, and you'll be done before you know it. You can use my cup as your design if you just want the basic idea of an R2 unit.
Are you ready to host a Star Wars birthday party? And on a budget? Let me know! I'd love to hear your tips in the comments! And if you need additional ideas, I highly suggest checking out these articles: