Whether you're a rogue leader or a member of the dark side, you're going to love these awesome Star Wars party recipes! There are over 20 favorites here.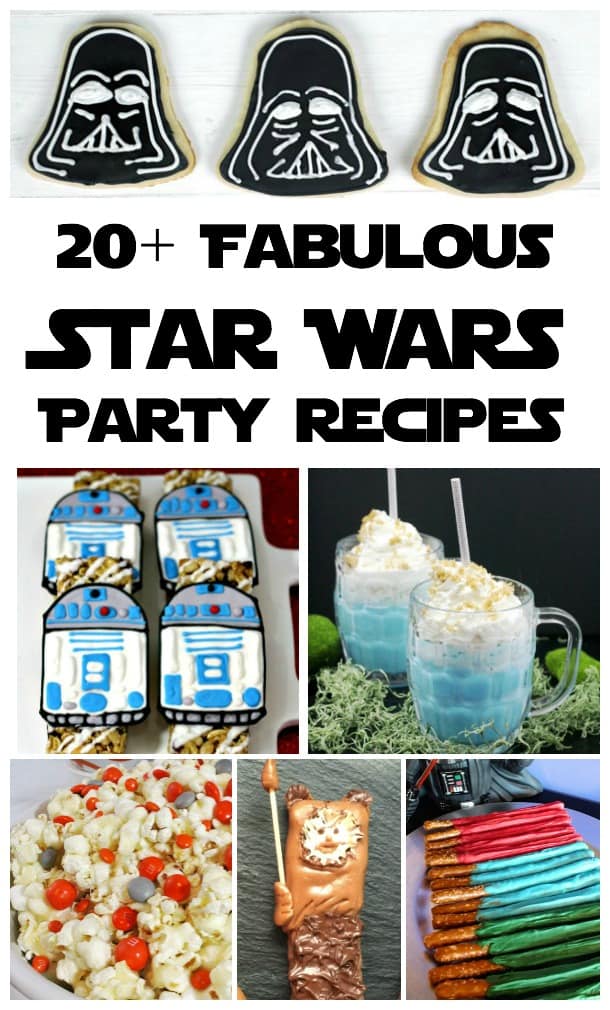 For Star Wars fans, May 4th is a fun holiday to celebrate everything Star Wars. It's a great excuse to re-watch the movies, especially the newest in the series, "The Force Awakens."
Make fun Jedi crafts with the kids. Dress up like your favorite characters. But what do fans really love? Neat foods that incorporate their fandom! And that's exactly what these 20+ Star Wars party recipes do!
Food is such a versatile medium to work with. With a little imagination and creativity, you can turn anything into a fun treat.
I've gathered together 23 yummy foods and beverages that will make May the Fourth a total hit with your family – and for your intergalactic Jedi party!
Imagine your child's face lighting up as they open their lunch box to see an Ewok granola bar or a couple lightsaber pretzels. These little details will create incredible memories for your kids.
You know you're already the coolest parent on the block, making some Star Wars food for your family will only solidify that ranking!
Star Wars Party Food
Mom Endeavors – No-Bake BB-8 Cookies
Totally the Bomb – Ewok Granola Bars
Arts Crackers – Death Star Pizza
Kids Activities Blog – Darth Vader Cookies
Nerdy Mamma – Rogue One Vegan Toffee Ice Cream
Two Sisters Crafting – Lightsaber Pretzels
The Joys of Boys – BB-8 Pancakes
Midget Momma – Chewbacca Cocktail
Baking Mischief – Poe's Jacket Sugar Cookies
Yummy Crumble – Jawa Brownies
She Knows – Yoda Cake Roll
Tall Mom Tiny Baby – Star Wars Dark Side Trail Mix
Pink Cake Plate – Star Wars Inter-Galactic Chocolate Bark
Mom Foodie – R2D2 Granola Bars
Days of a Domestic Dad – Mickey Mouse Stormtrooper Cookies
Bread Booze Bacon – Death Star Whoopie Pies
Redefined Mom – Yoda Breakfast
Desert Chica – BB-8 Cupcakes
Arts Crafts and Family – Easy Stormtrooper Cupcake Toppers
Tastefully Frugal – Death Star Oreo Truffles
Two Sisters Crafting – BB-8 Popcorn
Totally the Bomb – Bantha Cocoa
Midget Momma – Kylo Ren Party Drink
---
Which of these Star Wars party recipes will you try first? For more Star Wars ideas, visit these other posts: