Get unique thumbprint cookie recipes that are perfect for bake sales or a Christmas cookie exchange! These thumbprint cookies are easy and delicious.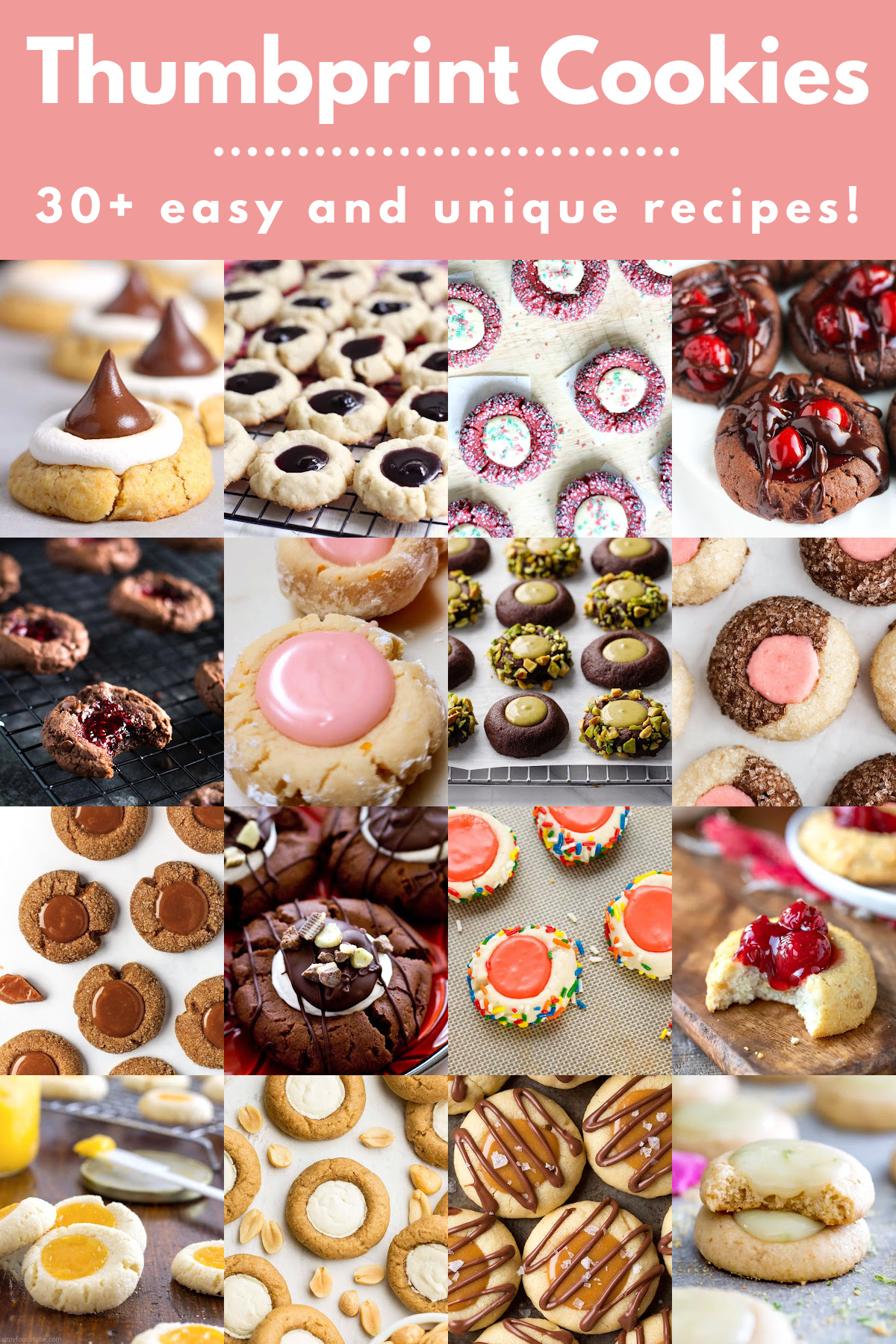 I have really good memories of cookies. Before you think to yourself, "well yeah – everyone does" – let me explain a little.
I'm sure many of you are familiar with Pike Place Market in Seattle. Even if you've never been there, you've probably heard of this open air, downtown market. It was almost closed at one point, but was saved in 1971.
So what does that have to do with cookies? One of my earliest memories of cookies is at the Three Girls Bakery in the market. When I was little, my mom took us to Pike Place all the time, and I ALWAYS got a thumbprint cookie.
My favorite cookie is officially called the "chocolate drop," and it's a shortbread cookie with a well of chocolate frosting in the middle. And when it comes to thumbprint cookies, it's one of my favorites!
Due to my long history with and love of this type of cookie, I decided that this year my Christmas cookie exchange is going to feature one type exclusively: thumbprint cookie recipes.
If you've never had one before, get excited. These classic cookies are made with (typically) a simple cookie dough, rolled in sparkling sugar, and then indented and filled with your choice of "stuff!"
SO! I'm excited to share some recipes with you today! Just a few questions I wanted to address – these are commonly asked questions about this type of cookie:
How do I stop my thumbprint cookies from spreading?
You'll want to chill the dough for about 30 minutes to an hour to prevent them from spreading. Chilling them hardens the fats in the dough and they don't melt as quickly.
You should also place dough onto cooled cookie sheets (let them cool between batches).
How do you store thumbprint cookies?
Store your baked thumbprints in an airtight container at room temperature. There's no need to refrigerate. These cookies last for about a week before starting to dry out and crumble.
They will keep in the freezer for up to one month.
---
Are you ready to get some awesome thumbprint cookie recipes? Keep reading and then let me know your favorite in the comments!
Thumbprint Cookie Recipes
Make some delicious thumbprint cookies with one of these tasty recipes! There are standard options and then some very unique ones too!
---
If you enjoyed these tasty cookies, I'd love for you to check out these other posts: