You'll love these cute FREE printable monster-themed lunch box jokes. This is an easy idea to surprise kids and remind them that they're special!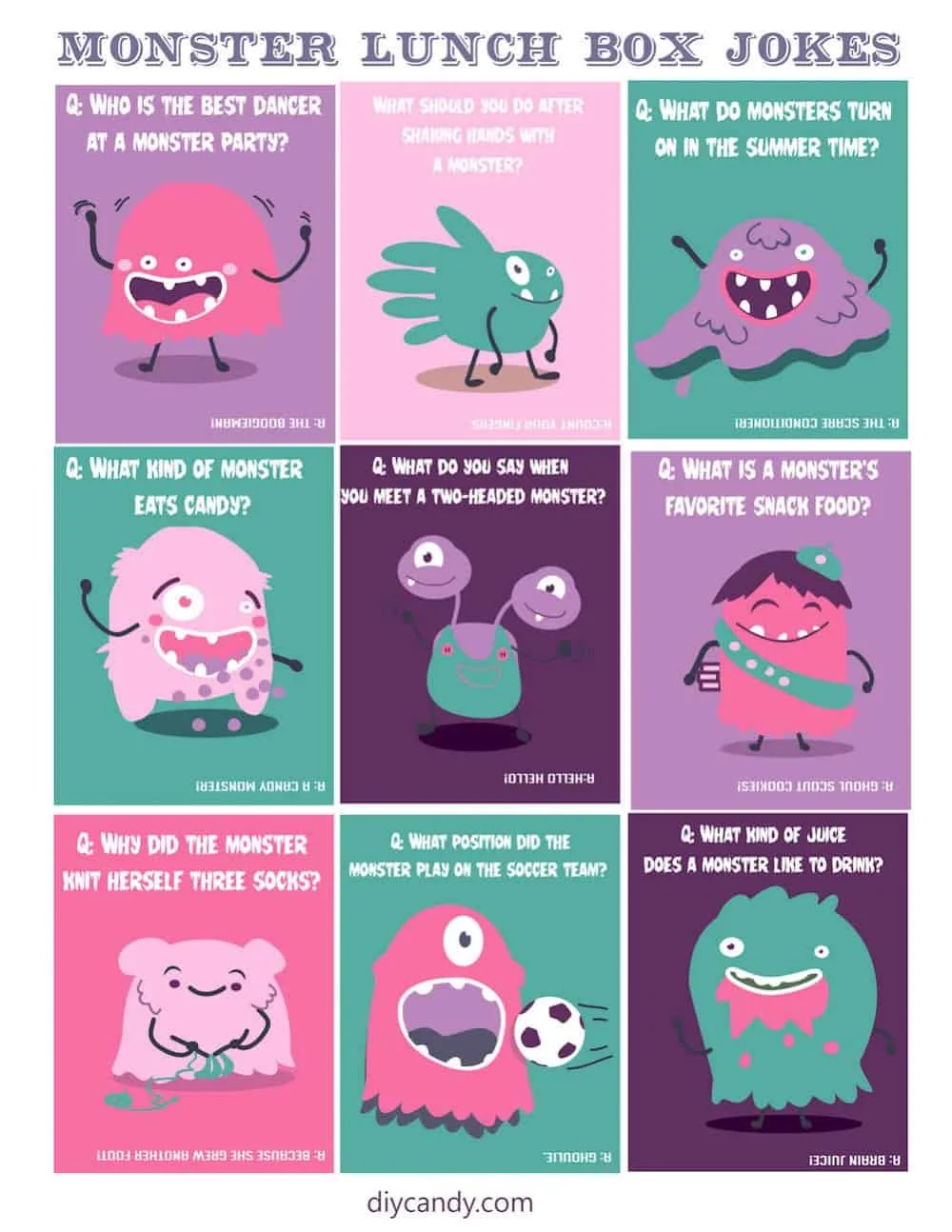 Is your little getting ready to go to school for the first time? He or she might appreciate some lunch box jokes! I would have when I started Kindergarten. I don't remember my first day of school, but my mom tells me a fun story.
Apparently I had my name tag, backpack, lunch, new supplies . . . and my mother put me on the bus that morning. I knew I was going to school.
What I didn't know was that Kindergarten lasted more than one day.
Yep – I thought Kindergarten was only one day, and that once I went, I didn't have to go back. Apparently I had a fit the next day and my mother had to take me back to school kicking and screaming!
Knowing myself as I do, I can entirely picture this scenario. Sometimes I ignore the obvious . . . and I'm stubborn. I guess I've been that way since I was five!
But back to the lunch box notes. If your child has a hard time at school (maybe they think they aren't going back?) or even if they love it and you just want to include a cute surprise in their lunch box, grab these notes! The free printable is below.
Download your free monster lunch box jokes here!
Please note they are for personal use only – but other than that, print away and have fun! *Click the link, then click the Download box at the top right to download. Give it a minute to process and open. You do not need to sign up for an account.
If you choose to print these off, may I recommend the following supplies that I swear by:
PAPER – For notes I like to use cardstock sheets, also called brochure paper on occasion. I like to print on smooth white thicker paper, about 65 – 80 lb. I want my printables to feel more substantial and nice. I also feel the colors look better on thicker paper.
PAPER CUTTER – My Fiskars SureCut Deluxe Paper Trimmer is also Amazon's Choice with 4.8/5 stars, if that means anything. I absolutely love it and use it for everything. I always have replacement blades too.
SCISSORS – I use Fiskar Titanium, no exceptions. I'm addicted to these scissors and won't let anyone else use them. They DO cut better than other scissors, in my opinion. I've been using the same green-handled ones for years and they are still unbelievably sharp!
---
Are you looking for other lunch box notes? Scroll down for some additional options I think you'll like:
Note: our printables are for personal use only; please do not share or redistribute. Thank you!