Make this super easy birdhouse key holder that is not only functional but cute too! Add your favorite saying to the front like "home sweet home."
Skills Required: Beginner. This is easy even if you don't have that much crafting experience. You'll be doing some basic painting (tracing lines with a brush). You'll also be attaching a little hardware.
Hi, it's Vanessa from Tried & True and I'm back with another fun craft project! I'm the kind of person who misplaces everything and honestly, I couldn't even tell you the number of times I've lost my keys.
Hopefully not any more, though! I made this super easy little birdhouse key holder to help me keep track of them. Fingers crossed!
DIY Key Holder
You can make this birdhouse in just a few simple steps. You're going to write a saying on the front of the birdhouse, then paint it. Then you'll attach a hanger and paint the roof. Finally you'll add the cup hooks on the front.
Learn how to make this project below.
Gather These Supplies
Decorative Wood Birdhouse
Paint
Hook Screws
Small Saw Tooth Hanger
Pencil
Tool Set
Liner Brush
Choose a Birdhouse and Hooks
Step One. Gather the few supplies you'll need to make your own DIY key holder. I found this little decorative wood birdhouse in the dollar section of Target but I've seen them available tons of different places.
Paint the Saying on the Front
Step Two. Use a pencil to write in the words "Home Sweet Home" on the front of the birdhouse. Erase and correct as you need to.
Use the liner brush to trace over the letters with paint. Let dry before continuing.
Add a Hanger
Step Three. If your decorative birdhouse doesn't already have one, add a sawtooth hanger to the back of it using your tool set.
Paint the Edges and Roof
Step Four. Add some more paint to the edges and roof of the birdhouse. Or if you're artistically inclined, paint some cute birds on the sides. Your options to customize are completely open!
Let completely dry before moving to the next steps.
Add the Hooks
Step Five. Take a couple hook screws and insert them in the front. Depending on the strength of the wood, you may have to drill a pilot hole first. My wood was soft enough that the screws went in without too much effort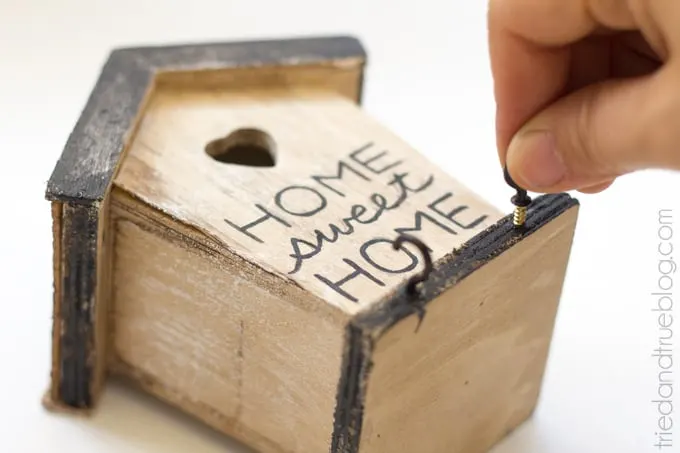 And that's it! I'm really hoping that having this little birdhouse to store my keys will help me remember where they are. If all else fails, at least my birdhouse key holder will look super adorable hanging on my wall!
Stop by Tried & True to check out some of my latest projects! If you enjoyed this birdhouse key holder, I'd love for you to visit these other cute ideas: