This DIY carpet deodorizer REALLY WORKS! You don't need to buy anything with chemicals – this carpet freshener uses just two ingredients. Great for homes with pets.
We have a brand new home and brand new carpet – yet we still use carpet deodorizer. Why? Because we have two pets. Pets that love to go outside.
And while we wash them regularly, it rains here a lot in the Pacific Northwest, and that sometimes causes a doggy smell to occur. That's when we bust out the carpet freshener.
I've found that vacuuming alone doesn't always work, even with a fabulous vacuum that cleans well. Sometimes you need a little something extra to battle those odors! Steve recently purchased a name brand carpet odor eliminator (basically a carpet powder) and used it, but it gives me a big headache. I hate the smell.
All Natural Carpet Freshener
I decided it was time to make my own DIY carpet deodorizer with natural ingredients. I totally support having a house that smells good and not like wet dog, but I needed something that didn't give me a headache.
This was the happy medium. Not only that, but I got my baking soda (the main ingredient!) at Costco for just under $7 for a 13.5 pound bag. Score!
Baking Soda on Carpet?
Can you put baking soda on carpet? Absolutely. There's no reason to think it would stain or ever do anything weird, though if you feel like it might be an issue, do a test in a small area.
The brand of baking soda in your DIY carpet deodorizer doesn't matter so much. We used Arm & Hammer from Costco, but we also have a generic brand pictured in our process shots (that I use for baking). Any pure baking soda will work.
Is DIY Carpet Deodorizer Safe for Kids and Pets?
Yes. Your kids and pets are going to be fine. The ingredients in your carpet powder are pure baking soda but also essential oils. These are both safe if applied to the carpet and then vacuumed up.
You do need to remember that baking soda is a leavening agent. When it's combined with heat in your pet's stomach in large amounts, it will release dangerous gasses and can cause problems and even heart failure.
If you apply this to your carpet and leave it, section off the area so that your pet can't access the mixture. My pets had no interest in this carpet freshener, but that doesn't mean yours won't.
Are you ready for the recipe?
DIY Carpet Deodorizer Recipe
Not only is this two-ingredient carpet freshener all natural (so no toxic chemicals), but it's very effective. You are going to love the smell it disperses throughout your home! Part of that depends on the essential oil you pick, but I'll leave that up to you! I'm partial to lemongrass, peppermint, and lavender – customize this recipe with your favorite!
Gather Your Supplies
You'll need pure baking soda and your favorite essential oil – and then a container to hold your deodorizer in. You can use an old plastic container that you've recycled. You can also use a dredge shaker: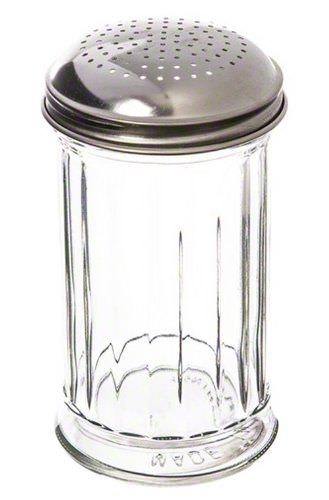 Dredge shakers come in glass, metal or plastic and have lids with holes. You just need a container that allows you to sprinkle a powder!
Step One: Fill your bottle about halfway full of pure baking soda.
Step Two: Place about 7 – 8 drops of your favorite essential oil in the container (I used lemongrass because it deters flies and bugs, and makes the house smell amazing for a long time).
Step Three: Shake the container, then repeat step one and two so that the container is full to the top with baking soda. You'll use 14 – 16 drops of essential oil total. Let the mixture sit for a day or two so the oils have a chance to spread out.
Using Your DIY Carpet Deodorizer
To use your natural carpet deodorizer, sprinkle on the carpet or rug and let sit for about 10 minutes. Then vacuum up immediately. Your carpet or rug is going to smell amazing! If you don't get all of the powder up the first time, run over the area again and again until it's gone. Your vacuum will smell great too!
For tougher odors, you can leave this mixture on the carpet up to 24 hours. This powder is especially great for picking up wet spills or grease that you haven't had a chance to get rid of. It leaves them smelling oh-so-fresh!
Will This Carpet Powder Remove Stains?
No – this is a carpet freshener – not a stain remover. Check out this homemade carpet stain remover or how to remove pet stains from carpet.
This carpet powder will soak up moisture, but it's not going to remove something that has changed the color of the carpet. I suggest cleaning the carpet first and then using this carpet freshener!
---
If you like this article, check out our amazing household cleaning tips! Just click the image below: