If cleaning isn't your favorite thing to do, check out these house cleaning tips to make your life easier. These home cleaning tips are amazing!
Bonus: at the bottom of those post, there's a video "Five Things to Clean for Spring Cleaning." It's all about cleaning your cleaning tools (fun, fun!).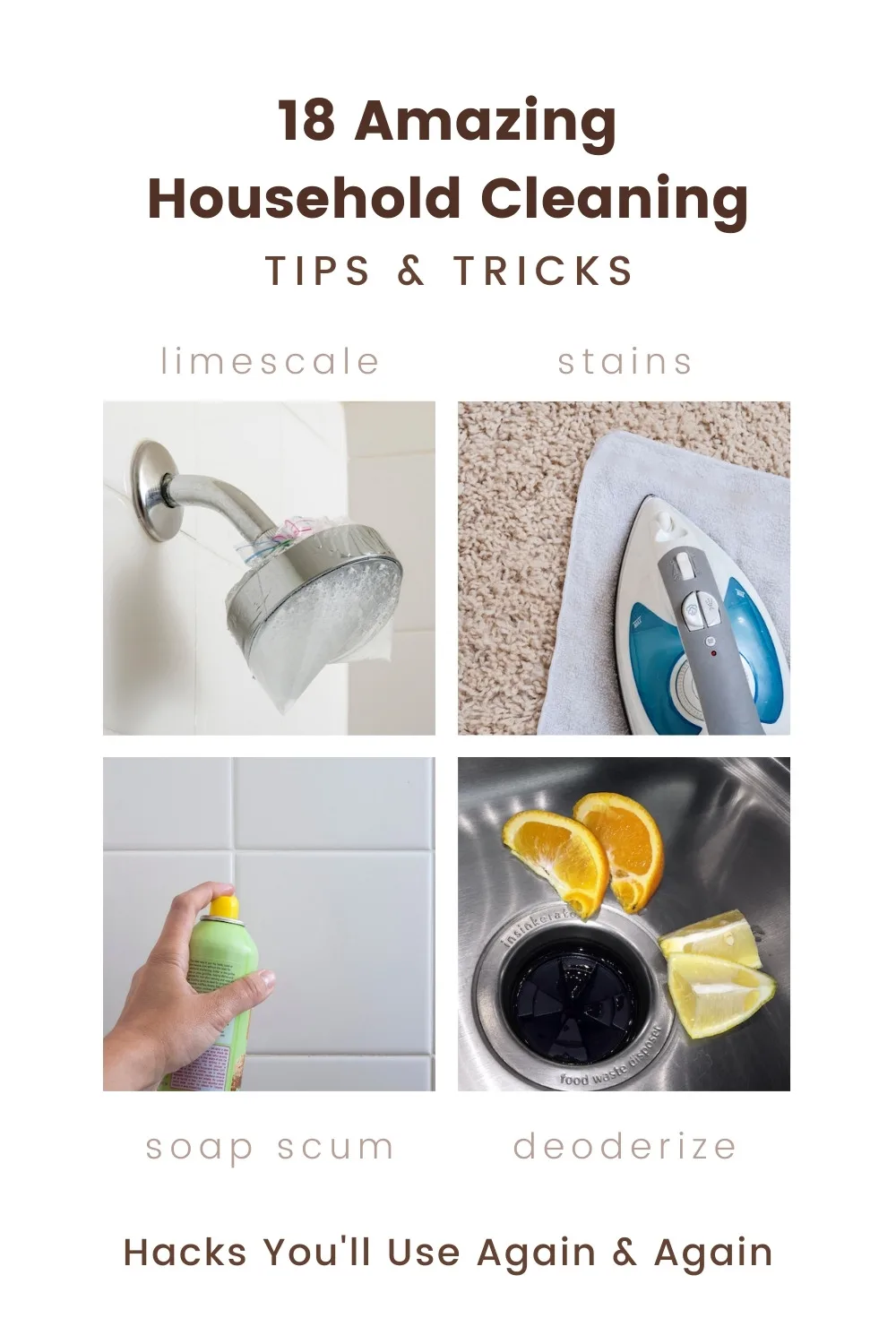 I'm going to be honest, I don't love cleaning. I think I'm the only person in the world that is truly not good at it. I like things tidy, but I'm just never sure what to do – so I need household cleaning tips.
How do I clean burners? What about shower heads? There are so many tricks and tips out there for cleaning and I had NO IDEA.
Home Cleaning Tips
If you aren't the best at cleaning either or you just want to learn some shortcuts, this round up is for you. Check out these 18 household cleaning tips – and prepare to be amazed!
PS – if you like this post, you'll probably like our recipes for homemade cleaners.
Clean Your Dusty Lampshades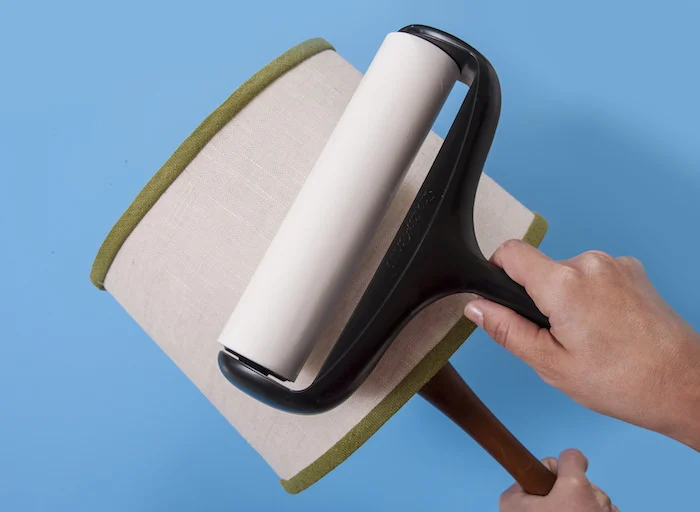 I have several finicky lamp shades that are resistant to regular dusters. Instead, I use lint rollers to get the dust off. You won't believe how well it works (I use them on the sofa and chairs too)!
Remove Spilled Paint from Carpet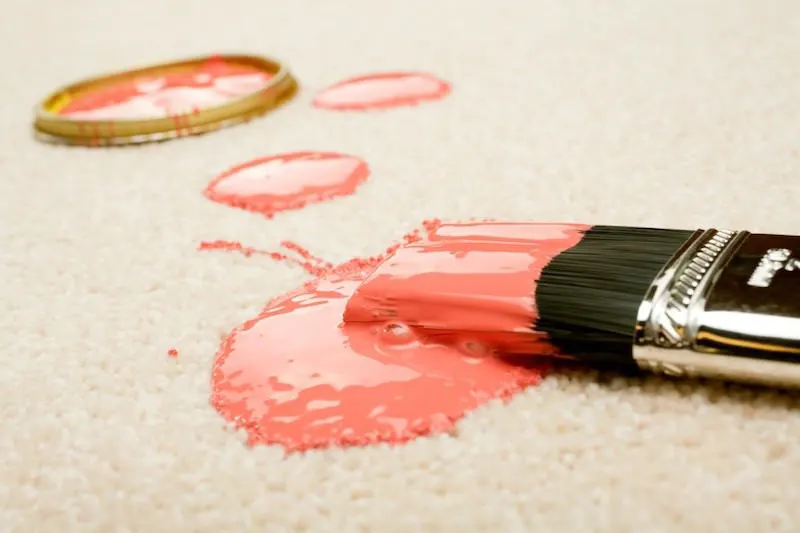 The next time you spill paint on the carpet, don't worry about tearing it all out – use this special method to get it all clean. This is one of my favorite household cleaning tips given my crafting!
Find out how to do it at This Old House
Remove Grease Stains from Clothing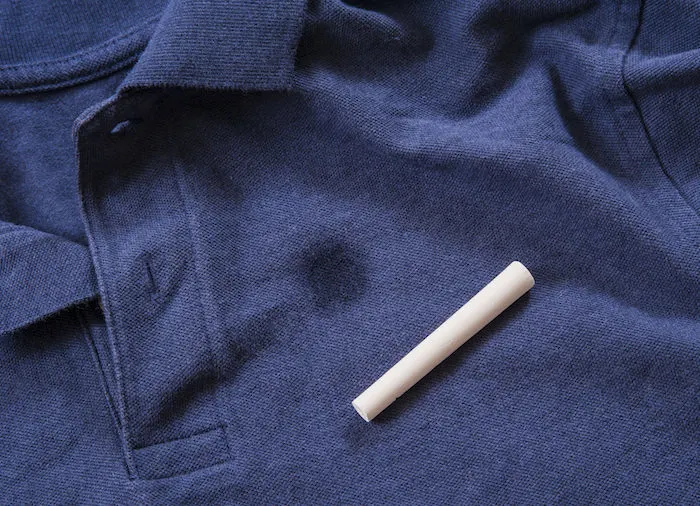 After you've dripped a little french fry grease on your favorite shirt, rub with chalk and let it soak in – then wash. It will come right out.
Clean Crayon from Your Flat Screen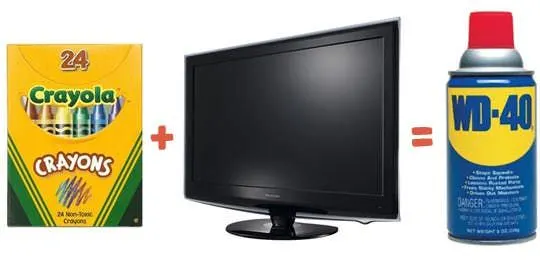 Did your child ruin your television with crayons? Never fear – you can remedy the situation with WD-40. All you need to do is apply the WD-40 to your screen and wipe off with a microfiber cloth.
You should apply the WD-40 to a towel and hold it against the screen's surface instead of spraying it directly on the unit. After a few minutes (or as long as you can hold the towel in place) buff things off with your microfiber cloth and things should come clean.
Clean Baseboards with Dryer Sheets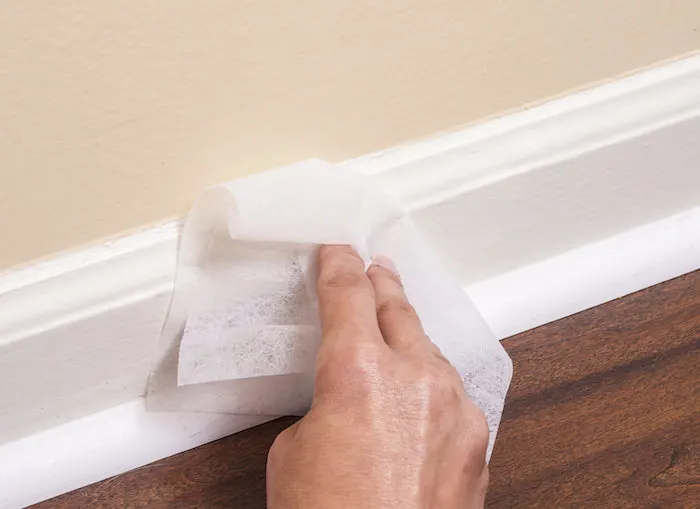 Baseboards get dusty, and the best way to clean them is to use a supply you likely already have on hand – dryer sheets! All you have to do is rub a new dryer sheet on the baseboards and it will gather the dust. Makes the room smell good, too!
How to Clean Front Load Washers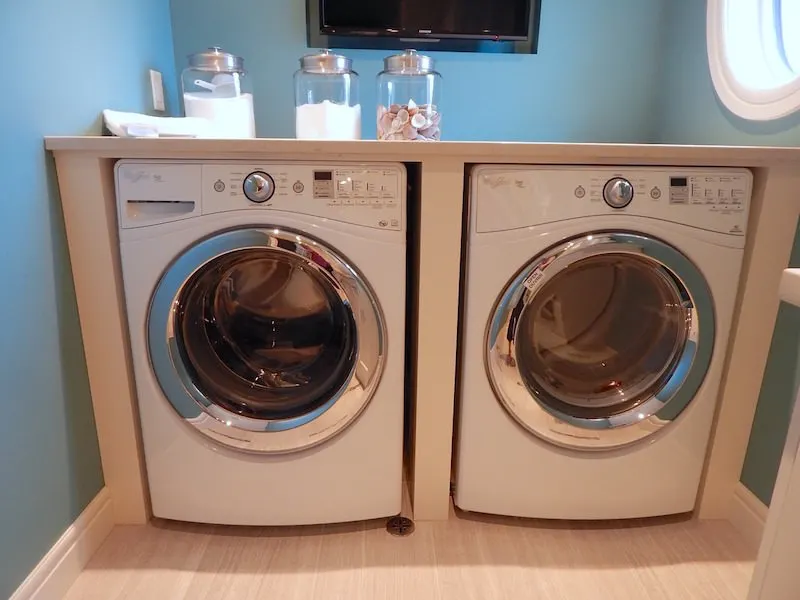 Front load washers can get moldy and smelly – find out how to resolve this unfortunate situation with vinegar and baking soda.
Clean Out Your Garbage Disposal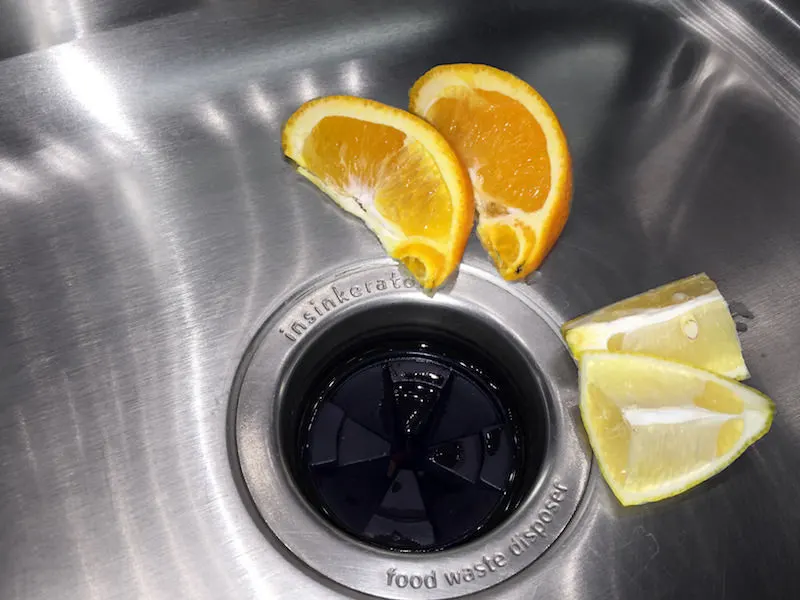 Lemons and ice cubes are perfect for deodorizing your disposal naturally. Throw them down in the disposal, turn it on, and the chunks stuck to the side of the interior of the disposal will break up. I use this house cleaning tip all the time!
Learn more at One Good Thing By Jillee
Dirty Shower Head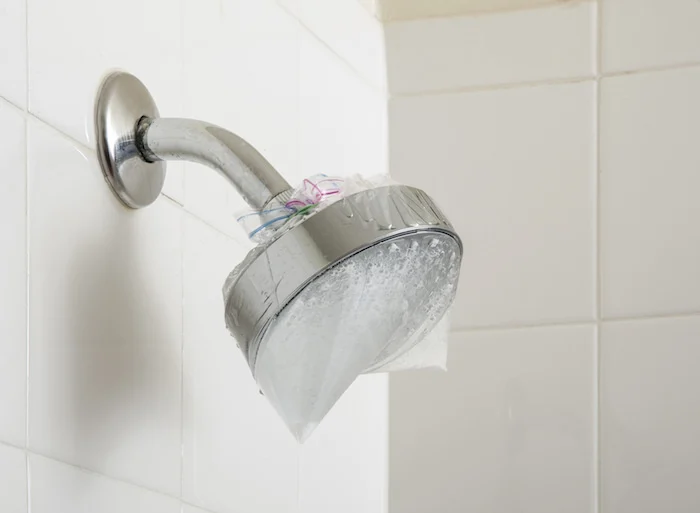 Add baking soda and white vinegar to a plastic bag, then secure around your shower head with a rubber band. Turn on the hot water to fill the bag, then leave to soak.
Cleaning Stove Burners with Ammonia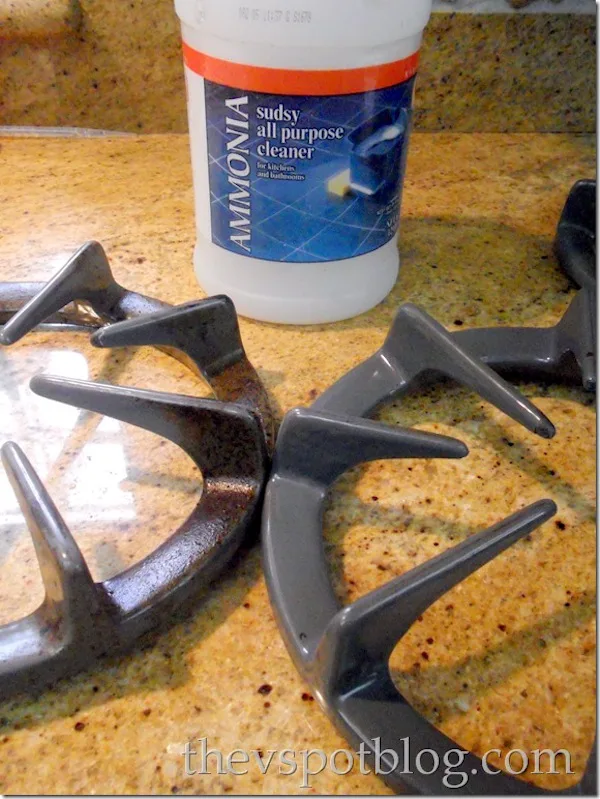 This no-scrub method of cleaning burners uses ammonia and takes a little patience (but this is one of those household cleaning tips that is completely worth it!).
See how it was done at The V Spot
Sparkling Granite with Rubbing Alcohol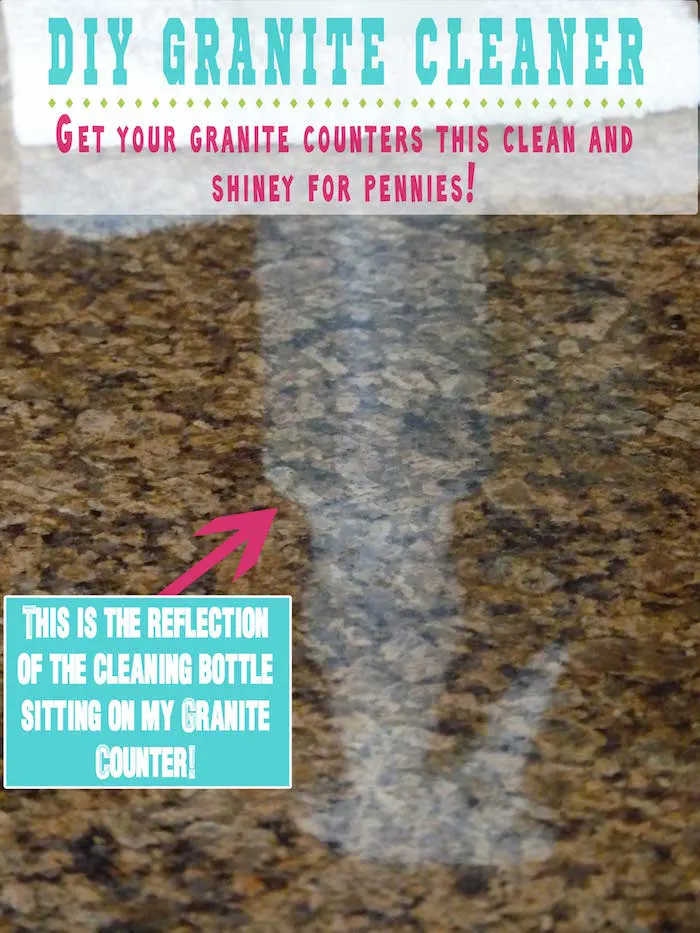 This simple solution to shining up your granite countertop will cost you only pennies – and look how shiny it makes the granite! This is genius.
Find out how to do it at This Grandma is Fun
Cleaning Stubborn Soap Scum Stains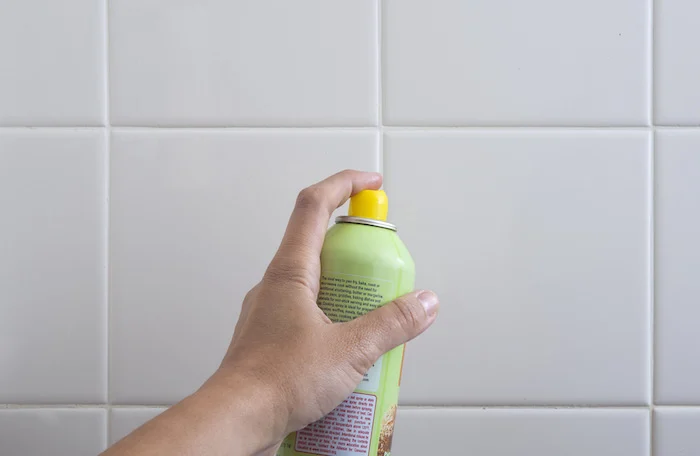 If you have some stubborn soap scum stains on shower walls that won't be removed with regular cleaners, try cooking spray. Let it sit for a few moments, and it will come right off when washed with soap and water. Works on glass doors too!
Remove Carpet Stains with an Iron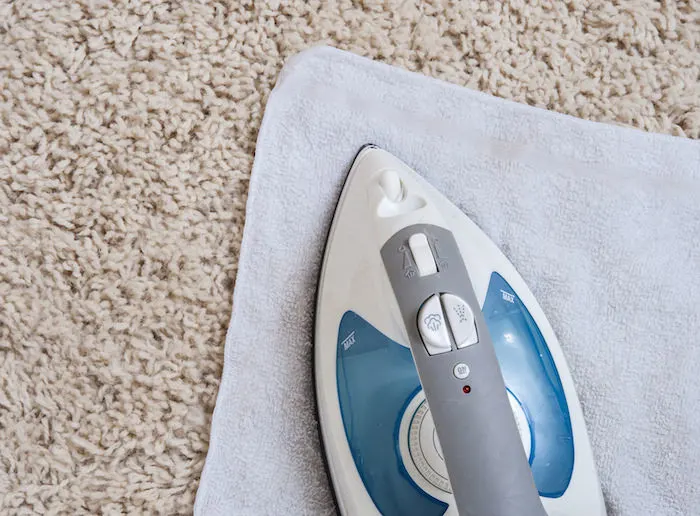 If there's a stubborn stain on your carpet, try this method with an iron and washcloth. Wet a wash cloth with two parts water and one part white vinegar – place it on a stubborn stain and press with a hot iron for 30 seconds. Keep repeating as necessary.
Microwave Steam Treatment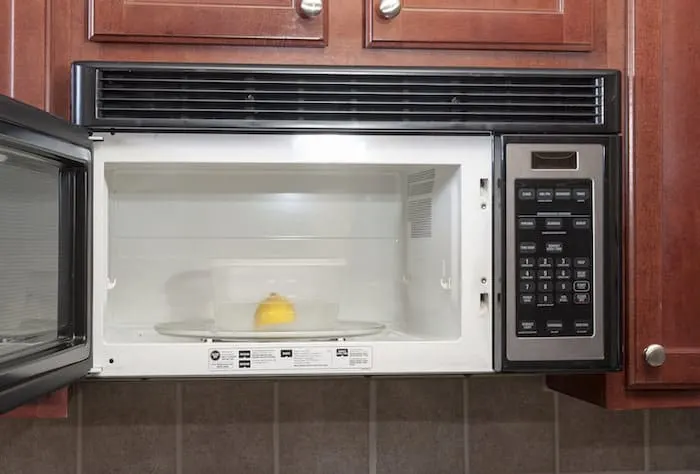 Cleaning the microwave is one of my least favorite things. Make it easier by boiling water in a container with lemon first – it will loosen up the grossness and allow you to easily clean it up. You can use vinegar along with it.
Clean Marks Off of Scratched Plates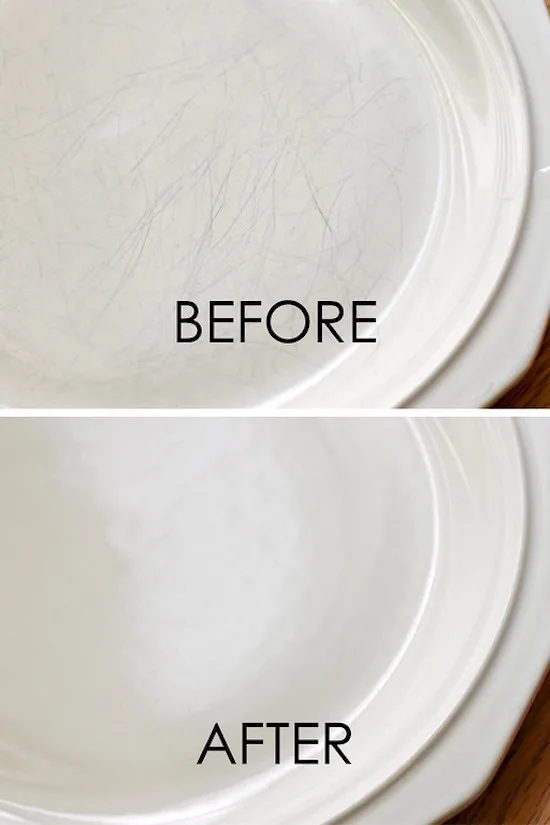 If your light colored plates have scrapes on them, you can use a mild abrasive cleanser to restore them to new.
Learn how it was done at Outnumbered
Remove Dust from Candles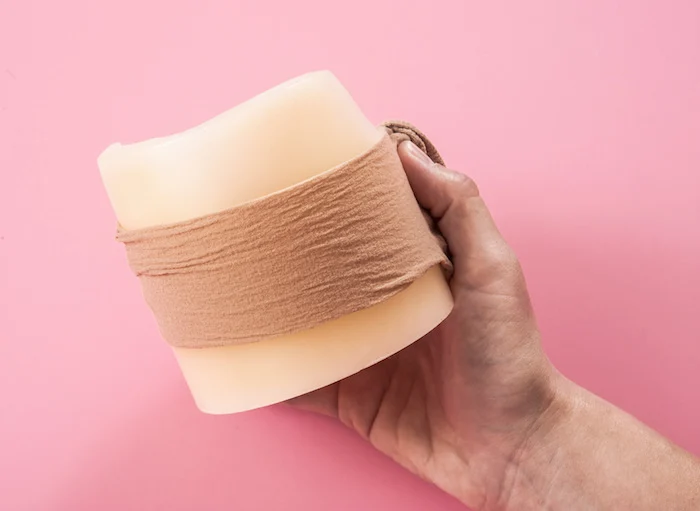 Candles are very hard to clean, as the wax holds on to a lot of dust. If you happen to have a pair of pantyhose or tights with a tear, use them to dust a candle by rubbing them around as shown until clean. This is one of those house cleaning tips that I wish I would've known a long time ago!
Use Toothpaste to Clean Sneakers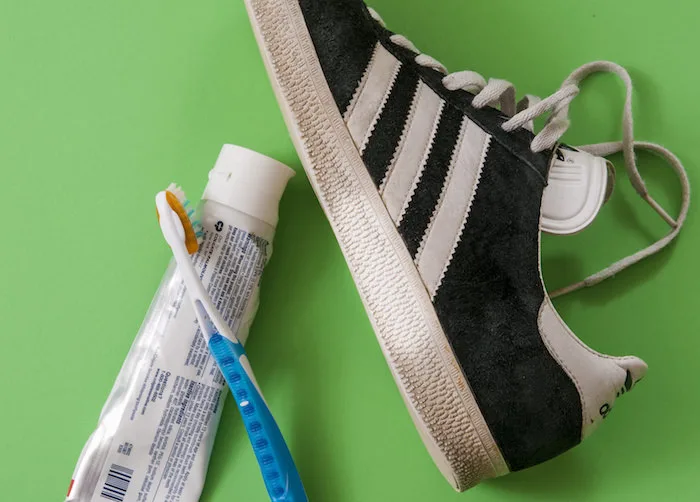 Use whitening toothpaste and an old toothbrush to clean your shoe soles. This is one of my favorite home cleaning tips – it works instantly! I save all of my spare toothbrushes so I can use them for things like this.
Dust Screens with a Coffee Filter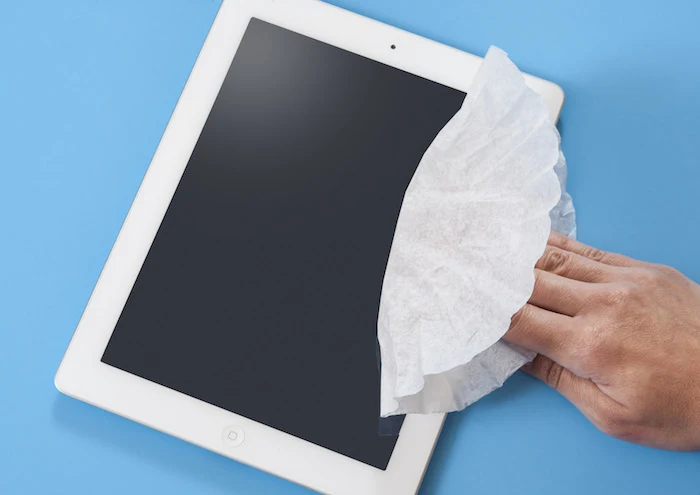 A coffee filter can be used to clean dust off of all of your dirty LCD screens. They'll catch the dust and cut static on the screen, all without leaving behind any fibers like paper towels would.
How to Clean Up a Nail Polish Spill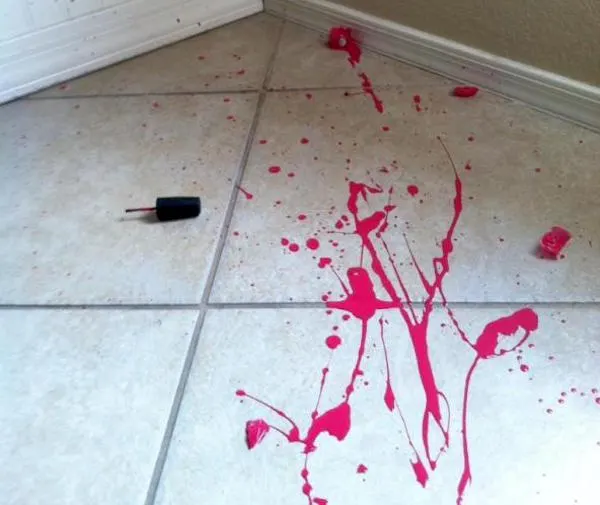 You don't have to throw yourself off of a bridge if a nail polish bottle breaks – just use a magic eraser and nail polish remover.
Learn how it was done at Babycenter
---
Did you enjoy my home cleaning tips? Then I think you're going to like some of our other cleaning and organizing posts. Just check these out: