Take some time to pamper yourself! Make one of these 20+ easy body scrub recipes and treat yourself to a special spa day. Great for gifts too.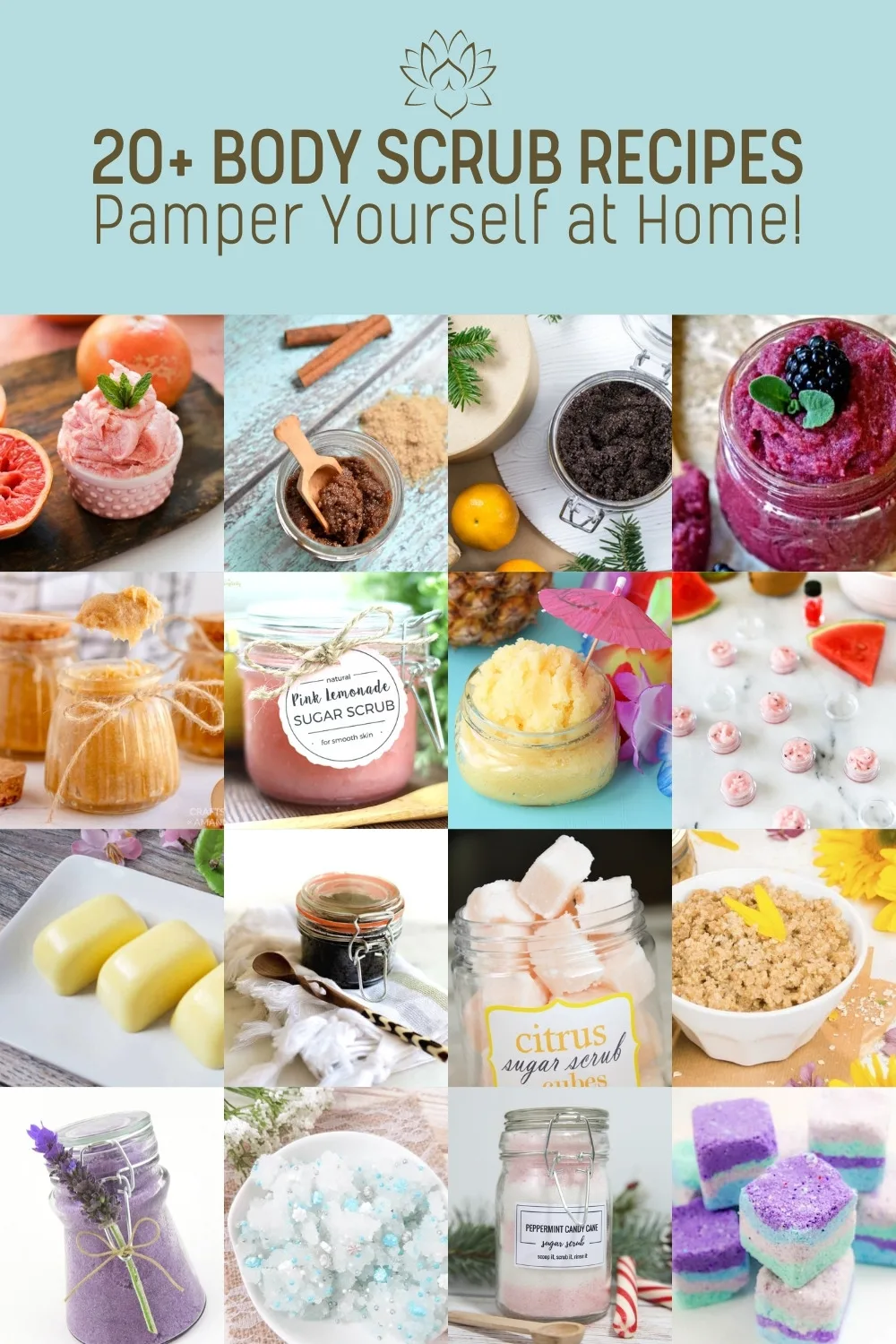 I'm one of those lucky people with oily skin. I'm not being sarcastic – I really don't mind it because I'm hoping it helps keep the wrinkles at bay (or is that a myth?). But really, it's mostly fine.
Except there's one issue . . . I get build up on my skin and I absolutely have to exfoliate regularly. And I don't know if you body exfoliators have noticed, but those scrubs aren't cheap!
Here's a great solution – make them yourself using body scrub recipes. It's really easy to make a scrub, and you can use a lot of common items that are already in your cabinets!
How to Make Body Scrubs
Generally speaking, a scrub you make is going to have at least three base ingredients:
Carrier – something like coconut oil that holds the scrubbing material
Scrub – salt or sugar provide the exfoliating portion of the scrub
Scent or Coloring – most people like to add scent or coloring or both to their scrub
You'll mix the three together and add any extras that you like. If your scrub is too liquid-y, you'll add more salt or sugar. If it's too coarse, you'll add more carrier.
Store in an airtight container to gift. Usually they can be left out for a week or two, or in the fridge for longer. This is why I typically make them in small batches.
It's hard to ruin a DIY body scrub! Give one of these body scrub recipes a try and you'll find out how easy it is. There are recipes for body, hand, lips, and more. Enjoy and let me know what you think.
Body Scrub Recipes
Pamper yourself at home with one of these 20+ body scrub recipes featuring sugar. Ways to exfoliate your whole body, hands, feet, face, and lips are included.
---
What are your favorite body scrub recipes? Let us know in the comments! I'd also love for you to check out the following posts: