This coconut oil hair mask DIY is life changing! It's an overnight hair mask that will make your hair feel amazingly soft and help with stimulating growth as well.
Skills Required: None. If you want to try this mask, you won't need any prior crafting skills – it's *that* easy. Get the how-to as well as a video at the bottom of the post!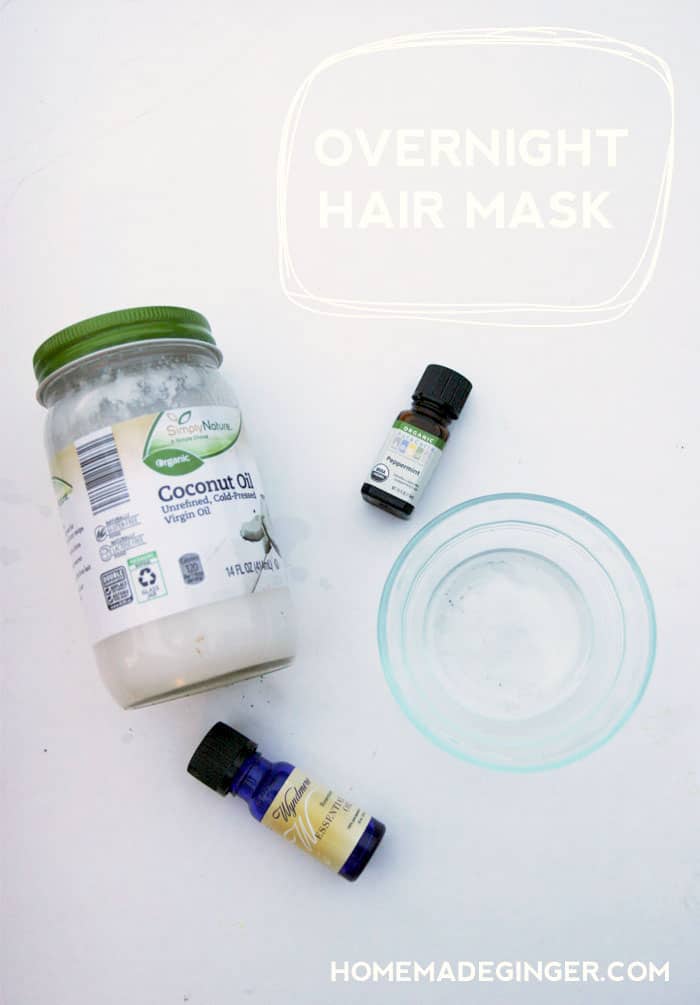 Hey it's Megan from Homemade Ginger, and I'm back to share a super quick and easy overnight coconut oil hair mask recipe. It's summer, and I know my hair gets dry from all of the swimming and sun.
Your hair might be in the same situation! You also might be trying to grow your hair out like I am (I had a bad haircut experience a few months back).
Overnight Coconut Oil Hair Treatment
This hair mask DIY does wonders to make my hair feel amazingly soft – and it helps with stimulating hair growth as well! The morning after I use this mask, I have THE BEST hair day. It is seriously life changing and couldn't be easier!
Benefits of Coconut Oil for Hair
There are so many benefits of coconut oil for your hair and scalp! Coconut oil is going to end up being one of your favorite conditioners and hair treatments. Here are a few things that it can do:
Penetrates the hair shaft, unlike other oils that just sit on top
Moisturizes the scalp and helps with dandruff
The medium-chain fatty acids help to repair split ends
Keeps hair from losing protein while washing – hair stays thicker
Give your hair a really beautiful shine!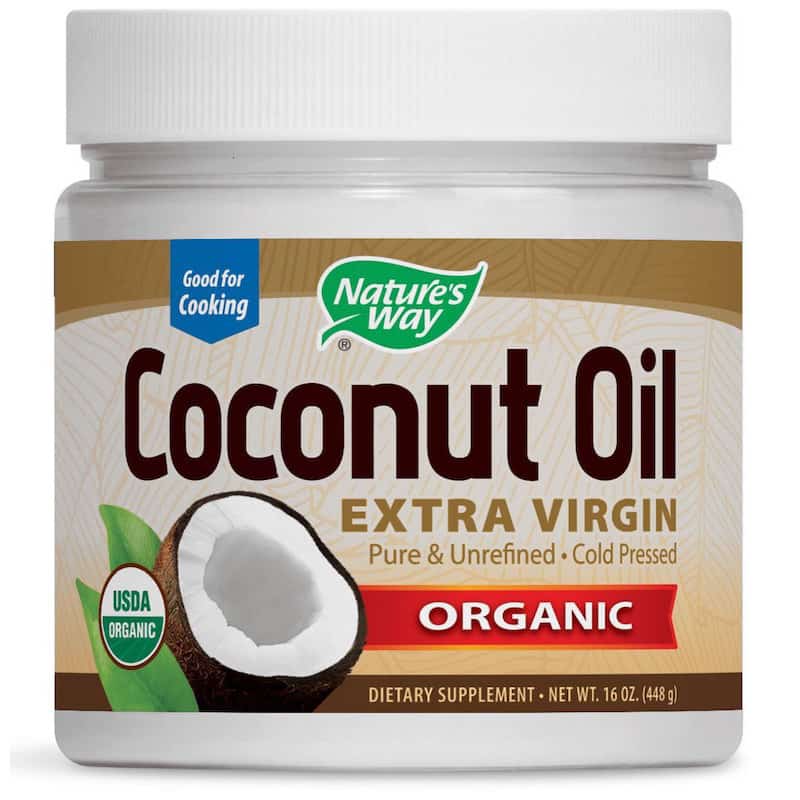 Overnight Hair Mask for Hair Growth
This coconut oil hair mask works two ways. First, the proteins help keep the scalp healthy, providing a perfect environment for healthy hair and growth. The oil moisturizes and keeps the hair shaft in tact, decreasing breakage and allowing your hair to grow longer.
Secondly, the antioxidants and nutrients in the oil – Vitamin E, Vitamin K, and Iron – keep the hair follicles healthy and stimulate growth. Ultimately it can't prevent baldness, but coconut oil does provide a very good environment for strong hair that won't break and will grow.
Trust me when I say that your hair will look thicker and feel healthier after this overnight hair mask treatment!
Overnight Coconut Oil Hair Mask
Ingredients
Hair elastic
Hair cap (if you are using this overnight)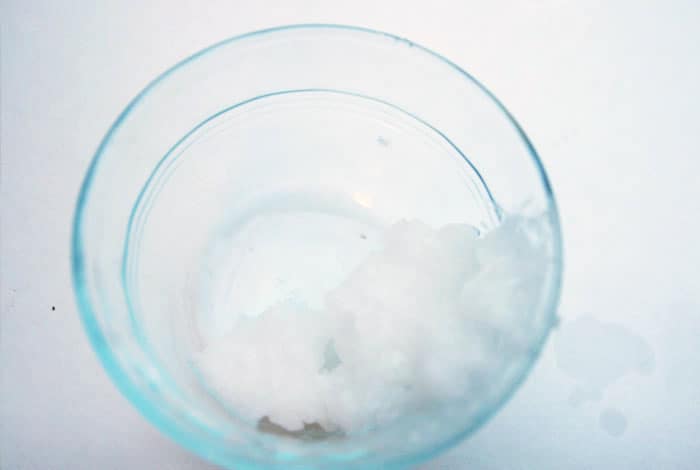 If you aren't familiar with coconut oil, it becomes liquid at higher temperatures. I find it easier to work with when it's in it's liquid state. I also think the warm oil mask is a little more effective . . . or at least it just feels that way. You'll want to wash and let your hair air dry before trying this hair mask DIY.
Add the Coconut Oil
You will want to use 2 – 5 tablespoons of coconut oil depending on the length and thickness of your hair. My hair is medium length and very thick, so I use about 4 – 5 tablespoons, just to give you a reference. Melt it for a few seconds in a microwave safe dish.
Add Your Essential Oils
Next, add your essential oils. Peppermint stimulates the hair follicles to help your hair grow faster. It also helps with a dry scalp. Rosemary has anti-bacterial properties and helps with dandruff as well as makes your hair shiny. They both smell amazing and make you feel like you are in a spa! Add about 3 – 5 drops of each.
Massage Onto Your Hair
Massage the coconut oil mixture into your hair and scalp, making sure to get all the way down to the ends. Put your hair up in a topknot or bun and let it sit.
I like to do this coconut oil hair mask right before bed and keep it on until the morning for maximum benefits. It needs to be left on for at least a couple of hours.
Tip: if you have an oily scalp, work the hair mask in from the roots up, and try to avoid rubbing it into your scalp. Leave it on for a few hours instead of overnight and then evaluate. If you find it isn't making your scalp too oily, you can leave it on for longer and longer periods of time.
Wash and Rinse
Wash it out really well and enjoy your amazing hair! I shampoo three times to make sure the oil is completely out. If you have trouble removing the coconut oil mask from your hair, try shampooing with baking soda
Apple cider vinegar (ACV) or black tea also works. Dilute 2 – 3 tablespoons of ACV in a cup of water and stir. Leave on for 10 minutes and then rinse using lukewarm water. For the black tea, brew and then let the tea cool. Apply it on your scalp and hair for 10 minutes and then rinse.
Daily Detangler
You can also use this coconut oil hair mask recipe as a daily detangler! Just make a smaller batch and then gently massage in small amounts to the ends of your hair, working your way up toward the roots.
Use a comb or pick as you're adding coconut oil to remove the tangles. Only add as much as you need to get the tangles out.
Are you ready to see this overnight hair mask DIY in action? Check out the video below! Let me know if you try this overnight hair mask in the comments.
Interested in more beauty related post? Here are some others from the blog that you might be interested in: