Turn a pill organizer into a travel spice kit for camping. So smart! Get the free printable labels here – and learn how to do it. You can make this camping spice kit in just a matter of minutes, and for cheap!
Skills Required: None. you can make this organizer with absolutely no previous crafting skills. That's how easy it is.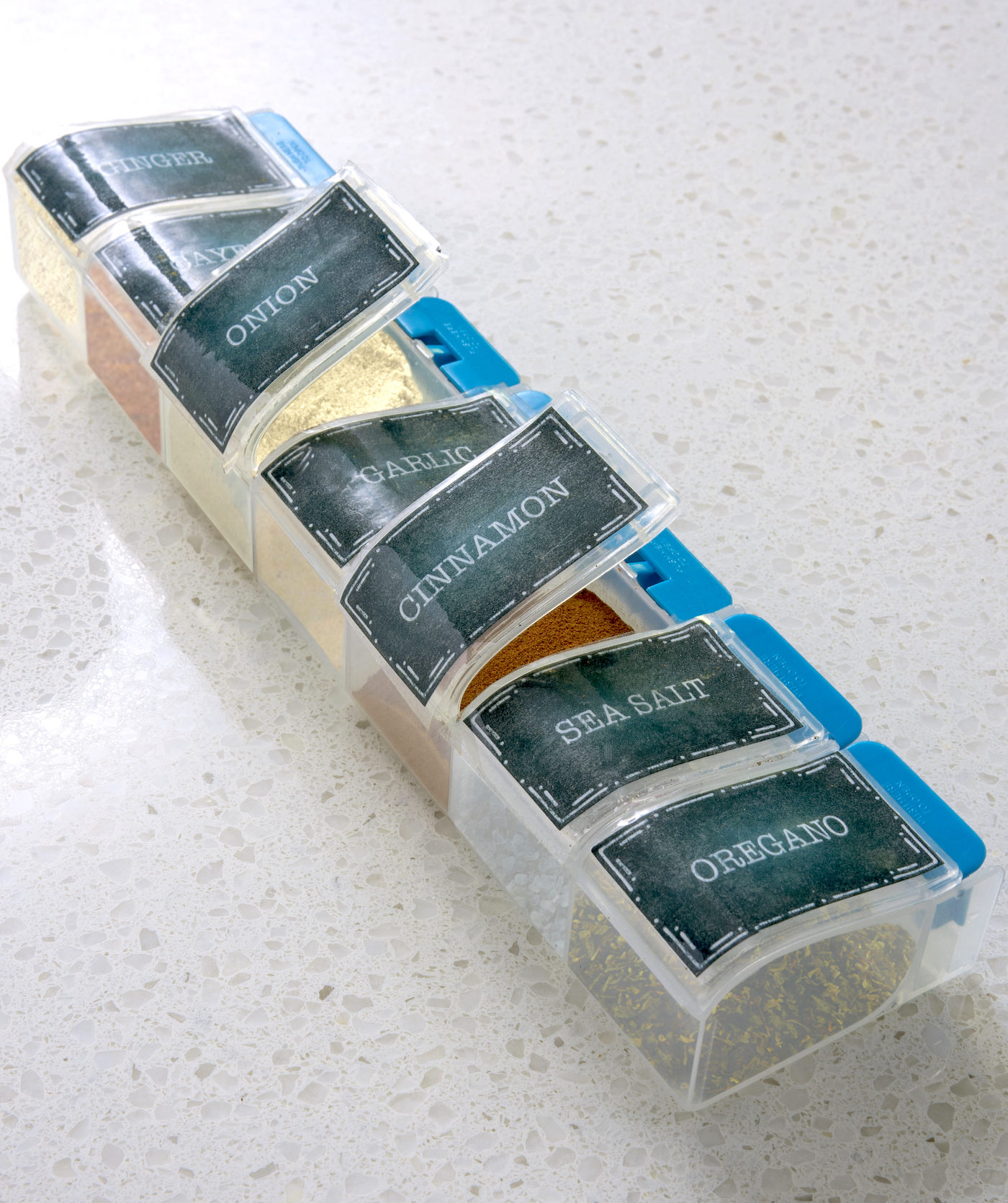 When it comes to camping, one of the most important things to learn is how to organize effectively. It doesn't matter if you are driving an RV or wearing everything on your back; you want to save as much room as possible!
Making a Camping Spice Kit
When I used to camp all the time, the focus was on limiting the weight of utensils and food items. Every little bit you can save helps, and here's a camping hack I learned back in the day that might help you now: a DIY camping spice kit.
This cool little travel spice kit keeps you from dragging a ton of heavy spice bottles around.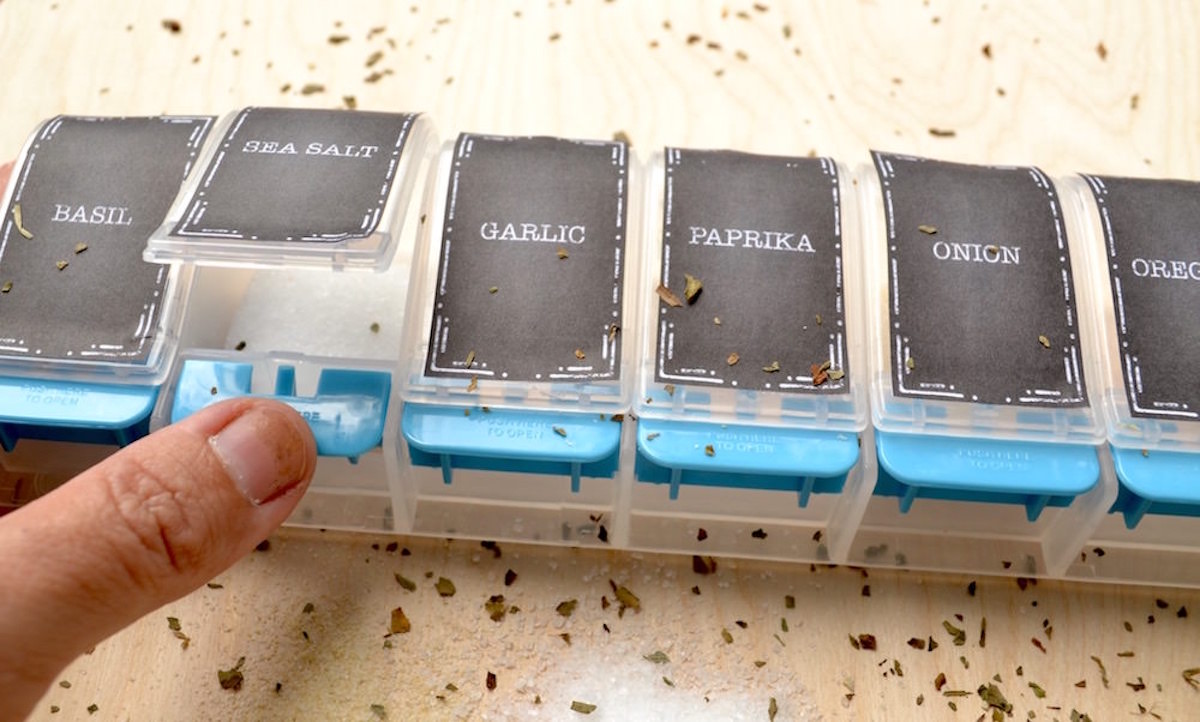 It's pretty ingenious really – a pill container from the drugstore turned into a travel spice container! You don't have to skimp on seasoning your food which this handy dandy organizer . . . it's easy to make and you can carry up to seven spices at once. It's very lightweight, too.
Project Tips
There aren't a lot of tips for this project because it's *that* easy. Having said that, I'll give you a tip to save on the cost of the project – you can get pill organizers all day long from the dollar store. My local Dollar Tree has them.
However I can't guarantee that my printables will fit any tray you purchase – but I can encourage you to shrink them to fit by changing the scale of your printout, if necessary.
If you want to use the EXACT pill tray that I did, which my labels fit exactly, you can get it here for $6. It's an extra large tray and is very durable. In fact, I actually made this project in 2015 and I'm still using it this year!
Gather These Supplies
Printer and ink with paper
Pill container in the size of your choice
Double stick tape
Scissors
Packing tape (optional)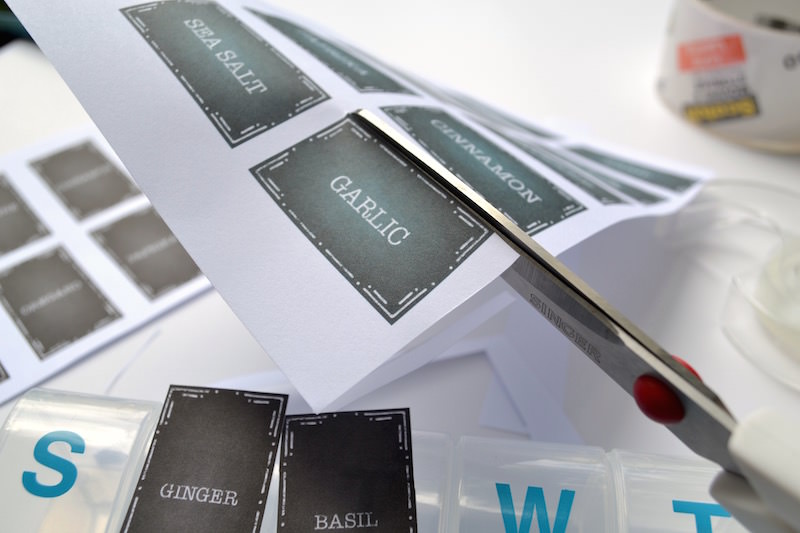 For printing:
Print your spice labels on sturdy paper (it doesn't matter whether inkjet or laserjet). You have been provided with two different colorways and orientations for a total of 20 tags, but feel free to make your own based on the spices that you love! Once you've printed your labels, cut out the ones of your choosing.
TIP: You may need to adjust the size of the labels based on the size of your container; your printer should have a percentage (%) size and/or scale listed in the page setup. You can decrease or enlarge the size of the labels to fit using this function.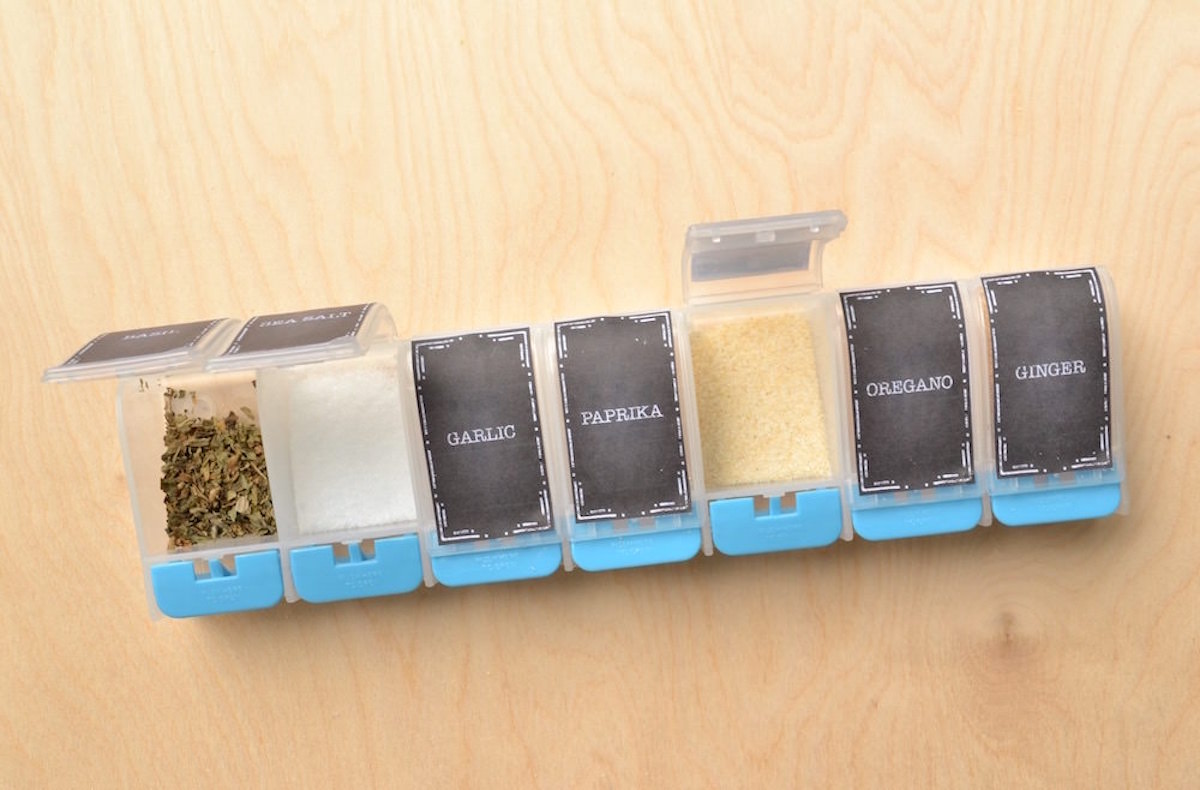 Once the project is done you'll realize how nice and compact it is, and how you just made your life so much easier!
The nice thing about this craft is that when you're done, you can remove the labels and re-use your camping spice container for your actual pills! Or whatever else you like.
Simply pour the remaining spices back into their original bottles and wash out the container. I love that this travel spice kit isn't permanent if I don't want it to be.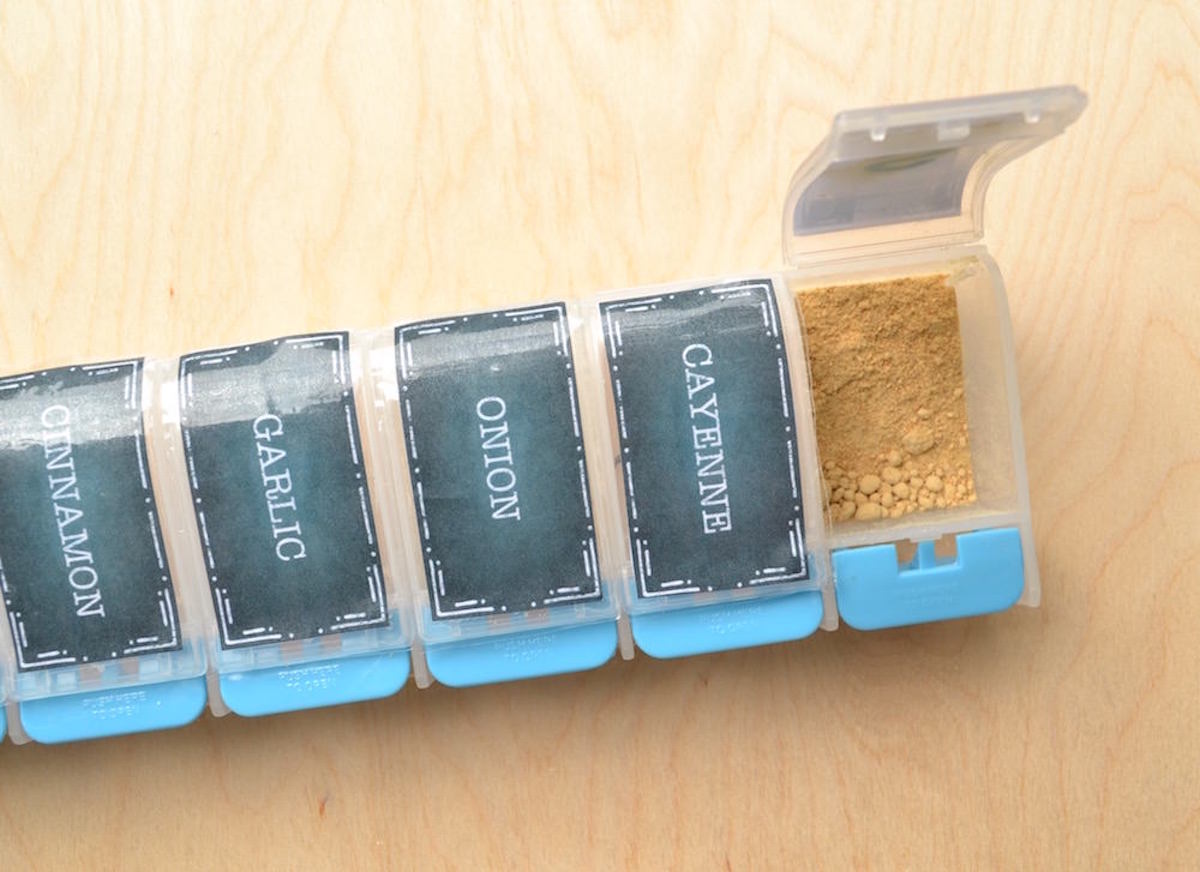 My family is planning on taking an RV trip down the West Coast early next year, and I can't wait to show them this brilliant travel spice container idea! They're going to be so impressed. Be sure to make and take it on your next camping adventure.
Get the how to below!
Yield: 1 organizer
Travel Spice Kit
This camping spice kit is perfect to take on trips, especially camping! It's so easy to make, and there's a printable included.
Materials
Printer and ink with paper
Pill container in the size of your choice
Double stick tape
Packing tape (optional)
Instructions
Print the spice labels on sturdy paper (it doesn't matter whether inkjet or laserjet).
Once you've printed the labels, cut them out.
Add double stick tape to the backs of all of the labels.
Carefully smooth the labels onto the tops of each individual compartment on the container.
If you would like extra protection, simply cut a piece of packing tape slightly larger than each compartment. Place it down and smooth, being careful not to get any wrinkles.
Open each container lid and pull back; use the scissors to trim. Smooth down the edges and repeat for the other travel spice container compartments.
To finish, fill each compartment with the appropriate spices.
---
I'd love for you to try this camping spice container and let me know how it went in the comments! I'd also love for you to check out these other