Make a DIY spa gift basket for a creative bestie! Add lots of fun beauty supplies – plus get a free "treat yourself" gift tag!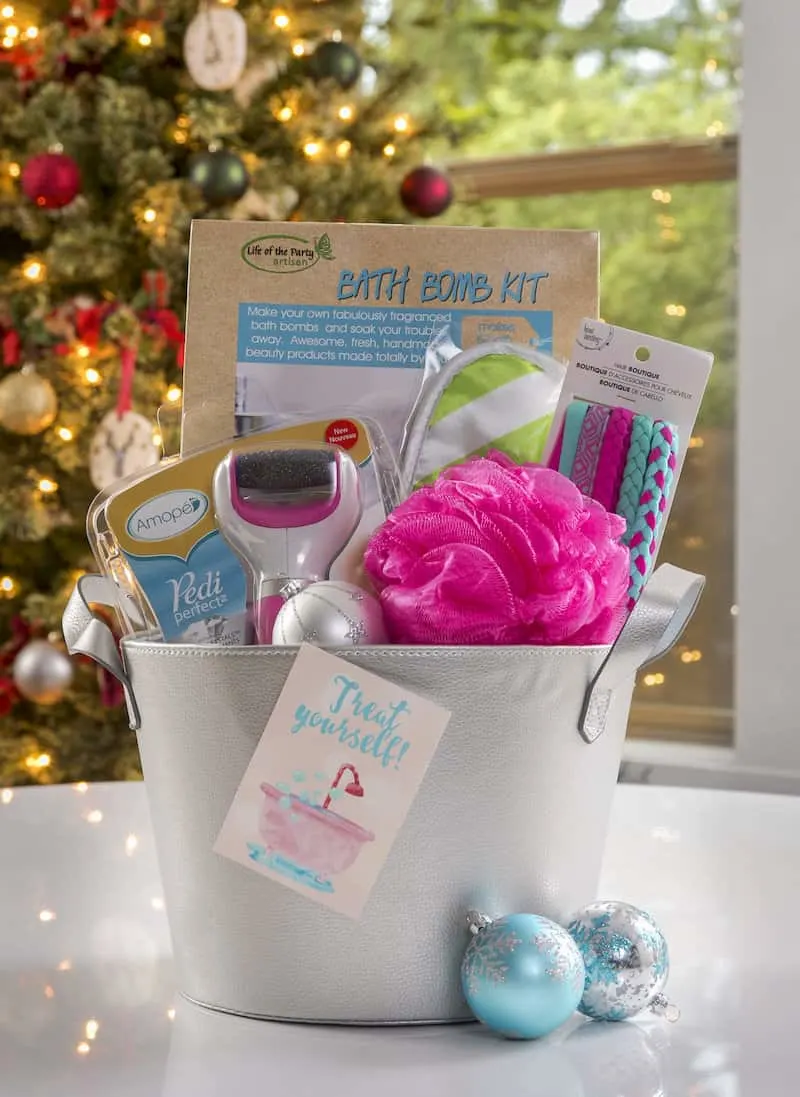 One of my best friends is a total beauty fanatic. In particular, she loves baths, pedicures, and anything "pampering" that can help her relax. Of course I have no complaints and am willing to go with her on any of her relaxing adventures!
Now that gift season is upon us, I've come up with a great spa gift basket idea that I've put together for my friend. This spa gift basket incorporates so many things my friend loves, and I also added a DIY element with the handmade bath bomb kit.
What do you think?? She loves pink too so I think she's going to be obsessed with it!
A gift like this is perfect for a friend that likes to relax or one that you just have NO idea what to get. Because who doesn't like beauty or relaxation products?
I got all of the items for my gift basket from Target with the exception of the bath bomb kit (which I got from the craft store).
Do you want to know my favorite item in the gift basket? It's the pink Amopé Extra Coarse Electronic Foot File!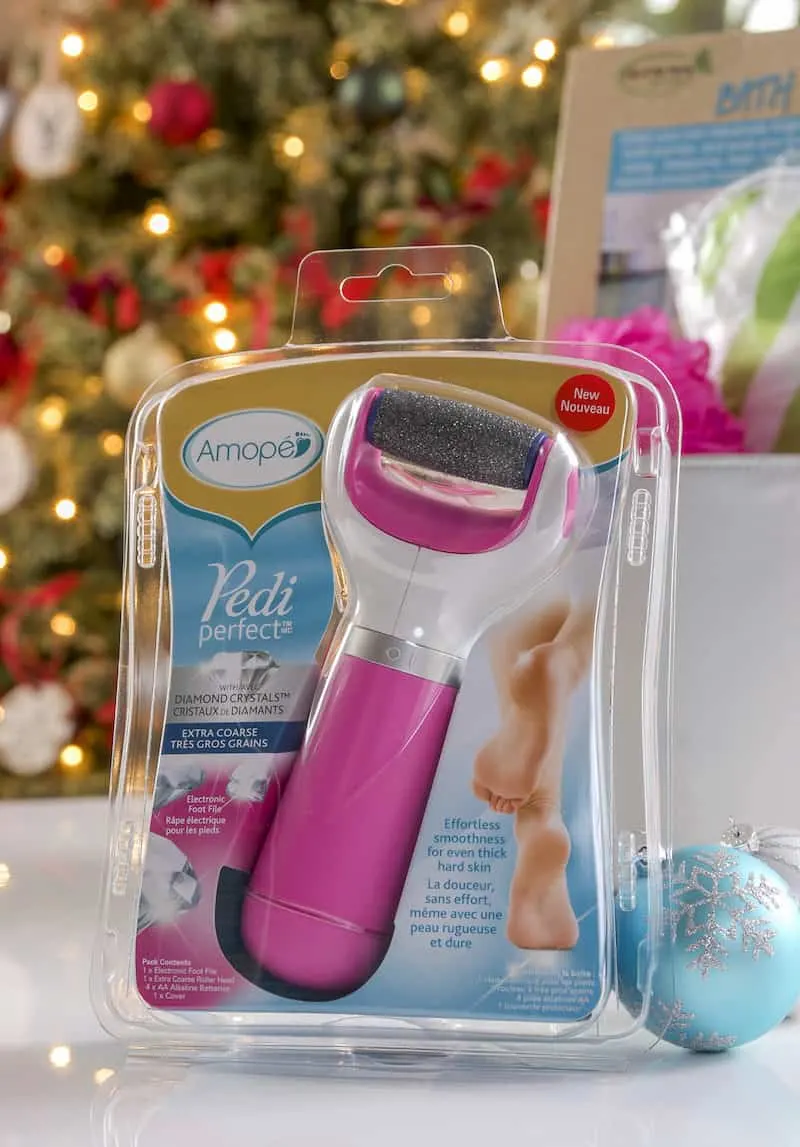 I have had my own Amopé Pedi Perfect for several years and use it on my feet every week. If you've never used one of these babies, you are missing out. My feet can get rough, especially during winter.
The Amopé Pedi Perfect is the only thing that works to keep my feet soft! How does it work? A coarse roller head rotates around and buffs away the rough skin.
This particular Amopé uses long lasting micro-abrasive particles with finely ground diamond crystals. In just a few minutes you'll have smooth feet, especially if you put lotion on them after your treatment. It's not uncomfortable at all and actually it's satisfying to use. It's like a fabulous pedicure at home!
It can be hard to find the Amopé Pedi Perfect at Target, but it's in the foot care aisle. In my store it was near the pharmacy, down a few aisles from the beauty stuff:
In addition to the Amopé Extra Coarse Electronic Foot File in my gift basket, there's also a Amopé Wet & Dry Rechargeable Foot File. It's a little bit more expensive but it's completely waterproof so you can use it in the shower OR the bathtub!
It also comes with a rechargeable docking station so you never have to change out batteries. You'll just leave it plugged into an outlet in the bathroom, and you'll be able to file continuously for 20 minutes. That's plenty of time to get your hard skin feeling smooth and wonderful!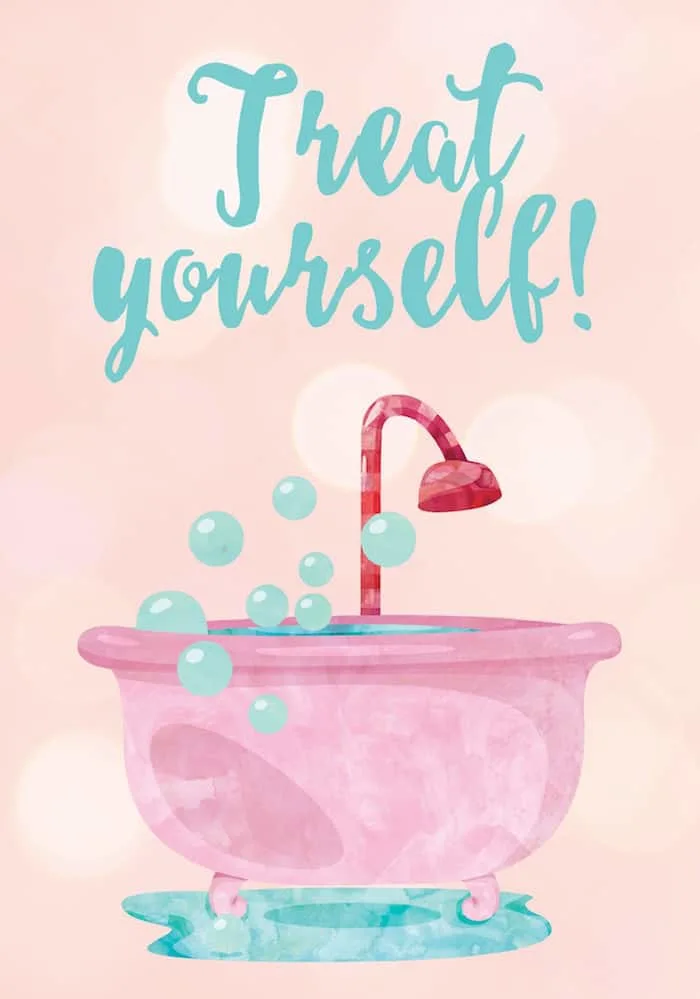 If you'd love to give a spa gift basket to a friend for Christmas, I don't want to leave you hanging. I made a cute set of tags that you can print, cut out, and attach to your basket!
The included sheet has four tags in case you want to give multiple spa gift baskets! You can attach this cute little gift tag to any spa product that you want to gift – just resize the printable if need be.
Download the free spa gift basket tag here
Please note this tag is for personal use only – but other than that, print away and have fun! *Click the link, then click the Download box at the top right to download. Give it a minute to process and open. You do not need to sign up for an account.
Remember to print at full scale (no shrinking or fit to page). You only need a pair of handy-dandy scissors for this. Let me know how it goes in the comments!
---
If you enjoyed this gift basket idea, you might also like these other posts: