This blueberry smoothie bowl is loaded with blueberries, bananas, pineapple, chia seeds, and coconut. It's easy to make, delicious, and filling!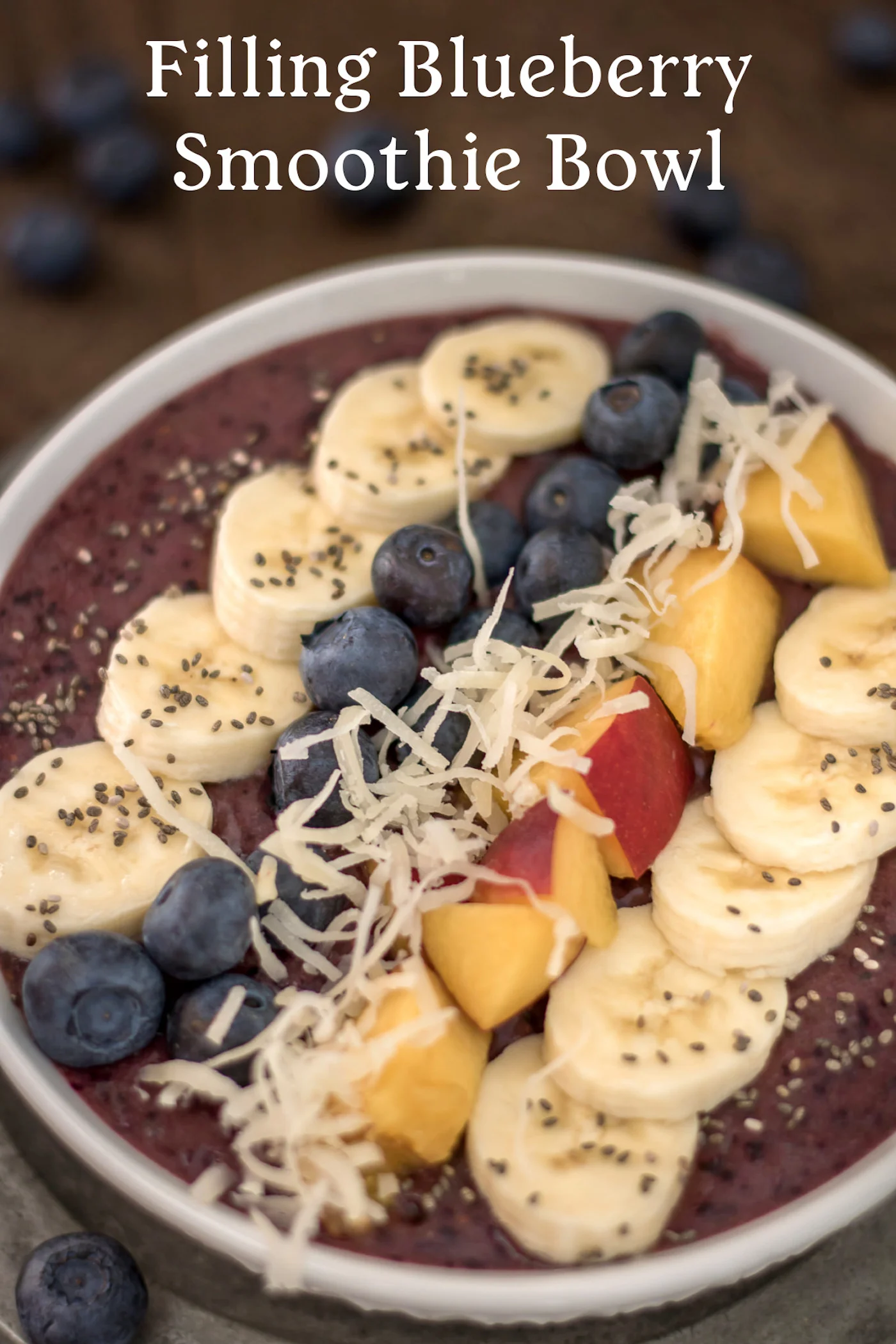 Can we all just agree that mornings can be challenging? It's not the alarm clock that is my enemy – it's the first decision of the day that I'm not a big fan of. What to have for breakfast.
The good news is that I have a solution that could make your mornings a tad bit easier (in terms of decision making), and definitely more delicious. I'm talking about a vibrant blueberry smoothie bowl that's all kinds of wonderful!
Say hello to the start of your day with a splash of brilliant blue – a blueberry smoothie bowl that's not just easy on the eyes but also a powerhouse of nutrition!
You might be thinking, "another smoothie bowl? What's so special about this one?" Well, let's set the record straight. This isn't just another generic breakfast recipe that you just swipe past quickly.
Oh no. This is a filling bowl packed with the goodness of plump blueberries, a fruit hailed for its impressive array of health benefits.
Blueberries are bursting with antioxidants, known for their anti-aging properties and their ability to boost your brain and heart health. And let's not forget, they're downright delicious.
The beauty of this blueberry smoothie bowl lies in its simplicity and versatility. You don't need to be a chef to whip this up. Anyone can make it.
All you need are some fresh (or frozen) blueberries and a few more ingredients that could already be in your fridge. Well and then and of course, your trusty blender.
In less time than it takes to brew a pot of coffee, you can have breakfast ready to go.
And if you're the type of person who likes to mix things up, the options for toppings are endless. Whether you're a fan of crunchy granola, tasty fruits, a sprinkle of chia seeds, or a drizzle of honey, you can add them all.
So get your blender ready and let's dive in. You're about to embark on a delicious journey that promises to be berry, berry good!
Here's what you're going to need to make this delicious recipe.
Ingredients
1 banana
1/2 cup fresh pineapple (or thawed from frozen)
1 small handful of fresh spinach
1 cup frozen blueberries
Toppings
1/2 sliced banana
1/4 cup fresh blueberries
1/2 peach
Chia seeds – 1/2 tbsp
Unsweetened coconut flakes – 1 tbsp
Always Optional to Add
Almond butter or another nut butter
Greek yogurt
Granola
Tips and Tricks for This Recipe
If you need a recommendation for a blender, I love my Blendtec. Some folks might say the blender doesn't make a difference but I don't agree. The blender makes it for me!
Frozen fruit is a tried and true way to add thickness to a smoothie. You can use fresh or frozen, but the frozen will give you a thicker consistency. Greek yogurt is another way to add thickness (it's optional).
You can freeze this recipe in a plastic bag for up to three months, but just the bowl – not the toppings. Just cut those fresh when you're ready to serve.
NOTE: the nutritional information provided in the recipe is for the entire recipe, assuming you eat the entire bowl by yourself! Divide by 2 if you share.
Get the printable recipe below!
Yield: 1 bowl
Blueberry Smoothie Bowl
This delicious smoothie bowl recipe is going to transform your morning routine! Get your blender ready.
Ingredients
Smoothie Bowl
1 banana
1/2 cup fresh pineapple, or thawed from frozen
1/2 cup spinach, fresh - a small handful
1 cup blueberries
Toppings
1/2 banana
1/4 cup blueberries
1/2 peach
1/2 T chia seeds
1 T unsweetened coconut
Instructions
Blend together all the ingredients in a blender until smooth. The mixture should be thick in consistency.
Pour into a medium bowl.
Top with some extra fresh sliced fruits such as banana, peaches, and blueberries. Add chia seeds and unsweetened coconut if desired.
Nutrition Information:
Yield:
1
Serving Size:
1 serving
Amount Per Serving:
Calories:

423
Total Fat:

7g
Saturated Fat:

4g
Trans Fat:

0g
Unsaturated Fat:

3g
Cholesterol:

0mg
Sodium:

70mg
Carbohydrates:

94g
Fiber:

17g
Sugar:

56g
Protein:

9g
---
What do you think? Would you try this recipe? Let me know in the comments. And for more delicious smoothie and smoothie bowl recipes, visit some of these amazing options: