Grab your Dawn Nicole designed free coloring page here – I love the saying "don't put off your happy life." So pretty! Use pencils or markers to color.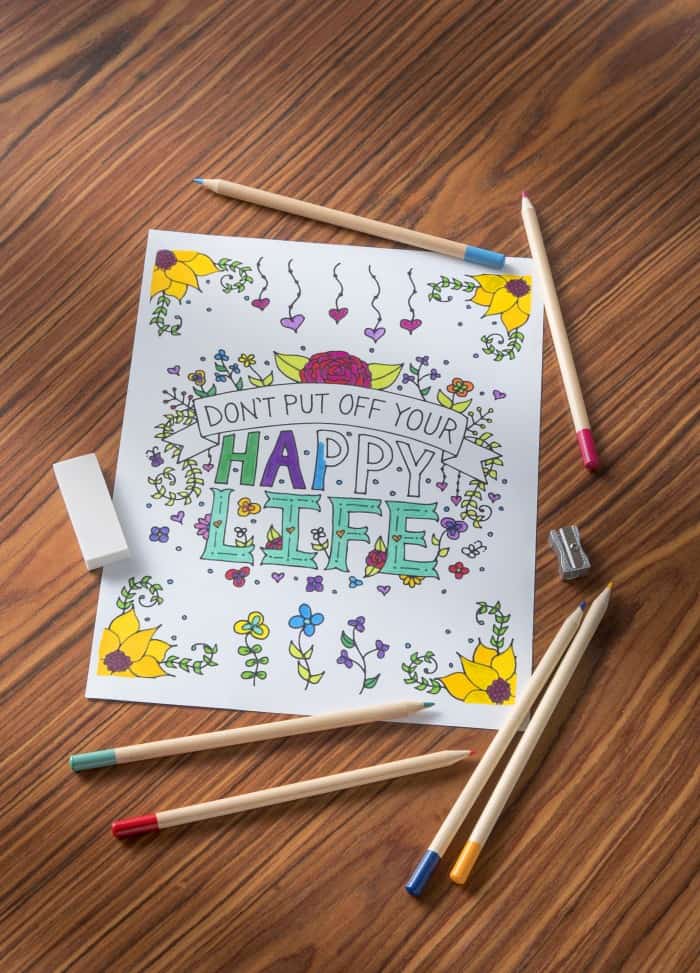 I am ALL about coloring these days! It's one of my favorite activities to reduce stress and explore my creative side. It's not that expensive to get started, and you can do it anytime, anywhere (well, almost anywhere!).
I have tons of coloring books, but I'm also hooking on free coloring pages too. So today I have a fun free coloring page for you from Dawn Nicole. She's absolutely at the top of my list when it comes to coloring page designs, so I'm thrilled that she designed a free page just for my readers!
To receive the page, all you need to do is sign up for the DIY Candy mailing list below. Let me tell you about the mailing list – it's not junk. You'll get one e-mail per week (typically on Fridays) and you won't be signed up for any spam. It's packed with inspiration, including coloring projects! I think you're going to love it.
Are you ready? Simply fill out the form below, confirm your subscription, and the coloring page will arrive in your first e-mail – don't forget to check your junk mail to make sure you receive emails from amy@diycandy.com. Thank you, and enjoy!