You'll love this delicious shrimp quinoa fried rice recipe! Full of crisp veggies, and with a subtle flavor of garlic and ginger.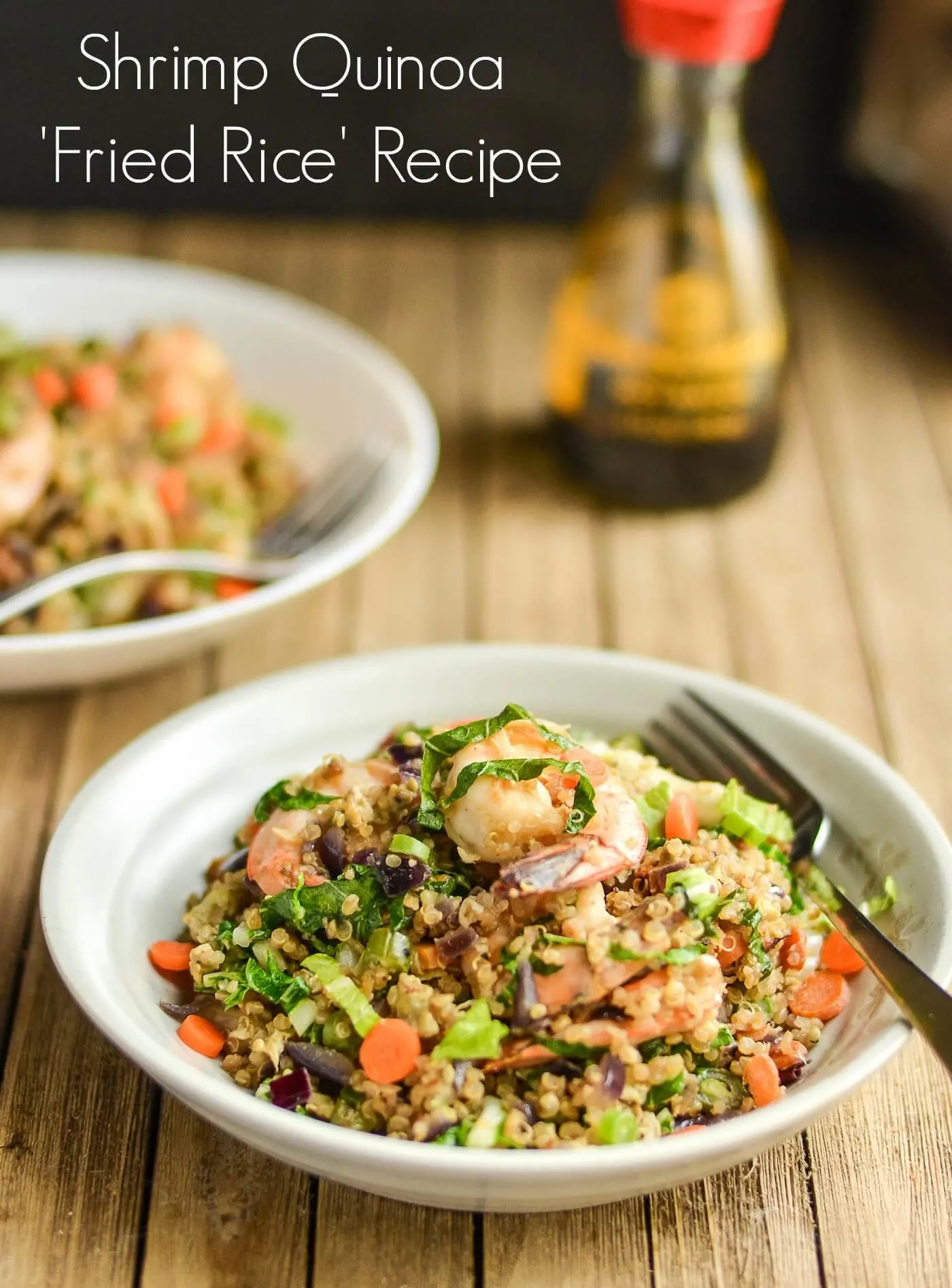 With the holidays coming up, there's going to be plenty of indulging. Therefore I'm trying to incorporate as many healthy recipes into the good ol' diet as possible! That's where this quinoa fried rice comes in.
For awhile it was cauliflower rice that had gained popularity . . . and now quinoa "rice" has come into favor as well!
Quinoa is different in that you don't have to chop it up (like a cauliflower head), but it still makes a perfect rice alternative.
Brown rice is great, but quinoa offers more dietary fiber and protein, so it's going to be more filling for you.
Learn how to make this quinoa fried rice for a delicious dinner option, either as a side dish or main recipe. Make it as soon as possible; I promise you are going to love it!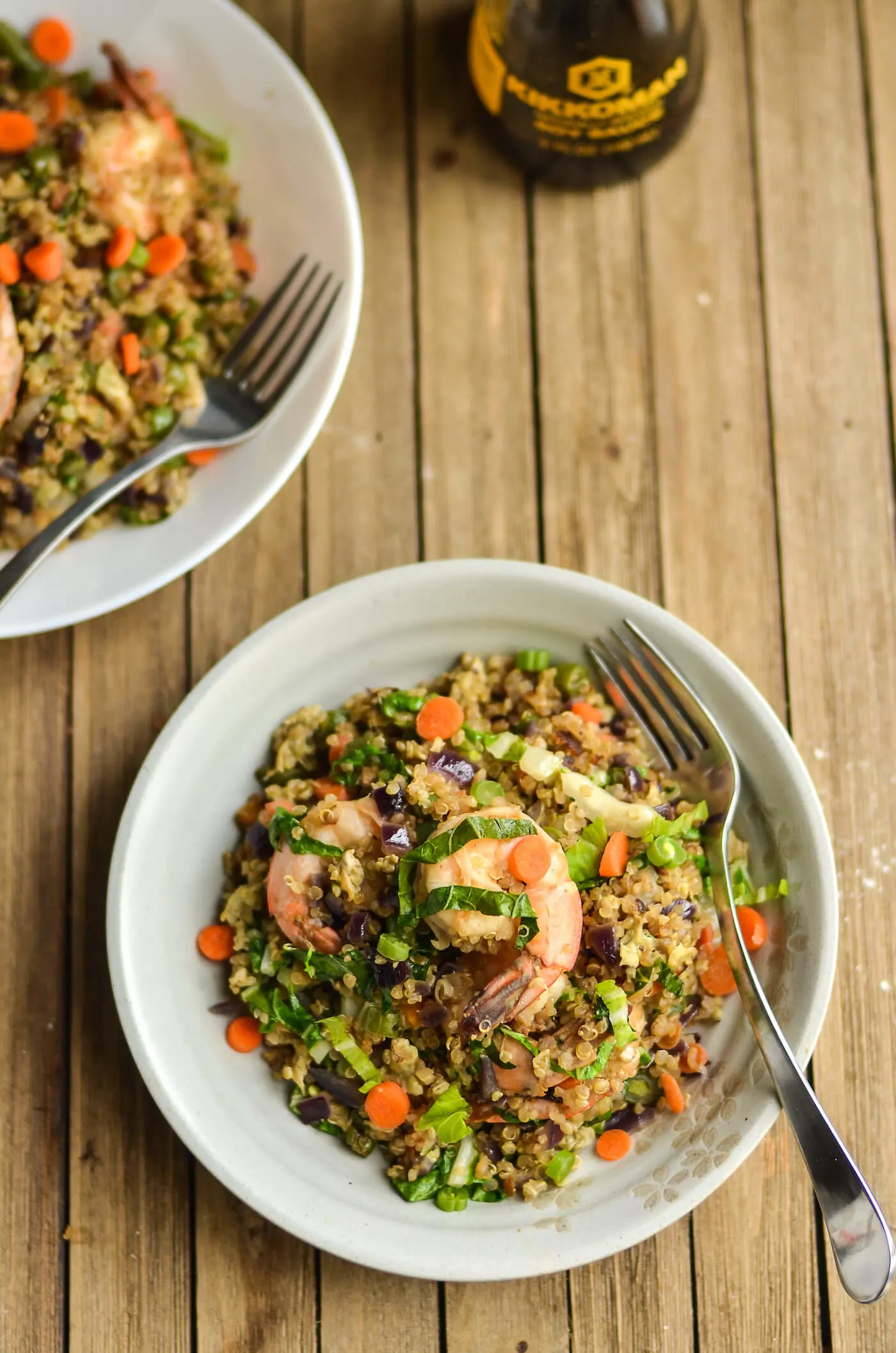 How to Pick Fresh Shrimp
Do you know how to pick fresh shrimp? I've had taste issues before, and it was all about selecting the right shellfish! Pick fresh shrimp from a meat market or natural foods store and you won't have to worry about a weird taste or smell.
Technically you can use fresh or frozen shrimp, but if you're sensitive about your seafood, I recommend fresh.
Our local farmer's market has great vegetables too, so with a quick trip and just a little bit of moolah, this meal can be mine. And yours too!
Here's a quick refresher on peeling and deveining shrimp. Skip down if you already know how to do it and are ready for the recipe.
Remove the Head
Grasp the shrimp firmly by the body. Twist off the head with a gentle motion.
Peel off the Shell
Starting at the head end, peel off the shell and legs by pinching and lifting at the same time. The shell should come off quite easily.
Remove the Tail
If you'd like to remove the tail, pinch and pull off.
Make a Shallow Cut
Use a small, sharp knife to make a shallow cut along the top of the shrimp (the backside), from the head end to the tail.
Remove the Vein
Look for a dary vein along the cut. This is the shrimp's digestive tract and what you are going to remove.
Use the tip of the knife to lift out the vein, or you can even use a toothpick. If it breaks, just start from the other end. Once it's lifted, you can pull it out in one piece with your fingers.
Rinse
Rinse the shrimp under cold water to remove the rest of the vein and any dirt or sand. Pat dry.
---
Here's what you're going to need for this recipe:
Cooked quinoa – 2 cups
Onion – 1 small, chopped
Garlic – 2 fat cloves, minced
Ginger – 2 tsp, grated
Carrots – 1 cup, sliced or chopped
Green beans – about 6 or 8, trimmed, chopped
Shrimp – 1 lb, cleaned and deveined
Eggs – 2, at room temperature whisked and seasoned with salt
Bok choy – one small head, chopped into ribbons
Toasted sesame oil – 1 tbsp + 1 tsp, divided
Salt and pepper to taste (I recommend freshly cracked black pepper)
2 tsp of soy sauce
Couple of tablespoons of water
Green onion
Other toppings (besides green onions) include soy sauce, sesame seeds, and crispy rice noodles. I'd love to know your favorite toppings for this dish!
You can also use olive oil if you don't have sesame oil or can't find it, but the sesame oil adds a delicious flavor to this and makes it more of an Asian dish like traditional fried rice.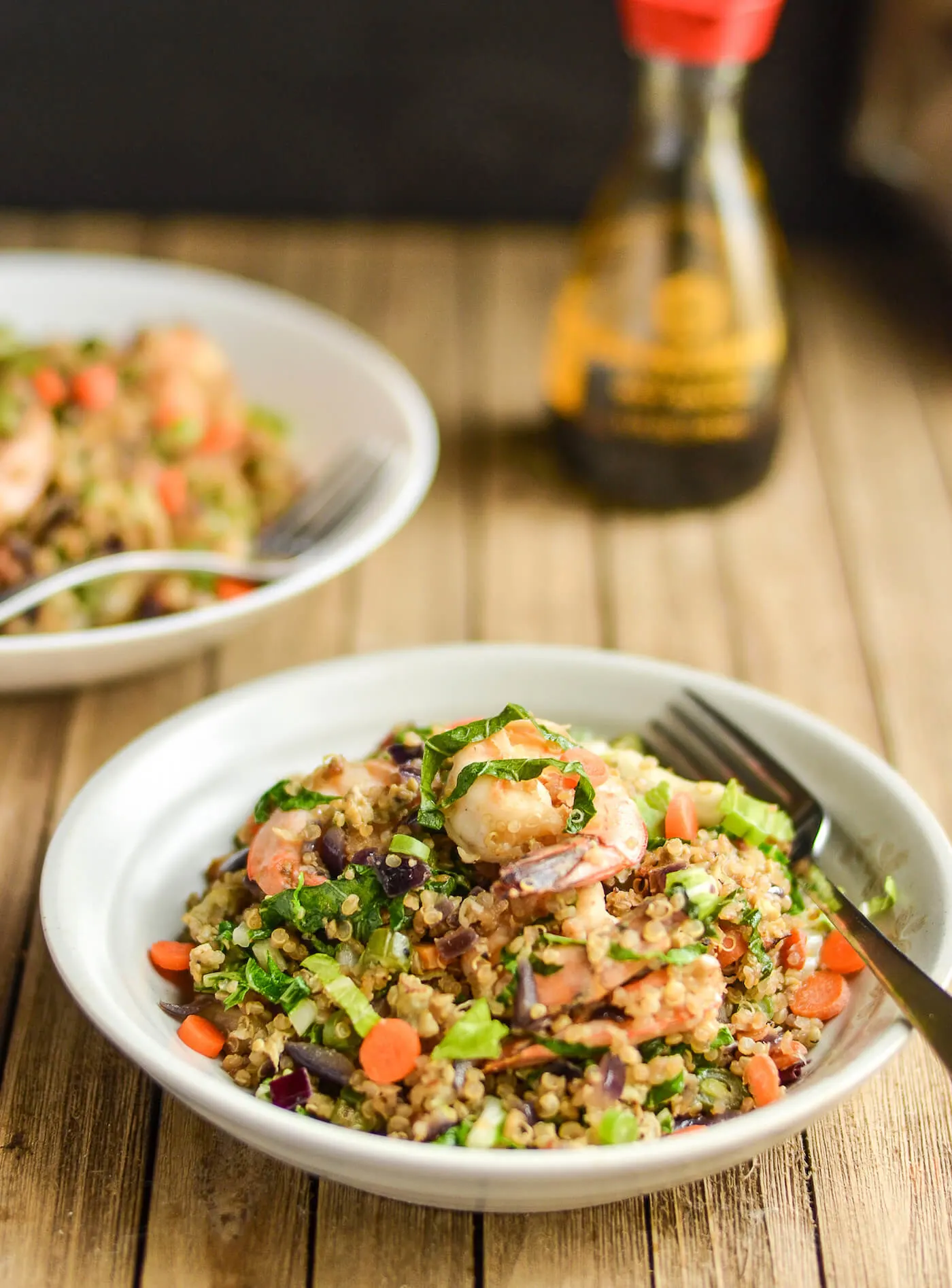 Get the printable recipe card for this dish below!
Yield: 4 servings
Quinoa Fried Rice
You'll love this delicious shrimp quinoa fried rice with shrimp! It has all the taste but one of the guilt of a traditional fried rice recipe
Ingredients
1 lb shrimp
2 large egg(s) (at room temperature)
2 cups quinoa
1 onion
2 cloves garlic
2 tsp fresh ginger
1 cup carrots
8 green beans
1 head bok choy
1 T + 1 teaspoon toasted sesame oil
Green onions
Instructions
Begin by cooking the quinoa according to package instructions. When done, drain the water and set aside.
While the quinoa is cooking, clean, shell, and devein the shrimp. Set aside in a bowl.
Chop an onion into pieces and place in a bowl.
Mince two cloves of garlic. Add them to the bowl with onion.
Grate two teaspoons of fresh ginger. Place in the bowl with the onion and garlic.
Chop one cup of carrots and put them into a separate bowl.
Trim and chop about 8 green beans or so. You can add more if you like. Add to the bowl with the carrots.
Chop one small head of bok choy into ribbons. Set aside.
Add two eggs to a bowl and whisk until combined. Add some salt and set aside for the moment.
Fry the cleaned shrimp on medium/high heat using either a little oil or cooking spray for about 2 - 3 minutes; set aside.
Heat 1 T of toasted sesame oil in a wok or pan on medium/high heat. Once hot, add the chopped onions, garlic, and ginger.
Fry till fragrant and throw in the carrots and green beans. Cook for few minutes till the carrots soften a bit.
Make a well in the cooked vegetables and pour in the 1 tsp of oil. Pour in the whisked egg and start scrambling. Once the eggs start cooking, mix it in with the vegetables.
Add in the cooked quinoa. Mix in the soy sauce and cooked shrimp. Stir to combine.
Add a little water, season with salt and pepper and cover. Cook for just a couple of minutes.
Take it off the heat, uncover and stir in the chopped bok choy. Put the cover back on for a few minutes. Serve when the bok choy has wilted slightly.
Nutrition Information:
Yield:
4
Serving Size:
1 serving
Amount Per Serving:
Calories:

413
Total Fat:

8g
Saturated Fat:

2g
Trans Fat:

0g
Unsaturated Fat:

5g
Cholesterol:

332mg
Sodium:

1157mg
Carbohydrates:

49g
Fiber:

13g
Sugar:

13g
Protein:

39g
---
Would you try quinoa fried rice? Let us know in the comments! I'd also love for you to check out these other recipes: