There's nothing better than a delicious and healthy chicken stir fry recipe for dinner – this one is my favorite! This healthy stir fry is loaded with fresh, crisp vegetables and is easy to make. Best of all? This recipe is ready in 20 minutes.
Scroll down to get a video of this stir fry recipe in action, at the end of this post!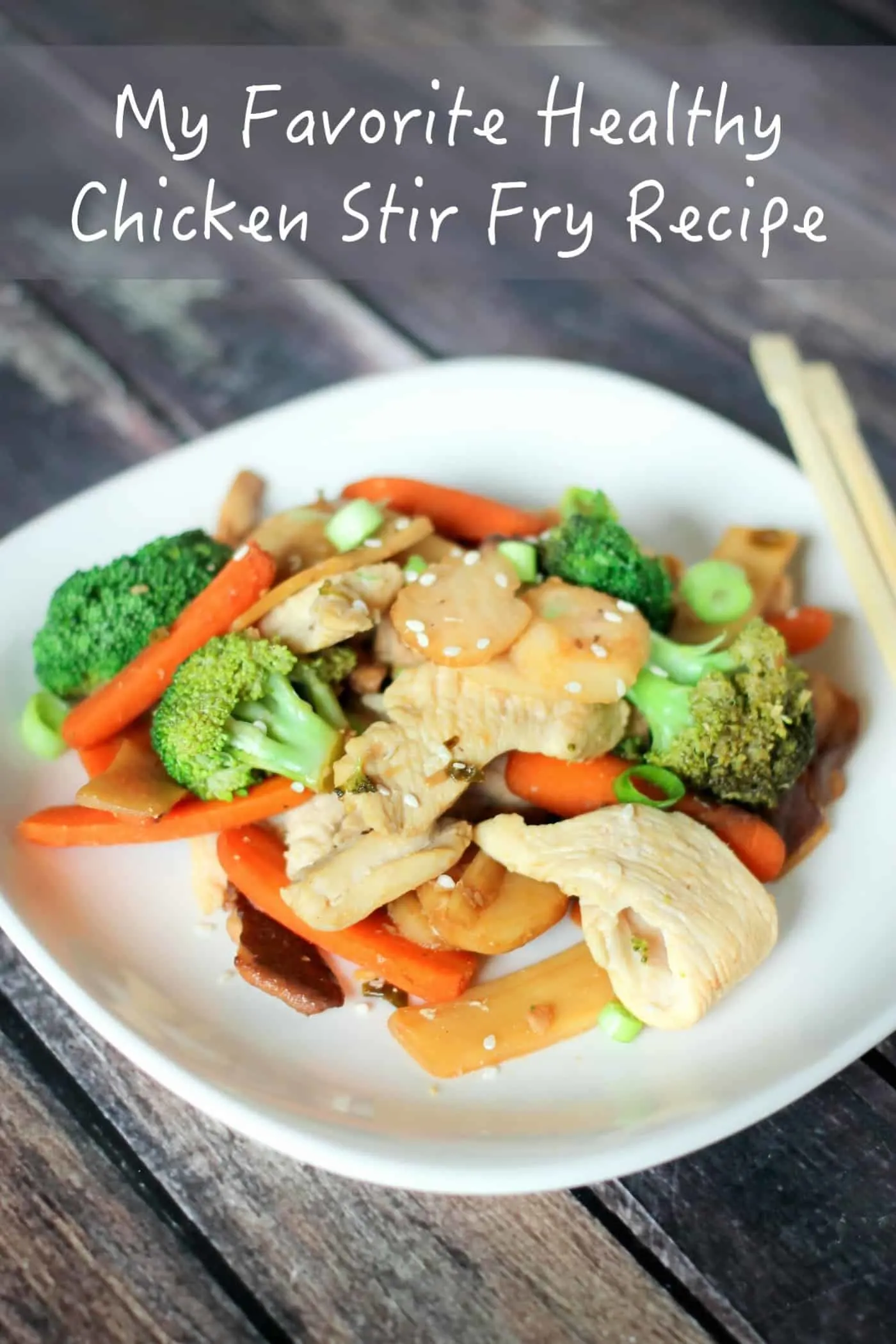 One of my favorite quick dinners to have when I want to have something fresh and delicious is chicken stir fry. Let me backup a little bit actually. This year I wouldn't say I'm on a health "kick," but I'm definitely watching what I eat.
I'm really enjoying making tasty meals that are filling but don't make me feel like I've eaten to much. I especially don't like feeling overly-stuffed at dinner! There's where this healthy stir fry comes in.
Low Calorie Chicken Stir Fry
If you are looking for that fresh meal to make you feel satisfied – loaded with protein and veggies and yummy Asian flavors – then this chicken stir fry recipe is going to be your go-to! Keep this one on your regular dinner rotation.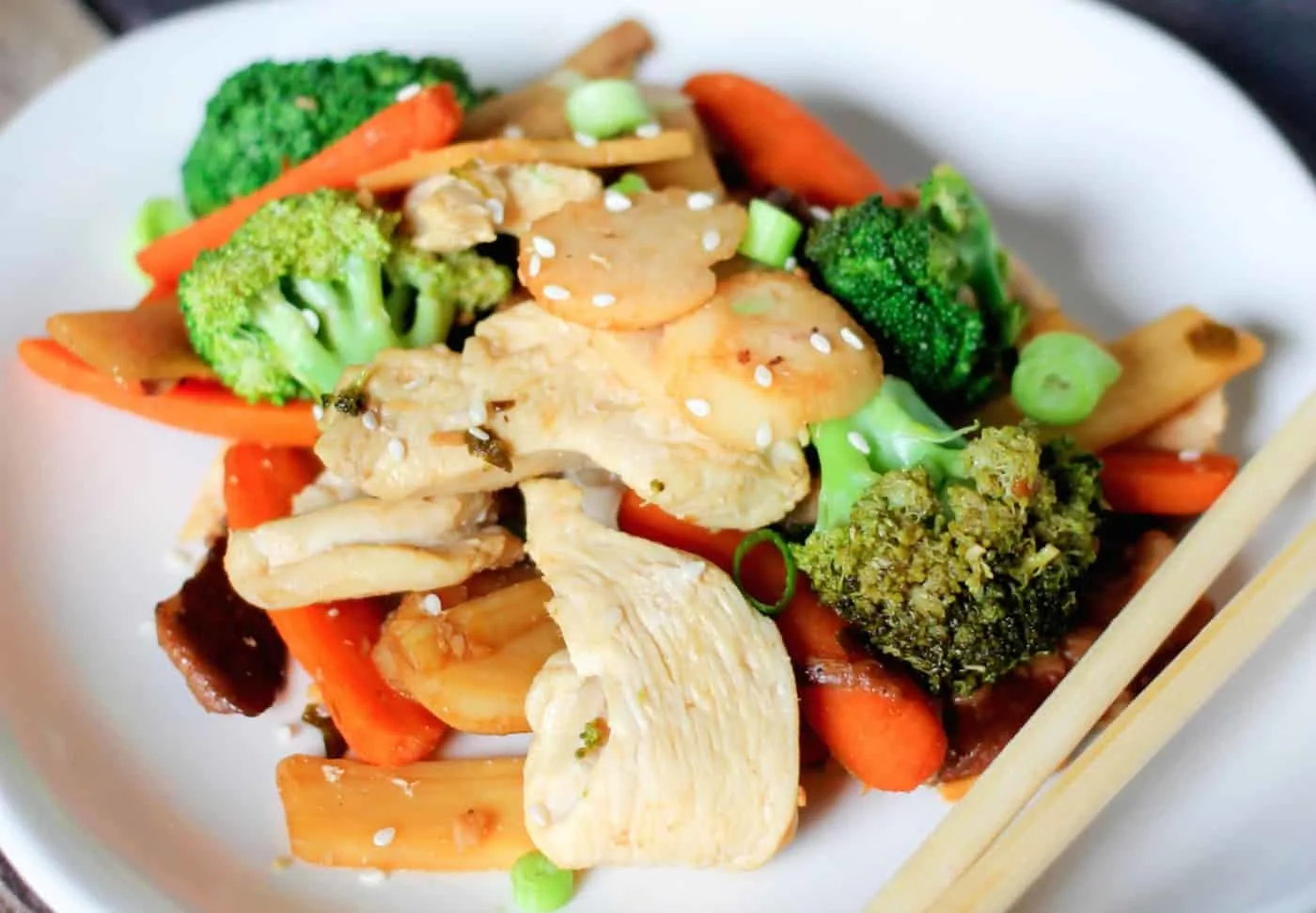 Main Ingredients
The hallmarks of a healthy stir fry are lean meat, lots of fresh vegetables, and sauce that isn't laden with calories. I go for the 99% fat free chicken breast.
You can use other lean meats like pork or beef easily – or even shrimp. The sauce is not complicated yet delicious, and goes with just about anything.
The biggest thing for me with this recipe is avoiding oil. Instead I use cooking spray. If you're going to use oil in this recipe, I would use coconut oil or olive oil personally. However, that adds more fat and calories to the nutritional information. This dish is just as delicious without oil.
Recipe Substitutions
A lot of people like to use the ingredients they already have in their cabinets! As I said before, the meats in this dish can be swapped out for the same weight of another lean meat.
You can also swap aminos out for the soy sauce since they provide the salty flavor. As far as the hoisin sauce, I'd go for oyster sauce as a substitute.
The fresh vegetables in this healthy chicken stir fry recipe speak for themselves. You can pick anything in the produce section!
There are bell peppers, baby corn, red peppers, sugar snap peas, bok choy . . . Just make sure you have enough of your veggies to balance out the meat.
What to Serve with This Dish
I'm a big brown rice fan, and of course regular white rice works as well. I find that cauliflower rice tastes amazing with this recipe! Noodles are fine, but I'm also happy with quinoa as a pairing. It has that crunchy and nutty flavor that somehow goes well as far as I'm concerned.
---
Are you ready to try some healthy stir fry?? Here's what you're going to need for this recipe.
Ingredients
2 – 3 chicken breasts, sliced into thin strips (about 1 lb.)
Non-stick spray
2 green onions, chopped
2 tsp rice vinegar
2 tsp lite soy sauce
½ inch knob fresh ginger, minced
2 tsp hoisin sauce (found in international section)
20 baby carrots, cut in half lengthwise
1 ½ cups broccoli florets
1 can sliced water chestnuts, drained
1 can bamboo shoots, drained
8 ounces shiitake mushrooms (other varieties are fine too)
Sesame seeds if desired
A few additional notes about this recipe:
I recommend using a wok pan if you cook stir fry regularly. The wok pan requires less oil (if you use oil) and contains splatter. It also provides a slant so you can easily move the ingredients around to fry them without kicking them out of the pan.
This recipe is gluten free IF you use gluten free hoisin sauce and gluten free soy sauce. You will have to read the ingredients and make sure that they are (or that it's noted on the label). Not all of them are GF. A different gluten free stir fry sauce could also be substituted for the hoisin.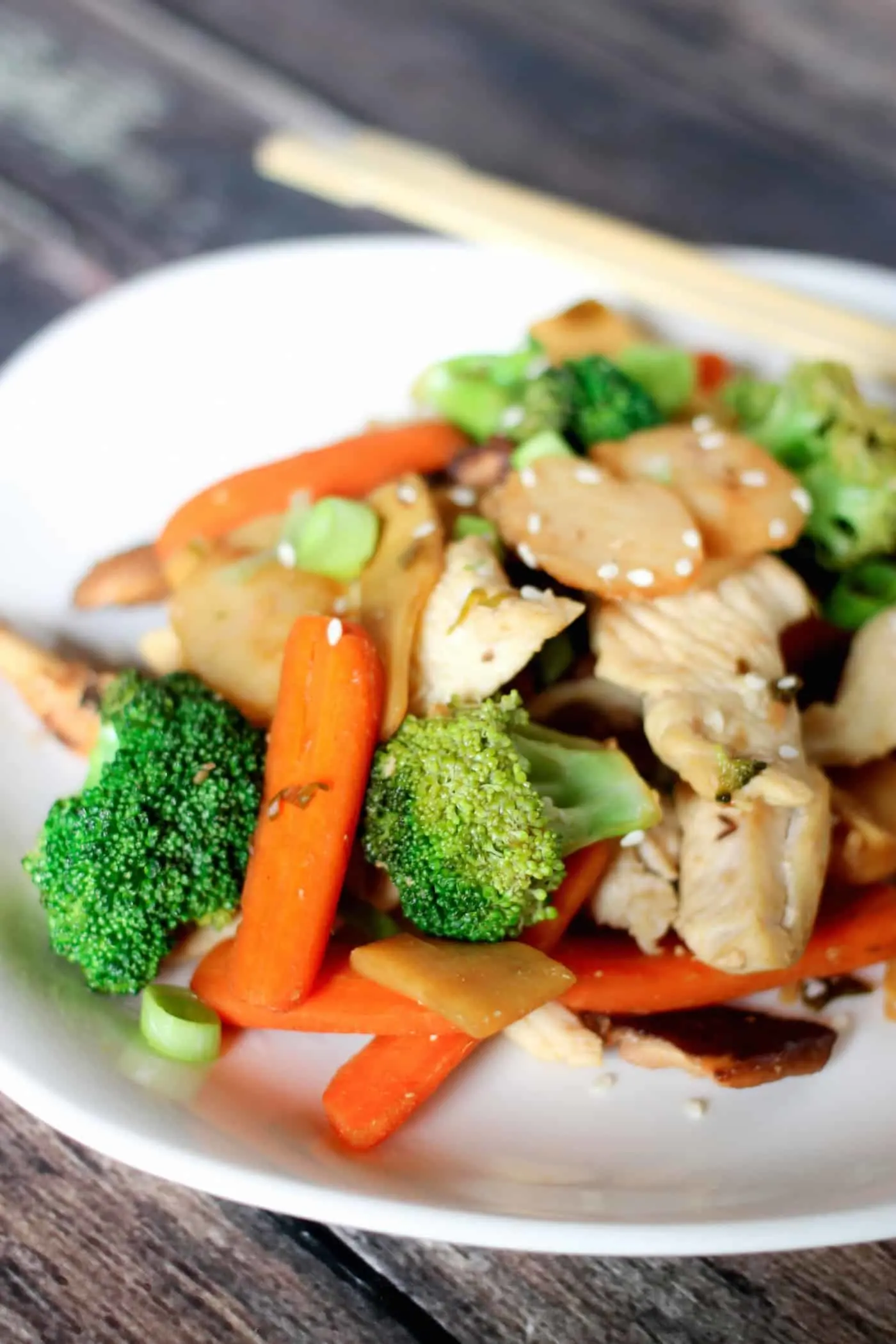 This healthy stir fry recipe is so versatile. And you're going to love the nutrition counts – they're amazing. Low calories, low fat, low everything. And made in 20 minutes!!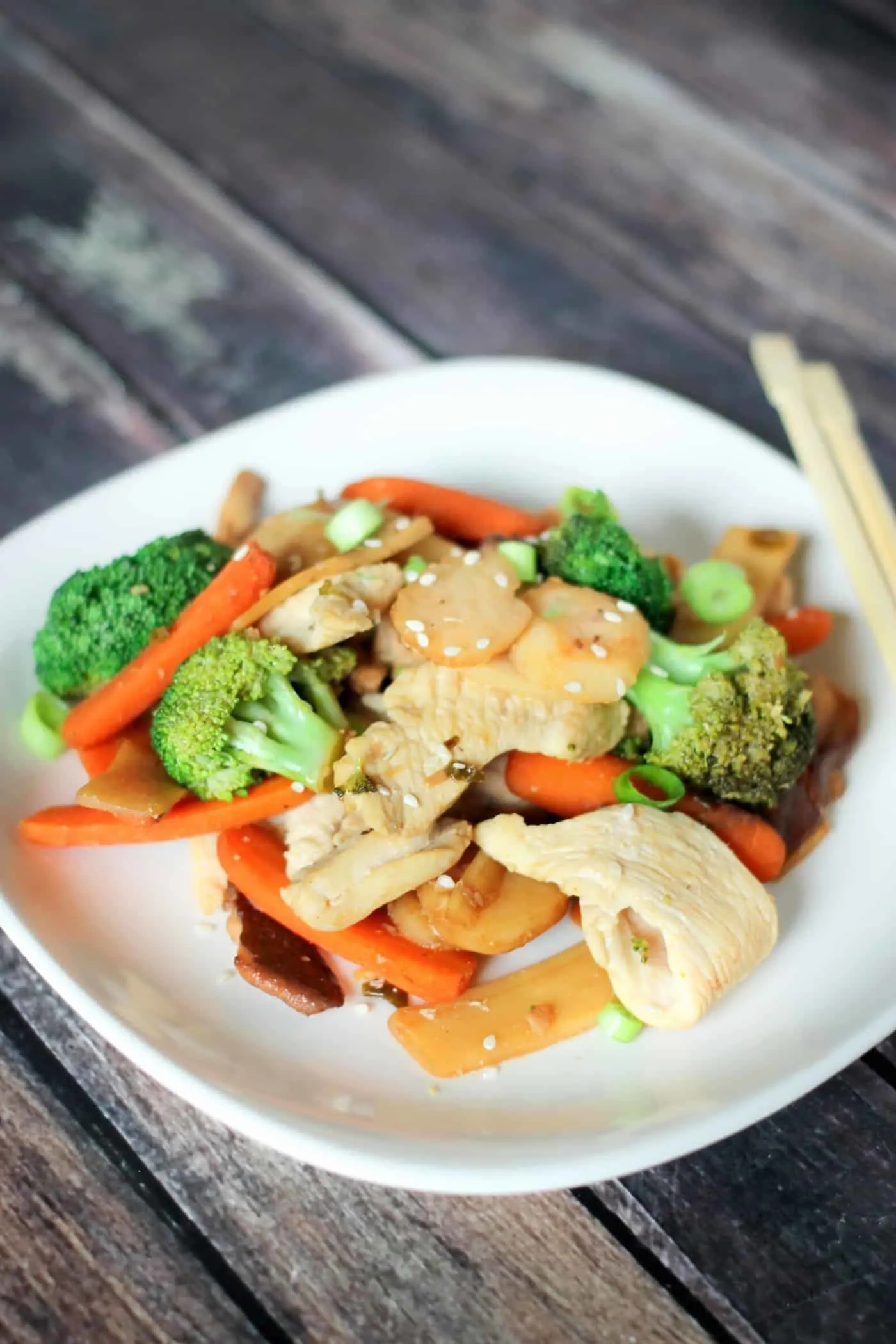 Here's the printable version of the recipe below.
Yield: 4 servings
Healthy Chicken Stir Fry
There's nothing better than a delicious stir fry recipe for dinner - this one is my favorite! So healthy and fresh with lots of veggies.
Ingredients
1 spray non-stick cooking spray
1 lb chicken breasts
2 tsp rice vinegar
2 tsp lite soy sauce
½ inch fresh ginger, minced
2 tsp hoisin sauce
20 baby carrots, cut in half lengthwise
1 ½ cups broccoli florets
8 oz sliced water chestnuts (1 can, drained)
8 oz bamboo shoots (1 can, drained)
8 ounces shiitake mushrooms
2 green onions, chopped
Instructions
Spray skillet with non stick spray, add chicken and cook over high heat, stirring frequently until chicken is cooked through, about 7 minutes. Remove from skillet and set aside.
In a small bowl mix rice vinegar, soy sauce, ginger, and hoisin sauce, set aside.
Spray skillet with non stick spray, add baby carrots, broccoli, and sauce mixture, cook over medium high heat for about 5 minutes, or until vegetables are tender. Add water chestnuts, bamboo shoots, mushrooms, and green onions. Stir to combine. Cook for about 1 minutes, stirring. Add chicken back to skillet, remove from heat, and stir to combine.
Garnish with sesame seeds (optional), and serve immediately.
Notes
Be advised that you can find a lot of these items in the Asian aisle or international section of the grocery. Other types of mushrooms can be substituted in this recipe. Nutrition information does not include sesame seeds as they are optional.
Nutrition Information:
Yield:
4
Serving Size:
1 serving
Amount Per Serving:
Calories:

321
Total Fat:

5g
Saturated Fat:

1g
Trans Fat:

0g
Unsaturated Fat:

3g
Cholesterol:

96mg
Sodium:

354mg
Carbohydrates:

30g
Fiber:

8g
Sugar:

9g
Protein:

40g
---
Let me know if you try this low calorie stir fry and what you think in the comments! Don't forget to check out the video in the post as well.
If you enjoyed this post, here are some other Asian inspired recipes you might like (not necessarily as healthy, but good):