Make delicious strawberry Nutella cupcakes as a sweet dessert for Valentine's Day! Features a chocolate hazelnut base with creamy icing.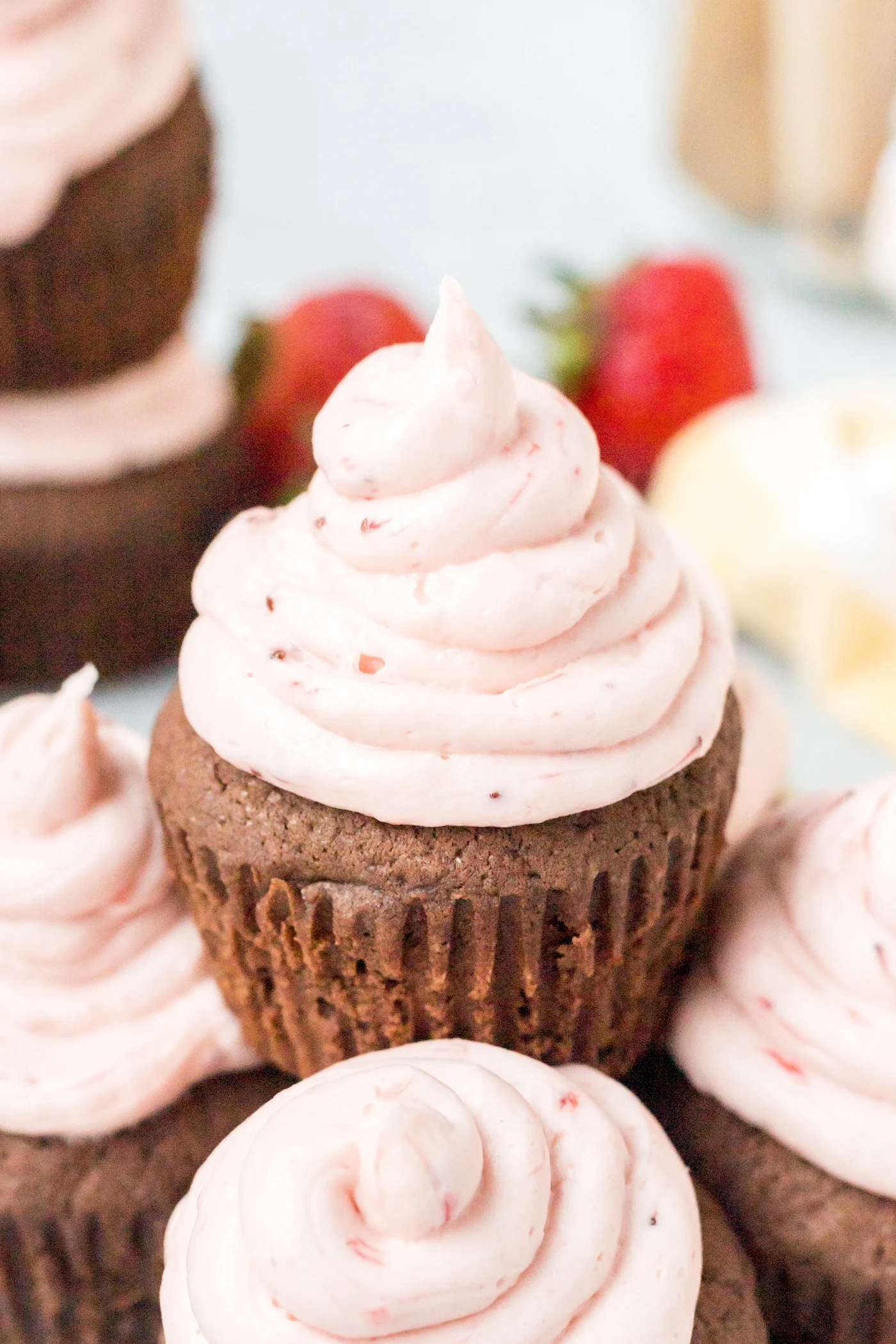 Are you a Nutella fan? I am but there are some caveats. I'm not one to take a big schmear on a piece of toast or a scoop out of the jar into my mouth.
What do I look like – an animal?? Kidding.
But really, while I love the hazelnut spread, I'll be completely honest that I like it more in baked goods with other flavors. It works really well with chocolate, for example. Nutella desserts are my fave!
Not so very long ago we made some Nutella cookies, and those were a hit. It was time to try something that took this whole hazelnut thing to the next level.
And with Valentine's Day treat time here, this dessert recipe was a natural choice: strawberry Nutella cupcakes.
These moist and fluffy cupcakes are perfectly chocolate-y and baked to perfection. They're paired with a fresh and creamy strawberry icing that you'll die for. They're so tasty.
Everyone is going to love them! And if you're making them for a special someone? I promise good results (wink wink).
Tips for Making Delicious Cupcakes
Before you dive into this recipe, I've got some tips for you on making the best (and tastiest) cupcakes. If you're interested, check them out. Otherwise scroll to the bottom.
Use Quality Ingredients
Use high-quality, fresh ingredients for the best flavor and texture. You'll for sure want to get fresh eggs, good quality butter, and pure vanilla extract (instead of imitation).
Measure Precisely
Flour is the main dry ingredient in this recipe. Measure using the scoop-and-level method, as adding too much flour can result in dry cupcakes. You can also weigh the flour.
Bring Cold Ingredients to Room Temp
Bring ingredients like butter, eggs, and milk to room temperature before mixing. They will incorporate better, resulting in smoother batter and fluffier cupcakes. They don't need to be warm; slightly cool to room temp is fine.
Avoid Overmixing
Mix the batter just until ingredients are combined, or the dry disappears into the wet. Overmixing can result in dense baked goods that are too firm.
Don't Overfill the Liners
Fill liners about two-thirds full with batter. This prevents overflow and allows room for the cupcakes to rise.
Watch While Baking
Follow the suggested baking time, but also keep a close eye on your cupcakes. They're done when a toothpick inserted into the center comes out clean or with a few moist crumbs attached.
Transfer Immediately After Baking
Transfer to a wire cooling rack immediately after taking them out of the oven. This prevents condensation from forming on the bottom, which can make the cupcakes soggy.
Cool Before Frosting
Ensure they are completely cool before frosting. Warm cupcakes can cause the frosting to melt or slide off when applied.
Remember, practicing and experimenting will help you perfect your baking skills over time. Have fun and enjoy the process of creating delicious baked goods! Here's what you're going to need for these strawberry Nutella cupcakes.
Ingredients
3/4 cup salted butter
3/4 cup granulated sugar
2 large eggs
1/2 cup whole milk
1 tsp vanilla
1/2 cup Nutella
1 1/2 cup all-purpose flour
1/2 cup cocoa powder
1/2 tsp baking powder
Strawberry Frosting
1 cup fresh strawberries
2 Tbsp granulated sugar
3 1/2 cups powdered sugar
1 1/2 cup salted butter
You want to make sure the cupcakes are not hot to the touch before you frost them. If the cupcakes are too hot, then the buttercream frosting will slide right off the cupcakes and end up a runny mess.
If you do not have salted butter, simply add a quarter teaspoon of salt to the cupcake batter after you cream the butter and sugar.
I like to let the frosting sit in the fridge for about 10 minutes after I make it just to make sure the butter has not softened too much. This can help make the frosting process a little easier.
Store your leftover cupcakes in the fridge for up to 5 days in an airtight container. If you want to freeze, you can arrange them in a single layer in an airtight container and store them for up to 3 months.
Get the printable recipe for these cupcakes below:
Yield: 12 cupcakes
Strawberry Nutella Cupcakes
This Nutella cupcake recipe with strawberry frosting is delicious - and perfect for Valentine's Day!
Ingredients
Cupcakes
3/4 cup salted butter
3/4 cup granulated sugar
2 large eggs
1/2 cup whole milk
1 teaspoon vanilla
1/2 cup Nutella
1 1/2 cup all-purpose flour
1/2 cup cocoa powder
1/2 teaspoon baking powder
Frosting
1 cup fresh strawberries
2 Tablespoons granulated sugar
3 1/2 cups powdered sugar
1 1/2 cup salted butter
Instructions
Preheat your oven to 350 degrees F. Fill a cupcake tin with cupcake liners and set aside.
In a large mixing bowl, use an electric hand mixer cream together the butter and granulated sugar until the butter is mostly incorporated with the sugar. There can be a few clumps of butter in the mixture.
Add the eggs, milk, and vanilla. Mix again on medium-high speed until the eggs are homogenous with the creamed butter mixture.
Add the Nutella and mix again for 1 minute until incorporated.
Add the baking powder, flour, and cocoa powder. Mix on medium speed until the dry ingredients are just incorporated into the batter and the mixture is (mostly) smooth.
Divide the batter among the cupcake liners and bake the cupcakes for 20 minutes.
Remove the cupcakes from the oven. Let cool for a few minutes then remove to the wire cooling rack.
Slice the strawberries in half and place them in a small saucepan with the granulated sugar over medium heat. Stir until mushy and remove from the heat to cool.
Once the strawberry mixture is cool, combine it with the powdered sugar and butter. Whisk on medium speed with an electric hand mixer until smooth and creamy.
Add the frosting to a piping bag with the tip of your choice. Divide evenly on top of the cupcakes.
Nutrition Information:
Yield:
12
Serving Size:
1 cupcake
Amount Per Serving:
Calories:

632
Total Fat:

39g
Saturated Fat:

25g
Trans Fat:

1g
Unsaturated Fat:

11g
Cholesterol:

124mg
Sodium:

315mg
Carbohydrates:

68g
Fiber:

2g
Sugar:

52g
Protein:

5g
---
If you enjoyed this recipe, please let me know in the comments! I'd also love for you to check out these other cupcake recipes:
Autumn Owls • Cadbury Mini Egg • Candy Corn • Carrot Cake • Chocolate Buttercream • Chocolate Cherry • Chocolate Zucchini • Christmas Tree • Christmas Wreath • Cookie Monster • Gingerbread • Grinch • Honey • Hot Cocoa • Jam Filled • Matcha • Pumpkin • Snickers