These delicious (and easy) chocolate cherry cupcakes are filled with cherry pie filling and topped with a rich buttercream frosting.
I'm sure you heard of the phrase "opposites attract." You know, the idea that two things that are very different can come together and – hopefully – be successful.
Paula Abdul wrote a song about it in the late 80s and did a music video with a weird cartoon cat. Lyrically, the song is about a couple who love each other despite being different in almost every way possible.
I can't stand that song.
BUT, I do like the idea. Sometimes opposing forces come together to make magic, and it's not all about relationships.
It can happen with desserts, too.
Such is the case with these chocolate cherry cupcakes! Chocolate is a very different flavor from cherry, yet they come together in this recipe to make something beautiful.
The robust, rich flavor of the cocoa harmonizes beautifully with the sweet and slightly tart flavor of the cherries. Making this a perfect recipe for Valentine's Day and beyond.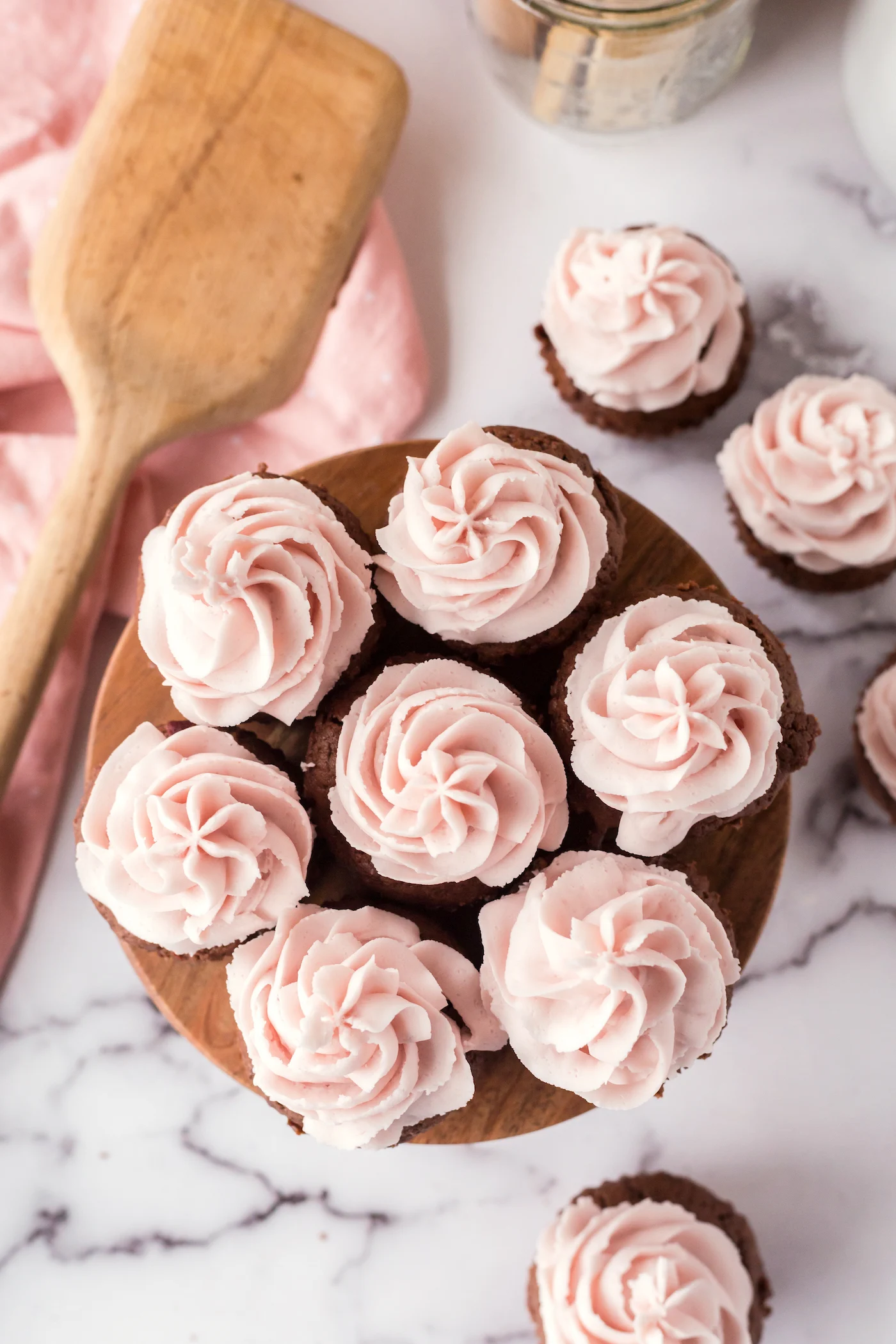 These moist and fluffy cupcakes have a delicious cocoa flavor complimented by a helping of delicious cherry pie filling. They are topped with a thick buttercream frosting with an additional hint of cherry.
The flavors are rich yet subtle, sweet but also not overwhelming. Forgive me if I am so bold as to say this might be the perfect cupcake!
Tips for Making Delicious Cupcakes
Before you dive into this recipe, I've got some tips for you on making the best (and tastiest) cupcakes. If you're interested, check them out. Otherwise scroll to the bottom.
Use Quality Ingredients
Use high-quality, fresh ingredients for the best flavor and texture. You'll for sure want to get fresh eggs, good quality butter, and pure vanilla extract (instead of imitation).
Measure Precisely
Flour is the main dry ingredient in this recipe. Measure using the scoop-and-level method, as adding too much flour can result in dry cupcakes. You can also weigh the flour.
Bring Cold Ingredients to Room Temp
Bring ingredients like butter, eggs, and milk to room temperature before mixing. They will incorporate better, resulting in smoother batter and fluffier cupcakes. They don't need to be warm; slightly cool to room temp is fine.
Avoid Overmixing
Mix the batter just until ingredients are combined, or the dry disappears into the wet. Overmixing can result in dense baked goods that are too firm.
Don't Overfill the Liners
Fill liners about two-thirds full with batter. This prevents overflow and allows room for the cupcakes to rise.
Watch While Baking
Follow the suggested baking time, but also keep a close eye on your cupcakes. They're done when a toothpick inserted into the center comes out clean or with a few moist crumbs attached.
Transfer Immediately After Baking
Transfer to a wire cooling rack immediately after taking them out of the oven. This prevents condensation from forming on the bottom, which can make the cupcakes soggy.
Cool Before Frosting
Ensure they are completely cool before frosting. Warm cupcakes can cause the frosting to melt or slide off when applied.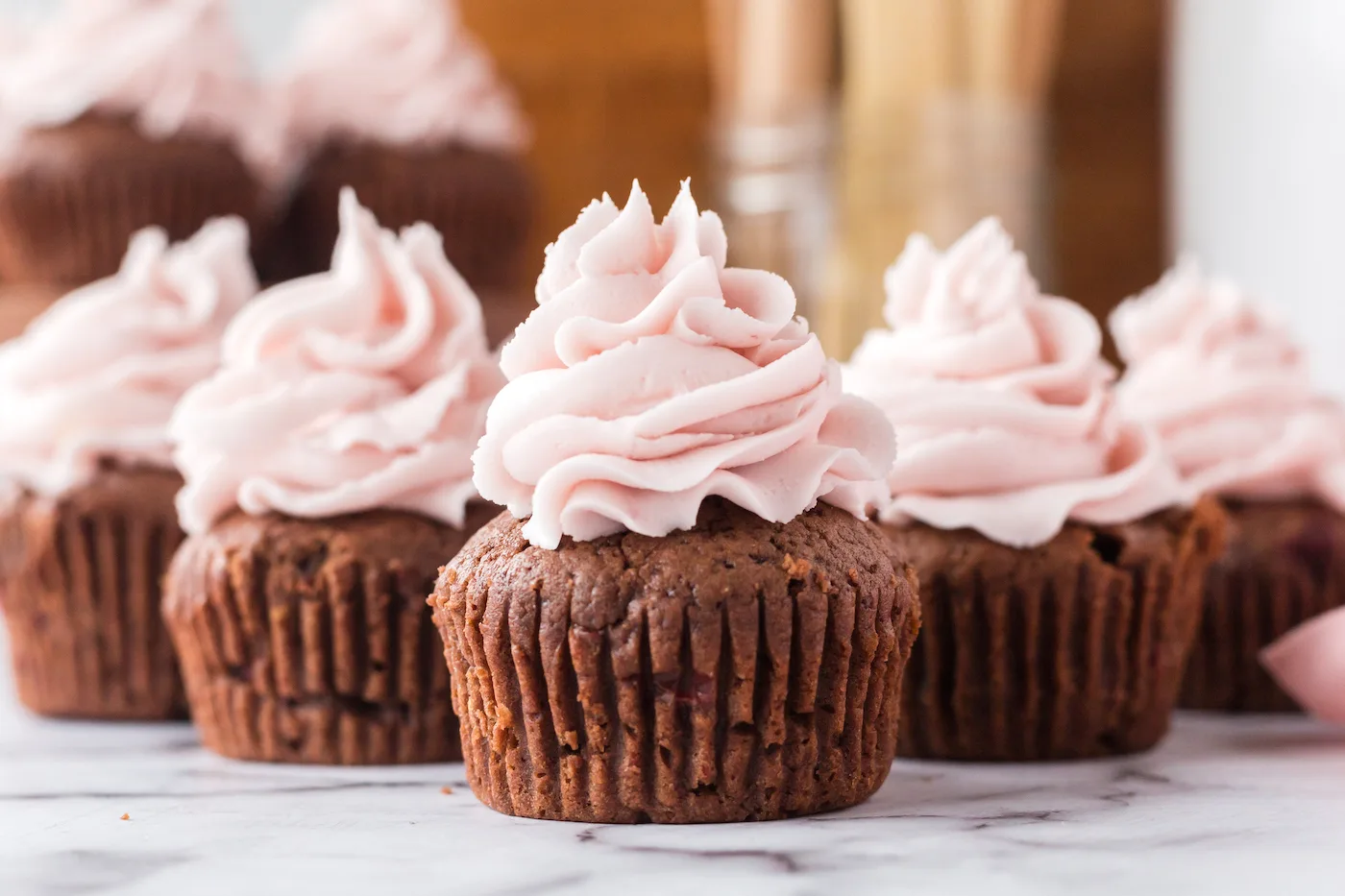 Remember, practicing and experimenting will help you perfect your baking skills over time. Have fun and enjoy the process of creating delicious baked goods! Here's what you're going to need for these chocolate cherry cupcakes.
Ingredients
3/4 cup salted butter
3/4 cup white granulated sugar
2 large eggs
2 tsp vanilla extract
1 cup cherry pie filling
1/2 tsp baking powder
1 1/2 cups all-purpose flour
1/2 cup cocoa powder
Cherry Buttercream Frosting
3 1/2 cups powdered sugar
2 Tbsp cherry juice (or 1/2 – 3/4 teaspoons cherry extract)
1/2 cup salted butter
For the cherry juice in the frosting, I just use the juice from canned cherries. You get a good amount of cherry flavor. Because there is cherry pie filling in the cupcake batter, you don't need the frosting to carry all the cherry flavor.
If your frosting is too thick, you can add a few teaspoons of cherry juice. Likewise, if it is too thin you can add 1/2 cup of powdered sugar.
These cupcakes are best stored in an airtight container in the fridge for up to 3 days. After 3 days, the frosting starts to get crumbly.
You can also freeze them for up to three months. Store in a rigid container, then bring out and let rise to room temperature after freezing.
Get the printable recipe for these delicious cupcakes below:
Yield: 12 cupcakes
Chocolate Cherry Cupcakes
Experience the harmony of rich chocolate and sweet cherries in every bite of these chocolate and cherry cupcakes!
Ingredients
Cupcakes
3/4 cup salted butter
3/4 cup white granulated sugar
2 large eggs
2 tsp vanilla extract
1 cup cherry pie filling
1/2 tsp baking powder
1 1/2 cups all-purpose flour
1/2 cup cocoa powder
Frosting
3 1/2 cups powdered sugar
2 Tbsp cherry juice
1/2 cup salted butter
Instructions
Preheat your oven to 350 degrees. Line a cupcake pan with cupcake liners.
Beat together the butter and sugar in a stand mixer or in a medium sized mixing bowl with an electric hand mixer. Mix the ingredients on a medium speed until combined and creamy.
Add the eggs and vanilla and mix again on a medium-high speed until the eggs have been fully beaten into the mixture.
Mix in the cherry pie filling until it is evenly distributed throughout the batter.
Add the baking powder, flour, and cocoa powder to the wet mixture. Mix the ingredients together starting on a low speed and working your way up to a medium-high speed until no clumps of flour or cocoa powder remain (just combined).
Fill a cupcake tin with liners and divide the batter among the liners as evenly as you can. Bake your cupcakes for 20 minutes.
Allow the cupcakes to cool for at least 20 minutes. while you prepare your frosting by whisking together the powdered sugar, butter, and cherry juice until smooth and creamy.
Frost your cupcakes using a piping bag and the tip of your choice (I used a star tip).
Nutrition Information:
Yield:
12
Serving Size:
1 cupcake
Amount Per Serving:
Calories:

450
Total Fat:

20g
Saturated Fat:

12g
Trans Fat:

1g
Unsaturated Fat:

6g
Cholesterol:

82mg
Sodium:

190mg
Carbohydrates:

64g
Fiber:

1g
Sugar:

44g
Protein:

4g
---
If you enjoyed this recipe, please let me know in the comments! I'd also love for you to check out these additional cupcake recipes:
Autumn Owls • Cadbury Mini Egg • Candy Corn • Carrot Cake • Chocolate Buttercream • Chocolate Zucchini • Christmas Tree • Christmas Wreath • Cookie Monster • Gingerbread • Grinch • Honey • Hot Cocoa • Jam Filled • Matcha • Pumpkin • Snickers • Strawberry Nutella