If you are looking for Easter rice krispie treats, these carrot krispies are so easy to make – and everyone loves them! Enjoy this holiday sweet.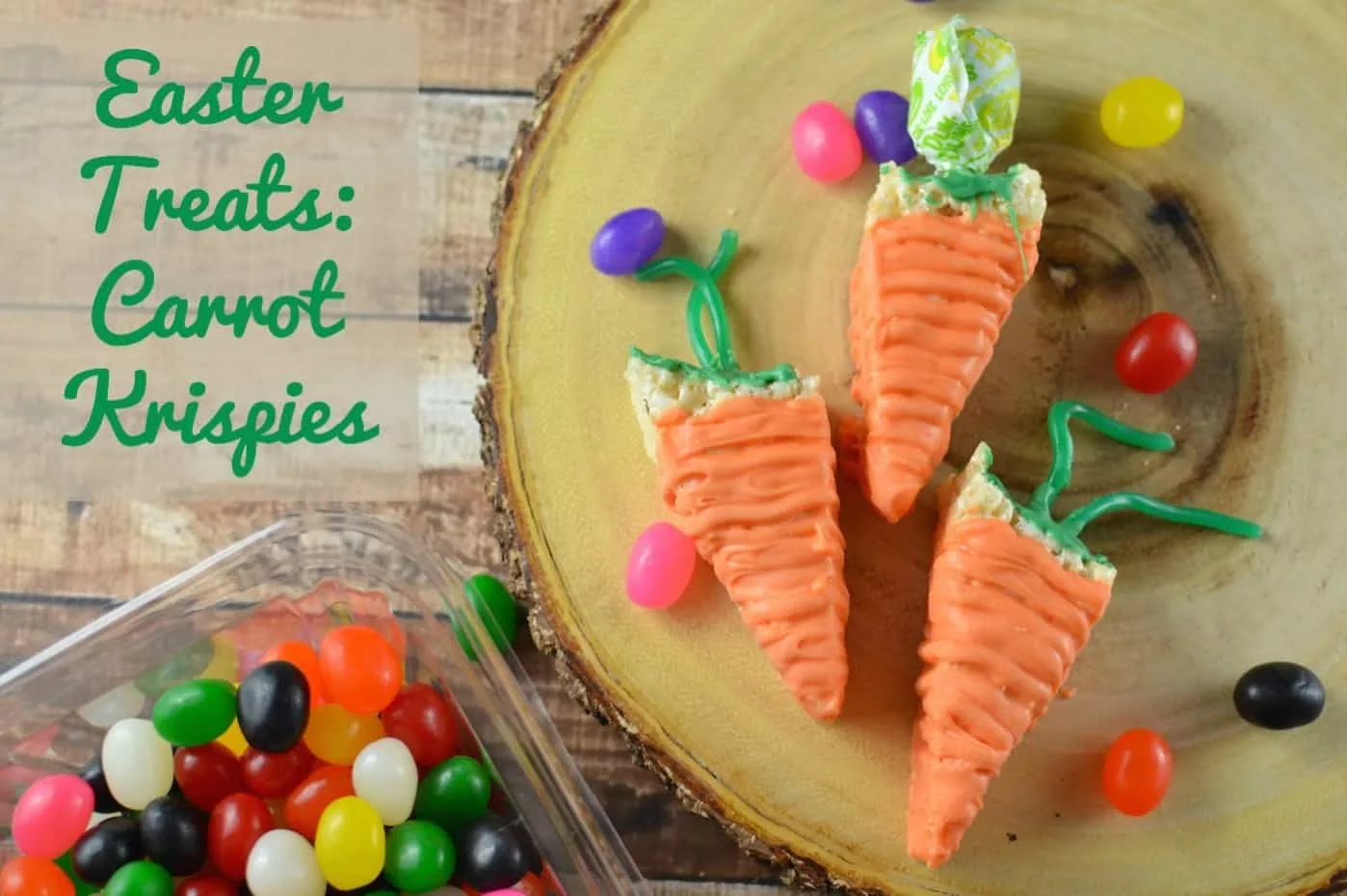 Every holiday has its own special meaning that I believe is important to celebrate with friends and family.
Having said that, every holiday also has its own set of delicious, themed sweets – which I also think is important to celebrate! This particular recipe, carrot krispies, is one of my favorite Easter dessert recipes.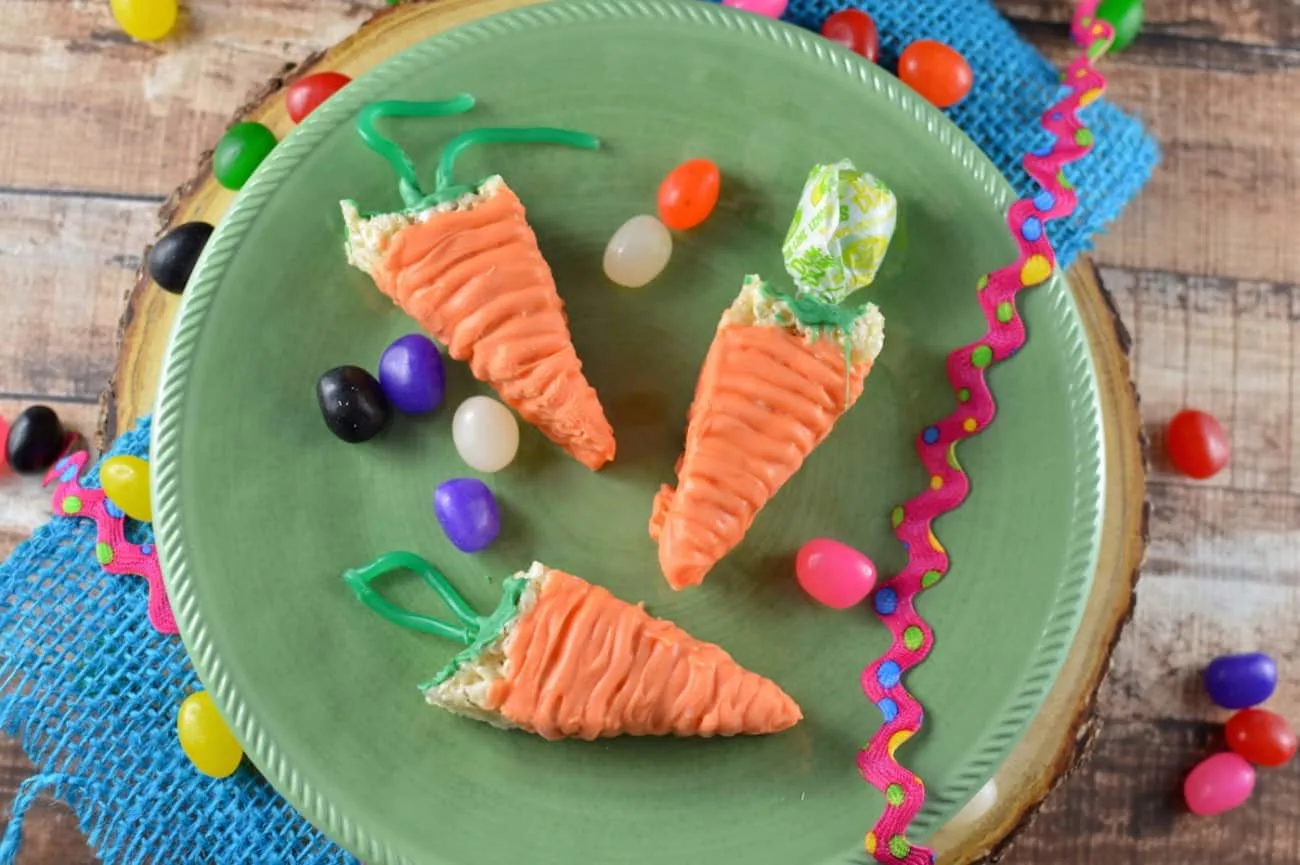 Because aren't they cute?
Oh, and let me also mention – they are incredibly easy to make. You'll use pre-packaged Rice Krispie treats, unless you prefer homemade and want to make those as well.
I'm presenting you with a shortcut so that you have a delicious Easter dessert in minutes. A treat that adults and kids alike will adore. Because when people see food that looks like carrots, they squeal. Try these and you'll see!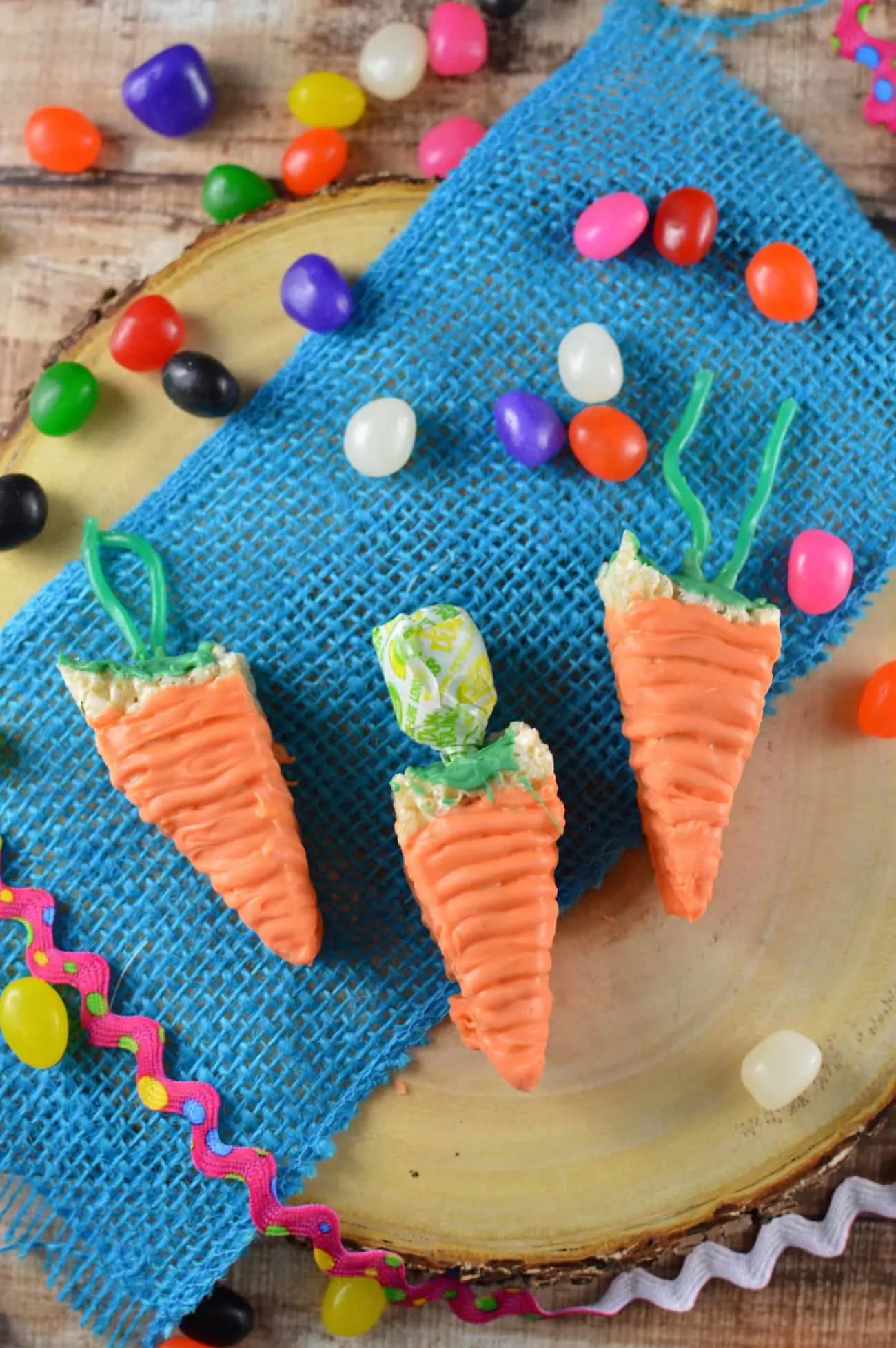 Easter Rice Krispie Treats
Ingredients
Rice Krispie treats – either pre-packaged or homemade
1 c. orange candy melts
1/2 c. green candy melts
1 tablespoon and 1/2 teaspoon of coconut oil
Green licorice and jellybeans OR lollipops (or both)
Other Supplies
Parchment paper
Fork
Microwave safe bowl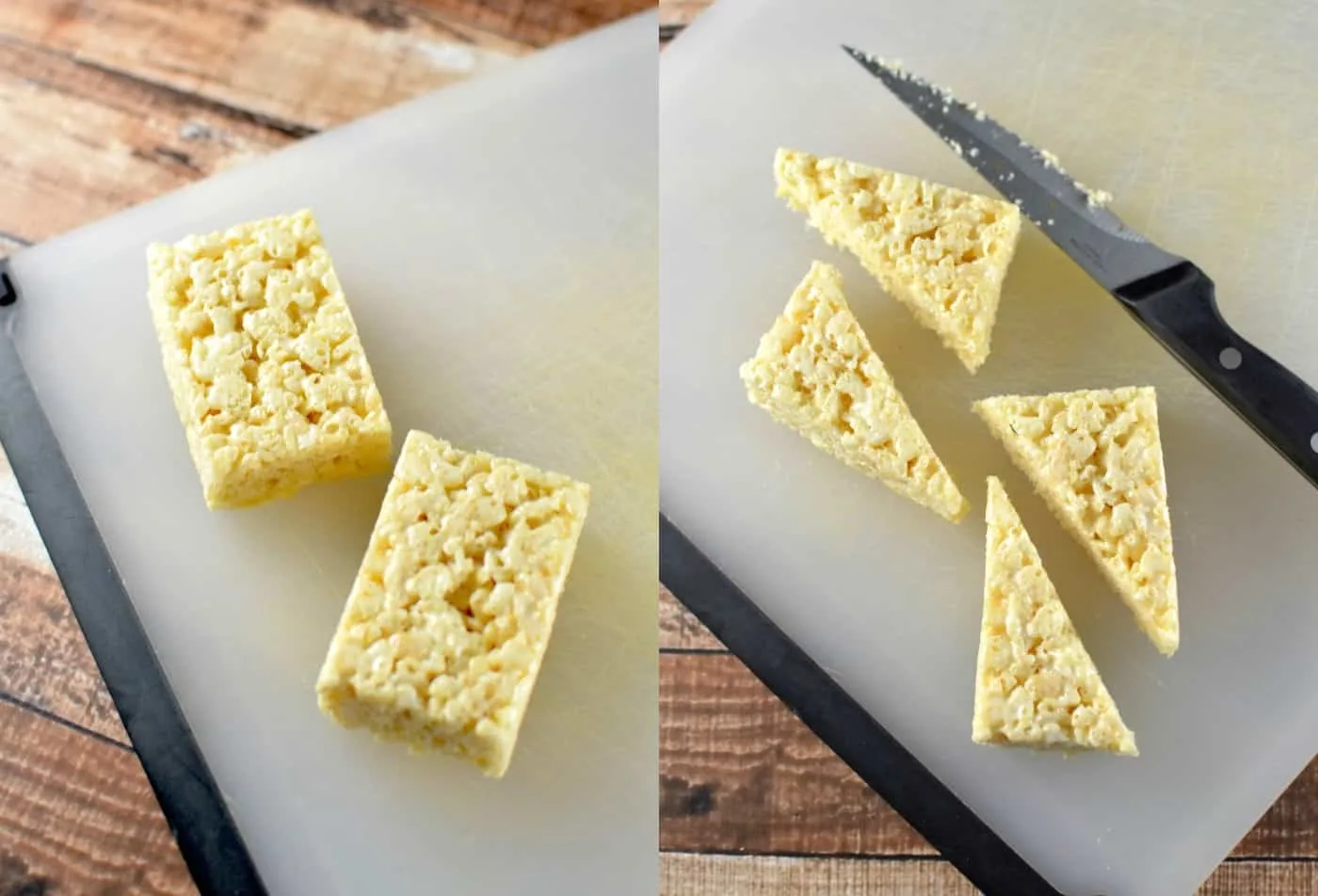 Start by cutting your Rice Krispie treats in half on the diagonal so they are triangles. Place aside.
Now grab your orange candy wafers and add in a tablespoon of coconut oil. Place in microwave for 15 seconds. Take out, stir completely. Place back in for another 15 seconds. Repeat until it is smooth (time could vary depending on your microwave).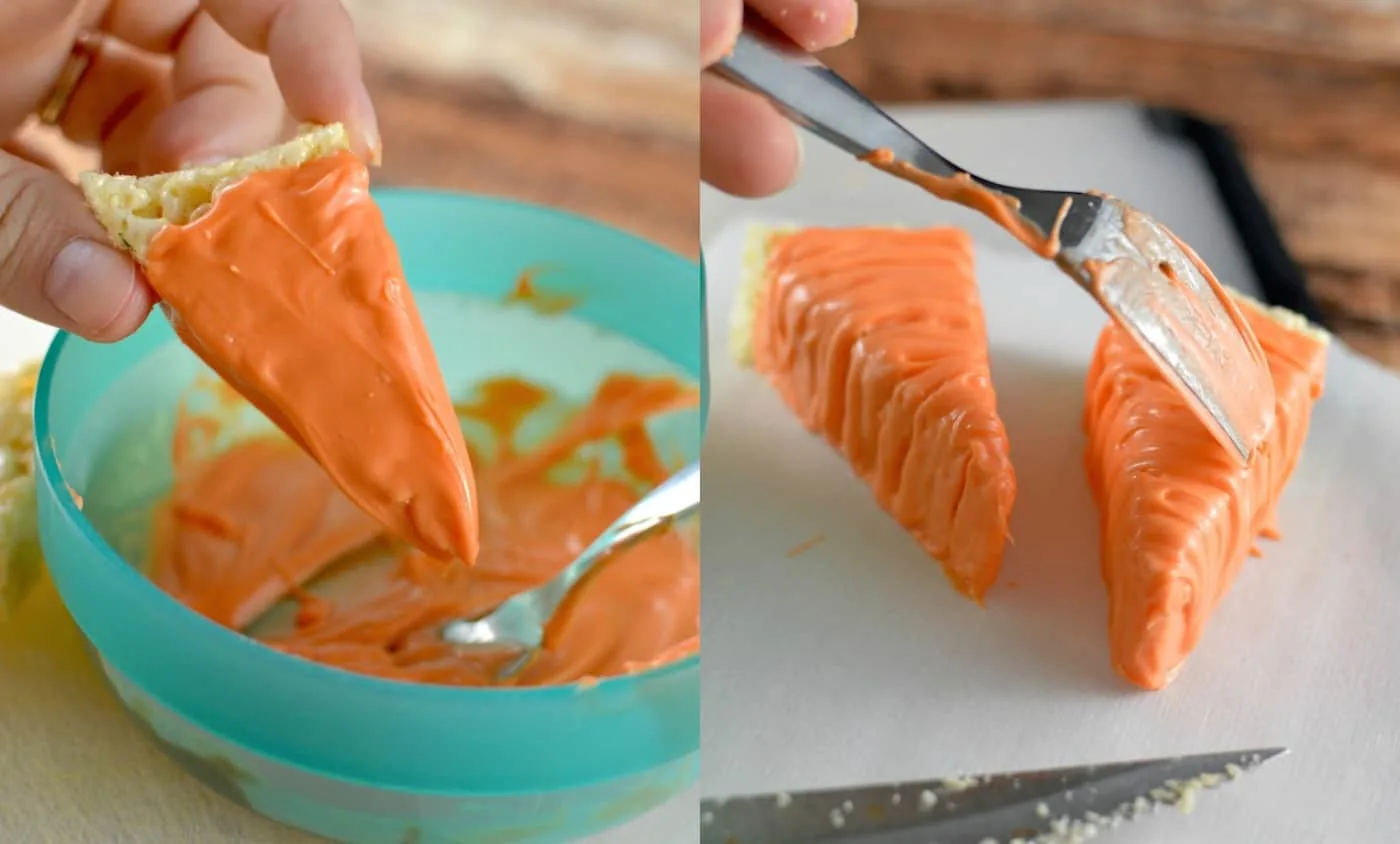 Grab a Rice Krispie and hold over the bowl – dip it in the orange candy mixture until it is almost covering the entire treat. Use your fork to help keep your fingers clean.
Place on parchment paper. Drag your fork along the treat sideways, making lines that resemble the lines on a carrot. Let those harden in the fridge for about 5 minutes.
Now you have two options. The first is quite simple.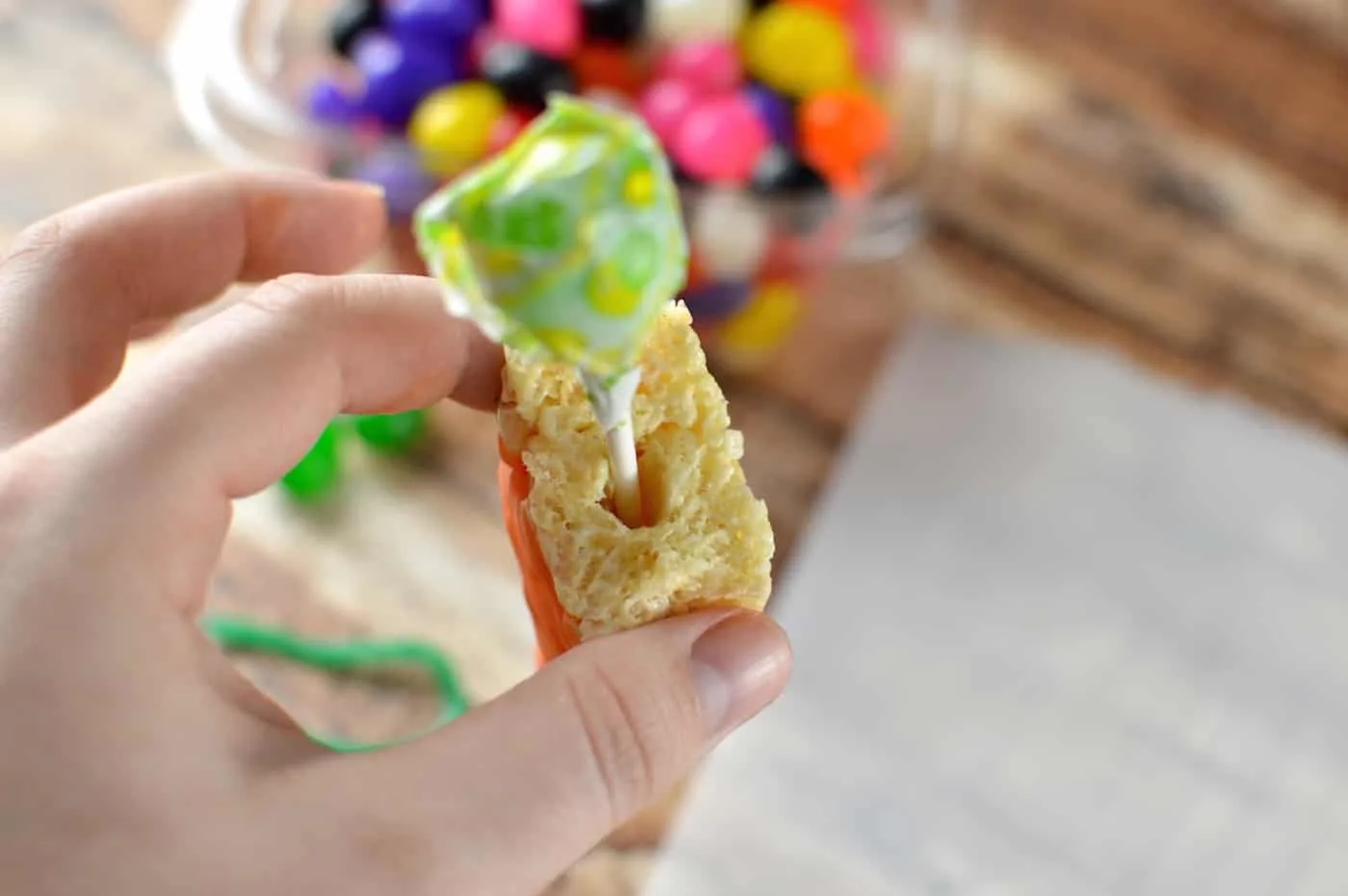 Simply grab a lollipop stick and poke a hole in the top and wiggle it around a little. This saves you a lot of work and it's an extra bonus for the kiddos.
If you want to add the carrot stem, poke a hole in the tops of your Easter rice krispie treats and melt your green candy wafers.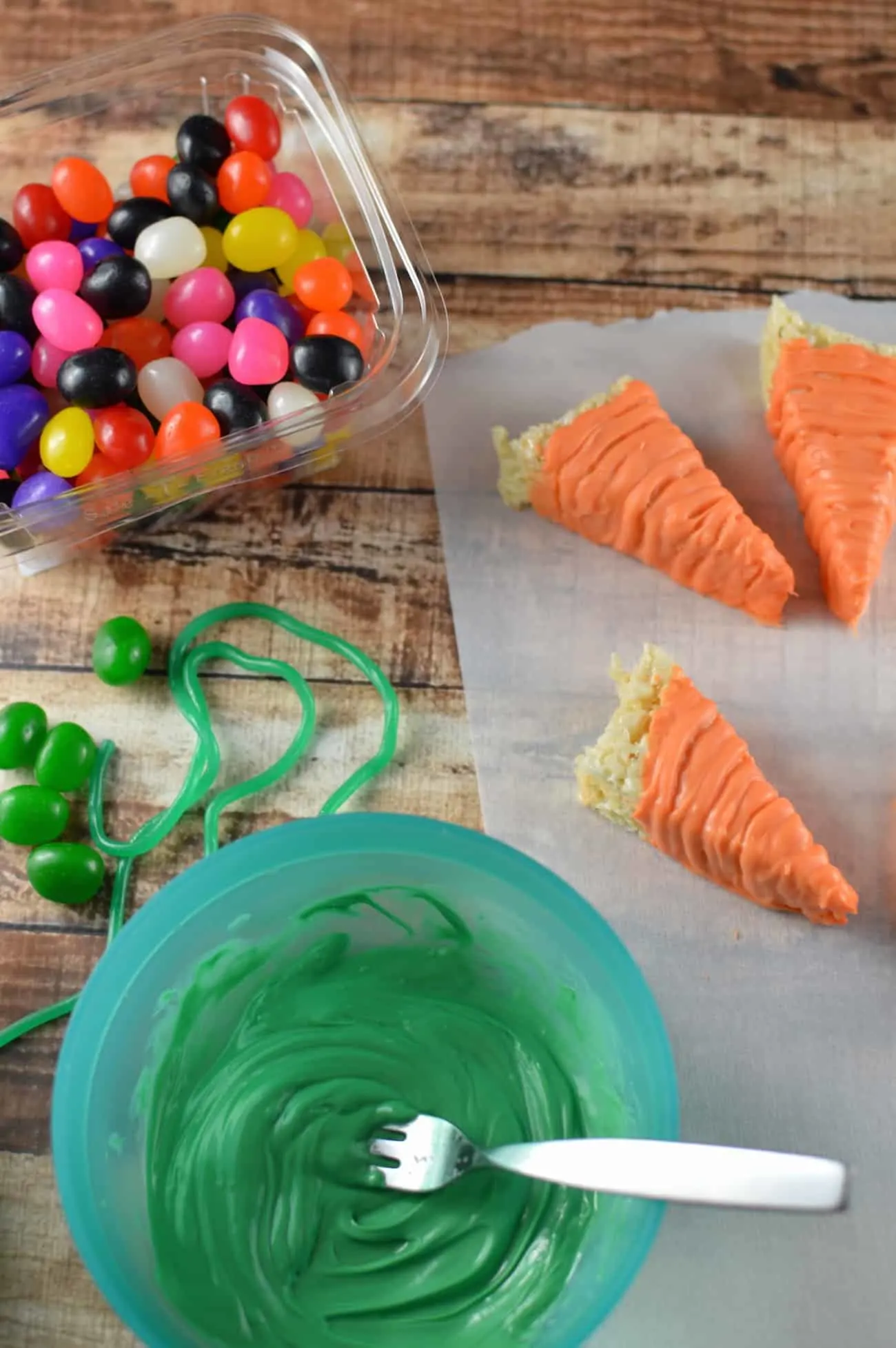 You'll use the microwave bowl again, along with the 1/4 c. of green candy melts and the 1/2 teaspoon of coconut oil. Microwave and stir as you did before.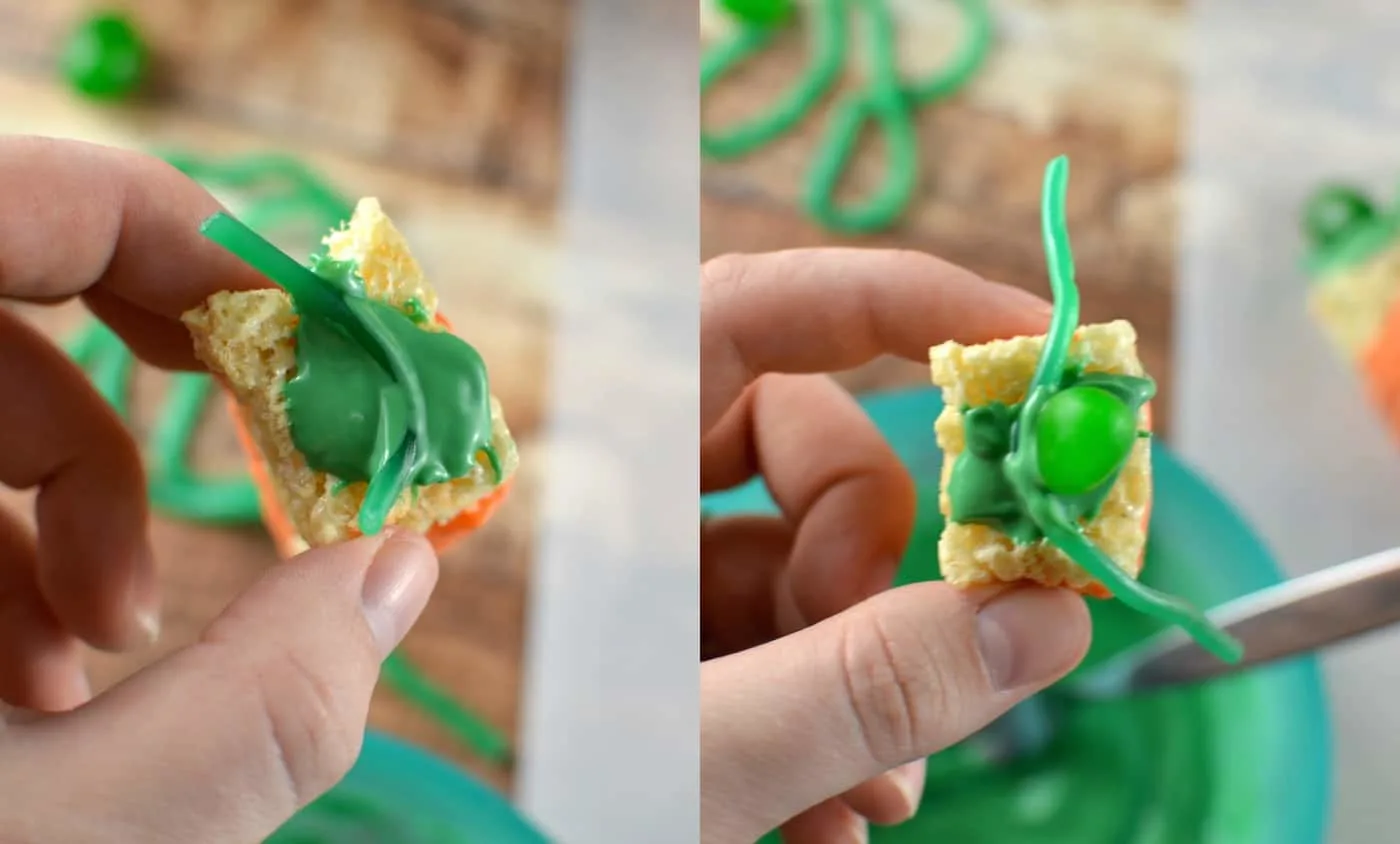 Spoon a tiny bit of the green mixture into the top hole. Place two pieces of green licorice into the top (about 1 ½ inches long). Add the jellybean on top. Place on parchment paper and let harden.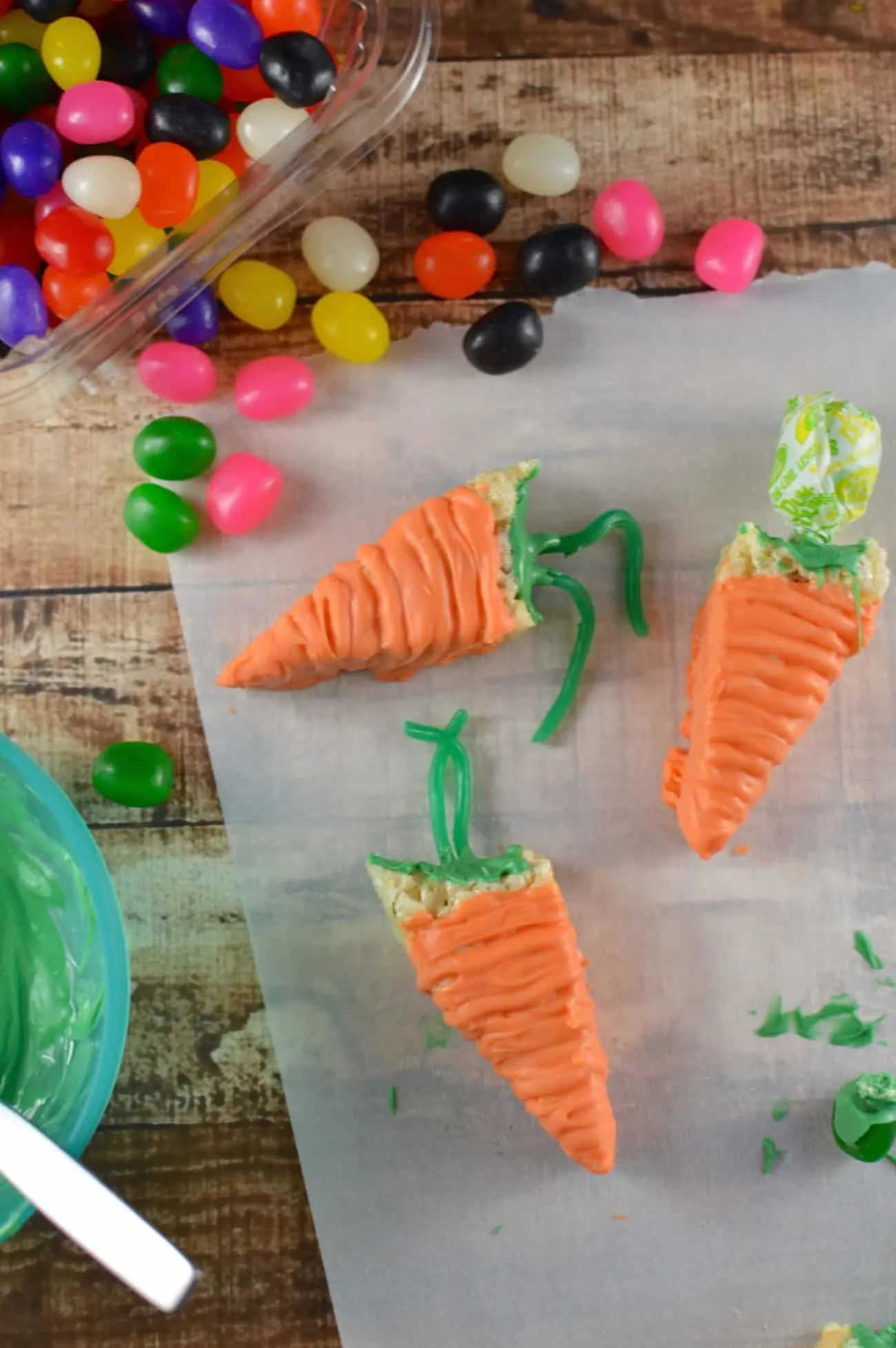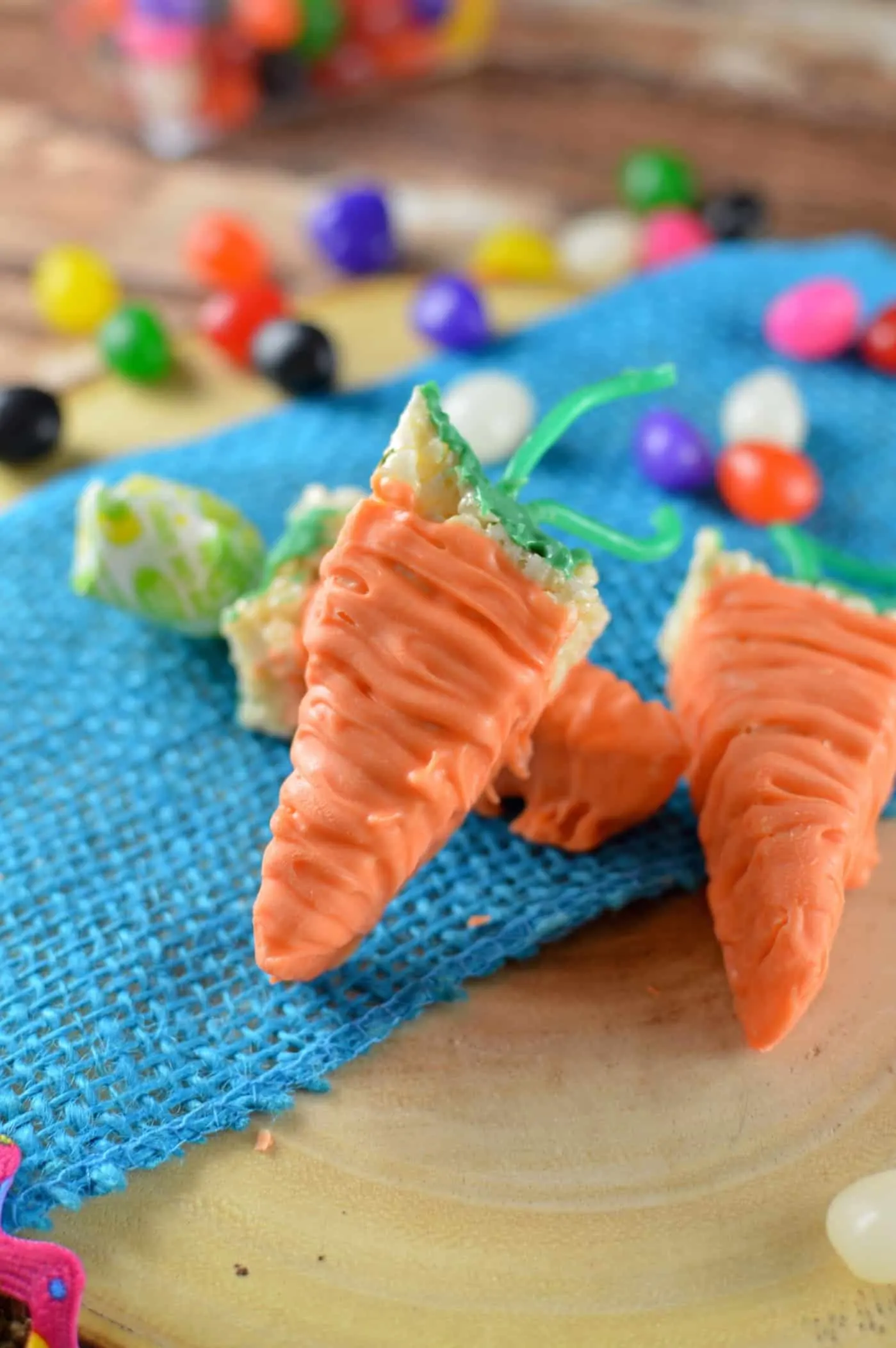 Once you are all done, set in fridge for a few minutes. Enjoy right away or save for an Easter party date!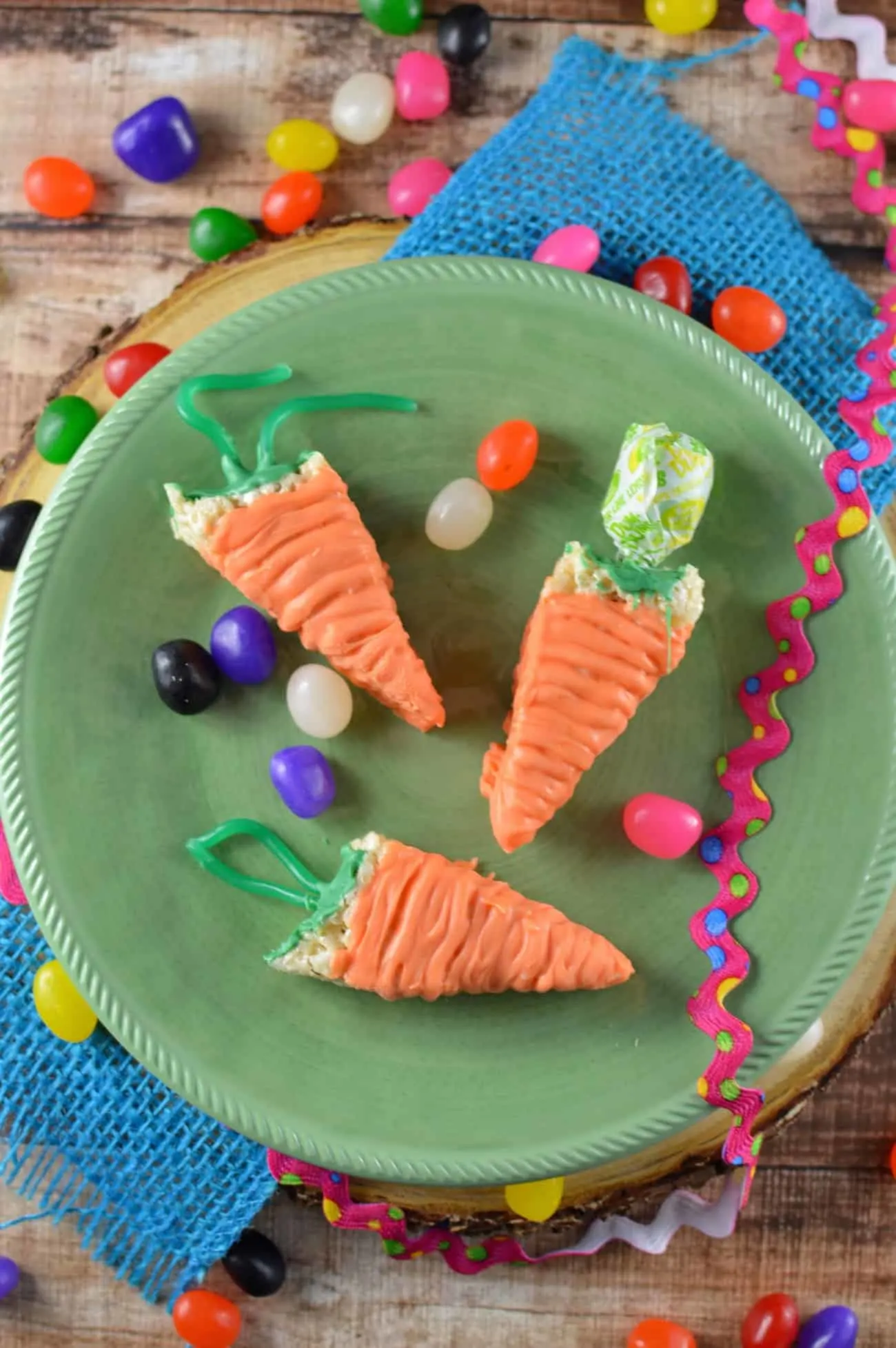 I'm loving how these turned out! These are not only a fun Easter treat, but they're also just a good activity for the family during the holiday.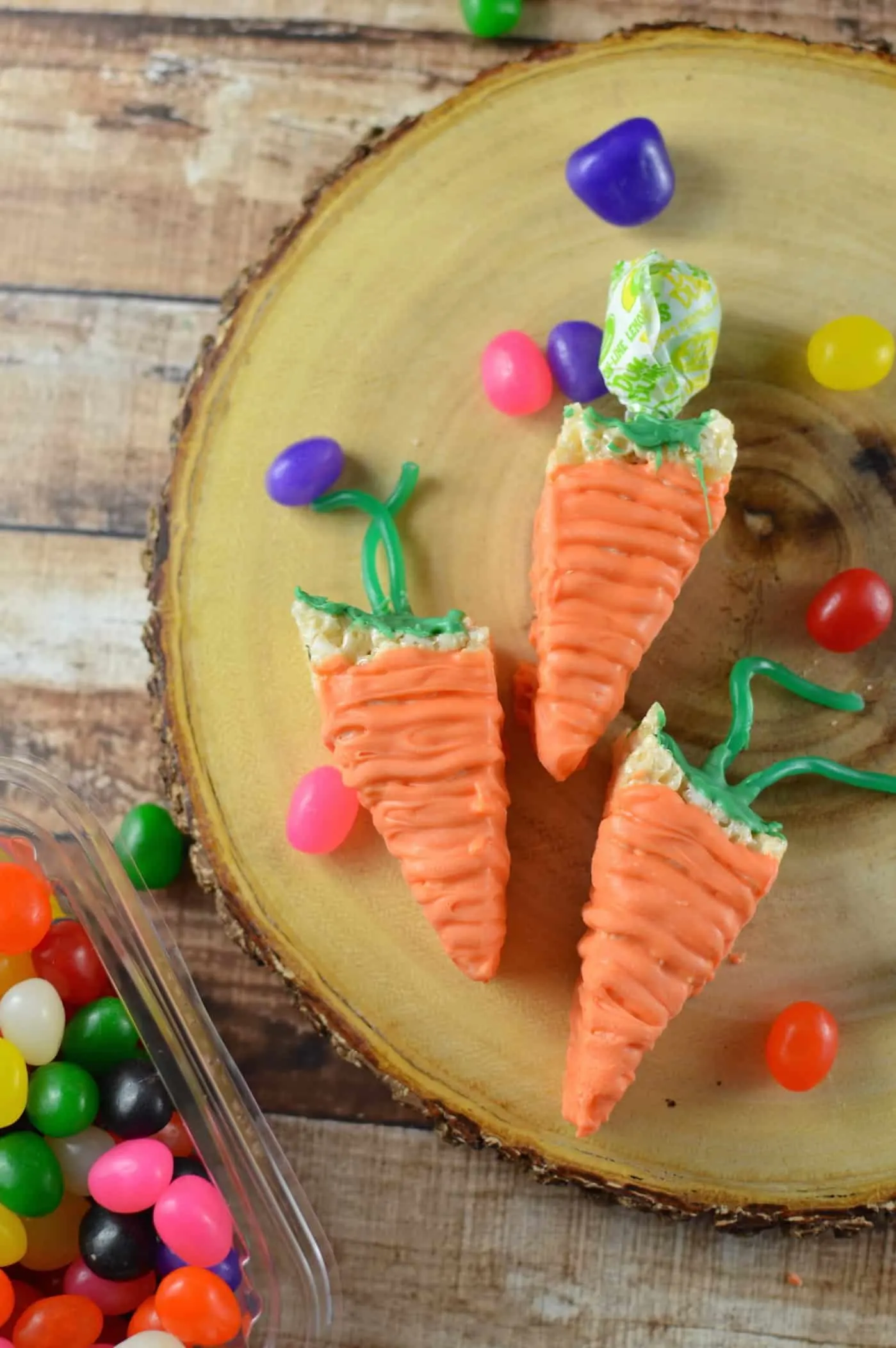 Grab the printable recipe card below.
Yield: 16 carrots
Carrot Rice Krispie Treats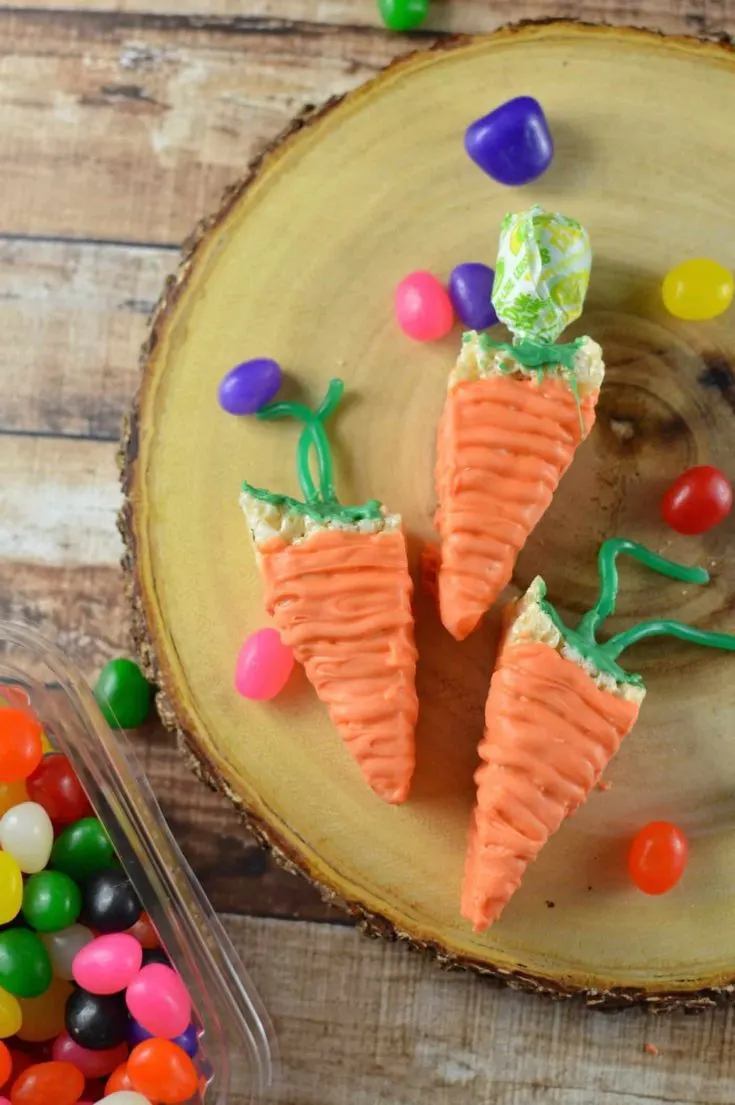 If you are looking for tasty and fun Easter dessert recipes, these carrot krispies are so easy to make - and everyone loves them! Enjoy this holiday sweet.
Ingredients
Rice Krispie treats - either pre-packaged or homemade
1 c. orange candy melts
1/2 c. green candy melts
1 tablespoon and 1/2 teaspoon of coconut oil
Green licorice and jellybeans OR lollipops (or both)
Instructions
Start by cutting your Rice Krispie treats in half on the diagonal so they are triangles. Place aside.
Put orange candy wafers in a bowl and add in a tablespoon of coconut oil. Place in microwave for 15 seconds. Take out, stir completely. Place back in for another 15 seconds. Repeat until it is smooth (time could vary depending on your microwave).
Grab a Rice Krispie treat and dip it in the orange candy mixture until it is almost covering the entire treat. Use your fork to help keep your fingers clean.
Place on parchment paper. Drag the fork along the treat sideways, making lines that resemble the lines on a carrot.
Let harden in the fridge for about 5 minutes.
To add the carrot stem, melt the green candy wafers as you did the orange. Create a hole in the top of the treat.
Place some melted candy wafer into the hole. Place two pieces of green licorice into the top (about 1 ½ inches long). Add the jellybean on top. Place on parchment paper and let harden
Nutrition Information:
Yield:
8
Serving Size:
1
Amount Per Serving:
Calories:

96
Total Fat:

1g
Saturated Fat:

0g
Trans Fat:

0g
Unsaturated Fat:

0g
Cholesterol:

0mg
Sodium:

21mg
Carbohydrates:

23g
Fiber:

0g
Sugar:

14g
Protein:

0g
---
You've got to try these carrot rice krispie treats – I promise they are going to be one of your favorite Easter dessert recipes ever! I'd love for you to check out these other Easter desserts as well: