This marbled Easter bark is a fun twist on a standard recipe – and it only takes a few minutes to make. It's super easy, plus it includes chocolate eggs!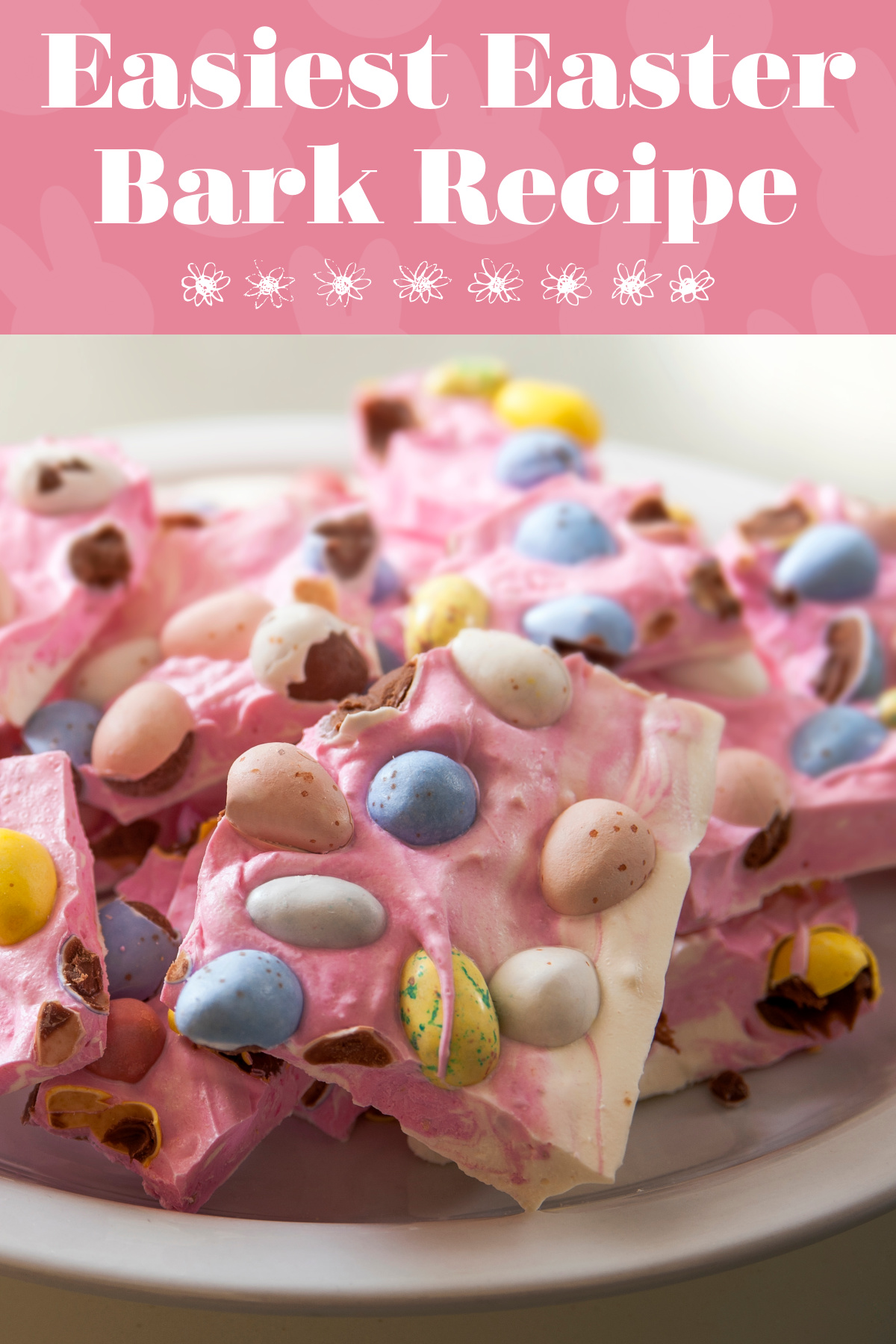 This is both a craft and recipe blog, so sometimes my attention gets split between the two. That also sometimes means that I need to do a quick recipe or a quick craft since I can't do both.
Well when it came to Easter this year, crafts won out, and recipes came in second. I decided to do an Easter dessert recipe.
And if you can tell me that the recipe 1) is really easy, and 2) involves candy . . . well, I'm pretty much sold without even knowing what it is.
With Easter right around the corner, I decided to try a standby family treat recipe but change it up for this holiday. This is my version of Easter bark! It's got chocolate and vanilla, a little bit of crunch, and you can make it in 15 minutes.
Let me correct myself – you can make A LOT of this bark in 15 minutes. I've already given some to my neighbors and it's a hit! I can't wait to share the recipe with you. Here's how you do it.
Easter Bark Candy Recipe
You're going to make this recipe in three simple steps. You're going to head the candy wafers, spread them onto a pan, and then add the Easter candy.
If you want the kids to help, they can! They'll have fun plunking the eggs into the bark as its cooling. Here's how this Easter treat is made.
Ingredients
Vanilla flavored candy wafers – at least two pounds. I actually used almost four
Cadbury Mini Eggs Candy – one 10 oz. bag
Whoppers Robin Eggs Malted Milk Eggs – at least the carrot bag size or larger
Pan for heating candy wafers
Baking sheet with edges
Parchment paper
Spatula
Food coloring (optional)
Hammer and paper towels (for cracking)
I used Hershey products in my Easter bark. Don't you love their Easter candy? I wanted the little decorated eggs with the speckles on them! You could also use jelly beans, sprinkles, gummy bears, or all sorts of other add-ins. Get creative!
I happened to have some white candy melts on hand, so that's what I used – and then swirled food coloring through for marbling. But you can also purchase the wafers in some pretty awesome colors.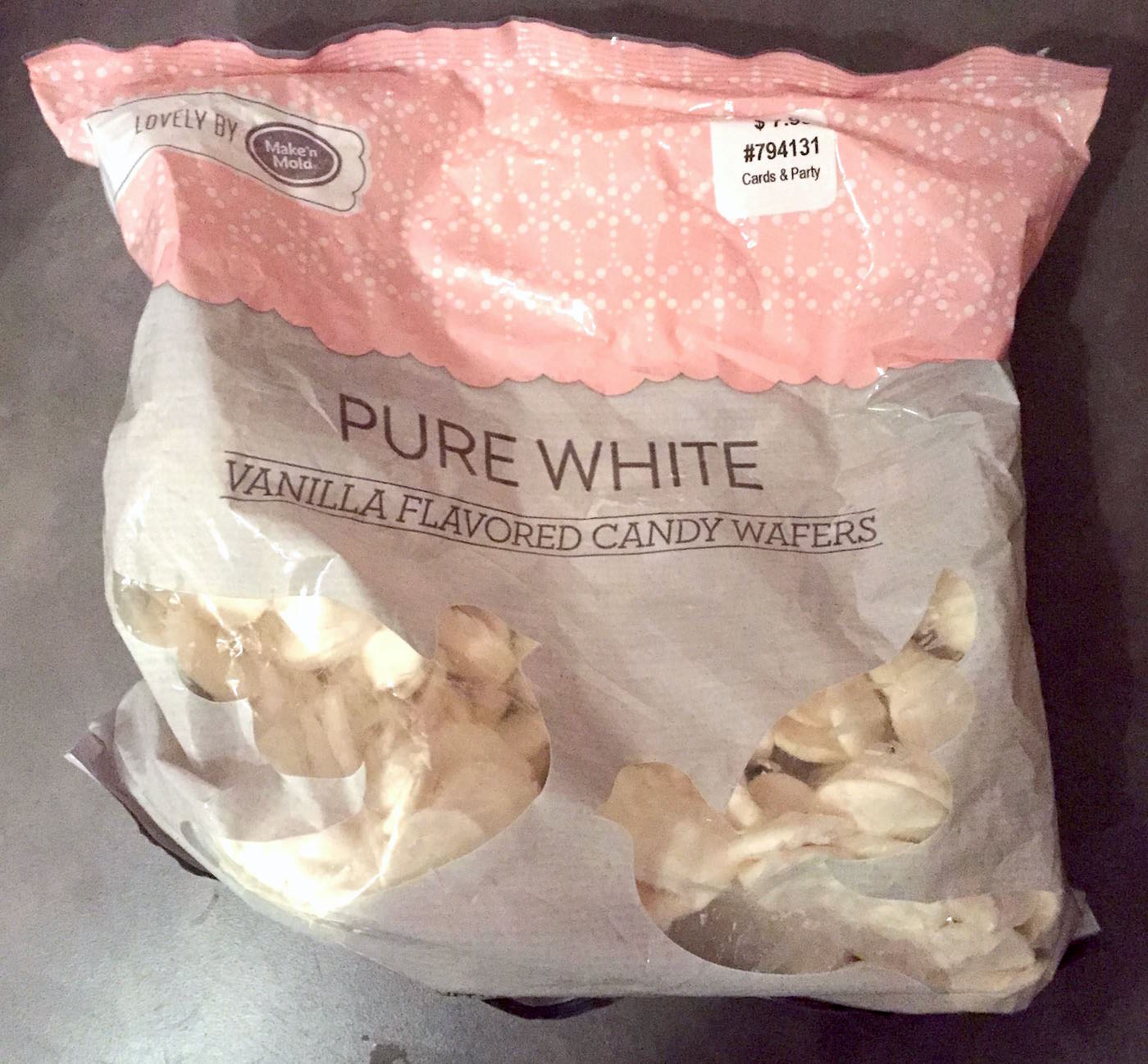 Melt the Wafers
Open your bag of candy melts and pour into a pan . . . starting heating on LOW. This is very important.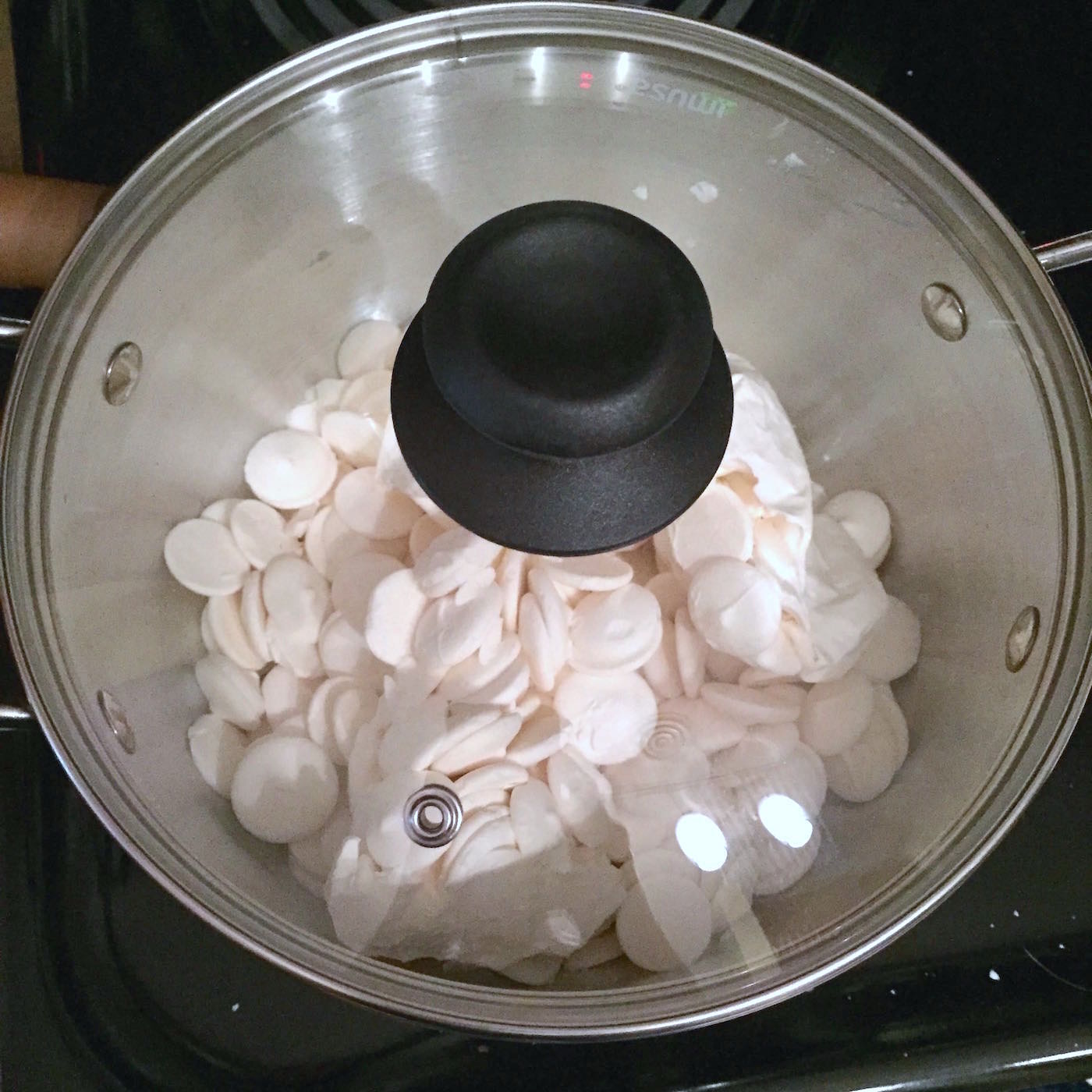 I actually made a huge mistake once by turning the heat up a little too high and burned a little at the bottom of the pan. I've avoided that same mistake by keeping the heat at a 1 or 2 on the stove and letting the candy wafers slowly melt.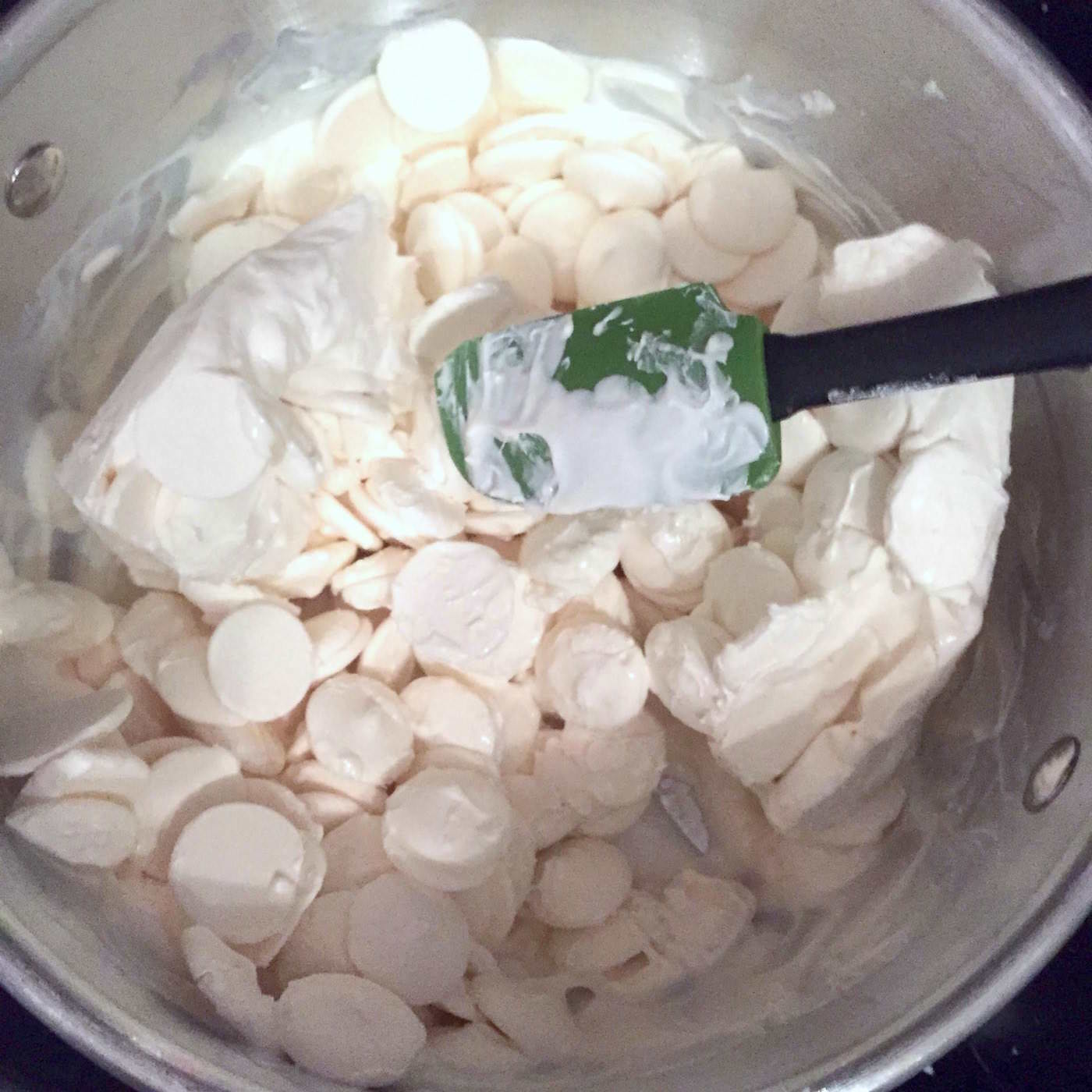 The white chocolate melting process feels like it goes very slow. And while you can do it in a microwave safe bowl, it takes a while. And you have to keep zapping and stirring, and repeating.
So let me give you a secret. Get a candy melting pot if you are going to make bark regularly! They are amazing (I got one after this post). Plus the excess candy cleans right out of it.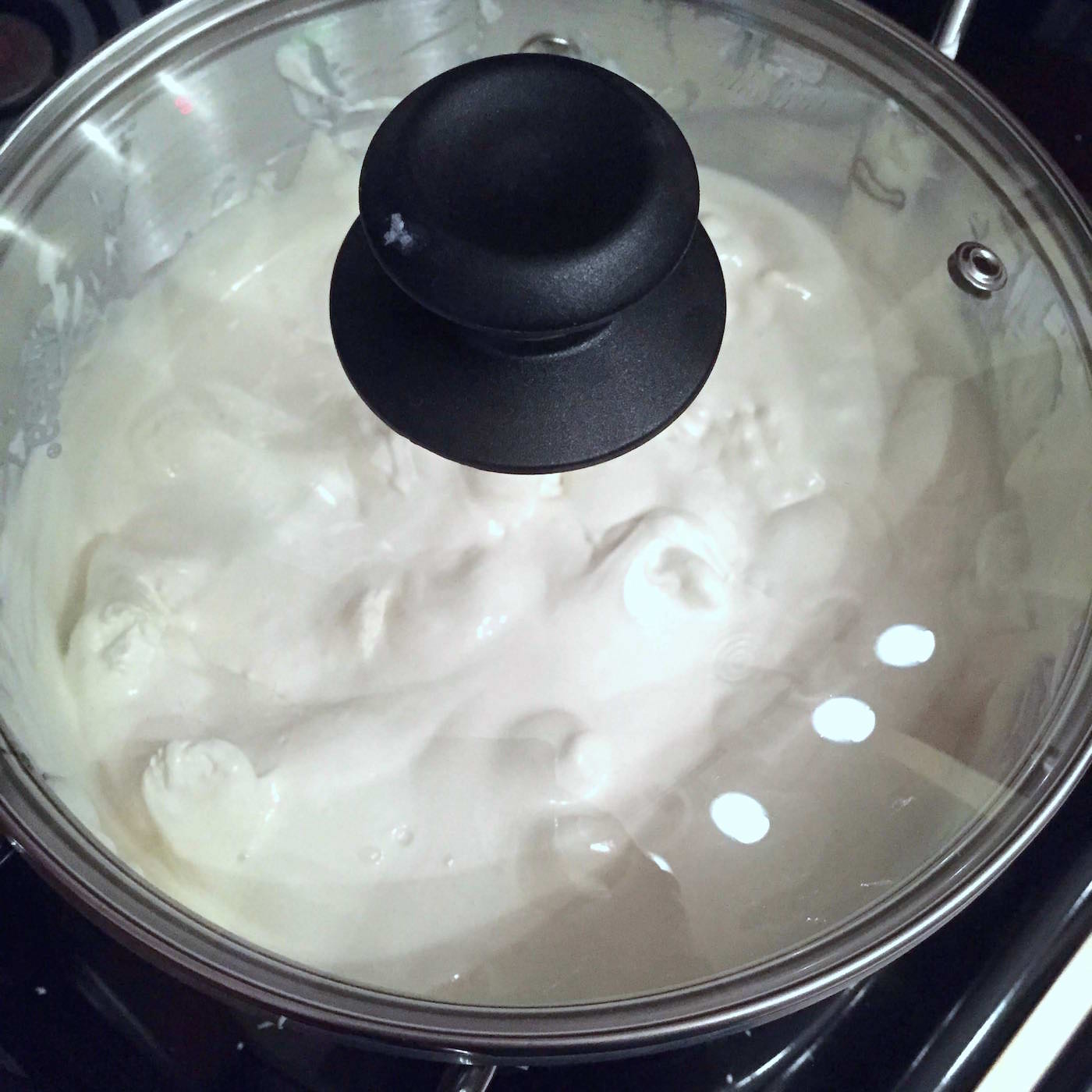 I wasn't quite sure what I was going to do with the marbling . . . but I wanted to bring the food coloring in somehow. So here's what I did.
Pour Candy Into the Pan
I poured some melted white wafers (about 1/3 of what I had) into the parchment lined pan in a thin layer . . .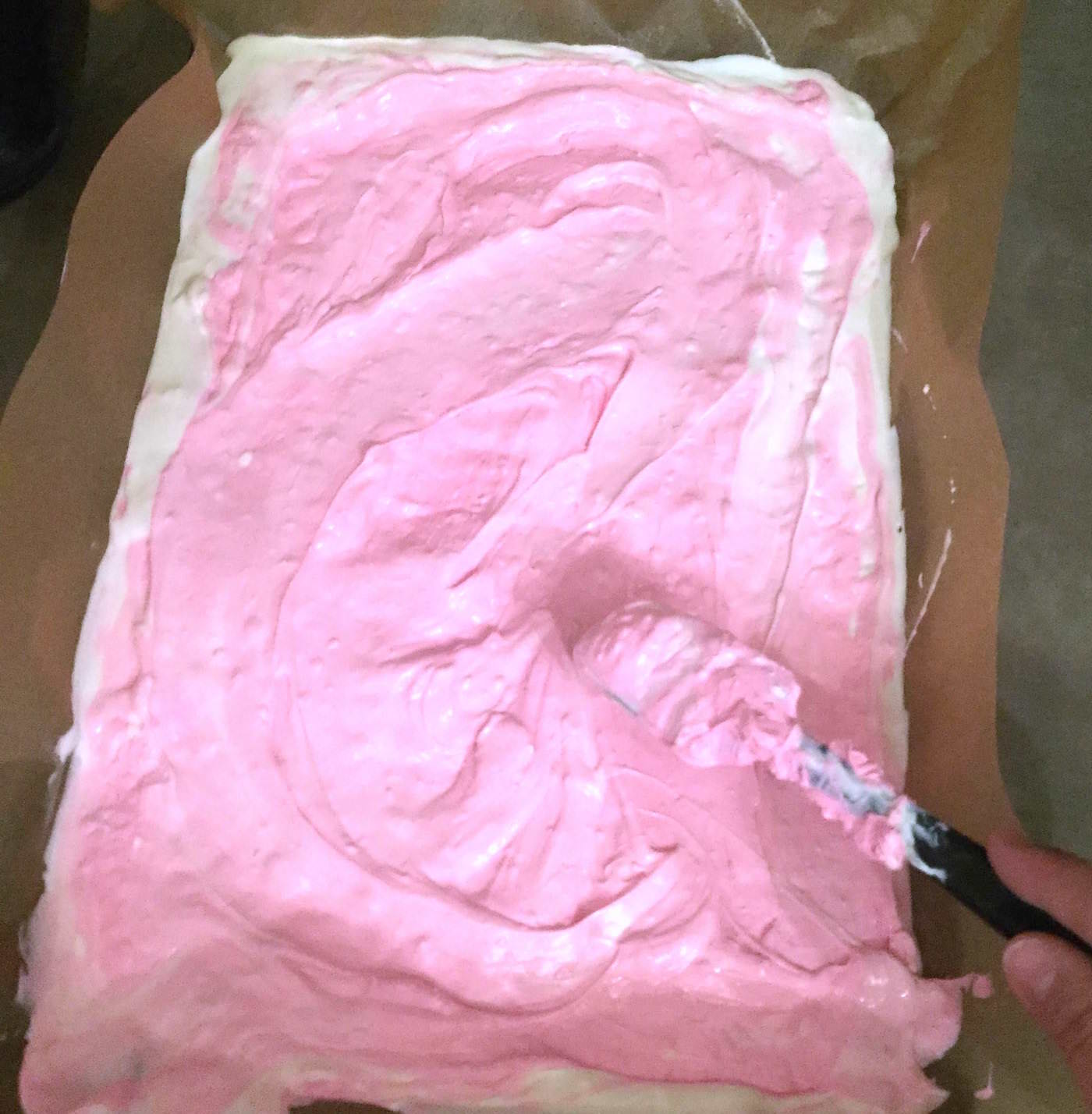 and then added my food coloring. I stirred and stirred, and then poured the pink into the pan on top of the white and smoothed with my spatula.
It actually created such a fun marbling effect for my Easter bark!
Add the Easter Candy
While it was setting up, I was able to swirl the colors together AND add my eggs on top.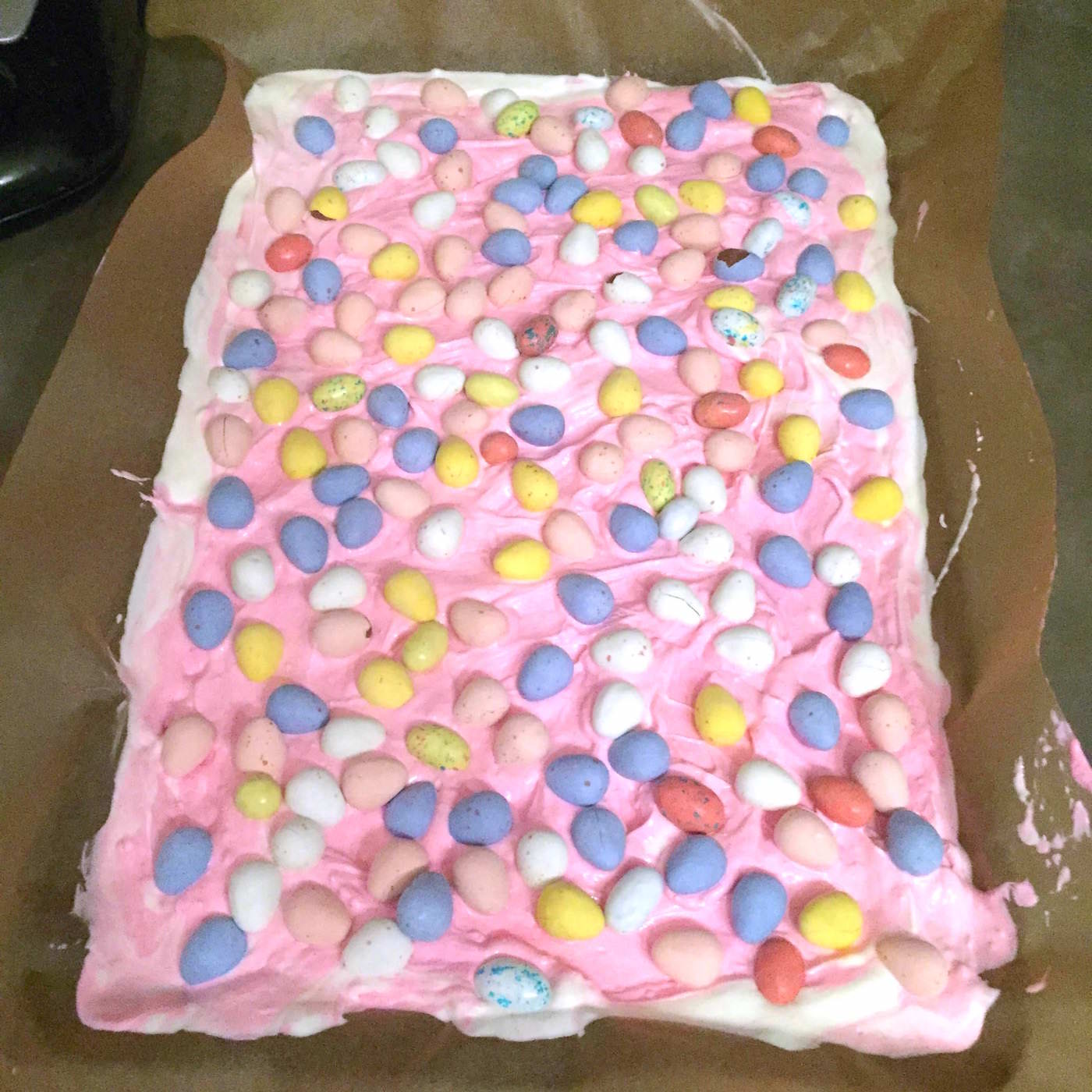 I pushed down to make sure the eggs went into the melted chocolate and would set up.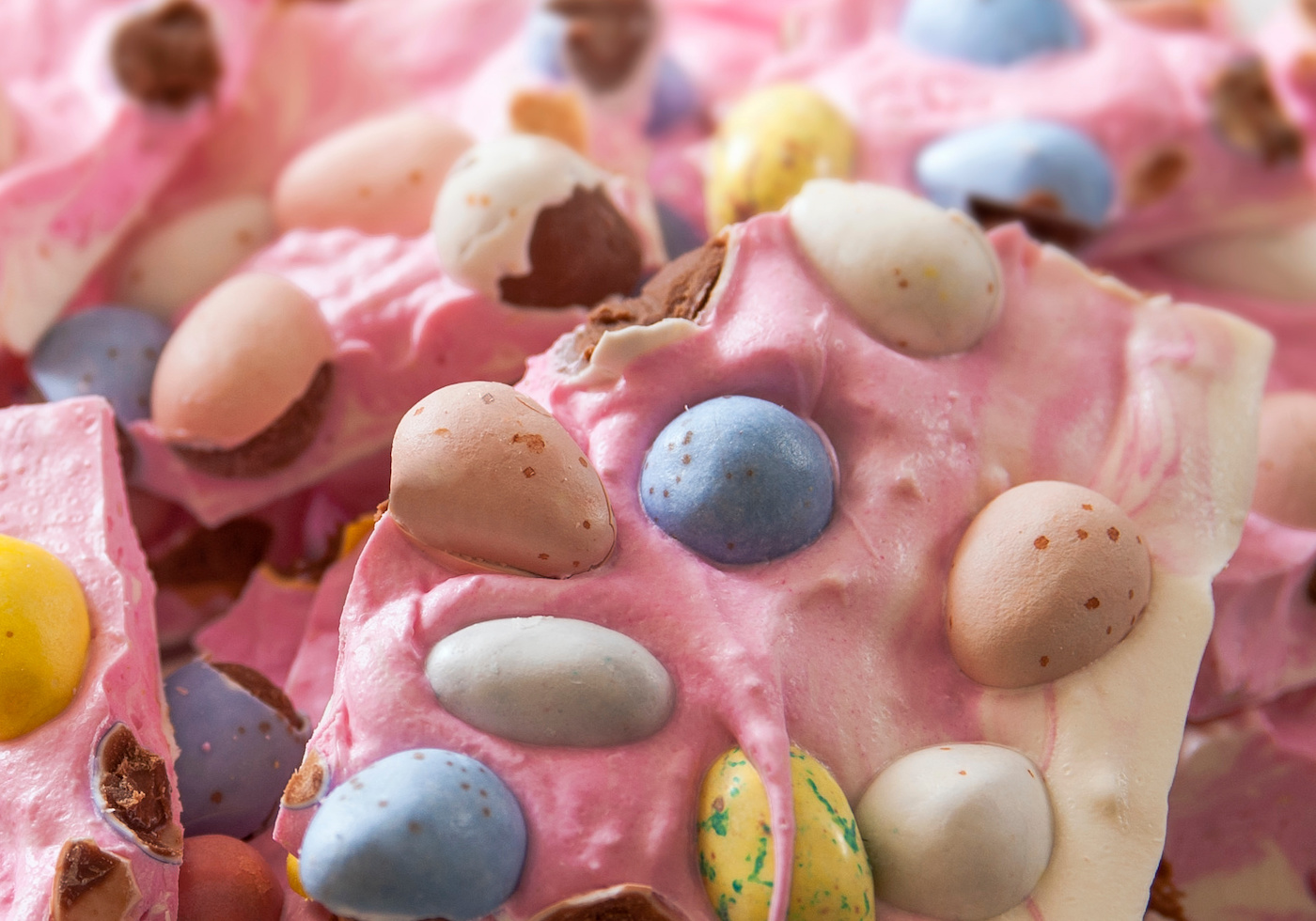 You won't want to place in the fridge right away – let it cool at room temperature and then place in the fridge to harden. THEN comes the most fun part, especially if you have a little stress.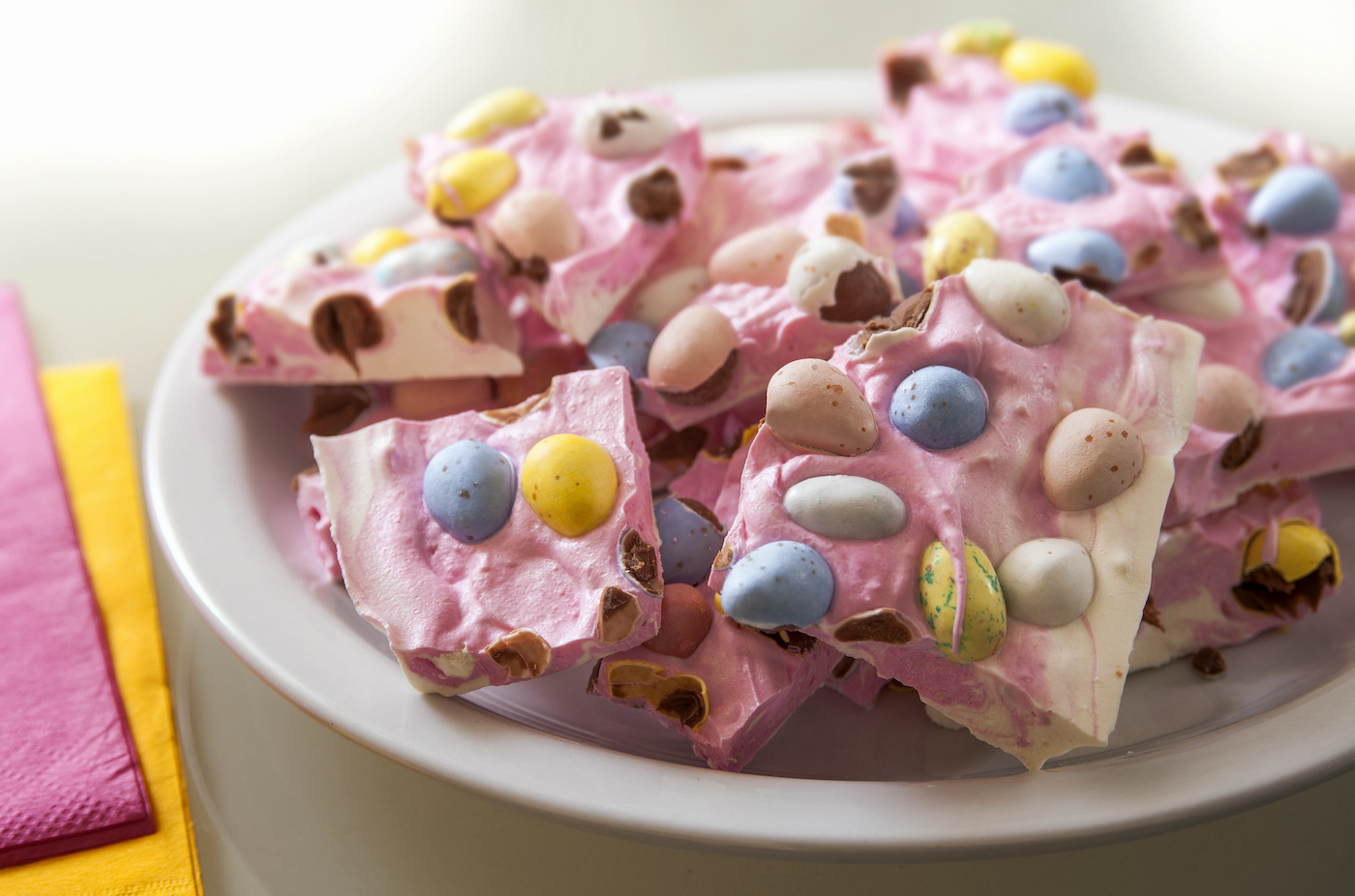 You'll turn the pan over (and because of the parchment paper, the bark will come right out). Place a paper towel on top and "bang." Just slightly – you don't want to go crazy and break a counter. You just need a tap on the bark and it will break. Continue until the pieces are small enough.
Yield: 16 pieces
Easter Bark
Use melting chocolate to make this candy Easter bark! Kids love to get involved with this holiday recipe too. It's easy, fun, and so tasty.
Ingredients
24 oz Wilton Candy Melts, White
3/4 cup Cadbury eggs
3/4 cup Whoppers Robin eggs
Pink food coloring (optional)
Instructions
Line a cookie sheet with either wax or parchment paper.
Open the candy melts and add to a saucepan on the stove at the lowest heat. You can also microwave.
Continue slowly melting the candy until full melted.
Spread the candy onto the paper in a medium layer. Cover the whole cookie sheet.
Spread the chocolate over the wax paper in a medium layer, making about a 9 x 13 inch rectangle. Repeat this process with the melts until you've covered the wax paper.
Swirl a food drops of food coloring throughout to make a marbled design if desired.
While cooling, top the bark with the candy eggs. Let sit until hard, then break into pieces to serve.
Notes
In addition to using the top of a stove, you can also use a Wilton candy melter as well as the microwave (in 30 second bursts) to melt the pieces.
Nutrition Information:
Yield:
16
Serving Size:
1
Amount Per Serving:
Calories:

245
Total Fat:

4g
Saturated Fat:

2g
Trans Fat:

0g
Unsaturated Fat:

1g
Cholesterol:

16mg
Sodium:

72mg
Carbohydrates:

51g
Fiber:

0g
Sugar:

34g
Protein:

2g
---
And now you have the most delicious Easter bark in the history of the world. Now how will you celebrate with Hershey's this Easter? What is your favorite candy that they have to offer?
If you love this Easter candy recipe, check out these other Easter treats: