Learn how to make delicious Halloween bat cookies with this simple shortbread recipe! Features mini Reese's cups and cute edible eyes. The whole family can participate in the baking of this treat recipe.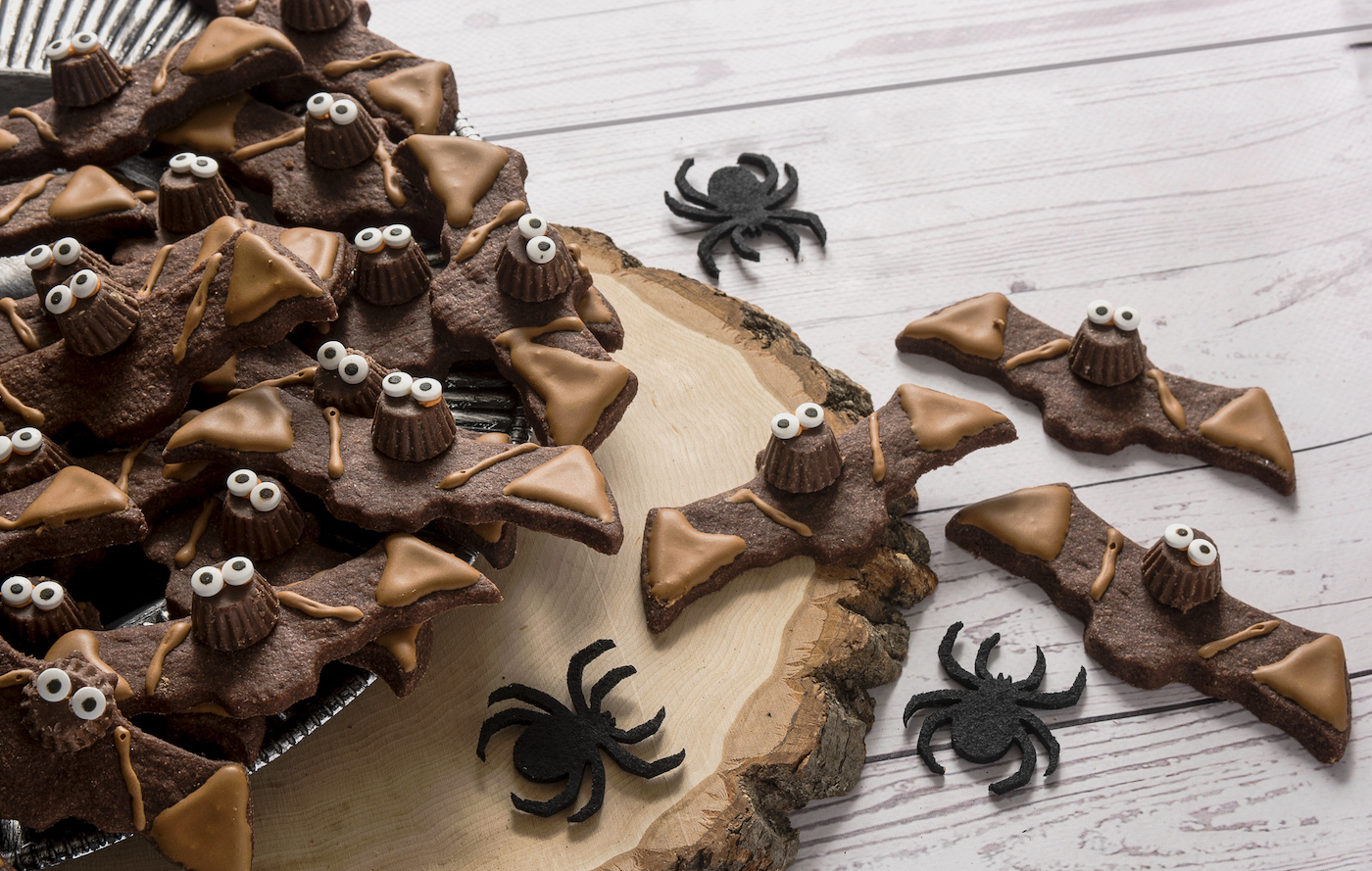 We are a cookie making family! My mother is the one who drives it, because she's a bit of a cookie monster, and she loves baking during the holidays. When I saw the whole family gets involved, I mean the entire family.
My niece turned nine this past summer and now it's time for her to start baking with us this holiday season as well. We were looking at Halloween treat ideas and were excited to try these Reese's Chocolate Bat Cookies for the holiday!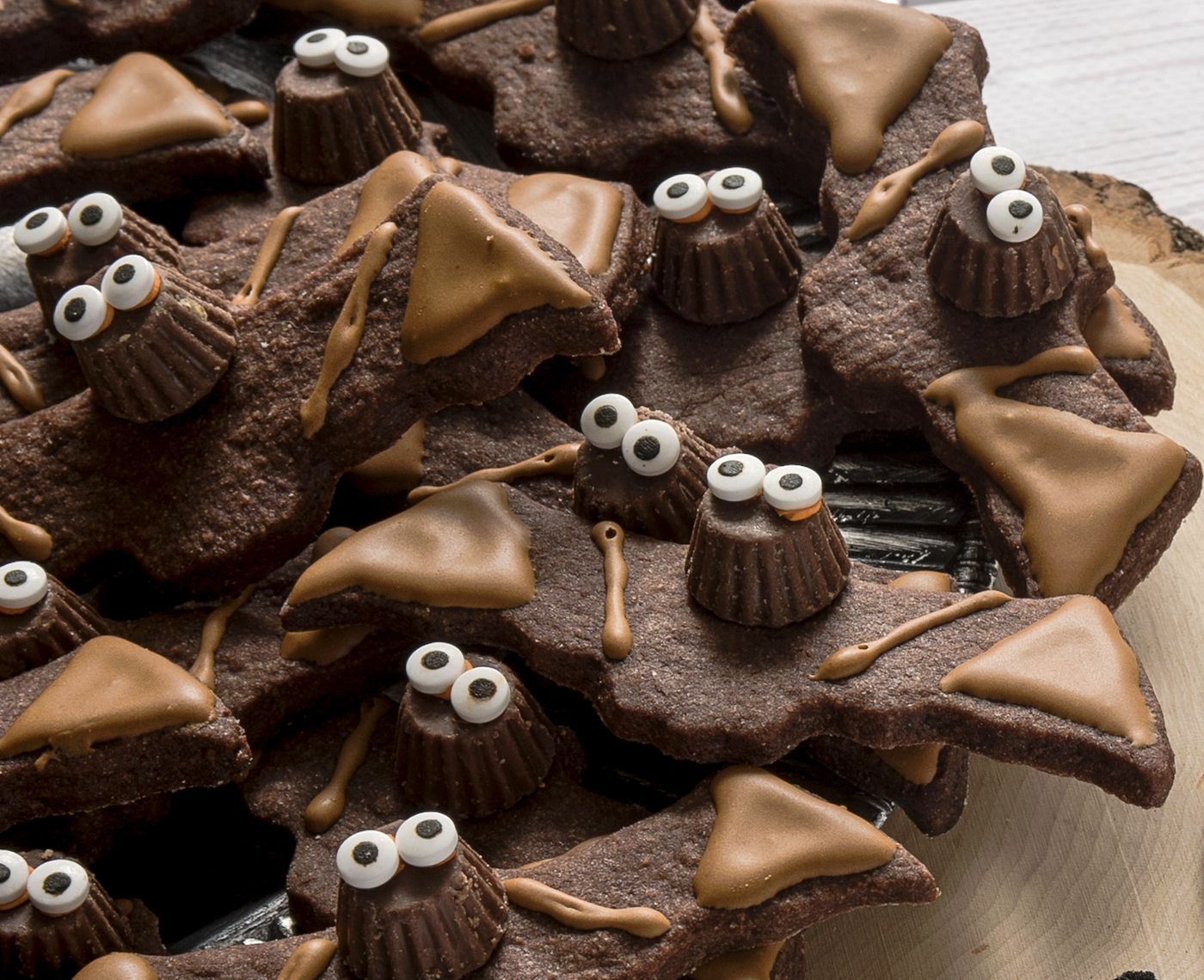 These Reese's bats are SO easy to make and I love that kids can help! They can assist in mixing the ingredients and of course will love to apply the icing and little faces at the end.
The only change we made from the original recipe is that we made our own Royal Icing and applied that to decorate since that's what we love. But isn't that the point of Halloween cookie ideas? You make them your own! Here's what you're going to need.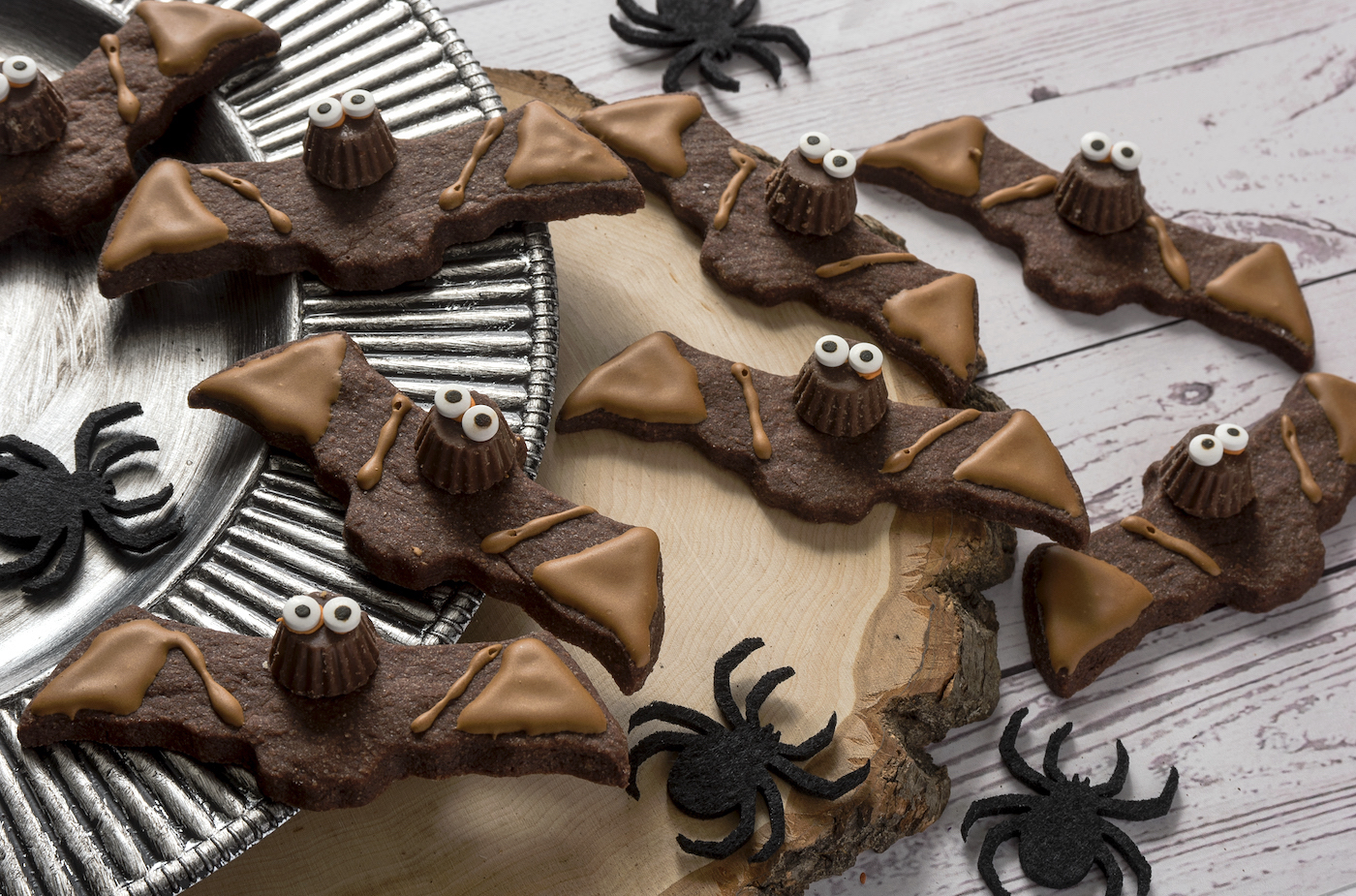 Bat Cookies
Ingredients – Makes 2 dozen
1 ¾ cup all purpose flour
½ cup cocoa powder
½ tsp salt
½ tsp baking powder
1 ½ sticks unsalted butter, softened at room temperature
1 large egg, room temperature
2 tsp vanilla extract
1 -12 ounce bag miniature Reese's cups
Royal Icing
1 pound confectioners sugar
5 tablespoons meringue powder
Scant 1/2 cup water (and maybe more)
Gel food coloring (we used brown)
Recommended Tools
Bat shaped cookie cutter
Hand mixer
Rolling pin
Sifter
Squeeze bottles for icing
Don't Forget These Important Things:
Don't skip chilling the dough. Sometimes it's a drag to wait but it keeps the cookies from spreading and enhances the flavor.
Cold ingredients should be at room temperature (egg, butter) but don't leave them out too long. You don't want the butter melted at all. It should be soft.
Creaming the butter and sugar together separately makes sure they really incorporate before adding to other ingredients. It prevents over mixing because you can't overbeat the butter and sugar!
If the shortbread dough feels dry, add one or two teaspoons of water until you can work with it.
Let your pan cool between batches of cookies (it helps to have two pans in rotation). This keeps the cookies from spreading a lot.
I swear by USA Pans. They are my absolutely favorite and cook baked items so evenly.
Check the cookies regularly through the baking process and go by how they look versus the time on the recipe. Just because everyone's ovens are different. The edges should be set.
Here's the Reese's bats recipe in a printable version below.
Yield: 24 cookies
Bat Cookies
Learn how to make the most delicious bat cookies that are perfect for a Halloween dessert! This is a great holiday family baking recipe or Halloween party treat.
Total Time
1 hour
1 minute
Ingredients
Cookies
1 3/4 cup all purpose flour
1/2 cup cocoa powder
1/2 teaspoon salt
1/2 teaspoon baking powder
1 1/2 sticks unsalted butter (room temperature)
1 cup sugar
1 large egg(s) (room temperature)
2 teaspoon vanilla extract
12 oz miniature Reese's cups
1 box Wilton Candy Eyes
Royal Icing
1/2 lb confectioner's sugar
2 1/2 teaspoon meringue powder
1/2 cup water
Gel food coloring (brown)
Instructions
Make the Cookies
Combine and sift together flour, cocoa powder, salt, and baking powder. Set aside.
With hand held mixer or stand mixer, beat soft butter and sugar until light and creamy. Add egg and vanilla extract.
Add sifted ingredients and mix until dough forms. Do not overmix.
Press dough 1/4-inch thick on a cookie sheet lined with plastic food film and place in refrigerator or freezer until firm enough to be rolled, about 20-45 minutes.
Roll dough about 1/8-inch thick on a lightly floured surface. Cut using a bat cookie cutter and place on parchment lined cookies sheets about 1/4-inch apart.
Preheat oven to 350°F. Place in oven and bake until surface is set but is still soft, about 10-11 minutes.
Remove from oven and let cool for a few minutes. Move to a wire rack.
Make the Icing
Combine all of the ingredients in a bowl and beat with a mixer on low speed until smooth and opaque white, about 7 minutes.
If icing is too thick, add more water, 1 teaspoon at a time, until icing has the consistency of glue and you can see the swirl marks from the mixer remain for a few seconds.
You can divide the icing into separate containers and mix in the food coloring if you are using multiple colors – or like me, just add one color and mix. A little food coloring goes a long way!
Apply the Icing
Apply the icing to your bat cookies with a squeeze bottle, or a sandwich bag with the corner cut off. You can use my "design" or make your own.
Use the icing to attach the Reese's bat head as well as the candy eyes. Let cure for a hour or so before serving.
Nutrition Information:
Yield:
24
Serving Size:
1 cookie
Amount Per Serving:
Calories:

239
Total Fat:

11g
Saturated Fat:

5g
Trans Fat:

0g
Unsaturated Fat:

5g
Cholesterol:

24mg
Sodium:

110mg
Carbohydrates:

34g
Fiber:

1g
Sugar:

25g
Protein:

3g
---
If you like these bat cookies, I'd love for you to check out these other fun Halloween posts: