Get eight free printable valentines for kids – these are easy to assemble and candy free! You'll have your kids' classmates covered in minutes.
When I was young, valentines for kids meant that your mom purchased your favorite candy and grocery store valentines the night before to pass out to your classmates . . . or maybe that was just at my house? Tee hee!
I don't think what my mom did was anything new though. Last-minute and inexpensive is a great theme for kids valentines, and one that all parents can appreciate.
Printable Valentines for Kids
That's where these printables come in – I'm here to help you last minute folks! I have 8 FREE valentines for kids you'll love, and all are non-candy ideas. They can also be assembled in minutes.
If you've seen my Color My World valentines, these are very similar. And equally as cute!
To start, grab all of the free printables HERE, then scroll down to learn how to assemble your favorites using the provided art!
Please note they are for personal use only – but other than that, print away and have fun! *Click the link, then click the Download box at the top right to download. Give it a minute to process and open. You do not need to sign up for an account.
Remember to print them at full scale (no shrinking or fit to page). Now, let's jump in!
YOYO Valentine
Print the template onto 8½-by-11-inch sticker paper, and have your child trim it out using pinking shears. Stick it onto a small plastic yo-yo and you're good to go!
Zoo Animal Valentines for Kids
Print the greetings onto cardstock; cut out with scissors. Trim a piece of sushi grass to the width of the card. Insert the greeting, grass, and a plastic zoo animal into a cellophane bag; tape it closed (washi tape is a cute way to close up the bags!).
Playing Card Valentine
Print the template onto 8½-by-11-inch sticker paper; cut out. Wrap a box of mini playing cards (which you can get from a party store) once with washi tape, then stick the greeting onto the box.
Paint Palette Valentine Favors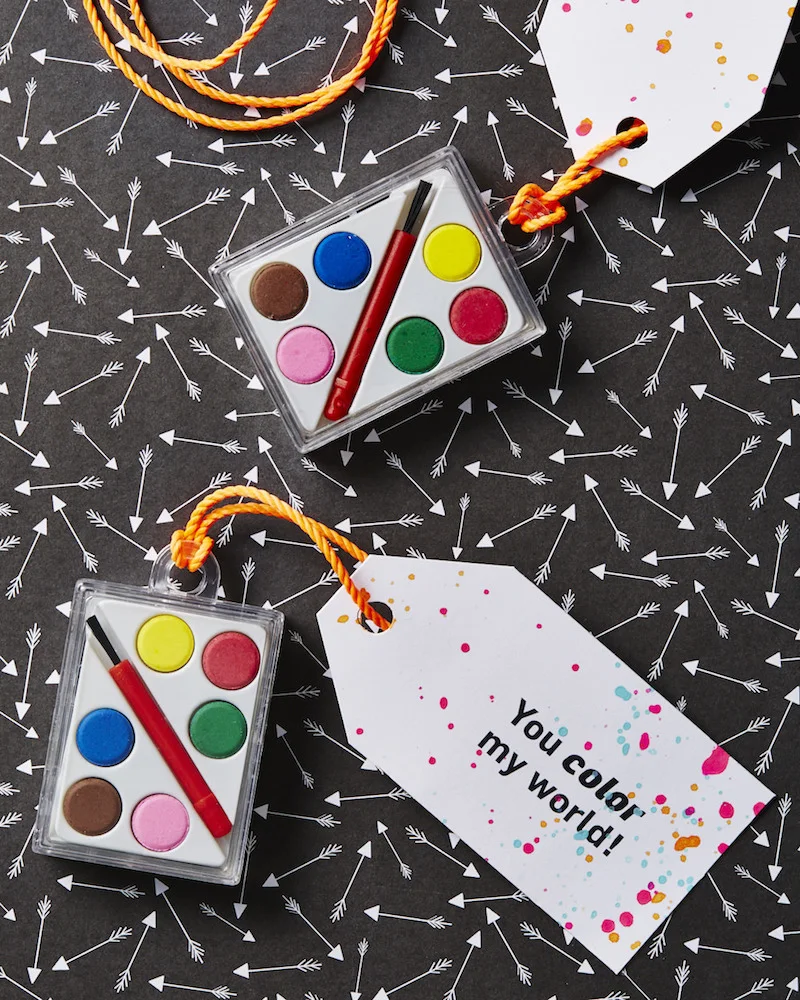 Help your child splatter cardstock with watercolors; let dry. Print greetings onto the painted cardstock and cut out. Punch holes in each, then attach the tags to the paint sets with string.
Jacks Game in a Bag
Insert scrap cardboard into a small muslin bag (you can also find some on papermart.com). Help your child stamp a heart onto the bag with paint; let dry. Print the greeting; cut out and insert into the bag, along with a jacks set.
Crayons and Note Pads for Valentine's Day
Place a few crayons on top of a notepad and wrap with a rubber band. Print the template onto plain paper; cut out. Wrap it around the bundle and tape in place in the back.
Parachuter on Paper
Print greeting onto cloud-patterned paper; cut out. Adhere paper to cardstock with a glue stick. Attach mini parachuter with a glue dot.
Silly Glass Valentines for Kids
Print the greetings onto card stock; cut out. Use double-stick tape to attach the glasses onto the card stock, or punch holes for each of the temple pieces, thread them through, and fold closed.
---
Which one of these Valentines for kids is your favorite? I'd love to know in the comments! I'd also love for you to check out these other posts for Valentine's Day I think you're going to love: