Learn how to customize your own shoes using these 15 fun tutorials. Revamp your entire footwear collection and make it perfect for fall!
Now that cooler weather is here, it's time to go through my shoe collection and see what will work from last year. Typically I give the outdated shoes away. BUT here's another idea – I can revamp them, and make them new again for fall!
It's like having an entirely new pair of shoes. There are a lot of ways to do it, including dyeing, painting or decoupage. Do you want to customize your own shoes for autumn? I've gathered 15 ideas for you. Scroll down to get inspired.
Golden Revamp
I love the idea of taking an old pair of tennis shoes and making them over with bright metallic paint.
See how they were made at Dream A Little Bigger
Dyed Suede
This a great idea for making over suede shoes when you want a different color – just dye them.
Find the step-by-step at Dream a Little Bigger
Floral Accents
Give a pair of boots a new look by adding just a little bit of fabric (it makes a big difference!).
Find the instructions at A Beautiful Mess
Spray Painted
I had no idea you could spray paint boots! This is opening up a whole new world to me.
Learn more at Housewife Eclectic
Puritan Flats
These designer inspired flats are easy to make with ribbon and buckles.
Get the tutorial at Trinkets in Bloom
Doily Wedges
If you really want to make a statement, consider adding doilies to wedges with Mod Podge.
Gold Leaf Leopard
Add a design to a pair of rubber boots using a gold leafing pen.
Find out how to make them at Glitter N' Glue
Duct Tape
A plain pair of boots gets a wild makeover with the help of duct tape.
See how it was done at Keeping it Simple
Fall Decoupage
Overhaul a pair of boots with a little Mod Podge and fabric.
See how they were done at Cathie Filian
Easy Flats
Use a paint pen to add simple accents to an old pair of flats.
Find out how they were done at Paper & Stitch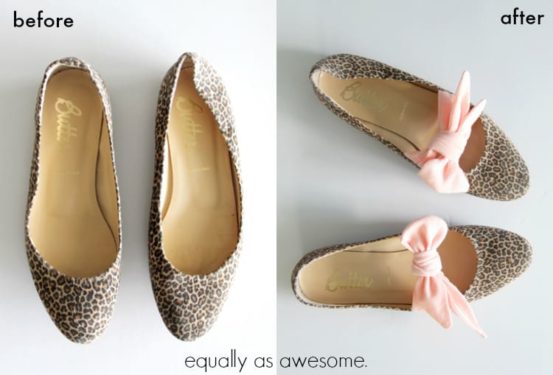 Bow Ties
This amazing transformation takes an old pair of flats and adds bows to fancy them up and make them new again.
Get the how-to at Me Sew Crazy
Nail Polish
Choose your favorite colors of nail polish and use them as shoe paint!
Dip Dyed Shoes
You aren't supposed to wear white after Labor Day, but I disagree, especially when teal is involved.
Photo credit from Observations from the North
Simple Oxfords
These beautiful oxfords were inspired by a designer pair – and were really easy to make with leather scraps and ribbon.
Get the instructions at Flamingo Toes
Polka Dots
Want to add polka dots to a pair of flats? Achieve this simple transformation using acrylic paint.
Learn how to make them at Modern Girl Blitz